| | |
| --- | --- |
| AceNotes Today | Tuesday, February 6, 2018 |
This Week in Music: Faculty Chamber Players
Several University of Evansville music faculty will come together tonight at 7:30 p.m. in Wheeler Concert Hall to perform chamber arrangements of Debussy's well-known Prelude to the Afternoon of a Faun and Mahler's heart-wrenching Kindertotenlieder. Chun-Ming Chen will conduct the group and Eric McCluskey will be featured as soloist in the Mahler. The concert is free and open to the public.
For complete program information, visit the music department concert calendar.
Submitted by James Sullivan js820@evansville.edu
Tips for writing a personal statement for medical school
Planning to apply to medical school this summer? Come to the health advising workshop, "Tips for Writing a Personal Statement for Medical School." We will discuss how to get started, where to find accurate resources for assistance, and the best ways to use UE services to streamline this process.
A workshop is scheduled for today - Tuesday, February 6 - at 11:00 a.m. in Room 203 (J. Henry Schroeder Boardroom) in the library.
Please contact the pre-professional health advisor Francie Renschler with any questions.
Submitted by Francie Renschler fr25@evansville.edu
Join us for #HarlaxtonHunt!
Introducing #HarlaxtonHunt!
Now through February 14, the study abroad office will be hiding Harlaxton envelopes around the UE campus. Each morning we will post a clue on our social media (Facebook, Twitter, and Instagram) as to where that day's envelope is, so make sure you're keeping up with us! Every envelope has a specialty item inside, and whoever finds it first gets to keep it. And don't worry - you don't have to have been to Harlaxton to play along!
If you're the lucky person who finds the envelope, make sure to post that you found it using the hashtag #HarlaxtonHunt so we know when it has been claimed.
Happy Hunting!
Submitted by Greta Becker gb91@evansville.edu
Informal Spanish conversation this afternoon
Spanish students of all levels are welcome to practice with Fulbright Spanish TA Ignacio Benítez. The next session will be today - February 8 - at 1:00 p.m., in Room 400 in Olmsted Administration Hall. It's a wonderful opportunity to interact informally in Spanish with a native speaker and to meet other students of Spanish. Please contact Ignacio at cl192@evansville.edu if you have any questions. ¡Nos vemos!
Submitted by Ignacio Benitez cl192@evansville.edu
Tonight: Fireside Chat welcomes director of Patchwork Central
#GovernmentShutdown2018 #ReleasetheMemos …
Headlines and social media trendings in recent weeks and months often highlight "political corruption" and political leaders fiercely disagreeing, resulting in a government shutdown. These realities are nothing new, and they even occur in the Bible!
Tonight's Fireside Chat will consider how God might be at work even in the murkiness of political corruption. We will also welcome John Rich, the director of Patchwork Central, who will share with us about doing the work of charity and the work of justice. The Fireside Chat will be in Grabill Lounge (downstairs in Neu Chapel) at 7:00 p.m. Refreshments will be served! All are welcome!
Submitted by Keith Turner kt160@evansville.edu
I-House Peru
Please join us on Wednesday for I-House Peru! Benjamin Venero Concha will be presenting at 7:00 pm, upstairs in Ridgway University Center. Please come out to support your fellow Aces! We hope to see you there!
Submitted by Alexis Whitacre aw339@evansville.edu
BSU hosts trip to Cincinnati to visit Freedom Center and see Black Panther movie
In celebration of Black History Month, the Black Student Union is hosting a trip to Cincinnati, Ohio, on Saturday, February 24 to visit the Underground Railroad Freedom Center and see the Black Panther movie which premieres February 16.
The trip is free for all UE students except for meals and keepsakes, with a $20 deposit returned the day of the trip. Campus members are invited to participate as well but only transportation is provided.
Seating is limited, so there is a deadline of February 16 to register for the event. Registration forms can be picked up at the Office of Diversity Initiatives in Olmsted room 234 or from any BSU executive member.
All interested students/campus members should stop by the Office of Diversity Initiatives in Room 234 in Olmsted Administration Hall, to register and pay the deposit.
Submitted by LaNeeca Williams lw161@evansville.edu
TIAA individual counseling sessions for February
The TIAA-CREF representative will be on the UE campus for individual counseling sessions on February 21, 22, and 23. To schedule an appointment, call TIAA-CREF at 1-800-732-8353.
Please note that the meeting location has been changed to Room 153 (Eades Music Room) in the Schroeder School of Business Building.
Submitted by Lori LeDuc ll138@evansville.edu
Art with a Twist
Paint like Gauguin today from 6:30-8:30 p.m. at the Painting With a Twist Gallery, located at 5625 E. Virginia St., Suite A in Evansville. The cost is $35 and it includes all materials and snacks! Alcoholic beverages will also be available for purchase.
Register online at www.paintingwithatwist.com/studio/evansville using the passcode: TWIST.
This is a fundraising event for UE Friends of Art.
Submitted by Corliss Chastain cc270@evansville.edu
Sign up for trip to Paoli Peaks
The Venturing Crew and the International Club are hosting midnight skiing and snowboarding at Paoli Peaks on February 9. This event is open to campus. The cost if only $10 with everything included. Sign-up on the first floor of Ridgway University Center today, Monday (February 5), and Tuesday (February 6) during lunch and dinner times. Questions? E-mail Sydney Winstead at sw228@evansville.edu.
Submitted by Sydney Winstead sw228@evansville.edu
Career Day set for February 13
We expect over 100 employers for Career Day 2018! Looking for a full-time professional position? Cooperative education opportunity? Internship? Summer job? Make plans to attend Career Day on Tuesday, February 13, from 11:00 a.m.–2:00 p.m. in Carson Center, Meeks Family Court. See registered employers in JobLink (evansville-csm.symplicity.com/). Also, pre-register for the event in JobLink to allow employers to view your resume early!
Download our new app, Career Fair Plus, to view employer details and event layout. Search for Career Fair Plus on the App Store and Google Play Store.
Event sponsored by:
Ciholas
Embry Automation & Controls
GE Appliances, A Haier Company
Gibbs Die Casting
Hoosier Wheel
Red Spot
Submitted by Alison Morris-McDonald am268@evansville.edu
Andiron Lecture: Settler Memory of Indigenous Florida
Kristalyn M. Shefveland will be the speaker for the University of Evansville Andiron Lecture on Wednesday, February 7. The lecture will begin at 4:00 p.m. in Eykamp Hall, Room 252, Ridgway University Center. Shefveland's topic will be "Settler Memory of Indigenous Florida."
Shefveland, an associate professor of history at the University of Southern Indiana, is the author of Anglo-Native Virginia: Trade, Conversion, and Indian Slavery in the Old Dominion, 1646-1722. She has been a contributing essayist to Virginia Women: Their Lives and Times; The Bloomsbury Encyclopedia of the American Enlightenment; and Beyond Two Worlds: Critical Conversations on Language and Power in Native North America. A scholar of the indigenous Eastern Woodlands of North America, her research and publications focus on the intersections of settlers and indigenous peoples in the American Southeast, and she is currently working on a book on historical memory of Florida.
The Andiron Lecture series is sponsored by the William L. Ridgway College of Arts and Sciences. For more information, call 812-488-1070 or 812-488-2589.
Dining Updates from Chartwells: Chick-fil-A Breakfast, Koch Center Express Market, Expanded Seating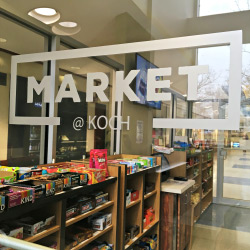 Chartwells has recently made several advancements to enhance your on campus dining experience!
Chick-fil-A Now Serving Breakfast
Chick-fil-A, located on the first floor of Ridgway University Center, is now serving breakfast! Hours have been extended as follows:
Monday – Friday: 7:00 a.m. – 10:00 p.m.
Saturday: 2:00 p.m. – 10:00 p.m.
Sunday: Closed
Expanded Seating for Rademacher's and Chick-fil-A
Additional seating has been added on the first floor of Ridgway University Center to accommodate guests near Rademacher's Café and Chick-fil-A.
Koch Center Express Market Now Fully Self-Service
The Express Market on the first floor of the atrium in Koch Center is now fully self-service and can be accessed with your UE ID any time the building is open and accessible. Enjoy snacks, beverages, or a quick lunch on the go from this self-check convenience store.
UE Men's Basketball Ticket Requests
UE faculty, staff, and administrators may now begin requesting their two complimentary tickets to the men's basketball game against Valparaiso. The game will take place on Wednesday, February 7 at 7:00 p.m. at the Ford Center. Please bring your valid UE ID when picking up your tickets.
Submitted by Scott Peace sp166@evansville.edu
Nominate your co-worker for the March Employee Excellence Award
The University of Evansville, in pursuit of excellence in service, wishes to recognize a non-faculty employee displaying records of achievement as a leader. Leadership may be demonstrated in any of the following areas: service to the University, service to students, job performance and attitude towards fellow employees. To be eligible, an employee must be a full-time member of administration or staff. Nominations for the March 2018 Employee of the Month are due no later than Wednesday, February 14. To nominate someone, please go to acelink.evansville.edu/tools/employeeaward.
Submitted by Lori LeDuc ll138@evansville.edu
Ryan Taylor named Co-MVC Player of the Week
University of Evansville junior Ryan Taylor was named the Co-Missouri Valley Conference Player of the Week on Monday, earning the accolade for the first time in his career. Taylor split the honor with Reed Timmer of Drake, who became the Bulldog's all-time leading scorer.
Averaging 28.5 points per game in contests against UNI and Illinois State, Taylor pushed his season average to a league-best 28.5 PPG. He began the week with a 25-point game on 10/17 shooting against UNI. He also recorded five rebounds and three assists.
He kept the Aces in the game at Illinois State with a season mark of 32 points. He connected on 10 more field goals and was 8/12 from long range while grabbing six more rebounds. He also did not leave the floor in the game. For the week, he shot 51.3% (20/39) and was an impressive 11-of-17 (64.7%) from outside. He also had 5.5 rebounds per contest.
New MVC member Valparaiso heads to the Ford Center on Wednesday for a 7:00 p.m. matchup.
Lank and Lodato conduct workshops and seminars around the country
R. Scott Lank, artistic director and head of acting in the Department of Theatre, and Patti Lodato (former executive-in-residence in the School of Business) conducted over 48 workshops and seminars throughout the country during the summer of 2017. These workshops were connected to an initiative with Evolent Healthcare located in Alexandria, Virginia.
Workshop topics included unconscious bias, executive presence, creative team-building, presentation skills, and moment-to moment listening/interaction.
Lank and Lodato have also conducted workshops for Koch Enterprises, Atlas Van Lines, Evansville Builders Association, and numerous law-firms around the Tri-State. For more information contact wall4associates.com.
Professors Kretz and Dion Participate in Forum to Combat Racial Intolerance
The Evansville-Vanderburgh County Human Relations Commission hosted a panel discussion and community forum Thursday night to discuss effective ways to respond to racial incidents and other forms of bias. Lisa Kretz, assistant professor of philosophy, was one of the five panelists who shared ideas about how to promote understanding and effect social change. Robert Dion, the longtime chair of the Human Relations Commission, was the moderator for the evening's discussion. Evansville Mayor Lloyd Winnecke, a UE alum, also spoke at this event about support for a community free of discrimination. For more information about Thursday's event, see the local news coverage here and here.
Ungar nominated for book award
UE music professor Garnet Ungar's book Inner Voices has been nominated for the 2018 Association for Recorded Sound Collections Awards for Excellence in Historical Recorded Sound Research.
Contribute to AceNotes
To have content considered for inclusion in AceNotes, please submit a Marketing Request Form. Deadline for submission to AceNotes is 10:00 a.m. on the requested date of publication. Only articles concerning UE related/sponsored activities will be accepted. Articles submitted to AceNotes may be edited for length and clarity. Submitter contact information is at the end of each article.