| | |
| --- | --- |
| AceNotes Today | Monday, February 5, 2018 |
UE Bookstore Columbia Fleece Sale - 25% OFF
The UE Bookstore is offering 25% OFF all Columbia Sportswear merchandise February 5-11. The reduction is taken off the original price of all items. Items include all men's and women's fleece. Also included are the youth fleece jackets. Sale ends Saturday February 11.
Submitted by Doug Gustwiller dg57@evansville.edu
Tips for writing a personal statement for medical school
Planning to apply to medical school this summer? Come to the health advising workshop, "Tips for Writing a Personal Statement for Medical School." We will discuss how to get started, where to find accurate resources for assistance, and the best ways to use UE services to streamline this process.
A workshop is scheduled for today - Tuesday, February 6 - at 11:00 a.m. in Room 203 (J. Henry Schroeder Boardroom) in the library.
Please contact the pre-professional health advisor Francie Renschler with any questions.
Submitted by Francie Renschler fr25@evansville.edu
Join us for #HarlaxtonHunt!
Introducing #HarlaxtonHunt!
Now through February 14, the study abroad office will be hiding Harlaxton envelopes around the UE campus. Each morning we will post a clue on our social media (Facebook, Twitter, and Instagram) as to where that day's envelope is, so make sure you're keeping up with us! Every envelope has a specialty item inside, and whoever finds it first gets to keep it. And don't worry - you don't have to have been to Harlaxton to play along!
If you're the lucky person who finds the envelope, make sure to post that you found it using the hashtag #HarlaxtonHunt so we know when it has been claimed.
Happy Hunting!
Submitted by Greta Becker gb91@evansville.edu
UE Theatre presents "Sense and Sensibility"
The University of Evansville Department of Theatre presents its third production of the season, Kate Hamill's Sense and Sensibility, based on the novel by Jane Austen. This production opened February 16, in Shanklin Theatre. Additional performances are at 7:30 p.m. tonight - February 23 - and February 24, and at 2:00 p.m. on February 25.
Reputation, redemption, and romance - this feisty new play is a fresh and witty take on the Jane Austen story audiences know and love. When the Dashwood sisters suddenly find themselves at the bottom of the social food chain, the quest to claw their way back to the top consumes them. High society and wicked gossip collide in a whirlwind of scandal and passion and betrayal. Oh, my!
Professor of theatre Diane Brewer directs Sense and Sensibility. Elizabeth Tredinnick, a senior from Madison, Wisconsin, serves as scenic designer; assistant professor of theatre Sarah J. Smith is the costume designer; Baxter Pitt, a senior from Dallas, Texas, is the lighting designer; Austin Kuhn, a sophomore from Evansville, serves as sound designer; Jesse Robkin, a senior from Duvall, Washington, is the dramaturg; Jalyn Kowalski, a junior from Lanesville, Indiana, is the stage manager; and assistant technical director Adam Rager serves as technical director.
The cast features junior Alexi Lewis, from Seattle, Washington, as Elinor Dashwood; junior Alexandra Curren, from McKinney, Texas, as Marianne Dashwood; freshman Emma Tolleson, from Temple, Texas, as Margaret Dashwood; freshman Jordan Williams, from Edmonds, Washington, as Mrs. Dashwood; freshman Luke Moran, from Mount Vernon, Iowa, as John Dashwood; junior Matthew McDonald, from Carmel, Indiana, as Edward Ferrars; junior Kathleen Finch, from College Station, Texas, as Fanny Dashwood; junior Marshall Hopkins, from Baldwin City, Kansas, as Colonel Brandon; freshman Jackson Burnham, from Houston, Texas, as John Willoughby; sophomore Luke Lowrance, from Arlington, Texas, as Sir John Middleton; junior Meredith Ham, from Castle Rock, Colorado, as Mrs. Jennings; sophomore Alexis Seay, from Louisville, Kentucky, as Lady Middleton; senior Paige Ward, from Round Rock, Texas, as Lucy Steele; freshman Grace Maddux, from Dubuque, Iowa, as Anne Steele; freshman Evan Lawson, from Arvada, Colorado, as Robert Ferrars; and junior Amanda Suggs, from Cedar Park, Texas, as Lead Gossip/Mrs. Ferrars.
Ticket prices are $18 for adults and $16 for senior adults, students, and UE faculty and staff.
UE students may obtain one free student rush ticket beginning at noon on the day of the performance they wish to attend.
Following Sense and Sensibility, the 2017-18 Shanklin Theatre Season closes with Frank Galati's Grapes of Wrath, based on the novel by John Steinbeck, April 13-22, which concludes the 50th anniversary of Shanklin Theatre.
Tickets may be purchased by calling 812-488–2031, Monday through Friday, noon to 5:00 p.m.
Tonight: Fireside Chat welcomes director of Patchwork Central
#GovernmentShutdown2018 #ReleasetheMemos …
Headlines and social media trendings in recent weeks and months often highlight "political corruption" and political leaders fiercely disagreeing, resulting in a government shutdown. These realities are nothing new, and they even occur in the Bible!
Tonight's Fireside Chat will consider how God might be at work even in the murkiness of political corruption. We will also welcome John Rich, the director of Patchwork Central, who will share with us about doing the work of charity and the work of justice. The Fireside Chat will be in Grabill Lounge (downstairs in Neu Chapel) at 7:00 p.m. Refreshments will be served! All are welcome!
Submitted by Keith Turner kt160@evansville.edu
I-House Peru
Please join us on Wednesday for I-House Peru! Benjamin Venero Concha will be presenting at 7:00 pm, upstairs in Ridgway University Center. Please come out to support your fellow Aces! We hope to see you there!
Submitted by Alexis Whitacre aw339@evansville.edu
This Week in Music: Faculty Chamber Players
Several University of Evansville music faculty will come together tonight at 7:30 p.m. in Wheeler Concert Hall to perform chamber arrangements of Debussy's well-known Prelude to the Afternoon of a Faun and Mahler's heart-wrenching Kindertotenlieder. Chun-Ming Chen will conduct the group and Eric McCluskey will be featured as soloist in the Mahler. The concert is free and open to the public.
For complete program information, visit the music department concert calendar.
Submitted by James Sullivan js820@evansville.edu
BSU hosts trip to Cincinnati to visit Freedom Center and see Black Panther movie
In celebration of Black History Month, the Black Student Union is hosting a trip to Cincinnati, Ohio, on Saturday, February 24 to visit the Underground Railroad Freedom Center and see the Black Panther movie which premieres February 16.
The trip is free for all UE students except for meals and keepsakes, with a $20 deposit returned the day of the trip. Campus members are invited to participate as well but only transportation is provided.
Seating is limited, so there is a deadline of February 16 to register for the event. Registration forms can be picked up at the Office of Diversity Initiatives in Olmsted room 234 or from any BSU executive member.
All interested students/campus members should stop by the Office of Diversity Initiatives in Room 234 in Olmsted Administration Hall, to register and pay the deposit.
Submitted by LaNeeca Williams lw161@evansville.edu
TIAA individual counseling sessions for February
The TIAA-CREF representative will be on the UE campus for individual counseling sessions on February 21, 22, and 23. To schedule an appointment, call TIAA-CREF at 1-800-732-8353.
Please note that the meeting location has been changed to Room 153 (Eades Music Room) in the Schroeder School of Business Building.
Submitted by Lori LeDuc ll138@evansville.edu
Federal loan repayment counseling session for students graduating or transferring
Students who have used federal direct (sub/unsub) loans and plan to graduate in the spring or summer (or transfer after the spring semester) are required to attend a Loan Repayment Counseling Session.
The Office of Financial Aid will hold the first session of the semester on Wednesday, February 28 at 6:00 p.m. in Eykamp Hall, Room 252, Ridgway University Center.
Additional sessions will be held on April 26 at 2:00 p.m. and on May 4 at 11:30 a.m.
Submitted by Amy Sowders as560@evansville.edu
Art with a Twist
Paint like Gauguin today from 6:30-8:30 p.m. at the Painting With a Twist Gallery, located at 5625 E. Virginia St., Suite A in Evansville. The cost is $35 and it includes all materials and snacks! Alcoholic beverages will also be available for purchase.
Register online at www.paintingwithatwist.com/studio/evansville using the passcode: TWIST.
This is a fundraising event for UE Friends of Art.
Submitted by Corliss Chastain cc270@evansville.edu
Sign up for trip to Paoli Peaks
The Venturing Crew and the International Club are hosting midnight skiing and snowboarding at Paoli Peaks on February 9. This event is open to campus. The cost if only $10 with everything included. Sign-up on the first floor of Ridgway University Center today, Monday (February 5), and Tuesday (February 6) during lunch and dinner times. Questions? E-mail Sydney Winstead at sw228@evansville.edu.
Submitted by Sydney Winstead sw228@evansville.edu
Lost and Found Auction today
Lost and found items that have not been claimed during the last 18 months will be sold by silent auction. The auction will be today - Thursday, February 8 - in Eykamp Hall, Room 252, Ridgway University Center from 10:00 a.m.-3:00 p.m.
Submitted by Carol Blair cb336@evansville.edu
Andiron Lecture: Settler Memory of Indigenous Florida
Kristalyn M. Shefveland will be the speaker for the University of Evansville Andiron Lecture on Wednesday, February 7. The lecture will begin at 4:00 p.m. in Eykamp Hall, Room 252, Ridgway University Center. Shefveland's topic will be "Settler Memory of Indigenous Florida."
Shefveland, an associate professor of history at the University of Southern Indiana, is the author of Anglo-Native Virginia: Trade, Conversion, and Indian Slavery in the Old Dominion, 1646-1722. She has been a contributing essayist to Virginia Women: Their Lives and Times; The Bloomsbury Encyclopedia of the American Enlightenment; and Beyond Two Worlds: Critical Conversations on Language and Power in Native North America. A scholar of the indigenous Eastern Woodlands of North America, her research and publications focus on the intersections of settlers and indigenous peoples in the American Southeast, and she is currently working on a book on historical memory of Florida.
The Andiron Lecture series is sponsored by the William L. Ridgway College of Arts and Sciences. For more information, call 812-488-1070 or 812-488-2589.
RecycleMania and recycling at UE
UE is once again participating in RecycleMania, a recycling tournament for universities. The tournament runs from February through the end of March.
At UE, the following items can be placed in an appropriate recycling bin:
• Empty aluminum and steel cans
• Empty plastic containers and drink bottles
• Paper products such as newspapers, office paper, magazines and empty cereal boxes
• Note: Please place books and used toner cartridges and cardboard next to the recycle bins
Please do NOT put the following items in UE's recycling bins:
• Glass
• Pizza boxes – these can contain food or grease
• Trash such as leftover food and candy wrappers
• Styrofoam
• Partially full or full plastic or aluminum drink containers
• Plastic bags or plastic packing pillows
• Used tissues and paper towels
To find out where to drop off recyclables at UE, why it's important to recycle and more, check out the UE Recycling Guide at AceLink/Areas/Recycling. Call ext. 2697 or e-mail ae152@evansville.edu with questions.
Submitted by Amber Elkins ae152@evansville.edu
2018 UE Softball Preview – Pitchers and Catchers
With the 2018 season just a week away for the University of Evansville softball team, we continue our preview with a look at the pitchers and catchers for the Purple Aces.
Evansville's pitching staff will be anchored by junior Morgan Florey, who was named a Preseason All-Missouri Valley Conference player. She paced the MVC with 194 strikeouts in 2017 while finishing third with an ERA of 1.99. Joining Florey on the pitching staff are fellow juniors Emily Lockhart, Danielle Cassidy, and Ashleigh Downing. Freshman Jamie Nurrenbern will also be in the circle this season for UE.
"When it comes to our pitchers, that is where we will have the most experience coming back," head coach Mat Mundell said. "Morgan has been very successful for us but I am very excited about how everyone else is coming along. They put in a ton of work in the fall and are ready to make a big step forward in the spring."
Florey won 14 games in 2017 while tossing 172 1/3 innings. Downing and Lockhart started 12 games apiece and finished the year with 68 2/3 and 68 innings of work, respectively. In her first season at UE, Cassidy appeared in 12 games while throwing 19 innings.
"The exciting thing is that all of our pitchers do things different, which gives us the ability to mix things up on a game-by-game basis," Mundell continued.
Behind the plate for the Aces will be junior Bailee Bostic and freshman Eryn Gould. Bostic split time last season with Hayli Scott, playing a total of 33 games while starting 22. She had seven RBI in 47 plate appearances.
"Both of our catchers bring good offense to our lineup," Mundell explained. "They can also do some great things defensively and, on days where they are not behind the plate, have the ability to play other positions for us if needed.
Dining Updates from Chartwells: Chick-fil-A Breakfast, Koch Center Express Market, Expanded Seating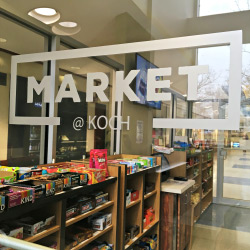 Chartwells has recently made several advancements to enhance your on campus dining experience!
Chick-fil-A Now Serving Breakfast
Chick-fil-A, located on the first floor of Ridgway University Center, is now serving breakfast! Hours have been extended as follows:
Monday – Friday: 7:00 a.m. – 10:00 p.m.
Saturday: 2:00 p.m. – 10:00 p.m.
Sunday: Closed
Expanded Seating for Rademacher's and Chick-fil-A
Additional seating has been added on the first floor of Ridgway University Center to accommodate guests near Rademacher's Café and Chick-fil-A.
Koch Center Express Market Now Fully Self-Service
The Express Market on the first floor of the atrium in Koch Center is now fully self-service and can be accessed with your UE ID any time the building is open and accessible. Enjoy snacks, beverages, or a quick lunch on the go from this self-check convenience store.
Media appearances pile up for Professor Robert Dion
It's not uncommon for Robert Dion, chair of the Department of Law, Politics, and Society, to appear in the news to comment on some political development. Last Wednesday, however, was unusually busy, with three different interviews in the space of two hours. First, there was a live radio interview on Radio-Canada to discuss with French listeners the likely after-effects of the State of the Union address. Then, there was a call from the state's largest newspaper, the Indianapolis Star, to discuss Governor Eric Holcomb's involvement with the failed bias crimes bill. Finally, there was a visit by a WEHT reporter to his classroom to discuss with him and his students how they evaluated the State of the Union address for a class assignment. It's not clear what prompted this flurry of media interest, but it did coincide with the Super Blue Blood Moon, so that may be a possibility.
UE Men's Basketball Ticket Requests
UE faculty, staff, and administrators may now begin requesting their two complimentary tickets to the men's basketball game against Valparaiso. The game will take place on Wednesday, February 7 at 7:00 p.m. at the Ford Center. Please bring your valid UE ID when picking up your tickets.
Submitted by Scott Peace sp166@evansville.edu
Nominate your co-worker for the March Employee Excellence Award
The University of Evansville, in pursuit of excellence in service, wishes to recognize a non-faculty employee displaying records of achievement as a leader. Leadership may be demonstrated in any of the following areas: service to the University, service to students, job performance and attitude towards fellow employees. To be eligible, an employee must be a full-time member of administration or staff. Nominations for the March 2018 Employee of the Month are due no later than Wednesday, February 14. To nominate someone, please go to acelink.evansville.edu/tools/employeeaward.
Submitted by Lori LeDuc ll138@evansville.edu
Call for papers for Andiron Lecture Series 2018-19
UE faculty and administrators as well as members of the Evansville community are invited to submit an abstract for papers on any aspect of their research or expertise for the 2018-19 Andiron Lectures in the Liberal Arts and Sciences. All disciplines and fields of study are welcome to submit proposals.
Please send the following by e-mail:
A 50-word abstract with name, academic affiliation/ occupation, paper title, and contact information to Annette Parks at ap3@evansville.edu (with a Cc to Cheryl Emmons at ce36@evansville.edu). Emmons will forward these to the Andiron Lecture Committee for consideration.
Nominations for off-campus speakers can be sent by e-mail to Parks at ap3@evansville.edu with a Cc to Emmons at ce36@evansville.edu; Emmons will forward them to the Andiron Lecture committee for consideration.
Health tip for flu and cold season: Cover your cough!
Cover your cough! Stop the spread of germs that can make you and others sick!
Here are some ways you can stop the spread of germs:
Cover your mouth and nose with a tissue when you cough or sneeze. Put your used tissue in the waste basket.
If you don't have a tissue, cough or sneeze into your upper sleeve or elbow, not your hands.
You may be asked to put on a face mask to protect others.
Wash hands often with soap and warm water for 20 seconds. If soap and water are not available, use an alcohol-based hand rub.
Submitted by Ashley Craig ac408@evansville.edu
Lank and Lodato conduct workshops and seminars around the country
R. Scott Lank, artistic director and head of acting in the Department of Theatre, and Patti Lodato (former executive-in-residence in the School of Business) conducted over 48 workshops and seminars throughout the country during the summer of 2017. These workshops were connected to an initiative with Evolent Healthcare located in Alexandria, Virginia.
Workshop topics included unconscious bias, executive presence, creative team-building, presentation skills, and moment-to moment listening/interaction.
Lank and Lodato have also conducted workshops for Koch Enterprises, Atlas Van Lines, Evansville Builders Association, and numerous law-firms around the Tri-State. For more information contact wall4associates.com.
Professors Kretz and Dion Participate in Forum to Combat Racial Intolerance
The Evansville-Vanderburgh County Human Relations Commission hosted a panel discussion and community forum Thursday night to discuss effective ways to respond to racial incidents and other forms of bias. Lisa Kretz, assistant professor of philosophy, was one of the five panelists who shared ideas about how to promote understanding and effect social change. Robert Dion, the longtime chair of the Human Relations Commission, was the moderator for the evening's discussion. Evansville Mayor Lloyd Winnecke, a UE alum, also spoke at this event about support for a community free of discrimination. For more information about Thursday's event, see the local news coverage here and here.
Ungar nominated for book award
UE music professor Garnet Ungar's book Inner Voices has been nominated for the 2018 Association for Recorded Sound Collections Awards for Excellence in Historical Recorded Sound Research.
Lisa Hale and family
Condolences to visiting assistant professor of education Lisa Hale and her family on the loss of her mom. A private memorial service is being planned.
Submitted by Elaine Freels ef97@evansville.edu
Record-setting day for Aces at Don DeNoon Invitational
On a record-setting weekend, the University of Evansville men's and women's track and field teams found success in their second meet of the season at the Don DeNoon Invitational in Carbondale, Illinois, hosted by Southern Illinois.
In all, five program records were broken by the Aces including one record which had stood since 1985.
To open the weekend, the Aces had four athletes compete on Friday night. Freshman Ian Alberts led Evansville with an eighth-place finish with a height of 3.85 meters while fellow freshman Kevin Yeung finished without recording a height. In the women's long jump, freshman Lizzy Walston set a program record with a ninth-place finish with a distance of 4.51 meters. Junior Hayley Elliot also competed in the women's long jump, finishing in 12th with a distance of 3.49 meters. Yeung pulled double duty for the Aces, earning a 16th-place finish in the men's long jump with a distance of 5.07 meters.
A full slate of events for the Aces began on Saturday morning with the men's and women's shot put. Freshman Brittany Corley was the lone Aces in the women's shot put, finishing in 31st with a distance of 8.64 meters. Three Aces competed in the men's shot put, led by junior Ryan Freeman who broke a 32-year old record with a throw of 12.62 meters, besting Tim Blocker's record by .36 meters, earning a 16th-place finish. Senior Clay Doty (21st) and sophomore Chris Zapata (22nd) both grabbed impressive finishes with Doty besting Zapata by just .25 meters.
Next up for Evansville were the men's and women's 60-meter dash where the Aces had one sprinter in each competition. In the women's 60-meter dash, freshman Nikki Hutchcraft crossed the line in 30th breaking her own program record with a time of 8.23 seconds. On the men's side, freshman Aaron Straight finished in 11.48 seconds in 35th.
Some of the most impressive performances of the weekend came in the men's and women's mile run. On the women's side, freshman Anna Lowry shattered the Aces' program record by nearly 35 seconds while capturing a 25th-place finish in the 50 runner field. The Aces men's team was led by freshman Ricky Hendrix (4:39.77) in 34th while fellow freshmen Tyler Frields-Reifsteck (4:45.96), Timmy Miller (4:58.88), and Grant Mangan (5:24.77) finished in 37th, 42nd, and 46th, respectively.
Following the mile run it was back to sprints as freshman Samantha Bittner competed in the women's 60-meter hurdles. In the event, Bittner crossed the line in 16th with a time of 10.28.
In the women's 400 meter run, five Aces competed led by senior Tess Hupe who finished in 24th with a time of 1:05.44. Less than a second behind Hupe was Walston in a time of 1:06.00 in 25th. Wrapping-up the Aces competitors in the 400 meters were freshman Kylie Hasenour (1:06.80), senior JBess Ruby (1:08.94), and freshman Sarah Poltrack (1:14.11) in 28th, 29th, and 31st, respectively. The men's 400 meter run featured one Ace in senior Everett Plocek who finished in 23rd with with a time of 55.30.
Records continued to fall in the women's 800 meters where junior Sienna Crews topped Lowry's program record set a week ago. Crews finished the race in 11th with a time of 2:25.99, besting Lowry's record by just over six seconds. Also competing in the 800 meters were freshman Lauren Meyer (2:33.31) in 24th, freshman Izzy Dawson (2:37.12) in 30th, and freshman Lexi Sutherland (2:50.25) in 34th.
Freshman Stanley Chepchieng paced the Aces in the men's 800 meter run as Chepchieng earned a ninth-place finish with a time of 2:01.22. Following Chepchieng was fellow freshman Tucker Dawson in 18th in a time of 2:10.62 while freshman Jonathan Newby crossed the finish line in 21st with a time of 2:27.60.
The Aces stayed together in a pack in the women's 200 meters as three Evansville athletes crossed the line one after another. UE was led by Tess Hupe who broke an Aces' record with a time of 29.69 in 34th. Hupe was followed by JBess Ruby (30.20) in 35th and junior Taylor Williams (36.74) in 36th.
In the longest event of the day, Evansville found success in the men's 3000 meters. Freshman Ethan Price finished in 14th just over 10 seconds off of the program record in a time of 9:07.38. Fellow freshman Dawson Hood earned a 28th-place finish with a time of 9:52.22 while freshman Kalen Ochs crossed the line in 29th just three seconds behind Hood in a time of 9:55.91.
As the afternoon waned to a close, the invitational concluded with the men's and women's 4x400 meter relays. On the women's side, the Aces relay team comprised of Lizzy Walston, Lauren Meyer, Sienna Crews, and Anna Lowry finished 12th in a time of 4:25.04, defeating "B" teams from Austin Peay, Arkansas-Pine Bluff, Lipscomb, and Murray State and Lipscomb's "C" team. The Aces' men's 4x400 relay "A" team featuring Stanley Chepchieng, Ethan Price, Everett Plocek, and Ian Alberts earned a ninth-place finish with a time of 3:36.00, just over a second off Evansville's program record of 3:34.35 set in 1983. The Aces "B" team of Tucker Dawson, Tyler Frields-Reifsteck, Jonathan Newby, and Kevin Yeung came in 11th in a time of 4:02.70.
Aces put up admirable effort in loss to Illinois State
For the fourth game in a row, University of Evansville junior Ryan Taylor reached the 20-point mark as the Purple Aces men's basketball team dropped a 75-71 game to Illinois State on Saturday afternoon inside Redbird Arena.
Taylor had his best game of the season for Evansville (15-10, 5-7 MVC), completing the game with 32 points on 10-of-22 shooting and an impressive 8-12 day from outside. Blake Simmons and Noah Frederking had nine points apiece while Dainius Chatkevicius posted eight points and a game and career high of 14 boards.
"Give Illinois State credit, they made the plays when they needed to," UE head coach Marty Simmons said. "It came down to execution late in the game, but I am proud of our guys, they battled back and played hard. They came here with a good mentality and never gave up."
Three Redbirds (13-11, 7-5 MVC) hit double figures as Phil Fayne, Milik Yarbrough and Matt Hein posted 13 apiece. Fayne also had 10 rebounds.
Illinois State opened the game by scoring the first seven points of the day. Capping the stretch was a trey from Madison Williams. K.J. Riley got UE on the board with a bucket three minutes in, but a 2-for-10 start from the floor by the Aces helped ISU take a 15-4 lead. They hit five of their first eight shots.
Ryan Taylor's first triple of the game made it a 15-7 game at the 13:30 mark, but the early streak by the Redbirds continued when a Keyshawn Evans long ball marked the largest first-half lead at 25-12.
Facing the early double-digit road deficit, the Aces worked their way back, using a 16-4 run to cut the deficit to a point at 29-28. Duane Gibson made his way back onto the floor after missing the last four games and his basket with six minutes remaining cut the gap back into single digits. Three minutes later, a Riley free throw made it a one-possession game before John Hall capped off the run with a tip-in as UE rallied all the way back within a point to make it a 29-28 game.
UE had a few chances to take the lead in the final minutes but the deficit remained at one as Illinois State took a 34-33 advantage into the break.
In the first possession of the second half, Taylor's fourth basket of the day gave UE its first lead of 35-34. He connected on another a few seconds later to push the lead to 37-34. Illinois State tied it up three minutes in on a triple by Taylor Bruninga.
Seven minutes into the final period, the game remained tied at 45-45. That is when Illinois State took over, posting the next seven points including a Bruninga triple to open up a 52-45 lead at the midway point of the half. The long ball helped UE get right back in it as back-to-back treys from Noah Frederking and Taylor cut the gap to one.
A Matt Hein triple with under eight minutes left pushed their lead back to six at 59-53. With six minutes remaining, Blake Simmons cut the deficit to three, hitting his first 3-pointer of the day with the shot clock winding down. Four in a row from the charity stripe by Milik Yarbrough pushed the lead back to seven with three minutes left, but consecutive triples by Taylor cut the ISU lead to just four.
Hanging onto a four-point lead, an and-one by ISU seemed to have them looking good, up 71-64, but the Aces had other ideas. UE continued to battle to the buzzer as two ISU misses at the line turned into another trey by Taylor with his bucket getting Evansville within two points – 73-71. That was as close as the game would get as the Redbirds finished the day with the 75-71 win.
ISU had a slight shooting advantage, finishing at 42.6% with UE shooting 41.4%. Evansville outrebounded the Redbirds by a 39-37 final.
New MVC member Valparaiso heads to the Ford Center on Wednesday for a 7:00 p.m. matchup.
Short-handed Aces battle but fall to Sycamores
Junior guard Kerri Gasper set a career-high with 26 points, adding 10 rebounds, as the University of Evansville fought through adversity in a 66-57 loss to Indiana State on Friday night inside Meeks Family Fieldhouse.
"To think what this team did what we did tonight based on what we've seen last 15 games, you would not have expected," said Aces head coach Matt Ruffing. "We go from 11 players to six and two four players, two five players, no point guard, and a two and a three. I told our kids that the effort that we've been wanting and begging them for was shown today. We gave it all we had. I don't think we left anything out there."
Gasper led all scorers with 26 points while junior center Kelsi Scott joined Gasper with a double-double with 10 points and 10 boards, tying a season-high for rebounds. Indiana State finished with four players in double-figures led by Regan Wentland who scored 18 points.
"Kerri Gasper played a heck of a game. She controlled the game and had to play point guard due to some injuries. I challenged her this week to start stepping up and start being the player she can be. Don't wait for your senior year to have that moment and I thought tonight she did a great job."
The Aces (3-18, 0-9 MVC) faced tests throughout the night starting with a pair of players exiting due to injury just 37 seconds into the contest. Coming into the contest with a short bench, Evansville grinded through the first quarter as it took a 3-2 lead on a three-pointer by Gasper. Indiana State (14-7, 6-4 MVC) jumped back in front with a 5-0, but the Aces again had an answer with a jumper by sophomore Macie Lively that trimmed the Sycamores lead to two at 7-5 nearing the midway point of the quarter. The see-saw battle in the opening frame ended with the Sycamores carrying a four-point, 15-11 advantage into the second quarter.
Once again, Evansville was presented with a challenge as another Purple Ace left the game due to an injury leaving them with just six available players. With UE up 18-17 with 6:59 left in the second quarter, the Sycamores mounted a 13-5 run to take a 30-23 advantage in the final minutes of the half. Gasper continued her impressive opening half as she closed the second period with a layup that gave her 10 points at the break and trimmed Indiana State's advantage to 30-25 at the break.

In the third quarter, the Aces would not let Indiana State pull away. The Sycamores built as large as a 10-point lead with 2:18 left in the frame before sophomore Crimson Jones hit a layup with under a minute left in the quarter to push Evansville back within single-digits at 45-37 heading into the fourth quarter. Evansville was held to its lowest shooting percentage of the night in the third quarter as the Aces went just 3-14 (21.4%) from the field in the period while Indiana State shot 6-16 (37.5%) from the field in the third frame.
Indiana State came out aggressive to start the fourth quarter as the Sycamores built their lead to its largest point of the night at 53-37 with 7:40 remaining. The Aces manufactured one last push over the next four minutes as Evansville sliced the Sycamores advantage to just seven with 3:07 left on the clock. Over the final three minutes of play, Evansville sent Indiana State to the charity stripe six times where the Sycamores converted 10 of 12 attempts and held on for the 66-57 win.
The Aces dominated the boards, earning a 48-28 rebounding advantage over the Sycamores. Both teams shot relatively evenly in the contest as UE finished 35.2% (19-54) on the evening to Indiana State's 36.7% (22-60).
Evansville has nearly a week off from competition before the Aces return to action on February 9 against Drake and February 11 versus UNI in an MVC weekend inside Meeks Family Fieldhouse.
Contribute to AceNotes
To have content considered for inclusion in AceNotes, please submit a Marketing Request Form. Deadline for submission to AceNotes is 10:00 a.m. on the requested date of publication. Only articles concerning UE related/sponsored activities will be accepted. Articles submitted to AceNotes may be edited for length and clarity. Submitter contact information is at the end of each article.