| | |
| --- | --- |
| AceNotes Today | Friday, February 2, 2018 |
Join us for #HarlaxtonHunt!
Introducing #HarlaxtonHunt!
Now through February 14, the study abroad office will be hiding Harlaxton envelopes around the UE campus. Each morning we will post a clue on our social media (Facebook, Twitter, and Instagram) as to where that day's envelope is, so make sure you're keeping up with us! Every envelope has a specialty item inside, and whoever finds it first gets to keep it. And don't worry - you don't have to have been to Harlaxton to play along!
If you're the lucky person who finds the envelope, make sure to post that you found it using the hashtag #HarlaxtonHunt so we know when it has been claimed.
Happy Hunting!
Submitted by Greta Becker gb91@evansville.edu
Black Student Union kicks off Black History Month with events
The Black Student Union is sponsoring events this week to kick-off the start of Black History Month.
BSU will be hosting "The Women of the Civil Rights Movement: Live Experience" on Saturday, February 3 from 6:00-8:00 p.m. in Eykamp Hall, Room 251, Ridgway University Center
The live experience will show how historically women were critically involved in the Civil Rights Movement.
This is free and open to the public.
Please come out and support Black History Month with the Black Student Union.
For more information contact BSU president DaLisa McCallum at dm254@evansville.edu.
Submitted by LaNeeca Williams lw161@evansville.edu
Tonight - UEMTA presents... Spotlight!
The University of Evansville Music Therapy Association's annual philanthropy event Spotlight! Is set for tonight at 7:30 p.m. in Eykamp Hall, Ridgway University Center. Students from all over campus will be performing a variety of musical acts. Proceeds from the event will go to the Isaac Miller Music Matters Family Foundation, an organization in the Evansville area that promotes music therapy and music education.
Admission is $5.
There will be prizes of gift cards from Jeanne's Gelato, Turoni's Pizza, and Honey Moon Coffee Co. for the 1st, 2nd, and 3rd place acts. The top three acts will be determined by crowd pleaser donations.
There will also be a door prize drawing for members of the audience.
Submitted by Amanda Mackey am523@evansville.edu
University Worship: Gathering around the Family Table
All are welcome to join the Neu Chapel community in University Worship this Sunday at 11:00 a.m. We will hear the story of how God honors and creates community and we will gather together around our family table to be fed and strengthened for service. Come join us! There's a place at the table reserved just for you!
Submitted by Keith Turner kt160@evansville.edu
BSU hosts trip to Cincinnati to visit Freedom Center and see Black Panther movie
In celebration of Black History Month, the Black Student Union is hosting a trip to Cincinnati, Ohio, on Saturday, February 24 to visit the Underground Railroad Freedom Center and see the Black Panther movie which premieres February 16.
The trip is free for all UE students except for meals and keepsakes, with a $20 deposit returned the day of the trip. Campus members are invited to participate as well but only transportation is provided.
Seating is limited, so there is a deadline of February 16 to register for the event. Registration forms can be picked up at the Office of Diversity Initiatives in Olmsted room 234 or from any BSU executive member.
All interested students/campus members should stop by the Office of Diversity Initiatives in Room 234 in Olmsted Administration Hall, to register and pay the deposit.
Submitted by LaNeeca Williams lw161@evansville.edu
TIAA individual counseling sessions for February
The TIAA-CREF representative will be on the UE campus for individual counseling sessions on February 21, 22, and 23. To schedule an appointment, call TIAA-CREF at 1-800-732-8353.
Please note that the meeting location has been changed to Room 153 (Eades Music Room) in the Schroeder School of Business Building.
Submitted by Lori LeDuc ll138@evansville.edu
Tips for writing a personal statement for medical school
Planning to apply to medical school this summer? Come to the health advising workshop, "Tips for Writing a Personal Statement for Medical School." We will discuss how to get started, where to find accurate resources for assistance, and the best ways to use UE services to streamline this process.
A workshop is scheduled for today - Tuesday, February 6 - at 11:00 a.m. in Room 203 (J. Henry Schroeder Boardroom) in the library.
Please contact the pre-professional health advisor Francie Renschler with any questions.
Submitted by Francie Renschler fr25@evansville.edu
Swim lessons
The University of Evansville swim team is hosting session four of swimming lessons from Monday, February 5-March 1. The cost is $85. The lessons are coached by our own Purple Aces swimming team. For more information, visit our Aquatic Aces Swim and Dive lessons page on Facebook, or e-mail Emma Forbes-Milne (ef112@evansville.edu). We accept ages 3-18 at any level!
Submitted by Emma Forbes-Milne ef112@evansville.edu
What is UE Habitat Barn Blitz?
Have you heard about UE Habitat Barn Blitz?
The University of Evansville is dedicated to helping make a change in the world and now has a chance to help UE students, faculty, and staff leave a mark on the community! On April 7, UE and Habitat for Humanity will be partnering to host a "Barn Blitz" where we build 30 backyard barns in one day.
Throughout the semester, UE is running several events to help prepare everything needed for the big day, and things are already off to a great start! There are already several teams registered for the Barn Blitz, and this past Saturday we had over 20 people come out to the Habitat offices to train for building the barns.
Upcoming events include:
February 4: Building extra jigs (template of the barn walls) so we can construct several walls at once.
February 17: Building walls during Road Trip with the help of future UE students.
March 23: ChangeFest 2.0 – Professor Mark Valenzuela's second attempt at the tortilla stacking world record. There will also be a barn building showcase.
March 24: Building barn walls as a part of UE Gives Back.
April 7: Barn Blitz Day!
If you are interested in more information about the events or have questions about how to get involved, please e-mail Holly Carter, director of education abroad, at hc110@evansville.edu.
Submitted by Greta Becker gb91@evansville.edu
Free ballroom lesson
The UE Ballroom Club is bringing in American smooth and rhythm champion Sean Michael Gehlhausen for a FREE lesson! This event is planned for Saturday, February 10 from 1:00-2:30 p.m. at Tri-State Athletic Club (555 Tennis Lane). No experience or partner needed, just your UE ID. Bring your friends or a group and e-mail the names of any attendees to Erin Lewis at EL131@evansville.edu. Sign-ups allowed until 5:00 p.m. today - Friday, February 9! Professional demonstrations provided as well.
Submitted by Cindy Kelley ck116@evansville.edu
Art with a Twist
Paint like Gauguin today from 6:30-8:30 p.m. at the Painting With a Twist Gallery, located at 5625 E. Virginia St., Suite A in Evansville. The cost is $35 and it includes all materials and snacks! Alcoholic beverages will also be available for purchase.
Register online at www.paintingwithatwist.com/studio/evansville using the passcode: TWIST.
This is a fundraising event for UE Friends of Art.
Submitted by Corliss Chastain cc270@evansville.edu
Sign up for trip to Paoli Peaks
The Venturing Crew and the International Club are hosting midnight skiing and snowboarding at Paoli Peaks on February 9. This event is open to campus. The cost if only $10 with everything included. Sign-up on the first floor of Ridgway University Center today, Monday (February 5), and Tuesday (February 6) during lunch and dinner times. Questions? E-mail Sydney Winstead at sw228@evansville.edu.
Submitted by Sydney Winstead sw228@evansville.edu
Celebrate the Big Game with a football party!
Schroeder Hall council and RSA will be hosting a party to watch the Patriots versus the Eagles this Sunday. There will be wings, nachos, tea, lemonade, prizes and games. Come spend a fun night in Rademachers Lounge for the football party of the year. The event starts at 4:30 p.m.
Submitted by Aaron Michael Cochran Ac72@evansville.edu
Rotary to present $20,000 check for Changemaker Challenge
The University of Evansville's Institute for Global Enterprise's Changemaker Challenge program has been named the recipient of funds raised at this year's Rotary Santa Run.
Rotary president Cullen Stanley will present a check for $20,000 for the 2018-19 Changemaker Challenge program to Jill Griffin, executive director of the Institute for Global Enterprise, and Erin Lewis, program director of the Institute for Global Enterprise, on Tuesday, February 6. The event will be at noon at the Tropicana Executive Convention Center, located at 421 NW Riverside Drive in Evansville. The UE community is invited to attend this celebration of service.
The Rotary Club of Evansville supports the Evansville and the Tri-State communities by providing resources for projects and programs which serve to benefit and strengthen our community.
Over the past 104 years, the Rotary Club of Evansville has funded and supported many projects and programs such as: Classroom Enrichment Grants, Community Grants; Canoe/Kayak Launch from Pigeon Creek; North Woods Trails and the YMCA Fitness Center. In addition, funds are used for Rotary International's initiative for the eradication of polio worldwide; medical supplies, eye diagnostic equipment and ambulances to the Yucatan International Project; clean water projects in the City of Tizimin and the list goes on and on. The Rotary Santa Run serves as a major fundraising event for the Rotary Club of Evansville.
The Changemaker Challenge addresses creativity and motivates both collegiate and high school students to identify and provide solutions to challenges in the world and community around them. Through competitive competition, young people present their identified issues, problems or needs and their solutions to these situations. Then their presentation is voted on by judges. Prize money, scholarship and other awards are given to the creative winners. The Changemaker Challenge draws young people in our region to seek fresh, new ideas and provide the energy to increase the vibrancy in our community.
Cullen Stanley, the 2017-18 Evansville Rotary president, congratulated the Changemaker Challenge program, stating that the program "is designed to motivate young people to take a leading role in identifying and solving challenges in the world around them through innovation and creativity. This falls in line with Rotary's mission statement of bringing business and professional leaders together in order to provide humanitarian services, encourage high ethical standards and to advance goodwill and peace around the world."
Stanley added that both organizations are committed to making a positive impact in the community.
"As such, we are excited for the opportunity to support a program that empowers the leaders of tomorrow to make a better community for all," added Stanley.
Andiron Lecture: Settler Memory of Indigenous Florida
Kristalyn M. Shefveland will be the speaker for the University of Evansville Andiron Lecture on Wednesday, February 7. The lecture will begin at 4:00 p.m. in Eykamp Hall, Room 252, Ridgway University Center. Shefveland's topic will be "Settler Memory of Indigenous Florida."
Shefveland, an associate professor of history at the University of Southern Indiana, is the author of Anglo-Native Virginia: Trade, Conversion, and Indian Slavery in the Old Dominion, 1646-1722. She has been a contributing essayist to Virginia Women: Their Lives and Times; The Bloomsbury Encyclopedia of the American Enlightenment; and Beyond Two Worlds: Critical Conversations on Language and Power in Native North America. A scholar of the indigenous Eastern Woodlands of North America, her research and publications focus on the intersections of settlers and indigenous peoples in the American Southeast, and she is currently working on a book on historical memory of Florida.
The Andiron Lecture series is sponsored by the William L. Ridgway College of Arts and Sciences. For more information, call 812-488-1070 or 812-488-2589.
Dining Updates from Chartwells: Chick-fil-A Breakfast, Koch Center Express Market, Expanded Seating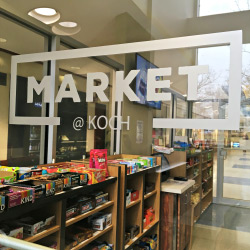 Chartwells has recently made several advancements to enhance your on campus dining experience!
Chick-fil-A Now Serving Breakfast
Chick-fil-A, located on the first floor of Ridgway University Center, is now serving breakfast! Hours have been extended as follows:
Monday – Friday: 7:00 a.m. – 10:00 p.m.
Saturday: 2:00 p.m. – 10:00 p.m.
Sunday: Closed
Expanded Seating for Rademacher's and Chick-fil-A
Additional seating has been added on the first floor of Ridgway University Center to accommodate guests near Rademacher's Café and Chick-fil-A.
Koch Center Express Market Now Fully Self-Service
The Express Market on the first floor of the atrium in Koch Center is now fully self-service and can be accessed with your UE ID any time the building is open and accessible. Enjoy snacks, beverages, or a quick lunch on the go from this self-check convenience store.
Media appearances pile up for Professor Robert Dion
It's not uncommon for Robert Dion, chair of the Department of Law, Politics, and Society, to appear in the news to comment on some political development. Last Wednesday, however, was unusually busy, with three different interviews in the space of two hours. First, there was a live radio interview on Radio-Canada to discuss with French listeners the likely after-effects of the State of the Union address. Then, there was a call from the state's largest newspaper, the Indianapolis Star, to discuss Governor Eric Holcomb's involvement with the failed bias crimes bill. Finally, there was a visit by a WEHT reporter to his classroom to discuss with him and his students how they evaluated the State of the Union address for a class assignment. It's not clear what prompted this flurry of media interest, but it did coincide with the Super Blue Blood Moon, so that may be a possibility.
Exciting spring slate ahead for Aces men's soccer
University of Evansville head men's soccer coach Marshall Ray announced the team's spring schedule on Thursday, highlighted by a pair of matchups with teams who reached the 2017 NCAA Elite Eight.

"Spring training and matches are a great time for our program to concentrate on individual improvement. It allows all of our guys the chance to get meaningful minutes during match play," said Aces head coach Marshall Ray. "Four teams from our spring schedule will be on our fall calendar. This will allow our staff the chance to evaluate our team and plan where we need to focus our attention during the August training camp. It is going to be a challenging and competitive spring capped off by the annual Mayor's Cup."

Evansville is coming off a 2017 campaign that saw Ray lead his squad to its second-straight double-digit win season and the 29th winning season in program history. Amassing an 11-8-2 record, the Aces advanced to the semifinals of the MVC Tournament before falling in penalty kicks. The back-to-back double-digit win seasons were the first since the 1995 and 1996 seasons. At the conclusion of the year, Evansville ended the season as the highest rated MVC program in the RPI.

The Purple Aces get their spring slate underway on February 25 when they will take on Valparaiso and 2017 College Cup finalist Indiana in Bloomington, Ind.

On Saturday, March 10, Evansville will again serve as host for a pair of professional clubs as St. Louis FC and reigning USL champions Louisville City FC do battle at Arad McCutchan Stadium. The professional soccer exhibition will be the third hosted on campus in three years. Indy Eleven and Lousiville City FC played to a 1-1 draw last season and St. Louis and Indy Eleven battled to a 1-1 draw in 2016.

"We have enjoyed bringing professional soccer to our community the last two springs and are thankful we have the opportunity to do so again this year," said Ray. "It should prove to be a great match again as this will be the last preseason match for both teams before they kick off their regular season the following weekend. There is an added dimension this year as these two teams are rivals but due to conference realignment, this will be their only meeting in 2018. They both have great supporter groups so I am sure it will be a lively atmosphere at the match. We look forward to seeing our soccer community out to support the match."
UE coach Manolo Concepcion continues work with USA Volleyball
Over the next two months, University of Evansville head volleyball coach Manolo Concepcion will work with USA Volleyball at four national team tryouts.
USA Volleyball High Performance encompasses identification, evaluation, training, development, and international competition across all three disciplines (Beach, Indoor and Sitting) of volleyball, building a National Pipeline to the podium. The mission of High Performance is to identify, train and develop elite athletes and coaches to build a sustainable pipeline of future Olympians and Paralympians.
"It is exciting to be able to work with USA Volleyball once again," Concepcion said. "This is a unique opportunity to work with volleyball players in several age groups on their training and development. With three of these tryouts very close to Evansville, it is a perfect chance for us to represent our program, city and university.
High Performance bridges the gap between our Senior U.S. National Teams and high potential athletes. The High Performance National Team "Pipeline" is for volleyball athletes who aspire to reach the elite level of their sport and is intended to grow the pool of talented young players who may someday compete for a spot on the U.S. National and Olympic Teams.
Concepcion will work four tryouts for USA Volleyball and is involved in evaluation and the running of drills. His first tryout will be on February 2 in Nashville. After a pair of March tryouts in Indianapolis, Concepcion heads to Dallas for the final event on April 19.
Introducing ChangeLab: Formerly Known as GAP
After a year-long process with input from faculty, staff, and community members, the GAP program has been renamed to ChangeLab.

ChangeLab provides a chance to test your skills by connecting the classroom and the real world. Innovate and collaborate to create positive change for businesses, non-profits, and the community.
Thank you to the many students, faculty, staff, and partners who have been or are engaged in the 23 projects we have supported this academic year or the 72 projects we have supported since 2012!
Submitted by: Jill Griffin
Propose your own ChangeLab (GAP) project!

GAP is being renamed ChangeLab and is now accepting proposals from both faculty and students interested in proposing their own ChangeLab course for Fall 2018. If you have an idea to make a difference in your community, or even the world, we encourage you to apply. Class credit and financial support are available, and your idea can help nonprofits, for-profit businesses, or civic projects.
Submit your idea at one of the links below no later than Monday, February 5 at 5:00 pm Central Time (spots are limited, apply early!). We will let you know if your project is approved.
For more information, call 812-488-5002 or visit www.evansville.edu/gap.
Submitted by Cindy Kelley ck116@evansville.edu
Professors Kretz and Dion Participate in Forum to Combat Racial Intolerance
The Evansville-Vanderburgh County Human Relations Commission hosted a panel discussion and community forum Thursday night to discuss effective ways to respond to racial incidents and other forms of bias. Lisa Kretz, assistant professor of philosophy, was one of the five panelists who shared ideas about how to promote understanding and effect social change. Robert Dion, the longtime chair of the Human Relations Commission, was the moderator for the evening's discussion. Evansville Mayor Lloyd Winnecke, a UE alum, also spoke at this event about support for a community free of discrimination. For more information about Thursday's event, see the local news coverage here and here.
Strandberg publishes essay
Assistant professor of music history Kristen Strandberg contributed an essay to conference proceedings recently published by the National Chopin Institute in Warsaw, Poland. The volume's essays demonstrate the ways in which vocal music influenced instrumental music in the nineteenth century. Strandberg's essay is titled "The 'Singing' Violinist as Artistic Genius in Nineteenth-Century France.
Bhargavi Bandi is February 2018 Employee of the Month!
Bhargavi Bandi has been named the University of Evansville's February 2018 Employee of the Month.
Bhargavi has been instrumental in developing the computer system, Slate, to enhance recruiting endeavors in the admission office. As enrollment technology specialist, she has made it possible to bring other departments across campus into Slate to enhance their departmental work flow.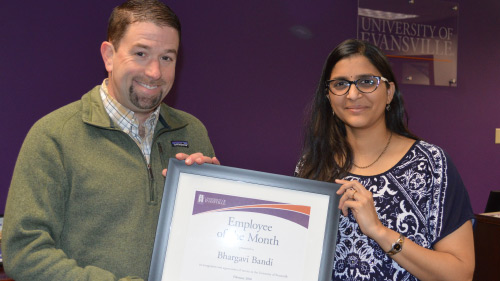 Bhargavi is always ready to assist in any way that she can and she keeps calm no matter how difficult the task is in front of her. When called upon, she is quick to resolve a problem. Bhargavi displays an amazing attitude at all times, even while being pulled in many different directions. She is extremely capable and helpful to all.
Congratulations to Bhargavi on being awarded February 2018 Employee of the Month!
Lisa Hale and family
Condolences to visiting assistant professor of education Lisa Hale and her family on the loss of her mom. A private memorial service is being planned.
Submitted by Elaine Freels ef97@evansville.edu
Contribute to AceNotes
To have content considered for inclusion in AceNotes, please submit a Marketing Request Form. Deadline for submission to AceNotes is 10:00 a.m. on the requested date of publication. Only articles concerning UE related/sponsored activities will be accepted. Articles submitted to AceNotes may be edited for length and clarity. Submitter contact information is at the end of each article.