| | |
| --- | --- |
| AceNotes Today | Wednesday, January 31, 2018 |
Test of University Rave Ace Alert System set for Jan. 31
On Wednesday, January 31, the Office of Safety and Security will conduct a test of the University Rave Ace Alert System. A test message will be sent out at 11:00 a.m. It will include all aspects of the system: e-mail, text messages, Alertus (University computers), and University televisions. If you fail to receive an e-mail or text message notification by noon, please notify the Office of Safety and Security at 812-488-2051 or e-mail security@evansville.edu.
Men's basketball home today to face UNI
Two of the top defensive teams in the Missouri Valley Conference meet on the hardwood for the first time this season when the University of Evansville men's basketball team welcomes UNI to the Ford Center for a 7:00 p.m. tilt today at the Ford Center.
Evansville looks for its first 3-game conference win streak of the season as the Purple Aces are coming off of a 77-73 win over Drake on Saturday. Ryan Taylor led the way with 25 points and a career-best 8 rebounds while Noah Frederking had his best league effort, tallying 16. On a day where his father's jersey was retired, Blake Simmons notched 14 points.
For the 11th time this season, Ryan Taylor reached the 20-point mark as he totaled 25 on a 10-of-18 shooting day against Drake. He drained 10 shots for the third time this season and continued his streak of reaching double figures in each of his 16 games this season; he has scored 10+ in 18 consecutive games overall. By hauling in eight rebounds versus the Bulldogs, Taylor set his career mark in that statistic.
Getting valuable playing time is priceless in the MVC and Noah Frederking is getting just that in his first collegiate season. Frederking has averaged 5.6 points per game this season and is shooting a smooth 89.3% from the free throw line (25/28). He had his best league game in the win over Drake, tallying 16 points on 4-of-9 shooting and a 6-6 day from the line.
Over the last three games, the Purple Aces have gone 61-of-68 from the free throw line - a scorching 89.7%. A 10/12 game at Bradley started the streak before UE went 29-of-31 at Valparaiso and 22 out of 25 in the home win over Drake. The team now ranks eighth in the country, hitting 78.3% of its attempts; it is on pace to be the best mark in program history; the previous team high was 77.2% in 1998-99.
UNI fell in its first five MVC games, but has gone 3-2 since then to stand at 11-11 overall and 3-7 in Valley play. Two Panthers averaged double figures with Bennett Koch recording 12.2 points per game and Tywhon Pickford checking in with 10.7 PPG. Pickford has upped his output to 13.5 PPG in conference games and scored 14 points last time out against Loyola as the Ramblers earned a 70-47 win. Klint Carlson also had 14 points in Sunday's game in Chicago.
I-House Spain
Pease join us tonight at 7:00 p.m., upstairs in Ridgway University Center, for an I-House presentation on Spain! Andrea Ruiz-Ramis and Irene Serna Vera are presenting. We hope to see you there!
Submitted by Alexis Whitacre aw339@evansville.edu
Black Student Union kicks off Black History Month with events
The Black Student Union is sponsoring events this week to kick-off the start of Black History Month.
BSU will be hosting "The Women of the Civil Rights Movement: Live Experience" on Saturday, February 3 from 6:00-8:00 p.m. in Eykamp Hall, Room 251, Ridgway University Center
The live experience will show how historically women were critically involved in the Civil Rights Movement.
This is free and open to the public.
Please come out and support Black History Month with the Black Student Union.
For more information contact BSU president DaLisa McCallum at dm254@evansville.edu.
Submitted by LaNeeca Williams lw161@evansville.edu
Swim lessons
The University of Evansville swim team is hosting session four of swimming lessons from Monday, February 5-March 1. The cost is $85. The lessons are coached by our own Purple Aces swimming team. For more information, visit our Aquatic Aces Swim and Dive lessons page on Facebook, or e-mail Emma Forbes-Milne (ef112@evansville.edu). We accept ages 3-18 at any level!
Submitted by Emma Forbes-Milne ef112@evansville.edu
Tonight - UEMTA presents... Spotlight!
The University of Evansville Music Therapy Association's annual philanthropy event Spotlight! Is set for tonight at 7:30 p.m. in Eykamp Hall, Ridgway University Center. Students from all over campus will be performing a variety of musical acts. Proceeds from the event will go to the Isaac Miller Music Matters Family Foundation, an organization in the Evansville area that promotes music therapy and music education.
Admission is $5.
There will be prizes of gift cards from Jeanne's Gelato, Turoni's Pizza, and Honey Moon Coffee Co. for the 1st, 2nd, and 3rd place acts. The top three acts will be determined by crowd pleaser donations.
There will also be a door prize drawing for members of the audience.
Submitted by Amanda Mackey am523@evansville.edu
What is UE Habitat Barn Blitz?
Have you heard about UE Habitat Barn Blitz?
The University of Evansville is dedicated to helping make a change in the world and now has a chance to help UE students, faculty, and staff leave a mark on the community! On April 7, UE and Habitat for Humanity will be partnering to host a "Barn Blitz" where we build 30 backyard barns in one day.
Throughout the semester, UE is running several events to help prepare everything needed for the big day, and things are already off to a great start! There are already several teams registered for the Barn Blitz, and this past Saturday we had over 20 people come out to the Habitat offices to train for building the barns.
Upcoming events include:
February 4: Building extra jigs (template of the barn walls) so we can construct several walls at once.
February 17: Building walls during Road Trip with the help of future UE students.
March 23: ChangeFest 2.0 – Professor Mark Valenzuela's second attempt at the tortilla stacking world record. There will also be a barn building showcase.
March 24: Building barn walls as a part of UE Gives Back.
April 7: Barn Blitz Day!
If you are interested in more information about the events or have questions about how to get involved, please e-mail Holly Carter, director of education abroad, at hc110@evansville.edu.
Submitted by Greta Becker gb91@evansville.edu
Celebrate the Big Game with a football party!
Schroeder Hall council and RSA will be hosting a party to watch the Patriots versus the Eagles this Sunday. There will be wings, nachos, tea, lemonade, prizes and games. Come spend a fun night in Rademachers Lounge for the football party of the year. The event starts at 4:30 p.m.
Submitted by Aaron Michael Cochran Ac72@evansville.edu
Coffee and Classics at Wired
Several UE music faculty will perform in the upcoming "Coffee and Classics" variety show at Wired this coming Thursday, February 1 at 7:00 p.m.! "Coffee and Classics" features live classical chamber music in the intimate performance space at Wired, with a full range of the highest quality coffee concoctions.
Thursday's performance brings together a variety of instrumentalists performing in seldom-heard combinations, and features composers from around the world, many of whom are still living. Performers include Leanne Hampton on flute, Emily Britton on horn, Ross Erickson on marimba, Joshua Britton on trombone, James Sullivan on the double bass, and Kirsten Jerme on cello. The program includes works by Osvaldo Golijov, Jan Bach, Alfred Schnittke, Verne Reynolds, Heitor Villa-Lobos, Eve Beglarian, Bryce Craig, and Vaclav Nelhybel.
The concert is free and open to the public! At-will donations will be accepted. The coffee house will open at 6:00 p.m., and the concert starts at 7:00 p.m. Wired is located at 111 NW 4th Street in downtown Evansville.
Many thanks to Wired owner David Rudibaugh for making this series possible!
Please stay tuned for more "Coffee and Classics" concerts coming up! A list of upcoming dates is below:
March 1: Eykamp String Quartet presents "Quartet Deconstructed"
March 29: Percussionist Ross Erickson and friends
April 19: Flute and guitar duos with Leanne Hampton and Paulo Oliveira
May 24: Eykamp String Quartet with cellist Jenny Farny
June 21: Hornist Emily Britton and friends
Submitted by James Sullivan js820@evansville.edu
This Week in Music: Jazz Ensemble Concerts
UE Jazz Ensemble Presents Essentially Ellington Concert
Saturday, February 3, 7:00 p.m., Preston Arts Center (Henderson, Kentucky)
The University of Evansville Jazz Ensemble, directed by Timothy Zifer, will present an encore of their Essentially Ellington concert at the Preston Arts Center in Henderson, Kentucky, on Saturday, February 3, at 7:00 p.m. The audience will be on stage with the 22 piece band in an intimate jazz club setting with seating for 100.
To purchase tickets, visit: www.eventbrite.com/e/essentially-ellington-the-university-of-evansville-jazz-ensemble-tickets-41646561988.
Submitted by James Sullivan js820@evansville.edu
Rotary to present $20,000 check for Changemaker Challenge
The University of Evansville's Institute for Global Enterprise's Changemaker Challenge program has been named the recipient of funds raised at this year's Rotary Santa Run.
Rotary president Cullen Stanley will present a check for $20,000 for the 2018-19 Changemaker Challenge program to Jill Griffin, executive director of the Institute for Global Enterprise, and Erin Lewis, program director of the Institute for Global Enterprise, on Tuesday, February 6. The event will be at noon at the Tropicana Executive Convention Center, located at 421 NW Riverside Drive in Evansville. The UE community is invited to attend this celebration of service.
The Rotary Club of Evansville supports the Evansville and the Tri-State communities by providing resources for projects and programs which serve to benefit and strengthen our community.
Over the past 104 years, the Rotary Club of Evansville has funded and supported many projects and programs such as: Classroom Enrichment Grants, Community Grants; Canoe/Kayak Launch from Pigeon Creek; North Woods Trails and the YMCA Fitness Center. In addition, funds are used for Rotary International's initiative for the eradication of polio worldwide; medical supplies, eye diagnostic equipment and ambulances to the Yucatan International Project; clean water projects in the City of Tizimin and the list goes on and on. The Rotary Santa Run serves as a major fundraising event for the Rotary Club of Evansville.
The Changemaker Challenge addresses creativity and motivates both collegiate and high school students to identify and provide solutions to challenges in the world and community around them. Through competitive competition, young people present their identified issues, problems or needs and their solutions to these situations. Then their presentation is voted on by judges. Prize money, scholarship and other awards are given to the creative winners. The Changemaker Challenge draws young people in our region to seek fresh, new ideas and provide the energy to increase the vibrancy in our community.
Cullen Stanley, the 2017-18 Evansville Rotary president, congratulated the Changemaker Challenge program, stating that the program "is designed to motivate young people to take a leading role in identifying and solving challenges in the world around them through innovation and creativity. This falls in line with Rotary's mission statement of bringing business and professional leaders together in order to provide humanitarian services, encourage high ethical standards and to advance goodwill and peace around the world."
Stanley added that both organizations are committed to making a positive impact in the community.
"As such, we are excited for the opportunity to support a program that empowers the leaders of tomorrow to make a better community for all," added Stanley.
Free coffee tomorrow
Join us tomorrow – Thursday, February 1 - for free coffee and informal networking with alumni and friends of the University. Learn about their journey to their current job and the skills needed for career success. The event will be from 4:00-5:00 p.m. on the second floor of Ridgway University Center, across from WUEV. This week's focus is on careers in law and government.
Submitted by Alison Morris-McDonald am268@evansville.edu
Andiron Lecture: Settler Memory of Indigenous Florida
Kristalyn M. Shefveland will be the speaker for the University of Evansville Andiron Lecture on Wednesday, February 7. The lecture will begin at 4:00 p.m. in Eykamp Hall, Room 252, Ridgway University Center. Shefveland's topic will be "Settler Memory of Indigenous Florida."
Shefveland, an associate professor of history at the University of Southern Indiana, is the author of Anglo-Native Virginia: Trade, Conversion, and Indian Slavery in the Old Dominion, 1646-1722. She has been a contributing essayist to Virginia Women: Their Lives and Times; The Bloomsbury Encyclopedia of the American Enlightenment; and Beyond Two Worlds: Critical Conversations on Language and Power in Native North America. A scholar of the indigenous Eastern Woodlands of North America, her research and publications focus on the intersections of settlers and indigenous peoples in the American Southeast, and she is currently working on a book on historical memory of Florida.
The Andiron Lecture series is sponsored by the William L. Ridgway College of Arts and Sciences. For more information, call 812-488-1070 or 812-488-2589.
MVC Releases Baseball Preseason Poll
With the season opener just weeks away, the Missouri Valley Conference released its annual baseball preseason poll Tuesday morning. The University of Evansville baseball team is picked to finish seventh in the eight team league. Nationally ranked Dallas Baptist is the heavy favorite to win it all, receiving seven of the eight available first place votes. Missouri State was selected to finish second, receiving the only other first place vote.
Purple Aces head coach Wes Carroll, who is entering his tenth season at the helm, returns a roster that features five seniors, several experienced underclassmen, as well as strong crop of freshmen. UE opens up the season February 16 in a weekend tournament at Wofford University, with games against Fordham, Dayton and nationally ranked Kentucky on successive days. The Aces' home opener is Friday, March 2 with the beginning of a 3-game weekend series against Western Illinois.
Honors Program "HACER" community service initiative has a "to do" focus
A group of 19 Honors Program students donated time last weekend at the Evansville Rescue Mission, Ronald McDonald House, and United Caring Services through a new community service initiative they are calling HACER ("to do" in Spanish). They presented two of the organizations with $100 donations made possible through funds raised at the annual Honors Program/HAB Nerd Wars. A special thanks goes out to Aditi Sood, Karyn Banks, Josh Baty, Elizabeth Niedbala, Minka Gill, Rachel Haller, Samantha Wallisch, Ian Alberts, Evan Barnett, Sarah Weithers, Kianna Wong, Vaishnavi Ravipati, Gillian Short, Serena Thaman, Aimee Savoie, Summer El-Khodary, Abigail Schubert, Michaela Kunkler, Rachel Gomes, and Victoria Martin.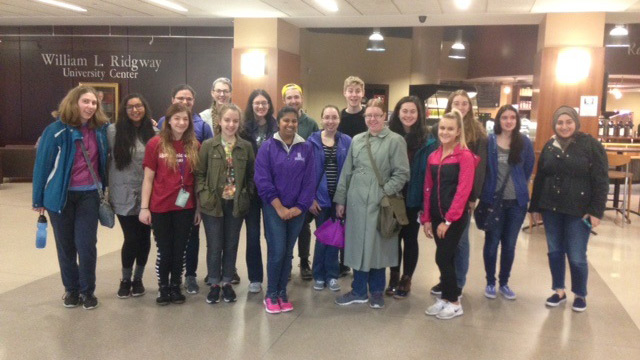 Submitted by Cherie Leonhardt CL29@evansville.edu
Introducing ChangeLab: Formerly Known as GAP
After a year-long process with input from faculty, staff, and community members, the GAP program has been renamed to ChangeLab.

ChangeLab provides a chance to test your skills by connecting the classroom and the real world. Innovate and collaborate to create positive change for businesses, non-profits, and the community.
Thank you to the many students, faculty, staff, and partners who have been or are engaged in the 23 projects we have supported this academic year or the 72 projects we have supported since 2012!
Submitted by: Jill Griffin
2017 W-2s processed
W-2 forms have been processed for all employees and student workers.
Employees and student workers who did not provide their consent to electronic W-2's should receive their W-2 in the mail Saturday or Monday.
If you have already provided consent to electronic W-2's, you can view/print your W-2 now. Simply log onto Self-Service (https://selfservice.evansville.edu), locate the item titled "Tax Information" either on the main page, or in the left-hand menu under "Financial Information." Click the option "W-2 Information" and then click on 2017 W-2 statement.
If you have any questions, please feel free to contact Gloria Spencer at ext. 2159 or gs55@evansville.edu.
Nerd Wars registration deadline extended to Jan. 31
The Honors Program is hosting Nerd Wars trivia night on Tuesday, February 13, at 7:00 p.m., in Eykamp Hall! Students, faculty, administrators, and staff can all form teams of up to five people to battle in a competition of wits while enjoying pizza, popcorn, and soda. Winners will receive $25 Master Card/VISA gift cards. Other prizes include Bluetooth speakers, Bluetooth headsets, A Fitbit-flex 2, a streaming video DRONE1, and more!
You can register your team online NOW.
Pay your $5 per person entry fee to Jayme Williams in Room 238, Koch Center for Engineering and Science. Those who are unable to compose a team of five may still register and will be matched to make a team. The deadline to enter has been extended to January 31.
Questions can be e-mailed to Aditi at as783@evansville.edu
Submitted by Aditi Sood as783@evansville.edu
Health tip for flu and cold season: Cover your cough!
Cover your cough! Stop the spread of germs that can make you and others sick!
Here are some ways you can stop the spread of germs:
Cover your mouth and nose with a tissue when you cough or sneeze. Put your used tissue in the waste basket.
If you don't have a tissue, cough or sneeze into your upper sleeve or elbow, not your hands.
You may be asked to put on a face mask to protect others.
Wash hands often with soap and warm water for 20 seconds. If soap and water are not available, use an alcohol-based hand rub.
Submitted by Ashley Craig ac408@evansville.edu
Today is deadline to submit nominations for Outstanding Teacher Award
The UE Alumni Association recognizes an outstanding teacher for exemplary instruction and student support at spring commencement. UE administrators, faculty, staff, students, and alumni may nominate a faculty member who exemplifies the award's criteria for outstanding teaching effectiveness that inspires the intellectual development of students.
Please use this link to nominate a faculty member for the auspicious occasion: www.evansville.edu/alumni/outstandingTeacher.cfm.
Full-time faculty who have taught in the classroom at UE for two years or more and held the rank of lecturer, instructor, assistant professor, associate professor, or professor are eligible for nomination.
Past award recipients are as follows: James Berry in 2011; Mari Plikuhn in 2012; Mark Valenzuela in 2013; Jennie Ebeling in 2014; Margaret Stevenson in 2015, M. Kevin Gray in 2016, and Mary Ellen Wylie in 2017.
The deadline to submit nominations is January 31, at 5:00 p.m.
For questions, contact Tracey Folden at tf91@evansville.edu.
Strandberg publishes essay
Assistant professor of music history Kristen Strandberg contributed an essay to conference proceedings recently published by the National Chopin Institute in Warsaw, Poland. The volume's essays demonstrate the ways in which vocal music influenced instrumental music in the nineteenth century. Strandberg's essay is titled "The 'Singing' Violinist as Artistic Genius in Nineteenth-Century France.
Bhargavi Bandi is February 2018 Employee of the Month!
Bhargavi Bandi has been named the University of Evansville's February 2018 Employee of the Month.
Bhargavi has been instrumental in developing the computer system, Slate, to enhance recruiting endeavors in the admission office. As enrollment technology specialist, she has made it possible to bring other departments across campus into Slate to enhance their departmental work flow.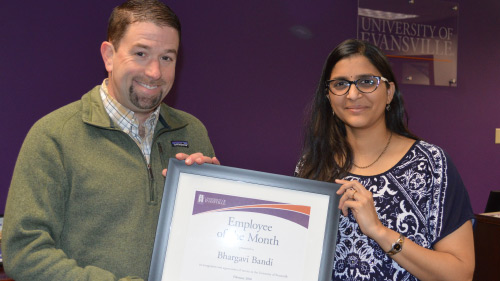 Bhargavi is always ready to assist in any way that she can and she keeps calm no matter how difficult the task is in front of her. When called upon, she is quick to resolve a problem. Bhargavi displays an amazing attitude at all times, even while being pulled in many different directions. She is extremely capable and helpful to all.
Congratulations to Bhargavi on being awarded February 2018 Employee of the Month!
Contribute to AceNotes
To have content considered for inclusion in AceNotes, please submit a Marketing Request Form. Deadline for submission to AceNotes is 10:00 a.m. on the requested date of publication. Only articles concerning UE related/sponsored activities will be accepted. Articles submitted to AceNotes may be edited for length and clarity. Submitter contact information is at the end of each article.