| | |
| --- | --- |
| AceNotes Today | Tuesday, January 30, 2018 |
Test of University Rave Ace Alert System set for Jan. 31
On Wednesday, January 31, the Office of Safety and Security will conduct a test of the University Rave Ace Alert System. A test message will be sent out at 11:00 a.m. It will include all aspects of the system: e-mail, text messages, Alertus (University computers), and University televisions. If you fail to receive an e-mail or text message notification by noon, please notify the Office of Safety and Security at 812-488-2051 or e-mail security@evansville.edu.
This Week in Music: Jazz Ensemble Concerts
UE Jazz Ensemble Presents Essentially Ellington Concert
Saturday, February 3, 7:00 p.m., Preston Arts Center (Henderson, Kentucky)
The University of Evansville Jazz Ensemble, directed by Timothy Zifer, will present an encore of their Essentially Ellington concert at the Preston Arts Center in Henderson, Kentucky, on Saturday, February 3, at 7:00 p.m. The audience will be on stage with the 22 piece band in an intimate jazz club setting with seating for 100.
To purchase tickets, visit: www.eventbrite.com/e/essentially-ellington-the-university-of-evansville-jazz-ensemble-tickets-41646561988.
Submitted by James Sullivan js820@evansville.edu
PA Club first meeting is today
Interested in becoming a PA? Join the PA Club, a club for both graduate and undergraduate students who are pursuing a career as a PA. Our first meeting will be today - Tuesday, January 30 - at 6:00 p.m. in Graves 100. Any questions please e-mail hv25@evansville.edu.
Submitted by Haley Vos hv25@evansville.edu
I-House Spain
Pease join us tonight at 7:00 p.m., upstairs in Ridgway University Center, for an I-House presentation on Spain! Andrea Ruiz-Ramis and Irene Serna Vera are presenting. We hope to see you there!
Submitted by Alexis Whitacre aw339@evansville.edu
Coffee and Classics at Wired
Several UE music faculty will perform in the upcoming "Coffee and Classics" variety show at Wired this coming Thursday, February 1 at 7:00 p.m.! "Coffee and Classics" features live classical chamber music in the intimate performance space at Wired, with a full range of the highest quality coffee concoctions.
Thursday's performance brings together a variety of instrumentalists performing in seldom-heard combinations, and features composers from around the world, many of whom are still living. Performers include Leanne Hampton on flute, Emily Britton on horn, Ross Erickson on marimba, Joshua Britton on trombone, James Sullivan on the double bass, and Kirsten Jerme on cello. The program includes works by Osvaldo Golijov, Jan Bach, Alfred Schnittke, Verne Reynolds, Heitor Villa-Lobos, Eve Beglarian, Bryce Craig, and Vaclav Nelhybel.
The concert is free and open to the public! At-will donations will be accepted. The coffee house will open at 6:00 p.m., and the concert starts at 7:00 p.m. Wired is located at 111 NW 4th Street in downtown Evansville.
Many thanks to Wired owner David Rudibaugh for making this series possible!
Please stay tuned for more "Coffee and Classics" concerts coming up! A list of upcoming dates is below:
March 1: Eykamp String Quartet presents "Quartet Deconstructed"
March 29: Percussionist Ross Erickson and friends
April 19: Flute and guitar duos with Leanne Hampton and Paulo Oliveira
May 24: Eykamp String Quartet with cellist Jenny Farny
June 21: Hornist Emily Britton and friends
Submitted by James Sullivan js820@evansville.edu
Free coffee with Career Development
Come for free coffee and an informal career chat on Thursday, February 1 with alumni and friends of the University. Learn about their journey to their current job and the skills needed for career success. The event will be from 4:00-5:00 p.m. on the second floor of Ridgway University Center, across from WUEV.
This week's focus is on careers in law and government.
Submitted by Alison Morris-McDonald am268@evansville.edu
Honors Program "HACER" community service initiative has a "to do" focus
A group of 19 Honors Program students donated time last weekend at the Evansville Rescue Mission, Ronald McDonald House, and United Caring Services through a new community service initiative they are calling HACER ("to do" in Spanish). They presented two of the organizations with $100 donations made possible through funds raised at the annual Honors Program/HAB Nerd Wars. A special thanks goes out to Aditi Sood, Karyn Banks, Josh Baty, Elizabeth Niedbala, Minka Gill, Rachel Haller, Samantha Wallisch, Ian Alberts, Evan Barnett, Sarah Weithers, Kianna Wong, Vaishnavi Ravipati, Gillian Short, Serena Thaman, Aimee Savoie, Summer El-Khodary, Abigail Schubert, Michaela Kunkler, Rachel Gomes, and Victoria Martin.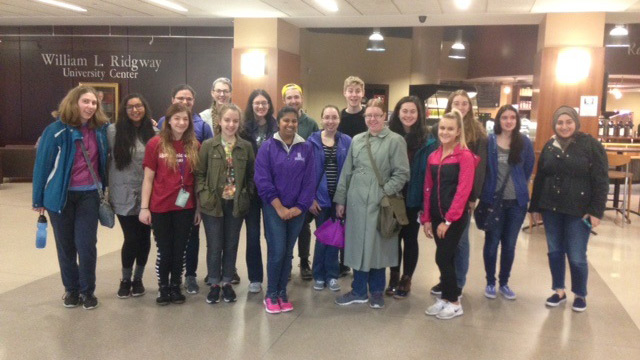 Submitted by Cherie Leonhardt CL29@evansville.edu
Introducing ChangeLab: Formerly Known as GAP
After a year-long process with input from faculty, staff, and community members, the GAP program has been renamed to ChangeLab.

ChangeLab provides a chance to test your skills by connecting the classroom and the real world. Innovate and collaborate to create positive change for businesses, non-profits, and the community.
Thank you to the many students, faculty, staff, and partners who have been or are engaged in the 23 projects we have supported this academic year or the 72 projects we have supported since 2012!
Submitted by: Jill Griffin
2017 W-2s processed
W-2 forms have been processed for all employees and student workers.
Employees and student workers who did not provide their consent to electronic W-2's should receive their W-2 in the mail Saturday or Monday.
If you have already provided consent to electronic W-2's, you can view/print your W-2 now. Simply log onto Self-Service (https://selfservice.evansville.edu), locate the item titled "Tax Information" either on the main page, or in the left-hand menu under "Financial Information." Click the option "W-2 Information" and then click on 2017 W-2 statement.
If you have any questions, please feel free to contact Gloria Spencer at ext. 2159 or gs55@evansville.edu.
Propose your own ChangeLab (GAP) project!

GAP is being renamed ChangeLab and is now accepting proposals from both faculty and students interested in proposing their own ChangeLab course for Fall 2018. If you have an idea to make a difference in your community, or even the world, we encourage you to apply. Class credit and financial support are available, and your idea can help nonprofits, for-profit businesses, or civic projects.
Submit your idea at one of the links below no later than Monday, February 5 at 5:00 pm Central Time (spots are limited, apply early!). We will let you know if your project is approved.
For more information, call 812-488-5002 or visit www.evansville.edu/gap.
Submitted by Cindy Kelley ck116@evansville.edu
Nerd Wars registration deadline extended to Jan. 31
The Honors Program is hosting Nerd Wars trivia night on Tuesday, February 13, at 7:00 p.m., in Eykamp Hall! Students, faculty, administrators, and staff can all form teams of up to five people to battle in a competition of wits while enjoying pizza, popcorn, and soda. Winners will receive $25 Master Card/VISA gift cards. Other prizes include Bluetooth speakers, Bluetooth headsets, A Fitbit-flex 2, a streaming video DRONE1, and more!
You can register your team online NOW.
Pay your $5 per person entry fee to Jayme Williams in Room 238, Koch Center for Engineering and Science. Those who are unable to compose a team of five may still register and will be matched to make a team. The deadline to enter has been extended to January 31.
Questions can be e-mailed to Aditi at as783@evansville.edu
Submitted by Aditi Sood as783@evansville.edu
Today is deadline to submit nominations for Outstanding Teacher Award
The UE Alumni Association recognizes an outstanding teacher for exemplary instruction and student support at spring commencement. UE administrators, faculty, staff, students, and alumni may nominate a faculty member who exemplifies the award's criteria for outstanding teaching effectiveness that inspires the intellectual development of students.
Please use this link to nominate a faculty member for the auspicious occasion: www.evansville.edu/alumni/outstandingTeacher.cfm.
Full-time faculty who have taught in the classroom at UE for two years or more and held the rank of lecturer, instructor, assistant professor, associate professor, or professor are eligible for nomination.
Past award recipients are as follows: James Berry in 2011; Mari Plikuhn in 2012; Mark Valenzuela in 2013; Jennie Ebeling in 2014; Margaret Stevenson in 2015, M. Kevin Gray in 2016, and Mary Ellen Wylie in 2017.
The deadline to submit nominations is January 31, at 5:00 p.m.
For questions, contact Tracey Folden at tf91@evansville.edu.
Kerr publishes chapter in Handbook of International Trade and Transportation
Schroeder School of Business professor Amanda Kerr has contributed to the Handbook of International Trade and Transportation. The Handbook is unique in pulling together the key insights of international trade and transportation while highlighting what we know about their intersection and ideas for future research. Kerr contributed the chapter, "Gravity, distance, and international trade," which was written with colleagues from Clemson University and Drexel University.
Contribute to AceNotes
To have content considered for inclusion in AceNotes, please submit a Marketing Request Form. Deadline for submission to AceNotes is 10:00 a.m. on the requested date of publication. Only articles concerning UE related/sponsored activities will be accepted. Articles submitted to AceNotes may be edited for length and clarity. Submitter contact information is at the end of each article.