| | |
| --- | --- |
| AceNotes Today | Monday, January 29, 2018 |
I-House Spain
Pease join us tonight at 7:00 p.m., upstairs in Ridgway University Center, for an I-House presentation on Spain! Andrea Ruiz-Ramis and Irene Serna Vera are presenting. We hope to see you there!
Submitted by Alexis Whitacre aw339@evansville.edu
Coffee and Classics at Wired
Several UE music faculty will perform in the upcoming "Coffee and Classics" variety show at Wired this coming Thursday, February 1 at 7:00 p.m.! "Coffee and Classics" features live classical chamber music in the intimate performance space at Wired, with a full range of the highest quality coffee concoctions.
Thursday's performance brings together a variety of instrumentalists performing in seldom-heard combinations, and features composers from around the world, many of whom are still living. Performers include Leanne Hampton on flute, Emily Britton on horn, Ross Erickson on marimba, Joshua Britton on trombone, James Sullivan on the double bass, and Kirsten Jerme on cello. The program includes works by Osvaldo Golijov, Jan Bach, Alfred Schnittke, Verne Reynolds, Heitor Villa-Lobos, Eve Beglarian, Bryce Craig, and Vaclav Nelhybel.
The concert is free and open to the public! At-will donations will be accepted. The coffee house will open at 6:00 p.m., and the concert starts at 7:00 p.m. Wired is located at 111 NW 4th Street in downtown Evansville.
Many thanks to Wired owner David Rudibaugh for making this series possible!
Please stay tuned for more "Coffee and Classics" concerts coming up! A list of upcoming dates is below:
March 1: Eykamp String Quartet presents "Quartet Deconstructed"
March 29: Percussionist Ross Erickson and friends
April 19: Flute and guitar duos with Leanne Hampton and Paulo Oliveira
May 24: Eykamp String Quartet with cellist Jenny Farny
June 21: Hornist Emily Britton and friends
Submitted by James Sullivan js820@evansville.edu
This Week in Music: Jazz Ensemble Concerts
UE Jazz Ensemble Presents Essentially Ellington Concert
Saturday, February 3, 7:00 p.m., Preston Arts Center (Henderson, Kentucky)
The University of Evansville Jazz Ensemble, directed by Timothy Zifer, will present an encore of their Essentially Ellington concert at the Preston Arts Center in Henderson, Kentucky, on Saturday, February 3, at 7:00 p.m. The audience will be on stage with the 22 piece band in an intimate jazz club setting with seating for 100.
To purchase tickets, visit: www.eventbrite.com/e/essentially-ellington-the-university-of-evansville-jazz-ensemble-tickets-41646561988.
Submitted by James Sullivan js820@evansville.edu
PA Club first meeting is today
Interested in becoming a PA? Join the PA Club, a club for both graduate and undergraduate students who are pursuing a career as a PA. Our first meeting will be today - Tuesday, January 30 - at 6:00 p.m. in Graves 100. Any questions please e-mail hv25@evansville.edu.
Submitted by Haley Vos hv25@evansville.edu
Rotary to present $20,000 check for Changemaker Challenge
The University of Evansville's Institute for Global Enterprise's Changemaker Challenge program has been named the recipient of funds raised at this year's Rotary Santa Run.
Rotary president Cullen Stanley will present a check for $20,000 for the 2018-19 Changemaker Challenge program to Jill Griffin, executive director of the Institute for Global Enterprise, and Erin Lewis, program director of the Institute for Global Enterprise, on Tuesday, February 6. The event will be at noon at the Tropicana Executive Convention Center, located at 421 NW Riverside Drive in Evansville. The UE community is invited to attend this celebration of service.
The Rotary Club of Evansville supports the Evansville and the Tri-State communities by providing resources for projects and programs which serve to benefit and strengthen our community.
Over the past 104 years, the Rotary Club of Evansville has funded and supported many projects and programs such as: Classroom Enrichment Grants, Community Grants; Canoe/Kayak Launch from Pigeon Creek; North Woods Trails and the YMCA Fitness Center. In addition, funds are used for Rotary International's initiative for the eradication of polio worldwide; medical supplies, eye diagnostic equipment and ambulances to the Yucatan International Project; clean water projects in the City of Tizimin and the list goes on and on. The Rotary Santa Run serves as a major fundraising event for the Rotary Club of Evansville.
The Changemaker Challenge addresses creativity and motivates both collegiate and high school students to identify and provide solutions to challenges in the world and community around them. Through competitive competition, young people present their identified issues, problems or needs and their solutions to these situations. Then their presentation is voted on by judges. Prize money, scholarship and other awards are given to the creative winners. The Changemaker Challenge draws young people in our region to seek fresh, new ideas and provide the energy to increase the vibrancy in our community.
Cullen Stanley, the 2017-18 Evansville Rotary president, congratulated the Changemaker Challenge program, stating that the program "is designed to motivate young people to take a leading role in identifying and solving challenges in the world around them through innovation and creativity. This falls in line with Rotary's mission statement of bringing business and professional leaders together in order to provide humanitarian services, encourage high ethical standards and to advance goodwill and peace around the world."
Stanley added that both organizations are committed to making a positive impact in the community.
"As such, we are excited for the opportunity to support a program that empowers the leaders of tomorrow to make a better community for all," added Stanley.
Andiron Lecture: Settler Memory of Indigenous Florida
Kristalyn M. Shefveland will be the speaker for the University of Evansville Andiron Lecture on Wednesday, February 7. The lecture will begin at 4:00 p.m. in Eykamp Hall, Room 252, Ridgway University Center. Shefveland's topic will be "Settler Memory of Indigenous Florida."
Shefveland, an associate professor of history at the University of Southern Indiana, is the author of Anglo-Native Virginia: Trade, Conversion, and Indian Slavery in the Old Dominion, 1646-1722. She has been a contributing essayist to Virginia Women: Their Lives and Times; The Bloomsbury Encyclopedia of the American Enlightenment; and Beyond Two Worlds: Critical Conversations on Language and Power in Native North America. A scholar of the indigenous Eastern Woodlands of North America, her research and publications focus on the intersections of settlers and indigenous peoples in the American Southeast, and she is currently working on a book on historical memory of Florida.
The Andiron Lecture series is sponsored by the William L. Ridgway College of Arts and Sciences. For more information, call 812-488-1070 or 812-488-2589.
Today is deadline to sign up for Catalysts for Change!
The deadline to sign up for Catalysts for Change has been extended to today - Monday, January 29 at 11:59 p.m.!
Catalysts for Change is a free eight week program consisting of weekly sessions focused on various topics of leadership and service. The meetings are once a week on Tuesday evenings, and there is also a mandatory day-long retreat on February 24. It is a great opportunity to strengthen your leadership skills and build a support system along the way.
Here is the link to reply.
Please contact Melinda Daniels at md212@evansville.edu, Jalyn Kowalski at jk306@evanasville.edu, or Jackie Luedtke at jl295@evansville.edu with questions or concerns.
Submitted by Jalyn Kowalski jk306@evansville.edu
Nerd Wars registration deadline extended to Jan. 31
The Honors Program is hosting Nerd Wars trivia night on Tuesday, February 13, at 7:00 p.m., in Eykamp Hall! Students, faculty, administrators, and staff can all form teams of up to five people to battle in a competition of wits while enjoying pizza, popcorn, and soda. Winners will receive $25 Master Card/VISA gift cards. Other prizes include Bluetooth speakers, Bluetooth headsets, A Fitbit-flex 2, a streaming video DRONE1, and more!
You can register your team online NOW.
Pay your $5 per person entry fee to Jayme Williams in Room 238, Koch Center for Engineering and Science. Those who are unable to compose a team of five may still register and will be matched to make a team. The deadline to enter has been extended to January 31.
Questions can be e-mailed to Aditi at as783@evansville.edu
Submitted by Aditi Sood as783@evansville.edu
International Orientation Leader applications due today!
Apply to be an International Orientation Leader for the 2018-19 school year! Applications are due TODAY - at 5:00 p.m., Monday, January 29.
The IOLs are a dynamic group of students who work to welcome new international students to UE in August and throughout the year. Develop your leadership skills, share your UE experiences, and meet new UE students from all over the world! We welcome both international students and students from the United States to apply.
Applications are available online at https://goo.gl/forms/0idk3nVAeiSAKKhj1.
More information is available in the office of Cultural Engagement and International Services on the second floor of Ridgway University Center in the Student Life Center.
Questions can be directed to ms331@evansville.edu.
Submitted by Megan Sicard ms331@evansville.edu
Rawski and Obaze interviewed by Inside Indiana Business about LSCM major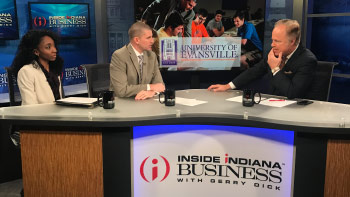 Greg Rawski, Schroeder Family Dean in the Schroeder School of Business, and Yolanda Obaze, assistant professor of management, were recently interviewed by Inside Indiana Business. The topic was UE's new logistics and supply chain management (LSCM) major. The interview will air locally on Tuesday at 10:00 a.m. on WNIN.
2017 W-2s processed
W-2 forms have been processed for all employees and student workers.
Employees and student workers who did not provide their consent to electronic W-2's should receive their W-2 in the mail Saturday or Monday.
If you have already provided consent to electronic W-2's, you can view/print your W-2 now. Simply log onto Self-Service (https://selfservice.evansville.edu), locate the item titled "Tax Information" either on the main page, or in the left-hand menu under "Financial Information." Click the option "W-2 Information" and then click on 2017 W-2 statement.
If you have any questions, please feel free to contact Gloria Spencer at ext. 2159 or gs55@evansville.edu.
Propose your own ChangeLab (GAP) project!

GAP is being renamed ChangeLab and is now accepting proposals from both faculty and students interested in proposing their own ChangeLab course for Fall 2018. If you have an idea to make a difference in your community, or even the world, we encourage you to apply. Class credit and financial support are available, and your idea can help nonprofits, for-profit businesses, or civic projects.
Submit your idea at one of the links below no later than Monday, February 5 at 5:00 pm Central Time (spots are limited, apply early!). We will let you know if your project is approved.
For more information, call 812-488-5002 or visit www.evansville.edu/gap.
Submitted by Cindy Kelley ck116@evansville.edu
NYT.com
NYT.com is still available for UE's campus community. If you are no longer able to access NYT.com using your UE email, reconfirm your UE connection at NYTimes.com/Pass. Contact Danielle (dw56@evansville.edu) with questions.
Submitted by Danielle Williams dw56@evansville.edu
Health tip for flu and cold season: Cover your cough!
Cover your cough! Stop the spread of germs that can make you and others sick!
Here are some ways you can stop the spread of germs:
Cover your mouth and nose with a tissue when you cough or sneeze. Put your used tissue in the waste basket.
If you don't have a tissue, cough or sneeze into your upper sleeve or elbow, not your hands.
You may be asked to put on a face mask to protect others.
Wash hands often with soap and warm water for 20 seconds. If soap and water are not available, use an alcohol-based hand rub.
Submitted by Ashley Craig ac408@evansville.edu
Today is deadline to submit nominations for Outstanding Teacher Award
The UE Alumni Association recognizes an outstanding teacher for exemplary instruction and student support at spring commencement. UE administrators, faculty, staff, students, and alumni may nominate a faculty member who exemplifies the award's criteria for outstanding teaching effectiveness that inspires the intellectual development of students.
Please use this link to nominate a faculty member for the auspicious occasion: www.evansville.edu/alumni/outstandingTeacher.cfm.
Full-time faculty who have taught in the classroom at UE for two years or more and held the rank of lecturer, instructor, assistant professor, associate professor, or professor are eligible for nomination.
Past award recipients are as follows: James Berry in 2011; Mari Plikuhn in 2012; Mark Valenzuela in 2013; Jennie Ebeling in 2014; Margaret Stevenson in 2015, M. Kevin Gray in 2016, and Mary Ellen Wylie in 2017.
The deadline to submit nominations is January 31, at 5:00 p.m.
For questions, contact Tracey Folden at tf91@evansville.edu.
Kerr publishes chapter in Handbook of International Trade and Transportation
Schroeder School of Business professor Amanda Kerr has contributed to the Handbook of International Trade and Transportation. The Handbook is unique in pulling together the key insights of international trade and transportation while highlighting what we know about their intersection and ideas for future research. Kerr contributed the chapter, "Gravity, distance, and international trade," which was written with colleagues from Clemson University and Drexel University.
Kiesel co-authors article for international journal
Kyle Kiesel, professor and chair of physical therapy, co-authored a review paper, "Muscle Control and Non-specific Chronic Low Back Pain," that was published this month in Neuromodulation, the journal of the International Neuromodulation Society.
Kiesel collaborated with internationally known physicians, physical therapists, and biomedical engineers including Marc Russo, MD (Australia); Kristiann Deckers, MD (Belgium); Sam Eldabe, MD (United Kingdom); Chris Gilligan, MD (Boston, MA); John Vieceli, MSc (Australia); and Peter Crosby, MEngSci (Ireland).
The manuscript is from a series of studies the group is conducting on a new medical device to treat patients with chronic low back pain. The entire article can be accessed at onlinelibrary.wiley.com/doi/10.1111/ner.12738/epdf.
Political science professor joins IFEWU board of directors
Young Kim, director of international studies, has been appointed to serve on the board of directors for the International Foundation of Ewha Womans (sic) University. Founded in 1886 by the American Methodist Episcopal Church, Ewha Womans University is a private women's university in Seoul, South Korea. It is renowned as one of the most prestigious universities in South Korea and the world's largest female educational institute. As a UE partner university, Ewha welcomes UE students of all majors and disciplines to its short-term summer programs and regular semesters. A wide variety of courses taught by professors from all over the world are offered. As a visiting lecturer, Kim taught comparative politics at the Ewha's international summer college. As a board member, he supervises about 165 funds established by individuals or groups in the foundation. The foundation's annual support is about $900,000.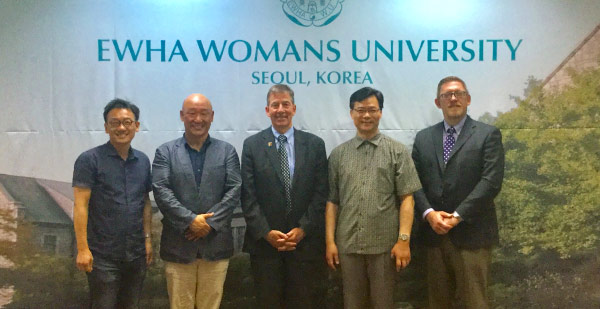 Photo: UE president Thomas A. Kazee and vice president of enrollment and marketing Shane Davidson visited Ewha Womans University in July 2016.
Taylor and Frederking key UE win over Drake
On a day that saw eight jerseys retired, the University of Evansville men's basketball team got the job done on the court, winning its second game in a row with a 77-73 triumph over Drake on Saturday afternoon inside the Ford Center.
At halftime, the jerseys of Hugh Ahlering, Brad Leaf, Marty Simmons, Scott Shreffler, Andy Elkins, Marcus Wilson, Arad McCutchan, and Jim Crews were retired.
"We really wanted to win this game for those guys who had their jerseys retired, especially for Coach Simmons," UE freshman Noah Frederking said. "It was neat having those guys here today."
Frederking had his best MVC game on Saturday, knocking down four shots and all six free throw attempts to tally 16 points. Leading the way for the Purple Aces (14-9, 4-6 MVC) was junior Ryan Taylor. He went 10-of-18 from the field while grabbing a career-high 8 rebounds. Blake Simmons also posted double figures, notching 14 points on 5-of-8 shooting.
"I am thankful for our players and the way they responded today. That really was the icing on the cake the way that they were able to play on such a great day for Evansville basketball," Aces head coach Marty Simmons said. "I am humbled by my participation to have my jersey retired and give all of the credit to my teammates along with my head coach and assistants."
"I want congratulate everyone who was recognized today and thank the fans for coming out to make it a great atmosphere," Simmons added.
Drake (12-11, 6-4 MVC) saw five players post double figures, led by De'Antae McMurray's 13. Graham Woodward posted 12 while Nick McGlynn and Reed Timmer had 11 apiece. Ore Arogundade recorded ten.
The Bulldogs posted the first five points of the game before UE got on the board with a Blake Simmons triple. His long ball saw the Aces reel off seven in a row to take their first lead at 7-5. After a C.J. Rivers bucket knotted the score at 7-7, a quick 5-0 spurt by the Aces turned into a 17-3 run that gave UE a 24-10 lead with 8:30 left in the half.
Noah Frederking had a pair of old-fashioned 3-point plays while Taylor scored seven in the run. Two more Frederking triples helped UE take a 37-24 lead into the break. The freshman had 12 points in the opening stanza.
"We were executing pretty well today," Frederking exclaimed. "We are at our best when we can move the ball around and hit our shots."
K.J. Riley opened up the final 20 minutes with an and-one to give the Purple Aces their biggest lead of the day at 40-24. Facing the 16-point deficit, the Bulldogs never gave up. A pair of Graham Woodward triples were part of a 10-0 run that got them within six at 40-34. They got as close as four points before Taylor got the offense going.
With the Aces still up by four at 49-45, Taylor hit back-to-back treys to push the edge to ten at 55-45. Another bucket with six minutes on the clock pushed the UE lead to 12. The Bulldogs continued to fight back as a Reed Timmer trey with four minutes remaining got them within four at 64-60.
A free throw by Timmer with 51 ticks left made it a one-possession game at 70-67, but another Taylor jumper was part of a 5-0 run that put the game on ice. Timmer hit a last-second triple to make it a final of 77-73.
"A lot of hustle plays really helped us, especially late in the game," Ryan Taylor said. "This is a big win for us, we need to carry this over into practice and keep playing like this. We know that we can beat anyone in the league and we have shown it."
Evansville shot 50% in the victory and finished with a 31-27 edge on the boards. Taylor's career mark of 8 caroms led all players. The MVC assist leader added five more to his tally as Dru Smith continued to add to his numbers.
On Wednesday, the Aces look for their third triumph in a row when they meet UNI inside the Ford Center in a 7:00 p.m. game.
Three score in double-figures as Aces downed at Loyola
The University of Evansville women's basketball team got off to a hot start, but was cooled-off in the second quarter in an 82-63 loss to Loyola in Chicago, on Sunday afternoon.
"The first quarter wasn't too bad. We gave them some easy looks and some things they shouldn't have, but that second quarter is unacceptable," said Aces head coach Matt Ruffing. "Credit to Kate (Achter) and her staff. They got their kids to play harder than we did and that's something we've seen over and over and over again."
Junior guard Kerri Gasper (15) and redshirt sophomore guard Marley Miller (14) combined for 29 points to lead the Aces while freshman guard Kayla Casteel added 13 points for UE. Gasper came within range of a triple-double, tallying seven boards and five assists to go along with her 15 points. For the Ramblers, Jessica Cerda paced Loyola with 16 points, all coming in the opening half.
Miller got Evansville off to a fast start as the Olney, Illinois, native scored the Aces' first five points and put UE ahead 5-2 in the opening two minutes. After Loyola pushed back with an 8-0 spree to take a 10-5 lead, sophomore guard Macie Lively drained a jumper and Miller got involved again with her second triple to tie the game at 10. A heavily contested first quarter ended with a pair of Rambler free throws that gave Loyola a narrow 19-17 advantage.
Loyola controlled much of the second quarter as the Ramblers utilized a 16-2 run in the first six minutes of the period to open up a 16-point 35-19 lead. Gasper helped stop the run with a pair of free throws under the three minute mark in the frame, but Loyola closed the quarter with an 8-0 run to take a 43-21 lead into the halftime break.
The Aces offense got going once again in the third quarter as Evansville cut its deficit to 19 twice in the first three minutes of the period. It was the Ramblers who once again had an answer as Loyola manufactured a 6-0 run to push its lead to 24 at 51-27 with 4:55 left in the quarter. With 53 second left in the frame, Casteel splashed home a three-pointer to trim Loyola's lead to 17 before the Ramblers responded with five-straight points to grab a 22-point advantage. In the final seconds of the quarter, Casteel hit her second triple of the game as the Aces headed into the fourth quarter trailing 64-45.
In the fourth period, Evansville got its deficit as low as 18 on two separate occasions, but each time Loyola responded. Two free-throws by Gasper trimmed the Ramblers' lead to 75-57 with 2:20 left in the contest, but Abby O'Connor hit a three in response as Loyola earned the 82-63 win.
The Aces were out-shot by the Ramblers in the game, 50% (33-66) to 38.5% (20-52), while Loyola won the rebounding battle, 40-28.
Evansville returns home to battle Indiana State on February 2 at 7:00 p.m. in the Aces' annual Play 4 Kay game.
Contribute to AceNotes
To have content considered for inclusion in AceNotes, please submit a Marketing Request Form. Deadline for submission to AceNotes is 10:00 a.m. on the requested date of publication. Only articles concerning UE related/sponsored activities will be accepted. Articles submitted to AceNotes may be edited for length and clarity. Submitter contact information is at the end of each article.