| | |
| --- | --- |
| AceNotes Today | Thursday, January 25, 2018 |
IU School of Optometry representative to visit campus
An admission representative from the Indiana University School of Optometry will visit campus today - Thursday, January 25 - at 1:30 p.m. A short presentation about the optometry profession and IU admission requirements and how to apply will be given in Room 124 in the Koch Center for Engineering and Science. If you are interested in optometry, but unable to attend the presentation, please email the pre-professional health advisor Francie Renschler for more information.
Submitted by Francie Renschler fr25@evansville.edu
University Worship in Neu Chapel
The campus community is invited to join the Neu Chapel community in worship this Sunday morning at 11:00 a.m. We will discuss how God promises to vanquish evil in this world and establish wholeness and peace. All are welcome to attend and join in conversation and fellowship with one another around coffee and donuts before and after the service!
Submitted by Keith Turner kt160@evansville.edu
Women's basketball to host Play 4 Kay game February 2
The University of Evansville women's basketball team will host its annual Play 4 Kay game on February 2 at 7:00 p.m. when the Purple Aces host Indiana State inside Meeks Family Fieldhouse.
A head coach for 38 seasons at Elon and N.C. State, Kay Yow amassed 737 victories, five ACC regular season championships, and four ACC tournament titles. In early January of 2009, Yow took a leave of absence from coaching due to breast cancer. During the final stages of her battle with cancer, Coach Kay Yow had a vision to unite a nation of coaches, players, and the women's basketball community to do something for the greater good that far exceeds wins and losses on the court. The Kay Yow Cancer Fund's mission is to extend and improve the lives of all women battling cancer by raising money for research and assisting the underserved. Since the Fund's inception, $5.38 million has been granted for scientific research focused on women's cancers thanks to the support of our donors.
The first 150 fans at the game on February 2 will receive a pink women's cancer awareness hat. Fans are also encouraged to join the Aces in helping support the Kay Yow Fund by participating in the Play4Kay Free Throw Challenge. Fans and supporters have the opportunity to pledge a donation for each free throw the Purple Aces hit during the month of February. Anyone interested in joining the challenge can find more information and give here.
Game Zoom planned for Saturday
The International Club will host Game Zoom on Saturday, January 27 at 3:00 p.m. in the Fitness Center gym. Games will include Musical Chairs, Minute to Win It, Frisbee, and Extreme Uno. There will also be snacks! Come meet new people and have some fun!
Submitted by Duy Nhan Cao dc179@evansville.edu
Rotary to present $20,000 check for Changemaker Challenge
The University of Evansville's Institute for Global Enterprise's Changemaker Challenge program has been named the recipient of funds raised at this year's Rotary Santa Run.
Rotary president Cullen Stanley will present a check for $20,000 for the 2018-19 Changemaker Challenge program to Jill Griffin, executive director of the Institute for Global Enterprise, and Erin Lewis, program director of the Institute for Global Enterprise, on Tuesday, February 6. The event will be at noon at the Tropicana Executive Convention Center, located at 421 NW Riverside Drive in Evansville. The UE community is invited to attend this celebration of service.
The Rotary Club of Evansville supports the Evansville and the Tri-State communities by providing resources for projects and programs which serve to benefit and strengthen our community.
Over the past 104 years, the Rotary Club of Evansville has funded and supported many projects and programs such as: Classroom Enrichment Grants, Community Grants; Canoe/Kayak Launch from Pigeon Creek; North Woods Trails and the YMCA Fitness Center. In addition, funds are used for Rotary International's initiative for the eradication of polio worldwide; medical supplies, eye diagnostic equipment and ambulances to the Yucatan International Project; clean water projects in the City of Tizimin and the list goes on and on. The Rotary Santa Run serves as a major fundraising event for the Rotary Club of Evansville.
The Changemaker Challenge addresses creativity and motivates both collegiate and high school students to identify and provide solutions to challenges in the world and community around them. Through competitive competition, young people present their identified issues, problems or needs and their solutions to these situations. Then their presentation is voted on by judges. Prize money, scholarship and other awards are given to the creative winners. The Changemaker Challenge draws young people in our region to seek fresh, new ideas and provide the energy to increase the vibrancy in our community.
Cullen Stanley, the 2017-18 Evansville Rotary president, congratulated the Changemaker Challenge program, stating that the program "is designed to motivate young people to take a leading role in identifying and solving challenges in the world around them through innovation and creativity. This falls in line with Rotary's mission statement of bringing business and professional leaders together in order to provide humanitarian services, encourage high ethical standards and to advance goodwill and peace around the world."
Stanley added that both organizations are committed to making a positive impact in the community.
"As such, we are excited for the opportunity to support a program that empowers the leaders of tomorrow to make a better community for all," added Stanley.
This Week in Music: Faculty recital, guest artist recital and Saxophone Day
Guest Artist Recital – Catharsis Jazz Ensemble
Friday, January 26, 7:30 p.m., Wheeler Concert Hall
Led by Ryan Keberle, #1 Rising Star Trombonist in the Downbeat International Critics Poll, Catharsis has been hailed by the Los Angeles Times for its "potent blend of cinematic sweep and lush, ear-grabbing melodies."
The highly acclaimed piano-less group brings together elements of chamber music, South American folk and indie rock within a traditional jazz framework, resulting in a sound that has thrilled audiences across the globe for close to a decade. In Catharsis, the potent frontline rapport of Keberle and saxophonist John Ellis and the unshakable rhythm of bassist Matt Clohesy and drummer Eric Doob combine in a sound full of drama and intrigue. The guitar and vocals of Camila Meza have also come to shape the band's chemistry and unmistakable ensemble sound.
On Friday, January 26, at 7:30 p.m. in Wheeler Concert Hall, Catharsis will perform a range of songs arranged by Keberle, as well as standards by Duke Ellington, Bob Dylan, and others. The concert is free and open to the public.
For more information about the program and the ensemble, visit the music department concert calendar.
Saxophone Day at UE
Sunday, January 28 in Krannert will be Saxophone Day at the University of Evansville!
We have a number of exciting events planned for the day! Students will be able to play in a saxophone ensemble, watch a professional masterclass, and hear an amazing guest recital by Assistant Professor of Woodwinds at the University of Mississippi in Oxford, Adam Estes.
This is an event geared towards high school age students only.
To register, click here and select REGISTER NOW! You will not want to miss this amazing opportunity. Oh, and did we mention it's FREE!
Submitted by James Sullivan js820@evansville.edu
UE men pick up big road win at Valparaiso
Ryan Taylor and Dru Smith each had stellar nights to lead the University of Evansville men's basketball team to a 75-65 win over Valparaiso on Wednesday night at the Athletics-Recreation Center in the team's first meetings as Missouri Valley Conference members.
"This was a good win for us, everybody contributed," Aces head coach Marty Simmons said. "We got into some foul trouble in the first half and the guys off the bench did a great job. Valpo made a run in the second half, but we showed some great poise to get the win. I am very proud of our guys."
Dru Smith and Ryan Taylor combined to score 45 points in the win for UE (13-9, 3-6 MVC). Smith led all scorers with 23 points as he hit 12 out of 13 free throws. Taylor went 8-of-19 from the field on his way to 22 points playing just 20 minutes from his hometown. Blake Simmons finished with 8 points. As a team, the Aces hit 29 out of 31 free throws.
Leading the Crusaders (11-11, 2-7 MVC) was Bakari Evelyn with 17 points while Tevonn Walker and Mileek McMillan had 14 and 12, respectively.
A pair of triples saw Valparaiso take a 6-2 lead in the opening minutes. Neither team could get it going early on as each squad hit two of its first seven attempts. Evansville knotted the game at 8-8 on a Ryan Taylor jumper six minutes in before the Crusaders had their best run of the half.
Valparaiso scored the next five as Tevonn Walker hit a three and Markus Golder had a dunk. Their run turned into a 10-2 stretch to take an 18-10 lead midway through the stanza.
From that point on, Evansville got its offense cranking, finished the final 10 minutes of the first half on a 28-12 run. The pivotal stretch came with VU up 21-17. The Aces rallied to score 13 in a row to open up a 30-21 lead. Four in a row by Dru Smith tied the score at 21-21 before John Hall gave UE its first lead of the day at 23-21 with a pair of free throws.
An and-one from Smith kept the run going as Noah Frederking and Blake Simmons also hit buckets with just over three minutes remaining. The lead grew to as many as 10 points before the Crusaders closed the gap to 38-30 at the break. Following the slow start, UE finished the half hitting 11 of its final 20 attempts from the field.
Taylor opened the latter period with a basket as UE extended its lead back to 10. The lead remained at three possessions eight minutes into the half at 49-42 when the Crusaders roared back. A 5-0 run that included a Walker trey got them within a pair at 49-47. That is when Taylor took matters into his own hands. After hitting a layup to push the lead to four, he made three out of four free throws on a Valpo technical foul as the lead was extended back up to nine points.
With under six minutes left in the contest, Taylor's 20th point of the night also gave UE its largest lead at 61-50. Evansville held a 67-57 lead entering the final minute before Max Joseph connected on a three-pointer to make it a 7-point UE lead. Smith countered with a pair of free throws to put the game on ice as the Aces finished with a 75-65 win.
Evansville outrebounded the Crusaders by a 42-34 margin. UE shot 39.3% on the night with the Crusaders finishing at 36.8%.
A special day is on tap Saturday when the Purple Aces host Drake in a 1:00 p.m. game. It will mark the retirement of eight jerseys (Arad McCutchan, Jim Crews, Hugh Ahlering, Brad Leaf, Marty Simmons, Scott Shreffler, Andy Elkins, and Marcus Wilson). The first 3,000 people at the game will receive a replica banner commemorating the jerseys being retired.
Propose your own ChangeLab (GAP) project!

GAP is being renamed ChangeLab and is now accepting proposals from both faculty and students interested in proposing their own ChangeLab course for Fall 2018. If you have an idea to make a difference in your community, or even the world, we encourage you to apply. Class credit and financial support are available, and your idea can help nonprofits, for-profit businesses, or civic projects.
Submit your idea at one of the links below no later than Monday, February 5 at 5:00 pm Central Time (spots are limited, apply early!). We will let you know if your project is approved.
For more information, call 812-488-5002 or visit www.evansville.edu/gap.
Submitted by Cindy Kelley ck116@evansville.edu
NYT.com
NYT.com is still available for UE's campus community. If you are no longer able to access NYT.com using your UE email, reconfirm your UE connection at NYTimes.com/Pass. Contact Danielle (dw56@evansville.edu) with questions.
Submitted by Danielle Williams dw56@evansville.edu
2018 Methodist Scholarship application now available
United Methodist students attending United Methodist-related institutions can apply for 2018 United Methodist Scholarships at www.gbhem.org/scholarshipapplication from January 3-March 7.
Scholarship eligibility requirements:
• Incoming or current freshmen, sophomores, juniors, seniors or graduate students at one of the United Methodist-related colleges or universities
• Member of any United Methodist Church for at least one year
• Minimum GPA of 2.5
Applying for individual scholarships now also makes you eligible for the United Methodist Allocation. YOU MUST apply now to be considered for both. Late applications will not be accepted. Scholarships range in value from $500 to $5,000. The average amount awarded is about $1,000.
Be sure to choose the United Methodist General Scholarship when applying. Find the easy online application at www.gbhem.org/scholarshipapplication.
Submitted by Cathleen Wright cw259@evansville.edu
Today is deadline to sign up for Catalysts for Change!
The deadline to sign up for Catalysts for Change has been extended to today - Monday, January 29 at 11:59 p.m.!
Catalysts for Change is a free eight week program consisting of weekly sessions focused on various topics of leadership and service. The meetings are once a week on Tuesday evenings, and there is also a mandatory day-long retreat on February 24. It is a great opportunity to strengthen your leadership skills and build a support system along the way.
Here is the link to reply.
Please contact Melinda Daniels at md212@evansville.edu, Jalyn Kowalski at jk306@evanasville.edu, or Jackie Luedtke at jl295@evansville.edu with questions or concerns.
Submitted by Jalyn Kowalski jk306@evansville.edu
Nerd Wars registration deadline extended to Jan. 31
The Honors Program is hosting Nerd Wars trivia night on Tuesday, February 13, at 7:00 p.m., in Eykamp Hall! Students, faculty, administrators, and staff can all form teams of up to five people to battle in a competition of wits while enjoying pizza, popcorn, and soda. Winners will receive $25 Master Card/VISA gift cards. Other prizes include Bluetooth speakers, Bluetooth headsets, A Fitbit-flex 2, a streaming video DRONE1, and more!
You can register your team online NOW.
Pay your $5 per person entry fee to Jayme Williams in Room 238, Koch Center for Engineering and Science. Those who are unable to compose a team of five may still register and will be matched to make a team. The deadline to enter has been extended to January 31.
Questions can be e-mailed to Aditi at as783@evansville.edu
Submitted by Aditi Sood as783@evansville.edu
International Orientation Leader applications due today!
Apply to be an International Orientation Leader for the 2018-19 school year! Applications are due TODAY - at 5:00 p.m., Monday, January 29.
The IOLs are a dynamic group of students who work to welcome new international students to UE in August and throughout the year. Develop your leadership skills, share your UE experiences, and meet new UE students from all over the world! We welcome both international students and students from the United States to apply.
Applications are available online at https://goo.gl/forms/0idk3nVAeiSAKKhj1.
More information is available in the office of Cultural Engagement and International Services on the second floor of Ridgway University Center in the Student Life Center.
Questions can be directed to ms331@evansville.edu.
Submitted by Megan Sicard ms331@evansville.edu
Kiesel co-authors article for international journal
Kyle Kiesel, professor and chair of physical therapy, co-authored a review paper, "Muscle Control and Non-specific Chronic Low Back Pain," that was published this month in Neuromodulation, the journal of the International Neuromodulation Society.
Kiesel collaborated with internationally known physicians, physical therapists, and biomedical engineers including Marc Russo, MD (Australia); Kristiann Deckers, MD (Belgium); Sam Eldabe, MD (United Kingdom); Chris Gilligan, MD (Boston, MA); John Vieceli, MSc (Australia); and Peter Crosby, MEngSci (Ireland).
The manuscript is from a series of studies the group is conducting on a new medical device to treat patients with chronic low back pain. The entire article can be accessed at onlinelibrary.wiley.com/doi/10.1111/ner.12738/epdf.
Political science professor joins IFEWU board of directors
Young Kim, director of international studies, has been appointed to serve on the board of directors for the International Foundation of Ewha Womans (sic) University. Founded in 1886 by the American Methodist Episcopal Church, Ewha Womans University is a private women's university in Seoul, South Korea. It is renowned as one of the most prestigious universities in South Korea and the world's largest female educational institute. As a UE partner university, Ewha welcomes UE students of all majors and disciplines to its short-term summer programs and regular semesters. A wide variety of courses taught by professors from all over the world are offered. As a visiting lecturer, Kim taught comparative politics at the Ewha's international summer college. As a board member, he supervises about 165 funds established by individuals or groups in the foundation. The foundation's annual support is about $900,000.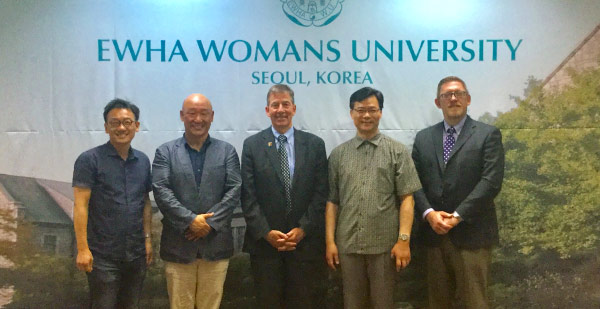 Photo: UE president Thomas A. Kazee and vice president of enrollment and marketing Shane Davidson visited Ewha Womans University in July 2016.
Professor Todd A. Matteson exhibits artwork
Assistant professor Todd A. Matteson has had two artworks accepted into the juried 2" x 2" Miniature Exhibition at the Arts Council of Southwest Indiana. His artwork, "Duck-Napped, in Chrome" and "Duck-Napped, in Gold," are made of porcelain slip, stoneware, and bedding.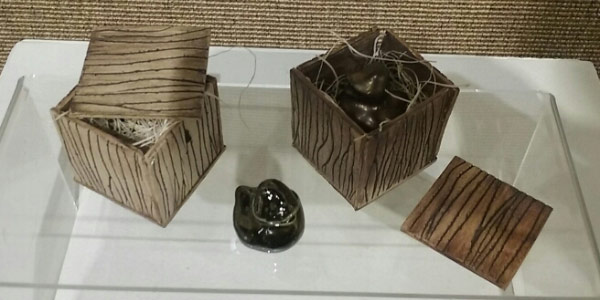 Contribute to AceNotes
To have content considered for inclusion in AceNotes, please submit a Marketing Request Form. Deadline for submission to AceNotes is 10:00 a.m. on the requested date of publication. Only articles concerning UE related/sponsored activities will be accepted. Articles submitted to AceNotes may be edited for length and clarity. Submitter contact information is at the end of each article.