| | |
| --- | --- |
| AceNotes Today | Wednesday, January 24, 2018 |
Men's basketball opens season series against Valparaiso
For the first time as members of the Missouri Valley Conference, the University of Evansville and Valparaiso clash on the hardwood with a game tonight at 7:00 p.m. in Valparaiso, Indiana.
Prior to the Crusaders joining the MVC, the two teams have met on 83 occasions with the Purple Aces winning 66 of those meetings.
On Saturday, UE lost its third game in a row, dropping a 66-53 game at Bradley; the Braves opened the game on a 14-2 run and held on as the Aces got within a point in the first half. The third 3-pointer of the first half pushed senior Blake Simmons over the 1,000-point mark in his UE career. Simmons became the 49th player in program history to reach the mark. He finished the contest with a team-best 12 points and has reached double figures in 11 of his last 13 games.
In his last five games, junior Dainius Chatkevicius has averaged 7.2 rebounds per game while hitting double figures on two occasions. Chatkevicius has finished with double digit rebounds in two of the last four games, including a career-best of 11 against Missouri State. His 5.5 boards per game ranks 15th in the MVC while he is one of the most accurate shooters in the league, sitting at 52.2%.
After being held scoreless in the first half at Bradley, Ryan Taylor erupted with 10 in the final 20 minutes to make it a perfect 14-for-14 this season in reaching double figures. Taylor holds the MVC scoring lead with 19.6 points per game while averaging a league-best 35.4 minutes per contest.
Valparaiso enters Wednesday's game with a record of 11-10 and 2-6 in the MVC. The Crusaders opened the season winning their first eight games, but have gone 3-10 since that time. Pacing the squad is Tevonn Walker with 15.4 points and 5.0 rebounds per contest; he also has a team-high 35 steals. Bakari Evelyn checks in with 11.1 PPG and scored a team-high 19 points on Sunday against Loyola. Center Derrik Smits is the son of former Indiana Pacers start Rik Smits.
Neu Chapel Outreach efforts continue!
There is still time for the campus community to contribute to the Neu Chapel outreach effort by collecting in-the-package toilet paper and tooth brushes for the United Methodist Youth Home. We will be collecting these essential items through Sunday, February 4. If you or your organization would like to contribute, simply leave contributions on the chapel's front platform steps (toilet paper) or altar table (toothbrushes)! Please leave items in the narthex (lobby) should the weather be inclement.
For over 35 years, the United Methodist Youth Home (UMYH) in Evansville, IN has provided a Residential Treatment Program for youth ages 10 to 21. They currently operate two licensed group homes with a total of 15 beds, six for males and nine for females. The residential program puts an emphasis on developing pro-social behaviors, emotion regulation, personal responsibility, educational achievement, interpersonal effectiveness, and independent living skills.
To learn more, please visit their website at umyh.org.
Submitted by Keith Turner kt160@evansville.edu
Scholars for Syria presents Spring 2018
Come to Ridgway University Center today - Wednesday, January 24. We will be selling merchandise designed by UE alum and NYC artist Sam Schanwald and promoting our upcoming Spectacular Spring Speaker Series (at S for S, we love alliterations). Thursday events this semester includes an Indiana film premiere, politics, war crimes, migration, economics, medicine, music, and - of course - our Syrian students' stories. Stay tuned for much more detail. For now, stop by from 11:00 a.m.-2:00 p.m., say hello, and show your support for our Syrian students, their families, and their nation.
Submitted by Gail Vignola gv15@evansville.edu
IU School of Optometry representative to visit campus
An admission representative from the Indiana University School of Optometry will visit campus today - Thursday, January 25 - at 1:30 p.m. A short presentation about the optometry profession and IU admission requirements and how to apply will be given in Room 124 in the Koch Center for Engineering and Science. If you are interested in optometry, but unable to attend the presentation, please email the pre-professional health advisor Francie Renschler for more information.
Submitted by Francie Renschler fr25@evansville.edu
ASB Houston trip only $100! Register today!
An Alternative Spring Break Hurricane Harvey Relief Trip is planned for March 3-11. The cost of the trip is $100 per person.
During this trip, ASB will travel to the Houston, Texas, area to complete Hurricane Harvey relief work. They are partnering with Community Collaborations International, which will be providing lodging, meals, and the volunteer work. CCI specializes in working with schools and groups for alternative break initiatives and we are thrilled to be supporting the efforts after Hurricane Harvey.
The ASB attendance form can be found here. By filling out the form, you confirm your attendance and the $100 will most likely be charged to your student account.
For any further questions or concerns, please contact Jackie Luedtke at jl295@evansville.edu or 812-488-1115.
Submitted by Jackie Luedtke jl295@evansville.edu
Jampon: A Jam for Pads and Tampons
A concert - Jampon: A Jam for Pads and Tampons - is set for January 27, 7:30 p.m., in Eykamp Hall, Ridgway University Center. The goal of the event is to collect donations of women's sanitary products to benefit women at the YWCA of Evansville. Admission is a box of unopened tampons, pads, or liners, or $5. This event aims to raise awareness of the challenges faced by underprivileged women, especially regarding the accessibility and affordability of sanitary products. There will also be art and baked goods available for purchase with all proceeds going to the YWCA.
Submitted by Gina DeLise gl47@evansville.edu
NYT.com
NYT.com is still available for UE's campus community. If you are no longer able to access NYT.com using your UE email, reconfirm your UE connection at NYTimes.com/Pass. Contact Danielle (dw56@evansville.edu) with questions.
Submitted by Danielle Williams dw56@evansville.edu
2018 Methodist Scholarship application now available
United Methodist students attending United Methodist-related institutions can apply for 2018 United Methodist Scholarships at www.gbhem.org/scholarshipapplication from January 3-March 7.
Scholarship eligibility requirements:
• Incoming or current freshmen, sophomores, juniors, seniors or graduate students at one of the United Methodist-related colleges or universities
• Member of any United Methodist Church for at least one year
• Minimum GPA of 2.5
Applying for individual scholarships now also makes you eligible for the United Methodist Allocation. YOU MUST apply now to be considered for both. Late applications will not be accepted. Scholarships range in value from $500 to $5,000. The average amount awarded is about $1,000.
Be sure to choose the United Methodist General Scholarship when applying. Find the easy online application at www.gbhem.org/scholarshipapplication.
Submitted by Cathleen Wright cw259@evansville.edu
UE Men's Basketball ticket requests
UE faculty/staff/administration may now begin requesting their two complimentary tickets for the UE men's basketball game against Drake. The game begins at 1:00 p.m. at the Ford Center. Please be sure to bring your valid UE ID.
Submitted by Scott Peace sp166@evansville.edu
The Writing Center is now open!
The Writing Center's staff of experienced peer writing mentors is now ready to help with your academic papers - everything from outlines to citation. Just register and make an appointment!
Information on the Writing Center
The Writing Center will be open Tuesday, January 16-Wednesday, April 25.
Hours are Monday-Thursday: 10:00 a.m.–9:00 p.m., and Friday: 10:00 a.m.-1:00 p.m.
The center is located in the Clifford Library, Room 253, on the circle next to the Koch Center for Engineering and Science.
The Writing Center's Acelink webpage has many valuable resources including documents on citation and grammar.
The Writing Center's Facebook page (UE Writing Center) also has writing links, vocabulary help, and other general academic writing support.
How to make an appointment
It's really easy to make an appointment! Go to: Acelink … Areas … Writing Center … Appointments… Create an Appointment.
Register for an account - or sign in if you have used the Writing Center before - you can then access the center from any mobile device to schedule or cancel a session.
This site manages your appointments, cancellations, and reports. You will receive an e-mail reminder before your appointment and your professor will receive feedback from your tutor afterward.
How to prepare for your appointment
Bring the assignment (writing prompt) or draft of your paper.
Prepare questions for your tutor to get the most out of a session. For example, "Can you help me to see if my thesis statement is clear?"
Plan to visit the Writing Center well in advance of an assignment due date. If you come in the day an assignment is due, you may not have enough time to make the revisions discussed during a session. Seems obvious, but…
Arrive a few minutes early for your appointment - don't be late. If another student is waiting, that student will be helped first if you are over five minutes late.
Submitted by Gail Vignola gv15@evansville.edu
W-2 and 1095-C notice for 2017
The Office of Accounting/Payroll will be issuing W-2's for 2017 no later than January 31. We are pleased to announce that you can choose one of two options to receive your W-2:
• Electronic W-2 – If you provide your consent, you will receive an e-mail notification via AceNotes Extra that your W-2 is ready to view/print on Self-Service.
• Paper W-2 – If you prefer, you can continue to receive a paper W-2 in the mail, as you have in the past.
Among the advantages of electronic W-2's: (1) you will have access to your W-2 a couple of days earlier than a paper copy that is mailed to hour home; (2) you can print as many copies of the W-2 as you need. The electronic W-2 is IRS compliant and can be submitted with your tax return.
To take advantage of the electronic W-2 option, you must log onto Self-Service (https://selfservice.evansville.edu), locate the item titled "Tax Information" either on the main page, or in the left-hand menu under "Financial Information."
Click the option "W-2 Information."
Click the "Change Preferences" button and then click the first radio button to give your consent.
Then click "Save."
You will not receive a paper W-2 in the mail if you select the electronic W-2 option.
Again this year, employees that are eligible to participate in the University's health plans, will receive a 1095-C form. This form will be used to complete questions regarding health insurance offers and coverage on your 2017 tax return. Like the W-2 consent, the 1095-C form will need a consent as well. This is done by clicking on the "1095-C Information" tab (on the same screen as the W-2 Information option – "Tax Information" in Self-Service) and giving your consent.
If you choose to withhold your consent to view/print your online W-2 and 1095-C, a paper copy will be prepared and mailed to you at your home address.
If you have any questions, please feel free to contact Gloria Spencer at ext. 2159.
College Mentors for Kids seeking mentors!
College Mentors for Kids is seeking new mentors! College Mentors for Kids is a non-profit organization that pairs college students with elementary-age students to expose our "little buddies" to career and college opportunities, diversity, and other interesting things! The organization meets weekly on Wednesdays from 3:30-5:30 p.m. If you have a class until 3:50 p.m. and/or one at 5:00 p.m., that can be worked around. Contact Joe Cook at jc491@evansville.edu for more information!
Submitted by Krysta Wininger kw308@evansville.edu
Donations and prayers requested for baby with critical heart condition
Fundraisers have been organized to help with medical expenses for Kingdon, infant son of Hilary and Heroshi Milan. Heroshi is a corporal in the Office of Safety and Security.
Kingdon was born December 4 with a critical heart condition and had open heart surgery on January 15 at Riley Children's Hospital in Indianapolis. Kingdon is currently stable and remains a patient at Riley while he recovers from surgery. Donations to help his parents with expenses and prayers for Kingdon's recovery would be very much appreciated.
You can help by either buying T-shirts at this website or by going to this go fund me page.
Submitted by the Office of Safety and Security
Today is deadline to sign up for Catalysts for Change!
The deadline to sign up for Catalysts for Change has been extended to today - Monday, January 29 at 11:59 p.m.!
Catalysts for Change is a free eight week program consisting of weekly sessions focused on various topics of leadership and service. The meetings are once a week on Tuesday evenings, and there is also a mandatory day-long retreat on February 24. It is a great opportunity to strengthen your leadership skills and build a support system along the way.
Here is the link to reply.
Please contact Melinda Daniels at md212@evansville.edu, Jalyn Kowalski at jk306@evanasville.edu, or Jackie Luedtke at jl295@evansville.edu with questions or concerns.
Submitted by Jalyn Kowalski jk306@evansville.edu
International Orientation Leader applications due today!
Apply to be an International Orientation Leader for the 2018-19 school year! Applications are due TODAY - at 5:00 p.m., Monday, January 29.
The IOLs are a dynamic group of students who work to welcome new international students to UE in August and throughout the year. Develop your leadership skills, share your UE experiences, and meet new UE students from all over the world! We welcome both international students and students from the United States to apply.
Applications are available online at https://goo.gl/forms/0idk3nVAeiSAKKhj1.
More information is available in the office of Cultural Engagement and International Services on the second floor of Ridgway University Center in the Student Life Center.
Questions can be directed to ms331@evansville.edu.
Submitted by Megan Sicard ms331@evansville.edu
Health tip for flu and cold season: Cover your cough!
Cover your cough! Stop the spread of germs that can make you and others sick!
Here are some ways you can stop the spread of germs:
Cover your mouth and nose with a tissue when you cough or sneeze. Put your used tissue in the waste basket.
If you don't have a tissue, cough or sneeze into your upper sleeve or elbow, not your hands.
You may be asked to put on a face mask to protect others.
Wash hands often with soap and warm water for 20 seconds. If soap and water are not available, use an alcohol-based hand rub.
Submitted by Ashley Craig ac408@evansville.edu
Today is deadline to submit nominations for Outstanding Teacher Award
The UE Alumni Association recognizes an outstanding teacher for exemplary instruction and student support at spring commencement. UE administrators, faculty, staff, students, and alumni may nominate a faculty member who exemplifies the award's criteria for outstanding teaching effectiveness that inspires the intellectual development of students.
Please use this link to nominate a faculty member for the auspicious occasion: www.evansville.edu/alumni/outstandingTeacher.cfm.
Full-time faculty who have taught in the classroom at UE for two years or more and held the rank of lecturer, instructor, assistant professor, associate professor, or professor are eligible for nomination.
Past award recipients are as follows: James Berry in 2011; Mari Plikuhn in 2012; Mark Valenzuela in 2013; Jennie Ebeling in 2014; Margaret Stevenson in 2015, M. Kevin Gray in 2016, and Mary Ellen Wylie in 2017.
The deadline to submit nominations is January 31, at 5:00 p.m.
For questions, contact Tracey Folden at tf91@evansville.edu.
Professor Todd A. Matteson exhibits artwork
Assistant professor Todd A. Matteson has had two artworks accepted into the juried 2" x 2" Miniature Exhibition at the Arts Council of Southwest Indiana. His artwork, "Duck-Napped, in Chrome" and "Duck-Napped, in Gold," are made of porcelain slip, stoneware, and bedding.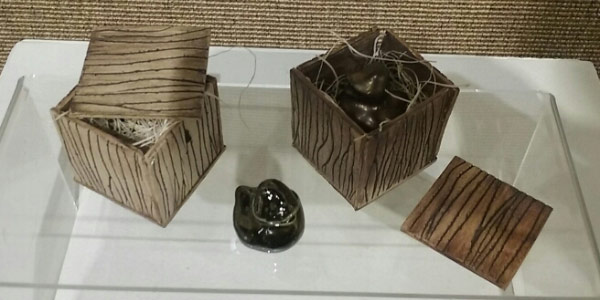 Contribute to AceNotes
To have content considered for inclusion in AceNotes, please submit a Marketing Request Form. Deadline for submission to AceNotes is 10:00 a.m. on the requested date of publication. Only articles concerning UE related/sponsored activities will be accepted. Articles submitted to AceNotes may be edited for length and clarity. Submitter contact information is at the end of each article.