| | |
| --- | --- |
| AceNotes Today | Tuesday, January 23, 2018 |
Student Alumni Ambassadors Pizza Party set for tonight
Student Alumni Ambassadors is kicking off the semester with a Pizza Party this evening, January 23, at 5:30 p.m. in the Igleheart Building. Please e-mail ns50@evansville.edu if you plan to attend.
Anyone interested in joining SAA this semester is welcome to come! Free Pizza and door prizes will be given away.
Why Join Student Alumni Ambassadors:
Student Alumni Ambassadors is open to all current UE students. SAA offers programming for members that ranges from social activities to formal dinners and networking events to leadership-development programs to Homecoming. Whatever you are seeking, SAA has something to offer. Our mission is to: "To provide students service and leadership opportunities, to build a foundation for future alumni leaders, and to foster communication, awareness, and interaction between current students and alumni."
Opportunities/activities
Network with UE alumni
Interact with students
Travel
Plan campus events
Exclusive access to alumni events
Philanthropy opportunities
Help support campus initiatives
Free food
Join SAA today and become a part of UE tradition. Why? Because you are a student today but you will be a member of the UE family forever!
SAA will be holding office elections and planning events for the upcoming semester. We look forward to seeing you there!
Submitted by Nichole Coffey ns50@evansville.edu
PHSA call out meeting today
There will be a call out meeting for the Public Health Student Association today - Tuesday, January 23 - at 4:00 p.m. in Graves Hall 240. Anyone interested in learning more about public health and participating in activities are welcome to come join!
Submitted by Sarah Harness sh287@evansville.edu
Neu Chapel Outreach efforts continue!
There is still time for the campus community to contribute to the Neu Chapel outreach effort by collecting in-the-package toilet paper and tooth brushes for the United Methodist Youth Home. We will be collecting these essential items through Sunday, February 4. If you or your organization would like to contribute, simply leave contributions on the chapel's front platform steps (toilet paper) or altar table (toothbrushes)! Please leave items in the narthex (lobby) should the weather be inclement.
For over 35 years, the United Methodist Youth Home (UMYH) in Evansville, IN has provided a Residential Treatment Program for youth ages 10 to 21. They currently operate two licensed group homes with a total of 15 beds, six for males and nine for females. The residential program puts an emphasis on developing pro-social behaviors, emotion regulation, personal responsibility, educational achievement, interpersonal effectiveness, and independent living skills.
To learn more, please visit their website at umyh.org.
Submitted by Keith Turner kt160@evansville.edu
This Week in Music: Faculty recital, guest artist recital and Saxophone Day
Guest Artist Recital – Catharsis Jazz Ensemble
Friday, January 26, 7:30 p.m., Wheeler Concert Hall
Led by Ryan Keberle, #1 Rising Star Trombonist in the Downbeat International Critics Poll, Catharsis has been hailed by the Los Angeles Times for its "potent blend of cinematic sweep and lush, ear-grabbing melodies."
The highly acclaimed piano-less group brings together elements of chamber music, South American folk and indie rock within a traditional jazz framework, resulting in a sound that has thrilled audiences across the globe for close to a decade. In Catharsis, the potent frontline rapport of Keberle and saxophonist John Ellis and the unshakable rhythm of bassist Matt Clohesy and drummer Eric Doob combine in a sound full of drama and intrigue. The guitar and vocals of Camila Meza have also come to shape the band's chemistry and unmistakable ensemble sound.
On Friday, January 26, at 7:30 p.m. in Wheeler Concert Hall, Catharsis will perform a range of songs arranged by Keberle, as well as standards by Duke Ellington, Bob Dylan, and others. The concert is free and open to the public.
For more information about the program and the ensemble, visit the music department concert calendar.
Saxophone Day at UE
Sunday, January 28 in Krannert will be Saxophone Day at the University of Evansville!
We have a number of exciting events planned for the day! Students will be able to play in a saxophone ensemble, watch a professional masterclass, and hear an amazing guest recital by Assistant Professor of Woodwinds at the University of Mississippi in Oxford, Adam Estes.
This is an event geared towards high school age students only.
To register, click here and select REGISTER NOW! You will not want to miss this amazing opportunity. Oh, and did we mention it's FREE!
Submitted by James Sullivan js820@evansville.edu
Volunteer crew leaders for UE Habitat Barn Blitz needed!
Get ready for the UE Habitat Barn Blitz on Saturday, April 7! This semester, UE has made a commitment to help Habitat for Humanity build 30 barns or toolsheds during this semester-long initiative.
This is a call out for volunteer crew leaders! Each team needs two crew leaders who will be taught how to build a barn, agree to assemble a team (4-5 more folks), and support their team during all building times throughout the semester.
Crew leaders must attend two training sessions:
• Kick-Off Crew Leader Meeting: Today - Tuesday, January 23 - at noon in Eykamp Hall, Ridgway University Center
• Component Building Training: Saturday, January 27 from 9:00–11:00 am
Attendance at the January 23 meeting is confirmation and agreement to be a crew leader. More details, including specific responsibilities and build times, will be covered at the kick-off meeting.
Submitted by Jackie Luedtke jl295@evansville.edu
Health advising workshop today
All students interested in learning more about job shadowing, volunteer and employment opportunities in health related businesses, offices, or hospitals around the community are invited to attend a workshop presented by pre-professional health advisor Francie Renschler. The workshop will be at 2:00 p.m. today in Room 203 (J. Henry Schroeder Boardroom), in the library.
This workshop will include a visit by a recruiter from the scribe company, Scribe America, with information about becoming a medical scribe and the possible opportunity to link this as a co-op experience. Scribe America places students in family practice, pediatric and internal medicine doctor's offices, and the Deaconess emergency rooms.
Please plan to attend the workshop before asking for job shadowing assistance.
Francie Renschler fr25@evansville.edu
Game Zoom planned for Saturday
The International Club will host Game Zoom on Saturday, January 27 at 3:00 p.m. in the Fitness Center gym. Games will include Musical Chairs, Minute to Win It, Frisbee, and Extreme Uno. There will also be snacks! Come meet new people and have some fun!
Submitted by Duy Nhan Cao dc179@evansville.edu
Scholars for Syria presents Spring 2018
Come to Ridgway University Center today - Wednesday, January 24. We will be selling merchandise designed by UE alum and NYC artist Sam Schanwald and promoting our upcoming Spectacular Spring Speaker Series (at S for S, we love alliterations). Thursday events this semester includes an Indiana film premiere, politics, war crimes, migration, economics, medicine, music, and - of course - our Syrian students' stories. Stay tuned for much more detail. For now, stop by from 11:00 a.m.-2:00 p.m., say hello, and show your support for our Syrian students, their families, and their nation.
Submitted by Gail Vignola gv15@evansville.edu
ASB Houston trip only $100! Register today!
An Alternative Spring Break Hurricane Harvey Relief Trip is planned for March 3-11. The cost of the trip is $100 per person.
During this trip, ASB will travel to the Houston, Texas, area to complete Hurricane Harvey relief work. They are partnering with Community Collaborations International, which will be providing lodging, meals, and the volunteer work. CCI specializes in working with schools and groups for alternative break initiatives and we are thrilled to be supporting the efforts after Hurricane Harvey.
The ASB attendance form can be found here. By filling out the form, you confirm your attendance and the $100 will most likely be charged to your student account.
For any further questions or concerns, please contact Jackie Luedtke at jl295@evansville.edu or 812-488-1115.
Submitted by Jackie Luedtke jl295@evansville.edu
Jampon: A Jam for Pads and Tampons
A concert - Jampon: A Jam for Pads and Tampons - is set for January 27, 7:30 p.m., in Eykamp Hall, Ridgway University Center. The goal of the event is to collect donations of women's sanitary products to benefit women at the YWCA of Evansville. Admission is a box of unopened tampons, pads, or liners, or $5. This event aims to raise awareness of the challenges faced by underprivileged women, especially regarding the accessibility and affordability of sanitary products. There will also be art and baked goods available for purchase with all proceeds going to the YWCA.
Submitted by Gina DeLise gl47@evansville.edu
2018 Methodist Scholarship application now available
United Methodist students attending United Methodist-related institutions can apply for 2018 United Methodist Scholarships at www.gbhem.org/scholarshipapplication from January 3-March 7.
Scholarship eligibility requirements:
• Incoming or current freshmen, sophomores, juniors, seniors or graduate students at one of the United Methodist-related colleges or universities
• Member of any United Methodist Church for at least one year
• Minimum GPA of 2.5
Applying for individual scholarships now also makes you eligible for the United Methodist Allocation. YOU MUST apply now to be considered for both. Late applications will not be accepted. Scholarships range in value from $500 to $5,000. The average amount awarded is about $1,000.
Be sure to choose the United Methodist General Scholarship when applying. Find the easy online application at www.gbhem.org/scholarshipapplication.
Submitted by Cathleen Wright cw259@evansville.edu
UE Men's Basketball ticket requests
UE faculty/staff/administration may now begin requesting their two complimentary tickets for the UE men's basketball game against Drake. The game begins at 1:00 p.m. at the Ford Center. Please be sure to bring your valid UE ID.
Submitted by Scott Peace sp166@evansville.edu
The Writing Center is now open!
The Writing Center's staff of experienced peer writing mentors is now ready to help with your academic papers - everything from outlines to citation. Just register and make an appointment!
Information on the Writing Center
The Writing Center will be open Tuesday, January 16-Wednesday, April 25.
Hours are Monday-Thursday: 10:00 a.m.–9:00 p.m., and Friday: 10:00 a.m.-1:00 p.m.
The center is located in the Clifford Library, Room 253, on the circle next to the Koch Center for Engineering and Science.
The Writing Center's Acelink webpage has many valuable resources including documents on citation and grammar.
The Writing Center's Facebook page (UE Writing Center) also has writing links, vocabulary help, and other general academic writing support.
How to make an appointment
It's really easy to make an appointment! Go to: Acelink … Areas … Writing Center … Appointments… Create an Appointment.
Register for an account - or sign in if you have used the Writing Center before - you can then access the center from any mobile device to schedule or cancel a session.
This site manages your appointments, cancellations, and reports. You will receive an e-mail reminder before your appointment and your professor will receive feedback from your tutor afterward.
How to prepare for your appointment
Bring the assignment (writing prompt) or draft of your paper.
Prepare questions for your tutor to get the most out of a session. For example, "Can you help me to see if my thesis statement is clear?"
Plan to visit the Writing Center well in advance of an assignment due date. If you come in the day an assignment is due, you may not have enough time to make the revisions discussed during a session. Seems obvious, but…
Arrive a few minutes early for your appointment - don't be late. If another student is waiting, that student will be helped first if you are over five minutes late.
Submitted by Gail Vignola gv15@evansville.edu
W-2 and 1095-C notice for 2017
The Office of Accounting/Payroll will be issuing W-2's for 2017 no later than January 31. We are pleased to announce that you can choose one of two options to receive your W-2:
• Electronic W-2 – If you provide your consent, you will receive an e-mail notification via AceNotes Extra that your W-2 is ready to view/print on Self-Service.
• Paper W-2 – If you prefer, you can continue to receive a paper W-2 in the mail, as you have in the past.
Among the advantages of electronic W-2's: (1) you will have access to your W-2 a couple of days earlier than a paper copy that is mailed to hour home; (2) you can print as many copies of the W-2 as you need. The electronic W-2 is IRS compliant and can be submitted with your tax return.
To take advantage of the electronic W-2 option, you must log onto Self-Service (https://selfservice.evansville.edu), locate the item titled "Tax Information" either on the main page, or in the left-hand menu under "Financial Information."
Click the option "W-2 Information."
Click the "Change Preferences" button and then click the first radio button to give your consent.
Then click "Save."
You will not receive a paper W-2 in the mail if you select the electronic W-2 option.
Again this year, employees that are eligible to participate in the University's health plans, will receive a 1095-C form. This form will be used to complete questions regarding health insurance offers and coverage on your 2017 tax return. Like the W-2 consent, the 1095-C form will need a consent as well. This is done by clicking on the "1095-C Information" tab (on the same screen as the W-2 Information option – "Tax Information" in Self-Service) and giving your consent.
If you choose to withhold your consent to view/print your online W-2 and 1095-C, a paper copy will be prepared and mailed to you at your home address.
If you have any questions, please feel free to contact Gloria Spencer at ext. 2159.
Library After Hours starts January 21
Library After Hours will start on Sunday, January 21. The first floor will be open until 4:00 a.m. most mornings with limited library services. The upper floors will close at midnight and will not be accessible after that. The current After Hours schedule is Monday-Friday from 12:00-4:00 a.m. Access to the libraries after 11:50 p.m. Sunday-Thursday is through the Ridgway door only.
This service is dependent on student staffing. Interruptions to the afterhours schedule will be posted to the UE app.
For more information, contact Meg Atwater-Singer at ma35@evansville.edu or ext. 2487.
Submitted by Meg Atwater-Singer ma35@evansville.edu
College Mentors for Kids seeking mentors!
College Mentors for Kids is seeking new mentors! College Mentors for Kids is a non-profit organization that pairs college students with elementary-age students to expose our "little buddies" to career and college opportunities, diversity, and other interesting things! The organization meets weekly on Wednesdays from 3:30-5:30 p.m. If you have a class until 3:50 p.m. and/or one at 5:00 p.m., that can be worked around. Contact Joe Cook at jc491@evansville.edu for more information!
Submitted by Krysta Wininger kw308@evansville.edu
Eykamp Prize
The Eykamp Prize was established by Richard and Rita Eykamp in 2015 to honor Faculty Achievement at the University of Evansville. Recipients of the prize will receive an award of $10,000 in recognition of extraordinary contributions to the University of Evansville as University Citizens. Examples of such contributions include deep and successful involvement in recruiting students; expanding the number, scope, and competitiveness of grant funding for their department; bringing positive public awareness to the University through scholarship, knowledge, and understanding of their discipline. Up to two prizes a year may be awarded.
Nominations for the Eykamp Award may come from any member of the University of Evansville Community. Nominees should be tenured or tenure-track faculty members at the University of Evansville who have not received the award in the previous five years. Nominations can be submitted in writing or via e-mail to Michael Austin, Executive Vice President for Academic Affairs, by March 16, 2018. Nominations should include the name of the faculty member and a brief statement of the reasons that he or she are being nominated.
Recipients of the Eykamp Award will be selected by an Awards Committee, appointed by the EVPAA, that includes members of the faculty and staff, academic administrators, and at least one member of the Board of Trustees. Awards will be announced and presented at the May Commencement Ceremony.
Nerd Wars registration deadline extended to Jan. 31
The Honors Program is hosting Nerd Wars trivia night on Tuesday, February 13, at 7:00 p.m., in Eykamp Hall! Students, faculty, administrators, and staff can all form teams of up to five people to battle in a competition of wits while enjoying pizza, popcorn, and soda. Winners will receive $25 Master Card/VISA gift cards. Other prizes include Bluetooth speakers, Bluetooth headsets, A Fitbit-flex 2, a streaming video DRONE1, and more!
You can register your team online NOW.
Pay your $5 per person entry fee to Jayme Williams in Room 238, Koch Center for Engineering and Science. Those who are unable to compose a team of five may still register and will be matched to make a team. The deadline to enter has been extended to January 31.
Questions can be e-mailed to Aditi at as783@evansville.edu
Submitted by Aditi Sood as783@evansville.edu
Professor Todd A. Matteson exhibits artwork
Assistant professor Todd A. Matteson has had two artworks accepted into the juried 2" x 2" Miniature Exhibition at the Arts Council of Southwest Indiana. His artwork, "Duck-Napped, in Chrome" and "Duck-Napped, in Gold," are made of porcelain slip, stoneware, and bedding.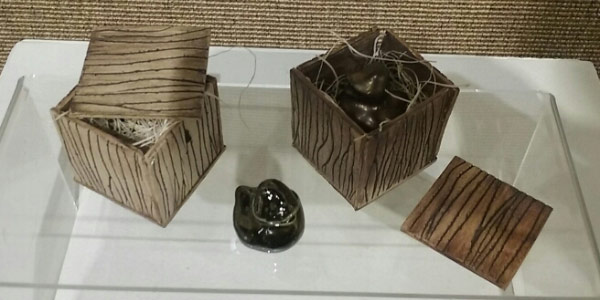 Weber publishes paper on mathematical research
Darrin Weber, assistant professor of mathematics, has published a paper in the International Electronic Journal of Algebra. The paper is titled "The Zero-Divisor Graph of a Commutative Ring without Identity" and can be found at http://ieja.net/files/papers/volume-23/11-V23-2018.pdf. It is a joint work with David F. Anderson (University of Tennessee).
A ring is a mathematical structure where you can add, subtract, and multiply, but not necessarily divide (think of the integers). A zero-divisor is an element in a ring that multiplies to another element to give you 0. Zero-divisors do not have a lot of structure, so we place them in a graph and see what the graphical structure can tell us about the ring structure. This paper furthers that endeavor by looking at a new class of rings.
Contribute to AceNotes
To have content considered for inclusion in AceNotes, please submit a Marketing Request Form. Deadline for submission to AceNotes is 10:00 a.m. on the requested date of publication. Only articles concerning UE related/sponsored activities will be accepted. Articles submitted to AceNotes may be edited for length and clarity. Submitter contact information is at the end of each article.