| | |
| --- | --- |
| AceNotes Today | Friday, January 5, 2018 |
UE partners with Toyota Indiana to support Logistics and Supply Chain Management Program and Changemaker Challenge
The University of Evansville has received a generous gift of $100,000 from Toyota Motor Manufacturing, Indiana. The majority of the gift –$90,000—will be used to launch the University's new Logistics and Supply Chain Management (LSCM) Program. The remainder of the funds will continue Toyota's long-standing support of the University's annual Changemaker Challenge competitions for area high school students and UE students.
"We are proud to partner with the University of Evansville on this milestone," said plant vice president Tim Hollander. "This program will help to fill a need for trained and qualified candidates for many employers in our region and create opportunities for students to build careers with longevity."
UE's new Logistics and Supply Chain Management (LSCM) Program will be introduced in the fall of 2018. The University's Schroeder Family School of Business Administration will be the first private University in Indiana accredited by the Association to Advance Collegiate Schools of Business (AACSB) International to offer an undergraduate major in logistics and supply chain management.
New college graduates in the supply chain management field are highly sought after with a 6:1 demand-to-supply ratio. UE's program will prepare students with knowledge and skills desired by employers. In addition to a rigorous course of study, students in the program will take part in high level experiential learning opportunities such as internships.
"Toyota Motor Manufacturing of Indiana is a world-class manufacturer and a great corporate partner," said Greg Rawski, Schroeder Family Dean at UE. "We are excited to launch this distinctive LSCM program, which provides students great placement opportunities and rewarding careers."
Part of the Toyota gift designated for the LSCM program will fund ten $5,000 scholarships. These one-year scholarships will be awarded to each of the 10 students in the cohort that will begin the program. Learn more about these scholarships here: www.evansville.edu/majors/business/lscm-toyota.cfm
In 2018 U.S. News & World Report ranked the Schroeder School of Business #4 among small private schools and among all business schools Schroeder was the fastest riser (+38 places) to #183 overall. Schroeder average starting salaries are now at $50,500.
UE to celebrate Martin Luther King Jr. Day on January 15
The University of Evansville has planned several events in celebration of Martin Luther King Jr. Day 2018. This year's theme - "Respect and Compassion for All" – is based on this quote from King: "Love is the only force capable of transforming an enemy into a friend."
Activities include UE's annual re-enactment of the 1963 Civil Rights March on Washington, DC, a pre-march rally, and the William G. and the Rose M. Mays Martin Luther King Jr. Lectureship. The schedule of events follows. All are free and open to the public.
Monday, January 15
11:45 a.m.: Pre-march rally on the steps of Neu Chapel on UE's campus.
Noon - UE's symbolic reenactment of the 1963 Civil Rights March on Washington will leave campus from the Neu Chapel steps and then return to the chapel.
5:00 p.m.: Women of UE's Black Student Union will host the Women of the Civil Rights Movement LIVE experience in Eykamp Hall Room 252 in Ridgway University Center. Walk through the experience and learn about the women involved in the Civil Rights Movement.
6:00 p.m.: William G. and Rose M. Mays Martin Luther King Jr. Lectureship, Eykamp Hall, Room 251, Ridgway University Center. A reception will follow in Eykamp Hall, Room 252, in Ridgway University Center.
The keynote speaker will be Robert Jackson, author of The No More Excuses Curriculum, featuring the books, Black Men Stand Up!, The Workbook: A Boys Guide to Manhood, The Workbook: A Girls Guide to Womanhood, Solutions to Educating Black and Latino Males and Put a Stop to Bullying. He is a nationally renowned speaker, educator, consultant, and owner of Lavelle Publishing and Robert Jackson Consulting.
He earned his Bachelor of Science degree in Industrial Technology from Western Kentucky University where he lettered four years in football and track. After being cut from the NFL Minnesota Vikings, Jackson began teaching. Wanting to make a bigger impact on education, he began conducting professional development workshops and keynotes nationally for educators, parents and students. He remains committed to serve his community as mentor and leader, especially on issues facing African American and Latino students.
He is an active Life Member of Kappa Alpha Psi Fraternity, Inc., 100 Black Men and Bachelor Benedict Club and a member of the NFL Players Association (NFLPA).
He has received numerous awards for his work, including the Bridge Building Award from Collaborate to Save our Sons for his leadership and mentorship toward youth and adults nationally, The Do Something Positive, Be Something Positive Award for his leadership in the community, Civil Rights Justice by Action Youth Award from National Organization of Black Law Enforcement for his tireless work with students nationally.
The generosity of William G. and Rose M. Mays funds the keynote speaker during UE's Martin Luther King Jr. Day celebration.
Today's little known fact about Dr. Martin Luther King, Jr.
To help celebrate the legacy of Dr. Martin Luther King, Jr. the MLK Committee will share 10 days of little known facts about his remarkable life. It is our hopes that you will be inspired to join us for a rally, a march and a lecture on Monday, January 15, to continue the festivity of Dr. King's life. This year the theme is "Respect and Compassion for All," using Dr. King's quote: "Love is the only force capable of transforming an enemy into a friend."
Today's little known fact:
Dr. Martin Luther King, Jr. is the only U.S. citizen to have a national holiday. The holiday was initially conceived in 1973, fifteen years after Martin Luther King's assassination and death. By 1989, 44 out of the 50 states observed the holiday but it was not until 2000 that the remainder followed suit. This means that it took a gap of twenty seven years before MLK Day was acknowledged nationwide as an officially observed national holiday. To date, all of the U.S. states observe the King Holiday.
Events Planned for Monday, January 15
• 11:45 a.m. - Rally on the steps of Neu Chapel
• 12:00 p.m. - Symbolic March on Washington
• 5:00 p.m. - Live Experience, "Women of the Civil Rights Movement," hosted by the Black Student Union, in Eykamp Hall, Room 251, Ridgway University Center.
• 6:00 p.m. - William and Dr. Rose Mays Lectureship featuring keynote speaker Robert Jackson in Eykamp Hall, Room 251, Ridgway University Center. More information on Robert Jackson can be found at www.robertjacksonmotivates.com/video-clips.
STEEL TOE art SHOW on display in UE's Melvin Peterson Gallery
"STEEL TOE art SHOW," an exhibit by ceramic artists and University of Evansville graduates Matthew Gaddie and Brian Somerville, will be on display at UE's Melvin Peterson Gallery until February 24. On Friday, February 23, there will be a reception at 6:30 p.m., and a lecture by the artists at 7:00 p.m. These events, which are free and open to the public, are part of the Efroymson Family Fund Emerging Contemporary Artist Lecture Series.
Gaddie earned his Bachelor of Fine Arts degree in ceramics from the University of Evansville, and his Master of Fine Arts degree in ceramic arts from Hood College. His studio is located in Bardstown, Kentucky. Somerville earned his Bachelor of Fine Arts degree from UE and his Master of Fine Arts degree from Florida Atlantic University. He lives and creates his art in Nashville.
The Melvin Peterson Gallery is located at 1935 Lincoln Avenue on the corner of Lincoln and Weinbach Avenues in Evansville. Gallery hours are Monday, Tuesday, Friday and Saturday from noon-3:00 p.m., and Wednesday and Thursday from noon-6:00 p.m.
For more information, contact 207-650-6073.
UE Bookstore rush hours
The UE Bookstore hours during the first week of the spring term are: Monday-Thursday from 9:00 a.m.-6:00 p.m. and Friday from 9:00 a.m.-4:30 p.m. Keep in mind that the deadline for textbooks returns with just a receipt is Friday, January 9 with books returned in the same condition as purchased.
Submitted by Doug Gustwiller dg57@evansville.edu
UE Bookstore hours on Jan. 3-7
The UE Bookstore will have special hours the week before classes start as follows: Tuesday-Thursday, January 2-4 from 8:00 a.m.-5:00 p.m.; Friday, January 6 from 8:00 a.m.-4:30 p.m.; and closed Saturday and Sunday, January 7 and 8.
Submitted by Doug Gustwiller dg57@evansville
Today is deadline to submit nominations for Outstanding Teacher Award
The UE Alumni Association recognizes an outstanding teacher for exemplary instruction and student support at spring commencement. UE administrators, faculty, staff, students, and alumni may nominate a faculty member who exemplifies the award's criteria for outstanding teaching effectiveness that inspires the intellectual development of students.
Please use this link to nominate a faculty member for the auspicious occasion: www.evansville.edu/alumni/outstandingTeacher.cfm.
Full-time faculty who have taught in the classroom at UE for two years or more and held the rank of lecturer, instructor, assistant professor, associate professor, or professor are eligible for nomination.
Past award recipients are as follows: James Berry in 2011; Mari Plikuhn in 2012; Mark Valenzuela in 2013; Jennie Ebeling in 2014; Margaret Stevenson in 2015, M. Kevin Gray in 2016, and Mary Ellen Wylie in 2017.
The deadline to submit nominations is January 31, at 5:00 p.m.
For questions, contact Tracey Folden at tf91@evansville.edu.
Sherri Chambliss retiring
After 22 years of dedicated service to the University of Evansville, Sherri Chambliss will be retiring January 5. Sherri has impacted the lives of hundreds of UE PT and PA students and families who will forever be grateful for her service. Stop by and see Sherri and wish her well!
Teichmer invited to be East Central Division MTNA adjudicator
Assistant professor of music Shawn Teichmer was invited to adjudicate the East Central Division Wind Competitions for the Music Teachers National Association. He judged Chamber Winds, Senior Winds, and the Young Artist Wind Competition held at the University of Illinois at Urbana-Champaign on January 8.
Davis selected to NCAA research committee
Mark Davis, associate professor from the Biology Department has been selected to the NCAA Innovations in Research and Practice Grant Program Committee.
The NCAA Innovations in Research and Practice Grant Program supports research and data-driven pilot projects designed to enhance student-athlete psychosocial well-being and mental health.
Research topics may include, but are not limited to, managing transitions (e.g., from recruit to first-year student; transferring between universities; adapting from youth sports to college sports environment; developing independence from parents), identity development, stress management, substance use, bystander intervention, cultivating healthy relationships, career exploration, and sport exit strategies.
Funded projects must demonstrate potential to result in campus-level programming that can positively impact the well-being of NCAA student-athletes at a range of member institutions.
Gieselman and Milner to participate in United Nations Summit
University chaplain Tamara Gieselman and executive director of international programs Wes Milner have accepted an invitation to participate in an international conversation at the United Nations Together Summit in New York City on January 8-9.
The summit will center on a globally-focused campaign to "promote respect, safety and dignity of refugees and migrants." Event participants and presenters will include educational leaders from American, Asian, and European Universities. Goals of the summit are to begin a conversation centered on breaking down barriers, find solutions to the significant and troubling challenges faced by refugees and migrants, share positive stories of integration, and demonstrate how higher education institutions can make a difference on this important issue.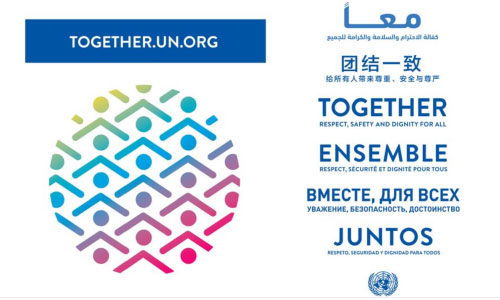 The invitation was motivated by the U.N.'s recognition of the University of Evansville's "reputation for engaging with marginalized communities and commitment to learning as a means of attaining freedom from ignorance and prejudice." Gieselman's interfaith work in partnership with Harlaxton College has facilitated previous collaborative efforts with De Montfort University in curricular and co-curricular projects.
"We are thrilled that De Montfort University in Leicester, U.K., which has been tasked by the United Nations to reinvigorate the U.N.'s Together Campaign, has invited us to participate in this important summit," said Gieselman.
Several outcomes are expected as a result of the summit: 1) partner institutions will join together in a social media campaign that creates international reach for the project; 2) a website will be developed to act as a repository to share best practices for refugee outreach work; and 3) the summit will conclude with the creation of a UN Together Action Charter.
Lori Johnson named January 2018 Employee of the Month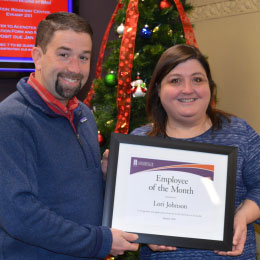 Lori Johnson from the registrar's office has been named the January 2018 Employee of the Month!
Lori is an excellent example of what UE is all about. She is encouraging to the entire UE community of employees, current students, and future students. Lori is known for being helpful in all situations and for being kind and extremely hard-working. She is a problem-solver and will always help find a solution.
She has earned the nickname "SACM Mom" (Saudi Arabia Cultural Mission) from her endeavors in assisting International students with all of their needs. Lori is a pleasure to work with whether over the phone or in person and a very worthy recipient of this month's award.
Mousa publishes paper on innovative pedagogical approach
Rania Mousa, associate professor of accounting, has had a paper accepted for publication in the Accounting Research Journal. The paper is titled "Addressing the AICPA Core Competencies through the Usage of the Monopoly™ Board Game."
A total of 550 UE students played the game in Mousa's introductory financial accounting class (ACCT 210) as part of a course project in which they analyzed business transactions and created financial statements. Students were also asked to share what they had learned from the project in 10 bullet points. The 'learning outcomes' were graded based on inclusion rather than content. A longitudinal empirical analysis of 5500 self-reported learning outcomes revealed their alignment with the American Institute of CPA's Core Competency Framework. The framework defines a set of essential personal and professional skills needed by students transitioning into the accounting profession. In addition, the study informs academics as to the implications of engaging students in an innovative class activity that incorporates the use of Excel's basic functions and features.
The paper was presented at the American Accounting Association Conference in August in San Diego.
Mousa said that she is "grateful to all students and alumni enrolled in ACCT 210 during 2010-15 for sharing their valuable feedback in their course projects."
Contribute to AceNotes
To have content considered for inclusion in AceNotes, please submit a Marketing Request Form. Deadline for submission to AceNotes is 10:00 a.m. on the requested date of publication. Only articles concerning UE related/sponsored activities will be accepted. Articles submitted to AceNotes may be edited for length and clarity. Submitter contact information is at the end of each article.