| | |
| --- | --- |
| AceNotes Today | Thursday, January 4, 2018 |
UE Named Best Value College and Top 100 Best Value Private University by Kiplinger
The University of Evansville has again been named to Kiplinger's Best College Value List and as a Top 100 Best Value Private University. UE and the other schools on the 2018 lists represent colleges that provide high-quality academics at a reasonable cost.
Kiplinger's ranking system weighs affordability alongside academic quality, and combines public schools, private universities, and private liberal arts colleges into a single, comprehensive list. Kiplinger ranks the 100 best values in each category, based on objective measurements of academic quality and affordability, not subjective criteria. To create its best value list, Kiplinger considers data from nearly 1,200 public and private four-year schools provided by Peterson's, the leader in college data licensing. The list is narrowed to top schools based on academic quality, including SAT or ACT scores, admission and retention rates, student-faculty ratios, and four-year graduation rates. The schools are then ranked using cost and financial aid measures, with academic quality carrying more weight than costs.
"The University of Evansville is very proud to be listed as a Kiplinger Best Value, and we're particularly pleased to have moved up 39 spots among colleges overall this year," said Shane Davidson, vice president for enrollment and marketing at UE. "This national recognition is an affirmation of the University's continued commitment to providing students with an affordable, high quality education."
The full lists of Kiplinger's Best College Value Schools are available online now on Kiplinger's website.
UE to celebrate Martin Luther King Jr. Day on January 15
The University of Evansville has planned several events in celebration of Martin Luther King Jr. Day 2018. This year's theme - "Respect and Compassion for All" – is based on this quote from King: "Love is the only force capable of transforming an enemy into a friend."
Activities include UE's annual re-enactment of the 1963 Civil Rights March on Washington, DC, a pre-march rally, and the William G. and the Rose M. Mays Martin Luther King Jr. Lectureship. The schedule of events follows. All are free and open to the public.
Monday, January 15
11:45 a.m.: Pre-march rally on the steps of Neu Chapel on UE's campus.
Noon - UE's symbolic reenactment of the 1963 Civil Rights March on Washington will leave campus from the Neu Chapel steps and then return to the chapel.
5:00 p.m.: Women of UE's Black Student Union will host the Women of the Civil Rights Movement LIVE experience in Eykamp Hall Room 252 in Ridgway University Center. Walk through the experience and learn about the women involved in the Civil Rights Movement.
6:00 p.m.: William G. and Rose M. Mays Martin Luther King Jr. Lectureship, Eykamp Hall, Room 251, Ridgway University Center. A reception will follow in Eykamp Hall, Room 252, in Ridgway University Center.
The keynote speaker will be Robert Jackson, author of The No More Excuses Curriculum, featuring the books, Black Men Stand Up!, The Workbook: A Boys Guide to Manhood, The Workbook: A Girls Guide to Womanhood, Solutions to Educating Black and Latino Males and Put a Stop to Bullying. He is a nationally renowned speaker, educator, consultant, and owner of Lavelle Publishing and Robert Jackson Consulting.
He earned his Bachelor of Science degree in Industrial Technology from Western Kentucky University where he lettered four years in football and track. After being cut from the NFL Minnesota Vikings, Jackson began teaching. Wanting to make a bigger impact on education, he began conducting professional development workshops and keynotes nationally for educators, parents and students. He remains committed to serve his community as mentor and leader, especially on issues facing African American and Latino students.
He is an active Life Member of Kappa Alpha Psi Fraternity, Inc., 100 Black Men and Bachelor Benedict Club and a member of the NFL Players Association (NFLPA).
He has received numerous awards for his work, including the Bridge Building Award from Collaborate to Save our Sons for his leadership and mentorship toward youth and adults nationally, The Do Something Positive, Be Something Positive Award for his leadership in the community, Civil Rights Justice by Action Youth Award from National Organization of Black Law Enforcement for his tireless work with students nationally.
The generosity of William G. and Rose M. Mays funds the keynote speaker during UE's Martin Luther King Jr. Day celebration.
Today's little known fact about Dr. Martin Luther King, Jr.
To help celebrate the legacy of Dr. Martin Luther King, Jr. the MLK Committee will share 10 days of little known facts about his remarkable life. It is our hopes that you will be inspired to join us for a rally, a march and a lecture on Monday, January 15, to continue the festivity of Dr. King's life. This year the theme is "Respect and Compassion for All," using Dr. King's quote: "Love is the only force capable of transforming an enemy into a friend."
Today's little known fact:
Most people learn in school that Martin Luther King, Jr. was assassinated in 1968. But many don't know that his mother, Alberta King was shot and killed as well. Dr. King's mother was shot and killed at a Sunday service in Ebenezer Baptist Church in Atlanta in 1974 by Marcus Wayne Chenault Jr. He told the police that he intended on assassinating Rev. Martin Luther King Sr., but murdered Alberta King because she was nearer to him.
Events Planned for Monday, January 15
• 11:45 a.m. - Rally on the steps of Neu Chapel
• 12:00 p.m. - Symbolic March on Washington
• 5:00 p.m. - Live Experience, "Women of the Civil Rights Movement," hosted by the Black Student Union, in Eykamp Hall, Room 251, Ridgway University Center.
• 6:00 p.m. - William and Dr. Rose Mays Lectureship featuring keynote speaker Robert Jackson in Eykamp Hall, Room 251, Ridgway University Center. More information on Robert Jackson can be found at www.robertjacksonmotivates.com/video-clips.
Men's basketball drops 65-63 decision at SIU
Ryan Taylor led four University of Evansville double figure scorers with 21 points but four Southern Illinois scores finished with 12+ points to lead the Salukis to a 65-63 victory over the University of Evansville men's basketball team at SIU Arena.
Taylor, who scored 16 points in the first half, hit 9 of his 18 attempts on the night for the Purple Aces (10-6, 0-3 MVC). Blake Simmons notched 13 points on 6-of-9 shooting while Dru Smith and K.J. Riley finished the night with 10 apiece.
"We have to get better, we just made too many mistakes tonight. Mistakes were made in critical spots," Aces head coach Marty Simmons said. "Give our guys credit, they battled back and were resilient; we just cannot keep turning the ball over like we have been."
Aaron Cook was the leading scorer for SIU (10-6, 2-1 MVC) as he posted 14 points on 5-of-7 shooting. Armon Fletcher and Tyler Smithpeters notched 13 apiece while Sean Lloyd had 12.
Both teams knocked down triples in their opening possessions of the game. Ryan Taylor gave UE its first advantage of the night as he scored the first five for the Aces and seven of the first nine as the Aces extended the lead to 11-6. After SIU tied the score at 11-11, Evansville had its best run of the game, hitting five out of eight shots to take a 23-16 advantage with 6:37 left in the half.
Facing its largest deficit of the game, the Salukis roared back with a 14-2 run as they connected on six out of seven shots. The run was capped off by a Kavion Pippen dunk with 2:56 on the clock. The seventh bucket by Taylor helped the Purple Aces cut the halftime deficit to three at 32-29. He had 16 in the half.
Southern Illinois continued its hot shooting from long range, connecting on seven of its first 10 attempts while pushing its lead back to six points (42-36) in the opening moment of the final period. Evansville never gave up as another Taylor score set the team on a run that knotted the score at 44-44. K.J. Riley finished it off with a pair of free throws.
Just past the halfway point, Blake Simmons gave UE its first lead of the second half with a drive to the basket to make it a 46-45 game. After SIU tied it up, Simmons was the difference-maker once again, knocking down a jumper to give UE a 48-46 lead. After Marty Hill broke another tie, Taylor was true from 3-point range with six minutes left to give the Aces their first 2-possession lead of the second half at 53-49.
With four minutes left, the Salukis erased the UE advantage and retook the lead at 56-55 thanks to a long ball from Tyler Smithpeters. The teams swapped the lead three times over the next minute before an and-one by Riley made it a 60-58 game under the 3-minute mark. Simmons' sixth bucket of the evening gave UE a 4-point advantage (62-58).
The resilient Salukis tied the game in one possession. Aaron Cook hit a shot and drew a foul. After missing the free throw, SIU grabbed the rebound and Armon Fletcher scored to tie it up. Southern Illinois had a chance to take the lead with a minute left, but a missed dunk turned into a free throw make by Marty Hill that put the Aces back in front at 63-62.
Fletcher knocked down a pair of clutch free throws with 25.6 seconds remaining to help SIU retake the lead and give UE one final shot at the win. The team had two shots underneath the basket, but both fell short and SIU appeared to have possession. The play was reviewed and the ball went back to Evansville with 9.3 ticks left. A turnover on the inbound helped SIU return to the line where they hit one out of two and finished off the 65-63 win.
A 2-game home stand awaits the Aces as they return to the Ford Center to face Bradley in a 3:00 p.m. game on Saturday before welcoming Missouri State on Wednesday at 7:00 p.m. Saturday's contest against the Braves is the annual Courier & Press game. Fans can redeem vouchers in the Courier & Press or actual copies of the paper dated December 31-January 6 to get $5 tickets. They can be redeemed at the Carson Center or Ford Center up to the start of the game.
UE Bookstore rush hours
The UE Bookstore hours during the first week of the spring term are: Monday-Thursday from 9:00 a.m.-6:00 p.m. and Friday from 9:00 a.m.-4:30 p.m. Keep in mind that the deadline for textbooks returns with just a receipt is Friday, January 9 with books returned in the same condition as purchased.
Submitted by Doug Gustwiller dg57@evansville.edu
UE Bookstore hours on Jan. 3-7
The UE Bookstore will have special hours the week before classes start as follows: Tuesday-Thursday, January 2-4 from 8:00 a.m.-5:00 p.m.; Friday, January 6 from 8:00 a.m.-4:30 p.m.; and closed Saturday and Sunday, January 7 and 8.
Submitted by Doug Gustwiller dg57@evansville
Today is deadline to submit nominations for Outstanding Teacher Award
The UE Alumni Association recognizes an outstanding teacher for exemplary instruction and student support at spring commencement. UE administrators, faculty, staff, students, and alumni may nominate a faculty member who exemplifies the award's criteria for outstanding teaching effectiveness that inspires the intellectual development of students.
Please use this link to nominate a faculty member for the auspicious occasion: www.evansville.edu/alumni/outstandingTeacher.cfm.
Full-time faculty who have taught in the classroom at UE for two years or more and held the rank of lecturer, instructor, assistant professor, associate professor, or professor are eligible for nomination.
Past award recipients are as follows: James Berry in 2011; Mari Plikuhn in 2012; Mark Valenzuela in 2013; Jennie Ebeling in 2014; Margaret Stevenson in 2015, M. Kevin Gray in 2016, and Mary Ellen Wylie in 2017.
The deadline to submit nominations is January 31, at 5:00 p.m.
For questions, contact Tracey Folden at tf91@evansville.edu.
2018 spring Pcard cardholder training schedule
The 2018 spring Pcard cardholder training session calendar is now available on the AceLink Pcard website under Training Materials/Dates to Remember. For questions or to reserve a training spot, contact the Office of Administrative Services at ext. 2941.
Submitted by Kim Winsett kw83@evansville.edu
Gieselman and Milner to participate in United Nations Summit
University chaplain Tamara Gieselman and executive director of international programs Wes Milner have accepted an invitation to participate in an international conversation at the United Nations Together Summit in New York City on January 8-9.
The summit will center on a globally-focused campaign to "promote respect, safety and dignity of refugees and migrants." Event participants and presenters will include educational leaders from American, Asian, and European Universities. Goals of the summit are to begin a conversation centered on breaking down barriers, find solutions to the significant and troubling challenges faced by refugees and migrants, share positive stories of integration, and demonstrate how higher education institutions can make a difference on this important issue.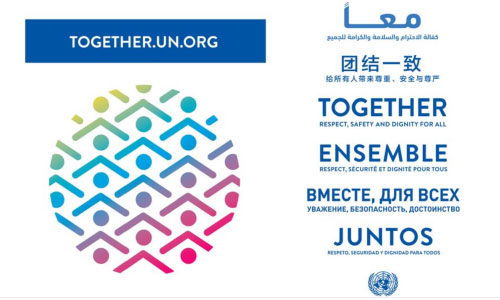 The invitation was motivated by the U.N.'s recognition of the University of Evansville's "reputation for engaging with marginalized communities and commitment to learning as a means of attaining freedom from ignorance and prejudice." Gieselman's interfaith work in partnership with Harlaxton College has facilitated previous collaborative efforts with De Montfort University in curricular and co-curricular projects.
"We are thrilled that De Montfort University in Leicester, U.K., which has been tasked by the United Nations to reinvigorate the U.N.'s Together Campaign, has invited us to participate in this important summit," said Gieselman.
Several outcomes are expected as a result of the summit: 1) partner institutions will join together in a social media campaign that creates international reach for the project; 2) a website will be developed to act as a repository to share best practices for refugee outreach work; and 3) the summit will conclude with the creation of a UN Together Action Charter.
Lori Johnson named January 2018 Employee of the Month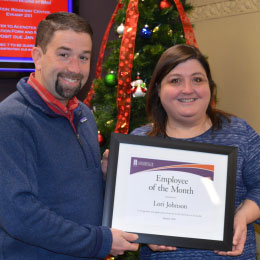 Lori Johnson from the registrar's office has been named the January 2018 Employee of the Month!
Lori is an excellent example of what UE is all about. She is encouraging to the entire UE community of employees, current students, and future students. Lori is known for being helpful in all situations and for being kind and extremely hard-working. She is a problem-solver and will always help find a solution.
She has earned the nickname "SACM Mom" (Saudi Arabia Cultural Mission) from her endeavors in assisting International students with all of their needs. Lori is a pleasure to work with whether over the phone or in person and a very worthy recipient of this month's award.
Mousa publishes paper on innovative pedagogical approach
Rania Mousa, associate professor of accounting, has had a paper accepted for publication in the Accounting Research Journal. The paper is titled "Addressing the AICPA Core Competencies through the Usage of the Monopoly™ Board Game."
A total of 550 UE students played the game in Mousa's introductory financial accounting class (ACCT 210) as part of a course project in which they analyzed business transactions and created financial statements. Students were also asked to share what they had learned from the project in 10 bullet points. The 'learning outcomes' were graded based on inclusion rather than content. A longitudinal empirical analysis of 5500 self-reported learning outcomes revealed their alignment with the American Institute of CPA's Core Competency Framework. The framework defines a set of essential personal and professional skills needed by students transitioning into the accounting profession. In addition, the study informs academics as to the implications of engaging students in an innovative class activity that incorporates the use of Excel's basic functions and features.
The paper was presented at the American Accounting Association Conference in August in San Diego.
Mousa said that she is "grateful to all students and alumni enrolled in ACCT 210 during 2010-15 for sharing their valuable feedback in their course projects."
Contribute to AceNotes
To have content considered for inclusion in AceNotes, please submit a Marketing Request Form. Deadline for submission to AceNotes is 10:00 a.m. on the requested date of publication. Only articles concerning UE related/sponsored activities will be accepted. Articles submitted to AceNotes may be edited for length and clarity. Submitter contact information is at the end of each article.