| | |
| --- | --- |
| AceNotes Today | Tuesday, December 12, 2017 |
Nerd Wars set for February 13
Save the date! The Honors Program is hosting Nerd Wars trivia night on Tuesday, February 13, at 7:00 p.m. in Eykamp Hall, Ridgway University Center. Start making your team of five people and plan to register when classes resume in January. All are welcome to form teams - students, faculty, administrators, and staff.
There will be prizes awarded to the top teams, as well as giveaways available for all who attend! Come and be a part of the race to win Bluetooth speakers, Bluetooth headsets, a Fitbit-flex 2, a streaming video drone, and more!
Submitted by Cherie Leonhardt CL29@evansville.edu
40th Anniversary Commemoration of 1977 UE Plane Crash
A 40th Anniversary Commemoration of the 1977 University of Evansville plane crash will take place tonight - Wednesday, December 13 - at 7:00 p.m.
The ceremony will be held at Memorial Plaza on the UE campus and is open to the Evansville community and the general public. In the event of inclement weather, the ceremony will be moved inside Neu Chapel.
The Air Indiana Flight 216 crashed at 7:22 p.m. on the evening of December 13, 1977, carrying the University of Evansville men's basketball team along with coaches, administrators, fans, and flight crew. Those gathered will observe a moment of silence at that time during the candlelight vigil.
A candle lighting will commence the service which also includes a reading of the names of those who perished in the plane crash and a bell ringing during each interval. University of Evansville President Dr. Thomas A. Kazee will provide a statement followed by the singing of the UE alma mater, prayers and bagpipes.
Following the ceremony, an opportunity for informal gathering and fellowship will be offered in Ridgway University Center's 1959 Gallery and Lounge. Neu Chapel will also be open for personal prayer and meditation throughout the evening.
If you have any questions about the ceremony or events taking place that night, please contact the Office of Alumni and Parent Relations at alumni@evansville.edu or 812-488-2586.
Submitted by Bob Pristash rp113@evansville.edu
Timecard entry for December 29 payroll
In order to process payroll before the holiday break for the December 29th bi-weekly payroll, the Office of Accounting/Payroll is asking all staff to enter their time on WebAdvisor for the pay period December 10-23 by Wednesday, December 13.
Supervisors are asked to approve timecards by Thursday, December 14.
If you have any questions, please contact Gloria Spencer at ext.2159 or e-mail gs55@evansville.edu.
Spring book reserves
Students are encouraged to reserve their spring books through the UE Bookstore website so that books are ready to pick up in the bookstore when classes start on January 8. To charge books to your student account please put your student ID number and a comment to charge your books to your account in the customer comment field. The spring booklist will be posted no later than Monday, December 18 to show new, used, rental, and eBook options. This will ensure that used buyback books are posted.
Submitted by Doug Gustwiller dg57@evansville.edu
Milken Award winner visits school of education
Recently, Traci Druschke, Milken Award winner, visited the School of Education to speak with Amy McBride's sophomores and juniors in Education 418 and 320. Druschke, a third grade teacher at Oak Hill Elementary School, presented Whole Brain Learning and Memory Models. Students will incorporate some of her techniques in their internships.
The Milken Award is a prestigious honor for early-to-mid-career educators and is based on educational talent and contributions to the profession. Award winners strive to take learning beyond the classroom, provide models of excellence within the profession, and motivate novices to achieve excellence.
Beware of IRS scam
The UE Office of Financial Aid has been notified that students from other schools have received phone calls claiming that they have taxes owed to the IRS that must be paid immediately. The caller states that taxes are past due as a result of recent changes to the tax laws for people receiving financial aid. THIS IS A SCAM! Do NOT provide the caller with bank account or credit card information. Should tax laws that impact financial aid be passed, we will notify our students of those changes before they go into effect.
Submitted by Cathleen Wright cw259@evansville.edu
UE Bookstore Clarification
The UE Bookstore would like to clarify the dates for Buyback and rental returns as there may be conflicting dates out there. Buyback runs December 8-14. Rental books need to be returned by 5:00 p.m. on DECEMBER 14. If you have any questions contact the UE Bookstore.
Submitted by Dous Gustwiller, dg57@evansville.edu
UE Bookstore Help Needed
The UE Bookstore is looking for some extra help during spring rush (Jan 2-12). The person should be available during regular store hours during this time - eight hours a day. The position requires some lifting. This is a temporary position perfect for anyone looking for a little more cash. Students may be interested IF they can work all these days. Contact the UE Bookstore if interested.
Submitted by: Doug Gustwiller, dg57@evansville.edu
Attention employees: payrolls during holiday break
The bi-weekly payroll for December 29 will be direct deposited on Friday, December 29. The monthly payroll for December 31 will also be direct deposited on Friday, December 29. As all employees have direct deposit, you will be able to view your online pay advice through WebAdvisor on the morning your pay is direct deposited. Since the Office of Accounting/Payroll will be closed during the holiday break at the time of the bi-weekly and monthly payrolls on December 29, you will not receive a courtesy e-mail notification that your pay advice is available. However, you may log on to WebAdvisor and view/print your pay advice or contact your bank to confirm the deposit into your bank account.
If you have any questions, please contact Gloria Spencer at ext. 2159 or e-mail gs55@evansville.edu.
Vectren Executive Retreat
Vectren will host its annual Executive Retreat in Eykamp Hall on December 13th from 8:00 a.m.-5:00 p.m. in Eykamp Hall, Ridgway University Center, with lunch served in Meeks Gym. Please contact Kari Hughes at kh355@evansville.edu with any questions.
USPS 2018 postage and shipping rate increases
Effective Monday, January 22, US postal rates are increasing. New rates include a one cent increase in the price of the first-class mail Forever stamp from 49 cents to 50 cents. Postcard stamps and metered letters will also have a one cent increase.
The overall rate change will increase mailing service product prices approximately 1.9%, and most shipping services an average of 3.9% price increase.
The new shipping services product prices will increase priority mail by 3.9% and priority mail retail an average of 0.8%. Unlike other carriers, the postal service will not include any surcharges for fuel, residential delivery, or regular Saturday delivery.
Submitted by Kim Winsett kw83@evansville.edu
Book Buyback at UE Bookstore
The semester end book buyback at the UE Bookstore runs December 8-14. The bookstore freely quotes all books regardless of where purchased or used on this campus. Please bring your student ID to sell books, your original receipt is NOT needed. There will be promotions and discounts during the week as well.
Submitted by: Doug Gustwiller, dg57@evansville.edu.
Rental Books due back Dec 14
This is a reminder that books rented from the UE Bookstore are due back no later than 5:00 p.m. on December 14. Books returned after the due date are subject to late fees. Please make sure you return your books in a timely manner.
Submitted by: Doug Gustwiller, dg57@evansville.edu.
Sweet Gifts for Holiday Giving
The bees in the UE Garden have been active all summer, and our beekeeper Carla Lemar has jars of local, raw, and unprocessed honey for sale. She will be in Ridgway University Center from 1:00-2:00 p.m. on Tuesday, December 12 and again on December 19. Give someone a sweet gift from the UE Garden this holiday season.
Submitted by: William Hemminger, bh35@evansville.edu
UE distribution services Christmas break adjustments
Please note the following distribution services (mail services, central receiving and copy services) adjustments and plan accordingly. These adjustments will help to ensure there is sufficient time to transport mail for processing, complete campus deliveries and copy service requests before campus is closed for the Christmas break (Monday, December 25 through Monday, January 1).
A campus distribution services delivery reminder/notification is being distributed via campus mail to departments the week of December 11. It is to be returned to distribution services if someone will be available at the routine department mail/receiving delivery locations to receive and sign for mail or shipments on Friday, December 22. Departments are asked to respond no later than Monday, December 18.
Mail Services Adjustments:
Mail will be delivered to offices that have responded to the campus distribution services delivery reminder notification stating they will have someone available at the designated dept. mail delivery location to receive and sign for mail on Friday, December 22.
Campus mail will be delivered to administrative offices (student accounts, registrar, accounting and audit, financial aid and president's office) on Friday, December 22.
All outgoing USPS mail/parcels must be in UE mail services for transport to Data Mail on December 22, no later than 1:00 p.m.
Those needing to mail a letter, etc. after 1:00 p.m. on December 22 or during Christmas break may do so by taking their mail to the post office and paying for the postage via a UE Pcard.
The United States Post Office will be closed Monday, December 25 and Monday, January 1.
United Parcel Services (UPS) Information
Central receiving adjustments
Receiving will deliver to offices that have responded to the campus distribution services delivery reminder/notification stating they will have someone available at the designated dept. mail/delivery location to receive deliveries on Friday, December 22.
Packages will not be accepted in Receiving after 3:00 p.m., Friday, December 22, through Monday, January 1.
In-house supply orders received prior to 3:00 p.m. on Thursday, December 21, will be delivered on the afternoon run of Friday, December 22.
In-house supply orders received after 1:00 p.m. on Friday, December 22, will be delivered on Tuesday's afternoon run, January 2.
Copy Services Adjustments
Please plan your copy job requirements ahead of time to provide sufficient turn-around time as copy services will be closed December 25-January 1.
Distribution services will resume normal operations on Tuesday, January 2.
For distribution services questions, contact the following:
Mail services at mailservices@evansville.edu
Copy services at copyservices@evansville.edu
Central receiving at centralreceiving@evansville.edu
Submitted by Kim Winsett kw83@evansville.edu
Noe earns second-straight MVC Newcomer of the Week honor
For the second-straight week, University of Evansville women's basketball graduate guard Hannah Noe has been named Missouri Valley Conference Newcomer of the Week, it was announced in a release by the conference office on Monday.
Noe poured in a team-high 23 points on Tuesday night in a 100-62 loss at No. 20 Kentucky. In the road matchup, Noe tied a season-high with six three-pointers, adding a rebound and a pair of assists in 35 minutes.
Back inside Meeks Family Fieldhouse on Sunday, Noe continued her impressive start with a team-best 17 points in 34 minutes of the Aces' narrow 82-75 loss to Morehead State.
On the season, Noe leads the MVC in scoring average (18.6), three-pointers made per game (3.75), three-point attempts (70), and total three-pointers made (30). Noe ranks seventh nationally in three-pointers made per game and 23rd in total three-pointers made.
The honor is the second-straight for Noe and third overall for the graduate guard who earned MVC Player and Newcomer of the Week honors on November 13.

Evansville concludes a two-game homestand on Thursday at 7:00 p.m. when the Aces host Oakland City inside Meeks Family Fieldhouse.
Education grad receives Indiana Special Educator of Year Award
Amber Turner Wolf, School of Education graduate, recently received the Indiana Special Educator Award. This honor is given to a teacher who demonstrates exceptional skill in working with special needs individuals, who goes above and beyond in every aspect of teaching, and helps to motivate colleagues. Amber is the autism coordinator in the Bartholomew Consolidated School Corporation. She graduated from the University of Evansville in 2001 with a special education degree. The School of Education is proud to recognize another award-winning graduate of our program.
Dru Smith named MVC Player of the Week
In a week where he set his career scoring mark, University of Evansville sophomore Dru Smith has been named the Missouri Valley Conference Player of the Week on Monday.
The Evansville native had a great week in leading UE to a pair of wins. The guard finished with 21 points per game, 4 rebounds and had 13 assists against just three turnovers. Smith also went 10-of-14 from the field (71.4%) while hitting 8 out of 9 free throws and 4 out of 8 tries from long range.
In Monday's win at Bowling Green, Smith set his career mark with 25 points. He hit 11 out of 13 attempts while notching seven assists, five rebounds and four steals.
Smith led all players once again in the victory over Canisius, scoring 17 points while dishing out six assists. He went 8/9 from the line in the win.
This weekend, Smith and his teammates will be at the Ford Center for a pair of games, taking on Austin Peay on Saturday and Midway on Sunday. Both games tip off at 3:00 p.m.
Honors Program Undergraduate Research Grant Awarded
Philip Lax, mechanical engineering senior, has received the Fall 2017 Honors Program Undergraduate Research Grant. As a recipient of this award, Philip will receive funding support from the Honors Program to complete his honors project, entitled "Effects on Collector Efficiency of a Thermosiphon-Powered Solar Water Heater from Variations in Reservoir Tank Shape." Philip will present the results of his project, along with other Honors Program graduates, in April during the Honors Program Project Presentations. Congratulations Philip!
Submitted by Jayme Williams, jw504
Pi Gamma Mu Welcomes New Members
The Indiana Alpha chapter of Pi Gamma Mu, international honor society in social sciences, welcomed six new members at their Induction Ceremony on December 7. The newly inducted members are: Hunter King, Sylvia McFadden, Justine Moore, Hunter Sandage, Bailey Schnur, and Blake Simmons. In addition, the chapter's new president, Sylvia McFadden, and new vice president, Bailey Schnur, were inaugurated as officers.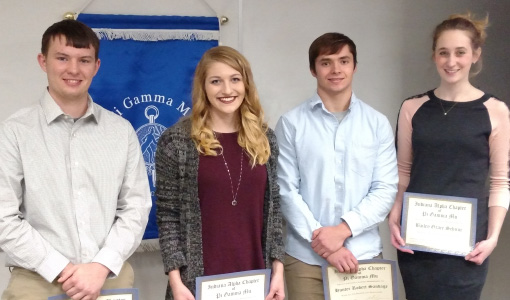 Submitted by Mari Plikuhn, mp168@evansville.edu
Cirino and Oaks Co-write Article for Hemingway Review
An article written by Mark Cirino and Amanda Oaks ('14) has been published in the current Hemingway Review. Cirino and Oaks's article, "Wise Blood: Menstruation, Fertility, and the 'Disappointment' in Hemingway's Across the River and into the Trees," analyzes a crucial gap in the text that has presented a critical conundrum since the novel's publication in 1950. Cirino and Oaks conceived of this article during her ENGL 399 class as a UE student. Oaks is currently pursuing her MFA at Chatham University. Cirino is associate professor and Melvin M. Peterson Endowed Chair in English.
Contribute to AceNotes
To have content considered for inclusion in AceNotes, please submit a Marketing Request Form. Deadline for submission to AceNotes is 10:00 a.m. on the requested date of publication. Only articles concerning UE related/sponsored activities will be accepted. Articles submitted to AceNotes may be edited for length and clarity. Submitter contact information is at the end of each article.