| | |
| --- | --- |
| AceNotes Today | Friday, December 8, 2017 |
Nominate your co-worker for January 2018 Employee of the Month!
The University of Evansville, in pursuit of excellence in service, wishes to recognize monthly a non-faculty employee displaying records of achievement as a leader. Leadership may be demonstrated in any of the following categories:
• Service to the University community
• Service to students
• Job performance and attitude to fellow employees
One award is presented each month. To be eligible, an employee must be a full-time member of the administration or staff. Nominations are due before the 15th of each month.
To nominate someone, or to find out more information about the Employee Excellence Award, go to http://acelink.evansville.edu/Tools/Employee Award/

Submitted by Lori LeDuc, ll138@evasnville.edu
UE Plans 40th Anniversary Commemoration of 1977 Plane Crash
The University of Evansville will hold a 40th Anniversary Commemoration of the 1977 Plane Crash on Wednesday, December 13 at 7:00 p.m. The ceremony will be held at Memorial Plaza on the UE campus.
The Air Indiana Flight 216 crashed at 7:22 p.m. on the evening of December 13, 1977 carrying the University of Evansville basketball team along with coaches, administrators, and fans. Those gathered will observe a moment of silence at that time during the candlelight vigil.
The order of service will include candle lighting, a reading of the names of those who perished in the plane crash, and a bell ringing during each interval. University of Evansville President Thomas A. Kazee will provide a statement, followed by the singing of the UE alma mater, prayers, and bagpipes.
An opportunity for informal gathering and fellowship will be offered in Ridgway University Center's 1959 Gallery and Lounge immediately following the ceremony. Neu Chapel will also be open for personal prayer and meditation throughout the evening.
The public is invited to attend this commemoration and the University of Evansville is working to personally reach families of those who perished. A Facebook event has also been created for interested guests to stay up to date with information. Visit www.facebook.com/UniversityofEvansville to find the event.
Additionally, a memorial service to honor the first responders involved in this tragedy will be held at Oak Hill Cemetery at 11:00 a.m. on the same day.
See UE Film "From the Ashes" at Showplace East
From the Ashes, a documentary about the 1977 UE basketball team's plane crash, will play at Showplace East on Tuesday, with screenings at 2 p.m. and 7 p.m.
The 90-minute film, which was produced and directed by Communication faculty member Joe Atkinson, tells the story of the 1977 season, the plane crash, and the aftermath. After being shown at Showplace East, a shorter, 60-minute version will air on WNIN at 8:00 p.m. on December 13 - the 40th anniversary of the crash.
Tickets for the Showplace East screenings are available at http://www.showplacecinemas.com/location/4131/Showplace-Cinemas-East. A DVD of the film - which includes both versions of the film, as well as several deleted scenes, is available at the77aces.com
Submitted by Joe Atkinson, ja122@evansville.edu
Reception for Arthur Aarstad on Friday, December 8
The Department of Law, Politics, and Society will be inaugurating the Arthur B. Aarstad Scholar Award for the Outstanding Senior in Political Science on Friday, December 8, at 2 p.m. in Dunigan Lounge. The award's namesake, Arthur Aaarstad, will be in attendance for the occasion. Aarstad joined the faculty of Evansville College in 1958 as a member of the Department of History and Political Science, and he worked here until he retired in 1995. In addition to his teaching and administrative duties, Arthur served on the EVSC school board and was elected to the Vanderburgh County Council. He won the Outstanding Teacher of the Year award in 1971.

A reception will be held to launch this new award, and there will be a brief program. Arthur Aarstad will offer some observations on his long career at UE, and some of his former colleagues and students will say a few words in praise of his service to our campus community. There will be light refreshments offered, and the first-ever Aarstad Scholar award recipient will be announced. All members of the UE campus community are welcome to join us in honoring this former colleague and this outstanding student.
Trebles without a Cause/Ladies in Pink concert
Take a break from finals week to laugh and enjoy music performed by your fellow students! Come see Trebles without a Cause and Ladies in Pink perform their end of semester concert. Both are acapella groups each putting on their own program, so you get two shows in one! The event is planned for Saturday, December 8, at 8:00 p.m. in Shanklin Theatre. Admission is free!
Submitted by Ryan DeHoff rd103@evansville.edu
Aces to host Teddy Bear Toss on December 10th
The University of Evansville women's basketball team will hold the Teddy Bear Toss on December 10 when the Purple Aces host Morehead State at 7:00 p.m. in Meeks Family Fieldhouse.
Benefiting the Arc of Evansville Child Life Center, fans are encouraged to bring a new and unused teddy bear or stuffed animal to toss during halftime of the contest. Each stuffed animal will be given to a child at the Child Life Center. The fan who tosses their teddy bear closest to center court will win a Purple Aces prize pack including vouchers to a future basketball game.
Fans who bring a teddy bear or stuffed animal to the game will receive $3 tickets to the game for everyone in their party.
The Child Life Center (CLC) provides high-quality programs in an inclusive environment for children ages six weeks to six years, both with and without disabilities, by nurturing their social, emotional, physical, and intellectual growth. The state-licensed facility is accredited by the National Association for the Education of Young Children (NAEYC) and rated Level 4 on the Paths to Quality program. Last year, 59% of the children who exited the CLC and entered kindergarten reduced or eliminated their need for special education services.
Turn In Hate Crimes Bill Letters, 720 and Counting!
Over 240 letters will be photocopied and sent to three governmental representatives (240x3=720) asking for a Hate Crimes Bill to be passed in Indiana. Indiana is one of only five states that does not have such a bill. These letters serve as a show of solidarity with all the oppressed groups who have been targeted in increasing numbers. Anyone who has additional letters to submit please do so by Monday December 11 to OH 342 (just slip them under the door), or if you would like a copy of the letter to sign or distribute please email lk102@evansville.edu. The PEACE initiative in collecting these letters has been supported by numerous efforts on campus, including significant student support, faculty support, the Honors Club, and the Diversity Office. Scholars for Syria kindly helped circulated the letters on social media.
Submitted by Lisa Kretz, lk102@evansville.edu
EARLY DEADLINE EXTENDED! Register for SLC!
As an organization, we have decided to extend the early deadline for the Student Leadership Conference on January 20, 2018 to December 13!
Want to expand upon your leadership skills and knowledge base but don't know how? I have great news for you! On January 20, the University of Evansville Leadership Academy and Center for Student Engagement are putting on their annual Student Leadership Conference. This year, the conference's theme is "Bright Lights, Brighter Leaders." This is an all-day conference where you will get the opportunity to talk with other student leaders and hear amazing speakers discuss their own leadership journeys. There is a $10 registration fee that includes a T-shirt, lunch, and an unforgettable experience! To register for the event, click here!
UE Bookstore Clarification
The UE Bookstore would like to clarify the dates for Buyback and rental returns as there may be conflicting dates out there. Buyback runs December 8-14. Rental books need to be returned by 5:00 p.m. on DECEMBER 14. If you have any questions contact the UE Bookstore.
Submitted by Dous Gustwiller, dg57@evansville.edu
UE Bookstore Help Needed
The UE Bookstore is looking for some extra help during spring rush (Jan 2-12). The person should be available during regular store hours during this time - eight hours a day. The position requires some lifting. This is a temporary position perfect for anyone looking for a little more cash. Students may be interested IF they can work all these days. Contact the UE Bookstore if interested.
Submitted by: Doug Gustwiller, dg57@evansville.edu
Fitness Center Finals Hours
Wed (12/6) 8:00am-8:00pm
Thurs & Fri(12/7&12/8) 8:00am-7:00pm
Sat & Sun (12/9 & 12/10) 11:30am-5:30pm
Mon - Thurs (12/11-12/14) 8:00am-7:00pm
Friday (12/15) 8:00am-6:00pm
Submitted by: Lori Adams: la87@evansville.edu
COMMUNICATION 380 Offered ONLINE in Winter Intersession
Would a class that fulfills several general education requirements and teaches you valuable life skills interest you? Do you want to reduce your course load during the regular fall or spring semesters? How would you like to take such a course NO MATTER WHERE you plan to be?
If you answered yes to any of these questions, consider enrolling in COMM 380 ONLINE (Intercultural Communication) offered in Winter Intersession.
COMM 380 meets criteria for General Education Outcome 9 (Understanding of Core Concepts of Society, Human Behavior, and Civic Knowledge) and Overlay Component A (Global Diversity: International Component).
For more information contact Dr. Thomlison at dt4@evansville.edu.
Submitted by Dean Thomlison dt4@evansville.edu
Employee Men's Basketball Ticket Requests
All UE faculty, staff, and administrators may now begin picking up their two complimentary tickets for the men's basketball game against Canisius this Saturday, December 9, at the Ford Center at 1:00 p.m. - valid UE ID required. As a reminder, you simply need to show your UE ID day of game for women's basketball games at Meeks Family Fieldhouse for your two complimentary tickets (employee and guest). The UE women's basketball team takes on Morehead State this Sunday, December 10 at 1:00 p.m.
Submitted by Scott Peace sp166@evansville.edu
Requests for official excused absences during finals
Please note that the dean of students' office will not grant official excused absences during finals except for extreme circumstances (i.e.: death of an immediate family member, emergency surgery, etc.). Students who feel they are unable to take a scheduled final exam should work directly with their professors to discuss other possible options.
Submitted by Karen Martin km306@evansville.edu
Book Buyback at UE Bookstore
The semester end book buyback at the UE Bookstore runs December 8-14. The bookstore freely quotes all books regardless of where purchased or used on this campus. Please bring your student ID to sell books, your original receipt is NOT needed. There will be promotions and discounts during the week as well.
Submitted by: Doug Gustwiller, dg57@evansville.edu.
Rental Books due back Dec 14
This is a reminder that books rented from the UE Bookstore are due back no later than 5:00 p.m. on December 14. Books returned after the due date are subject to late fees. Please make sure you return your books in a timely manner.
Submitted by: Doug Gustwiller, dg57@evansville.edu.
Sweet Gifts for Holiday Giving
The bees in the UE Garden have been active all summer, and our beekeeper Carla Lemar has jars of local, raw, and unprocessed honey for sale. She will be in Ridgway University Center from 1:00-2:00 p.m. on Tuesday, December 12 and again on December 19. Give someone a sweet gift from the UE Garden this holiday season.
Submitted by: William Hemminger, bh35@evansville.edu
Pi Gamma Mu Welcomes New Members
The Indiana Alpha chapter of Pi Gamma Mu, international honor society in social sciences, welcomed six new members at their Induction Ceremony on December 7. The newly inducted members are: Hunter King, Sylvia McFadden, Justine Moore, Hunter Sandage, Bailey Schnur, and Blake Simmons. In addition, the chapter's new president, Sylvia McFadden, and new vice president, Bailey Schnur, were inaugurated as officers.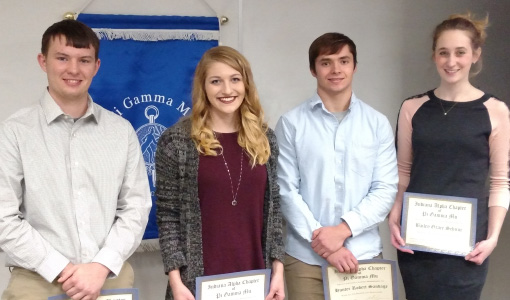 Submitted by Mari Plikuhn, mp168@evansville.edu
Cirino and Oaks Co-write Article for Hemingway Review
An article written by Mark Cirino and Amanda Oaks ('14) has been published in the current Hemingway Review. Cirino and Oaks's article, "Wise Blood: Menstruation, Fertility, and the 'Disappointment' in Hemingway's Across the River and into the Trees," analyzes a crucial gap in the text that has presented a critical conundrum since the novel's publication in 1950. Cirino and Oaks conceived of this article during her ENGL 399 class as a UE student. Oaks is currently pursuing her MFA at Chatham University. Cirino is associate professor and Melvin M. Peterson Endowed Chair in English.
Contribute to AceNotes
To have content considered for inclusion in AceNotes, please submit a Marketing Request Form. Deadline for submission to AceNotes is 10:00 a.m. on the requested date of publication. Only articles concerning UE related/sponsored activities will be accepted. Articles submitted to AceNotes may be edited for length and clarity. Submitter contact information is at the end of each article.