| | |
| --- | --- |
| AceNotes Today | Monday, December 4, 2017 |
UE Plans 40th Anniversary Commemoration of 1977 Plane Crash
The University of Evansville will hold a 40th Anniversary Commemoration of the 1977 Plane Crash on Wednesday, December 13 at 7:00 p.m. The ceremony will be held at Memorial Plaza on the UE campus.
The Air Indiana Flight 216 crashed at 7:22 p.m. on the evening of December 13, 1977 carrying the University of Evansville basketball team along with coaches, administrators, and fans. Those gathered will observe a moment of silence at that time during the candlelight vigil.
The order of service will include candle lighting, a reading of the names of those who perished in the plane crash, and a bell ringing during each interval. University of Evansville President Thomas A. Kazee will provide a statement, followed by the singing of the UE alma mater, prayers, and bagpipes.
An opportunity for informal gathering and fellowship will be offered in Ridgway University Center's 1959 Gallery and Lounge immediately following the ceremony. Neu Chapel will also be open for personal prayer and meditation throughout the evening.
The public is invited to attend this commemoration and the University of Evansville is working to personally reach families of those who perished. A Facebook event has also been created for interested guests to stay up to date with information. Visit www.facebook.com/UniversityofEvansville to find the event.
Additionally, a memorial service to honor the first responders involved in this tragedy will be held at Oak Hill Cemetery at 11:00 a.m. on the same day.
Chipotle Giveback today to support Scholars for Syria
Scholars for Syria is hosting a Giveback Night at Chipotle today - Monday, December 4 - from 5:00-9:00 p.m. Please tell the cashier that you are supporting our cause or show them this flyer to make sure that 50 percent of the proceeds are donated to Scholars for Syria. We hope to see you there!
Submitted by Kendra Mehling km349@evansville.edu
Inter-Greek Council hosts Pet Day with humane society on Dec. 6
On Wednesday, December 6 from 4:00-6:00 p.m., Inter-Greek Council will be hosting a Pet Day with the Vanderburgh Humane Society in the small gym of Carson Center. This will be a time in which the campus community (students and faculty) can come play with pets that Humane Society brings.
Inter-Greek Council asks that those attending bring any of the following items for admittance:
Cats:
Clay or scoopable cat litter (any brand)
Friskies pate canned cat food (any flavor)
Purina kitten chow (yellow bag)
Small cat toys (any variety)
Shoe Boxes (any size)
Gently used or new towels or linens.
Dogs:
Soft, smelly treats (i.e. Purina Moist 'N Meaty, Snausages, etc.)
Greenies Pill Pockets
Medium and large nylon collars
Rabbits and Guinea Pigs:
Timothy Hay
Rabbit pellets (any brand)
Please avoid buying dog food! The Humane Society only feeds one brand to keep diets consistent.
Monetary donations will also be accepted
Come out, take a break from classes and studying, and have fun with the pets! Hope to see you there!
Submitted by Toni Calderaro ac287@evansville.edu

This Week in Music: Holiday Pops
Tuesday, December 5, 7:30 p.m., Victory Theatre in Evansville
Wednesday, December 6, 7:30pm, Preston Arts Center in Henderson, Kentucky
Join us for our annual Holiday Pops Concert. UE's Choirs, Wind Ensemble, Symphony Orchestra, and University Band are among the ensembles audiences can expect to enjoy.
This year's featured guest is Evansville's own Gina Moore. Moore will sing a number of holiday favorites, including Sweet Little Jesus Boy, Have Yourself a Merry Little Christmas, and The Christmas Song. Other selections include variations on Joy to the World, Amazing Grace, Leroy Anderson's classic Sleigh Ride, and of course, the traditional sing-a-long!
The Department is pleased to partner with the Tri-State Food Bank and Christian Charities Food Bank. Tickets are free, but attendees are encouraged to bring a donation of canned food which the food banks will share with those in need.
For the first time, this year's concert will be presented both in Evansville at the Victory Theatre downtown, and in Henderson, Kentucky, as part of a budding partnership with the Preston Arts Center. The concert at the Victory is made possible through the generosity of the Mesker Music Trust by Fifth Third Bank, trustee. UE's music programs are also pleased to have the support of the Friends of UE Music.
The program will be presented at the Victory Theatre on Tuesday, December 5 at 7:30 p.m., and at the Preston Arts Center on Wednesday, December 6 at 7:30 p.m. Both concerts are free and open to the public.
For complete program information on the concert at the Victory in Evansville, go here.
For complete program information on the concert at the Preston Arts Center in Henderson, go here.
Submitted by James Sullivan js820@evansville.edu
Free paper shredding on December 7
Free off-site paper shredding by Piranha Mobile Shredding will return to campus once again on Thursday, December 7 (Reading/Study Day) from 10:00 a.m.-1:00 p.m. All UE students, faculty, staff, and alumni can take advantage of this free service by bringing paper to the Piranha truck in Koch Center for Engineering and Science parking lot. Paper will be shredded off-site.
So, if mounds of paper are taking over your office, home, or room, this is the time to gather those old files, receipts, cancelled checks, tax forms, etc. No need to take out the staples or paper clips. Avoid identity theft by having confidential information permanently destroyed.
Please - no telephone books, magazines, or newspapers. Also, please note that there is a 100 pound paper limit per visit (number of visits is not limited).
Submitted by Amber Elkins ae152@evansville.edu
Register for the student leadership conference!
Want to expand upon your leadership skills and knowledge base but don't know how? I have great news for you! On January 20, the University of Evansville Leadership Academy and Center for Student Engagement are putting on their annual Student Leadership Conference. This year, the conference's theme is "Bright Lights, Brighter Leaders." This is an all-day conference where you will get the opportunity to talk with other student leaders and hear amazing speakers discuss their own leadership journeys. There is a $10 registration fee, but with that you will get a T-shirt, lunch, and an unforgettable experience! To register for the event, go here. Early registration for the conference (to ensure your free T-shirt) closes on Reading/Study Day, Thursday, December 7. Register today!
Submitted by Lindsey Mayper lm204@evansville.edu
UE Clay Club Holiday Sale
UE Clay Club is holding a Holiday Sale in Ridgway University Center on December 6 and 7 from 10:00 a.m.-5:00 p.m. Club members will be selling ceramics bowls, cups, serving trays, business card holders, cell phone holders, T-shirts, slumped glass trays, and recycled glass décor. These one-of-a-kind, hand-crafted items make great gifts. Come see for yourself before you leave for break.
Submitted by Todd Matteson tm8@evansville.edu
Reception for Jeannette Oakley
An open house reception for Jeannette Oakley will be held on December 5 from 1:00-3:00 p.m. in the Tapley Center located in Room 243 in Graves Hall. Jeannette is leaving the University after 16 1/2 years of dedicated service. Please make time to stop by and say goodbye to Jeannette.
Submitted by Elaine Freels ef97@evansville.edu
Aces to host Teddy Bear Toss on December 10th
The University of Evansville women's basketball team will hold the Teddy Bear Toss on December 10 when the Purple Aces host Morehead State at 7:00 p.m. in Meeks Family Fieldhouse.
Benefiting the Arc of Evansville Child Life Center, fans are encouraged to bring a new and unused teddy bear or stuffed animal to toss during halftime of the contest. Each stuffed animal will be given to a child at the Child Life Center. The fan who tosses their teddy bear closest to center court will win a Purple Aces prize pack including vouchers to a future basketball game.
Fans who bring a teddy bear or stuffed animal to the game will receive $3 tickets to the game for everyone in their party.
The Child Life Center (CLC) provides high-quality programs in an inclusive environment for children ages six weeks to six years, both with and without disabilities, by nurturing their social, emotional, physical, and intellectual growth. The state-licensed facility is accredited by the National Association for the Education of Young Children (NAEYC) and rated Level 4 on the Paths to Quality program. Last year, 59% of the children who exited the CLC and entered kindergarten reduced or eliminated their need for special education services.
Federal loan repayment counseling session for students graduating or transferring
Students who have used federal direct (subsidized/unsubsidized) loans and plan to graduate in the fall (or transfer after the fall semester) are required to attend a loan repayment counseling session. The Office of Financial Aid will hold the last session of the semester on Thursday, December 7 (Reading/Study Day) at 2:00 p.m. in Eykamp Hall, Room 252, Ridgway University Center.
Submitted by Amy Sowders as560@evansville.edu
Chipotle!
Support the PTA department by going to Chipotle between 4:00-8:00 p.m. on December 6 and presenting this flyer (either by printing it out or showing in on your smartphone) or just tell the cashier you're supporting the cause. If you do, 50 percent of the proceeds will be donated to UE Physical Therapist Assistant Program.
Submitted by Amber Miller am595@evansville.edu
Relaxation event on Reading/Study Day
Finals got you stressed? Counseling Services - with help from RSA and SAB - is hosting a relaxation event on Thursday, December 7 (Reading/Study Day). The event will be from 11:00 a.m.–2:00 p.m. in Eykamp Hall, Rooms 253-255, Ridgway University Center.
The event will offer:
Multiple areas with various activities to aid in stress management
Yoga mats, aromatherapy, chair massage, and other mindfulness activities
Come and leave at your convenience and move at your own pace.
Submitted by Jennifer Hargus jh693@evansville.edu

Mohammad K. Azarian to give Dec. 6 Andiron Lecture
Mohammad K. Azarian, professor of mathematics, will be the speaker for 2017-18 Andiron Lecture in Liberal Arts and Sciences on Wednesday, December 6. Andiron lectures are free and open to the public and begin at 4:00 p.m. in Eykamp Hall, Room 252, Ridgway University Center.
Azarian's lecture will examine the influence of the work of Ghiy¯ath al-D n Jamsh d Mas'¯ud K¯ash¯ - one of the most renowned mathematicians and astronomers in Iranian history and one of the most fascinating medieval Muslim mathematicians in the world. He is called "Persia's Second Ptolemy." Azarian will talk about K¯ash¯an 's famous treatises and books, including Encyclopedia of Arithmetic, The Treatise on the Circumference, The Treatise on the Chord and Sine, and Stairways to Heaven.
Azarian earned his Bachelor of Science from Tabriz University in Iran, his Master of Science from Southern Illinois University, and his PhD from Saint Louis University.
Azarian was a 2007-08 Global Scholar at the University of Evansville. He was the recipient of the 2017 Mathematical Association of America-Indiana Distinguished Service Award. He is a Discipline Peer Reviewer for the Fulbright Scholar Program, and is a reviewer for the American Mathematical Society's Mathematical Reviews.
He served on the Executive Board of the Indiana Section of Mathematical Association of America (2001-07), where he was responsible for the Indiana College Mathematics Competition. He is on the Editorial Board of National Association of Mathematicians' Newsletter. He serves as a referee for Houston Journal of Mathematics, International Journal of Mathematics and Mathematical Sciences, Missouri Journal of Mathematical Sciences, College Mathematics Journal, Ars Combinatoria, and Journal of Integer Sequences.
He has authored over 40 research papers, published over 70 problems, and made over 1,500 contributions to the On-line Encyclopedia of Integer Sequences.
Aces primed for inaugural track and field seasons
In preparation for the start of their inaugural seasons, the University of Evansville men's and women's track and field teams have released their indoor schedule.
The Aces open program history on January 20 at the Fort Wayne Duals at 11:00 a.m. hosted by Fort Wayne. Evansville then travels to Carbondale, Illinois, to compete in the Don Denoon Invitational on February 3 before wrapping-up the indoor regular season at the EIU Friday Night Special in Charleston, Illinois on February 16. The Aces will make their first-ever MVC Championship appearance on February 24 and 25 in Cedar Falls, Iowa.
On Thursday, the Missouri Valley Conference released the conference's men's and women's track and field preseason coaches polls. The Aces' men's team received 11 points in the poll and was picked ninth while Evansville's women's team earned 13 points and were selected 10th. In the poll, Southern Illinois received five first-place votes and was tabbed as the conference favorites after finishing second in the indoor championships a season ago. On the women's side, Illinois State picked up eight first-place nods after earning runner-up honors in both indoor and outdoor last season.
Men's golf announces two signings
University of Evansville head golf coach Jim Hamilton has announced the signing of two student-athletes who will join the Purple Aces men's golf team next season.
Dallas Koth comes to UE from Normal, Illinois, where he played at University High School. A 2-time Class AA Illinois State High School Runner-Up (2016 and 2017), Koth had a 71.2 stroke average as a senior. Koth won or tied for first in six high school invitationals. He was the Illinois Junior Golf Association points leader and was the winner of the MAJGT Illinois State event.
Joining Koth will be Tyler Roat. The New Lenox, Illinois, native played at Providence High School where he shot a 66 on his way to a regional championship. Roat took eighth place at the 2017 AAA State Championship, posting scores of 73 and 74. The winner of five high school invitationals averaged 73.4 strokes as a senior and was named to the All-Midwest Team in 2016 and 2017.
"We are very excited to add Dallas and Tyler to our program. They are outstanding student golfers who have a great passion for the game," UE head coach Jim Hamilton said. "Both want to work hard and become even more accomplishing players. They provide us with added depth to help us challenge for the Missouri Valley Conference Championship."
UE defeats Oakland City on Saturday
Blake Simmons scored 17 points, just one off of his career-high, to lead four double-digit scorers in a 98-56 victory over Oakland City on Saturday afternoon at the Ford Center.
"We did some things very well in the second half and we are hoping to build on that," Purple Aces (6-2) head coach Marty Simmons said. "Playing well and playing hard were two things we wanted to accomplish today. We passed the ball very well today and that is a real asset for this team."
Simmons' final of 17 points was the top tally in the game. He also notched five assists. Duane Gibson notched 14 points for his top total of the season while Noah Frederking and Marty Hill each hit four 3-pointers on their way to 12 points. KJ Riley totaled nine points and nine helpers. John Hall and Evan Kuhlman each had their top games at UE. Hall hit four out of five shots to finish with nine points and seven rebounds and Kuhlman was 4-6 from the field on his way to nine points and eight boards.
"We wanted to execute and get better. Without Ryan, we are still trying to fill that void," Frederking said. "We really played well today."
Logan Worthington was the leading scorer for the Mighty Oaks (4-1) as he notched 16 points and eight rebounds. Andrew Scott finished the day with 13.
Evansville notched the first two buckets of the game before Oakland City got on the board. Back-to-back triples gave them a 6-4 lead just over two minutes in. Another trey by OCU's Austin Robertson gave the Mighty Oaks a 9-7 lead before Noah Frederking got in on the scoring.
His long ball gave the Aces the lead for good at 10-9. The freshman connected on four of his seven 3-point tries in the first half as he led all players with 12 at the break. Also finding his shot from outside was Marty Hill, who played in his second game on Saturday. His shot saw UE take a 26-18 lead with eight minutes remaining in the half.
Oakland City kept the intensity up as they rallied to get within four points at 31-27 inside of three minutes remaining in the period. The Aces matched their effort, scoring the final eight tallies to take a 39-27 lead at the half. Frederking added two more triples in the final minutes to cement the 12-point advantage.
After regrouping during the halftime break, Evansville came out on fire in the second half, shooting an unbelievable 76.7% (23/30) while outscoring OCU by a 59-29 margin. The final score of 98-56 marked UE's highest lead of 42 points.
As a team, the Aces hit 11 out of 18 3-point tries while finishing the game shooting 66.7% (38/57) from the field. Along with its offensive prowess, the Aces also dominated defensively, outrebounding the Mighty Oaks, 40-23, while holding them to 36.4% shooting.
It is back to the road for the Purple Aces as they head north to Bowling Green, Ohio, to face the Falcons. Game time is 6:0 p.m. CT on Tuesday. The game will be carried on ESPN3 while 91.5 WUEV will have the broadcast.
Noe scores 29 as Aces fall to Austin Peay, 82-73
Graduate guard Hannah Noe scored 29 points as the Aces dropped a close battle to Austin Peay, 82-73, on the road Saturday afternoon in Clarksville, Tennessee.
"Our big emphasis was to attack and I thought we did okay and we made really good reads in that first quarter," said Aces head coach Matt Ruffing. "We played really hard at the end and that's positive and that's something that will serve us really well moving forward. Credit to Austin Peay. They made open shots and pulled down offensive rebounds."

Noe's 29 points are the second-most in her career, just four shy of her 33-point outing in the Aces' season-opening win over Murray State. Senior guard Brooke Dossett added 10 points, four boards, and four assists, while redshirt sophomore guard Marley Miller contributed eight points and six rebounds. Five Governors finished the contest in double figures with Brianah Ferby leading the way with 17 points.

In an opening quarter that featured six lead changes, a late run from the Aces helped provide Evansville with a 23-20 lead after the first ten minutes. Noe helped fuel an 8-2 Evansville run, knocking-down back-to-back three-pointers that tied the game at 10. Tied at 18 with 3:13 left in the quarter, the Aces put together a 5-2 run to earn a 23-20 lead heading into the second period.

Evansville carried its momentum over into the opening stages of the second as the Aces hit a pair of triples to open up a 29-23 advantage. The Governors responded with an 11-0 run that gave Austin Peay a 34-29 lead before the Aces closed back within a point at 35-34 at the half.

The Aces kept pace with Austin Peay to begin the third quarter as the deficit remained just one at 40-39 with 5:43 on the clock. From that point, the Governors mounted a 12-0 run that pushed Austin Peay's advantage to 52-40 with just over two minutes left in the third.
In the final stanza, the Governors pushed their advantage as high as 17 points, but Evansville responded with pressure late to cut the deficit as thin as nine at 80-71 with 24 seconds remaining in the 82-73 loss.
The Aces outshot Austin Peay, 42.3% to 40.3% from the field and 57.9% to 35.5% from three-point range, while the Governors held a 44-34 advantage on boards.
Evansville wraps up a three-game road swing on Tuesday when the Aces take on No. 22 Kentucky at 6:00 p.m. in Lexington, Kentucky.
Gregory Gregory portrait unveiled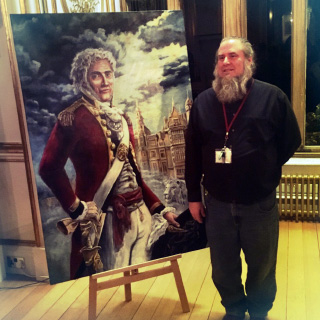 On Tuesday, November 21, a new portrait of Gregory Gregory, the man originally responsible for building Harlaxton Manor, was unveiled and donated to Harlaxton College. The work, painted by University of Evansville art professor Ralph Larmann, was created from collected images and facts into a composite portrait and was supported by a University of Evansville ARTS Grant. The resulting image was presented to the Harlaxton community in a grand unveiling ceremony. The painting is now part of the Harlaxton Manor permanent collection and will be on display outside the State Dining Room in the immediate future.
Diversity Resource Center final exam hours
The Diversity Resource Center, located at 436 Weinbach Avenue, will be open during finals week for special hours. The house will be open the following hours:
Thursday, December 7 from noon-10:00 p.m.
Friday, December 8 from 2:00-5:00 p.m.
Saturday, December 9 from noon-5:00 p.m.
Sunday, December 10 from 2:00-10:00 p.m.
Monday, December 11 from noon-10:00 p.m.
Tuesday, December 12 from noon-10:00 p.m.
Wednesday, December 13 from noon-10:00 p.m.
All students are welcome to stop by and study or reserve space to study during those times. The center will provide free coffee, hot chocolate, water, and snacks for students.
For more information contact lw161@evansville.edu.
Submitted by LaNeeca Williams lw161@evansville.edu
Intersession books now available
Textbooks for the 2017 intersession course are now available for purchase in the UE Bookstore. There are new, used, rental, and eBook options available depending on the title. Be sure to purchase your textbook before you leave for the holidays!
Submitted by Doug Gustwiller dg57@evansville.edu
Winter housing
Residence hall students - do you need a place to stay this winter? The residence life office has limited winter housing available. Only students participating in official University functions or with approved reasons will be considered for winter housing.
Winter housing is located on the fourth floor of Morton Residence Hall. Students will not have access to their permanent rooms during winter break. Approvals are subject to room availability. Students are charged a flat fee of $400 for winter housing.
Students seeking winter housing must submit a Winter Housing Request Form by noon on Reading and Study Day, available through this link - https://www.surveymonkey.com/r/WinterHousing.
Students who live in Village housing can stay in their apartment or house at no additional cost but we do ask that you let us know when you will be on campus by filling out this form - https://www.surveymonkey.com/r/villagewinterhousing.
Submitted by: Brian Conner bc32@evansville.edu
Sweet Gifts for Holiday Giving
The bees in the UE Garden have been active all summer, and our beekeeper Carla Lemar has jars of local, raw, and unprocessed honey for sale. She will be in Ridgway University Center from 1:00-2:00 p.m. on Tuesday, December 12 and again on December 19. Give someone a sweet gift from the UE Garden this holiday season.
Submitted by: William Hemminger, bh35@evansville.edu
Riedford part of student panel at Be a Teacher, Change the World
Recently, senior Spanish Education major Jennifer Riedford served on a student panel at the Be a Teacher, Change the World event held at Bankers Life Fieldhouse in Indianapolis. She was one of four education majors representing universities from across the state who shared thoughts on the education profession and college life. Nearly 400 high school juniors and seniors from across Indiana participated in the event. The School of Education was proud of and honored by Jennifer's words of high esteem for the education profession.
Catie Taylor named December 2017 Employee of the Month
Catie Taylor, associate director in the Office of Admissions, has been named the December 2017 Employee of the Month.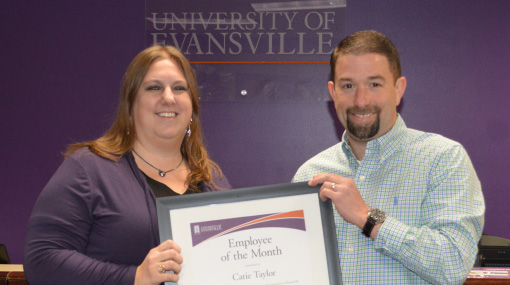 During the largest visit months of the year, Catie is dedicated to the cause of growing the next class of the University of Evansville. She uses her talent for coordinating schedules of very busy faculty and staff to meet with prospective students, ensuring each one has a memorable visit to the UE campus. During what can easily turn into a very chaotic and demanding time for the admission office, Catie stays focused with poise and grace while putting in a tremendous amount of time to assist in the management of visits and events. She is a team player and appreciated by all who work with her. Catie's dedication to our future and current students is inspiring!
Submitted by Lori LeDuc ll138@evansville.edu
Jennie Ebeling co-edits textbook
Associate professor of archaeology Jennie Ebeling's co-edited book The Old Testament in Archaeology and History has just been published by Baylor University Press. In this undergraduate textbook, 18 archaeologists and biblical scholars combine the most significant archaeological findings of the last century with those of modern historical and literary analysis of the Bible to recount the history of ancient Israel and its neighboring nations and empires.
Lombardo-Graves publishes in issues of Educational Research
Mary Lombardo-Graves, assistant professor of education, has had an article published in Issues of Educational Research.
The article outlines the development of a scale, Initial Special Educator Efficacy Scale (SEES-I), to measure the special education teaching self-efficacy of pre-service teachers.
You may view the article in Issues in Educational Research, volume 27, number 4, publication date 22 October 2017, on the journal's website at www.iier.org.au/.
Contribute to AceNotes
To have content considered for inclusion in AceNotes, please submit a Marketing Request Form. Deadline for submission to AceNotes is 10:00 a.m. on the requested date of publication. Only articles concerning UE related/sponsored activities will be accepted. Articles submitted to AceNotes may be edited for length and clarity. Submitter contact information is at the end of each article.