| | |
| --- | --- |
| AceNotes Today | Friday, December 1, 2017 |
Admission events this Saturday!
The Office of Admission will be hosting Davidson Scholar Day, Engineering Scholar Day, and Physician Assistant Direct Entry Day this Saturday, December 2. We will be welcoming approximately 200 families for these events. The families will join the UE community for lunch in Café Court between 11:45 a.m.-1:30 p.m. with the largest group coming through at 12:45 p.m. We would like to thank everyone involved with these events. Please give our visitors a warm welcome!
Christmas on Campus: Meet Purple Santa and Join in on Reindeer Games
Celebrate the season TONIGHT at Christmas on Campus with photos with Purple Santa, Candlelight Advent Vespers, and more. Learn more and register at www.evansvlle.edu/aceschristmas.
Events are FREE for students, just show your UE ID.
Faculty, staff, administrators, alumni, guests, community members and friends of the University are welcome to any and all events! Only $5 per family or $2 per person! Includes Photos with Santa, Reindeer Games, Trackless Train Rides, Carriage Rides, ticket for roasted nuts, cookies and hot chocolate. No charge for the Candlelight Advent Vespers service or Christmas Tree Lighting.
Fill out the online registration form to save time during the event.
Event Times:
5:00 p.m.
Check-in
Lobby, Olmsted Administration Hall or Information Desk, Ridgway University Center
5:00 - 6:45 p.m.
Photos with Purple Santa
Ridgway University Center
Christmas Crafts
Ridgway University Center
5:00 - 10:00 p.m.
Reindeer Games and Train Rides
East Terrace Lawn
Christmas Shopping at UE Bookstore
Stop in for giveaways and 15% off the original price of all clothing and gift items to all shoppers during the night!
7:00 p.m.
Candlelight Advent Vespers
Neu Chapel
8:00 - 10:00 p.m.
Carriage Rides
Sesquicentennial Oval
Cookies and Hot Chocolate
Lobby, Olmsted Administration Hall
Roasted Nuts
East Terrace Lawn
8:05 p.m.
Lighting of the Christmas Tree and Caroling
Outside Graves Hall
Free paper shredding on December 7
Free off-site paper shredding by Piranha Mobile Shredding will return to campus once again on Thursday, December 7 (Reading/Study Day) from 10:00 a.m.-1:00 p.m. All UE students, faculty, staff, and alumni can take advantage of this free service by bringing paper to the Piranha truck in Koch Center for Engineering and Science parking lot. Paper will be shredded off-site.
So, if mounds of paper are taking over your office, home, or room, this is the time to gather those old files, receipts, cancelled checks, tax forms, etc. No need to take out the staples or paper clips. Avoid identity theft by having confidential information permanently destroyed.
Please - no telephone books, magazines, or newspapers. Also, please note that there is a 100 pound paper limit per visit (number of visits is not limited).
Submitted by Amber Elkins ae152@evansville.edu
Register for the student leadership conference!
Want to expand upon your leadership skills and knowledge base but don't know how? I have great news for you! On January 20, the University of Evansville Leadership Academy and Center for Student Engagement are putting on their annual Student Leadership Conference. This year, the conference's theme is "Bright Lights, Brighter Leaders." This is an all-day conference where you will get the opportunity to talk with other student leaders and hear amazing speakers discuss their own leadership journeys. There is a $10 registration fee, but with that you will get a T-shirt, lunch, and an unforgettable experience! To register for the event, go here. Early registration for the conference (to ensure your free T-shirt) closes on Reading/Study Day, Thursday, December 7. Register today!
Submitted by Lindsey Mayper lm204@evansville.edu
UE Clay Club Holiday Sale
UE Clay Club is holding a Holiday Sale in Ridgway University Center on December 6 and 7 from 10:00 a.m.-5:00 p.m. Club members will be selling ceramics bowls, cups, serving trays, business card holders, cell phone holders, T-shirts, slumped glass trays, and recycled glass décor. These one-of-a-kind, hand-crafted items make great gifts. Come see for yourself before you leave for break.
Submitted by Todd Matteson tm8@evansville.edu
Reception for Jeannette Oakley
An open house reception for Jeannette Oakley will be held on December 5 from 1:00-3:00 p.m. in the Tapley Center located in Room 243 in Graves Hall. Jeannette is leaving the University after 16 1/2 years of dedicated service. Please make time to stop by and say goodbye to Jeannette.
Submitted by Elaine Freels ef97@evansville.edu
Softball to hold January clinics
On Sunday, January 7, the University of Evansville softball team will hold various winter clinics on the UE campus.
Students in grades 7-12 are invited to three clinics on the 7th that including pitching/catching, hitting, or defense. A full schedule is on the brochure that is linked on GoPurpleAces.com.
The hitting and defensive session will cover proper hitting, bunting, throwing and fielding techniques. The catching clinic will work on fundamentals of catching, throwing and blocking. The pitching session will teach the fundamentals and drills used at the collegiate level. All pitchers are required to bring their own catcher.
These clinics begin at 9:00 a.m. and go through 2:30 p.m.
Later in the day, from 4:00-6:00 p.m., a youth clinic will be held for grades 2-8. This will focus on hitting, bunting, throwing, and fielding fundamentals.
All campers will need to bring tennis shoes, glove, helmet, bat, catchers gear, and a water bottle. Cost for each clinic is $75 and space is limited.
For more information, please contact assistant coach Heather Tarter at ht73@evansville.edu or 812-746-1029.
University Worship in Neu Chapel: Final service for the semester
Everyone is invited to join the Neu Chapel community for our last University Worship service for the fall semester this Sunday at 11:00 a.m. We will sing festive, seasonal music and give thanks for God's goodness shown to us over the course of this semester. We will also consider how our striving for peace involves inward change and growth. Join us for this exciting service, and as always, donuts, and coffee will be provided before and after the service.
Submitted by Keith Turner kt160@evansville.edu
Aces to host Teddy Bear Toss on December 10th
The University of Evansville women's basketball team will hold the Teddy Bear Toss on December 10 when the Purple Aces host Morehead State at 7:00 p.m. in Meeks Family Fieldhouse.
Benefiting the Arc of Evansville Child Life Center, fans are encouraged to bring a new and unused teddy bear or stuffed animal to toss during halftime of the contest. Each stuffed animal will be given to a child at the Child Life Center. The fan who tosses their teddy bear closest to center court will win a Purple Aces prize pack including vouchers to a future basketball game.
Fans who bring a teddy bear or stuffed animal to the game will receive $3 tickets to the game for everyone in their party.
The Child Life Center (CLC) provides high-quality programs in an inclusive environment for children ages six weeks to six years, both with and without disabilities, by nurturing their social, emotional, physical, and intellectual growth. The state-licensed facility is accredited by the National Association for the Education of Young Children (NAEYC) and rated Level 4 on the Paths to Quality program. Last year, 59% of the children who exited the CLC and entered kindergarten reduced or eliminated their need for special education services.
Chipotle Giveback today to support Scholars for Syria
Scholars for Syria is hosting a Giveback Night at Chipotle today - Monday, December 4 - from 5:00-9:00 p.m. Please tell the cashier that you are supporting our cause or show them this flyer to make sure that 50 percent of the proceeds are donated to Scholars for Syria. We hope to see you there!
Submitted by Kendra Mehling km349@evansville.edu
Holiday Pops Concerts planned in Evansville and Henderson
The University of Evansville Department of Music invites the public to ring in the holiday season at the annual Holiday Pops Concert. For nearly four decades, students, faculty, and soloists have shared their talent and celebrated the spirit of the season with music.
This year - for the first time - the Holiday Pops Concert will be presented both in Evansville and in Henderson, Kentucky. Both presentations are free and open to the public.
The Evansville concert will be at the Victory Theatre downtown, at 7:30 p.m. on Tuesday, December 6. This presentation is made possible through the generosity of Mesker Music Trust by Fifth Third Bank, trustee. The Henderson concert will be at the Preston Arts Center at 7:30 p.m. on Wednesday, December 7. This presentation is part of a budding partnership with the center.
UE's music programs also have the support of the Friends of UE Music.
UE's choirs, Wind Ensemble, Symphony Orchestra, and University Band are among the ensembles audiences can expect to enjoy at this year's event, along with an added touch of community spirit. The featured guest for the concert is Evansville's own Gina Moore.
A graduate of Central High School, Moore has appeared frequently as a soloist around the Tristate. She began singing with her church choir in the late 1970s. Since then she has made numerous appearances, both as a soloist and with her sister Joan as a member of The Browne Sisters, with ensembles ranging from choirs to the Evansville Philharmonic Orchestra.
Moore will sing a number of holiday favorites, including Sweet Little Jesus Boy, Have Yourself a Merry Little Christmas, and The Christmas Song. Each of UE's student music ensembles will also perform during the evening. Orchestra selections include variations on Joy to the World, the University Choir will perform Amazing Grace, featuring Moore as soloist, and the Wind Ensemble will share their rendition of the Leroy Anderson's classic Sleigh Ride.
The concert concludes with all of the department's ensembles joining on-stage for an audience sing-a-long, and likely a visit from a right jolly old elf!
The Department is pleased to partner with the Tri-State Food Bank and Christian Charities Food Bank for this year's event. Tickets are free, but attendees are encouraged to bring a donation of canned food, which the food banks will share with those in need.
For more information about the UE Department of Music, please visit music.evansville.edu.
Mohammad K. Azarian to give Dec. 6 Andiron Lecture
Mohammad K. Azarian, professor of mathematics, will be the speaker for 2017-18 Andiron Lecture in Liberal Arts and Sciences on Wednesday, December 6. Andiron lectures are free and open to the public and begin at 4:00 p.m. in Eykamp Hall, Room 252, Ridgway University Center.
Azarian's lecture will examine the influence of the work of Ghiy¯ath al-D n Jamsh d Mas'¯ud K¯ash¯ - one of the most renowned mathematicians and astronomers in Iranian history and one of the most fascinating medieval Muslim mathematicians in the world. He is called "Persia's Second Ptolemy." Azarian will talk about K¯ash¯an 's famous treatises and books, including Encyclopedia of Arithmetic, The Treatise on the Circumference, The Treatise on the Chord and Sine, and Stairways to Heaven.
Azarian earned his Bachelor of Science from Tabriz University in Iran, his Master of Science from Southern Illinois University, and his PhD from Saint Louis University.
Azarian was a 2007-08 Global Scholar at the University of Evansville. He was the recipient of the 2017 Mathematical Association of America-Indiana Distinguished Service Award. He is a Discipline Peer Reviewer for the Fulbright Scholar Program, and is a reviewer for the American Mathematical Society's Mathematical Reviews.
He served on the Executive Board of the Indiana Section of Mathematical Association of America (2001-07), where he was responsible for the Indiana College Mathematics Competition. He is on the Editorial Board of National Association of Mathematicians' Newsletter. He serves as a referee for Houston Journal of Mathematics, International Journal of Mathematics and Mathematical Sciences, Missouri Journal of Mathematical Sciences, College Mathematics Journal, Ars Combinatoria, and Journal of Integer Sequences.
He has authored over 40 research papers, published over 70 problems, and made over 1,500 contributions to the On-line Encyclopedia of Integer Sequences.
Rotary Santa Run will support the Changemaker Challenge
The Rotary Santa Run will be held on Saturday, December 2nd at 9am at the Buffalo Trace Center. It is a perfect way to begin your run into the holiday season.
This 5K Run/Walk and/or and 1 Mile stroll is an event that is fun for the participants and spectators alike. Each participant receives a 5-piece Santa outfit, including a beard. They are asked to wear the Santa suit in the event. Prizes will be given for the most decorative. What a sight!
Proceeds from the 2017 Santa Run will benefit the University of Evansville's Changemaker Challenge program for 2018. This program follows the mission statement of Rotary's by empowering the leaders of tomorrow to make a better community for all. Local students compete with innovative ideas to make our community a better destination.
We hope to see you there.
You will make a difference while having a "jolly time!"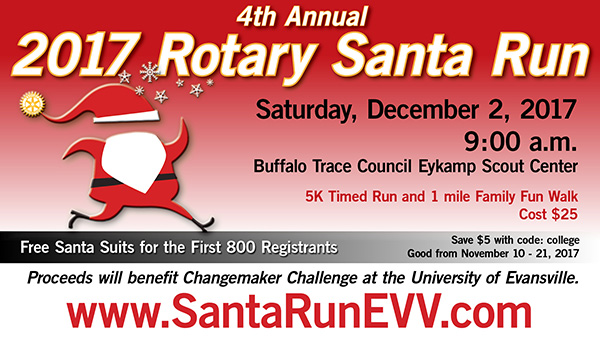 Submitted by Cathy Renner cr107@evansville.edu
Miller records career-high 17 points as Aces suffer loss at WKU
The University of Evansville women's basketball team suffered a 92-54 loss to Western Kentucky on Thursday night in Bowling Green, Kentucky.
Redshirt sophomore guard Marley Miller recorded a career-high 17 points, while junior guard Kerri Gasper finished with 15 and graduate guard Hannah Noe chipped in 13 in the loss. For the Hilltoppers, Tashia Brown led all scorers with 20 points and Raneem Elgedawy added 19 points and 10 boards.
"(WKU) is a very good team. This is a team that's going to be in the NCAA Tournament or the WNIT, they're that good," said Aces head coach Matt Ruffing. "We're not there yet. Marley coming off the bench was aggressive on both ends of the floor. Hannah (Noe) got in a little stretch and hit some threes, Kerri got going in that second half, and Brooke did a nice job distributing. There are some positives. We've shown flashes of Evansville basketball on the road and hopefully we can carry some of that into Saturday."

The Hilltoppers opened the contest on a 15-1 run before Miller cut to the basket and laid it off the glass with 4:14 left in the first quarter. Evansville responded in the latter half of the first quarter, scoring six of their seven opening-frame points in the final 4:14 as WKU took a 26-7 lead to the second quarter.

In the second period, Noe knocked-down back-to-back-to-back triples, forcing a WKU timeout, and bringing the Aces within 15 at 31-16 as Evansville kept pace with the Hilltoppers. Coming out of the timeout, Miller drove to the hoop and knocked-down a layup to trim WKU's advantage to just 31-18 with 6:41 on the clock in the second quarter. In the final three minutes of the first half, Miller continued her hot start with a three and pull-up jumper as WKU took a 52-26 lead to the break.
The Aces responded well coming out of the half, amassing a 14-6 run to cut the Hilltoppers' advantage to 18 at 58-40 with 4:51 left in the third quarter. Evansville eventually cut its deficit to 17 on two separate occasions before WKU ended the quarter on a 9-2 spree to bring a 73-49 lead into the final frame.
In the final quarter, the Hilltoppers pushed their lead back above 20, outscoring the Aces 19-5 in the period, as WKU finished with a 92-54 win.
The Aces finished the game 19-51 (37.3%) from the field while converting 10-21 (47.6%) shots from three.
Evansville has a quick turnaround as the Aces travel to Clarksville, Tennessee, to take on Austin Peay at 1:00 p.m. on Saturday afternoon.
Gregory Gregory portrait unveiled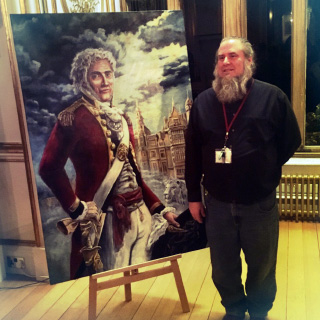 On Tuesday, November 21, a new portrait of Gregory Gregory, the man originally responsible for building Harlaxton Manor, was unveiled and donated to Harlaxton College. The work, painted by University of Evansville art professor Ralph Larmann, was created from collected images and facts into a composite portrait and was supported by a University of Evansville ARTS Grant. The resulting image was presented to the Harlaxton community in a grand unveiling ceremony. The painting is now part of the Harlaxton Manor permanent collection and will be on display outside the State Dining Room in the immediate future.
Diversity Resource Center final exam hours
The Diversity Resource Center, located at 436 Weinbach Avenue, will be open during finals week for special hours. The house will be open the following hours:
Thursday, December 7 from noon-10:00 p.m.
Friday, December 8 from 2:00-5:00 p.m.
Saturday, December 9 from noon-5:00 p.m.
Sunday, December 10 from 2:00-10:00 p.m.
Monday, December 11 from noon-10:00 p.m.
Tuesday, December 12 from noon-10:00 p.m.
Wednesday, December 13 from noon-10:00 p.m.
All students are welcome to stop by and study or reserve space to study during those times. The center will provide free coffee, hot chocolate, water, and snacks for students.
For more information contact lw161@evansville.edu.
Submitted by LaNeeca Williams lw161@evansville.edu
Intersession books now available
Textbooks for the 2017 intersession course are now available for purchase in the UE Bookstore. There are new, used, rental, and eBook options available depending on the title. Be sure to purchase your textbook before you leave for the holidays!
Submitted by Doug Gustwiller dg57@evansville.edu
2018 spring Pcard cardholder training schedule
The 2018 spring Pcard cardholder training session calendar is now available on the AceLink Pcard website under Training Materials/Dates to Remember. For questions or to reserve a training spot, contact the Office of Administrative Services at ext. 2941.
Submitted by Kim Winsett kw83@evansville.edu
Faculty/staff/administrators men's basketball tickets
All UE faculty, staff and administrators may now begin claiming their two complimentary tickets to the men's basketball game at the Ford Center at 1:00 p.m. against Oakland City this Saturday, December 2. Valid UE ID is required. Go Aces!
Want to be an OL but studying abroad in spring 2018?
If you are studying abroad in Spring 2018 and you would like to submit an application for an orientation leader (OL) position, please stop by Ridgway University Center, Room 230 (Dean of Students' office) for an application packet now. Applications will be accepted until December 4. An interview will be conducted prior to your leaving the country. Questions can be referred to the dean's office at 812-488-2500 during business hours. Students who will not be studying abroad in the spring will apply during the normal application period which will be announced in AceNotes soon.
Submitted by Karen Martin km306@evansville.edu
Winter housing
Residence hall students - do you need a place to stay this winter? The residence life office has limited winter housing available. Only students participating in official University functions or with approved reasons will be considered for winter housing.
Winter housing is located on the fourth floor of Morton Residence Hall. Students will not have access to their permanent rooms during winter break. Approvals are subject to room availability. Students are charged a flat fee of $400 for winter housing.
Students seeking winter housing must submit a Winter Housing Request Form by noon on Reading and Study Day, available through this link - https://www.surveymonkey.com/r/WinterHousing.
Students who live in Village housing can stay in their apartment or house at no additional cost but we do ask that you let us know when you will be on campus by filling out this form - https://www.surveymonkey.com/r/villagewinterhousing.
Submitted by: Brian Conner bc32@evansville.edu
Riedford part of student panel at Be a Teacher, Change the World
Recently, senior Spanish Education major Jennifer Riedford served on a student panel at the Be a Teacher, Change the World event held at Bankers Life Fieldhouse in Indianapolis. She was one of four education majors representing universities from across the state who shared thoughts on the education profession and college life. Nearly 400 high school juniors and seniors from across Indiana participated in the event. The School of Education was proud of and honored by Jennifer's words of high esteem for the education profession.
Catie Taylor named December 2017 Employee of the Month
Catie Taylor, associate director in the Office of Admissions, has been named the December 2017 Employee of the Month.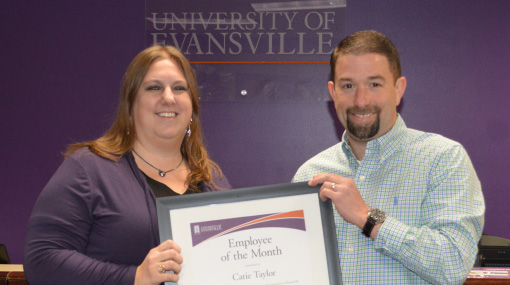 During the largest visit months of the year, Catie is dedicated to the cause of growing the next class of the University of Evansville. She uses her talent for coordinating schedules of very busy faculty and staff to meet with prospective students, ensuring each one has a memorable visit to the UE campus. During what can easily turn into a very chaotic and demanding time for the admission office, Catie stays focused with poise and grace while putting in a tremendous amount of time to assist in the management of visits and events. She is a team player and appreciated by all who work with her. Catie's dedication to our future and current students is inspiring!
Submitted by Lori LeDuc ll138@evansville.edu
Phelps honored at Realizing the Dream banquet
University of Evansville student Maggie Phelps of Alexandria, Indiana, was one of 30 students from Indiana's private, non-profit colleges and universities honored recently at the 28th annual Realizing the Dream Banquet. The event recognizes first-generation students attending Independent Colleges of Indiana campuses, along with their inspirational teachers and families. Realizing the Dream is made possible by a grant from Lilly Endowment Inc. to the ICI.
The students honored at the event have realized the dream of being the first in their families to go to college, have been selected by their colleges for outstanding achievement in the freshman year, and are successfully advancing toward completing their bachelor's degrees. Each student will receive a $2,500 check to help with college costs, and each student's selected "most influential" teacher/mentor will receive a $1,000 professional development grant. Phelps's most influential teacher is Deborah Selke, an instructor at Alexandria-Monroe High School in Alexandria.
"We are honored that Maggie has chosen to attend the University of Evansville," said Angie Dawson, UE director of student retention. "Maggie, now a sophomore, completed her freshman year at UE in our rigorous athletic training program with a GPA of 3.467. She is active in several campus clubs, works part-time on campus, and is a resident assistant. We are grateful to ICI for this scholarship, which rewards and recognizes hard-working students like Maggie."
One out of every three students on ICI campuses is first-generation. Generous financial aid provided by the institutions, combined with state and federal grants, makes a private college education possible for all students in Indiana.
"We are grateful to the Lilly Endowment for making this inspirational program possible," says David W. Wantz, ICI president and CEO. "We are proud, too, that because of the higher graduation rates of our ICI colleges and universities, these students are significantly more likely to realize the dream of completing their degrees in four years."
Jennie Ebeling co-edits textbook
Associate professor of archaeology Jennie Ebeling's co-edited book The Old Testament in Archaeology and History has just been published by Baylor University Press. In this undergraduate textbook, 18 archaeologists and biblical scholars combine the most significant archaeological findings of the last century with those of modern historical and literary analysis of the Bible to recount the history of ancient Israel and its neighboring nations and empires.
Contribute to AceNotes
To have content considered for inclusion in AceNotes, please submit a Marketing Request Form. Deadline for submission to AceNotes is 10:00 a.m. on the requested date of publication. Only articles concerning UE related/sponsored activities will be accepted. Articles submitted to AceNotes may be edited for length and clarity. Submitter contact information is at the end of each article.