| | |
| --- | --- |
| AceNotes Today | Monday, November 27, 2017 |
UE Plans 40th Anniversary Commemoration of 1977 Plane Crash
The University of Evansville will hold a 40th Anniversary Commemoration of the 1977 Plane Crash on Wednesday, December 13 at 7:00 p.m. The ceremony will be held at Memorial Plaza on the UE campus.
The Air Indiana Flight 216 crashed at 7:22 p.m. on the evening of December 13, 1977 carrying the University of Evansville basketball team along with coaches, administrators, and fans. Those gathered will observe a moment of silence at that time during the candlelight vigil.
The order of service will include candle lighting, a reading of the names of those who perished in the plane crash, and a bell ringing during each interval. University of Evansville President Thomas A. Kazee will provide a statement, followed by the singing of the UE alma mater, prayers, and bagpipes.
An opportunity for informal gathering and fellowship will be offered in Ridgway University Center's 1959 Gallery and Lounge immediately following the ceremony. Neu Chapel will also be open for personal prayer and meditation throughout the evening.
The public is invited to attend this commemoration and the University of Evansville is working to personally reach families of those who perished. A Facebook event has also been created for interested guests to stay up to date with information. Visit www.facebook.com/UniversityofEvansville to find the event.
Additionally, a memorial service to honor the first responders involved in this tragedy will be held at Oak Hill Cemetery at 11:00 a.m. on the same day.
Genetic Counseling as a Career Talk
BiSci Club is sponsoring a talk by Caitlyn Ricks, an alumn of the biology department here at UE. She will be coming to give a talk about genetic counseling today - Thursday, November 30 - from 7-8 p.m. in KC 101. Please consider coming to hear her talk about her program and what all it has to offer. If you plan on attending please RSVP through the link below. There will be pizza served. Then afterward if you would like you can stick around for the BiSci Christmas movie night.
Submitted by Kelly Nixon kn94@evansville.edu
Fahad Alsaid presents I-House Qatar
Please join us at 7:00 pm tonight, upstairs in Ridgway University Center, to see a presentation on Qatar. We hope you can make it!
Submitted by Alexis Whitacre aw339@evansville.edu
Personal wellness seminar
You are invited to attend a personal wellness seminar hosted by UE third year PT students. The seminar will take place on November 27 from noon-1:00 p.m. in Eykamp Hall, Room 253, Ridgway University Center. Come learn ideas for your personal fitness plan!
Submitted by Andrea Wallace as257@evansville.edu
Reception for Mark Logel
A reception for Mark Logel will be held on November 28 from 2:00-4:00 p.m. in Dunigan Hall Lounge in the Schroeder Family School of Business Building. Mark is leaving the University after 28 years of loyal service. Please make time to stop by and say goodbye to Mark.
Submitted by Michele Adams ma72@evansville.edu
This Week in Music: Essential Ellington and Vespers
Essential Ellington Concert and Reception
Tuesday, November 28, 7:30 p.m., Wheeler Concert Hall
Join the UE Music Department as Wheeler Concert Hall becomes the famed Cotton Club! UE's Jazz Ensemble I, directed by Timothy J. Zifer, will present an all-Ellington program with guest vocalists, dancers, and student soloists. The concert is free and open to the public.
There will be a post-concert reception on stage following the concert (hors d'oeuvres and beer/wine bar included). Tickets for the reception are $25 and include preferred seating at the concert. One-hundred percent of the ticket proceeds will go toward the department of music. Tickets for the reception may be reserved by going to www.evansville.edu/majors/music/eventDetails.cfm?eventId=13624 or by calling the UE Department of Music at 812-488-2754.
Advent Candlelight Vespers
Friday, December 1, 7:00 p.m., Neu Chapel Sanctuary
Join the University of Evansville community for a time of beautiful music and readings at our annual Advent Candlelight Vespers service. This meaningful service will fill your heart with warmth and joy as we prepare for the upcoming holiday season. All are welcome!
Submitted by James Sullivan js820@evansville.edu
Holiday Pops Concerts planned in Evansville and Henderson
The University of Evansville Department of Music invites the public to ring in the holiday season at the annual Holiday Pops Concert. For nearly four decades, students, faculty, and soloists have shared their talent and celebrated the spirit of the season with music.
This year - for the first time - the Holiday Pops Concert will be presented both in Evansville and in Henderson, Kentucky. Both presentations are free and open to the public.
The Evansville concert will be at the Victory Theatre downtown, at 7:30 p.m. on Tuesday, December 6. This presentation is made possible through the generosity of Mesker Music Trust by Fifth Third Bank, trustee. The Henderson concert will be at the Preston Arts Center at 7:30 p.m. on Wednesday, December 7. This presentation is part of a budding partnership with the center.
UE's music programs also have the support of the Friends of UE Music.
UE's choirs, Wind Ensemble, Symphony Orchestra, and University Band are among the ensembles audiences can expect to enjoy at this year's event, along with an added touch of community spirit. The featured guest for the concert is Evansville's own Gina Moore.
A graduate of Central High School, Moore has appeared frequently as a soloist around the Tristate. She began singing with her church choir in the late 1970s. Since then she has made numerous appearances, both as a soloist and with her sister Joan as a member of The Browne Sisters, with ensembles ranging from choirs to the Evansville Philharmonic Orchestra.
Moore will sing a number of holiday favorites, including Sweet Little Jesus Boy, Have Yourself a Merry Little Christmas, and The Christmas Song. Each of UE's student music ensembles will also perform during the evening. Orchestra selections include variations on Joy to the World, the University Choir will perform Amazing Grace, featuring Moore as soloist, and the Wind Ensemble will share their rendition of the Leroy Anderson's classic Sleigh Ride.
The concert concludes with all of the department's ensembles joining on-stage for an audience sing-a-long, and likely a visit from a right jolly old elf!
The Department is pleased to partner with the Tri-State Food Bank and Christian Charities Food Bank for this year's event. Tickets are free, but attendees are encouraged to bring a donation of canned food, which the food banks will share with those in need.
For more information about the UE Department of Music, please visit music.evansville.edu.
Phi Mu Recruitment event – Phi Mu Holiday
Interested in joining a sorority? Come join the women of Phi Mu today from 6:00-7:00 p.m. in the Phi Mu Suite for a night full of sisterhood and philanthropy. We will be making holiday cards for the Children at Riley Hospital and spreading some holiday cheer. If you have any questions or cannot make it to the event, contact Katelyn Hedinger at kh327@evansville.edu.
Submitted by Katelyn Hedinger kh327@evansville.edu
Honors Program Project presentation - November 27
The Honors Program invites you to attend the Honors Program Project Presentations on Monday, November 27, 4:00 p.m. Room 101 in Koch Center for Engineering and Science. Honors Program student Anna Kalt will be presenting her Honors project "The Economics Behind Politics: A Study of the United States and United Kingdom" at this event.
Anna is majoring in economics and applied mathematics and will graduate in December
All are welcome and encouraged to attend.
The Honors project represents the culmination of the Honors Program experience and provides an opportunity for students to explore an area about which they are passionate. The Honors project may consist of a research project, thesis, or creative work. Students may use the Honors project to launch areas of interest for graduate study or to expand résumés for employment.
Submitted by Jayme Williams jw504@evansville.edu
Tannenbaum Trumpets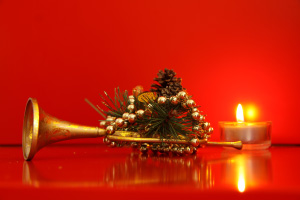 Calling on all UE campus trumpeters. The 3rd Annual Tannenbaum Trumpets will perform for the UE Tree Lighting on Friday, December 1, in front of Graves Hall immediately following Vespers. Anyone one wanting to participate in Tannenabaum Trumpets (a community based trumpet ensemble) should contact Tim Zifer, professor of music, at tz3@evansville.edu. There will be a short rehearsal on Friday, December 1 at 7:00 p.m. in Room 100 in the Krannert Hall of Fine Arts. Get your holiday on by performing with the Tannenbaum Trumpets!
Submitted by Tim Zifer tz3@evansville.edu
Free lunch! UE Connect Lunch and Learn Wednesday, Nov. 29
The UE Community is invited to the UE Connect Lunch and Learn on Wednesday, November 29.
UE Connect Lunch and Learn: Are You Market Ready
Thinking through all the aspects of being "market ready" for that first or next step in your career. Understanding your brand and the culture of those prospective employers.
Kara E. Hensley, SPHR, SHRM-SCP is vice president, talent + brand of Cripe. She joined the Cripe administrative staff in November = 2007. Kara is a member of the executive leadership team and in 2013 assumed additional leadership responsibility for the marketing department. Prior to Cripe, Kara worked in various human resource and marketing leadership roles with Allison Transmission/General Motors, Thomson Consumer Electronics, and Keramida Environmental. Throughout her over 20 year career, spanning the gamut from labor relations and negotiations to organizational development and coaching, Kara has provided strategic leadership and outcomes to the organizations she serves.
When: Wednesday, November 29, noon - 1:00 p.m.
Where: Eykamp Hall, Ridgway University Center
Fee: complimentary for all students and professionals
Register online by Monday, November 27
www.uealumnionline.com/lunchandlearnNov17
Submitted by Liz Riffert EL37@evansville.edu
Rotary Santa Run will support the Changemaker Challenge
The Rotary Santa Run will be held on Saturday, December 2nd at 9am at the Buffalo Trace Center. It is a perfect way to begin your run into the holiday season.
This 5K Run/Walk and/or and 1 Mile stroll is an event that is fun for the participants and spectators alike. Each participant receives a 5-piece Santa outfit, including a beard. They are asked to wear the Santa suit in the event. Prizes will be given for the most decorative. What a sight!
Proceeds from the 2017 Santa Run will benefit the University of Evansville's Changemaker Challenge program for 2018. This program follows the mission statement of Rotary's by empowering the leaders of tomorrow to make a better community for all. Local students compete with innovative ideas to make our community a better destination.
We hope to see you there.
You will make a difference while having a "jolly time!"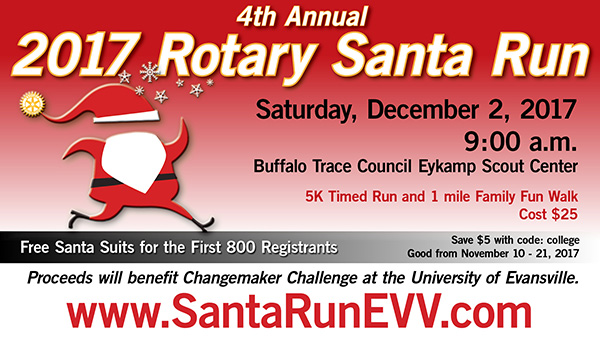 Submitted by Cathy Renner cr107@evansville.edu
Pixley presenting exhibit in UE's Melvin Peterson Gallery
"Putting on Airs," an exhibit of prints by artist Lisa Pixley, will be displayed at the University of Evansville's Melvin Peterson Gallery from October 30-December 9.
The exhibit is free and open to the public and is part of the Efroymson Family Fund Emerging Contemporary Artist Lecture Series.
An artist printmaker located in Portland, Maine, Pixley earned her BFA with a concentration in painting from the Maine College of Art. After graduation, she began a commercial and artistic practice focusing on the craft of print. Pixley studied as an apprentice with David Wolfe of Wolfe Editions, where she worked closely with artists such as Charlie Hewitt and Allison Hildreth.
In 2009 Pixley founded Pickwick Independent Press in Portland, a for profit shared access print studio where she worked as director, master printer, and events coordinator, while also maintaining an active art practice in the medium of printmaking.
Pixley is currently developing a new venture: WIP Editions. WIP Editions will function as a storefront studio entity as well as an online presence. Under the imprint of WIP Editions, she will be developing a body of work showcasing suites of prints of her work as well as the work of invited artists.
The Melvin Peterson Gallery is located at 1935 Lincoln Avenue on the corner of Lincoln and Weinbach Avenues in Evansville.
For more information, contact 207-650-6073.
Christmas donations for children
Graves Hall is collecting new gloves, mittens, socks, hats, and scarves for community children grades K-12 this Christmas season. The items can be placed on the Christmas tree in Graves Hall lobby through December 15. The Center for Family, School and Community Partnerships will distribute the items to EVSC K-12 schools. Please call Karen Doss at ext. 2360 if you have any questions. Thank you!
Submitted by Karen Doss kd56@evansville.edu
Bailey Schnur wins $1000 scholarship essay contest
Senior Bailey Schnur, a secondary social studies education major, was the recipient of the Gary E. May Peace Scholarship. Applicants were invited to write about a variety of topics. Bailey chose to address "How do we assess the true cost of war?" There were 37 students from across the region who submitted essays. This was the second time Bailey has won the award. Congrats, Bailey!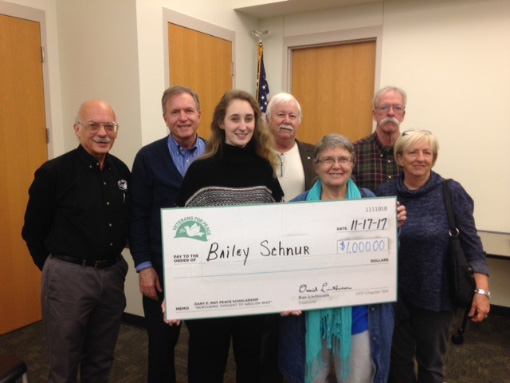 Lombardo-Graves publishes in issues of Educational Research
Mary Lombardo-Graves, assistant professor of education, has had an article published in Issues of Educational Research.
The article outlines the development of a scale, Initial Special Educator Efficacy Scale (SEES-I), to measure the special education teaching self-efficacy of pre-service teachers.
You may view the article in Issues in Educational Research, volume 27, number 4, publication date 22 October 2017, on the journal's website at www.iier.org.au/.
UE Baseball 2017-2018 Signing Class
The University of Evansville men's baseball team completed an impressive recruiting with Aces head coach Wes Carroll announcing his 2017-18 signing class Tuesday.
"I would like to thank Coach Cody Fick and Coach Jake Mahon for their hard work and dedication to recruit a talented class of future Aces", said Carroll. "They did an outstanding job of identifying and recruiting such a great class for our program. We are graduating a large talented senior group so we needed a big class of immediate contributors and I believe this class will fill those needs. I'm very excited to see this class compete over the coming years in an Aces uniform."
2017-18 Signing Class

Jake Vesecky – Catcher Phoenix, AZ Sandra Day O'Connor HS
6-0, 205 lbs.
"The catching position was a major point of emphasis in this class. With graduating seniors, Andrew Tanous and Travis Tokarek gone, Jake will be stepping into a demanding role. Coming to us from Phoenix, Arizona Jake brings an excellent skill set behind the plate. A good glove hand and arm strength will help him make the transition to catching at the division 1 level. At the plate he has a simple approach that produces power. Projects as a middle of the order type hitter." Coach Mahon
Andrew Hancock –Right Handed Pitcher New Lenox, IL Lincoln-Way Central HS
6-6, 190 lbs.
"Andrew is a good athlete, measuring in at 6'6". He is physically imposing on the mound. He is a dual sport high school athlete (baseball and basketball) with what we believe is a high ceiling on mound. We are excited to see his size and athleticism develop into a well-rounded pitcher for us." Coach Fick
Sam Steimel –Infield/Right Handed Pitcher Sullivan, IN Sullivan HS
6-1, 190 lbs.
"Sam has the ability to play multiple position on the diamond. He's a high school shortstop that can play the corners in the infield and was a standout on the mound for Sullivan High School. A switch hitter, he consistently barrels baseballs from both sides of the plate and has the potential to develop power with his frame. Sam's versatility adds a tremendous amount of athleticism to our roster." - Coach Mahon
Garrett Presko –Right Handed Pitcher Weatherby Lake, MO The Pembroke Hill School
6-2, 185 lbs.
"We are excited to welcome Garrett onto the pitching staff. He is an athletic pitcher will a plus breaking ball that will give him an opportunity to compete early in his career here at UE. He also has tremendous upside athletically that will allow him to add velocity in our program." - Coach Carroll
Dalton Mall –Right Handed Pitcher Overland Park, KS Shawnee Mission East HS
6-2, 185 lbs.
"Dalton is a hard throwing right handed pitcher. He projects to continue to add velocity as he matures and gets physically stronger. He has a solid three pitch mix with his slider being his best secondary pitch currently. Dalton has a chance to be a rotation type arm in the future. He is a good athlete and is good in the classroom as well." - Coach Fick
Jake McMahill –Right Handed Pitcher Blue Springs, MO State Fair CC
6-1, 180 lbs.
"Jake is a seasoned pitcher who should be able to step in and contribute right away in a major role. He has a strong ability to change speeds and disrupt timing. As a transfer student he will already have a lot of college innings under his belt and we hope he can draw on those experiences to help himself be successful at this level." - Coach Fick
Easton Stewart –Infield Carmi, IL Carmi-White HS
5-11, 170 lbs.
"Easton is a quick twitch athlete that can play any position on the field. His athleticism will fit well into our offensive and defensive system here at UE. He is a hard-nosed local player that will wear Evansville on his chest with pride. I look forward to him being on campus next fall." - Coach Carroll
Taylor's late bucket gives UE men a 59-57 win over Fresno State
With under 10 seconds remaining, University of Evansville redshirt junior Ryan Taylor hit a jumper to give the Purple Aces men's basketball team a 59-57 victory over Fresno State in the Cancun Challenge at Hard Rock Riviera Maya.
Taylor hit the bucket with the shot clock going down to put UE (5-0) on top for good. The Gary, Ind. native scored a game-high 21 points while draining three more from outside.
"I saw the shot clock going down and I tried to make a play for the team," Taylor said.
With the win, Evansville will play Louisiana Tech on Wednesday evening at 7:30 p.m. CT in the Riviera Division Final. CBS Sports Network will have live coverage.
Blake Simmons also finished in double figures, knocking down three clutch triples on his way to 11 points. Dru Smith got into early foul trouble, but came back with eight second-half points.
"I am proud of the team and the way they competed. It wasn't pretty but when you play a team like Fresno, it's not going to be," UE head coach Marty Simmons said. "It was a heck of an individual play that Ryan made."
Entering the game, Fresno State (2-2) was averaging 86.7 points per game before the Aces held them to just 57.
"They are tough to guard," Simmons added. "The assistant coaches did a great job of preparing the team and the players did a great job of listening. Fresno State missed some shots they would have hit earlier in the year. For the most part, I think we did a decent job of getting them out of their rhythm."
The Bulldogs were led by a 12-point outing from Deshon Taylor while Bryson Williams and Jahmel Taylor registered 11 apiece.
It was a defensive struggle in the first half as both teams shot under 43%. Ryan Taylor got the scoring started with a triple and was responsible for 12 of the Aces first 14 points of the contest. Following Taylor's opening trey, the Aces missed their next three shots while turning it over on three occasions as the Bulldogs took their first lead at 5-3.
Evansville made its way back, going up 14-9 as Taylor registered seven UE points in a row. After Fresno State tied it up at 14-14, Noah Frederking connected on a pair of free throw to give UE the lead. With the Aces trailing 23-21 inside of the four-minute mark, Frederking struck again, hitting a three to make it a 24-23 game in UE's favor. FSU reeled off five in a row in the final minute to open up their largest lead at 28-24 before John Hall hit a layup in the final seconds to send the game to halftime with the Aces trailing, 28-26.
Turnovers played a large role in the opening stanza as UE turned it over 11 times with the Bulldogs turning them into 14 points. Entering the game, UE's season high in turnovers was 13.
Dru Smith got into early foul trouble in the first half and was held scoreless. That did not last long as he recorded the first five points of the half to give the Aces a 31-28 lead. Fresno State tied the game on two occasions and held a 44-43 lead at the midway point of the half.
That is when UE put it in gear, reeling off six in a row thanks to treys by Simmons and Smith. The Bulldogs countered with a three from Jahmel Taylor, but Simmons had another trey up his sleeve as Evansville took a 55-50 lead. Each time the Aces went up by five, the Bulldogs cut the gap right back to a one-possession game.
A layup by Duane Gibson inside of the 4-minute mark made it a 57-52 game in favor of the Aces, but the Fresno State defense clamped down, forcing the Aces to go 0-for-3 with two turnovers in its next five possessions. Their offense managed to tie it up as Deshon Taylor hit three free throws with 36 second remaining. On the ensuing possession, Taylor hit the game-winner with the shot clock heading to zero.
Dossett leads Aces past Westminster, 79-53
Senior guard Brooke Dossett poured-in a season best 21 points as the University of Evansville women's basketball team earned a 79-53 victory over Westminster College (Mo.) on Tuesday night inside Meeks Family Fieldhouse.

Dossett led all scorers with 21 points, adding five rebounds and five assists in the win. Graduate guard Hannah Noe added 18 points, while junior center Kelsi Scott just missed a double-double with 13 points and eight rebounds. For Westminster, the Blue Jays were led by Mirrakohl Johnson who recorded a double-double with 13 points and 13 boards.
"Hats off to coach (James) Arnold and Westminster. They played really hard and put us in some situations we were hoping not to be in," said Aces head coach Matt Ruffing. "I think our kids stepped up to the plate there in the fourth quarter and really took the challenge that we gave them."

The Aces opened the contest on an 11-2 run capped-off by a layup on a fastbreak by Noe that gave UE an 11-2 lead just over four minutes into the game. In the final four minutes of the first quarter, Westminster manufactured an 11-2 run of its own to cut Evansville's advantage to just 19-17 at the end of the first.
In the second frame, the Blue Jays continued to apply pressure, tying the game at 19-19 and 21-21 in the first three minutes of the quarter. Following the deadlock, Evansville put together a nine-point spree, fueled by five points from junior guard Kerri Gasper. A layup from sophomore center Kaylan Coffman pushed the Aces' advantage to 12 at 37-25 in route to a ten-point 38-28 lead for Evansville at the half.
Westminster had yet another run in it as the Blue Jays cut into Evansville's lead again, trimming its deficit to just seven midway through the third quarter. It was Dossett who once again stepped up for the Aces as the Warsaw, Kentucky native went on a personal 6-2 run to provide UE a 54-43 edge heading into the final quarter.
Evansville answered the bell in the fourth period, not allowing the Blue Jays to get within single digits and increasing its lead throughout the quarter as the Aces captured a 79-53 victory.
The Aces held Westminster to just 27% (20-74) shooting from the field, the first time an Evansville opponent has shot under 30% since Indiana State shot 27.3% against the Aces on March 4, 2017. Meanwhile, Evansville shook its early shooting woes and finished 47.7% (31-65) from the field.
"Four games in, I think we could be better, but I think this break is going to be really good for us," said Ruffing. "It gives us a chance to get our minds off of basketball, come back refreshed, and get to see family, which is always a good time. Its something we do differently than most programs and I think its very valuable and its going to serve us very well for these last seven non-conference games."
A long layoff awaits the Aces as Evansville has nine days off around the Thanksgiving holiday before it gets back to action with a three-game road trip starting on November 30 at 7 p.m. against Western Kentucky.
Buzzer-beater lifts Louisiana Tech past Purple Aces
Ryan Taylor and Blake Simmons were named to the All-Tournament Team as the University of Evansville men's basketball team wrapped up an impressive showing in the Cancun Challenge on Wednesday evening inside the Hard Rock Riviera Maya.
The Purple Aces (5-1) fell to Louisiana Tech (5-0) in heartbreaking fashion on Wednesday as the Bulldogs turned an offensive rebound into the game-winning three with less than a second remaining.
"This was a tough loss, I love the way the guys competed," UE head coach Marty Simmons said. "I feel bad for the guys in the locker room."
Blake Simmons had a great night for the Aces, leading the way with 15 points, 6 rebounds and 3 assists. Dru Smith recorded 11 points while Ryan Taylor had 11 and Dainius Chatkevicius had 10. Chatkevicius had his best game with UE, scoring all 10 points in the second half while hauling in a career-best 8 rebounds.
Daquan Bracey paced the Bulldogs with 17 points while Derric Jean had 13.
In the opening moments, the teams swapped 3-pointers as Daquan Bracey hit one for Louisiana Tech before Blake Simmons matched him on the Aces first possession. Dru Smith hit the second trey of the night to give UE its first lead at 6-3.
With the score tied up at 11-11 at the 12:24 mark, K.J. Riley hit a jumper that sent the Aces on a 6-1 run as they opened up their largest lead of five points – 17-12. Ryan Taylor and Duane Gibson each had buckets in the run. After Evansville took a 19-14 lead, the Bulldogs switched to a 1-3-1 defense and forced UE to go 0-4 with a pair of turnovers.
La. Tech turned that defense into offense as an 8-0 run put them on top, 22-19 with 6:25 remaining in the half. Another triple by Simmons handed the advantage back to the Aces, but a late 4-0 rally saw the Bulldogs take a 31-27 lead into the locker room. The 31 points scored by Louisiana Tech was the most given up in the opening frame by UE this season. It was also the lowest half for the Bulldogs so far.
Dainius Chatkevicius came out firing on all cylinders in the second half. After the Bulldogs took a 34-28 lead, Chatkevicius hit a pair of baskets in an 8-2 run to tie it up at 36-36 just over three minutes in. An and-one by La. Tech saw them take the lead right back.
Their lead remained at three (47-44) with 11 minutes left. That is when UE made a game-changing run. Dalen Traore notched a pair of free throws to set the Aces on a 7-0 run. Smith hit a layup before Blake Simmons drained his third from outside to cap it off and put Evansville on top, 51-47.
Smith dialed it up from outside with just under seven minutes left to help UE match its largest lead of five – 54-49. A minute later, Chatkevicius recorded his 10th point of the half as the Aces took a 58-51 advantage. The Bulldogs ended the streak as Oliver Powell connected on a field goal that spurned a 6-0 run got them back within one at 58-57.
Duane Gibson drew a foul with two minutes left, hitting a free throw to end the scoring drought. On the next Bulldog possession, the UE defense forced a miss, but Louisiana Tech grabbed the offense rebound and turned it into a three to go back up 60-59. Smith was able to draw a foul with 12.7 on the clock and hit both ends of the one-and-one to put the lead back in UE's hands.
Another offensive rebound was the difference in the game as Derric Jean turned it into the game-winner as the Bulldogs took the 63-61 win. Over the final 5:31, the Bulldogs finished the contest on a 12-3 run while holding the Aces to 0-for-5 shooting. For the game, UE shot 46.2% while the defense was spectacular, limiting Louisiana Tech to just 37.7%.
Following a busy stretch to open the season with six games in 13 days, the Aces receive a well-deserved break. Their next action is next Wednesday, November 29 on the road at New Mexico.

Cathy Schreiber named to All-MVC Second Team
Cathy Schreiber missed the 2015 season due to injury, but two years later, she completes her University of Evansville career in style, earning a spot on the All-Missouri Valley Conference Second Team, which was announced today at the awards banquet prior to the start of the conference tournament in Normal, Ill.
"I am excited that Cathy has received this well-deserved recognition. She was able to represent an offensive threat all year long, especially when it mattered the most," Purple Aces head coach Manolo Concepcion said. "Analytical data establishes that she hit .278 after point 20: an impressive number considering that opponents knew that she was one of our main go-to players."
Schreiber finished the season with a total of 260 digs, an average of 2.34 per set while hitting a team-high of .260. She paced the squad with 83 block assists and tied Erlicia Griffith for the team lead with 88 total blocks.
"Beyond the numbers, Cathy took her game to a whole new level with her ability to learn. She worked hard to diversify her repertoire by adding the slide attack as her preferred option" Concepcion added. "This created better spacing not just for her, but her teammates as well. That hunger for self-improvement took her from good to great."
Throughout the season, she notched double figure kill tallies on 11 occasions with her top effort coming at Indiana State where she had 19 kills. In home matches against the Sycamores and Missouri State, she hit .417 and .478, respectively, for one of the most efficient weekends the program has seen.
Contribute to AceNotes
To have content considered for inclusion in AceNotes, please submit a Marketing Request Form. Deadline for submission to AceNotes is 10:00 a.m. on the requested date of publication. Only articles concerning UE related/sponsored activities will be accepted. Articles submitted to AceNotes may be edited for length and clarity. Submitter contact information is at the end of each article.