| | |
| --- | --- |
| AceNotes Today | Monday, November 20, 2017 |
UE Plans 40th Anniversary Commemoration of 1977 Plane Crash
The University of Evansville will hold a 40th Anniversary Commemoration of the 1977 Plane Crash on Wednesday, December 13 at 7:00 p.m. The ceremony will be held at Memorial Plaza on the UE campus.
The Air Indiana Flight 216 crashed at 7:22 p.m. on the evening of December 13, 1977 carrying the University of Evansville basketball team along with coaches, administrators, and fans. Those gathered will observe a moment of silence at that time during the candlelight vigil.
The order of service will include candle lighting, a reading of the names of those who perished in the plane crash, and a bell ringing during each interval. University of Evansville President Thomas A. Kazee will provide a statement, followed by the singing of the UE alma mater, prayers, and bagpipes.
An opportunity for informal gathering and fellowship will be offered in Ridgway University Center's 1959 Gallery and Lounge immediately following the ceremony. Neu Chapel will also be open for personal prayer and meditation throughout the evening.
The public is invited to attend this commemoration and the University of Evansville is working to personally reach families of those who perished. A Facebook event has also been created for interested guests to stay up to date with information. Visit www.facebook.com/UniversityofEvansville to find the event.
Additionally, a memorial service to honor the first responders involved in this tragedy will be held at Oak Hill Cemetery at 11:00 a.m. on the same day.
Holiday season hours
The University of Evansville will be closed during the holidays to allow our employees to enjoy this special time with their families.
The following November-December-January holiday schedule will be observed:
Thanksgiving
Wednesday, November 22 – closing at noon
Thursday, November 23 - closed
Friday, November 24 - closed
Christmas/New Year's
Closed starting Monday, December 25 – returning on Tuesday, January 2
This Week in Music: University Band and Jazz Ensemble II
The University Band and Jazz Ensemble II will perform their fall concert tonight - Monday, November 20 - at 7:30 p.m. in Wheeler Concert Hall. The concert opens with a set of jazz classics performed by Jazz Ensemble II, including Come Fly With Me, Cool from West Side Story, and Gordon Goodwin's Maynard & Waynard. Selections to be performed by the University Band include the Monrovian Folk Rhapsody and John Williams in Concert. The University Band is led by Kenneth Steinsultz and Shawn Teichmer. Tim Zifer serves as the director of the Jazz Ensemble.
The concert is free and open to the public.
Submitted by James Sullivan js820@evansville.edu
UE Bookstore Thanksgiving Sale
The UE Bookstore is offering 15% OFF the original price of all clothing and gift purchases Monday-Wednesday, November 20-22, for the Thanksgiving holiday. Items already discount are exempt from additional discount. Stop in and see some of the holiday door busters we have on sale and get an early start to holiday shopping. Please keep in mind the UE Bookstore closes at NOON on November 22.
Submitted by Doug Gustwiller dg57@evansville.edu
Decorating Neu Chapel today for Christmas!
Do you have a love for Christmas decorating?
Do you get enjoyment from trimming the tree and stringing lights?
Then you are invited to join the Neu Chapel community this evening (November 20) from 6:00-9:00 p.m. as we "deck the halls" for the Advent and Christmas seasons. It will be a fun time of getting into the holiday spirit. The more the merrier! We hope to see you there!
Submitted by Keith Turner kt160@evansville.edu
Pixley presenting exhibit in UE's Melvin Peterson Gallery
"Putting on Airs," an exhibit of prints by artist Lisa Pixley, will be displayed at the University of Evansville's Melvin Peterson Gallery from October 30-December 9.
The exhibit is free and open to the public and is part of the Efroymson Family Fund Emerging Contemporary Artist Lecture Series.
An artist printmaker located in Portland, Maine, Pixley earned her BFA with a concentration in painting from the Maine College of Art. After graduation, she began a commercial and artistic practice focusing on the craft of print. Pixley studied as an apprentice with David Wolfe of Wolfe Editions, where she worked closely with artists such as Charlie Hewitt and Allison Hildreth.
In 2009 Pixley founded Pickwick Independent Press in Portland, a for profit shared access print studio where she worked as director, master printer, and events coordinator, while also maintaining an active art practice in the medium of printmaking.
Pixley is currently developing a new venture: WIP Editions. WIP Editions will function as a storefront studio entity as well as an online presence. Under the imprint of WIP Editions, she will be developing a body of work showcasing suites of prints of her work as well as the work of invited artists.
The Melvin Peterson Gallery is located at 1935 Lincoln Avenue on the corner of Lincoln and Weinbach Avenues in Evansville.
For more information, contact 207-650-6073.
Aces in Mexico for Cancun Challenge
For the first time in 17 years, the University of Evansville men's basketball team is outside of the United States in the regular season as the Purple Aces take part in the Cancun Challenge. Evansville opens the tournament on Tuesday against Fresno State at 7:30 p.m. CT before facing either George Mason or Louisiana Tech on Wednesday. Both contests will be televised on the CBS Sports Network.
UE is outside of the United States for the first time since December of 2000 when the team played in the San Juan Shootout. That year, the Aces beat Puerto Rico Mayaguez before falling to Northwestern. Evansville also played in the San Juan Shootout in 1997.
The Purple Aces are 4-0 on the young season, their best start since winning the first five games in 2013-14. It is just the second 4-0 start to a season for Evansville since 1987.
On Sunday, UE headed to Cancun where it will play Fresno State on Tuesday before facing either George Mason or Louisiana Tech on Wednesday night.
Over his last three games, Dru Smith has dished out a total of 29 assists and his average of 7.8 per game puts him 14th in the nation. Smith has tallied double figures in three games this season after doing so just four times in his whole freshman campaign.
Junior Ryan Taylor has scorched the nets thus far in 2017, averaging 24.0 points per game, ranking second in the league. He connected on seven 3-pointers against Binghamton, the most for a UE player since Colt Ryan had eight triples against Bradley in 2012.
Fresno State enters Tuesday's contest with a 2-1 record with wins over UC Santa Cruz and CSUN before falling at Arkansas on Friday. Four Bulldogs average 13 points or more led by Deshon Taylor, who checks in with 17.7 PPG. Just behind him is Bryson Williams, who has scored an average of 17.3 PPG. Jaron Hopkins leads the way with 8.3 rebounds per contest and chips in 13 points.
Phi Mu Recruitment event – Phi Mu Holiday
Interested in joining a sorority? Come join the women of Phi Mu today from 6:00-7:00 p.m. in the Phi Mu Suite for a night full of sisterhood and philanthropy. We will be making holiday cards for the Children at Riley Hospital and spreading some holiday cheer. If you have any questions or cannot make it to the event, contact Katelyn Hedinger at kh327@evansville.edu.
Submitted by Katelyn Hedinger kh327@evansville.edu
Honors Program Project presentation - November 27
The Honors Program invites you to attend the Honors Program Project Presentations on Monday, November 27, 4:00 p.m. Room 101 in Koch Center for Engineering and Science. Honors Program student Anna Kalt will be presenting her Honors project "The Economics Behind Politics: A Study of the United States and United Kingdom" at this event.
Anna is majoring in economics and applied mathematics and will graduate in December
All are welcome and encouraged to attend.
The Honors project represents the culmination of the Honors Program experience and provides an opportunity for students to explore an area about which they are passionate. The Honors project may consist of a research project, thesis, or creative work. Students may use the Honors project to launch areas of interest for graduate study or to expand résumés for employment.
Submitted by Jayme Williams jw504@evansville.edu
Free lunch! UE Connect Lunch and Learn Wednesday, Nov. 29
The UE Community is invited to the UE Connect Lunch and Learn on Wednesday, November 29.
UE Connect Lunch and Learn: Are You Market Ready
Thinking through all the aspects of being "market ready" for that first or next step in your career. Understanding your brand and the culture of those prospective employers.
Kara E. Hensley, SPHR, SHRM-SCP is vice president, talent + brand of Cripe. She joined the Cripe administrative staff in November = 2007. Kara is a member of the executive leadership team and in 2013 assumed additional leadership responsibility for the marketing department. Prior to Cripe, Kara worked in various human resource and marketing leadership roles with Allison Transmission/General Motors, Thomson Consumer Electronics, and Keramida Environmental. Throughout her over 20 year career, spanning the gamut from labor relations and negotiations to organizational development and coaching, Kara has provided strategic leadership and outcomes to the organizations she serves.
When: Wednesday, November 29, noon - 1:00 p.m.
Where: Eykamp Hall, Ridgway University Center
Fee: complimentary for all students and professionals
Register online by Monday, November 27
www.uealumnionline.com/lunchandlearnNov17
Submitted by Liz Riffert EL37@evansville.edu
Rotary Santa Run will support the Changemaker Challenge
The Rotary Santa Run will be held on Saturday, December 2nd at 9am at the Buffalo Trace Center. It is a perfect way to begin your run into the holiday season.
This 5K Run/Walk and/or and 1 Mile stroll is an event that is fun for the participants and spectators alike. Each participant receives a 5-piece Santa outfit, including a beard. They are asked to wear the Santa suit in the event. Prizes will be given for the most decorative. What a sight!
Proceeds from the 2017 Santa Run will benefit the University of Evansville's Changemaker Challenge program for 2018. This program follows the mission statement of Rotary's by empowering the leaders of tomorrow to make a better community for all. Local students compete with innovative ideas to make our community a better destination.
We hope to see you there.
You will make a difference while having a "jolly time!"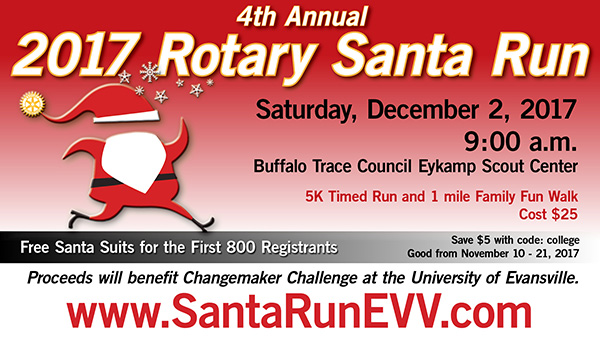 Submitted by Cathy Renner cr107@evansville.edu
Essential Ellington Concert on Nov. 28
The UE Jazz Ensemble I will present its Essential Ellington Concert on Tuesday, November 28 at 7:30 p.m. in Wheeler Concert Hall. The concert is free and open to the public, however if you purchase a $25 ticket you will get preferred seating and be invited to a post-concert reception on stage. The reception will include an open bar and light hors d'oeuvres.
Please RSVP by Monday, November 20, by calling 812-488-2754 or going online at www.uealumnionline.com/Ellington.
All proceeds will benefit the department of music.
The concert will feature student and faculty soloist, dancers, and a lecture by UE's musicologist Kristen Strandberg. Wheeler Concert Hall will also be converted into the famed Cotton Club. Come swing with us!
Submitted by Tim Zifer tz3@evansville.edu
Deadline to participate in Adopt-a-Family is TODAY at NOON
If you would like to be a part of Adopt-a-Family this holiday season, you need to contact Jackie Luedtke (jl295@evansville.edu) by NOON today - Monday, November 20. This event pairs a group, or individual, with a family who is in need of Christmas presents. It's a great way to give back to the community and put a smile on someone's face!
The Center for Student Engagement is once again partnering with Aurora, a local non-profit that helps those experiencing homelessness, for Adopt-a-Family. It would be wonderful to have lots of participation from UE this year!
If you have any questions, please contact Jackie Luedtke (jl295@evansville.edu). All donations will be due to the CSE office by December 6.
Submitted by Jackie Luedtke jl295@evansville.edu
Women's Basketball drops road matchup with EIU, 79-52
The University of Evansville women's basketball team fell to Eastern Illinois, 79-52, on the road in Charleston, Illinois, on Saturday afternoon.

For the second-straight game, senior guard Brook Dossett led the Aces offensively with a game-high 17 points, while junior guard Kerri Gasper also finished in double-digits with 11 points. Playing 22 minutes in the contest, redshirt sophomore guard Marley Miller corralled a career-high seven rebounds. The Panthers were led by Grace Lennox, who finished with 14 points.
In the opening quarter, Evansville opened up as large as a five-point lead with a 16-11 advantage with 2:02 remaining in the frame before trading baskets with EIU, taking an 18-13 lead into the second quarter.
Eastern Illinois manufactured a 17-5 run that spanned the entirety of the second period, giving the Panthers a 40-28 lead heading into halftime. In the first half, the Aces and EIU were nearly on equal on rebounds, with the Panthers holding a 23-19 advantage, but Eastern Illinois pulled down nine offensive rebounds to one for the Aces.
The Panthers continued to build their lead in the second half, as EIU built a 53-34 lead heading into the final quarter. In the latter half of the fourth frame, Evansville put together an 8-2 run to cut into the Panthers' lead as EIU captured a 79-52 victory.
Evansville returns to Meeks Family Fieldhouse on Tuesday at 7:00 p.m. as the Aces host Westminster in their final game before the Thanksgiving holiday.
Aces volleyball wraps up 2017 season
Mildrelis Rodriguez recorded a team-high seven kills to pace the University of Evansville volleyball team in a 3-0 loss at Illinois State on Saturday night inside Redbird Arena.
Rodriguez finished the night with seven kills and nine digs for the Purple Aces, who finish the season with a 10-20 mark and 4-14 in the MVC. Cathy Schreiber notched six kills in her final collegiate match. Allana McInnis led the way with 11 assists and Cassie Brooks contributed 14 digs. Illinois State (20-11, 13-5 MVC) saw Sydney Holt and Jaelyn Keene notch 11 kills apiece.
A 3-0 run by Illinois State to start the match set an early tone as the Redbirds extended that advantage to 10-3. The Aces did their best to claw their way back, but ISU was able to finish off the frame with a 25-10 victory.
Rachel Tam scored the opening point of the second set to give the Aces their first lead of the night. The Redbird countered with a run that saw them take an 8-4 lead before UE fought back. A pair of Rodriguez kills helped the Aces tie the game up at 9-9 as Rocio Fortuny also recorded a kill. After a time out, ISU went on a 10-3 run and pulled away for a 25-16 final to take a 2-0 match lead.
Evansville also played well in the third game when the defense forced two ISU attack errors to go up 5-4. With the score knotted at 7-7, the Redbird took the lead for good, going on a 12-4 stretch as they picked up another 25-16 win to clinch the match by a final of 3-0.
Student Health Center -Thanksgiving Break Hours
The Student Health Center will be closed on Wednesday, November 22 through Friday, November 24. The Student Health Center will reopen Monday, November 27 at 8:00 a.m. In the event you need medical care, please contact Campus Security at 812-488-2051 or dial 911. The Health Center staff would like to wish everyone a safe and happy Thanksgiving break.
Submitted by Ashley Craig ac408@evansville.edu
Attention December 2017 graduates!
If you are graduating in December and have earned a military honorable discharge or a general discharge under honorable conditions, are on active duty, in active drilling status, or are an ROTC cadet, please notify Cherie Leonhardt in the Office of Veterans Affairs at CL29@evansville.edu or call 488-2141 ASAP. The Office of Veterans Affairs and UE VETS have a special graduation gift for you!
Submitted by Cherie Leonhardt CL29@evansville.edu
Nov. 30 deadline for Next Generation Hoosier Educators Scholarship application
The Next Generation Hoosier Educators Scholarship will be awarded to 200 high-achieving high school and college students interested in pursuing a career in education. The scholarship offers the amount of $7,500 each year for up to four years (up to $30,000) to students who commit to teaching in Indiana for five consecutive years upon graduation. In order to academically qualify for this scholarship, students must rank in the top 20 percent of their high school graduation class or have an ACT or SAT score in the top 20 percent. Apply by November 30 at http://in.gov/che/4680.htm.
Submitted by Cathleen Wright cw259@evansville.edu
Kaplan MCAT prep course
University of Evansville has partnered with Kaplan to offer MCAT Test Prep sessions. The course will run in the spring starting in January for students looking to take the MCAT in April, May, June, or later.
The classes will meet at the University of Evansville for three hours on Wednesday nights for 12 weeks. In December, the location of the room will be sent to those registered for the course.
The deadline to register is December 1. Space is limited!
Special pricing for UE students at $1,499. Please visit www.evansville.edu/adulteducation/kaplan-mcat-review-course-pay-ue.cfm to register and for more details.
Submitted by Lindsay Roberts lr155@evansville.edu
Volunteers needed for Santa Run
Volunteers are needed for the Rotary Santa Run that takes place on Saturday, December 2. It is a great way to get into the holiday spirit and interact with the Evansville community!
More Information regarding the day of the race for volunteers:
Volunteers need to meet in the Vann Avenue ballfields parking lot across from where Walnut dead ends into Vann Avenue at 8:00 a.m. the day of the race. They will get their street assignments then.
They will be barricade monitors at race course intersections: making sure the barricades are in place 30 minutes before the 9:00 a.m. start time and taking them down after the runners finish their portion of the course. Some of the beginning streets are also blocked for the end of the race, so some volunteers may be there until 10-10:30 a.m. for the walkers.
They are free to go once the runners/walkers are past their intersection (some early; some later), but all are invited up to the Eykamp Boy Scout Center for refreshments, photos with Santa, and just a little post-race fun.
We ask they please wear Santa hats or other Santa-like apparel if they can. Otherwise, please try to wear red. The Rotarians will also have some Santa accessories on hand if they do not have anything available.
For more information and to sign up please contact Amy Walker at awalker@pefevansville.org or 812-422-1699.
Submitted by Jackie Luedtke jl295@evansville.edu
Fitness Center Thanksgiving Break Hours
The Fitness Center schedule for Thanksgiving break is:
Monday, November 20 and Tuesday, November 21 from 6:30 a.m.-10:00 p.m.
Wednesday, November 22 from 8:00 a.m.-noon
Closed Thursday, November 23-Sunday, November 26
Submitted by Lori Adams la87@evansville.edu
Campus holiday decor
The campus grounds workers will begin installation of outdoor Christmas decorations on November 13 in preparation for the campus lighting ceremony on December 1. All campus Christmas trees will be delivered the mornings of November 21 and 22. If you have questions, contact Bob Dale at ext. 2046 or bd22@evansville.edu.
UE distribution services - Thanksgiving week
Please note the following distribution services (mail services, central receiving and copy services) adjustments and plan accordingly. These adjustments will help to ensure there is sufficient time to transport mail for processing and complete campus deliveries and copy service requests before campus is closed for Thanksgiving at noon on Wednesday, November 22.
Departments have been sent a Campus Distribution Services Delivery Reminder/Notification via campus mail. Please complete and return it to distribution services, if someone will be available at the routine department mail/receiving delivery locations to receive mail or shipments on Wednesday morning, November 22.
Departments accepting deliveries on Wednesday morning, November 22 are asked to respond no later than Monday, November 20.
Mail Services Adjustments:
Mail will be delivered to offices that have responded to the Campus Distribution Services Delivery Reminder/Notification stating they will have someone available at the designated dept. mail delivery location to receive mail on Wednesday morning, November 22. The daily mail run will begin at 8:30 a.m.
All outgoing USPS mail/parcels must be in UE mail services ready for transport to Data Mail on November 22, no later than 10:30 a.m.
USPS will be closed on Thursday, November 23, Thanksgiving Day. Those needing to mail a letter, etc. later in the day may do so by taking their mail to the Post Office and paying for the postage via a UE Pcard.
United Parcel Services (UPS) Information
UPS is closed on Thanksgiving Day for pickup and deliveries.
UPS provides delivery and pickup services of air and international packages only on Friday, November 24.
Pickups are available, if you have made pre-arrangements with UPS by Wednesday, November 22, or via UPS On-Call Pickup service and at all UPS drop boxes. Please note that guaranteed delivery confirmation times will be extended 90 minutes on Friday.
For urgent shipments, UPS Express Critical is available 365 days a year. For more information on this services go to www.expresscritical.com.
Copy services adjustments
Please plan your copy job requirements ahead of time to provide sufficient turn-around time as Copy Services will be closed over the Thanksgiving break.
Central receiving adjustments
Receiving will deliver to offices that have responded to the Campus Distribution Services Delivery Reminder/Notification stating they will have someone available at the designated department mail delivery location to receive deliveries on Wednesday morning, November 22. The receiving run will begin at 10:00 a.m. on Wednesday, November 22,
UE central receiving will close at noon on Wednesday, November 22, and will resume afternoon deliveries on Monday, November 27.
For distribution services questions, contact the following:
Mail services at mailservices@evansville.edu
Copy services at copyservices@evansville.edu
Central receiving at centralreceiving@evansville.edu
Submitted by Kim Winsett kw83@evansville.edu
HANGERs donations accepted at Health Center
Tri State Community Clinics is parenting with the local organization, Hangers, to collect gifts for local school aged children. Hangers distributes school-appropriate clothing items as well as hygiene products to children in need throughout the Evansville metro area.
You are invited to share the spirit of Christmas by giving new, unwrapped items such as underwear, bras or socks as well as gently used clothing, (please no underwear, bras or socks, as these items must be new) for school aged children, which will then be distributed.
A list of specific items that are needed can be obtained from the UE Health and Wellness Center.
Help us fill the green box with new or gently used clothing and gifts all while spreading Christmas cheer! Donations will be accepted until December 8.
Submitted by Ashley Craig ac408@evansville.edu
Christmas donations for children
Graves Hall is collecting new gloves, mittens, socks, hats, and scarves for community children grades K-12 this Christmas season. The items can be placed on the Christmas tree in Graves Hall lobby through December 15. The Center for Family, School and Community Partnerships will distribute the items to EVSC K-12 schools. Please call Karen Doss at ext. 2360 if you have any questions. Thank you!
Submitted by Karen Doss kd56@evansville.edu
2017-18 student consumer information
The US Department of Education requires universities to disclose consumer information to prospective and enrolled students, parents, and employees. This information is available on the University of Evansville website at www.evansville.edu/financialaid/studentConsumerInfo.cfm.
Questions about this information may be directed to the Office of Financial Aid at 800-424-8634, 812-488-2364, or financialaid@evansville.edu. A paper copy of this information is available upon request.
Information included on the Consumer Information page:
Topics:
• Academic programs
• Accrediting and licensing agencies
• Alcohol and drug policy/prevention programs
• Athletics program participation rates and financial support data
• Code of conduct
• Copyright infringement policy and peer to peer file sharing information
• Cost of attendance
• Diversity – student body diversity by gender, ethnicity, and Pell grant status
• Emergency response and evacuation information
• Employment and graduate school information for recent UE graduates
• Family educational rights and privacy act (FERPA)
• Federal student financial aid penalties for drug law violations
• Financial aid credit balance refund policy
• Financial aid information
• General information
• Graduation rates by gender, race and ethnicity, and selected financial aid groups
• Graduation rates for general student body
• Graduation rates for student-athletes
• Grievance and complaint procedures
• Health insurance portability and accountability act (HIPAA)
• Missing person protocol
• Net price calculator
• Program closure policy
• Refund policy and return of Title IV funds
• Retention and graduation rates of degree-seeking, first-time, undergraduate students
• Satisfactory academic progress policy
• Security and fire safety report
• Services and facilities for students with disabilities
• Student loan forgiveness, cancellation, and discharge
• Study abroad
• Teacher preparation accountability
• Textbook information
• Transfer policies on credits that transfer to UE
• Transfer articulation agreement partner colleges
• Vaccination policies
• Verification policy
• Veteran information
• Voter registration information
Submitted by Amy Sowders as560@evansville.edu
November Pcard cycle ending!
The November Pcard cycle - which began October 24 - ends at midnight on November 21. As of November 23, cardholders may schedule and run the November Cycle report. November transactions may be reconciled in SDG2 until November 28. On November 28, the general ledger Pcard file will be uploaded and cardholders will be locked out of (unable to make changes) posted transactions for the November cycle.
Submitted by Kim Winsett kw83@evansville.edu
Men's basketball moves to 4-0 with 66-61 win against Binghamton
University of Evansville junior posted 27 points and Dru Smith tallied 11 as the Purple Aces men's basketball team improved its record to 4-0 with a 66-61 victory over Binghamton inside the Ford Center on Saturday.
Taylor went 10-of-22 from the field and hit seven 3-pointers in 37 minutes of work. Smith went 5-9 from the floor and registered nine more assists. Over his last three outings, the sophomore has dished out 29 helpers. Dainius Chatkevicius had a solid game, finishing with seven points and six rebounds while Dalen Traore was the top rebounder for UE (4-0) with seven.
"This is a good win. We were thrown into some different situations because of illness and injury, but I like the way our guys stayed with it and just went onto the next play," UE head coach Marty Simmons said. "I give our guys credit, we made some adjustments and they executed pretty well."
J.C. Show was the leader of the pack for the Bearcats (1-3) as he knocked down six from outside on his way to 27 points. Everson Davis notched 12 points while Thomas Bruce finished with 11.
"We knew that Bruce was pretty athletic. He made some pretty good plays out there. We also knew that Show is a really good shooter. We let them get hot in the second half," Taylor said. "With Boo out, we had some guys really step up. Noah did a great job, all of our guys stepped up."
Taylor hit four triples on his way to 14 points in the opening half as the Purple Aces led by a 36-24 margin at halftime. After the Bearcats scored the first bucket of the game, the Aces held them to just one of their next 11 attempts as UE jumped out to a 20-5 lead.
In that stretch, Taylor had a pair of triples that made the difference. Binghamton notched its second basket as the 7:24 mark of the half as a Thomas Bruce jumper cut the gap to 20-7. A pair of free throws with 18 ticks remaining in the stanza by Blake Simmons put the lead back up to 15 at 36-21, but at the buzzer, J.C. Show hit a long trey that made it a 36-24 contest at the break.
Binghamton's run continued into the second half as they reeled off the first seven points to cut the gap to just five. A 3-pointer from Everson Davis coupled with a bucket from Bruce made it a 36-31 game with 16:39 remaining.
Out of a time out, Dru Smith found Taylor for an alley-oop for the Aces first bucket of the half before the lead went back up to ten at 51-41 when K.J. Riley knocked down a pair of free throws with 7:53 remaining. Over the next four minutes, Binghamton outscored Evansville, 10-2, as they made it a 53-51 game with just over four minutes on the clock. Show had triples on consecutive possessions to cap off the rally.
Following a time out, it was Taylor who got the Aces back in the right direction, hitting a floater to make it a 4-point game. On the ensuing possession, an and-one by BU cut the Aces advantage to just one at 55-54. Taylor's clutch play continued on the next trip down the floor as an open three made it a two possession game once again.
A huge play was made on the next Aces possession by freshman Noah Frederking. He put back a Taylor miss to put the squad up by a 60-54 margin and the Aces were able to hang on from there, winning by a final of 66-61.
With the win, UE improved to 4-0 for the first time since the 2013-14 campaign and just the second time since 1987.
Evansville continues the Cancun Challenge in Mexico this week as the team will face Fresno State on Tuesday at 7:30 p.m. CT before taking on either George Mason or Louisiana Tech on Wednesday. Both games will be carried on the CBS Sports Network.
Criminal justice students graduate from the EPD Citizen's Academy
Congratulations to the students in CJ 370 (The Police), who graduated from the Evansville Police Department's Citizen's Academy. The Academy is a 10 week program designed to familiarize citizens with the department and their policies. It is offered twice a year by the EPD.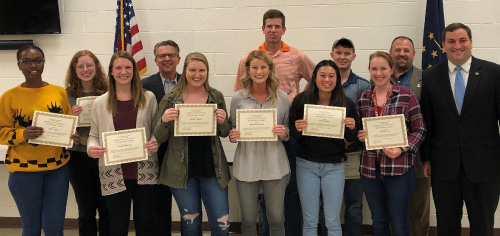 Pictured from left to right: Enita Ugen, Eileen Rasmussen, Jordan Buechler, Mayor Lloyd Winnecke, Maddie Cleland, Mackeznie Kochell, Matthew Ladd, Siera Pagan, Hunter King, Sabrina Lux, EPD Chief Billy Bolin, and Vanderburgh County Prosecutor Nick Herman. Not pictured but graduating from the Academy are Olivia Gardner, Owen Gogarty, Tattenai Hall, and Hunter Sandage.
Contribute to AceNotes
To have content considered for inclusion in AceNotes, please submit a Marketing Request Form. Deadline for submission to AceNotes is 10:00 a.m. on the requested date of publication. Only articles concerning UE related/sponsored activities will be accepted. Articles submitted to AceNotes may be edited for length and clarity. Submitter contact information is at the end of each article.