| | |
| --- | --- |
| AceNotes Today | Thursday, November 16, 2017 |
UE Plans 40th Anniversary Commemoration of 1977 Plane Crash
The University of Evansville will hold a 40th Anniversary Commemoration of the 1977 Plane Crash on Wednesday, December 13 at 7:00 p.m. The ceremony will be held at Memorial Plaza on the UE campus.
The Air Indiana Flight 216 crashed at 7:22 p.m. on the evening of December 13, 1977 carrying the University of Evansville basketball team along with coaches, administrators, and fans. Those gathered will observe a moment of silence at that time during the candlelight vigil.
The order of service will include candle lighting, a reading of the names of those who perished in the plane crash, and a bell ringing during each interval. University of Evansville President Thomas A. Kazee will provide a statement, followed by the singing of the UE alma mater, prayers, and bagpipes.
An opportunity for informal gathering and fellowship will be offered in Ridgway University Center's 1959 Gallery and Lounge immediately following the ceremony. Neu Chapel will also be open for personal prayer and meditation throughout the evening.
The public is invited to attend this commemoration and the University of Evansville is working to personally reach families of those who perished. A Facebook event has also been created for interested guests to stay up to date with information. Visit www.facebook.com/UniversityofEvansville to find the event.
Additionally, a memorial service to honor the first responders involved in this tragedy will be held at Oak Hill Cemetery at 11:00 a.m. on the same day.
Homestand continues as Aces play SEMO today
The third home game in six days is on tap for the Purple Aces as they play host to Southeast Missouri State this evening at 7:00 p.m. It will mark the second meeting in the last three seasons at the Ford Center. Evansville opens up its season with four home games in a row for the first time since 1986-87; UE won all four of those contests that year.

In front of 6,048 fans on Monday at the Ford Center, the Aces took down North Carolina Central by a final of 68-55. UE's defense made the difference, forcing 26 turnovers and turning them into 26 points. Evansville had at least three players hit double digits in scoring for the second game in a row.
Another stellar outing saw Ryan Taylor hit 8 out of 16 shots and a career-best 10/13 showing from the free throw line on his way to 29 points against NC Central. His season mark of 26.0 points per game puts him second in the MVC. Taylor has gotten to the line 19 times in just two games, making 16 of those attempts; he shot just 92 free throws in 33 games last season.
Dru Smith continued to impress in his sophomore season as he dished out 11 assists while scoring eight points versus the Eagles. Smith's assist tally was the most by a UE player since Duane Gibson had 11 against Anderson in 2013. As a freshman, Smith averaged 5.3 points per game, but has upped that to 9.5 through the first two games of the season. Last season, Smith had an impressive assist-to-turnover ratio of 2.45 and has picked right up where he left off in 2017-18, notching 13 assists against just two turnovers in the opening pair of games.
Dalen Traore has made the start at center in both games thus far and has gotten better each time out. Against NCCU, Traore finished with eight points and seven rebounds while being on the floor for 24 minutes. He also connected on both free throw attempts.
Southeast Missouri State comes into Thursday's match-up with an even 1-1 mark. After opening the season with an 81-69 win over Missouri Baptist, the Redhawks fell in overtime at Louisiana Tech by a final of 96-95. Denzel Mahoney is the leading scorer for SEMO and the Ohio Valley Conference, standing at 23.0 points per game. Just behind him is Ledarrius Brewer with 17.
Prior to the contest, the Aces will hold a Pregame Party at the DoubleTree Hotel, which is connected to the Ford Center. It runs from 4:30 p.m. until game time at 7:00 p.m. Head coach Marty Simmons will speak at 5:15 pm while Aces legend Marcus Wilson will be on hand at 6:15. Admission is just $20 and includes a parking space for the evening in the DoubleTree parking garage and a full meal at the event.
Alexis Whitacre presenting on study abroad trip to Morocco
Interested in learning about what it's like to study abroad in Morocco? Or just what it's like to study abroad in general? Join us today - Thursday, November 16 - for a series of student study abroad presentations highlighting different types of study abroad trips available at UE!
Alexis, an international studies major, spent a semester during her junior year in Morocco. She spent her time living with a Moroccan host family, traveling around the country, and indulging in the local food.
You can read a little more about her trip here: https://www.evansville.edu/studyabroad/storiesAbroadAlexis.cfm.
Student presentations will be from 3:00-4:30 p.m. in Hyde Hall 105. Alexis will be presenting at 3:30 p.m. We hope to see you there!
For a full International Education Week schedule, visit https://www.evansville.edu/iew/.
Submitted by Greta Becker gb91@evansville.edu
Ahrens and Rainey presenting on Jezreel Expedition
Interested in learning about what it's like to study abroad and do field work in Israel? Or just what it's like to study abroad in general? Join us today for a series of student study abroad presentations highlighting different types of study abroad trips available at UE!
Anna and Isaac both spent time this past summer participating in the Jezreel Expedition, an archaeological dig that takes place in Israel. Stop by for their presentation to learn all about their experiences and their findings.
Student presentations will be from 3:00-4:30 p.m. in Hyde Hall 105. Anna and Isaac will be presenting at 3:00 p.m. We hope to see you there!
For a full International Education Week schedule, visit https://www.evansville.edu/iew/.
Submitted by Greta Becker gb91@evansville.edu
Wintermute presenting on study abroad trip to Costa Rica
Interested in learning about what it's like to study abroad in Costa Rica? Or just what it's like to study abroad in general? Join us today for a series of student study abroad presentations highlighting different types of study abroad trips available at UE!
Tyler, and environmental science major, spent this past summer on a two-week study abroad program in Costa Rica. After taking a class on tropical ecology, he had the chance to apply what he learned in class to real life experience and field research opportunities. Stop by for his presentation to learn all about his experiences!
Student presentations will be from 3:00-4:30 in Hyde Hall 105. Tyler will be presenting at 4:00 p.m. We hope to see you there!
For a full International Education Week schedule, visit https://www.evansville.edu/iew/.
Submitted by Greta Becker gb91@evansville.edu
Decorating Neu Chapel today for Christmas!
Do you have a love for Christmas decorating?
Do you get enjoyment from trimming the tree and stringing lights?
Then you are invited to join the Neu Chapel community this evening (November 20) from 6:00-9:00 p.m. as we "deck the halls" for the Advent and Christmas seasons. It will be a fun time of getting into the holiday spirit. The more the merrier! We hope to see you there!
Submitted by Keith Turner kt160@evansville.edu
University Worship in Neu Chapel
For the rest of the semester, the Neu Chapel Community will be observing holy days in University Worship. This Sunday, we will be observing the First Sunday in the Advent season. We will bless and light the first candle on the Advent wreath, sing festive music, and consider how God loves to speak to us in the middle of our chaotic and crazy lives. Join us for what is sure to be a meaningful Sunday, where we will worship, pray, and enjoy coffee and donuts together! All are invited to attend!
Submitted by Keith Turner kt160@evansville.edu
Student leadership conference: Bright Lights, Brighter Leaders
On January 20, the Center for Student Engagement in partnership with the University of Evansville Leadership Academy will host the 2018 Student Leadership Conference: Bright Lights, Brighter Leaders. The event will be in Eykamp Hall, Room 251, Ridgway University Center, from 9:00 a.m.-4:00 p.m. Breakfast and lunch will be served to participants.
Fill out this registration form to sign up for the event. Early registration closes December 7 (Reading/Study Day); participants must register by this day to be guaranteed a T-shirt. Details on how the shirts will be delivered can be found on the registration form. A non-refundable deposit is due by Dec 15 in order to secure your spot.
The event will feature speakers the surrounding areas. Students will be exposed to several aspects of leadership, entrepreneurship, and community building throughout the day. Any student wanting to advance their leadership skills or collaborate with others are invited to attend.
Please contact Lilee Robinson (lr162@evansville.edu) with any questions or concerns.
Submitted by Jalyn Kowalski jk306@evansville.edu
P.E.A.C.E. meeting today
There will be a P.E.A.C.E. meeting today - Friday, November 17 - at 3:00 p.m. in Room 73 in the Schroeder School of Business Building. Come find out what P.E.A.C.E. has been working on and join in! We are over 13% of the way (we have collected over 130 signed letters) to our goal of 1,000 letters to mail to government officials requesting the instantiation of a hate crimes bill in Indiana. For the next steps we are partnering with the Honors Student Club and Scholars for Syria and setting up tabling opportunities. At the meeting we will also discuss other exciting opportunities. We hope you can make it! If you'd like to contribute and spread the word and need a stack of letters for folks to sign, just email lk102@evansville.edu. All completed letters can be slid under the door of Room 342 in Olmsted Administration Hall – the office of professor Lisa Kretz - or put in her mailbox (third floor of Olmsted Hall), and they will be mailed out.
Submitted by Lisa Kretz lk102@evansville.edu
Sign up for Saturday's dodgeball tournament!
The FIJI Tau Dueteron Pledge Class is hosting a dodgeball tournament this Saturday, November 18! It will be in Carson Center and will start at 6:00 p.m. Six people can play for a team in a game and eight can register. The entrance fee is $5 per person. Come see us at our table across from Rademacher's any time from 11:00 a.m.-1:30 p.m., today through Thursday to sign up!
Submitted by Nick Lewis nick_lewis@comcast.net
Come check out UECC!
This Saturday, November 18, the Mortano Hall Council will be hosting UE Comic Con! UECC will feature multiple student-run booths supporting a variety of fandoms. There will also be food and fun activities, such as games and a costume contest. The fun will start at 1:00 p.m. in the Carson Center small gym. We look forward to seeing you there!
Submitted by Madison Smith ms738@evansville.edu
Sullivan gives opera lecture
Prior to the local Met Live in HD simulcast of Thomas Adès's new opera The Exterminating Angel, UE music professor James Sullivan will give a pre-simulcast lecture on the opera. The lecture will take place on Thursday, November 16, at 5:00 p.m. in Room 142 in the Krannert Hall of Fine Arts and is open to the public. Those attending the lecture may wish to attend the opera's simulcast on Saturday, November 18, at 11:55 a.m. at the AMC 16 Movie Theater.
The opera is an adaptation of Luis Buñuel's 1962 surrealist film by the same name, in which the guests at an upper-class dinner party find themselves inexplicably unable to leave. The party quickly descends into madness and chaos, and Adès's musical adaptation viscerally amplifies both the humor and the horror of the original screenplay.
Sullivan, who specializes in the music of Thomas Adès, attended the American premiere and is giving the presentation with the support of an art, research, and teaching grant from the University of Evansville. Also with the support of the grant, he will be bringing UE music students to see the opera's local simulcast.
Submitted by James Sullivan js820@evansville.edu
Final #readingseries of the semester!
Please join the folks in creative writing today - Friday, November 17 - at The Slice for the fall semester's final #readingseries. This reading will feature original work by students Jenna Sumpter, Oli Ross-Musick, and Sari Baum. The reading will start promptly at 4:00 p.m., so if you're looking to enjoy some delicious pizza while you're there, please arrive early as The Slice can be charmingly slow. Hope to see you all there!
Submitted by Lisa Nikolidakis ln43@evansville.edu
UE Theatre presents The Tempest
The University of Evansville Department of Theatre proudly presents William Shakespeare's The Tempest, in UE's Shanklin Theatre. Performances are November 18 at 7:30 p.m. and November 19 at 2:00 p.m.
A fantastical island filled with magic and mystery sets the stage for this enchanting tale of romance, betrayal, and the power of forgiveness. After a vengeful sorceress conjures a maritime storm in order to shipwreck her malevolent sister, both familial and royal drama ensues. Thought by many to be Shakespeare's final solo play, this rom-com-meets-action-adventure-fantasy is a thrilling story for all ages.
The Tempest is directed by associate professor Christia Ward. Elizabeth Tredinnick, a senior from Chicago, Illinois, is the co-scenic designer along with associate professor Eric Renschler '83; visiting assistant professor Sarah J. Smith is the costume designer; associate professor Stephen Boulmetis is the lighting designer; Melia Schnefke, a senior from St. Louis, Missouri, is the sound designer; Professor Chuck Meacham is the technical director; Professor Diane Brewer is the dramaturg; and Emma Blevins, a senior from San Antonio, Texas, is the stage manager.
The cast features Meredith Ham, a junior from Castle Rock, Colorado, as Prospera, and Aaron Gonner, a senior from Dubuque, Iowa, as Ariel. The 20-person cast also features Amanda Suggs, a junior from Cedar Park, Texas, as Miranda; Jack Russell, a freshman from Montgomery, Texas, as Ferdinand; and Joseph W. Schwalb, a senior from Thiensville, Wisconsin, as Caliban.
Ticket prices are $18 for adults and $16 for senior adults, students, and UE faculty and staff. UE students may obtain one free student rush ticket beginning at noon on the day of the performance they wish to attend.
Following The Tempest, the rest of the Shanklin Theatre season includes Sense and Sensibility by Kate Hamill, February 16-25; and The Grapes of Wrath by Frank Galati, April 13-22.
Tickets may be purchased by calling 812-488–2031, Monday through Friday, noon- 5:00 p.m.
Essential Ellington Concert on Nov. 28
The UE Jazz Ensemble I will present its Essential Ellington Concert on Tuesday, November 28 at 7:30 p.m. in Wheeler Concert Hall. The concert is free and open to the public, however if you purchase a $25 ticket you will get preferred seating and be invited to a post-concert reception on stage. The reception will include an open bar and light hors d'oeuvres.
Please RSVP by Monday, November 20, by calling 812-488-2754 or going online at www.uealumnionline.com/Ellington.
All proceeds will benefit the department of music.
The concert will feature student and faculty soloist, dancers, and a lecture by UE's musicologist Kristen Strandberg. Wheeler Concert Hall will also be converted into the famed Cotton Club. Come swing with us!
Submitted by Tim Zifer tz3@evansville.edu
UE opens Changemaker Incubator at ribbon cutting ceremony
The University of Evansville unveiled its new Changemaker Incubator during a ribbon cutting ceremony today. In attendance were UE president Tom Kazee, UE students, and representatives from Hafer, an Evansville design and architecture firm that designed the space.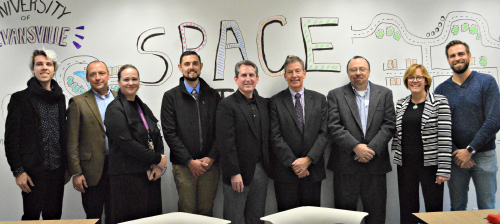 The Changemaker Incubator will accelerate the growth of social enterprise start-ups by providing space for social entrepreneurs to gather, exchange ideas, connect with mentors, collaborate with community partners, pitch ideas, and develop skills necessary to get their ideas off the ground. UE hosts annual Changemaker Challenges that empower young people to use innovation for positive change in the world.
"Developing entrepreneurial ideas that make a difference in the world is something that resonates well with this generation of young people, and the impact they will make is profound. We are delighted about the possibilities this incubator space will provide for these Changemakers who are tackling important issues and offering fresh perspectives and innovative solutions," says Jill Griffin, executive director for the Institute of Global Enterprise.
The design for the Changemaker Incubator is a culmination of several brainstorming sessions between UE students, Hafer's design team and members of UE's facilities department. During the interactive design process, students stated their dreams and desires for the new space while Hafer listened and interactively translated their vision into a three-dimensional computer based design model. With a small space and limited budget, Hafer's designers were challenged to work with the students to make the most out of this project to ensure it was designed with creativity, thoughtfulness, and versatility in mind.
"At Hafer, we are grateful to be given the opportunity to work on such an important project. We absolutely enjoyed collaborating with the students to create a space where they can envision solutions to solve the problems of our community and the world," said Jack Faber, Principal / Architect + Designer
At Hafer. "It is in a creative, thoughtfully designed space, like the Changemaker Incubator, where students will come to solve problems and dream in ways we never imagined. For us, there is nothing more fulfilling than helping people make a difference."
The design promotes creativity and collaboration. Walls are covered with marker paint, allowing students' thoughts to endlessly flow throughout the space without the need to erase and start over. It is also equipped with the necessary technology to handle long-distance and virtual meetings. Furniture selection was a key component to the successful use of the space. It was specifically selected to allow for innovation to occur in a variety of comfortable settings. Tables can be brought together to create one large surface for group discussions. Or, the furniture may be separated to provide several breakout group arrangements. A cantilevered custom built marker board/divider wall was also created to completely divide the room into two separate spaces, which adds to the flexibility on-the-fly nature of the space. Students also have the choice of rolling chairs, eclectic bean bags and stools containing storage space inside. In the end, the Changemaker Incubator provides students a place to inspire innovation and encourages them to think far outside the box.
Funding for the space came in June of 2016 when UE's Institute for Global Enterprise received a $20,000 Ball Venture Fund award to build the Changemaker Incubator. The Ball Venture Fund, established by the Ball Brothers Foundation and administered by the Independent Colleges of Indiana (ICI), provides seed funding for innovative start-up programs at ICI member institutions. UE's grant was one of four selected out of 36 submissions that year.
Changemaker Spotlight: Aaron Straight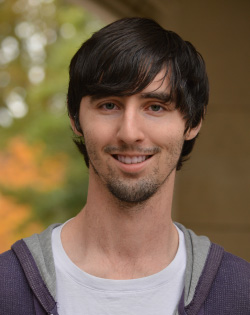 Aaron Straight is both student and teacher these days. The University of Evansville junior is pursuing a bachelor's degree in chemistry while volunteering as a chemistry teacher and tutor at Newburgh Christian School.
Aaron, a graduate of NCS, was asked by the school to help out when their science teacher moved to Texas. He knew it would be a challenge due to his own class schedule but was happy to take on the responsibility and give back to the community by helping younger students achieve their academic goals.
"I love being a part of the students' lives," he said. "Even if it's just spending a few minutes before starting class to ask how everyone has been and what exciting events have happened."
Aces fall to Alabama A&M on the road, 70-56
The University of Evansville women's basketball team dropped a road contest at Alabama A&M, 70-56, on Wednesday evening in Huntsville, Alabama.

Senior guard Brooke Dossett led the Aces offensively with 14 points, while junior guard Kerri Gasper finished with 12 points on the evening. Off the bench, sophomore center Kaylan Coffman scored a career-high six points and pulled down a career-best nine rebounds. For the Bulldogs, freshman center Ashlyn Dotson scored a game-high 25 points and gathered four rebounds to lead Alabama A&M.

After the Aces scored the first basket of the game, Alabama A&M put together a 9-2 run to open up a 9-4 lead. Just before the media timeout, the Aces got a much needed three from Gasper that cut the Bulldogs' lead to just two at 9-7. In the final four minutes of the quarter, the Bulldogs built their lead to eight before heading into the second quarter with a 24-17 advantage.
The second quarter was a back-and-forth struggle as Alabama A&M saw its lead grow as high as 11 midway through the period, but the Aces trimmed their deficit to just eight at 36-28 heading to the halftime break.
In the third frame, Alabama A&M built a 12-point lead at 49-37 with 4:48 to play in the quarter. Evansville roared back with an 8-0 run, capped-off by a three-pointer by Gasper, that cut the Bulldogs' lead to just 49-45 and forced the home side to call a timeout. Coming out of the timeout, the Aces got within two at 50-48 with 2:25 left in the quarter on a Brooke Dossett layup, but Alabama A&M responded with a 5-0 run to close the quarter and take a 55-48 advantage into the final period.
The fourth period was controlled by the Bulldogs as Alabama A&M built its lead to its largest point of 15 before earning a 14-point victory, 70-56.
The Aces wrap-up a two-game road trip on Saturday at 1:00 p.m. against Eastern Illinois in Charleston, Illinois.
Nov. 30 deadline for Next Generation Hoosier Educators Scholarship application
The Next Generation Hoosier Educators Scholarship will be awarded to 200 high-achieving high school and college students interested in pursuing a career in education. The scholarship offers the amount of $7,500 each year for up to four years (up to $30,000) to students who commit to teaching in Indiana for five consecutive years upon graduation. In order to academically qualify for this scholarship, students must rank in the top 20 percent of their high school graduation class or have an ACT or SAT score in the top 20 percent. Apply by November 30 at http://in.gov/che/4680.htm.
Submitted by Cathleen Wright cw259@evansville.edu
Deadline to participate in Adopt-a-Family is TODAY at NOON
If you would like to be a part of Adopt-a-Family this holiday season, you need to contact Jackie Luedtke (jl295@evansville.edu) by NOON today - Monday, November 20. This event pairs a group, or individual, with a family who is in need of Christmas presents. It's a great way to give back to the community and put a smile on someone's face!
The Center for Student Engagement is once again partnering with Aurora, a local non-profit that helps those experiencing homelessness, for Adopt-a-Family. It would be wonderful to have lots of participation from UE this year!
If you have any questions, please contact Jackie Luedtke (jl295@evansville.edu). All donations will be due to the CSE office by December 6.
Submitted by Jackie Luedtke jl295@evansville.edu
1998 UE theatre alumnus Nathan Darrow returns to campus as guest artist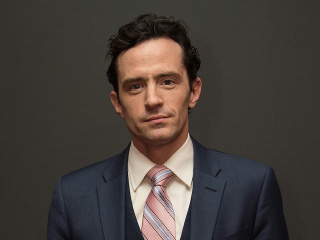 Guest artist Nathan Darrow (UET 1998) spoke at the UE theatre weekly meeting about his career as an actor on stage, television, and film. Nathan is on campus this week working with senior actors in their audition class, junior actors in their Shakespeare class, and doing Q&A sessions in several other courses.
When asked about his time at UE and how it affected his life as an artist, he replied, "There is something running through time here in this department that is about supporting each other, taking a real interest in each other, and genuinely caring for each other. That is a good principle for living throughout your entire life."
When a freshman asked him to give advice to his class in particular, Nathan offered, "Pay attention to each other. Realize that every lesson your classmate learns can be a lesson you learn too. Be generous to one another."
His advice for seniors? "Learn how to cook for yourself."
Nathan came to UE from Shawnee Mission North High School in Overland Park, Kansas, and earned his MFA from New York University's Tisch School of the Arts. After graduate school, Nathan returned to Kansas City and performed at Kansas City Repertory Theatre, Unicorn Theatre, Kansas City Actors Theatre, and the Heart of America Shakespeare Festival, where he starred this past summer in the title role of Hamlet.
After moving back to New York City in 2009, Nathan was eventually cast in a co-production between London's Old Vic and the Brooklyn Academy of Music. Nathan played Lord Grey and Henry Tudor and toured internationally with the production until March of 2012. That production led to him being cast as Edward Meechum in the hit Netflix series House of Cards. He also plays Victor Fries/Mr. Freeze on the FOX television series Gotham and has a recurring role in Showtime's Billions, starring Paul Giamotti. In addition, he plays Andrew Madoff in Barry Levinson's film The Wizard of Lies, opposite Robert De Niro as Bernie Madoff.
Nathan Darrow's artist-in-residency is made possible by the UE Theatre Society's McCarthy Guest Artist Fund.
Volunteers needed for Santa Run
Volunteers are needed for the Rotary Santa Run that takes place on Saturday, December 2. It is a great way to get into the holiday spirit and interact with the Evansville community!
More Information regarding the day of the race for volunteers:
Volunteers need to meet in the Vann Avenue ballfields parking lot across from where Walnut dead ends into Vann Avenue at 8:00 a.m. the day of the race. They will get their street assignments then.
They will be barricade monitors at race course intersections: making sure the barricades are in place 30 minutes before the 9:00 a.m. start time and taking them down after the runners finish their portion of the course. Some of the beginning streets are also blocked for the end of the race, so some volunteers may be there until 10-10:30 a.m. for the walkers.
They are free to go once the runners/walkers are past their intersection (some early; some later), but all are invited up to the Eykamp Boy Scout Center for refreshments, photos with Santa, and just a little post-race fun.
We ask they please wear Santa hats or other Santa-like apparel if they can. Otherwise, please try to wear red. The Rotarians will also have some Santa accessories on hand if they do not have anything available.
For more information and to sign up please contact Amy Walker at awalker@pefevansville.org or 812-422-1699.
Submitted by Jackie Luedtke jl295@evansville.edu
Fitness Center Thanksgiving Break Hours
The Fitness Center schedule for Thanksgiving break is:
Monday, November 20 and Tuesday, November 21 from 6:30 a.m.-10:00 p.m.
Wednesday, November 22 from 8:00 a.m.-noon
Closed Thursday, November 23-Sunday, November 26
Submitted by Lori Adams la87@evansville.edu
Complimentary employee Men's Basketball tickets
All UE faculty, staff and administrators may now begin requesting their two complimentary men's basketball tickets for the games on Thursday, November 16 (7:00 p.m./SEMO) and Saturday, November 18 (3:00 p.m./Binghamton). Please come to the Carson Center ticket office with your valid UE ID to claim your tickets.
Submitted by Scott Peace sp166@evansville.edu
UE distribution services - Thanksgiving week
Please note the following distribution services (mail services, central receiving and copy services) adjustments and plan accordingly. These adjustments will help to ensure there is sufficient time to transport mail for processing and complete campus deliveries and copy service requests before campus is closed for Thanksgiving at noon on Wednesday, November 22.
Departments have been sent a Campus Distribution Services Delivery Reminder/Notification via campus mail. Please complete and return it to distribution services, if someone will be available at the routine department mail/receiving delivery locations to receive mail or shipments on Wednesday morning, November 22.
Departments accepting deliveries on Wednesday morning, November 22 are asked to respond no later than Monday, November 20.
Mail Services Adjustments:
Mail will be delivered to offices that have responded to the Campus Distribution Services Delivery Reminder/Notification stating they will have someone available at the designated dept. mail delivery location to receive mail on Wednesday morning, November 22. The daily mail run will begin at 8:30 a.m.
All outgoing USPS mail/parcels must be in UE mail services ready for transport to Data Mail on November 22, no later than 10:30 a.m.
USPS will be closed on Thursday, November 23, Thanksgiving Day. Those needing to mail a letter, etc. later in the day may do so by taking their mail to the Post Office and paying for the postage via a UE Pcard.
United Parcel Services (UPS) Information
UPS is closed on Thanksgiving Day for pickup and deliveries.
UPS provides delivery and pickup services of air and international packages only on Friday, November 24.
Pickups are available, if you have made pre-arrangements with UPS by Wednesday, November 22, or via UPS On-Call Pickup service and at all UPS drop boxes. Please note that guaranteed delivery confirmation times will be extended 90 minutes on Friday.
For urgent shipments, UPS Express Critical is available 365 days a year. For more information on this services go to www.expresscritical.com.
Copy services adjustments
Please plan your copy job requirements ahead of time to provide sufficient turn-around time as Copy Services will be closed over the Thanksgiving break.
Central receiving adjustments
Receiving will deliver to offices that have responded to the Campus Distribution Services Delivery Reminder/Notification stating they will have someone available at the designated department mail delivery location to receive deliveries on Wednesday morning, November 22. The receiving run will begin at 10:00 a.m. on Wednesday, November 22,
UE central receiving will close at noon on Wednesday, November 22, and will resume afternoon deliveries on Monday, November 27.
For distribution services questions, contact the following:
Mail services at mailservices@evansville.edu
Copy services at copyservices@evansville.edu
Central receiving at centralreceiving@evansville.edu
Submitted by Kim Winsett kw83@evansville.edu
Christmas donations for children
Graves Hall is collecting new gloves, mittens, socks, hats, and scarves for community children grades K-12 this Christmas season. The items can be placed on the Christmas tree in Graves Hall lobby through December 15. The Center for Family, School and Community Partnerships will distribute the items to EVSC K-12 schools. Please call Karen Doss at ext. 2360 if you have any questions. Thank you!
Submitted by Karen Doss kd56@evansville.edu
Criminal justice students graduate from the EPD Citizen's Academy
Congratulations to the students in CJ 370 (The Police), who graduated from the Evansville Police Department's Citizen's Academy. The Academy is a 10 week program designed to familiarize citizens with the department and their policies. It is offered twice a year by the EPD.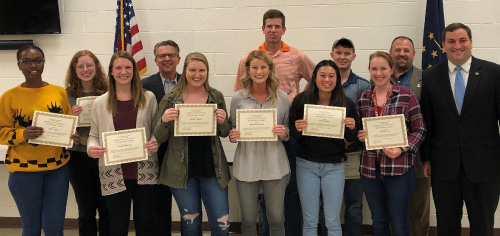 Pictured from left to right: Enita Ugen, Eileen Rasmussen, Jordan Buechler, Mayor Lloyd Winnecke, Maddie Cleland, Mackeznie Kochell, Matthew Ladd, Siera Pagan, Hunter King, Sabrina Lux, EPD Chief Billy Bolin, and Vanderburgh County Prosecutor Nick Herman. Not pictured but graduating from the Academy are Olivia Gardner, Owen Gogarty, Tattenai Hall, and Hunter Sandage.
Lesley Pleasant presents at the German Literature Panel
Lesley Pleasant, associate professor of German, presented "Mariengabe: Reflections of a New York Times Reader" at the German Literature Panel on Friday, November 10, at the Midwest Modern Language Association's Annual Convention in Cincinnati. Her talk analyzed how the frame of The New York Times helps the protagonist of Uwe Johnson's Jahrestage (1971), a German immigrant to New York city in the 1960s, to shape the narrative of her own past for herself and her ten year old daughter.
Geoff and Christina Edwards and family
Please keep Geoff and Christina Edwards and their family in your thoughts and prayers. Christina's father, Christof Biegel, passed away on November 10, after a short illness. He was 71.
Biegel was born in Seligenstadt, Germany. He served on the border police for West Germany, and after his duty was completed, he started working in the textile industry. In 1981, he married Victoria Mendoza, his pen pal from the Philippines. In 1989, his work in textiles led him to the U.S. Upon retirement, he and his wife moved to Evansville to be near family. He spent his time gardening and being a loving Opa to his two grandchildren.
Christof is survived by his wife of 36 years, Victoria (Mendoza) Biegel; daughter, Christina Edwards, and husband Geoff; grandchildren, Benjamin and Simon; and a brother and sister in Germany.
A Mass of Christian Burial will be held 10:00 a.m. Saturday, November 18, at Christ the King Catholic Church, officiated by Fr. Alex Zenthoefer. Friends may visit from 9:00 a.m. until service time at the church.
In lieu of flowers, memorial contributions may be made to St. Vincent Evansville Foundation - Cardiac Services or Horizons Rehabilitation Center.
Contribute to AceNotes
To have content considered for inclusion in AceNotes, please submit a Marketing Request Form. Deadline for submission to AceNotes is 10:00 a.m. on the requested date of publication. Only articles concerning UE related/sponsored activities will be accepted. Articles submitted to AceNotes may be edited for length and clarity. Submitter contact information is at the end of each article.