| | |
| --- | --- |
| AceNotes Today | Tuesday, November 14, 2017 |
Study abroad info session and pizza party today
Interested in exploring study abroad options around the world? Join us today - Tuesday, November 14 - from 5:00-6:00 p.m. in Room 273 in the Schroeder School of Business Building for a study abroad info session and pizza party!
Jacob Gross from our exchange organization, ISEP (www.isepstudyabroad.org), will be hosting this special session about the many study abroad locations UE offers as well as how to start the application process.
Spend some time with Jacob and other study abroad staff to start planning your adventure abroad! Pizza will be provided.
RSVP for the event here: https://goo.gl/forms/iiRkoo24kgx46MWm1.
For a full International Education Week schedule, visit https://www.evansville.edu/iew/.
Submitted by Greta Becker gb91@evansville.edu
Sign up for Saturday's dodgeball tournament!
The FIJI Tau Dueteron Pledge Class is hosting a dodgeball tournament this Saturday, November 18! It will be in Carson Center and will start at 6:00 p.m. Six people can play for a team in a game and eight can register. The entrance fee is $5 per person. Come see us at our table across from Rademacher's any time from 11:00 a.m.-1:30 p.m., today through Thursday to sign up!
Submitted by Nick Lewis nick_lewis@comcast.net
Come check out UECC!
This Saturday, November 18, the Mortano Hall Council will be hosting UE Comic Con! UECC will feature multiple student-run booths supporting a variety of fandoms. There will also be food and fun activities, such as games and a costume contest. The fun will start at 1:00 p.m. in the Carson Center small gym. We look forward to seeing you there!
Submitted by Madison Smith ms738@evansville.edu
SIAM student chapter talk series - Darrin Weber
Darrin Weber, assistant professor of mathematics at University of Evansville, will deliver a talk to Society for Industrial and Applied Mathematics (SIAM) chapter today. The lecture will begin at 2:00 p.m. in Room 126, Koch Center for Engineering and Science. The title of Weber's lecture is "What is Data Science?"
Even though its roots date back decades, the field of data science is very new. This, coupled with the fact that data science involves multiple disciplines, is why defining what data science is continuing to be an open question among data scientists and academics. Regardless of how we classify it, it is proving to be an extremely useful and vital field that has far reaching applications. Businesses, governments, and even non-profits are finding themselves swamped with data, but have no idea how to begin to understand it. Data scientists are charged with sifting through it all and finding meaning that businesses or agencies can act upon.
In this talk, we'll give an overview of the field of data science and what it involves, as well as go through a few examples of data science in action.
Submitted by Pengcheng Xiao px3@evansville.edu
Fireside Chat at Honey Moon Coffee Co.!
All students are invited to join us for this week's Fireside Chat this evening at 7:30 p.m. We will meet in Grabill Lounge, the basement of Neu Chapel, and will walk over to Honey Moon Coffee Co. together for a time of conversation and reflection on how when life's journey brings us into troublesome situations. We hope to see you then!
Submitted by Keith Turner kt160@evansville.edu
Sullivan gives opera lecture
Prior to the local Met Live in HD simulcast of Thomas Adès's new opera The Exterminating Angel, UE music professor James Sullivan will give a pre-simulcast lecture on the opera. The lecture will take place on Thursday, November 16, at 5:00 p.m. in Room 142 in the Krannert Hall of Fine Arts and is open to the public. Those attending the lecture may wish to attend the opera's simulcast on Saturday, November 18, at 11:55 a.m. at the AMC 16 Movie Theater.
The opera is an adaptation of Luis Buñuel's 1962 surrealist film by the same name, in which the guests at an upper-class dinner party find themselves inexplicably unable to leave. The party quickly descends into madness and chaos, and Adès's musical adaptation viscerally amplifies both the humor and the horror of the original screenplay.
Sullivan, who specializes in the music of Thomas Adès, attended the American premiere and is giving the presentation with the support of an art, research, and teaching grant from the University of Evansville. Also with the support of the grant, he will be bringing UE music students to see the opera's local simulcast.
Submitted by James Sullivan js820@evansville.edu
Informal Spanish conversation
Spanish students of all levels are welcome to practice with Fulbright Spanish TA Ignacio Benítez. The next session will be today - November 15 - at 5:00 p.m., at Ridgway University Center's Starbucks. It's a wonderful opportunity to interact informally in Spanish with a native speaker and to meet other students of Spanish. You can stay as little or as long as you want. Please contact Ignacio at cl192@evansville.edu if you have any questions. ¡Nos vemos!
Submitted by Ignacio Benitez cl192@evansville.edu
Wintermute presenting on study abroad trip to Costa Rica
Interested in learning about what it's like to study abroad in Costa Rica? Or just what it's like to study abroad in general? Join us today for a series of student study abroad presentations highlighting different types of study abroad trips available at UE!
Tyler, and environmental science major, spent this past summer on a two-week study abroad program in Costa Rica. After taking a class on tropical ecology, he had the chance to apply what he learned in class to real life experience and field research opportunities. Stop by for his presentation to learn all about his experiences!
Student presentations will be from 3:00-4:30 in Hyde Hall 105. Tyler will be presenting at 4:00 p.m. We hope to see you there!
For a full International Education Week schedule, visit https://www.evansville.edu/iew/.
Submitted by Greta Becker gb91@evansville.edu
31st International Bazaar is set for Friday, November 17
The best part of the year - the International Bazaar - is coming! The event is set for Friday, November 17 in Ridgway University Center from 5:00-8:00 p.m. The student preview is at 4:30 p.m. Food will be served until 7:00 p.m.
Visitors to the bazaar will have the opportunity to experience the food, customs and cultures of UE's international students, a diverse group that represent 50 countries. There will be all-you-can-eat cuisine, music, games, dancing, photo opportunities, and more.
The event is open to the public. General admission is $10. UE students and children five and under will be admitted for free.
Proceeds from the event will benefit the International Rescue Committee, an international not-for-profit organization that helps people in need.
The bazaar is part of the University's celebration of International Education Week.
To learn more about the bazaar, visit www.evansville.edu/iew or contact the Office of Cultural Engagement and International Services at 812-488-2279 or ms331@evansville.edu.
Submitted by Allison Lythgoe al214@evansville.edu
Aces Pregame Party to be held on November 16
In the spirit of the Roberts Stadium Hospitality Room, the University of Evansville athletics department is proud to introduce the Aces DoubleTree Pregame Party on November 16, prior to the home contest against Southeast Missouri State.
Taking place from 4:30 p.m. through 7:00 p.m., the party will feature a pair of great speakers representing the Purple Aces. Head coach Marty Simmons kicks it off with an appearance at 5:15 p.m. At 6:15 p.m., 1999 Missouri Valley Conference Player of the Year and All-Centennial Team member Marcus Wilson will be on hand. The party will take place in the DoubleTree ballroom inside the hotel.
A full package, including entry to the party, is available for just $20 per person. The admission price covers the party, a full meal, water/soda/lemonade/tea, and parking in the DoubleTree parking garage. A cash bar will also be on hand. Your parking space at the garage is good through the completion of the game. The garage is connected to the DoubleTree, which is adjacent to the Ford Center via a walkway. When you arrive at the event, just bring your parking ticket to the party for it to be validated. You will be able to park, attend the event, and take the skywalk to the Ford Center for the game without ever going outside!
If you would like to attend, please go to www.uealumnionline.com/doubletree17 and fill out the registration form. This will help the chef to prepare enough food for those in attendance. Walk-ups are also welcome. Payment for the party will be made to DoubleTree upon your arrival on the 16th.
Is there a question or topic that you would like to have Marcus Wilson discuss at the party? We will be taking questions via social media that we will give to him. Those can be submitted at any time on Twitter (@UEAthletics) or Facebook (University of Evansville Athletic Department).
Complimentary employee Men's Basketball tickets
All UE faculty, staff and administrators may now begin requesting their two complimentary men's basketball tickets for the games on Thursday, November 16 (7:00 p.m./SEMO) and Saturday, November 18 (3:00 p.m./Binghamton). Please come to the Carson Center ticket office with your valid UE ID to claim your tickets.
Submitted by Scott Peace sp166@evansville.edu
T-shirt sale!
The Physical Therapy Assistance Program is selling T-shirts to raise money for board prep materials. Short sleeved shirts will be $12 and long sleeved shirts will be $15.
If you are interested please fill out this order form by November 17. That way we can get the shirts passed out by Reading/Study Day.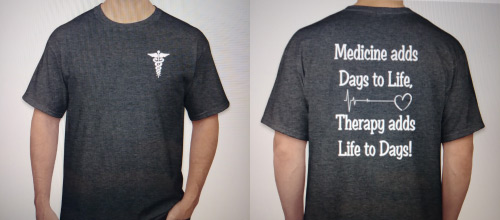 Submitted by Amber Miller am595@evansville.edu
America Recycles Day is November 15
Recycling helps keep material out of our landfills and much more. Per the EPA, here are some benefits of recycling:
•Reduces the amount of waste sent to landfills and incinerators
•Conserves natural resources such as timber, water, and minerals
•Prevents pollution by reducing the need to collect new raw materials
•Saves energy
•Reduces greenhouse gas emissions
•Helps sustain the environment for future generations
•Helps create new well-paying jobs in the recycling and manufacturing industries in the United States
Thank you for recycling.
Submitted by Amber Elkins ae152@evansville.edu
Whodunit research - participants still needed!
Students in NEUR 358 are looking for more participants in their whodunit style research. Participation will take approximately five minutes and will need to be done in person. Those currently enrolled in select psychology courses have the opportunity to receive extra credit for their participation.
Research will be conducted at the following times:
November 13 from 6:00-8:00 p.m. in Hyde 5A
November 14 from 3:00-5:00 p.m. in Hyde 5A
November 15 from 4:00-6:00 p.m. in KC 131
November16 from 4:00-6:00 p.m. in Hyde 5A
If you have any questions, please contact us at az41@evansville.edu.
Submitted by Cally Roberts cr186@evansville.edu
Want to do something about air pollution?
An environmental ethics project is hosting a letter writing campaign on the dates below. The letters will focus on the air pollution problem in the Tri-State. If you want to write a passionate letter or just stop by for a minute and sign your name on a pre-written letter, come on by
Today, Wednesday, November 15 from 6:00-7:00 p.m. in the Veterans Lounge
Sunday, November 19 from 1:00-2:00 p.m. in Room 204 in the library
Submitted by Katie Brown kb362@evansville.edu
Dalen Traore and Ryan Taylor push UE men past NC Central
Education Day saw 6,048 fans in attendance as the University of Evansville men's basketball team earned a 68-55 win over North Carolina Central inside the Ford Center on Monday morning.
"The first thing that stood out was the kids. It was fantastic. From our basketball players and staff, I want to thank everyone that was involved in making this happen," UE head coach Marty Simmons said. "North Carolina Central is a very tough matchup and our guys put a lot into preparation for this game. Overall, we are pretty proud of the effort."
Leading everyone once again was junior Ryan Taylor. An 8-of-16 game from the floor coupled with a 10-13 effort from the line saw him finish with 29 points. Blake Simmons notched three triples on his way to 11 points while Dalen Traore had his best game at UE (2-0) as he totaled 10. It eclipsed his previous career game of nine points, set last year against Morehead State. He also had a team-best seven boards.
"It was pretty good for us, we had to set the tone," Traore explained. "Having the kids there was a good thing and really helped us."
Raasean Davis was the leader for the Eagles (0-2) as he totaled 12 points and nine rebounds. Zachary Douglas checked in with 10 points and nine boards.
Evansville's defense was the story in the first half, forcing 16 Eagle turnovers. Ryan Taylor was also on fire, finishing the stanza with 15 points. The Aces scored the first five of the game, all by Taylor. North Carolina Central got on the board at the 16:59 mark on a shot by Raasean Davis, but UE kept the pressure on, going up 12-3 on a bucket by Blake Simmons.
The lead for the Aces reached double figures for the first time at 23-13 when Dru Smith knocked down a trey before reaching 17 (35-18) with 4:51 on the clock. The Eagles finished the period on an 8-1 run as UE missed its last five shots making it a 36-26 game in favor of the Aces at the break.
Out of the half, the Aces extended their advantage back up to 16 points thanks to Taylor and Simmons, who each had early three's. Another pair of Taylor free throws pushed the UE advantage up to 18 at 48-30 just over five minutes into the half.
North Carolina Central never gave up and made their way back into the game as a 14-3 run cut the deficit to just seven at 53-46 with eight minutes remaining. Taylor helped end the rally with two more from the charity stripe before a 6-0 stretch saw the lead go back up to 15 at 63-48. Dalen Traore had two buckets in the run.
From there, UE was able to hang on to take the 13-point win. Evansville shot 51.1% for the game while going 7-of-14 from outside. It was also another efficient offense contest as the Aces notched 18 assists on 23 makes. UE forced 28 NCCU turnovers, the most the squad has forced since a 2011 contest against Oakland City. The Aces also took great advantage of those turnovers, turning them into 26 points.
Ryan Taylor had his best 2-game stretch as a member of the Aces and shares that success with his teammates.
"My teammates have really helped me get better in the offseason," Taylor said. "We also do a lot together off the court which really helps us as a team."
Thursday evening will mark the third out of four home contests to begin the season as Evansville welcomes Southeast Missouri State to the Ford Center for a 7:00 p.m. game.
Prior to the contest, the Aces will hold a Pregame Party at the DoubleTree Hotel, which is connected to the Ford Center. It runs from 4:30 p.m. until game time at 7:00 p.m. Head coach Marty Simmons will speak at 5:15 p.m. while Aces legend Marcus Wilson will be on hand at 6:15 p.m.
Admission is just $20 and includes a parking space for the evening in the DoubleTree parking garage and a full meal at the event.
Hannah Noe named MVC Player/Newcomer of the Week
After setting a new career-high in scoring in the Purple Aces' season-opening victory on Sunday, graduate guard Hannah Noe has been named Missouri Valley Conference Player of the Week and Newcomer of the Week, it was announced in a release by the conference office on Monday.
In her first game for the Purple Aces, Noe put together one of the better offensive performances in Evansville history as the Aces captured an 89-81 win over Murray State on Sunday. The Dexter, Missouri, native scored 33 points, four shy of the program single-game record, knocking-down six threes and going nine-of-nine from the charity stripe. Noe got the Aces off to a fast start in the opening quarter as she scored 14 of Evansville's 31 first quarter points to put the Aces ahead 31-14 after 10 minutes of action.
The 33 points is a career-best for Noe, whose previous career high was 29 points. Noe's 33 points are the most by a Purple Ace since Sara Dickey set the program record with 37 points at Murray State on Dec. 3, 2014.
The honor is the first in Noe's collegiate career, while the award is the first for the Aces since Sara Dickey earned the honor in back-to-back weeks on February 20 and 27, 2017.

UE sets off for its first road game of the season as the Aces take on Alabama A&M on Wednesday at 6:00 p.m. in Normal, Alabama.
Lesley Pleasant presents at the German Literature Panel
Lesley Pleasant, associate professor of German, presented "Mariengabe: Reflections of a New York Times Reader" at the German Literature Panel on Friday, November 10, at the Midwest Modern Language Association's Annual Convention in Cincinnati. Her talk analyzed how the frame of The New York Times helps the protagonist of Uwe Johnson's Jahrestage (1971), a German immigrant to New York city in the 1960s, to shape the narrative of her own past for herself and her ten year old daughter.
Kiesel lectures at international conference
Kyle Kiesel, professor and chair of physical therapy, presented a series of lectures recently at the Suning Sports 2nd International Conference of Exercise Rehabilitation in Changzhou, China.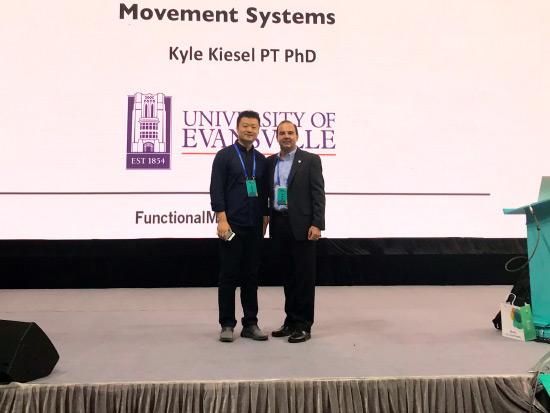 UE programming teams compete at University of Louisville
Four teams of UE computing students recently participated in the annual ACM ICPC Mid-Central Region Programming Contest on November 4 at the University of Louisville site. The contest is one of 13 qualifier contests in North America for the ACM International Collegiate Programming Contest. This year's contest featured nine problems of varying difficulty.
Evansville Purple (Evan Higgins, Asher Trockman, and AJ Dick) completed five problems to place fifth out of 17 teams at the Louisville site and 36th out 119 teams overall in the region.
Evansville Orange (Clayton Brutus, Dalton Meny, and Nhan Cao) completed four problems to place ninth at the site and 55th overall.
Evansville White (Justin Stark, Kunal Mukherjee, and Abdullah Aljandali) and Evansville Gray (Kudzi Mandingwa, Hojun Kim, and Oti Oritsejafor) also participated.
The overall contest was won by a team from University of Illinois who was the fastest to complete eight problems, while the Louisville site was won by a team from University of Louisville who completed six problems.
Family of Kate Slater, UE Alumna, Biology Major
Our hearts are broken after learning about 2017 UE graduate, Kate Slater, who passed away on Saturday, November 11. Kate was a biology major, resident assistant, and president of the National Society of Leadership and Success. Above all, Kate was a beloved member of our campus community. Our thoughts and prayers are with her family and friends during this very difficult time. Arrangements are pending.
Contribute to AceNotes
To have content considered for inclusion in AceNotes, please submit a Marketing Request Form. Deadline for submission to AceNotes is 10:00 a.m. on the requested date of publication. Only articles concerning UE related/sponsored activities will be accepted. Articles submitted to AceNotes may be edited for length and clarity. Submitter contact information is at the end of each article.