| | |
| --- | --- |
| AceNotes Today | Monday, November 13, 2017 |
Holiday season hours
The University of Evansville will be closed during the holidays to allow our employees to enjoy this special time with their families.
The following November-December-January holiday schedule will be observed:
Thanksgiving
Wednesday, November 22 – closing at noon
Thursday, November 23 - closed
Friday, November 24 - closed
Christmas/New Year's
Closed starting Monday, December 25 – returning on Tuesday, January 2
Aces host North Carolina Central this morning
It is a quick turnaround for the Purple Aces as they face off against North Carolina Central today at the Ford Center at 11:00 a.m. It will mark the annual game where local high schools from the Evansville area join the team to cheer them on.
Today's contest against the Eagles will mark the 500th in the head coaching career of Marty Simmons. Simmons has won 266 of his first 499 games as he is in his 17th season.
Taking on a 20-win team from a year ago, the Aces led by as many as 26 points against Arkansas State before winning by a final of 77-63 on Friday. Four Aces hit double figures, a feat the team accomplished eight times last season. UE registered nine steals in the game, a number they hit in 2016-17 just five times. Evansville attempted 17 three-pointers in the contest, connecting on five; last year, UE attempted that many treys just four times, going 1-3 in those contests.
Ryan Taylor had a great season debut, pacing the team with 23 points and 7 rebounds. His rebound total was a career-best while his point total saw him reach 20 for the 7th time with the Aces. Taylor was a perfect 6-6 from the line.
Evansville has had a great history with players from Lithuania and Dainius Chatkevicius is looking to keep that going. In his first contest at Evansville, Chatkevicius posted 10 points, six rebounds and three blocks; his block total led the team. He was also on the floor for 25 minutes.
Blake Simmons has done everything needed to make his way back after missing last season due to injury. Simmons had an admirable game against the Red Wolves, playing a game-high 35 minutes while notching four assists.
Sophomore K.J. Riley made an immediate impact with UE in his first game, playing 16 minutes while getting to the line seven times, hitting six of those attempts. Riley finished with 10 points in the game; it was the top total for a UE player in their debut since Mislav Brzoja had 21 against Earlham in first game in an Aces uniform.
North Carolina Central opened up its 2017-18 season on Friday in Chicago against UIC. The Eagles dropped a 65-55 decision to the Flames as Raasean Davis led the way with 16 points and nine rebounds. Brandon Goldsmith and Reginald Gardner Jr. chipped in 13 apiece. Last year, the Eagles went 25-9 on their way to the NCAA Tournament.
Public lecture on Peters-Margedant House today
Heidi Strobel, associate professor of art history, will be giving a lecture today - Monday, November 13 - about the Peters-Margedant House at 6:00 p.m. at Willard Library. Strobel, who is curator of the Peters-Margedant House, will be giving the lecture with historical preservationist and community member Dr. Jim Renne. The lecture is free and open to the public.
Submitted by Heidi Strobel hs40@evansville.edu
Sick Around the World
Join us for a discussion about what we can learn about how other countries provide healthcare for all of their citizens as the United States continues to struggle with its healthcare system. "Sick Around the World," a documentary on healthcare in other advanced countries will be shown, followed by a panel discussion. Panelists will include Bill Stroube, professor of health services administration and director of the health services administration graduate and undergraduate programs; Tzurei Chen, assistant professor of physical therapy; Mary Bennett; Steve Bottoms, county commissioner from Gibson County; and Dick Connolly, professor emeritus of philosophy. The discussion will take place today - Monday, November 13 - at 6:30 p.m. in Room 173, Schroeder School of Business Building.
Submitted by Lisa Kretz lk102@evansville.edu
Documentary viewing: "The Death and Life of Marsha P. Johnson"
Today - Monday, November 13 - at 8:00 p.m. in Room 172 of the Schroeder School of Business Building, there will be a viewing of "The Death and Life of Marsha P. Johnson." This event is being sponsored by PRIDE to honor Transgender Day of Remembrance. Come out and bring your friends to an incredible movie about LGBTQ+ issues still existing in 2017.
Submitted by Katie Brown kb362@evansville.edu
Today - Study Abroad: A View from the Other Side
In this presentation, Norma Franklin (co-director of the Jezreel Expedition) will talk about the value of student study abroad experiences from her perspective as an Israeli archaeologist. Before co-directing the Jezreel Expedition with UE's Jennie Ebeling, Franklin supervised hundreds of American college students as a senior staff member of the Megiddo (biblical Armageddon) excavations and is thus very familiar with the challenges and rewards of the student study abroad experience. This presentation will be a great resource for students who have studied abroad or who are interested in a study abroad experience.
The presentation will be held today - Monday, November 13 - in Eykamp Hall, Room 253, Ridgway University Center from 4:00-5:00 p.m.
Submitted by Greta Becker gb91@evansville.edu
SIAM student chapter talk series - Darrin Weber
Darrin Weber, assistant professor of mathematics at University of Evansville, will deliver a talk to Society for Industrial and Applied Mathematics (SIAM) chapter today. The lecture will begin at 2:00 p.m. in Room 126, Koch Center for Engineering and Science. The title of Weber's lecture is "What is Data Science?"
Even though its roots date back decades, the field of data science is very new. This, coupled with the fact that data science involves multiple disciplines, is why defining what data science is continuing to be an open question among data scientists and academics. Regardless of how we classify it, it is proving to be an extremely useful and vital field that has far reaching applications. Businesses, governments, and even non-profits are finding themselves swamped with data, but have no idea how to begin to understand it. Data scientists are charged with sifting through it all and finding meaning that businesses or agencies can act upon.
In this talk, we'll give an overview of the field of data science and what it involves, as well as go through a few examples of data science in action.
Submitted by Pengcheng Xiao px3@evansville.edu
Fireside Chat at Honey Moon Coffee Co.!
All students are invited to join us for this week's Fireside Chat this evening at 7:30 p.m. We will meet in Grabill Lounge, the basement of Neu Chapel, and will walk over to Honey Moon Coffee Co. together for a time of conversation and reflection on how when life's journey brings us into troublesome situations. We hope to see you then!
Submitted by Keith Turner kt160@evansville.edu
This Week in Music: Air Force Strings and student ensembles
Air Force Strings Concert
Tuesday, November 14, 7:30 p.m., Neu Chapel
The United States Air Force Strings will be giving a concert at the University of Evansville as part of their Midwest Tour. The concert will take place Tuesday, November 14 at 7:30 p.m. in Neu Chapel. The program will feature Vivaldi's Concerto for Four Violins, Tchaikovsky's Serenade for Strings, and other selections by the Strolling Strings. The Vivaldi will feature UE music students Emily Magary, Sarah Lee, Matt Rienzo, and Carina Wahlstrom as soloists. The concert is free and open to the public.
The Air Force Strings is the official string ensemble of the United States Air Force and is one of six musical ensembles that comprise The U.S. Air Force Band. Featuring 20 Airmen musicians, the group performs music from a wide range of musical styles at education outreach performances, public concerts, and high-level military and government events. This ensemble frequently supports events hosted by the president, vice president, secretary of state, secretary of the Air Force and other top military and civilian leaders.
String Ensemble
Thursday, November 16, 6:00 p.m., Wheeler Concert Hall
The UE String Ensemble, under the direction of Chun-Ming Chen, will present a concert this Thursday, November 16, at 6:00 p.m. in Wheeler Concert Hall. The program will open with Beethoven's String Quartet, Op. 18, No. 4, featuring UE music students Sarah Lee, Emily Magary, Gefei Chai, and Kaitlyn Lowe, and it will conclude with Grieg's Holberg Suite. For complete program information, please visit the music department concert calendar. The concert is free and open to the public.
Woodwind Ensembles
Sunday, November 19, 1:00 p.m., Wheeler Concert Hall
Several UE woodwind ensembles will present a concert this Sunday, November 19, at 1:00 p.m. in Wheeler Concert Hall. The Clarinet Ensemble, under the direction of Thomas Josenhans, will present works by McKay, Osborn, and Yoder. The Flute Ensemble, under the direction of Leanne Hampton, will perform Ocean by Dianna Link, and the Saxophone Ensemble, under the direction of Shawn Teichmer, will close the program with a work by Gabriel Pierne. The concert is free and open to the public. For complete program information, please visit the music department concert calendar.
Mixed Choir and Women's Chorus
Sunday, November 19, 6:00pm, Neu Chapel
UE's Mixed Choir and Women's Chorus, under the direction of Dennis Malfatti, will present a concert this Sunday, November 19, at 6:00pm in Neu Chapel. The Women's Chorus will open the program with works by Schultz, Mendelssohn, and Paulus, and the Mixed Choir will follow with works by Ferguson, Clausen, and Mozart, to feature UE music students Blair Bledsoe, Mardi Sramek, Evan Barnett, and Grant Burnett as soloists. The two groups will combine and close out the program with Chilcott's Be Though My Vision. For complete program information, please visit the music department concert calendar. The concert is free and open to the public.
Brass and Percussion Ensembles
Sunday, November 19, 7:30 p.m., Wheeler Concert Hall
UE's Brass and Percussion Ensembles will present a concert this Sunday, November 19, at 7:30 p.m. in Wheeler Concert Hall. The Trumpet Ensemble, under the direction of Timothy Zifer, will present works by Price, Bach, Van Heusen, and Marlatt. The Low Brass Ensemble, under the direction of Kenneth Steinsultz, will perform works by Haydn, Ward, de Morales, Uber, and Willis. The Percussion Ensemble, under the direction of Ross Erickson, will present works by Cage and Gottry. For complete program information, please visit the music department concert calendar. The concert is free and open to the public.
Submitted by James Sullivan js820@evansville.edu
Sullivan gives opera lecture
Prior to the local Met Live in HD simulcast of Thomas Adès's new opera The Exterminating Angel, UE music professor James Sullivan will give a pre-simulcast lecture on the opera. The lecture will take place on Thursday, November 16, at 5:00 p.m. in Room 142 in the Krannert Hall of Fine Arts and is open to the public. Those attending the lecture may wish to attend the opera's simulcast on Saturday, November 18, at 11:55 a.m. at the AMC 16 Movie Theater.
The opera is an adaptation of Luis Buñuel's 1962 surrealist film by the same name, in which the guests at an upper-class dinner party find themselves inexplicably unable to leave. The party quickly descends into madness and chaos, and Adès's musical adaptation viscerally amplifies both the humor and the horror of the original screenplay.
Sullivan, who specializes in the music of Thomas Adès, attended the American premiere and is giving the presentation with the support of an art, research, and teaching grant from the University of Evansville. Also with the support of the grant, he will be bringing UE music students to see the opera's local simulcast.
Submitted by James Sullivan js820@evansville.edu
Informal Spanish conversation
Spanish students of all levels are welcome to practice with Fulbright Spanish TA Ignacio Benítez. The next session will be today - November 15 - at 5:00 p.m., at Ridgway University Center's Starbucks. It's a wonderful opportunity to interact informally in Spanish with a native speaker and to meet other students of Spanish. You can stay as little or as long as you want. Please contact Ignacio at cl192@evansville.edu if you have any questions. ¡Nos vemos!
Submitted by Ignacio Benitez cl192@evansville.edu
Alexis Whitacre presenting on study abroad trip to Morocco
Interested in learning about what it's like to study abroad in Morocco? Or just what it's like to study abroad in general? Join us today - Thursday, November 16 - for a series of student study abroad presentations highlighting different types of study abroad trips available at UE!
Alexis, an international studies major, spent a semester during her junior year in Morocco. She spent her time living with a Moroccan host family, traveling around the country, and indulging in the local food.
You can read a little more about her trip here: https://www.evansville.edu/studyabroad/storiesAbroadAlexis.cfm.
Student presentations will be from 3:00-4:30 p.m. in Hyde Hall 105. Alexis will be presenting at 3:30 p.m. We hope to see you there!
For a full International Education Week schedule, visit https://www.evansville.edu/iew/.
Submitted by Greta Becker gb91@evansville.edu
Study abroad info session and pizza party today
Interested in exploring study abroad options around the world? Join us today - Tuesday, November 14 - from 5:00-6:00 p.m. in Room 273 in the Schroeder School of Business Building for a study abroad info session and pizza party!
Jacob Gross from our exchange organization, ISEP (www.isepstudyabroad.org), will be hosting this special session about the many study abroad locations UE offers as well as how to start the application process.
Spend some time with Jacob and other study abroad staff to start planning your adventure abroad! Pizza will be provided.
RSVP for the event here: https://goo.gl/forms/iiRkoo24kgx46MWm1.
For a full International Education Week schedule, visit https://www.evansville.edu/iew/.
Submitted by Greta Becker gb91@evansville.edu
Ahrens and Rainey presenting on Jezreel Expedition
Interested in learning about what it's like to study abroad and do field work in Israel? Or just what it's like to study abroad in general? Join us today for a series of student study abroad presentations highlighting different types of study abroad trips available at UE!
Anna and Isaac both spent time this past summer participating in the Jezreel Expedition, an archaeological dig that takes place in Israel. Stop by for their presentation to learn all about their experiences and their findings.
Student presentations will be from 3:00-4:30 p.m. in Hyde Hall 105. Anna and Isaac will be presenting at 3:00 p.m. We hope to see you there!
For a full International Education Week schedule, visit https://www.evansville.edu/iew/.
Submitted by Greta Becker gb91@evansville.edu
Wintermute presenting on study abroad trip to Costa Rica
Interested in learning about what it's like to study abroad in Costa Rica? Or just what it's like to study abroad in general? Join us today for a series of student study abroad presentations highlighting different types of study abroad trips available at UE!
Tyler, and environmental science major, spent this past summer on a two-week study abroad program in Costa Rica. After taking a class on tropical ecology, he had the chance to apply what he learned in class to real life experience and field research opportunities. Stop by for his presentation to learn all about his experiences!
Student presentations will be from 3:00-4:30 in Hyde Hall 105. Tyler will be presenting at 4:00 p.m. We hope to see you there!
For a full International Education Week schedule, visit https://www.evansville.edu/iew/.
Submitted by Greta Becker gb91@evansville.edu
Aces Pregame Party to be held on November 16
In the spirit of the Roberts Stadium Hospitality Room, the University of Evansville athletics department is proud to introduce the Aces DoubleTree Pregame Party on November 16, prior to the home contest against Southeast Missouri State.
Taking place from 4:30 p.m. through 7:00 p.m., the party will feature a pair of great speakers representing the Purple Aces. Head coach Marty Simmons kicks it off with an appearance at 5:15 p.m. At 6:15 p.m., 1999 Missouri Valley Conference Player of the Year and All-Centennial Team member Marcus Wilson will be on hand. The party will take place in the DoubleTree ballroom inside the hotel.
A full package, including entry to the party, is available for just $20 per person. The admission price covers the party, a full meal, water/soda/lemonade/tea, and parking in the DoubleTree parking garage. A cash bar will also be on hand. Your parking space at the garage is good through the completion of the game. The garage is connected to the DoubleTree, which is adjacent to the Ford Center via a walkway. When you arrive at the event, just bring your parking ticket to the party for it to be validated. You will be able to park, attend the event, and take the skywalk to the Ford Center for the game without ever going outside!
If you would like to attend, please go to www.uealumnionline.com/doubletree17 and fill out the registration form. This will help the chef to prepare enough food for those in attendance. Walk-ups are also welcome. Payment for the party will be made to DoubleTree upon your arrival on the 16th.
Is there a question or topic that you would like to have Marcus Wilson discuss at the party? We will be taking questions via social media that we will give to him. Those can be submitted at any time on Twitter (@UEAthletics) or Facebook (University of Evansville Athletic Department).
Rotary Santa Run will support the Changemaker Challenge
The Rotary Santa Run will be held on Saturday, December 2nd at 9am at the Buffalo Trace Center. It is a perfect way to begin your run into the holiday season.
This 5K Run/Walk and/or and 1 Mile stroll is an event that is fun for the participants and spectators alike. Each participant receives a 5-piece Santa outfit, including a beard. They are asked to wear the Santa suit in the event. Prizes will be given for the most decorative. What a sight!
Proceeds from the 2017 Santa Run will benefit the University of Evansville's Changemaker Challenge program for 2018. This program follows the mission statement of Rotary's by empowering the leaders of tomorrow to make a better community for all. Local students compete with innovative ideas to make our community a better destination.
We hope to see you there.
You will make a difference while having a "jolly time!"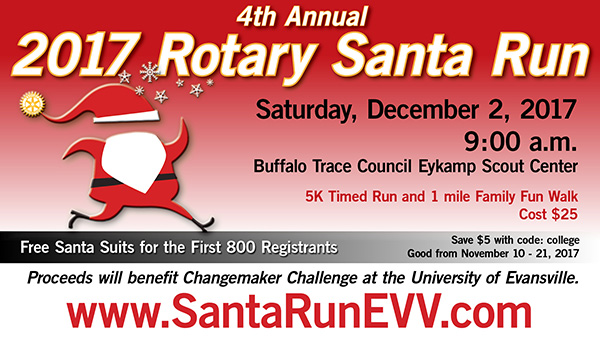 Submitted by Cathy Renner cr107@evansville.edu
UE Theatre presents The Tempest
The University of Evansville Department of Theatre proudly presents William Shakespeare's The Tempest, in UE's Shanklin Theatre. Performances are November 18 at 7:30 p.m. and November 19 at 2:00 p.m.
A fantastical island filled with magic and mystery sets the stage for this enchanting tale of romance, betrayal, and the power of forgiveness. After a vengeful sorceress conjures a maritime storm in order to shipwreck her malevolent sister, both familial and royal drama ensues. Thought by many to be Shakespeare's final solo play, this rom-com-meets-action-adventure-fantasy is a thrilling story for all ages.
The Tempest is directed by associate professor Christia Ward. Elizabeth Tredinnick, a senior from Chicago, Illinois, is the co-scenic designer along with associate professor Eric Renschler '83; visiting assistant professor Sarah J. Smith is the costume designer; associate professor Stephen Boulmetis is the lighting designer; Melia Schnefke, a senior from St. Louis, Missouri, is the sound designer; Professor Chuck Meacham is the technical director; Professor Diane Brewer is the dramaturg; and Emma Blevins, a senior from San Antonio, Texas, is the stage manager.
The cast features Meredith Ham, a junior from Castle Rock, Colorado, as Prospera, and Aaron Gonner, a senior from Dubuque, Iowa, as Ariel. The 20-person cast also features Amanda Suggs, a junior from Cedar Park, Texas, as Miranda; Jack Russell, a freshman from Montgomery, Texas, as Ferdinand; and Joseph W. Schwalb, a senior from Thiensville, Wisconsin, as Caliban.
Ticket prices are $18 for adults and $16 for senior adults, students, and UE faculty and staff. UE students may obtain one free student rush ticket beginning at noon on the day of the performance they wish to attend.
Following The Tempest, the rest of the Shanklin Theatre season includes Sense and Sensibility by Kate Hamill, February 16-25; and The Grapes of Wrath by Frank Galati, April 13-22.
Tickets may be purchased by calling 812-488–2031, Monday through Friday, noon- 5:00 p.m.
UE's 31st Annual International Bazaar
The University of Evansville's 31st annual International Bazaar is planned today - Friday, November 17 - from 5:00-7:00 p.m., in Ridgway University Center on UE's campus. Visitors to the bazaar will "travel the world" by experiencing the food, customs and cultures of UE's international students, a diverse group that represents 61 countries.
The event is open to the public. General admission is $10, or $7 in advance. UE students and children five and under will be admitted for free. Pre-sale discounts are available through Thursday, November 16. Purchase your $7 pre-sale ticket at the Office of Cultural Engagement and International Services during regular business hours or at tickets.evansville.edu.
Proceeds from the event will benefit the International Rescue Committee. This organization responds to the world's worst humanitarian crises, helping to restore health, safety, education, economic well-being, and power to people devastated by conflict and disaster.
The bazaar is part of the University's celebration of International Education Week.
To learn more about the bazaar, visit the UE International Education Week web page or contact the Office of Cultural Engagement and International Services at 812-488-2279.
UE to Show Documentary "8 Borders, 8 Days"
The documentary 8 Borders, 8 Days will be shown Tuesday, November 14, at 6:00 p.m. in Room 170 of the Schroeder School of Business Building. The screening will be followed by an interactive discussion with the movie's director Amanda Bailly, UE philosophy professor Derek Jones, and a panel of Syrian and American students. The event is free and open to the public.
The film follows a Syrian family who were not accepted for resettlement to the US and instead traveled with smugglers in a raft to Europe.
"The majority of people in the United States who want to close our doors to refugees have never actually heard the voices of the people affected," said Bailly. "This film tells the story of three of them, and they're three of the strongest, most resilient human beings I've ever met."
8 Borders, 8 Days premiered to sold-out screenings at the Florida Film Festival and Seattle International Film Festival, where it was awarded a $50,000 impact filmmaking grant. It has been called "raw, emotional," and "unblinking."
Donations will be accepted at the event for the Karam Foundation, a non-profit organization on a mission to build a better future for Syria. The foundation develops innovative education programs for Syrian refugee youth, distributes smart aid to Syrian families, and funds sustainable development projects initiated by Syrians for Syrians.
The screening and panel discussion is being co-sponsored by Scholars for Syria and Books Not Bombs, a student-led campaign aimed at creating scholarships for displaced Syrian students. Through donations at the event and online, Scholars for Syria and Books Not Bombs hope to add to the Karam Foundation fund that is empowering Syrian refugees to succeed in school and beyond.
For more information on the event at UE, call 732-239-4139, e-mail gv15@evansville.edu or go to www.facebook.com/events/1987428101542302/?active_tab=about.
If you cannot attend but wish to make a donation, you can do so at give.karamfoundation.org/team/142156.
Campus holiday decor
The campus grounds workers will begin installation of outdoor Christmas decorations on November 13 in preparation for the campus lighting ceremony on December 1. All campus Christmas trees will be delivered the mornings of November 21 and 22. If you have questions, contact Bob Dale at ext. 2046 or bd22@evansville.edu.
Aces Cross Country competes at NCAA Regional
On a chilly morning, the University of Evansville cross country teams ran in the NCAA Division One Great Lakes Regional on Friday morning at the LaVern Gibson Championship Cross Country Course in Terre Haute.
The Aces men's team finished 26th as a squad while UE's women grabbed a 31st-place finish as a team.

For the women, junior Sienna Crews led the Aces for the fifth-straight race, finishing in 166th among the 223 runner field, in a time of 23:39. Among fellow Missouri Valley Conference runners in the race, Crews beat all but one Valparaiso runner
Competing in her first NCAA Regional and her first collegiate 6k, freshman Anna Lowry came home in 208th, finishing the course in 25:17. Following Lowry in a pack together were junior Ashton Bosler in 210th (25:27), sophomore Hannah Welsh one spot behind Bosler in 211th (25:37), and freshman Izzy Dawson in 214th (25:40).
Rounding out the Aces runners at the regional were freshman Lauren Meyer in 217th (26:064 and junior Hayley Elliot in 223rd (27:51).
Eighth-ranked Michigan captured the NCAA Great Lakes Regional women's title with 71 total points and a top five average time of 20:53.

On the men's side, sophomore Stanley Chepchieng set a new PR finishing in 168th in a time of 35:20.3. The Kabarnet, Kenya, native's previous PR in a 10k was 35.52 set in the NCAA Great Lakes Regional a year ago.

Crossing the line second for the Aces was freshman Dawson Hood in 173rd in a time of 35:37. Following Chepchieng and Hood were sophomore Ricky Hendrix in 175th (35:46), freshman Kalen Ochs in 178th (36:22), and freshman Ethan Price in 179th (36:40).
Sophomore Tucker Dawson and freshman Tyler Frields-Reifsteck wrapped up the Aces finishers, crossing the line in 181st and 186th place, respectively.
Michigan State won the NCAA Great Lakes Regional men's title with 68 total points and its top five runners finishing in an average time of 31:17.
Aleks Novakovich signs with UE men's basketball
University of Evansville head men's basketball coach Marty Simmons has announced that Aleks Novakovich has signed a National Letter of Intent to join the Purple Aces next season.
Novakovich is a native of Hobart, Indiana, where he graduated from Hobart High School in 2017. The forward checks in at 6-foot, 10-inches.
"Aleks is a great kid who will really fit in well with our program and system," Simmons said. "He is a skilled player for his size that can pass, dribble, and shoot. Aleks is one of those guys who continues to get better all the time."
In his last season at Hobart, Novakovich averaged 11.1 points and 7.7 rebounds per game. He is playing at Crown Point's Don Bosco Prep this season.
Rachel Tam paces UE volleyball on Senior Night
Sophomore Rachel Tam recorded 13 kills and Cassie Brooks had 22 digs, but Loyola was able to finish off a 3-0 victory over the University of Evansville volleyball team on Saturday night at Meeks Family Fieldhouse.
Tam's 13 kills came in 33 attempts. She also had five digs. Brooks led everyone with 22 digs while Mildrelis Rodriguez had 11 for the Purple Aces (10-18, 4-12 MVC). Allana McInnis had 25 assists. Quinn Spieker was the leader for the Ramblers (4-23, 3-13 MVC) as she tied Tam's game-high of 13 kills.
Prior to the match, the four seniors - Erlicia Griffith, Jelena Merseli, Montana Schafer, and Cathy Schreiber – were recognized for their contributions to the program throughout their careers.
The Aces got off to a nice start, taking a 3-0 lead before Loyola rallied to tie it up at 4-4 before taking their first lead at 9-7. A pair of kills by Rachel Tam helped the Aces tie it right back up at 9-9 before Rocio Fortuny posted a kill to put Evansville back up by a 14-11 score.
Two service aces courtesy of Loyola's Alex Nunez helped them retake the lead at 16-15. They added to it, going up 23-18 before winning by a 25-19 final. Tam had five kills in the set.2-0
Carrying their momentum from game one, the Ramblers scored the first four tallies of the second frame. Mildrelis Rodriguez got UE on the board with a kill, but Loyola was able to push its lead back out to 9-5. Tam came through once again as a pair of kills helped UE tie it up at 9-9 before grabbing the lead at 11-10. Loyola had the answer once again; already up 15-14, they reeled off nine in a row before grabbing a 2-0 match lead with a final of 25-17 in the second game.
Cassie Brooks notched a service ace to give the Aces an early 5-4 lead in game three, but the Ramblers made their way back into it, taking a 15-13 edge but two Rodriguez kills saw the lead go back into the Aces hands at 17-16. UE was able to push its lead to a pair at 21-19, but a late rally by the Ramblers gave them a 24-22 lead. Down to their last point, the Aces notched two in a row to tie it up, but Loyola was able to fend off the challenge and take game three, 29-27.
Regular season play comes to an end next weekend as the Purple Aces travel to Bradley and Illinois State.
T-shirt sale!
The Physical Therapy Assistance Program is selling T-shirts to raise money for board prep materials. Short sleeved shirts will be $12 and long sleeved shirts will be $15.
If you are interested please fill out this order form by November 17. That way we can get the shirts passed out by Reading/Study Day.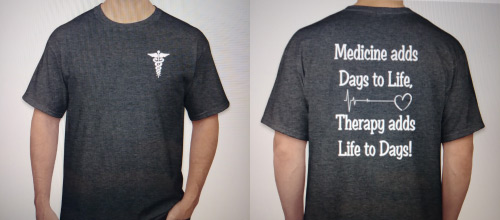 Submitted by Amber Miller am595@evansville.edu
America Recycles Day is November 15
Recycling helps keep material out of our landfills and much more. Per the EPA, here are some benefits of recycling:
•Reduces the amount of waste sent to landfills and incinerators
•Conserves natural resources such as timber, water, and minerals
•Prevents pollution by reducing the need to collect new raw materials
•Saves energy
•Reduces greenhouse gas emissions
•Helps sustain the environment for future generations
•Helps create new well-paying jobs in the recycling and manufacturing industries in the United States
Thank you for recycling.
Submitted by Amber Elkins ae152@evansville.edu
Whodunit research - participants still needed!
Students in NEUR 358 are looking for more participants in their whodunit style research. Participation will take approximately five minutes and will need to be done in person. Those currently enrolled in select psychology courses have the opportunity to receive extra credit for their participation.
Research will be conducted at the following times:
November 13 from 6:00-8:00 p.m. in Hyde 5A
November 14 from 3:00-5:00 p.m. in Hyde 5A
November 15 from 4:00-6:00 p.m. in KC 131
November16 from 4:00-6:00 p.m. in Hyde 5A
If you have any questions, please contact us at az41@evansville.edu.
Submitted by Cally Roberts cr186@evansville.edu
HANGERs donations accepted at Health Center
Tri State Community Clinics is parenting with the local organization, Hangers, to collect gifts for local school aged children. Hangers distributes school-appropriate clothing items as well as hygiene products to children in need throughout the Evansville metro area.
You are invited to share the spirit of Christmas by giving new, unwrapped items such as underwear, bras or socks as well as gently used clothing, (please no underwear, bras or socks, as these items must be new) for school aged children, which will then be distributed.
A list of specific items that are needed can be obtained from the UE Health and Wellness Center.
Help us fill the green box with new or gently used clothing and gifts all while spreading Christmas cheer! Donations will be accepted until December 8.
Submitted by Ashley Craig ac408@evansville.edu
Want to do something about air pollution?
An environmental ethics project is hosting a letter writing campaign on the dates below. The letters will focus on the air pollution problem in the Tri-State. If you want to write a passionate letter or just stop by for a minute and sign your name on a pre-written letter, come on by
Today, Wednesday, November 15 from 6:00-7:00 p.m. in the Veterans Lounge
Sunday, November 19 from 1:00-2:00 p.m. in Room 204 in the library
Submitted by Katie Brown kb362@evansville.edu
Sign up to volunteer at International Bazaar!
We are looking for volunteers to help with the 31st Annual International Bazaar! Follow the links down below if you are interested in getting some community service hours and helping out with the biggest event on campus.
If you want to sign up for the night of the bazaar's positions (greeters, ticket sales, food server, music supervisor, photo booth photographer, picture taker, kids' booth helper, volunteer headquarters supervisor, runners, clean-up) follow this link: www.signupgenius.com/go/4090a4facab2aa3fa7-night.
(Remember - if you sign up for one of the night of the bazaar's positions, you will be required to attend an information meeting on November 16 at 8:00 p.m., in Room 170, Schroeder School of Business Building.)
To help with decorations, sign up here: www.signupgenius.com/go/4090a4facab2aa3fa7-decorations.
For marketing (chalking boards and sidewalks) sign up here: www.signupgenius.com/go/4090a4facab2aa3fa7-marketing
If you have any questions, feel free to contact Emile Moura (em238@evansville.edu) or Ebonique Ellis (ee86@evansville.edu)!
Submitted by Emile Moura em238@evansville.edu
2017-18 student consumer information
The US Department of Education requires universities to disclose consumer information to prospective and enrolled students, parents, and employees. This information is available on the University of Evansville website at www.evansville.edu/financialaid/studentConsumerInfo.cfm.
Questions about this information may be directed to the Office of Financial Aid at 800-424-8634, 812-488-2364, or financialaid@evansville.edu. A paper copy of this information is available upon request.
Information included on the Consumer Information page:
Topics:
• Academic programs
• Accrediting and licensing agencies
• Alcohol and drug policy/prevention programs
• Athletics program participation rates and financial support data
• Code of conduct
• Copyright infringement policy and peer to peer file sharing information
• Cost of attendance
• Diversity – student body diversity by gender, ethnicity, and Pell grant status
• Emergency response and evacuation information
• Employment and graduate school information for recent UE graduates
• Family educational rights and privacy act (FERPA)
• Federal student financial aid penalties for drug law violations
• Financial aid credit balance refund policy
• Financial aid information
• General information
• Graduation rates by gender, race and ethnicity, and selected financial aid groups
• Graduation rates for general student body
• Graduation rates for student-athletes
• Grievance and complaint procedures
• Health insurance portability and accountability act (HIPAA)
• Missing person protocol
• Net price calculator
• Program closure policy
• Refund policy and return of Title IV funds
• Retention and graduation rates of degree-seeking, first-time, undergraduate students
• Satisfactory academic progress policy
• Security and fire safety report
• Services and facilities for students with disabilities
• Student loan forgiveness, cancellation, and discharge
• Study abroad
• Teacher preparation accountability
• Textbook information
• Transfer policies on credits that transfer to UE
• Transfer articulation agreement partner colleges
• Vaccination policies
• Verification policy
• Veteran information
• Voter registration information
Submitted by Amy Sowders as560@evansville.edu
UPS removes library drop box
The United Parcel Service (UPS) Drop Box located outside of the library mailroom entrance door to the left of the service lane has been removed without any prior notification from UPS. For UPS pre-paid return labeled shipments, please use the remaining UPS. Drop Box located outside of the UE Bookstore delivery door to the left of the service lane.
Submitted by Kim Winsett kw83@evansville.edu
Taylor scores 21 as men's basketball opens season with 77-63 win
For the fourth time in five years, the University of Evansville men's basketball team picked up a win an opening-night as the Purple Aces defeated Arkansas State by a final of 77-63 on Friday evening in the Ford Center.
Leading the way for the Aces was junior Ryan Taylor. He posted 21 points and seven rebounds to lead the squad in both stats. He was one of four double-digit scorers for the team. Newcomer K.J. Riley finished the night with 12 points. He hit a game-high eight free throws in nine attempts. Dru Smith notched 11, all in the first half, while Dainius Chatkevicius had 10 points, six caroms and three blocks.
"I am excited for our guys. We were very aggressive tonight, attacking off of the dribble drive," head coach Marty Simmons said. "Our guys were able aggressive in shooting the three. If we can play inside out, I think that will really open some things up for us."
Arkansas State was led by Ty Cockfield. He hit eight shots and five free throws to lead all players with 22 points. Connor Kern had 10.
Evansville started the night 0-for-5 from the floor with three turnovers before a basket by Ryan Taylor at the 15:42 mark ended the drought. Noah Frederking gave the Aces their first lead of the night at 6-4 and with 11:59 remaining in the first half, Solomon Hainna hit a basket to give UE the lead for good.
"A key reason to the victory tonight as that we were able to take care of the ball," UE sophomore Dru Smith said. "We had a rough stretch at the beginning of the game, but we really did well from that point on."
A 6-0 stretch pushed the lead to 14-8 as Chatkevicius had back-to-back field goals. Arkansas State cut the gap to four on a few occasions, but with the Aces hanging onto a 23-19 advantage, the squad notched eight of the next ten to take the first double figure lead of the night at 31-21. The lead stood strong at 11 (38-27) at the break.
Dru Smith connected on three out of six shots in the half to post 11 points. He was 5-5 from the foul line. Ty Cockfield paced ASU with 14 in the half.
A Duane Gibson bucket combined with a triple from Ryan Taylor gave Evansville its largest lead in the opening minute of the second half at 43-27. ASU got as close as nine but the Aces kept adding to the lead. A Taylor put back midway through the latter frame made it a 59-40 game before his two free throws added to more to the lead.
The lead for UE reached as many as 26 with 5:45 left as K.J. Riley drained a pair of free throws. Arkansas State cut into the gap in the final minutes making it a final of 77-63.
Free throws were a great strong point for the Aces, who hit 26 on the night while limiting ASU to just 10. Dainius Chatkevicius said that was a big advantage for Evansville.
We stopped them from shooting free throws," Chatkevicius said. "Our defense did pretty well with that and held them to just six, that was a big key for us."
For the game, UE finished the night shooting 45.1% while limiting the Red Wolves to 40.7%. The rebounding battle went ASU's way, 36-34.
Fast start propels Aces to season-opening victory
In its first game on campus since 2000, the University of Evansville women's basketball team used a quick start and held on late for an 89-81 season-opening victory over Murray State on Saturday afternoon in Meeks Family Fieldhouse.

The win is the Aces seventh season-opening win in the past 11 years and the 27th win in an opener overall for Evansville.
"Once we hit a couple of shots, this crowd helped those nerves go away," said Aces head coach Matt Ruffing. "What a big energy and help this crowd was. I told the girls before the game "give them something to cheer about and they'll take us to the next level" and I thought that's what happened. We're just really happy for our kids. We've put in a lot of work and there's a lot of unknowns with this group that we have, but I'm hoping that getting this win early and having a lot of film we can watch and get better and I'm hoping their confidence grows within each other and then within our system."

Graduate Hannah Noe led the way for the Aces with a career-high 33 points, hitting six three-pointers in the win. Junior Kerri Gasper chipped in 16 points, while fellow junior recorded a double-double of 12 points and 10 boards in her first game as an Ace. As a team, the Aces shot 48.1% (26-64) from the field and 42.9% (9-21) from deep. Evansville was 28-of-32 (87.5%) from the charity stripe, its most made free throws since hitting 33 against Indiana State on January 27, 2015.

Building off the momentum of the crowd, the Aces raced out to a 10-4 lead just three minutes into the contest on a bucket and a free throw and a three-pointer by Noe. Evansville continued to extend its lead through the opening quarter as the Aces owned a 31-14 advantage after the first 10 minutes, led by Noe's 14 points. In the first quarter, the Aces shot 12-18 (66.7%) from the field and 5-6 (83.3%) from three, while holding the Racers to a 6-of-16 (37.5%) shooting performance.

The second quarter saw the Aces maintain its double-digit advantage. The lead ballooned as high as 22 for the Aces after sophomore Kaylan Coffman hit the front end of a pair of free throw shots to push Evansville ahead 47-25 with 2:43 remaining in the half. As the half waned to a close, Murray State chipped away slightly at the Aces' lead, giving UE a 51-33 lead at the break.
In the opening minutes of the third, the Racers went to work trying to trim the Aces' lead. A three by Bria Bethea cut UE's lead to 13 at 58-45, but Evansville responded with an 8-2 run to push its edge back to 19 at 66-47 with just two minutes left in the quarter. After the Racers again got within 12, the Aces converted four straight free throws at the line in the closing seconds of the period to enter the final quarter with a 70-54 lead.
The Aces were presented one last test to open the fourth frame, as the Racers amassed a 12-2 run to cut UE's advantage to just six at 72-66 with 5:34 left to play. As was true all afternoon, Noe responded with a pair of free throws and a three to give Evansville a seven-point edge with 3:49 remaining on the clock.
The Racers, though, would once again have an answer as Ke'Shunan James laid one in off the glass to push Murray State within five at 78-73. In the late stages of the game, sophomore Macie Lively came up big as the Tipton, Ind. native stepped to the line three-straight times and knocked-down all six free throws as Evansville held on for an 89-81 victory.

UE sets off for its first road game of the season as the Aces take on Alabama A&M on Wednesday at 6:00 p.m. in Normal, Alabama.
Kiesel lectures at international conference
Kyle Kiesel, professor and chair of physical therapy, presented a series of lectures recently at the Suning Sports 2nd International Conference of Exercise Rehabilitation in Changzhou, China.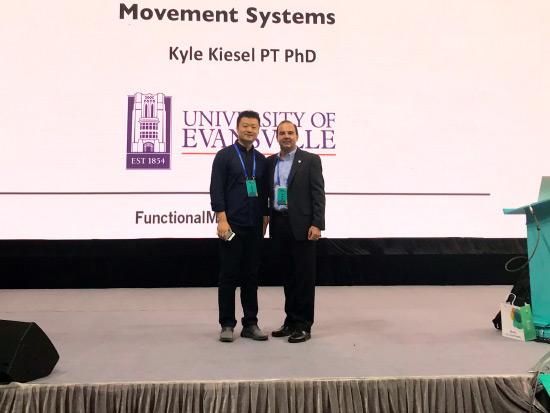 UE programming teams compete at University of Louisville
Four teams of UE computing students recently participated in the annual ACM ICPC Mid-Central Region Programming Contest on November 4 at the University of Louisville site. The contest is one of 13 qualifier contests in North America for the ACM International Collegiate Programming Contest. This year's contest featured nine problems of varying difficulty.
Evansville Purple (Evan Higgins, Asher Trockman, and AJ Dick) completed five problems to place fifth out of 17 teams at the Louisville site and 36th out 119 teams overall in the region.
Evansville Orange (Clayton Brutus, Dalton Meny, and Nhan Cao) completed four problems to place ninth at the site and 55th overall.
Evansville White (Justin Stark, Kunal Mukherjee, and Abdullah Aljandali) and Evansville Gray (Kudzi Mandingwa, Hojun Kim, and Oti Oritsejafor) also participated.
The overall contest was won by a team from University of Illinois who was the fastest to complete eight problems, while the Louisville site was won by a team from University of Louisville who completed six problems.
Lombardo-Graves publishes in issues of Educational Research
Mary Lombardo-Graves, assistant professor of education, has had an article published in Issues of Educational Research.
The article outlines the development of a scale, Initial Special Educator Efficacy Scale (SEES-I), to measure the special education teaching self-efficacy of pre-service teachers.
You may view the article in Issues in Educational Research, volume 27, number 4, publication date 22 October 2017, on the journal's website at www.iier.org.au/.
UE Theatre Announces Retirements of Professor John David Lutz and Associate Professor Christia Ward
At the end of the 2017–18 academic year, University of Evansville's longest-serving faculty member, Professor John David Lutz will retire after 53 years of teaching in the Department of Theatre, as well as Associate Professor Christia Ward, who has taught acting and voice and speech for 18 years.
Lutz graduated in 1964, from what was then Evansville College. He earned an MA from the University of Denver and returned to UE in 1965 as an instructor and technical director. He later earned an MFA from the University of New Orleans.
In addition to serving as Department Chair from 1984 to 2015, Lutz teaches courses in acting and directing and has directed over 75 productions at UE. During UE's 38 years of participating in the Kennedy Center/American College Theatre Festival, 32 productions were invited to perform at regional festivals—with an 18-year uninterrupted streak of regional appearances. Lutz directed 24 of those 32 productions and six of those advanced to the national festival. In 2007, by special invitation, the UE production of The Comedy of Errors was one of the Kennedy Center's contributions to the "Shakespeare in Washington" celebration. Lutz has also directed at regional theatres, as well as the Off-Broadway premiere of Between Daylight and Boonville, by Matt Williams, a UE alumnus.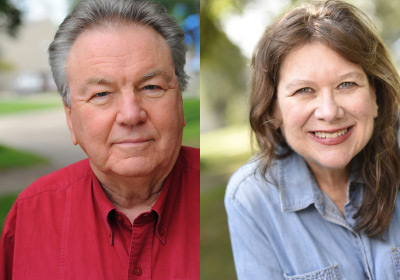 Lutz has earned accolades for his artistic and educational talents. A few of his awards include: 1982 University of Evansville Medal of Honor, 1984 KCACTF Gold Medallion, 1987 Berger Award for Outstanding Creative Artist, 1994 Evansville Mayor's Arts Award for Arts Educator of the Year, 1995 Indiana Governor's Arts Award for Arts Educator of the Year, 2005 Arts Council of Southwestern Indiana's Mayor's Arts Award, 2007 induction into the College of Fellows of the American Theatre, 2012 KCACTF Outstanding Career Achievement in Directing, 2014 University of Evansville Distinguished Alumnus of the Year, and a 2016 Honorary Doctor of Letters degree from the University of Evansville.
In April of 2018, Lutz will direct the final play of Shanklin Theatre's 50th anniversary season, The Grapes of Wrath, adapted by Frank Galati from John Steinbeck's classic novel.
Ward graduated from the University of Evansville in 1983 and received her MFA in Acting from the Meadows School of the Arts at Southern Methodist University. She is a member of Actors' Equity Association and VASTA (Voice and Speech Trainers' Association). Ward has performed professionally at the Dallas Theatre Center and Stage #1 in Dallas, and at Victory Gardens and Mary-Archie Theater in Chicago. She was an actor at the New Harmony Project for five years and originated roles in Mauritius by Theresa Rebeck, Mad City by Meredith Stiehm, and See Rock City and Gulf View Drive by Arlene Hutton.
Ward serves each UE Theatre production as Voice, Dialect and Text coach. She has done workshops with Cicely Berry, Catherine Fitzmaurice and David Smukler. She has trained extensively in Knight-Thompson speech work, which is rapidly becoming the standard in professional acting programs. At UE, she teaches voice and speech, dialects, acting Shakespeare, audition techniques, character study, and fundamentals of acting. Ward has been honored with acknowledgements of meritorious work by KCACTF for her dialect work on Jekyll and Hyde and her text work on The Comedy of Errors and The Winter's Tale.
After directing several classroom projects at UE, Ward will make her directorial debut in Shanklin Theatre with the upcoming production of William Shakespeare's The Tempest, Nov. 10 through 19.
Department Chair Eric Renschler said, "It has been my distinct pleasure to work with both John David and Christia over the past 12 years, continuing a relationship begun more than thirty years ago, as Christia was a UE classmate and John David was an early mentor of mine. The University of Evansville Theatre is grateful for the service and dedication of both of these highly talented artists and educators, and we wish them much happiness and success in future endeavors."
Contribute to AceNotes
To have content considered for inclusion in AceNotes, please submit a Marketing Request Form. Deadline for submission to AceNotes is 10:00 a.m. on the requested date of publication. Only articles concerning UE related/sponsored activities will be accepted. Articles submitted to AceNotes may be edited for length and clarity. Submitter contact information is at the end of each article.