| | |
| --- | --- |
| AceNotes Today | Friday, November 10, 2017 |
Men's Basketball opener and students!
Men's basketball will host their home opener tonight at the Ford Center vs Arkansas State at 7:00 p.m. Students get free admission with their UE ID. Be sure to download student fan rewards by Lieberman technologies on your mobile device to check in and win prizes!
Submitted by Jake K Hill jh690@evansville.edu
Senior weekend to complete home volleyball slate
The final home weekend is here as the Purple Aces welcome Valparaiso and Loyola to Meeks Family Fieldhouse today and Saturday for a pair of 7:00 p.m. matches. Saturday's match will be Senior Day as the Aces will recognize four players prior to the match - Erlicia Griffith, Jelena Merseli, Montana Schafer and Cathy Schreiber.
Evansville dropped a pair of matches last weekend against Drake and UNI, falling by 3-0 finals to both. UE played extremely well against the Bulldogs, falling by finals of 25-22, 30-28 and 25-20.
Rocio Fortuny had her best weekend of play since missing three weeks of action from late September through mid-October. The junior posted 12 kills in three-set matches against UNI and Drake over the weekend. It was her best 2-match showing since last season when she notched 17 kills at Drake and 19 against Bradley.
Despite falling to Drake in three sets on Saturday, the Purple Aces managed to accumulate a total of 48 kills. That is the most for Evansville in a 3-set match since notching 50 in three frames against Murray State on Sept. 10, 2013.
Junior Mildrelis Rodriguez is tied for second on UE's squad in kills and is also second in digs. She had 12 and 11 digs, respectively, over the weekend at UNI and Drake. That translated to an average of 3.83 per set. Rodriguez had a great weekend for the Aces as they fought Missouri State to the finish before earning a 3-0 win over Southern Illinois two weeks ago. The Juana Diaz, Puerto Rico native averaged 4.00 kills per set while notching 2.33 digs per frame. In the win over the Salukis she led all players with 14 kills as she also hit a solid .216. She was second on the team with eight digs.
Valparaiso starts the weekend with a 15-13 overall mark and are 6-8 in the conference. The Crusaders are one of the top defensive teams in the nation and lead the NCAA with 20.26 digs per set. They are the only team in the country averaging over 20 digs per set. Their offense is paced by Taylor Graboski, who sits with 3.02 kills per game. Valparaiso swept the Aces by a 3-0 final in their first meeting of the season
Loyola starts play with a 3-22 record while standing at 2-12 in Valley matches. The Ramblers have been playing better as of late and are winners of two of their last three matches. They also battled the Aces to the finish in the October meeting in Chicago, falling in five sets. Gabi Maciagowski leads the way with 2.80 kills per set.
Men's basketball opens season today
The 2017-18 season begins today as the University of Evansville Men's Basketball team welcomes Arkansas State to the Ford Center for a 7:00 p.m. game.
Fans are encouraged to arrive early as FanFest will take place just outside the arena on Freedom Plaza from 4:30-6:30 p.m. Former basketball star Reed Jackson will be on hand to speak to the crowd. Live music, a photo booth and bounce house are just some of the activities that will be on hand. Admission is free. Food vendors will also be on site.
After going 16-17 last season, the Purple Aces welcome back two starters and five letterwinners heading into 2017-18. Ryan Taylor is the leading returning scorer while Duane Gibson and Blake Simmons return as fifth-year seniors.
Taylor, a 2-time MVC Newcomer of the Week in 2016-17 is the top returning scorer. Taylor was seventh in the MVC last season with 14.1 points per game. Against Norfolk State last season, he set his career mark with 38 points. Taylor was a Preseason All-Conference Second Team player.
Dru Smith earned a nod on the All-Freshman Team in 2017. Smith played in 28 games and made eight starts for UE. He had a stellar effort at Wichita State, posting 19 points while draining five 3-pointers.
After missing last season due to a knee injury, Blake Simmons makes his return to the squad. A redshirt senior, Simmons has started all 103 games that he has participated in at the collegiate level. For his career, Simmons has averaged 7.4 points per contest.
Fellow redshirt senior Duane Gibson brings a wealth of experience. As a junior in 2016-17, Gibson notched 7.1 PPG while dishing out a team-high 114 assists. His 3.8 assists per game was 5th in the MVC and he is the top returner in the league in that statistic.
Senior Dalen Traore will get extended time at the center position. Playing in 21 games in his first season with the Aces, Traore notched 2.3 points and 2.7 rebounds per contest. Traore missed the majority of February due to injury. In his first season with the Aces, Solomon Hainna played in 28 games while making four starts. He averaged 1.9 points per game.
UE's six newcomers include: freshmen Noah Frederking, Evan Kuhlman and John Hall along with sophomore K.J. Riley and juniors Dainius Chatkevicius and Marty Hill.
This season will mark the 99th year of college basketball at the University of Evansville. The Aces are 65-33 in their first 98 season openers and have won three of their last four. Last season's opener saw Evansville fall at Louisville by a final of 78-47.
Arkansas State is coming off of a 20-12 campaign last season and went 11-7 in Sun Belt Conference play. The Red Wolves were an impressive 12-1 at home while also winning seven road contests. Their top returning scorer is Devin Simms, who scored 13.4 points per game as a junior in 2016-17. Rashad Lindsey also notched double figures last year, finishing with 10.3 PPG.
UE Theatre presents The Tempest
The University of Evansville Department of Theatre proudly presents William Shakespeare's The Tempest, in UE's Shanklin Theatre. Performances are November 18 at 7:30 p.m. and November 19 at 2:00 p.m.
A fantastical island filled with magic and mystery sets the stage for this enchanting tale of romance, betrayal, and the power of forgiveness. After a vengeful sorceress conjures a maritime storm in order to shipwreck her malevolent sister, both familial and royal drama ensues. Thought by many to be Shakespeare's final solo play, this rom-com-meets-action-adventure-fantasy is a thrilling story for all ages.
The Tempest is directed by associate professor Christia Ward. Elizabeth Tredinnick, a senior from Chicago, Illinois, is the co-scenic designer along with associate professor Eric Renschler '83; visiting assistant professor Sarah J. Smith is the costume designer; associate professor Stephen Boulmetis is the lighting designer; Melia Schnefke, a senior from St. Louis, Missouri, is the sound designer; Professor Chuck Meacham is the technical director; Professor Diane Brewer is the dramaturg; and Emma Blevins, a senior from San Antonio, Texas, is the stage manager.
The cast features Meredith Ham, a junior from Castle Rock, Colorado, as Prospera, and Aaron Gonner, a senior from Dubuque, Iowa, as Ariel. The 20-person cast also features Amanda Suggs, a junior from Cedar Park, Texas, as Miranda; Jack Russell, a freshman from Montgomery, Texas, as Ferdinand; and Joseph W. Schwalb, a senior from Thiensville, Wisconsin, as Caliban.
Ticket prices are $18 for adults and $16 for senior adults, students, and UE faculty and staff. UE students may obtain one free student rush ticket beginning at noon on the day of the performance they wish to attend.
Following The Tempest, the rest of the Shanklin Theatre season includes Sense and Sensibility by Kate Hamill, February 16-25; and The Grapes of Wrath by Frank Galati, April 13-22.
Tickets may be purchased by calling 812-488–2031, Monday through Friday, noon- 5:00 p.m.
Phi Mu invites you to Rock 4 Riley tonight
The women of Phi Mu are proud to invite you to Rock 4 Riley, a lip-syncing and dancing competition, this evening - Friday, November 10 - at 7:00 p.m. in Eykamp Hall, Ridgway University Center. Tickets will be on sale at our ticket table in Ridgway University Center from November 6-10 for $5. Tickets will be $7 at the door. Come watch fun, superhero inspired dances and support our philanthropy, Children's Miracle Network Hospitals!
Submitted by Katherine Marcussen km348@evansville.edu
Veterans Day Service TODAY at 11:00 with luncheon reception to follow
The campus community, alumni, and friends are invited to celebrate Veterans Day on campus for our annual Veterans Day service. The event is planned for today - Friday, November 10 – from 11:00 a.m.-noon, in Wheeler Concert Hall, Krannert Hall of Fine Arts.
Guest speaker will be UE alumnus Maj Gen (Ret.) Mark Pillar. Special music will be presented by piper Mark Valenzuela, associate professor of engineering, and vocalist, Eric McCluskey, assistant professor of music.
A light luncheon reception will follow.
Public lecture on Peters-Margedant House today
Heidi Strobel, associate professor of art history, will be giving a lecture today - Monday, November 13 - about the Peters-Margedant House at 6:00 p.m. at Willard Library. Strobel, who is curator of the Peters-Margedant House, will be giving the lecture with historical preservationist and community member Dr. Jim Renne. The lecture is free and open to the public.
Submitted by Heidi Strobel hs40@evansville.edu
University Worship: Observing Christ the King Sunday!
For the rest of the semester, the Neu Chapel Community will be observing high holy days. The campus community is invited to join us for University Worship this Sunday at 11:00 a.m. in Neu Chapel as we observe Christ the King Sunday. We will consider how Jesus is a good King and how "spoiler alerts are not always bad." Join us for this celebratory service. As always, donuts and coffee will be served before and after the service.
Submitted by Keith Turner kt160@evansville.edu
Michael Tracy and Hora Certa in concert at UE this Sunday
Saxophonist Michael Tray has developed a special affinity for the culture and people of Brazil, and especially for jazz as influenced by Brazilian music. He has traveled and performed extensively there, and his latest CD was recorded in Brazil. Michael and his jazz quintet, Hora Certa, will perform in Wheeler Concert Hall on Sunday, November 12 at 4:00 p.m., continuing the Jazz Guest Artist Concert Series, cosponsored by the Evansville Jazz Society and the University of Evansville.
Hora Certa (meaning "right time") celebrates the music of Brazilian masters and contemporary composers/artists. The ensemble specializes in performing the many varied styles and rhythms that are unique to Brazil.
The ensemble is led by saxophonist Michael Tracy, director of the Jamey Aebersold Jazz Studies Program at the University of Louisville, and features Brazilian musicians bassist Hamilton Pinheiro and percussionist Kiko Sebrian. Joining the group are pianist/keyboardist Winton Reynolds and drummer Terry O'Mahoney.
The ensemble features original material from the recently released CD Hora Certa, in addition to music by world-renowned Brazilian composers such as Antonio Carlos Jobim, Moacyr Santos, Egberto Gismonti, and more.
This will be an exciting and exceptionally interesting concert. Admission is $15 for adults, $10 for Evansville Jazz Society members and $5 for students with ID. Tickets can be obtained by contacting the UE Department of Music at 812-488-2754, or may be obtained at the door.
For more information, contact UE professor emeritus Edwin Lacy at EL2@evansville.edu or 812-488-2227
Submitted by James Sullivan js820@evansville.edu
Sick Around the World
Join us for a discussion about what we can learn about how other countries provide healthcare for all of their citizens as the United States continues to struggle with its healthcare system. "Sick Around the World," a documentary on healthcare in other advanced countries will be shown, followed by a panel discussion. Panelists will include Bill Stroube, professor of health services administration and director of the health services administration graduate and undergraduate programs; Tzurei Chen, assistant professor of physical therapy; Mary Bennett; Steve Bottoms, county commissioner from Gibson County; and Dick Connolly, professor emeritus of philosophy. The discussion will take place today - Monday, November 13 - at 6:30 p.m. in Room 173, Schroeder School of Business Building.
Submitted by Lisa Kretz lk102@evansville.edu
From New Harmony to the Holy Land Symposium
All are invited to a two-day symposium this weekend, November 11-12, highlighting the early life of New Harmony native Rosamond Dale Owen, her fascinating archaeological legacy in Israel - including presentations on excavations at Megiddo (Armageddon) and UE's Jezreel Expedition - and recent archaeological investigation into the history and prehistory of New Harmony. All events are free and open to the public except for optional tours of New Harmony on Sunday, November 12 at 1:00 p.m.
For more information and to register: www.evansville.edu/majors/archaeology/newharmony.cfm.
Submitted by Jennie Ebeling je55@evansville.edu
Documentary viewing: "The Death and Life of Marsha P. Johnson"
Today - Monday, November 13 - at 8:00 p.m. in Room 172 of the Schroeder School of Business Building, there will be a viewing of "The Death and Life of Marsha P. Johnson." This event is being sponsored by PRIDE to honor Transgender Day of Remembrance. Come out and bring your friends to an incredible movie about LGBTQ+ issues still existing in 2017.
Submitted by Katie Brown kb362@evansville.edu
Eight to be honored with jersey retirements
Following an exhaustive 11-month nomination process, six former University of Evansville men's basketball players and two legendary head coaches will be honored by having their jerseys retired, the highest honor that can be bestowed by the program. The official ceremony will take place in conjunction with the Purple Aces game against Drake on January 27.
Those being honored include: #20 Hugh Ahlering, #15 Brad Leaf, #50 Marty Simmons, #20 Scott Shreffler, #31 Andy Elkins, and #5 Marcus Wilson. Coaches Arad McCutchan and Jim Crews will also have their likeness in the Ford Center rafters.
Below is a capsule on each of the deserving recipients:
#20 Hugh Ahlering - Hugh Ahlering played at UE from 1957-59. A 1973 UE Hall of Fame inductee, Ahlering was a 1959 First Team AP All-American. Ahlering was a pivotal member of UE's first national championship team, averaging 15.3 points per game.
#15 Brad Leaf - Brad Leaf lettered at UE from 1979 through 1982 and played an instrumental role in 1981-82, scoring 17.6 points per game in leading UE to its first Division I tournament. Leaf is 8th in UE history with 1,605 points and was a 3-time All-MCC First Teamer.
#50 – Marty Simmons - In just two years, Marty Simmons put his imprint on the Aces program.
Scoring 1,265 points, Simmons finished the 1987-88 season 6th in the nation with 25.9 PPG while finishing 9th in AP Player of the Year voting. Simmons led UE to a 21-8 mark as a senior including an NIT win over Utah, the Aces first Division I postseason win.
#20 – Scott Shreffler - Scott Shreffler was the glue on a team that advanced to three NCAA Tournaments in his four years as a starter. Shreffler remains second in UE history with 521 assists and is 13th on the scoring list with 1,454 in his career. He is the only player in the Aces' Division I history to make three NCAA Tournaments.
#31 – Andy Elkins - The #6 scoring in Purple Aces history (1,761 points), Andy Elkins led UE to two NCAA Tournaments and one NIT in four seasons. Elkins, a native of Evansville, was a 1st Team MCC player in 1994 before earning the accolade from the Missouri Valley Conference in 1995.
#5 – Marcus Wilson - Marcus Wilson was the 1999 Missouri Valley Conference Player of the Year and led UE to the regular season league championship that year and an NCAA Tournament berth. A member of the MVC All-Centennial Team that was announced in 2007, Wilson ranks 4th on the UE list with 2,053 career points.
Arad McCutchan served as the UE head coach from 1946 until 1977 and led the Purple Aces to five National Championships. He was enshrined into the Indiana Basketball Hall of Fame in 1973 before earning the nod from the Naismith Memorial Basketball Hall of Fame in 1981. McCutchan was a 2-time NCAA College Division Coach of the Year.
Jim Crews coached the Purple Aces for 17 seasons (1985-2002) and won a total of 294 games. He led Evansville to four NCAA Tournament appearances and a pair of NIT berths. Crews was a 4-time conference Coach of the Year, winning it three times in the MCC and once in the Missouri Valley Conference - that coming in 1999. UE was .500 or better in 13 of his 17 seasons at the helm.
At the University of Evansville, the program retires the jersey, not the actual number. Numbers of previous retirees continue to be worn to this day. The eight honorees join six others in the rafters. Prior jersey retirees include: #19 Gus Doerner, #40 Ed Smallwood, #52 Jerry Sloan, #50 Larry Humes, #10 Don Buse, and #3 Scott Haffner. A committee considered hundreds of former men's basketball players throughout an 11-month process.
A special reception will be held around the January 27 game to celebrate the jersey retirees. Information, location and admission price will be announced at a later date.
Study abroad info session and pizza party today
Interested in exploring study abroad options around the world? Join us today - Tuesday, November 14 - from 5:00-6:00 p.m. in Room 273 in the Schroeder School of Business Building for a study abroad info session and pizza party!
Jacob Gross from our exchange organization, ISEP (www.isepstudyabroad.org), will be hosting this special session about the many study abroad locations UE offers as well as how to start the application process.
Spend some time with Jacob and other study abroad staff to start planning your adventure abroad! Pizza will be provided.
RSVP for the event here: https://goo.gl/forms/iiRkoo24kgx46MWm1.
For a full International Education Week schedule, visit https://www.evansville.edu/iew/.
Submitted by Greta Becker gb91@evansville.edu
Aces Pregame Party to be held on November 16
In the spirit of the Roberts Stadium Hospitality Room, the University of Evansville athletics department is proud to introduce the Aces DoubleTree Pregame Party on November 16, prior to the home contest against Southeast Missouri State.
Taking place from 4:30 p.m. through 7:00 p.m., the party will feature a pair of great speakers representing the Purple Aces. Head coach Marty Simmons kicks it off with an appearance at 5:15 p.m. At 6:15 p.m., 1999 Missouri Valley Conference Player of the Year and All-Centennial Team member Marcus Wilson will be on hand. The party will take place in the DoubleTree ballroom inside the hotel.
A full package, including entry to the party, is available for just $20 per person. The admission price covers the party, a full meal, water/soda/lemonade/tea, and parking in the DoubleTree parking garage. A cash bar will also be on hand. Your parking space at the garage is good through the completion of the game. The garage is connected to the DoubleTree, which is adjacent to the Ford Center via a walkway. When you arrive at the event, just bring your parking ticket to the party for it to be validated. You will be able to park, attend the event, and take the skywalk to the Ford Center for the game without ever going outside!
If you would like to attend, please go to www.uealumnionline.com/doubletree17 and fill out the registration form. This will help the chef to prepare enough food for those in attendance. Walk-ups are also welcome. Payment for the party will be made to DoubleTree upon your arrival on the 16th.
Is there a question or topic that you would like to have Marcus Wilson discuss at the party? We will be taking questions via social media that we will give to him. Those can be submitted at any time on Twitter (@UEAthletics) or Facebook (University of Evansville Athletic Department).
Rotary Santa Run will support the Changemaker Challenge
The Rotary Santa Run will be held on Saturday, December 2nd at 9am at the Buffalo Trace Center. It is a perfect way to begin your run into the holiday season.
This 5K Run/Walk and/or and 1 Mile stroll is an event that is fun for the participants and spectators alike. Each participant receives a 5-piece Santa outfit, including a beard. They are asked to wear the Santa suit in the event. Prizes will be given for the most decorative. What a sight!
Proceeds from the 2017 Santa Run will benefit the University of Evansville's Changemaker Challenge program for 2018. This program follows the mission statement of Rotary's by empowering the leaders of tomorrow to make a better community for all. Local students compete with innovative ideas to make our community a better destination.
We hope to see you there.
You will make a difference while having a "jolly time!"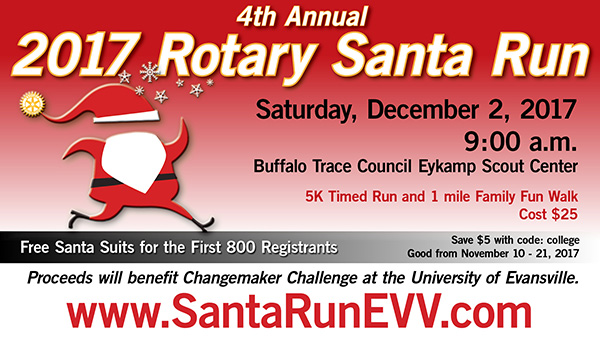 Submitted by Cathy Renner cr107@evansville.edu
Chi Omega's Dishes for Wishes
Chi Omega's annual fall philanthropy, Dishes for Wishes, is happening this Saturday, November 11 from 5:30-8:00 p.m. in Eykamp Hall, Ridgway University Center. All proceeds benefit the Make-A-Wish Foundation. Come out and eat some yummy food and support a great cause. Tickets are on sale this week at tables in Ridgway University Center and at the door the night of the event.
Submitted by Macy Dimmett md183@evansville.edu
UE's 31st Annual International Bazaar
The University of Evansville's 31st annual International Bazaar is planned today - Friday, November 17 - from 5:00-7:00 p.m., in Ridgway University Center on UE's campus. Visitors to the bazaar will "travel the world" by experiencing the food, customs and cultures of UE's international students, a diverse group that represents 61 countries.
The event is open to the public. General admission is $10, or $7 in advance. UE students and children five and under will be admitted for free. Pre-sale discounts are available through Thursday, November 16. Purchase your $7 pre-sale ticket at the Office of Cultural Engagement and International Services during regular business hours or at tickets.evansville.edu.
Proceeds from the event will benefit the International Rescue Committee. This organization responds to the world's worst humanitarian crises, helping to restore health, safety, education, economic well-being, and power to people devastated by conflict and disaster.
The bazaar is part of the University's celebration of International Education Week.
To learn more about the bazaar, visit the UE International Education Week web page or contact the Office of Cultural Engagement and International Services at 812-488-2279.
This Week in Music: Oboe Day
On November 12, from noon-6:00 p.m., the UE Music Department will be hosting an Oboe Day. The event will feature guest artist Robert Morgan, who plays English horn in the Lyric Opera of Chicago and teaches at Northwestern University. The Guest Artist Recital will begin at 12:15 p.m. in Wheeler Concert Hall. Following the performance will be sessions focusing on air support, posture, English horn, basic oboe maintenance, Baroque style, and other aspects of oboe playing. The cost for non-UE students is $30. Please feel free to contact Elizabeth Robertson if you have any questions or if you would like to register as a participant. For more information, please visit: www.evansville.edu/majors/music/oboeDay.cfm.
Submitted by James Sullivan js820@evansville.edu
Today - Study Abroad: A View from the Other Side
In this presentation, Norma Franklin (co-director of the Jezreel Expedition) will talk about the value of student study abroad experiences from her perspective as an Israeli archaeologist. Before co-directing the Jezreel Expedition with UE's Jennie Ebeling, Franklin supervised hundreds of American college students as a senior staff member of the Megiddo (biblical Armageddon) excavations and is thus very familiar with the challenges and rewards of the student study abroad experience. This presentation will be a great resource for students who have studied abroad or who are interested in a study abroad experience.
The presentation will be held today - Monday, November 13 - in Eykamp Hall, Room 253, Ridgway University Center from 4:00-5:00 p.m.
Submitted by Greta Becker gb91@evansville.edu
UE to Show Documentary "8 Borders, 8 Days"
The documentary 8 Borders, 8 Days will be shown Tuesday, November 14, at 6:00 p.m. in Room 170 of the Schroeder School of Business Building. The screening will be followed by an interactive discussion with the movie's director Amanda Bailly, UE philosophy professor Derek Jones, and a panel of Syrian and American students. The event is free and open to the public.
The film follows a Syrian family who were not accepted for resettlement to the US and instead traveled with smugglers in a raft to Europe.
"The majority of people in the United States who want to close our doors to refugees have never actually heard the voices of the people affected," said Bailly. "This film tells the story of three of them, and they're three of the strongest, most resilient human beings I've ever met."
8 Borders, 8 Days premiered to sold-out screenings at the Florida Film Festival and Seattle International Film Festival, where it was awarded a $50,000 impact filmmaking grant. It has been called "raw, emotional," and "unblinking."
Donations will be accepted at the event for the Karam Foundation, a non-profit organization on a mission to build a better future for Syria. The foundation develops innovative education programs for Syrian refugee youth, distributes smart aid to Syrian families, and funds sustainable development projects initiated by Syrians for Syrians.
The screening and panel discussion is being co-sponsored by Scholars for Syria and Books Not Bombs, a student-led campaign aimed at creating scholarships for displaced Syrian students. Through donations at the event and online, Scholars for Syria and Books Not Bombs hope to add to the Karam Foundation fund that is empowering Syrian refugees to succeed in school and beyond.
For more information on the event at UE, call 732-239-4139, e-mail gv15@evansville.edu or go to www.facebook.com/events/1987428101542302/?active_tab=about.
If you cannot attend but wish to make a donation, you can do so at give.karamfoundation.org/team/142156.
High School Changemaker Challenge winners announced
The winners for the third-annual High School Changemaker Challenge were announced at an awards ceremony Wednesday afternoon.
Thirteen teams began the competition and only six went on to the championship round. After a long deliberation, the following teams were announced the winners:
4th Place, $1,000: Mater Dei High School Evansville
3rd Place, $2,500: Benjamin Bosse High School
2nd Place, $5,000: Evansville Central High School
In a last-minute turn of events, two teams tied for first place. Members of the Boonville High School and Castle High School teams won a full-tuition scholarship to the University of Evansville. Scholarships are awarded to each individual team member and are renewable annually.
UE's High School Changemaker Challenge is designed to motivate young people to take a leading role in identifying and solving challenges in the world around them through innovation and creativity. High school students are invited to pitch their ideas to a panel of community leaders and compete for scholarships to UE where they can come to get the support needed to make their ideas become a reality.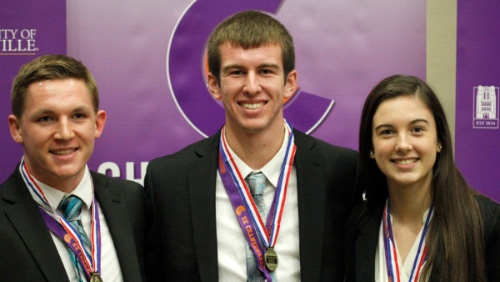 Boonville Students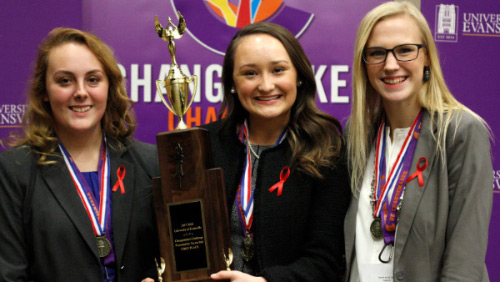 Castle Students
Whodunit research - participants still needed!
Students in NEUR 358 are looking for more participants in their whodunit style research. Participation will take approximately five minutes and will need to be done in person. Those currently enrolled in select psychology courses have the opportunity to receive extra credit for their participation.
Research will be conducted at the following times:
November 13 from 6:00-8:00 p.m. in Hyde 5A
November 14 from 3:00-5:00 p.m. in Hyde 5A
November 15 from 4:00-6:00 p.m. in KC 131
November16 from 4:00-6:00 p.m. in Hyde 5A
If you have any questions, please contact us at az41@evansville.edu.
Submitted by Cally Roberts cr186@evansville.edu
Summer online options
Mark your calendars for March 26 when summer registration opens. Take advantage of the summer online courses to get ahead. Take UE with you!
Submitted by Lindsay Roberts lr155@evansville.edu
Do you know what to recycle at UE?
At UE, you can bring the following to recycle collection areas around campus:
• Aluminum: empty cans
• Paper products including: empty cereal boxes, office paper, magazines, newspaper
• Plastic: empty containers with the number 1-7 in the recycling logo
• Books: call for pick up
• Cardboard
Look for the nearest recycle pick up location, and help keep recyclables out of the landfill! For more information, check out the UE Recycling Guide at acelink.evansville.edu/Areas/Recycling/.
For pickup of full bins call housekeeping at ext. 2045 or e-mail housekeeping@evansville.edu.
Submitted by Amber Elkins ae152@evansville.edu
Sign up to volunteer at International Bazaar!
We are looking for volunteers to help with the 31st Annual International Bazaar! Follow the links down below if you are interested in getting some community service hours and helping out with the biggest event on campus.
If you want to sign up for the night of the bazaar's positions (greeters, ticket sales, food server, music supervisor, photo booth photographer, picture taker, kids' booth helper, volunteer headquarters supervisor, runners, clean-up) follow this link: www.signupgenius.com/go/4090a4facab2aa3fa7-night.
(Remember - if you sign up for one of the night of the bazaar's positions, you will be required to attend an information meeting on November 16 at 8:00 p.m., in Room 170, Schroeder School of Business Building.)
To help with decorations, sign up here: www.signupgenius.com/go/4090a4facab2aa3fa7-decorations.
For marketing (chalking boards and sidewalks) sign up here: www.signupgenius.com/go/4090a4facab2aa3fa7-marketing
If you have any questions, feel free to contact Emile Moura (em238@evansville.edu) or Ebonique Ellis (ee86@evansville.edu)!
Submitted by Emile Moura em238@evansville.edu
MS in Athletic Training Program to add clinical rotation with Northwestern and Western Kentucky Universities' football teams
Students in the University of Evansville's Master of Science in Athletic Training Program will soon have clinical rotations with the Division I football teams at Northwestern and Western Kentucky Universities. This full immersive clinical experience is for second-year students and will begin in the fall of 2018.
The UE program already has clinical sites at many area schools and medical facilities including ProRehab, Orthopaedic Associates, Tristate Orthopaedics, and Castle High School.
Students in the program also have opportunities to participate in research conducted in the University's Dunigan Motion Analysis Lab. They also have the opportunity to work with faculty on faculty-sponsored research or may perform their own projects. Students have presented their research findings at national meetings and in professional journals.
The University of Evansville's Master of Science Athletic Training Program is one of 50 schools in the country with the Commission on Accreditation of Athletic Training Education (CAATE) accreditation for MS programs. It is one of five schools that have both a both a master's program and a bachelor's program for athletic training.
UE Men's Soccer lands five on all-MVC teams
Five members of the University of Evansville men's soccer team were honored with all-Missouri Valley Conference honors, it was announced at the conference's tournament banquet on Thursday night in Peoria, Illinois.
Senior midfielder Ian McGrath and sophomore defender Simon Waever were named first-team all-MVC, while senior defender Chris Shuck, junior midfielder Zac Blaydes, and sophomore midfielder Jesse Stafford-Lacey all received honorable mention all-MVC honors.
"For the second year in a row we have had five members of our program recognized for their outstanding play throughout the regular season," said Aces head coach Marshall Ray. "I am very proud of Chris and Ian for everything they have given to this program. Both of them have been instrumental in our turn around. Zac, Simon, Jesse and the rest of our underclassmen are our future and will continue to push us forward in the coming years."
For the fourth-straight season, McGrath earned all-MVC honors, this year receiving his second-straight first-team all-MVC honor. The New Lenox, Illinois, native leads the way for the Aces with 12 goals and six assists on the season, recording six game-winning goals, including Wednesday night's game-winner in the 58th minute that advanced the Aces to the semifinals of the MVC Tournament. In his career, McGrath has scored 26 goals, putting him in a tie for ninth all-time at Evansville.
In his second season with Evansville, Waever earns first-team all-MVC honors after being named all-freshman and receiving honorable mention all-MVC recognition in 2016. Waever has scored a goal and record an assist this season, while anchoring an Aces backline that has amassed a 1.70 goals-against average.
An all-freshman honoree in 2015 and honorable mention all-MVC selection in 2016, Blayeds captures honorable mention honors for a second-straight season. The Midway, Kentucky native has scored twice in 2017 and added six assists in his junior campaign. Blaydes has recorded 21 assists in his Aces career, just two shy of entering the all-time top 10 at Evansville.
Stafford-Lacey picks up his first all-MVC award after scoring twice and tallying three assists in his sophomore campaign. A native of Banna, Ireland, Stafford-Lacey has amassed 10 total assists in his career, third-best on the team behind Blaydes and McGrath.
For the first time in his four-year career, Shuck earns all-MVC honors with an honorable mention nod. The Shelbyville, Kentucky, native leads the team in career minutes played with 5,330 minutes spent on the pitch and in games started with 62. This season, Shuck has recorded a career-best three assists, while taking 15 shots and putting six on-goal.
The Aces resume MVC Tournament action today at 3:00 p.m. when they take on Missouri State in the MVC Tournament semifinals at Shea Stadium in Peoria.
Kiesel lectures at international conference
Kyle Kiesel, professor and chair of physical therapy, presented a series of lectures recently at the Suning Sports 2nd International Conference of Exercise Rehabilitation in Changzhou, China.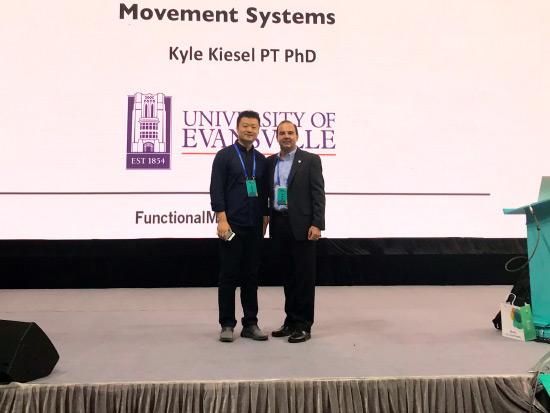 UE programming teams compete at University of Louisville
Four teams of UE computing students recently participated in the annual ACM ICPC Mid-Central Region Programming Contest on November 4 at the University of Louisville site. The contest is one of 13 qualifier contests in North America for the ACM International Collegiate Programming Contest. This year's contest featured nine problems of varying difficulty.
Evansville Purple (Evan Higgins, Asher Trockman, and AJ Dick) completed five problems to place fifth out of 17 teams at the Louisville site and 36th out 119 teams overall in the region.
Evansville Orange (Clayton Brutus, Dalton Meny, and Nhan Cao) completed four problems to place ninth at the site and 55th overall.
Evansville White (Justin Stark, Kunal Mukherjee, and Abdullah Aljandali) and Evansville Gray (Kudzi Mandingwa, Hojun Kim, and Oti Oritsejafor) also participated.
The overall contest was won by a team from University of Illinois who was the fastest to complete eight problems, while the Louisville site was won by a team from University of Louisville who completed six problems.
UE Theatre Announces Retirements of Professor John David Lutz and Associate Professor Christia Ward
At the end of the 2017–18 academic year, University of Evansville's longest-serving faculty member, Professor John David Lutz will retire after 53 years of teaching in the Department of Theatre, as well as Associate Professor Christia Ward, who has taught acting and voice and speech for 18 years.
Lutz graduated in 1964, from what was then Evansville College. He earned an MA from the University of Denver and returned to UE in 1965 as an instructor and technical director. He later earned an MFA from the University of New Orleans.
In addition to serving as Department Chair from 1984 to 2015, Lutz teaches courses in acting and directing and has directed over 75 productions at UE. During UE's 38 years of participating in the Kennedy Center/American College Theatre Festival, 32 productions were invited to perform at regional festivals—with an 18-year uninterrupted streak of regional appearances. Lutz directed 24 of those 32 productions and six of those advanced to the national festival. In 2007, by special invitation, the UE production of The Comedy of Errors was one of the Kennedy Center's contributions to the "Shakespeare in Washington" celebration. Lutz has also directed at regional theatres, as well as the Off-Broadway premiere of Between Daylight and Boonville, by Matt Williams, a UE alumnus.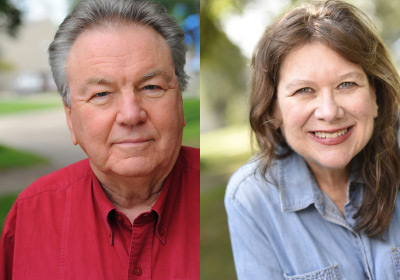 Lutz has earned accolades for his artistic and educational talents. A few of his awards include: 1982 University of Evansville Medal of Honor, 1984 KCACTF Gold Medallion, 1987 Berger Award for Outstanding Creative Artist, 1994 Evansville Mayor's Arts Award for Arts Educator of the Year, 1995 Indiana Governor's Arts Award for Arts Educator of the Year, 2005 Arts Council of Southwestern Indiana's Mayor's Arts Award, 2007 induction into the College of Fellows of the American Theatre, 2012 KCACTF Outstanding Career Achievement in Directing, 2014 University of Evansville Distinguished Alumnus of the Year, and a 2016 Honorary Doctor of Letters degree from the University of Evansville.
In April of 2018, Lutz will direct the final play of Shanklin Theatre's 50th anniversary season, The Grapes of Wrath, adapted by Frank Galati from John Steinbeck's classic novel.
Ward graduated from the University of Evansville in 1983 and received her MFA in Acting from the Meadows School of the Arts at Southern Methodist University. She is a member of Actors' Equity Association and VASTA (Voice and Speech Trainers' Association). Ward has performed professionally at the Dallas Theatre Center and Stage #1 in Dallas, and at Victory Gardens and Mary-Archie Theater in Chicago. She was an actor at the New Harmony Project for five years and originated roles in Mauritius by Theresa Rebeck, Mad City by Meredith Stiehm, and See Rock City and Gulf View Drive by Arlene Hutton.
Ward serves each UE Theatre production as Voice, Dialect and Text coach. She has done workshops with Cicely Berry, Catherine Fitzmaurice and David Smukler. She has trained extensively in Knight-Thompson speech work, which is rapidly becoming the standard in professional acting programs. At UE, she teaches voice and speech, dialects, acting Shakespeare, audition techniques, character study, and fundamentals of acting. Ward has been honored with acknowledgements of meritorious work by KCACTF for her dialect work on Jekyll and Hyde and her text work on The Comedy of Errors and The Winter's Tale.
After directing several classroom projects at UE, Ward will make her directorial debut in Shanklin Theatre with the upcoming production of William Shakespeare's The Tempest, Nov. 10 through 19.
Department Chair Eric Renschler said, "It has been my distinct pleasure to work with both John David and Christia over the past 12 years, continuing a relationship begun more than thirty years ago, as Christia was a UE classmate and John David was an early mentor of mine. The University of Evansville Theatre is grateful for the service and dedication of both of these highly talented artists and educators, and we wish them much happiness and success in future endeavors."
Contribute to AceNotes
To have content considered for inclusion in AceNotes, please submit a Marketing Request Form. Deadline for submission to AceNotes is 10:00 a.m. on the requested date of publication. Only articles concerning UE related/sponsored activities will be accepted. Articles submitted to AceNotes may be edited for length and clarity. Submitter contact information is at the end of each article.