| | |
| --- | --- |
| AceNotes Today | Thursday, November 9, 2017 |
Now You See Me: A Live Museum Experience
The University of Evansville's Black Student Union will present, "NOW YOU SEE ME: A live Museum Experience TODAY - Thursday, November 9. The event will be from 6:00-9:00 p.m. in Eykamp Hall, Rooms 251 and 252, on the second floor of Ridgway University Center.
The event will highlight historical and prominent figures from black history in one room through a live experience with each character. The second room will feature stereotypes and truth, a presentation that shares how some people judge people by how they look rather than by who they are.
The Black Student Union invites everyone to come out and be a part of this experience. The organization is striving to improve awareness about black history as well as stereotypes that many students experience every day.
The event is free and open to the campus and local community.
For more information please contact DaLisa McCallum, president, at dm254@evansville.edu or LaNeeca Williams, advisor, at lw161@evansville.edu.
Submitted by LaNeeca Williams lw161@evansville,edu
Free coffee today with career development
Come for free coffee and an informal career chat with alumni and friends of the University. Learn about their journey to their current job and the skills needed for career success. This week's focus is on careers in communication, marketing, and public relations.
The event is today from 4:00-500 p.m. in the Philips Study Alcove, across from WUEV in the Ridgway University Center.
Submitted by Alison Morris-McDonald am268@evansville.edu
Environmental Awareness Week -- November 6-10
Environmental Awareness Week is November 6-10. The Alternative Energy GAP and the Environmental Concerns Organization (ECO) will be hosting events to increase awareness about local environmental initiatives within our local community. Today at 6:00 p.m., upstairs in Ridgway University Center, James Mosley, president of EnviroKinetics, Inc., will address environmental action initiatives and what his company has been doing locally. EnviroKinetics, Inc. is a public involvement, environmental, and transportation consulting firm.
Submitted by Michael Mannchen mm650@evansville.edu
Pixley presenting exhibit in UE's Melvin Peterson Gallery
"Putting on Airs," an exhibit of prints by artist Lisa Pixley, will be displayed at the University of Evansville's Melvin Peterson Gallery from October 30-December 9.
The exhibit is free and open to the public and is part of the Efroymson Family Fund Emerging Contemporary Artist Lecture Series.
An artist printmaker located in Portland, Maine, Pixley earned her BFA with a concentration in painting from the Maine College of Art. After graduation, she began a commercial and artistic practice focusing on the craft of print. Pixley studied as an apprentice with David Wolfe of Wolfe Editions, where she worked closely with artists such as Charlie Hewitt and Allison Hildreth.
In 2009 Pixley founded Pickwick Independent Press in Portland, a for profit shared access print studio where she worked as director, master printer, and events coordinator, while also maintaining an active art practice in the medium of printmaking.
Pixley is currently developing a new venture: WIP Editions. WIP Editions will function as a storefront studio entity as well as an online presence. Under the imprint of WIP Editions, she will be developing a body of work showcasing suites of prints of her work as well as the work of invited artists.
The Melvin Peterson Gallery is located at 1935 Lincoln Avenue on the corner of Lincoln and Weinbach Avenues in Evansville.
For more information, contact 207-650-6073.
University Worship: Observing Christ the King Sunday!
For the rest of the semester, the Neu Chapel Community will be observing high holy days. The campus community is invited to join us for University Worship this Sunday at 11:00 a.m. in Neu Chapel as we observe Christ the King Sunday. We will consider how Jesus is a good King and how "spoiler alerts are not always bad." Join us for this celebratory service. As always, donuts and coffee will be served before and after the service.
Submitted by Keith Turner kt160@evansville.edu
Michael Tracy and Hora Certa in concert at UE this Sunday
Saxophonist Michael Tray has developed a special affinity for the culture and people of Brazil, and especially for jazz as influenced by Brazilian music. He has traveled and performed extensively there, and his latest CD was recorded in Brazil. Michael and his jazz quintet, Hora Certa, will perform in Wheeler Concert Hall on Sunday, November 12 at 4:00 p.m., continuing the Jazz Guest Artist Concert Series, cosponsored by the Evansville Jazz Society and the University of Evansville.
Hora Certa (meaning "right time") celebrates the music of Brazilian masters and contemporary composers/artists. The ensemble specializes in performing the many varied styles and rhythms that are unique to Brazil.
The ensemble is led by saxophonist Michael Tracy, director of the Jamey Aebersold Jazz Studies Program at the University of Louisville, and features Brazilian musicians bassist Hamilton Pinheiro and percussionist Kiko Sebrian. Joining the group are pianist/keyboardist Winton Reynolds and drummer Terry O'Mahoney.
The ensemble features original material from the recently released CD Hora Certa, in addition to music by world-renowned Brazilian composers such as Antonio Carlos Jobim, Moacyr Santos, Egberto Gismonti, and more.
This will be an exciting and exceptionally interesting concert. Admission is $15 for adults, $10 for Evansville Jazz Society members and $5 for students with ID. Tickets can be obtained by contacting the UE Department of Music at 812-488-2754, or may be obtained at the door.
For more information, contact UE professor emeritus Edwin Lacy at EL2@evansville.edu or 812-488-2227
Submitted by James Sullivan js820@evansville.edu
Sick Around the World
Join us for a discussion about what we can learn about how other countries provide healthcare for all of their citizens as the United States continues to struggle with its healthcare system. "Sick Around the World," a documentary on healthcare in other advanced countries will be shown, followed by a panel discussion. Panelists will include Bill Stroube, professor of health services administration and director of the health services administration graduate and undergraduate programs; Tzurei Chen, assistant professor of physical therapy; Mary Bennett; Steve Bottoms, county commissioner from Gibson County; and Dick Connolly, professor emeritus of philosophy. The discussion will take place today - Monday, November 13 - at 6:30 p.m. in Room 173, Schroeder School of Business Building.
Submitted by Lisa Kretz lk102@evansville.edu
From New Harmony to the Holy Land Symposium
All are invited to a two-day symposium this weekend, November 11-12, highlighting the early life of New Harmony native Rosamond Dale Owen, her fascinating archaeological legacy in Israel - including presentations on excavations at Megiddo (Armageddon) and UE's Jezreel Expedition - and recent archaeological investigation into the history and prehistory of New Harmony. All events are free and open to the public except for optional tours of New Harmony on Sunday, November 12 at 1:00 p.m.
For more information and to register: www.evansville.edu/majors/archaeology/newharmony.cfm.
Submitted by Jennie Ebeling je55@evansville.edu
Documentary viewing: "The Death and Life of Marsha P. Johnson"
Today - Monday, November 13 - at 8:00 p.m. in Room 172 of the Schroeder School of Business Building, there will be a viewing of "The Death and Life of Marsha P. Johnson." This event is being sponsored by PRIDE to honor Transgender Day of Remembrance. Come out and bring your friends to an incredible movie about LGBTQ+ issues still existing in 2017.
Submitted by Katie Brown kb362@evansville.edu
Eight to be honored with jersey retirements
Following an exhaustive 11-month nomination process, six former University of Evansville men's basketball players and two legendary head coaches will be honored by having their jerseys retired, the highest honor that can be bestowed by the program. The official ceremony will take place in conjunction with the Purple Aces game against Drake on January 27.
Those being honored include: #20 Hugh Ahlering, #15 Brad Leaf, #50 Marty Simmons, #20 Scott Shreffler, #31 Andy Elkins, and #5 Marcus Wilson. Coaches Arad McCutchan and Jim Crews will also have their likeness in the Ford Center rafters.
Below is a capsule on each of the deserving recipients:
#20 Hugh Ahlering - Hugh Ahlering played at UE from 1957-59. A 1973 UE Hall of Fame inductee, Ahlering was a 1959 First Team AP All-American. Ahlering was a pivotal member of UE's first national championship team, averaging 15.3 points per game.
#15 Brad Leaf - Brad Leaf lettered at UE from 1979 through 1982 and played an instrumental role in 1981-82, scoring 17.6 points per game in leading UE to its first Division I tournament. Leaf is 8th in UE history with 1,605 points and was a 3-time All-MCC First Teamer.
#50 – Marty Simmons - In just two years, Marty Simmons put his imprint on the Aces program.
Scoring 1,265 points, Simmons finished the 1987-88 season 6th in the nation with 25.9 PPG while finishing 9th in AP Player of the Year voting. Simmons led UE to a 21-8 mark as a senior including an NIT win over Utah, the Aces first Division I postseason win.
#20 – Scott Shreffler - Scott Shreffler was the glue on a team that advanced to three NCAA Tournaments in his four years as a starter. Shreffler remains second in UE history with 521 assists and is 13th on the scoring list with 1,454 in his career. He is the only player in the Aces' Division I history to make three NCAA Tournaments.
#31 – Andy Elkins - The #6 scoring in Purple Aces history (1,761 points), Andy Elkins led UE to two NCAA Tournaments and one NIT in four seasons. Elkins, a native of Evansville, was a 1st Team MCC player in 1994 before earning the accolade from the Missouri Valley Conference in 1995.
#5 – Marcus Wilson - Marcus Wilson was the 1999 Missouri Valley Conference Player of the Year and led UE to the regular season league championship that year and an NCAA Tournament berth. A member of the MVC All-Centennial Team that was announced in 2007, Wilson ranks 4th on the UE list with 2,053 career points.
Arad McCutchan served as the UE head coach from 1946 until 1977 and led the Purple Aces to five National Championships. He was enshrined into the Indiana Basketball Hall of Fame in 1973 before earning the nod from the Naismith Memorial Basketball Hall of Fame in 1981. McCutchan was a 2-time NCAA College Division Coach of the Year.
Jim Crews coached the Purple Aces for 17 seasons (1985-2002) and won a total of 294 games. He led Evansville to four NCAA Tournament appearances and a pair of NIT berths. Crews was a 4-time conference Coach of the Year, winning it three times in the MCC and once in the Missouri Valley Conference - that coming in 1999. UE was .500 or better in 13 of his 17 seasons at the helm.
At the University of Evansville, the program retires the jersey, not the actual number. Numbers of previous retirees continue to be worn to this day. The eight honorees join six others in the rafters. Prior jersey retirees include: #19 Gus Doerner, #40 Ed Smallwood, #52 Jerry Sloan, #50 Larry Humes, #10 Don Buse, and #3 Scott Haffner. A committee considered hundreds of former men's basketball players throughout an 11-month process.
A special reception will be held around the January 27 game to celebrate the jersey retirees. Information, location and admission price will be announced at a later date.
Study abroad info session and pizza party today
Interested in exploring study abroad options around the world? Join us today - Tuesday, November 14 - from 5:00-6:00 p.m. in Room 273 in the Schroeder School of Business Building for a study abroad info session and pizza party!
Jacob Gross from our exchange organization, ISEP (www.isepstudyabroad.org), will be hosting this special session about the many study abroad locations UE offers as well as how to start the application process.
Spend some time with Jacob and other study abroad staff to start planning your adventure abroad! Pizza will be provided.
RSVP for the event here: https://goo.gl/forms/iiRkoo24kgx46MWm1.
For a full International Education Week schedule, visit https://www.evansville.edu/iew/.
Submitted by Greta Becker gb91@evansville.edu
Rock climbing
The Venturing Crew is going rock climbing this Saturday from 8:00 p.m.-midnight at Vertical Excape. Sign-ups will be Tuesday, Wednesday, and Thursday from 11:00 a.m.-1:00 p.m. and 5:00-7:00 p.m. The cost is FREE ($10 deposit) and includes all transportation, gear, and food! This event is open to the entire campus and there are limited spots.
Questions? E-mail Sydney at sw228@evansville.edu.
Submitted by Sydney Winstead sw228@evansville.edu
Celebrate Veterans Day
The campus community, alumni, and friends are invited to celebrate Veterans Day on campus for our annual Veterans Day service. The event is planned for Friday, November 10, 11:00 a.m.-noon, in Wheeler Concert Hall, Krannert Hall of Fine Arts.
Guest speaker will be UE alumnus Maj Gen (Ret.) Mark Pillar. Special music will be presented by piper Mark Valenzuela, associate professor of engineering, and vocalist, Eric McCluskey, assistant professor of music.
A light luncheon reception will follow.
Today - Study Abroad: A View from the Other Side
In this presentation, Norma Franklin (co-director of the Jezreel Expedition) will talk about the value of student study abroad experiences from her perspective as an Israeli archaeologist. Before co-directing the Jezreel Expedition with UE's Jennie Ebeling, Franklin supervised hundreds of American college students as a senior staff member of the Megiddo (biblical Armageddon) excavations and is thus very familiar with the challenges and rewards of the student study abroad experience. This presentation will be a great resource for students who have studied abroad or who are interested in a study abroad experience.
The presentation will be held today - Monday, November 13 - in Eykamp Hall, Room 253, Ridgway University Center from 4:00-5:00 p.m.
Submitted by Greta Becker gb91@evansville.edu
High School Changemaker Challenge winners announced
The winners for the third-annual High School Changemaker Challenge were announced at an awards ceremony Wednesday afternoon.
Thirteen teams began the competition and only six went on to the championship round. After a long deliberation, the following teams were announced the winners:
4th Place, $1,000: Mater Dei High School Evansville
3rd Place, $2,500: Benjamin Bosse High School
2nd Place, $5,000: Evansville Central High School
In a last-minute turn of events, two teams tied for first place. Members of the Boonville High School and Castle High School teams won a full-tuition scholarship to the University of Evansville. Scholarships are awarded to each individual team member and are renewable annually.
UE's High School Changemaker Challenge is designed to motivate young people to take a leading role in identifying and solving challenges in the world around them through innovation and creativity. High school students are invited to pitch their ideas to a panel of community leaders and compete for scholarships to UE where they can come to get the support needed to make their ideas become a reality.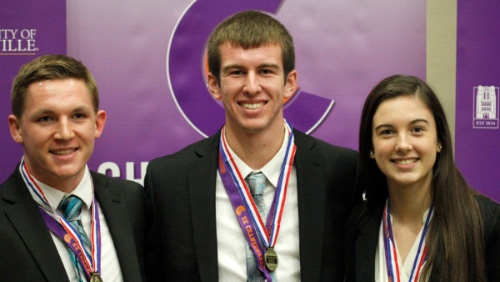 Boonville Students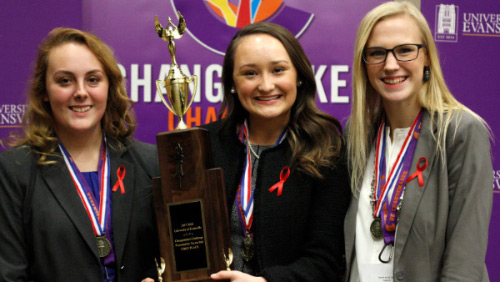 Castle Students
Collecting cards for terminally ill boy
A little nine year old boy, Jacob Thompson, in Maryland has terminal cancer. His parents don't think he will make it through the month so are celebrating the holidays early. His final wish is to have homemade Christmas cards sent to him at the hospital (he loves penguins). Catie Taylor in admissions is putting together a package to send to him. If anyone is interested in making a card for him to include in the package, please drop it off at Catie's office by this Friday, November 10, around noon. She will be mailing the package and cards that afternoon.
"Please feel free to share this information with your friends and organizations," Catie said. "I am happy to mail as many as we can get together."
For more information, contact Catie at ct37@evansville.edu
Sign up to volunteer at International Bazaar!
We are looking for volunteers to help with the 31st Annual International Bazaar! Follow the links down below if you are interested in getting some community service hours and helping out with the biggest event on campus.
If you want to sign up for the night of the bazaar's positions (greeters, ticket sales, food server, music supervisor, photo booth photographer, picture taker, kids' booth helper, volunteer headquarters supervisor, runners, clean-up) follow this link: www.signupgenius.com/go/4090a4facab2aa3fa7-night.
(Remember - if you sign up for one of the night of the bazaar's positions, you will be required to attend an information meeting on November 16 at 8:00 p.m., in Room 170, Schroeder School of Business Building.)
To help with decorations, sign up here: www.signupgenius.com/go/4090a4facab2aa3fa7-decorations.
For marketing (chalking boards and sidewalks) sign up here: www.signupgenius.com/go/4090a4facab2aa3fa7-marketing
If you have any questions, feel free to contact Emile Moura (em238@evansville.edu) or Ebonique Ellis (ee86@evansville.edu)!
Submitted by Emile Moura em238@evansville.edu
Evansville Day School offering scholarship opportunity to UE families
Evansville Day School has announced a scholarship opportunity for students whose families are employed full-time by the University of Evansville. Any student admitted to Evansville Day School will automatically receive a 50 percent (25 percent for Junior Pre-K and Pre-K) tuition reduction. Once awarded, the scholarships will be automatically renewed annually.
Evansville Day School is offering this scholarship because it understands that educators have chosen a profession with immeasurable societal impact, but with lower salary benefits than other fields requiring similar degrees and work demands. As the leading college prep school in the region, the Evansville Day School wants to partner with educators by making the school affordable to families who value the school's mission and brand of education.
More information on the scholarship is available in the Office of Human Resources at UE. Also, Evansville Day School invites those interested to Discover Why Day, an admission event scheduled for November 10 at 8:30 a.m. and 12:30 p.m. More information on Discover Why Day can be found on the Day School's event page: https://www.evansvilledayschool.org/discover-why-day.
For additional information on the scholarship, or Evansville Day School's educational experience, contact the Day School's director of enrollment management, Tiki Thompson at tthompson@evansvilledayschool.org.
Honorary Degree Committee invites your suggestions
The University of Evansville Honorary Degree Committee is now soliciting your recommendations for honorary degrees to be conferred at the May 2018 Commencement. According to the UE Faculty and Administrator Manual, the committee is charged with requesting and reviewing honorary degree nominations made on the basis of individual service to the University and individual achievement. An honorary degree may also be awarded to individuals who exemplify the University's mission. Selected persons have excelled in a variety of areas--law, medicine, education, business, literature, politics, and entertainment.
The committee will forward nominations to President Kazee so he can make his recommendations to the faculty. The faculty will vote on the final list of nominees.
Please email the following information to Robert Dion, committee chairperson, at rd35@evansville.edu, by Friday, November 3:
1. Nomination by (include name, phone and email address)
2. Name of person nominated
3. Title and/or profession of nominee
4. Rationale for the nomination (see criteria above)
5. Any biographical or background information on the nominee
6. Address information for contacting the nominee
Submitted by Robert Dion rd35@evansville.edu
Purple Aces knock off fourth seeded Loyola
The University of Evansville men's soccer team got just a single goal, but that's all it needed, as the Purple Aces knocked off fourth seeded Loyola 1-0 in the Missouri Valley Conference tournament quarterfinals in Peoria, Illinois, Wednesday.
After playing to a scoreless stand-off in the opening half, the Aces offense began to pick up steam, with several opportunities just missing the frame. The lone tally of the game came off the foot of senior midfielder Ian McGrath, who was set up beautifully by junior Zac Blaydes and redshirt freshman Trevor Baum. It was McGrath's 12th goal of the season, as well as his sixth game winner this season. The New Lenox, Illinois native has scored goals in the Aces last three tournament matches going back to last year.
The final 30 minutes saw Evansville hang on for dear life, as the Ramblers threw everything but the kitchen sink at senior goalkeeper Matthew Keller and the UE defense. In all, Keller faced 15 shots, three on goal while turning in his second straight clean sheet.
The Aces improve to 11-8 and 1 on the season, while Loyola season ends with a record of 7-8 and 3.
Up next for Evansville is a semifinal showdown with top seeded Missouri State. The Bears edged the Aces in the regular season, 1-0 on September 23 in Springfield. Kick-off from Shea Stadium in Peoria is at 3:00 p.m. Friday afternoon.
UE Theatre Announces Retirements of Professor John David Lutz and Associate Professor Christia Ward
At the end of the 2017–18 academic year, University of Evansville's longest-serving faculty member, Professor John David Lutz will retire after 53 years of teaching in the Department of Theatre, as well as Associate Professor Christia Ward, who has taught acting and voice and speech for 18 years.
Lutz graduated in 1964, from what was then Evansville College. He earned an MA from the University of Denver and returned to UE in 1965 as an instructor and technical director. He later earned an MFA from the University of New Orleans.
In addition to serving as Department Chair from 1984 to 2015, Lutz teaches courses in acting and directing and has directed over 75 productions at UE. During UE's 38 years of participating in the Kennedy Center/American College Theatre Festival, 32 productions were invited to perform at regional festivals—with an 18-year uninterrupted streak of regional appearances. Lutz directed 24 of those 32 productions and six of those advanced to the national festival. In 2007, by special invitation, the UE production of The Comedy of Errors was one of the Kennedy Center's contributions to the "Shakespeare in Washington" celebration. Lutz has also directed at regional theatres, as well as the Off-Broadway premiere of Between Daylight and Boonville, by Matt Williams, a UE alumnus.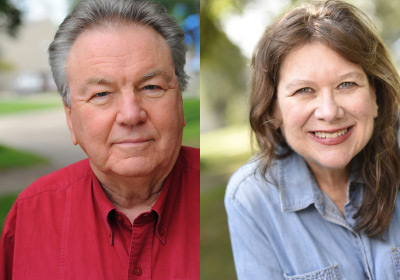 Lutz has earned accolades for his artistic and educational talents. A few of his awards include: 1982 University of Evansville Medal of Honor, 1984 KCACTF Gold Medallion, 1987 Berger Award for Outstanding Creative Artist, 1994 Evansville Mayor's Arts Award for Arts Educator of the Year, 1995 Indiana Governor's Arts Award for Arts Educator of the Year, 2005 Arts Council of Southwestern Indiana's Mayor's Arts Award, 2007 induction into the College of Fellows of the American Theatre, 2012 KCACTF Outstanding Career Achievement in Directing, 2014 University of Evansville Distinguished Alumnus of the Year, and a 2016 Honorary Doctor of Letters degree from the University of Evansville.
In April of 2018, Lutz will direct the final play of Shanklin Theatre's 50th anniversary season, The Grapes of Wrath, adapted by Frank Galati from John Steinbeck's classic novel.
Ward graduated from the University of Evansville in 1983 and received her MFA in Acting from the Meadows School of the Arts at Southern Methodist University. She is a member of Actors' Equity Association and VASTA (Voice and Speech Trainers' Association). Ward has performed professionally at the Dallas Theatre Center and Stage #1 in Dallas, and at Victory Gardens and Mary-Archie Theater in Chicago. She was an actor at the New Harmony Project for five years and originated roles in Mauritius by Theresa Rebeck, Mad City by Meredith Stiehm, and See Rock City and Gulf View Drive by Arlene Hutton.
Ward serves each UE Theatre production as Voice, Dialect and Text coach. She has done workshops with Cicely Berry, Catherine Fitzmaurice and David Smukler. She has trained extensively in Knight-Thompson speech work, which is rapidly becoming the standard in professional acting programs. At UE, she teaches voice and speech, dialects, acting Shakespeare, audition techniques, character study, and fundamentals of acting. Ward has been honored with acknowledgements of meritorious work by KCACTF for her dialect work on Jekyll and Hyde and her text work on The Comedy of Errors and The Winter's Tale.
After directing several classroom projects at UE, Ward will make her directorial debut in Shanklin Theatre with the upcoming production of William Shakespeare's The Tempest, Nov. 10 through 19.
Department Chair Eric Renschler said, "It has been my distinct pleasure to work with both John David and Christia over the past 12 years, continuing a relationship begun more than thirty years ago, as Christia was a UE classmate and John David was an early mentor of mine. The University of Evansville Theatre is grateful for the service and dedication of both of these highly talented artists and educators, and we wish them much happiness and success in future endeavors."
Alhenawi officially licensed in Indiana as registered investment adviser and financial planner
Associate professor of finance Yasser Alhenawi is now officially licensed in Indiana as a registered investment advisor and financial planner. The licensure will have a positive impact on Alhenawi's scholarly work and his approach to experiential learning in the classroom.
Under close supervision of Alhenawi and a professional portfolio manager, who is a UE alum, students in the Wealth Management Practicum program have achieved impressive results. Applying a rather conservative investment philosophy and without material rise in the overall risk of the portfolio, they were able to outperform the benchmark (S&P 500 Index) significantly and consistently since the inception of the program three years ago. The Schroeder School's Finance program has been ranked #1 among over 500 small universities and the school is also nationally ranked #4 by 2018 US News & World Report among small business schools.
Contribute to AceNotes
To have content considered for inclusion in AceNotes, please submit a Marketing Request Form. Deadline for submission to AceNotes is 10:00 a.m. on the requested date of publication. Only articles concerning UE related/sponsored activities will be accepted. Articles submitted to AceNotes may be edited for length and clarity. Submitter contact information is at the end of each article.