| | |
| --- | --- |
| AceNotes Today | Wednesday, November 8, 2017 |
UE's Third Annual High School Changemaker Challenge today!
The University of Evansville will host our third annual High School Changemaker Challenge today - Wednesday, November 8 - from 9:00 a.m.–4:00 p.m. in Eykamp Hall, Ridgway University Center. Thirteen teams will be competing for the top prize of a 4-year full-tuition scholarship for each team member to attend UE. The contest is intended to encourage regional youth to think about ways they can affect positive change in our society.
We thank Toyota Motor Manufacturing, Indiana for sponsoring this competition.
The event is free and open to the public.
Questions? Contact Erin Lewis (el131@evansville.edu).
Fireside Chat tonight at Honey Moon Coffee Co.!
This week's Fireside Chat will be held at Honey Moon Coffee Co., where we will continue our theme "Life's Maze, God's Mission, and Me: What Is God Calling Me to Do?" We will meet as a group in Grabill Lounge (basement of Neu Chapel) at 7:30 p.m. today - Wednesday, November - and will walk to Honey Moon as a group. All are welcome to join the conversation!
Submitted by Keith Turner kt160@evansville.edu
Pixley presenting exhibit in UE's Melvin Peterson Gallery
"Putting on Airs," an exhibit of prints by artist Lisa Pixley, will be displayed at the University of Evansville's Melvin Peterson Gallery from October 30-December 9.
The exhibit is free and open to the public and is part of the Efroymson Family Fund Emerging Contemporary Artist Lecture Series.
An artist printmaker located in Portland, Maine, Pixley earned her BFA with a concentration in painting from the Maine College of Art. After graduation, she began a commercial and artistic practice focusing on the craft of print. Pixley studied as an apprentice with David Wolfe of Wolfe Editions, where she worked closely with artists such as Charlie Hewitt and Allison Hildreth.
In 2009 Pixley founded Pickwick Independent Press in Portland, a for profit shared access print studio where she worked as director, master printer, and events coordinator, while also maintaining an active art practice in the medium of printmaking.
Pixley is currently developing a new venture: WIP Editions. WIP Editions will function as a storefront studio entity as well as an online presence. Under the imprint of WIP Editions, she will be developing a body of work showcasing suites of prints of her work as well as the work of invited artists.
The Melvin Peterson Gallery is located at 1935 Lincoln Avenue on the corner of Lincoln and Weinbach Avenues in Evansville.
For more information, contact 207-650-6073.
Eight to be honored with jersey retirements
Following an exhaustive 11-month nomination process, six former University of Evansville men's basketball players and two legendary head coaches will be honored by having their jerseys retired, the highest honor that can be bestowed by the program. The official ceremony will take place in conjunction with the Purple Aces game against Drake on January 27.
Those being honored include: #20 Hugh Ahlering, #15 Brad Leaf, #50 Marty Simmons, #20 Scott Shreffler, #31 Andy Elkins, and #5 Marcus Wilson. Coaches Arad McCutchan and Jim Crews will also have their likeness in the Ford Center rafters.
Below is a capsule on each of the deserving recipients:
#20 Hugh Ahlering - Hugh Ahlering played at UE from 1957-59. A 1973 UE Hall of Fame inductee, Ahlering was a 1959 First Team AP All-American. Ahlering was a pivotal member of UE's first national championship team, averaging 15.3 points per game.
#15 Brad Leaf - Brad Leaf lettered at UE from 1979 through 1982 and played an instrumental role in 1981-82, scoring 17.6 points per game in leading UE to its first Division I tournament. Leaf is 8th in UE history with 1,605 points and was a 3-time All-MCC First Teamer.
#50 – Marty Simmons - In just two years, Marty Simmons put his imprint on the Aces program.
Scoring 1,265 points, Simmons finished the 1987-88 season 6th in the nation with 25.9 PPG while finishing 9th in AP Player of the Year voting. Simmons led UE to a 21-8 mark as a senior including an NIT win over Utah, the Aces first Division I postseason win.
#20 – Scott Shreffler - Scott Shreffler was the glue on a team that advanced to three NCAA Tournaments in his four years as a starter. Shreffler remains second in UE history with 521 assists and is 13th on the scoring list with 1,454 in his career. He is the only player in the Aces' Division I history to make three NCAA Tournaments.
#31 – Andy Elkins - The #6 scoring in Purple Aces history (1,761 points), Andy Elkins led UE to two NCAA Tournaments and one NIT in four seasons. Elkins, a native of Evansville, was a 1st Team MCC player in 1994 before earning the accolade from the Missouri Valley Conference in 1995.
#5 – Marcus Wilson - Marcus Wilson was the 1999 Missouri Valley Conference Player of the Year and led UE to the regular season league championship that year and an NCAA Tournament berth. A member of the MVC All-Centennial Team that was announced in 2007, Wilson ranks 4th on the UE list with 2,053 career points.
Arad McCutchan served as the UE head coach from 1946 until 1977 and led the Purple Aces to five National Championships. He was enshrined into the Indiana Basketball Hall of Fame in 1973 before earning the nod from the Naismith Memorial Basketball Hall of Fame in 1981. McCutchan was a 2-time NCAA College Division Coach of the Year.
Jim Crews coached the Purple Aces for 17 seasons (1985-2002) and won a total of 294 games. He led Evansville to four NCAA Tournament appearances and a pair of NIT berths. Crews was a 4-time conference Coach of the Year, winning it three times in the MCC and once in the Missouri Valley Conference - that coming in 1999. UE was .500 or better in 13 of his 17 seasons at the helm.
At the University of Evansville, the program retires the jersey, not the actual number. Numbers of previous retirees continue to be worn to this day. The eight honorees join six others in the rafters. Prior jersey retirees include: #19 Gus Doerner, #40 Ed Smallwood, #52 Jerry Sloan, #50 Larry Humes, #10 Don Buse, and #3 Scott Haffner. A committee considered hundreds of former men's basketball players throughout an 11-month process.
A special reception will be held around the January 27 game to celebrate the jersey retirees. Information, location and admission price will be announced at a later date.
Study abroad info session and pizza party today
Interested in exploring study abroad options around the world? Join us today - Tuesday, November 14 - from 5:00-6:00 p.m. in Room 273 in the Schroeder School of Business Building for a study abroad info session and pizza party!
Jacob Gross from our exchange organization, ISEP (www.isepstudyabroad.org), will be hosting this special session about the many study abroad locations UE offers as well as how to start the application process.
Spend some time with Jacob and other study abroad staff to start planning your adventure abroad! Pizza will be provided.
RSVP for the event here: https://goo.gl/forms/iiRkoo24kgx46MWm1.
For a full International Education Week schedule, visit https://www.evansville.edu/iew/.
Submitted by Greta Becker gb91@evansville.edu
Now You See Me: A Live Museum Experience
The University of Evansville's Black Student Union will present, "NOW YOU SEE ME: A live Museum Experience TODAY - Thursday, November 9. The event will be from 6:00-9:00 p.m. in Eykamp Hall, Rooms 251 and 252, on the second floor of Ridgway University Center.
The event will highlight historical and prominent figures from black history in one room through a live experience with each character. The second room will feature stereotypes and truth, a presentation that shares how some people judge people by how they look rather than by who they are.
The Black Student Union invites everyone to come out and be a part of this experience. The organization is striving to improve awareness about black history as well as stereotypes that many students experience every day.
The event is free and open to the campus and local community.
For more information please contact DaLisa McCallum, president, at dm254@evansville.edu or LaNeeca Williams, advisor, at lw161@evansville.edu.
Submitted by LaNeeca Williams lw161@evansville,edu
Free coffee today with career development
Come for free coffee and an informal career chat with alumni and friends of the University. Learn about their journey to their current job and the skills needed for career success. This week's focus is on careers in communication, marketing, and public relations.
The event is today from 4:00-500 p.m. in the Philips Study Alcove, across from WUEV in the Ridgway University Center.
Submitted by Alison Morris-McDonald am268@evansville.edu
Rock climbing
The Venturing Crew is going rock climbing this Saturday from 8:00 p.m.-midnight at Vertical Excape. Sign-ups will be Tuesday, Wednesday, and Thursday from 11:00 a.m.-1:00 p.m. and 5:00-7:00 p.m. The cost is FREE ($10 deposit) and includes all transportation, gear, and food! This event is open to the entire campus and there are limited spots.
Questions? E-mail Sydney at sw228@evansville.edu.
Submitted by Sydney Winstead sw228@evansville.edu
Aces Pregame Party to be held on November 16
In the spirit of the Roberts Stadium Hospitality Room, the University of Evansville athletics department is proud to introduce the Aces DoubleTree Pregame Party on November 16, prior to the home contest against Southeast Missouri State.
Taking place from 4:30 p.m. through 7:00 p.m., the party will feature a pair of great speakers representing the Purple Aces. Head coach Marty Simmons kicks it off with an appearance at 5:15 p.m. At 6:15 p.m., 1999 Missouri Valley Conference Player of the Year and All-Centennial Team member Marcus Wilson will be on hand. The party will take place in the DoubleTree ballroom inside the hotel.
A full package, including entry to the party, is available for just $20 per person. The admission price covers the party, a full meal, water/soda/lemonade/tea, and parking in the DoubleTree parking garage. A cash bar will also be on hand. Your parking space at the garage is good through the completion of the game. The garage is connected to the DoubleTree, which is adjacent to the Ford Center via a walkway. When you arrive at the event, just bring your parking ticket to the party for it to be validated. You will be able to park, attend the event, and take the skywalk to the Ford Center for the game without ever going outside!
If you would like to attend, please go to www.uealumnionline.com/doubletree17 and fill out the registration form. This will help the chef to prepare enough food for those in attendance. Walk-ups are also welcome. Payment for the party will be made to DoubleTree upon your arrival on the 16th.
Is there a question or topic that you would like to have Marcus Wilson discuss at the party? We will be taking questions via social media that we will give to him. Those can be submitted at any time on Twitter (@UEAthletics) or Facebook (University of Evansville Athletic Department).
Rotary Santa Run will support the Changemaker Challenge
The Rotary Santa Run will be held on Saturday, December 2nd at 9am at the Buffalo Trace Center. It is a perfect way to begin your run into the holiday season.
This 5K Run/Walk and/or and 1 Mile stroll is an event that is fun for the participants and spectators alike. Each participant receives a 5-piece Santa outfit, including a beard. They are asked to wear the Santa suit in the event. Prizes will be given for the most decorative. What a sight!
Proceeds from the 2017 Santa Run will benefit the University of Evansville's Changemaker Challenge program for 2018. This program follows the mission statement of Rotary's by empowering the leaders of tomorrow to make a better community for all. Local students compete with innovative ideas to make our community a better destination.
We hope to see you there.
You will make a difference while having a "jolly time!"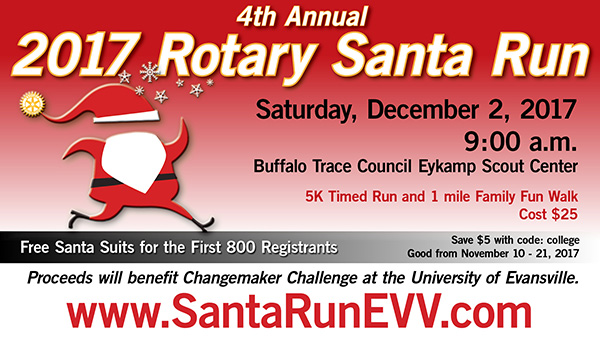 Submitted by Cathy Renner cr107@evansville.edu
Chi Omega's Dishes for Wishes
Chi Omega's annual fall philanthropy, Dishes for Wishes, is happening this Saturday, November 11 from 5:30-8:00 p.m. in Eykamp Hall, Ridgway University Center. All proceeds benefit the Make-A-Wish Foundation. Come out and eat some yummy food and support a great cause. Tickets are on sale this week at tables in Ridgway University Center and at the door the night of the event.
Submitted by Macy Dimmett md183@evansville.edu
UE Comic Con
Come one, come all, to UE Comic Con (UECC)! We will have student-run booths representing a variety of fandoms, lots of fun activities, snacks, and a costume contest. UECC will take place in Carson Center's small gym from 1:00-3:00 p.m. on Saturday, November 18.
If you have any questions or are interested in running a booth, e-mail ae130@evansville.edu.
Submitted by Madison Smith ms738@evansville.edu
UE Theatre presents The Tempest
The University of Evansville Department of Theatre proudly presents William Shakespeare's The Tempest, in UE's Shanklin Theatre. Performances are November 18 at 7:30 p.m. and November 19 at 2:00 p.m.
A fantastical island filled with magic and mystery sets the stage for this enchanting tale of romance, betrayal, and the power of forgiveness. After a vengeful sorceress conjures a maritime storm in order to shipwreck her malevolent sister, both familial and royal drama ensues. Thought by many to be Shakespeare's final solo play, this rom-com-meets-action-adventure-fantasy is a thrilling story for all ages.
The Tempest is directed by associate professor Christia Ward. Elizabeth Tredinnick, a senior from Chicago, Illinois, is the co-scenic designer along with associate professor Eric Renschler '83; visiting assistant professor Sarah J. Smith is the costume designer; associate professor Stephen Boulmetis is the lighting designer; Melia Schnefke, a senior from St. Louis, Missouri, is the sound designer; Professor Chuck Meacham is the technical director; Professor Diane Brewer is the dramaturg; and Emma Blevins, a senior from San Antonio, Texas, is the stage manager.
The cast features Meredith Ham, a junior from Castle Rock, Colorado, as Prospera, and Aaron Gonner, a senior from Dubuque, Iowa, as Ariel. The 20-person cast also features Amanda Suggs, a junior from Cedar Park, Texas, as Miranda; Jack Russell, a freshman from Montgomery, Texas, as Ferdinand; and Joseph W. Schwalb, a senior from Thiensville, Wisconsin, as Caliban.
Ticket prices are $18 for adults and $16 for senior adults, students, and UE faculty and staff. UE students may obtain one free student rush ticket beginning at noon on the day of the performance they wish to attend.
Following The Tempest, the rest of the Shanklin Theatre season includes Sense and Sensibility by Kate Hamill, February 16-25; and The Grapes of Wrath by Frank Galati, April 13-22.
Tickets may be purchased by calling 812-488–2031, Monday through Friday, noon- 5:00 p.m.
Phi Mu invites you to Rock 4 Riley tonight
The women of Phi Mu are proud to invite you to Rock 4 Riley, a lip-syncing and dancing competition, this evening - Friday, November 10 - at 7:00 p.m. in Eykamp Hall, Ridgway University Center. Tickets will be on sale at our ticket table in Ridgway University Center from November 6-10 for $5. Tickets will be $7 at the door. Come watch fun, superhero inspired dances and support our philanthropy, Children's Miracle Network Hospitals!
Submitted by Katherine Marcussen km348@evansville.edu
Environmental Awareness Week -- November 6-10
Environmental Awareness Week is November 6-10. The Alternative Energy GAP and the Environmental Concerns Organization (ECO) will be hosting events to increase awareness about local environmental initiatives within our local community. Today at 6:00 p.m., upstairs in Ridgway University Center, James Mosley, president of EnviroKinetics, Inc., will address environmental action initiatives and what his company has been doing locally. EnviroKinetics, Inc. is a public involvement, environmental, and transportation consulting firm.
Submitted by Michael Mannchen mm650@evansville.edu
Celebrate Veterans Day
The campus community, alumni, and friends are invited to celebrate Veterans Day on campus for our annual Veterans Day service. The event is planned for Friday, November 10, 11:00 a.m.-noon, in Wheeler Concert Hall, Krannert Hall of Fine Arts.
Guest speaker will be UE alumnus Maj Gen (Ret.) Mark Pillar. Special music will be presented by piper Mark Valenzuela, associate professor of engineering, and vocalist, Eric McCluskey, assistant professor of music.
A light luncheon reception will follow.
2017 FanFest to feature Aces star Reed Jackson
UE Hall of Famer and fan favorite Reed Jackson will speak at one of the most popular Aces events of the season. FanFest is back for the seventh year in a row and will take place prior to the University of Evansville men's basketball season opener against Arkansas State on Friday, November 10.
Festivities get underway at 4:30 p.m. and run through 6:30 p.m. at Freedom Plaza, which is located directly outside the main entrance of the Ford Center. The game will begin at 7:00 p.m., giving fans plenty of time to make it inside the arena to their seats. This is the first time FanFest is on a Friday night.
Live music, a photo booth, bounce house and several more great activities will be at the event, which has taken place each year since 2011.
There will also be activities for fans of all ages with vendors selling food also on hand. Those selling food include: Dapper Pig, Marx BBQ, and Backstage.
Admission to FanFest is free to everyone.
UE's 31st Annual International Bazaar
The University of Evansville's 31st annual International Bazaar is planned today - Friday, November 17 - from 5:00-7:00 p.m., in Ridgway University Center on UE's campus. Visitors to the bazaar will "travel the world" by experiencing the food, customs and cultures of UE's international students, a diverse group that represents 61 countries.
The event is open to the public. General admission is $10, or $7 in advance. UE students and children five and under will be admitted for free. Pre-sale discounts are available through Thursday, November 16. Purchase your $7 pre-sale ticket at the Office of Cultural Engagement and International Services during regular business hours or at tickets.evansville.edu.
Proceeds from the event will benefit the International Rescue Committee. This organization responds to the world's worst humanitarian crises, helping to restore health, safety, education, economic well-being, and power to people devastated by conflict and disaster.
The bazaar is part of the University's celebration of International Education Week.
To learn more about the bazaar, visit the UE International Education Week web page or contact the Office of Cultural Engagement and International Services at 812-488-2279.
Math movie night
The math department will host a movie night on Thursday, November 9, in Koch Center 101. Join us at 7:00 p.m. for snacks and then enjoy the movie "21." Hope to see you there!
Submitted by Pengcheng Xiao px3@evansville.edu
UE to Show Documentary "8 Borders, 8 Days"
The documentary 8 Borders, 8 Days will be shown Tuesday, November 14, at 6:00 p.m. in Room 170 of the Schroeder School of Business Building. The screening will be followed by an interactive discussion with the movie's director Amanda Bailly, UE philosophy professor Derek Jones, and a panel of Syrian and American students. The event is free and open to the public.
The film follows a Syrian family who were not accepted for resettlement to the US and instead traveled with smugglers in a raft to Europe.
"The majority of people in the United States who want to close our doors to refugees have never actually heard the voices of the people affected," said Bailly. "This film tells the story of three of them, and they're three of the strongest, most resilient human beings I've ever met."
8 Borders, 8 Days premiered to sold-out screenings at the Florida Film Festival and Seattle International Film Festival, where it was awarded a $50,000 impact filmmaking grant. It has been called "raw, emotional," and "unblinking."
Donations will be accepted at the event for the Karam Foundation, a non-profit organization on a mission to build a better future for Syria. The foundation develops innovative education programs for Syrian refugee youth, distributes smart aid to Syrian families, and funds sustainable development projects initiated by Syrians for Syrians.
The screening and panel discussion is being co-sponsored by Scholars for Syria and Books Not Bombs, a student-led campaign aimed at creating scholarships for displaced Syrian students. Through donations at the event and online, Scholars for Syria and Books Not Bombs hope to add to the Karam Foundation fund that is empowering Syrian refugees to succeed in school and beyond.
For more information on the event at UE, call 732-239-4139, e-mail gv15@evansville.edu or go to www.facebook.com/events/1987428101542302/?active_tab=about.
If you cannot attend but wish to make a donation, you can do so at give.karamfoundation.org/team/142156.
Collecting cards for terminally ill boy
A little nine year old boy, Jacob Thompson, in Maryland has terminal cancer. His parents don't think he will make it through the month so are celebrating the holidays early. His final wish is to have homemade Christmas cards sent to him at the hospital (he loves penguins). Catie Taylor in admissions is putting together a package to send to him. If anyone is interested in making a card for him to include in the package, please drop it off at Catie's office by this Friday, November 10, around noon. She will be mailing the package and cards that afternoon.
"Please feel free to share this information with your friends and organizations," Catie said. "I am happy to mail as many as we can get together."
For more information, contact Catie at ct37@evansville.edu
Do you know what to recycle at UE?
At UE, you can bring the following to recycle collection areas around campus:
• Aluminum: empty cans
• Paper products including: empty cereal boxes, office paper, magazines, newspaper
• Plastic: empty containers with the number 1-7 in the recycling logo
• Books: call for pick up
• Cardboard
Look for the nearest recycle pick up location, and help keep recyclables out of the landfill! For more information, check out the UE Recycling Guide at acelink.evansville.edu/Areas/Recycling/.
For pickup of full bins call housekeeping at ext. 2045 or e-mail housekeeping@evansville.edu.
Submitted by Amber Elkins ae152@evansville.edu
MS in Athletic Training Program to add clinical rotation with Northwestern and Western Kentucky Universities' football teams
Students in the University of Evansville's Master of Science in Athletic Training Program will soon have clinical rotations with the Division I football teams at Northwestern and Western Kentucky Universities. This full immersive clinical experience is for second-year students and will begin in the fall of 2018.
The UE program already has clinical sites at many area schools and medical facilities including ProRehab, Orthopaedic Associates, Tristate Orthopaedics, and Castle High School.
Students in the program also have opportunities to participate in research conducted in the University's Dunigan Motion Analysis Lab. They also have the opportunity to work with faculty on faculty-sponsored research or may perform their own projects. Students have presented their research findings at national meetings and in professional journals.
The University of Evansville's Master of Science Athletic Training Program is one of 50 schools in the country with the Commission on Accreditation of Athletic Training Education (CAATE) accreditation for MS programs. It is one of five schools that have both a both a master's program and a bachelor's program for athletic training.
Faculty/Staff Men's Basketball Tickets
All UE faculty/staff may begin claiming their two complimentary tickets for the men's basketball games on November 10 (against Arkansas State at 7:00 p.m.) and November 13 (against NC Central at 11:00 a.m.). Tickets must be claimed in person at the Carson Center ticket office Monday-Friday, 8:30 a.m.-5:00 p.m., with your valid UE ID. Tickets may also be claimed at the Ford Center interior ticket office window when doors open for the event (one hour before tip-off). Please call 812-488-2237 for more information.
Nominate your co-worker for December Employee of the Month 2017!
The University of Evansville, in pursuit of excellence in service, wishes to recognize a non-faculty employee displaying records of achievement as a leader. Leadership may be demonstrated in any of the following areas: service to the University, service to students, job performance, and attitude towards fellow employees.
To be eligible, an employee must be a full-time member of administration or staff.
Nominations for the December 2017 Employee of the Month are due no later than Wednesday, November 15.
To nominate someone, please go to http://acelink.evansville.edu/tools/employeeaward.
Submitted by Lori LeDuc ll138@evansville.edu
Honorary Degree Committee invites your suggestions
The University of Evansville Honorary Degree Committee is now soliciting your recommendations for honorary degrees to be conferred at the May 2018 Commencement. According to the UE Faculty and Administrator Manual, the committee is charged with requesting and reviewing honorary degree nominations made on the basis of individual service to the University and individual achievement. An honorary degree may also be awarded to individuals who exemplify the University's mission. Selected persons have excelled in a variety of areas--law, medicine, education, business, literature, politics, and entertainment.
The committee will forward nominations to President Kazee so he can make his recommendations to the faculty. The faculty will vote on the final list of nominees.
Please email the following information to Robert Dion, committee chairperson, at rd35@evansville.edu, by Friday, November 3:
1. Nomination by (include name, phone and email address)
2. Name of person nominated
3. Title and/or profession of nominee
4. Rationale for the nomination (see criteria above)
5. Any biographical or background information on the nominee
6. Address information for contacting the nominee
Submitted by Robert Dion rd35@evansville.edu
Alhenawi officially licensed in Indiana as registered investment adviser and financial planner
Associate professor of finance Yasser Alhenawi is now officially licensed in Indiana as a registered investment advisor and financial planner. The licensure will have a positive impact on Alhenawi's scholarly work and his approach to experiential learning in the classroom.
Under close supervision of Alhenawi and a professional portfolio manager, who is a UE alum, students in the Wealth Management Practicum program have achieved impressive results. Applying a rather conservative investment philosophy and without material rise in the overall risk of the portfolio, they were able to outperform the benchmark (S&P 500 Index) significantly and consistently since the inception of the program three years ago. The Schroeder School's Finance program has been ranked #1 among over 500 small universities and the school is also nationally ranked #4 by 2018 US News & World Report among small business schools.
Strandberg presents at Francophone Music Criticism Conference
Assistant professor of music history Kristen Strandberg will travel to Rochester, New York, to present at the conference of the international Francophone Music Criticism Network. Her paper discusses nineteenth-century French music critics' belief that altruism and charitable giving were essential components of the true musical/artistic genius.
Contribute to AceNotes
To have content considered for inclusion in AceNotes, please submit a Marketing Request Form. Deadline for submission to AceNotes is 10:00 a.m. on the requested date of publication. Only articles concerning UE related/sponsored activities will be accepted. Articles submitted to AceNotes may be edited for length and clarity. Submitter contact information is at the end of each article.