| | |
| --- | --- |
| AceNotes Today | Tuesday, November 7, 2017 |
Environmental Awareness Week
At 6:00 p.m. today, the Alternative Energy GAP and ECO will be hosting a viewing of "An Inconvenient Sequel: Truth to Power" in the upstairs lounge of Ridgway University Center. In this documentary, Al Gore travels around the world to train environmental activists and influence international climate policy.
Be sure to stop by our table in Ridgway University Center during lunch and dinner hours tomorrow - Wednesday, November 8 - to learn more about energy saving measures you can practice to save money and the environment.
Then on Thursday at 6:00 p.m., James Mosley, president of EnviroKinetics, Inc. will address environmental action initiatives and what his company has been doing locally. EnviroKinetics, Inc. is a public involvement, environmental, and transportation consulting firm.
Submitted by Michael Mannchen mm650@evansville.edu
This Week in Music: Oboe Day
On November 12, from noon-6:00 p.m., the UE Music Department will be hosting an Oboe Day. The event will feature guest artist Robert Morgan, who plays English horn in the Lyric Opera of Chicago and teaches at Northwestern University. The Guest Artist Recital will begin at 12:15 p.m. in Wheeler Concert Hall. Following the performance will be sessions focusing on air support, posture, English horn, basic oboe maintenance, Baroque style, and other aspects of oboe playing. The cost for non-UE students is $30. Please feel free to contact Elizabeth Robertson if you have any questions or if you would like to register as a participant. For more information, please visit: www.evansville.edu/majors/music/oboeDay.cfm.
Submitted by James Sullivan js820@evansville.edu
Pixley presenting exhibit in UE's Melvin Peterson Gallery
"Putting on Airs," an exhibit of prints by artist Lisa Pixley, will be displayed at the University of Evansville's Melvin Peterson Gallery from October 30-December 9.
The exhibit is free and open to the public and is part of the Efroymson Family Fund Emerging Contemporary Artist Lecture Series.
An artist printmaker located in Portland, Maine, Pixley earned her BFA with a concentration in painting from the Maine College of Art. After graduation, she began a commercial and artistic practice focusing on the craft of print. Pixley studied as an apprentice with David Wolfe of Wolfe Editions, where she worked closely with artists such as Charlie Hewitt and Allison Hildreth.
In 2009 Pixley founded Pickwick Independent Press in Portland, a for profit shared access print studio where she worked as director, master printer, and events coordinator, while also maintaining an active art practice in the medium of printmaking.
Pixley is currently developing a new venture: WIP Editions. WIP Editions will function as a storefront studio entity as well as an online presence. Under the imprint of WIP Editions, she will be developing a body of work showcasing suites of prints of her work as well as the work of invited artists.
The Melvin Peterson Gallery is located at 1935 Lincoln Avenue on the corner of Lincoln and Weinbach Avenues in Evansville.
For more information, contact 207-650-6073.
Fireside Chat tonight at Honey Moon Coffee Co.!
This week's Fireside Chat will be held at Honey Moon Coffee Co., where we will continue our theme "Life's Maze, God's Mission, and Me: What Is God Calling Me to Do?" We will meet as a group in Grabill Lounge (basement of Neu Chapel) at 7:30 p.m. today - Wednesday, November - and will walk to Honey Moon as a group. All are welcome to join the conversation!
Submitted by Keith Turner kt160@evansville.edu
Now You See Me: A Live Museum Experience
The University of Evansville's Black Student Union will present, "NOW YOU SEE ME: A live Museum Experience TODAY - Thursday, November 9. The event will be from 6:00-9:00 p.m. in Eykamp Hall, Rooms 251 and 252, on the second floor of Ridgway University Center.
The event will highlight historical and prominent figures from black history in one room through a live experience with each character. The second room will feature stereotypes and truth, a presentation that shares how some people judge people by how they look rather than by who they are.
The Black Student Union invites everyone to come out and be a part of this experience. The organization is striving to improve awareness about black history as well as stereotypes that many students experience every day.
The event is free and open to the campus and local community.
For more information please contact DaLisa McCallum, president, at dm254@evansville.edu or LaNeeca Williams, advisor, at lw161@evansville.edu.
Submitted by LaNeeca Williams lw161@evansville,edu
Free coffee today with career development
Come for free coffee and an informal career chat with alumni and friends of the University. Learn about their journey to their current job and the skills needed for career success. This week's focus is on careers in communication, marketing, and public relations.
The event is today from 4:00-500 p.m. in the Philips Study Alcove, across from WUEV in the Ridgway University Center.
Submitted by Alison Morris-McDonald am268@evansville.edu
Rock climbing
The Venturing Crew is going rock climbing this Saturday from 8:00 p.m.-midnight at Vertical Excape. Sign-ups will be Tuesday, Wednesday, and Thursday from 11:00 a.m.-1:00 p.m. and 5:00-7:00 p.m. The cost is FREE ($10 deposit) and includes all transportation, gear, and food! This event is open to the entire campus and there are limited spots.
Questions? E-mail Sydney at sw228@evansville.edu.
Submitted by Sydney Winstead sw228@evansville.edu
UE Comic Con
Come one, come all, to UE Comic Con (UECC)! We will have student-run booths representing a variety of fandoms, lots of fun activities, snacks, and a costume contest. UECC will take place in Carson Center's small gym from 1:00-3:00 p.m. on Saturday, November 18.
If you have any questions or are interested in running a booth, e-mail ae130@evansville.edu.
Submitted by Madison Smith ms738@evansville.edu
UE Theatre presents The Tempest
The University of Evansville Department of Theatre proudly presents William Shakespeare's The Tempest, in UE's Shanklin Theatre. Performances are November 18 at 7:30 p.m. and November 19 at 2:00 p.m.
A fantastical island filled with magic and mystery sets the stage for this enchanting tale of romance, betrayal, and the power of forgiveness. After a vengeful sorceress conjures a maritime storm in order to shipwreck her malevolent sister, both familial and royal drama ensues. Thought by many to be Shakespeare's final solo play, this rom-com-meets-action-adventure-fantasy is a thrilling story for all ages.
The Tempest is directed by associate professor Christia Ward. Elizabeth Tredinnick, a senior from Chicago, Illinois, is the co-scenic designer along with associate professor Eric Renschler '83; visiting assistant professor Sarah J. Smith is the costume designer; associate professor Stephen Boulmetis is the lighting designer; Melia Schnefke, a senior from St. Louis, Missouri, is the sound designer; Professor Chuck Meacham is the technical director; Professor Diane Brewer is the dramaturg; and Emma Blevins, a senior from San Antonio, Texas, is the stage manager.
The cast features Meredith Ham, a junior from Castle Rock, Colorado, as Prospera, and Aaron Gonner, a senior from Dubuque, Iowa, as Ariel. The 20-person cast also features Amanda Suggs, a junior from Cedar Park, Texas, as Miranda; Jack Russell, a freshman from Montgomery, Texas, as Ferdinand; and Joseph W. Schwalb, a senior from Thiensville, Wisconsin, as Caliban.
Ticket prices are $18 for adults and $16 for senior adults, students, and UE faculty and staff. UE students may obtain one free student rush ticket beginning at noon on the day of the performance they wish to attend.
Following The Tempest, the rest of the Shanklin Theatre season includes Sense and Sensibility by Kate Hamill, February 16-25; and The Grapes of Wrath by Frank Galati, April 13-22.
Tickets may be purchased by calling 812-488–2031, Monday through Friday, noon- 5:00 p.m.
Phi Mu invites you to Rock 4 Riley tonight
The women of Phi Mu are proud to invite you to Rock 4 Riley, a lip-syncing and dancing competition, this evening - Friday, November 10 - at 7:00 p.m. in Eykamp Hall, Ridgway University Center. Tickets will be on sale at our ticket table in Ridgway University Center from November 6-10 for $5. Tickets will be $7 at the door. Come watch fun, superhero inspired dances and support our philanthropy, Children's Miracle Network Hospitals!
Submitted by Katherine Marcussen km348@evansville.edu
Celebrate Veterans Day
The campus community, alumni, and friends are invited to celebrate Veterans Day on campus for our annual Veterans Day service. The event is planned for Friday, November 10, 11:00 a.m.-noon, in Wheeler Concert Hall, Krannert Hall of Fine Arts.
Guest speaker will be UE alumnus Maj Gen (Ret.) Mark Pillar. Special music will be presented by piper Mark Valenzuela, associate professor of engineering, and vocalist, Eric McCluskey, assistant professor of music.
A light luncheon reception will follow.
UE alumnus Maj Gen. (Ret.) Mark Pillar to present at Veterans Day Service on Friday, Nov. 10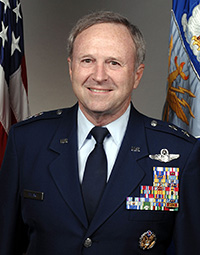 Maj. Gen. (Ret.) Mark A. Pillar will present at the UE Veterans Day Service set for Friday, November 10 at 11:00 a.m. in Wheeler Concert Hall. Pillar graduated from the University of Evansville with a bachelor's degree in marketing in 1971. The general began his Air Force career while at UE through the University's Air Force ROTC program. His first active duty Air Force assignment was at Da Nang Air Base, Republic of South Vietnam, where he served as an EC-47 pilot and flew more than 90 combat missions logging more than 600 combat hours.
General Pillar flew missions in support of operations Desert Shield, Desert Storm, and in the Bosnia no-fly zone. During Operation Joint Forge, he was vice commander of the 60th Air Expeditionary Wing, Rhein-Main AB, Germany. He is a command pilot with more than 5,300 hours in the C/EC-47, KC-135A/E/R, EC-135, and the E-8 aircraft.
He transitioned to the Air Force Reserves after eight years of active duty service. At the time of his military retirement in 2008, he was the mobilization assistant to the Military Deputy, Office of the Assistant Secretary of the Air Force for Acquisition, Headquarters U.S. Air Force, Washington, D.C.
As a civilian, Pillar was an airline pilot for Delta Air Lines and retired as an International 767-ER Captain. With nearly 23,000 hours of flying time, he has flown all over the world (except for Australia) in various types of aircraft.
Pillar is a very active alumnus of the University of Evansville having served two terms on UE's Alumni Association Board of Directors, president of the Alumni Board, and just completed a term as alumni-elected trustee. He is also an active alumnus with his fraternity, Tau Kappa Epsilon (TKE).
A light luncheon reception will be served immediately following in the lobby of Krannert Hall of Fine Arts.
Math movie night
The math department will host a movie night on Thursday, November 9, in Koch Center 101. Join us at 7:00 p.m. for snacks and then enjoy the movie "21." Hope to see you there!
Submitted by Pengcheng Xiao px3@evansville.edu
UE to Show Documentary "8 Borders, 8 Days"
The documentary 8 Borders, 8 Days will be shown Tuesday, November 14, at 6:00 p.m. in Room 170 of the Schroeder School of Business Building. The screening will be followed by an interactive discussion with the movie's director Amanda Bailly, UE philosophy professor Derek Jones, and a panel of Syrian and American students. The event is free and open to the public.
The film follows a Syrian family who were not accepted for resettlement to the US and instead traveled with smugglers in a raft to Europe.
"The majority of people in the United States who want to close our doors to refugees have never actually heard the voices of the people affected," said Bailly. "This film tells the story of three of them, and they're three of the strongest, most resilient human beings I've ever met."
8 Borders, 8 Days premiered to sold-out screenings at the Florida Film Festival and Seattle International Film Festival, where it was awarded a $50,000 impact filmmaking grant. It has been called "raw, emotional," and "unblinking."
Donations will be accepted at the event for the Karam Foundation, a non-profit organization on a mission to build a better future for Syria. The foundation develops innovative education programs for Syrian refugee youth, distributes smart aid to Syrian families, and funds sustainable development projects initiated by Syrians for Syrians.
The screening and panel discussion is being co-sponsored by Scholars for Syria and Books Not Bombs, a student-led campaign aimed at creating scholarships for displaced Syrian students. Through donations at the event and online, Scholars for Syria and Books Not Bombs hope to add to the Karam Foundation fund that is empowering Syrian refugees to succeed in school and beyond.
For more information on the event at UE, call 732-239-4139, e-mail gv15@evansville.edu or go to www.facebook.com/events/1987428101542302/?active_tab=about.
If you cannot attend but wish to make a donation, you can do so at give.karamfoundation.org/team/142156.
Collecting cards for terminally ill boy
A little nine year old boy, Jacob Thompson, in Maryland has terminal cancer. His parents don't think he will make it through the month so are celebrating the holidays early. His final wish is to have homemade Christmas cards sent to him at the hospital (he loves penguins). Catie Taylor in admissions is putting together a package to send to him. If anyone is interested in making a card for him to include in the package, please drop it off at Catie's office by this Friday, November 10, around noon. She will be mailing the package and cards that afternoon.
"Please feel free to share this information with your friends and organizations," Catie said. "I am happy to mail as many as we can get together."
For more information, contact Catie at ct37@evansville.edu
Faculty/Staff Men's Basketball Tickets
All UE faculty/staff may begin claiming their two complimentary tickets for the men's basketball games on November 10 (against Arkansas State at 7:00 p.m.) and November 13 (against NC Central at 11:00 a.m.). Tickets must be claimed in person at the Carson Center ticket office Monday-Friday, 8:30 a.m.-5:00 p.m., with your valid UE ID. Tickets may also be claimed at the Ford Center interior ticket office window when doors open for the event (one hour before tip-off). Please call 812-488-2237 for more information.
Nominate your co-worker for December Employee of the Month 2017!
The University of Evansville, in pursuit of excellence in service, wishes to recognize a non-faculty employee displaying records of achievement as a leader. Leadership may be demonstrated in any of the following areas: service to the University, service to students, job performance, and attitude towards fellow employees.
To be eligible, an employee must be a full-time member of administration or staff.
Nominations for the December 2017 Employee of the Month are due no later than Wednesday, November 15.
To nominate someone, please go to http://acelink.evansville.edu/tools/employeeaward.
Submitted by Lori LeDuc ll138@evansville.edu
Spanish 321: Intro to Hispanic Studies - offered Spring 2018
Spanish 321: Intro to Hispanic Studies will be offered in Spring 2018. In addition to looking at film, photography and other visual and social media, students will explore thematic topics related to literary production. Students will develop interpretative and conversational skills, and deepen understanding of Hispanic culture and society. This class will be taught in Spanish.
Submitted by Edward Curran ec172@evansville.edu
UPS removes library drop box
The United Parcel Service (UPS) Drop Box located outside of the library mailroom entrance door to the left of the service lane has been removed without any prior notification from UPS. For UPS pre-paid return labeled shipments, please use the remaining UPS. Drop Box located outside of the UE Bookstore delivery door to the left of the service lane.
Submitted by Kim Winsett kw83@evansville.edu
Evansville Day School offering scholarship opportunity to UE families
Evansville Day School has announced a scholarship opportunity for students whose families are employed full-time by the University of Evansville. Any student admitted to Evansville Day School will automatically receive a 50 percent (25 percent for Junior Pre-K and Pre-K) tuition reduction. Once awarded, the scholarships will be automatically renewed annually.
Evansville Day School is offering this scholarship because it understands that educators have chosen a profession with immeasurable societal impact, but with lower salary benefits than other fields requiring similar degrees and work demands. As the leading college prep school in the region, the Evansville Day School wants to partner with educators by making the school affordable to families who value the school's mission and brand of education.
More information on the scholarship is available in the Office of Human Resources at UE. Also, Evansville Day School invites those interested to Discover Why Day, an admission event scheduled for November 10 at 8:30 a.m. and 12:30 p.m. More information on Discover Why Day can be found on the Day School's event page: https://www.evansvilledayschool.org/discover-why-day.
For additional information on the scholarship, or Evansville Day School's educational experience, contact the Day School's director of enrollment management, Tiki Thompson at tthompson@evansvilledayschool.org.
NY Times available to UE
Have you been keeping up with the news? UE has access to the New York Times for anyone with a UE e-mail address. Go to www.NYTimes.com/Pass and sign up using your UE e-mail address, verify your e-mail address from the NYT e-mail, and keep up with the daily news from the New York Times. Need help? Contact Danielle at dw56@evansville.edu.
Submitted by Danielle Williams dw56@evansville.edu
Alhenawi officially licensed in Indiana as registered investment adviser and financial planner
Associate professor of finance Yasser Alhenawi is now officially licensed in Indiana as a registered investment advisor and financial planner. The licensure will have a positive impact on Alhenawi's scholarly work and his approach to experiential learning in the classroom.
Under close supervision of Alhenawi and a professional portfolio manager, who is a UE alum, students in the Wealth Management Practicum program have achieved impressive results. Applying a rather conservative investment philosophy and without material rise in the overall risk of the portfolio, they were able to outperform the benchmark (S&P 500 Index) significantly and consistently since the inception of the program three years ago. The Schroeder School's Finance program has been ranked #1 among over 500 small universities and the school is also nationally ranked #4 by 2018 US News & World Report among small business schools.
Strobel presents two papers in the UK
Heidi Strobel, associate professor of art history, presented a paper at the Tower of London on October 31. Her paper was chosen to be part of the Enlightened Princesses symposium, which was co-sponsored by the Royal Collection and the Yale Center for British Art. Strobel's paper was on the relationship between Queen Charlotte (1744-1818) and Leicester textile artist and gallery owner Mary Linwood (1755-1845). While in England, Strobel gave a paper on Linwood at the Melton Carnegie Museum in Melton Mowbray, which is very close to the Harlaxton community.
Strandberg presents at Francophone Music Criticism Conference
Assistant professor of music history Kristen Strandberg will travel to Rochester, New York, to present at the conference of the international Francophone Music Criticism Network. Her paper discusses nineteenth-century French music critics' belief that altruism and charitable giving were essential components of the true musical/artistic genius.
Contribute to AceNotes
To have content considered for inclusion in AceNotes, please submit a Marketing Request Form. Deadline for submission to AceNotes is 10:00 a.m. on the requested date of publication. Only articles concerning UE related/sponsored activities will be accepted. Articles submitted to AceNotes may be edited for length and clarity. Submitter contact information is at the end of each article.