| | |
| --- | --- |
| AceNotes Today | Monday, November 6, 2017 |
Holiday season hours
The University of Evansville will be closed during the holidays to allow our employees to enjoy this special time with their families.
The following November-December-January holiday schedule will be observed:
Thanksgiving
Wednesday, November 22 – closing at noon
Thursday, November 23 - closed
Friday, November 24 - closed
Christmas/New Year's
Closed starting Monday, December 25 – returning on Tuesday, January 2
Crick Lecture today at 4:00 p.m.
Devon L. Graham, research faculty member in the Department of Biomedical Science at Florida State University College of Medicine, will be the speaker at today's Crick Lecture. The event begins at 4:00 p.m. in Room 100 (Vectren Lecture Hall) in the Koch Center for Engineering and Science. Graham's topic will be "Old drugs, new tricks: Exploiting brain-gut interactions in treating mental health disorders."
Mental health disorders such as addiction, depression, and anxiety disorders have become an increasingly larger burden on society, both from a general health standpoint as well as an economic perspective. To combat this growing epidemic, newer, more effective pharmacotherapies are necessary. One option to do so it to look at alternative targets beyond the usual neurotransmitter suspects. Graham's research focuses on the gut peptide receptor called the glucagon-like peptide-1 receptor (GLP-1R). Drugs targeting GLP-1R have shown great promise in treating type II diabetes and managing obesity. However, we and others have shown that brain GLP-1R has potential to treat neuropsychiatric conditions as well. Her data demonstrate the potential to use drugs that have already been approved for clinical use for other disorders to also be beneficial for use in mental health disorders.
Graham earned her Bachelor of Science in Biology degree from Allegheny College and her Ph.D. in Toxicology from the University of Maryland. She completed her postdoctoral training at Cincinnati Children's Research Foundation and Vanderbilt University.
Environmental Awareness Week -- November 6-10
Environmental Awareness Week is November 6-10. The Alternative Energy GAP and the Environmental Concerns Organization (ECO) will be hosting events to increase awareness about local environmental initiatives within our local community. Today at 6:00 p.m., upstairs in Ridgway University Center, James Mosley, president of EnviroKinetics, Inc., will address environmental action initiatives and what his company has been doing locally. EnviroKinetics, Inc. is a public involvement, environmental, and transportation consulting firm.
Submitted by Michael Mannchen mm650@evansville.edu
Pixley presenting exhibit in UE's Melvin Peterson Gallery
"Putting on Airs," an exhibit of prints by artist Lisa Pixley, will be displayed at the University of Evansville's Melvin Peterson Gallery from October 30-December 9.
The exhibit is free and open to the public and is part of the Efroymson Family Fund Emerging Contemporary Artist Lecture Series.
An artist printmaker located in Portland, Maine, Pixley earned her BFA with a concentration in painting from the Maine College of Art. After graduation, she began a commercial and artistic practice focusing on the craft of print. Pixley studied as an apprentice with David Wolfe of Wolfe Editions, where she worked closely with artists such as Charlie Hewitt and Allison Hildreth.
In 2009 Pixley founded Pickwick Independent Press in Portland, a for profit shared access print studio where she worked as director, master printer, and events coordinator, while also maintaining an active art practice in the medium of printmaking.
Pixley is currently developing a new venture: WIP Editions. WIP Editions will function as a storefront studio entity as well as an online presence. Under the imprint of WIP Editions, she will be developing a body of work showcasing suites of prints of her work as well as the work of invited artists.
The Melvin Peterson Gallery is located at 1935 Lincoln Avenue on the corner of Lincoln and Weinbach Avenues in Evansville.
For more information, contact 207-650-6073.
Aces Pregame Party to be held on November 16
In the spirit of the Roberts Stadium Hospitality Room, the University of Evansville athletics department is proud to introduce the Aces DoubleTree Pregame Party on November 16, prior to the home contest against Southeast Missouri State.
Taking place from 4:30 p.m. through 7:00 p.m., the party will feature a pair of great speakers representing the Purple Aces. Head coach Marty Simmons kicks it off with an appearance at 5:15 p.m. At 6:15 p.m., 1999 Missouri Valley Conference Player of the Year and All-Centennial Team member Marcus Wilson will be on hand. The party will take place in the DoubleTree ballroom inside the hotel.
A full package, including entry to the party, is available for just $20 per person. The admission price covers the party, a full meal, water/soda/lemonade/tea, and parking in the DoubleTree parking garage. A cash bar will also be on hand. Your parking space at the garage is good through the completion of the game. The garage is connected to the DoubleTree, which is adjacent to the Ford Center via a walkway. When you arrive at the event, just bring your parking ticket to the party for it to be validated. You will be able to park, attend the event, and take the skywalk to the Ford Center for the game without ever going outside!
If you would like to attend, please go to www.uealumnionline.com/doubletree17 and fill out the registration form. This will help the chef to prepare enough food for those in attendance. Walk-ups are also welcome. Payment for the party will be made to DoubleTree upon your arrival on the 16th.
Is there a question or topic that you would like to have Marcus Wilson discuss at the party? We will be taking questions via social media that we will give to him. Those can be submitted at any time on Twitter (@UEAthletics) or Facebook (University of Evansville Athletic Department).
Rotary Santa Run will support the Changemaker Challenge
The Rotary Santa Run will be held on Saturday, December 2nd at 9am at the Buffalo Trace Center. It is a perfect way to begin your run into the holiday season.
This 5K Run/Walk and/or and 1 Mile stroll is an event that is fun for the participants and spectators alike. Each participant receives a 5-piece Santa outfit, including a beard. They are asked to wear the Santa suit in the event. Prizes will be given for the most decorative. What a sight!
Proceeds from the 2017 Santa Run will benefit the University of Evansville's Changemaker Challenge program for 2018. This program follows the mission statement of Rotary's by empowering the leaders of tomorrow to make a better community for all. Local students compete with innovative ideas to make our community a better destination.
We hope to see you there.
You will make a difference while having a "jolly time!"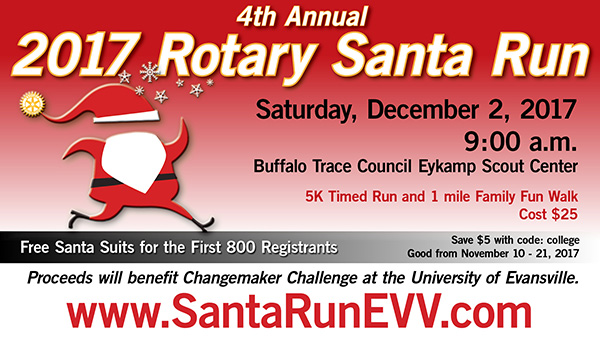 Submitted by Cathy Renner cr107@evansville.edu
Chi Omega's Dishes for Wishes
Chi Omega's annual fall philanthropy, Dishes for Wishes, is happening this Saturday, November 11 from 5:30-8:00 p.m. in Eykamp Hall, Ridgway University Center. All proceeds benefit the Make-A-Wish Foundation. Come out and eat some yummy food and support a great cause. Tickets are on sale this week at tables in Ridgway University Center and at the door the night of the event.
Submitted by Macy Dimmett md183@evansville.edu
UE Comic Con
Come one, come all, to UE Comic Con (UECC)! We will have student-run booths representing a variety of fandoms, lots of fun activities, snacks, and a costume contest. UECC will take place in Carson Center's small gym from 1:00-3:00 p.m. on Saturday, November 18.
If you have any questions or are interested in running a booth, e-mail ae130@evansville.edu.
Submitted by Madison Smith ms738@evansville.edu
UE Theatre presents The Tempest
The University of Evansville Department of Theatre proudly presents William Shakespeare's The Tempest, in UE's Shanklin Theatre. Performances are November 18 at 7:30 p.m. and November 19 at 2:00 p.m.
A fantastical island filled with magic and mystery sets the stage for this enchanting tale of romance, betrayal, and the power of forgiveness. After a vengeful sorceress conjures a maritime storm in order to shipwreck her malevolent sister, both familial and royal drama ensues. Thought by many to be Shakespeare's final solo play, this rom-com-meets-action-adventure-fantasy is a thrilling story for all ages.
The Tempest is directed by associate professor Christia Ward. Elizabeth Tredinnick, a senior from Chicago, Illinois, is the co-scenic designer along with associate professor Eric Renschler '83; visiting assistant professor Sarah J. Smith is the costume designer; associate professor Stephen Boulmetis is the lighting designer; Melia Schnefke, a senior from St. Louis, Missouri, is the sound designer; Professor Chuck Meacham is the technical director; Professor Diane Brewer is the dramaturg; and Emma Blevins, a senior from San Antonio, Texas, is the stage manager.
The cast features Meredith Ham, a junior from Castle Rock, Colorado, as Prospera, and Aaron Gonner, a senior from Dubuque, Iowa, as Ariel. The 20-person cast also features Amanda Suggs, a junior from Cedar Park, Texas, as Miranda; Jack Russell, a freshman from Montgomery, Texas, as Ferdinand; and Joseph W. Schwalb, a senior from Thiensville, Wisconsin, as Caliban.
Ticket prices are $18 for adults and $16 for senior adults, students, and UE faculty and staff. UE students may obtain one free student rush ticket beginning at noon on the day of the performance they wish to attend.
Following The Tempest, the rest of the Shanklin Theatre season includes Sense and Sensibility by Kate Hamill, February 16-25; and The Grapes of Wrath by Frank Galati, April 13-22.
Tickets may be purchased by calling 812-488–2031, Monday through Friday, noon- 5:00 p.m.
Phi Mu invites you to Rock 4 Riley tonight
The women of Phi Mu are proud to invite you to Rock 4 Riley, a lip-syncing and dancing competition, this evening - Friday, November 10 - at 7:00 p.m. in Eykamp Hall, Ridgway University Center. Tickets will be on sale at our ticket table in Ridgway University Center from November 6-10 for $5. Tickets will be $7 at the door. Come watch fun, superhero inspired dances and support our philanthropy, Children's Miracle Network Hospitals!
Submitted by Katherine Marcussen km348@evansville.edu
UE alumnus Maj Gen. (Ret.) Mark Pillar to present at Veterans Day Service on Friday, Nov. 10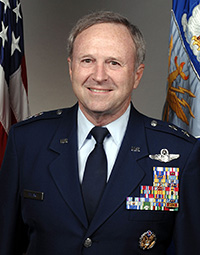 Maj. Gen. (Ret.) Mark A. Pillar will present at the UE Veterans Day Service set for Friday, November 10 at 11:00 a.m. in Wheeler Concert Hall. Pillar graduated from the University of Evansville with a bachelor's degree in marketing in 1971. The general began his Air Force career while at UE through the University's Air Force ROTC program. His first active duty Air Force assignment was at Da Nang Air Base, Republic of South Vietnam, where he served as an EC-47 pilot and flew more than 90 combat missions logging more than 600 combat hours.
General Pillar flew missions in support of operations Desert Shield, Desert Storm, and in the Bosnia no-fly zone. During Operation Joint Forge, he was vice commander of the 60th Air Expeditionary Wing, Rhein-Main AB, Germany. He is a command pilot with more than 5,300 hours in the C/EC-47, KC-135A/E/R, EC-135, and the E-8 aircraft.
He transitioned to the Air Force Reserves after eight years of active duty service. At the time of his military retirement in 2008, he was the mobilization assistant to the Military Deputy, Office of the Assistant Secretary of the Air Force for Acquisition, Headquarters U.S. Air Force, Washington, D.C.
As a civilian, Pillar was an airline pilot for Delta Air Lines and retired as an International 767-ER Captain. With nearly 23,000 hours of flying time, he has flown all over the world (except for Australia) in various types of aircraft.
Pillar is a very active alumnus of the University of Evansville having served two terms on UE's Alumni Association Board of Directors, president of the Alumni Board, and just completed a term as alumni-elected trustee. He is also an active alumnus with his fraternity, Tau Kappa Epsilon (TKE).
A light luncheon reception will be served immediately following in the lobby of Krannert Hall of Fine Arts.
Study abroad pizza party/info session
Interested in exploring study abroad options around the world? Jacob Gross from our exchange organization, ISEP (www.isepstudyabroad.org), will be hosting a special session about the many study abroad locations UE offers as well as how to start the application process. Spend some time with Jacob and other study abroad staff to start planning your adventure abroad, or just come with any questions you might have! Pizza will be provided.
Join us on Tuesday, November 14 from 5:00-6:00 p.m. in room 273 in the Schroeder School of Business Building.
Please use the following link to RSVP for the event: https://goo.gl/forms/iiRkoo24kgx46MWm1.
You can e-mail Amara Stuehling at as760@evansville.edu with any questions.
2017 FanFest to feature Aces star Reed Jackson
UE Hall of Famer and fan favorite Reed Jackson will speak at one of the most popular Aces events of the season. FanFest is back for the seventh year in a row and will take place prior to the University of Evansville men's basketball season opener against Arkansas State on Friday, November 10.
Festivities get underway at 4:30 p.m. and run through 6:30 p.m. at Freedom Plaza, which is located directly outside the main entrance of the Ford Center. The game will begin at 7:00 p.m., giving fans plenty of time to make it inside the arena to their seats. This is the first time FanFest is on a Friday night.
Live music, a photo booth, bounce house and several more great activities will be at the event, which has taken place each year since 2011.
There will also be activities for fans of all ages with vendors selling food also on hand. Those selling food include: Dapper Pig, Marx BBQ, and Backstage.
Admission to FanFest is free to everyone.
UE's 31st Annual International Bazaar
The University of Evansville's 31st annual International Bazaar is planned today - Friday, November 17 - from 5:00-7:00 p.m., in Ridgway University Center on UE's campus. Visitors to the bazaar will "travel the world" by experiencing the food, customs and cultures of UE's international students, a diverse group that represents 61 countries.
The event is open to the public. General admission is $10, or $7 in advance. UE students and children five and under will be admitted for free. Pre-sale discounts are available through Thursday, November 16. Purchase your $7 pre-sale ticket at the Office of Cultural Engagement and International Services during regular business hours or at tickets.evansville.edu.
Proceeds from the event will benefit the International Rescue Committee. This organization responds to the world's worst humanitarian crises, helping to restore health, safety, education, economic well-being, and power to people devastated by conflict and disaster.
The bazaar is part of the University's celebration of International Education Week.
To learn more about the bazaar, visit the UE International Education Week web page or contact the Office of Cultural Engagement and International Services at 812-488-2279.
UE employees invited to Emeriti retirement health care workshops
UE employees are invited to attend one of the informational workshops presented by Emeriti Retirement Health Solutions on Tuesday, November 14 in Eykamp Hall, room 263, Ridgway University Center.
The workshops are scheduled for:
• 10:00 a.m.–11:00 a.m.: This session is for active employees considering retirement
• 11:30 a.m.–12:30 p.m.: This is primarily geared to those already retired or close to retirement
The Emeriti program provides important benefits such as:
• A tax-advantaged way for you to invest and accumulate assets for your future retiree medical expenses.
• A retiree health insurance program for you and your eligible dependents that builds on the foundation of Medicare.
• A tax-free way for you to pay for other qualified out-of-pocket medical expenses in retirement.
A representative from Emeriti and Aetna health insurance will be on campus to provide information about Emeriti and what you need to do to take full advantage of the program. The meetings will cover such topics as why you need to save for retiree health care, the unique tax advantages of the Emeriti Program, and your options available under the program. For more information about the Emeriti program, please visit: www.emeritihealth.org/.
Submitted by Lori LeDuc ll138@evansville.edu
This Week in Music: Oboe Day
On November 12, from noon-6:00 p.m., the UE Music Department will be hosting an Oboe Day. The event will feature guest artist Robert Morgan, who plays English horn in the Lyric Opera of Chicago and teaches at Northwestern University. The Guest Artist Recital will begin at 12:15 p.m. in Wheeler Concert Hall. Following the performance will be sessions focusing on air support, posture, English horn, basic oboe maintenance, Baroque style, and other aspects of oboe playing. The cost for non-UE students is $30. Please feel free to contact Elizabeth Robertson if you have any questions or if you would like to register as a participant. For more information, please visit: www.evansville.edu/majors/music/oboeDay.cfm.
Submitted by James Sullivan js820@evansville.edu
Math movie night
The math department will host a movie night on Thursday, November 9, in Koch Center 101. Join us at 7:00 p.m. for snacks and then enjoy the movie "21." Hope to see you there!
Submitted by Pengcheng Xiao px3@evansville.edu
TIAA-CREF counseling appointments
The TIAA-CREF representative will be on the UE campus for individual counseling sessions on Tuesday, November 14. To schedule an appointment, call TIAA-CREF at 1-800-732-8353.
Please note that the meeting location has been changed to room 208 of the University Libraries.
Submitted by Lori LeDuc ll138@evansville.edu
MS in Athletic Training Program to add clinical rotation with Northwestern and Western Kentucky Universities' football teams
Students in the University of Evansville's Master of Science in Athletic Training Program will soon have clinical rotations with the Division I football teams at Northwestern and Western Kentucky Universities. This full immersive clinical experience is for second-year students and will begin in the fall of 2018.
The UE program already has clinical sites at many area schools and medical facilities including ProRehab, Orthopaedic Associates, Tristate Orthopaedics, and Castle High School.
Students in the program also have opportunities to participate in research conducted in the University's Dunigan Motion Analysis Lab. They also have the opportunity to work with faculty on faculty-sponsored research or may perform their own projects. Students have presented their research findings at national meetings and in professional journals.
The University of Evansville's Master of Science Athletic Training Program is one of 50 schools in the country with the Commission on Accreditation of Athletic Training Education (CAATE) accreditation for MS programs. It is one of five schools that have both a both a master's program and a bachelor's program for athletic training.
Faculty/Staff Men's Basketball Tickets
All UE faculty/staff may begin claiming their two complimentary tickets for the men's basketball games on November 10 (against Arkansas State at 7:00 p.m.) and November 13 (against NC Central at 11:00 a.m.). Tickets must be claimed in person at the Carson Center ticket office Monday-Friday, 8:30 a.m.-5:00 p.m., with your valid UE ID. Tickets may also be claimed at the Ford Center interior ticket office window when doors open for the event (one hour before tip-off). Please call 812-488-2237 for more information.
Nominate your co-worker for December Employee of the Month 2017!
The University of Evansville, in pursuit of excellence in service, wishes to recognize a non-faculty employee displaying records of achievement as a leader. Leadership may be demonstrated in any of the following areas: service to the University, service to students, job performance, and attitude towards fellow employees.
To be eligible, an employee must be a full-time member of administration or staff.
Nominations for the December 2017 Employee of the Month are due no later than Wednesday, November 15.
To nominate someone, please go to http://acelink.evansville.edu/tools/employeeaward.
Submitted by Lori LeDuc ll138@evansville.edu
Men's soccer ends regular season with important road win
In its regular season finale, the University of Evansville men's soccer team secured an important 1-0 victory in overtime over Loyola on Saturday night in Chicago, Illinois.
Sophomore defender Simon Waever scored the lone goal of the match and recorded a pair of shots to lead the Aces, while senior midfielder Chris Shuck and senior midfielder Ian McGrath also tallied two shots each in the victory. In goal, senior Matthew Keller earned his eighth victory of the season, recording his third shutout with seven saves in the win. For the Ramblers, Elliot Collier and Aidan Megally each recorded two shots in the loss.
"I can't say enough about this team and how we find ways to get results when we are switched on," said Aces men's soccer head coach Marshall Ray. "To get another overtime win on the road in the final conference game of the season is big."
The opening 45 minutes of the match was played evenly with both sides combining for nine shots in the half with Loyola owning a narrow 5-4 advantage at the half.
In the second half, the Ramblers led with 10 shots to three for the Aces, but Evansville's backline held firm, keeping Loyola off the scoreboard. With less than three minutes left in regulation, the Ramblers' Grant Stoneman launched a shot on-goal that Keller made a crucial save of, keeping the match scoreless and forcing overtime.
After nearly six-and-a-half minutes had passed in the first overtime period, the Aces struck for the game-winner. On a counter, freshman forward Adam Snow sprinted through the midfield with the ball and delivered a through ball to Waever, following a long run by the defender, and the Holte, Denmark native tucked the ball past the keeper and in for the golden goal.
In the match, Loyola out-shot the Aces, 15-7, with a 7-1 advantage on shots on-goal, but Evansville was able to captialize on its only shot on-frame.
"(This win) gives us confidence heading into the Valley tournament and, more importantly, it moves us out of the opening round match on Tuesday," said Ray. "It is time to rest and prepare for an important week for our program."
Fifth-seeded Evansville begins Missouri Valley Conference Tournament play on Wednesday at 4:00 p.m. against a familiar foe in fourth-seeded Loyola in Peoria, Illinois.
UE Volleyball edged at Drake in final leg of road trip
Junior Mildrelis Rodriguez notched 13 kills, 12 digs and three service aces, but three Drake players recorded double digit kills as the Bulldogs took a 3-0 win over the University of Evansville volleyball team inside the Knapp Center on Saturday night.
Rodriguez led the Aces (10-16, 4-10 MVC) with 13 kills while Rocio Fortuny had 12. Allana McInnis posted 21 assists while Taylor Jones added 16 to lead the offense. Cassie Brooks was the top defensive performer with 21 digs.
Emily Plock topped the Bulldogs (23-6, 12-3 MVC) with 15 kills as Natalie Fry and Kyla Inderski notched 12 apiece.
Mildrelis Rodriguez opened the night in impressive fashion, notching back-to-back service aces as UE took a 4-0 lead in game one. Drake came back to tie it up at 8-8, but the Aces had the answer as Rodriguez posted a kill to put UE back in front. Rocio Fortuny helped the team push its lead to four at 22-18. Facing its largest deficit of the set, the Bulldogs rallied back with seven in a row to take game one, 25-22.
In the second frame, it was the Bulldogs who had a strong start as an Emily Plock kill gave them a 6-1 advantage. The Aces clawed their way back with a 9-3 run, capped off by an Erlicia Griffith kill, to take their first lead at 10-9. The action was back-and-forth before Evansville wrestled away a 19-16 edge as Cathy Schreiber had two kills. Just as they did in the opening set, Drake used some late magic to pull off a win. They retook the lead at 23-22 and were able to finish the game off with a 30-28 triumph.
Rodriguez continued her strong night with an early kill as the Aces took a 3-1 advantage to open the third set. The lead reached as many as five points at 12-7 when Gabriela Dos Santos notched a kill. A 4-0 run by the Bulldogs cut the deficit to one before they took the lead at 15-14. From there, they pulled away for a 25-20 win to clinch the match.
Meeks Family Fieldhouse will be the scene of the next two contests for UE as they welcome Valparaiso on Friday night before playing host to Loyola on Saturday. Both matches will have 7:00 p.m. start times.
Women's swimming and diving holds quad meet
Courtney Coverdale and Danielle Freeman each picked up wins as the University of Evansville women's swimming and diving team held the UE Quad Meet on Saturday at Wyttenbach Pool.
Taking part in the meet were the Purple Aces, Indiana State, Arkansas Little Rock, and Butler. Evansville defeated UALR (134.00-108.00) and Butler (193.00-44.00) but fell to Indiana State by a final of 144.0-99.0.
Courtney Coverdale grabbed wins in both diving events. Her score of 250.35 in the 1-meter saw her edge teammate Natalie Gerard, who took second with a 218.55. In the 3-meter event, Coverdale scored a 239.00, topping teammate Gerard, who again took second with a 188.60.
Danielle Freeman was the winner in the 100 free. She posted a time of 52.38 to defeat the competition in style. She came home 1.49 seconds ahead of second place. Madi Jones took fifth place with a 55.79. Freeman also led the way with a strong performance in the 50 free. Her 24.08 was 0.58 in front of the pack. Fellow Ace Kaylee Gubricky had the #3 time in the race with a 24.93.
Evansville's team of Sam Gowdy, Alaina Sylvester, Kara Steward, and Madi Jones picked up a second place finish in the 400 free relay. Their effort of 3:59.26 was just over a second behind top finisher Indiana State. Gowdy also had a nice race on her own in the 200 backstroke. A 2:09.55 was good for third place. Kristy Kupfer was fourth with a 2:10.90.
Emily Lane was UE's top performer in the 1000 free with an 11:02.47. She was fourth. She also picked up a top five finish in the 500 free. A 5:26.41 earned her fifth place. Also picking up a fourth place was Kupfer. Kupfer posted a 1:58.18 in the 200 free for the finish. Kara Steward paced the squad in a close finish to the 200 fly, earning fourth place. Steward swam a 2:12.93, just 1.01 behind the winner of Indiana State.
Emma Hennessy, Kupfer, Ramis and Freeman combined to take third in the 400 free relay. Another exciting finish saw them finish just 1.79 ticks behind the winning squad of the Sycamores.
Taking fifth place in the 200 IM for UE was Andrea Ramis. The freshman posted a time of 2:14.99.
Spanish 321: Intro to Hispanic Studies - offered Spring 2018
Spanish 321: Intro to Hispanic Studies will be offered in Spring 2018. In addition to looking at film, photography and other visual and social media, students will explore thematic topics related to literary production. Students will develop interpretative and conversational skills, and deepen understanding of Hispanic culture and society. This class will be taught in Spanish.
Submitted by Edward Curran ec172@evansville.edu
Spanish Seminar students host Evansville Day School Spanish Club
On Thursday, October 27, the students in the Spanish Seminar course with UE associate professor of Spanish Diana Rodríguez Quevedo hosted Silmary Echeverría and Anna Newton along with members of the Evansville Day School Spanish Club. The session took place at the UE Diversity Resource Center where students made chocolate skulls, decorated sugar skulls, hung decorations, set up an altar, and shared stories in Spanish to honor the Day of the Dead, a Mexican tradition, which is celebrated from October 31-November 2 in the U.S. this year.
Evansville Day School offering scholarship opportunity to UE families
Evansville Day School has announced a scholarship opportunity for students whose families are employed full-time by the University of Evansville. Any student admitted to Evansville Day School will automatically receive a 50 percent (25 percent for Junior Pre-K and Pre-K) tuition reduction. Once awarded, the scholarships will be automatically renewed annually.
Evansville Day School is offering this scholarship because it understands that educators have chosen a profession with immeasurable societal impact, but with lower salary benefits than other fields requiring similar degrees and work demands. As the leading college prep school in the region, the Evansville Day School wants to partner with educators by making the school affordable to families who value the school's mission and brand of education.
More information on the scholarship is available in the Office of Human Resources at UE. Also, Evansville Day School invites those interested to Discover Why Day, an admission event scheduled for November 10 at 8:30 a.m. and 12:30 p.m. More information on Discover Why Day can be found on the Day School's event page: https://www.evansvilledayschool.org/discover-why-day.
For additional information on the scholarship, or Evansville Day School's educational experience, contact the Day School's director of enrollment management, Tiki Thompson at tthompson@evansvilledayschool.org.
Honorary Degree Committee invites your suggestions
The University of Evansville Honorary Degree Committee is now soliciting your recommendations for honorary degrees to be conferred at the May 2018 Commencement. According to the UE Faculty and Administrator Manual, the committee is charged with requesting and reviewing honorary degree nominations made on the basis of individual service to the University and individual achievement. An honorary degree may also be awarded to individuals who exemplify the University's mission. Selected persons have excelled in a variety of areas--law, medicine, education, business, literature, politics, and entertainment.
The committee will forward nominations to President Kazee so he can make his recommendations to the faculty. The faculty will vote on the final list of nominees.
Please email the following information to Robert Dion, committee chairperson, at rd35@evansville.edu, by Friday, November 3:
1. Nomination by (include name, phone and email address)
2. Name of person nominated
3. Title and/or profession of nominee
4. Rationale for the nomination (see criteria above)
5. Any biographical or background information on the nominee
6. Address information for contacting the nominee
Submitted by Robert Dion rd35@evansville.edu
Strobel presents two papers in the UK
Heidi Strobel, associate professor of art history, presented a paper at the Tower of London on October 31. Her paper was chosen to be part of the Enlightened Princesses symposium, which was co-sponsored by the Royal Collection and the Yale Center for British Art. Strobel's paper was on the relationship between Queen Charlotte (1744-1818) and Leicester textile artist and gallery owner Mary Linwood (1755-1845). While in England, Strobel gave a paper on Linwood at the Melton Carnegie Museum in Melton Mowbray, which is very close to the Harlaxton community.
Pleasant has article published in Animal Narratology, special issue of Humanities journal
Lesley Pleasant, associate professor of German, has had an article published in Animal Narratology, a special issue of the Humanities journal. Her article, 'Seeing Beings: "Dog" Looks Back at "God": Unfixing Canis familiaris in Kornél Mundruczó's Film Fehér isten/White God (2014)', discusses how White God models the empathetic gaze between species as a potential way out of the dead end of indifference and the impasse of anthropocentric sympathy toward less hierarchical, co-created urban animal publics.
Strandberg presents at Francophone Music Criticism Conference
Assistant professor of music history Kristen Strandberg will travel to Rochester, New York, to present at the conference of the international Francophone Music Criticism Network. Her paper discusses nineteenth-century French music critics' belief that altruism and charitable giving were essential components of the true musical/artistic genius.
Contribute to AceNotes
To have content considered for inclusion in AceNotes, please submit a Marketing Request Form. Deadline for submission to AceNotes is 10:00 a.m. on the requested date of publication. Only articles concerning UE related/sponsored activities will be accepted. Articles submitted to AceNotes may be edited for length and clarity. Submitter contact information is at the end of each article.