| | |
| --- | --- |
| AceNotes Today | Wednesday, November 1, 2017 |
Chick-fil-A opening today!
Chick-fil-A will officially open at 10:30 a.m. today - Wednesday, November 1 - in Ridgway University Center.
Chick-fil-A serves chicken sandwiches, nuggets, spicy chicken sandwiches, and the legendary waffle potato fries. Breakfast items will not be available at the Ridgway University Center location. A full menu may be viewed here.
Hours of operation will be as follows:
Monday - Thursday: 10:30 a.m. – midnight
Friday: 10:30 a.m. – 10:00 p.m.
Saturday: 2:00 p.m. – 10:00 p.m.
Sunday: Closed
Visit www.dineoncampus.com/ue for more information about Chick-fil-A and all Chartwells dining locations on campus.
The French Conversation Table
Bonjour! The French Conversation Table is meeting again today - Wednesday, November 1 - from 5:00-6:00 p.m., in Hyde Hall 124. We will play games and talk about our favorites traditions in the US and in France. Everyone is welcome to join (students, faculty, and staff)!
Submitted by Severine Bates sb413@evansville.edu
All Saints Fireside Chat at Honey Moon Coffee Co.!
This week's Fireside Chat will meet at 7:30 p.m. this evening in Grabill Lounge in Neu Chapel. From there, we will walk over to Honey Moon Coffee Co. for a wonderful time of reflection and conversation, particularly about All Saints Day and what it means to be a saint in our day. Everyone is invited to attend!
Submitted by Keith Turner kt160@evansville.edu
Informal Spanish conversation
Spanish students of all levels are welcome to practice with Fulbright Spanish TA Ignacio Benítez. The next session will be today - November 1 - at 5:00 p.m., at Ridgway University Center's Starbucks. It's a wonderful opportunity to interact informally in Spanish with a native speaker and to meet other students of Spanish. You can stay as little or as long as you want. Please contact Ignacio at cl192@evansville.edu if you have any questions. ¡Nos vemos!
Submitted by Ignacio Benitez cl192@evansville.edu
I-House Japan!
Please join us for I-House tonight - Wednesday, November 1 - at 7:00 p.m., upstairs in Ridgway University Center. There will be a presentation about Japan. We hope you can make it!
Submitted by Alexis Whitacre aw339@evansville.edu
SIAM Student Chapter Talk Series - Shouhong Wang
Shouhong Wang, professor of mathematics at Indiana University, will give a talk to Society for Industrial and Applied Mathematics (SIAM) chapter today. The lecture will begin at 3:00 p.m. in Room 100, Koch Center for Engineering and Science. The title of Wang's lecture is "Interplay between Mathematics and Physics".
In recent years, Wang has made a serious attempt to derive experimentally verifiable laws of nature based only on a few fundamental principles, aiming to answer challenging questions concerning the dark matter and dark energy phenomena, and the structure of black hole and the Universe. In this talk, Wang will use theories of gravity and black holes (Galileo, Newton, Einstein, as well as recent developments) to describe the symbiotic interplay between mathematics and physics.
Professor Wang received his Ph.D. from Lanzhou University in 1988 and joined Indiana University in 1989. Wang is an elected fellow of American Mathematical Society for his contributions to geophysical fluid mechanics, and his work has been supported by grants from the Office of Naval Research and the National Science Foundation.
Submitted by Pengcheng Xiao px3@evansville.edu
Recycling 101 - today
A recycling talk will be presented by the Philosophy 316 Action group in Koch Room 100 in the Koch Center for Engineering and Science at 7:00 p.m. today. The talk will cover the dos and don'ts of recycling and why YOU should recycle.
Submitted by Samantha Morgan sm401@evansville.edu
Today - Study Abroad: A View from the Other Side
In this presentation, Norma Franklin (co-director of the Jezreel Expedition) will talk about the value of student study abroad experiences from her perspective as an Israeli archaeologist. Before co-directing the Jezreel Expedition with UE's Jennie Ebeling, Franklin supervised hundreds of American college students as a senior staff member of the Megiddo (biblical Armageddon) excavations and is thus very familiar with the challenges and rewards of the student study abroad experience. This presentation will be a great resource for students who have studied abroad or who are interested in a study abroad experience.
The presentation will be held today - Monday, November 13 - in Eykamp Hall, Room 253, Ridgway University Center from 4:00-5:00 p.m.
Submitted by Greta Becker gb91@evansville.edu
UE to Show Documentary "8 Borders, 8 Days"
The documentary 8 Borders, 8 Days will be shown Tuesday, November 14, at 6:00 p.m. in Room 170 of the Schroeder School of Business Building. The screening will be followed by an interactive discussion with the movie's director Amanda Bailly, UE philosophy professor Derek Jones, and a panel of Syrian and American students. The event is free and open to the public.
The film follows a Syrian family who were not accepted for resettlement to the US and instead traveled with smugglers in a raft to Europe.
"The majority of people in the United States who want to close our doors to refugees have never actually heard the voices of the people affected," said Bailly. "This film tells the story of three of them, and they're three of the strongest, most resilient human beings I've ever met."
8 Borders, 8 Days premiered to sold-out screenings at the Florida Film Festival and Seattle International Film Festival, where it was awarded a $50,000 impact filmmaking grant. It has been called "raw, emotional," and "unblinking."
Donations will be accepted at the event for the Karam Foundation, a non-profit organization on a mission to build a better future for Syria. The foundation develops innovative education programs for Syrian refugee youth, distributes smart aid to Syrian families, and funds sustainable development projects initiated by Syrians for Syrians.
The screening and panel discussion is being co-sponsored by Scholars for Syria and Books Not Bombs, a student-led campaign aimed at creating scholarships for displaced Syrian students. Through donations at the event and online, Scholars for Syria and Books Not Bombs hope to add to the Karam Foundation fund that is empowering Syrian refugees to succeed in school and beyond.
For more information on the event at UE, call 732-239-4139, e-mail gv15@evansville.edu or go to www.facebook.com/events/1987428101542302/?active_tab=about.
If you cannot attend but wish to make a donation, you can do so at give.karamfoundation.org/team/142156.
Best wishes to Michelle Hahn
Please join the Department of Art in wishing Michelle Hahn all the best as she moves on to a new opportunity. Michelle has been a very valuable and well respected team member in the Department of Art. She became acclimated to the position with an amazing speed and provided many improvements to the efficiency of the art office. Thank you, Michelle, for your years of service and dedication to the UE community!
Submitted by Stephanie Frasier sf47@evansville.edu
Please return the Tin City banners
Over Fall Break two banners disappeared from the Tin City excavation site. If you took them, feel free to leave them in the hallway outside of Hyde Hall 14 at any time; we won't ask any questions. The banners helped the University recruit new students, thereby controlling tuition increases for everyone, and to teach people about archaeology. Unfortunately, because of deep departmental budget cuts this year, it will be difficult to replace them. So we would really appreciate it if you could help us out by returning them. Thanks!
Submitted by Alan Kaiser ak58@evansville.edu
Need to salvage the semester? It's not too late...
Need to get organized, stay focused, study more effectively, and lower your stress? Need to raise your grades? You should attend the Salvage the Semester Workshop on Friday, November 3. Sessions begin every 30 minutes from 2:00 -4:30 p.m. The workshop will be in the Writing Center in Clifford Memorial Library.
To make reservations for the workshop, contact Stacey Shanks at ss581@evansville.edu.
• Schedule time with your personal academic coach
• Bring syllabus for each class
• Bring your planner
• Plan out projects and assignments for the rest of the semester
Submitted by Angie Dawson ad5@evansville.edu
Participants wanted for whodunit research
Students in NEUR 358 are looking for participants for their whodunit style research. Participation will take approximately 10-15 minutes and will need to be done in person. Those currently enrolled in select psychology courses have the opportunity to receive extra credit for their participation.
Use the following link to provide times available for participation. Please read the instructions carefully:
https://doodle.com/poll/van5zf4vuizktc47.
If you have any questions, please contact us at az41@evansville.edu.
Submitted by Cally Roberts cr186@evansville.edu
Winter Intersession courses
The University of Evansville offers Winter Intersession courses between the fall and spring semester from December 15, 2017 to January 5, 2018. Registration begins October 30. Students may register for one Winter Intersession course.
For more information visit: www.evansville.edu/registrar
These accelerated courses offer students the opportunity to:
•Take a course on-line to earn credits toward graduation
•Lighten your spring course schedule
•Complete missing requirements
Class offerings:
•ART 105: Introduction to the Visual Arts (Professor Larmann)
•COMM 380: Intercultural Communication (Professor Thomlison)
•ES 103: Fundamentals of Environmental Science (Professor Thananatthanachon)
•EXSS 320: Nutrition for Performance and Health (Professor Rodd)
•FIN 280: Introduction to Personal Finance (Professor Alhenawa)
•PH 190 Introduction to Public Health (Professor Patel-Dovlatabadi)
•PSCI 100: World Politics (Professor Kim)
•PSYC 416: Human Sexuality (Professor Becker)
•PSYC 121: Introduction to Psychology (Professor Hennon-Peters)
•PSYC 229: Social Psychology (Professor Stevenson)
•SOC 105: Introduction to Sociology (Professor Plikuhn)
Submitted by Paula Heldt ph28@evansville.edu
Don't miss the study abroad deadlines!
If you are interested in studying abroad anywhere in the world other than Harlaxton, please see the deadlines below.
*To study abroad in Fall 2018, apply by December 6, 2017.
*To study abroad in Summer 2018, apply by January 24, 2018.
*To study abroad in Spring 2019, apply by March 2, 2018.
We have locations all over the world for you to explore! Please set up a meeting with the study abroad office to learn how to apply for Summer 2018, Fall 2018, or Spring 2019. You can e-mail as760@evansville.edu to make an appointment.
Submitted by Amara Stuehling as760@evansville.edu
Evansville Day School offering scholarship opportunity to UE families
Evansville Day School has announced a scholarship opportunity for students whose families are employed full-time by the University of Evansville. Any student admitted to Evansville Day School will automatically receive a 50 percent (25 percent for Junior Pre-K and Pre-K) tuition reduction. Once awarded, the scholarships will be automatically renewed annually.
Evansville Day School is offering this scholarship because it understands that educators have chosen a profession with immeasurable societal impact, but with lower salary benefits than other fields requiring similar degrees and work demands. As the leading college prep school in the region, the Evansville Day School wants to partner with educators by making the school affordable to families who value the school's mission and brand of education.
More information on the scholarship is available in the Office of Human Resources at UE. Also, Evansville Day School invites those interested to Discover Why Day, an admission event scheduled for November 10 at 8:30 a.m. and 12:30 p.m. More information on Discover Why Day can be found on the Day School's event page: https://www.evansvilledayschool.org/discover-why-day.
For additional information on the scholarship, or Evansville Day School's educational experience, contact the Day School's director of enrollment management, Tiki Thompson at tthompson@evansvilledayschool.org.
Seniors McGrath and Williams score in Aces victory
On a night the Purple Aces honored eight seniors, the University of Evansville men's soccer team wrapped-up a three-game homestand with a 2-1 victory over Northern Kentucky on Tuesday night at Arad McCutchan Stadium.
"It's always good to go out with a win on senior night," said Aces men's soccer head coach Marshall Ray. "I think it's a testament to the group. We worked hard and we battled tonight. We gave up a goal there that we probably shouldn't have, but to be honest with you, we've talked about all season that we just want to have one more goal than the other team and we did that tonight. It was great to see Ian (McGrath) and Caleb (Williams) score, two seniors going off that way, and I think they really led the team this evening."
Fittingly, senior midfielders Ian McGrath and Caleb Williams each scored for UE with Williams leading the way with four shots in the win. In goal, senior Matthew Keller captured his seventh victory of the season, making a save and allowing one goal. For the Norse, Edo Durante recorded the lone goal of the match.
The Aces opened the scoring just 16 minutes into the match as Evansville earned a penalty kick and McGrath put it away for his 11th goal of the season.
In the 20th minute, Evansville added another goal as McGrath played the ball to Williams who flipped the ball past the Norse's keeper to give the Aces a 2-0 advantage. Five minutes later, NKU scored after Nick Perez played the ball into the box where Durante dribbled and slipped it into the back of the net to trim Evansville's lead in half at 2-1.
The second half was evenly played as the Norse narrowly out-shot the Aces, 4-3, but NKU could not tie the match as Evansville captured a 2-1 win.
In the match, the Aces doubled-up NKU, 12-6, on shots and earned a 6-4 advantage on corner kicks.
Evansville concludes the regular season on Saturday night on the road against Loyola at 7:00 p.m. in Chicago, Illinois.
Cassie Brooks named MVC Freshman of the Week
University of Evansville libero Cassie Brooks averaged 6.83 digs per set over the weekend on the way to being named the Missouri Valley Conference Freshman of the Week on Monday.
"Her improvement throughout these past weeks, along with her discipline and understanding of our system have helped her be more comfortable with her role and responsibilities," Purple Aces head coach Manolo Concepcion said. "The biggest evolution of her game have been on developing good/effective habits that have impacted her consistency on the plays that happen the most in a game. The most exciting part is that we know she will continue to get better!"
Brooks was on fire this weekend as she posted an unbelievable 6.83 digs per set in leading the Purple Aces to a 3-0 win over Southern Illinois and a great effort against Missouri State on Friday.
The first match of the weekend against MSU saw Brooks notch 21 digs against the undefeated Bears. She also had four assists in just three frames of work. Brooks was back at it against the Salukis as she tallied 20 more digs and six assists in another 3-set match.
With her strong play, Brooks improved her season dig average up to 4.66 per set, which ranks 8th in the MVC.
UE is back on the road this weekend with a pair of road contests in the state of Iowa at UNI on Friday and Drake on Saturday evening.
Cheryl Shafer presented with November 2017 Employee Excellence Award.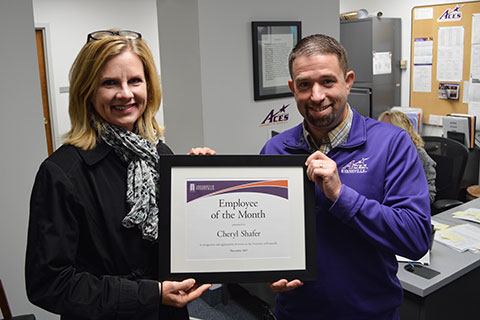 Cheryl Shafer, administrative assistant for the public health programs, was presented with the November 2017 Employee Excellence Award. Cheryl was nominated for her positive attitude and welcoming demeanor. She has let her contagious spirit lift those around her, even while tackling demanding tasks. Cheryl is known to be highly organized and efficient. Those skills have kept the departments of foreign languages, philosophy and religion, and archaeology and art history running smoothly during her service as their administrative assistant. More recently, Cheryl has gone above and beyond to ensure a smooth transition for her replacement in those departments after she transferred to her new role in the public health programs. She is a worthy recipient of the Employee of the Month!
UE Trumpet Ensemble travels to Iowa State
Jim Bovinett, professor of trumpet, will be hosting the Trumpet Summit on the campus of Iowa State University in Ames Iowa on Saturday November 4. The UE Trumpet Ensemble has been invited to be guest performers and participants at the event. Timothy Zifer, UE professor of music, will direct the trumpet ensemble, serve as a guest clinician, and also perform on the faculty recital.
Kiesel is guest speaker at medical conference
Kyle Kiesel, professor and chair of physical therapy, was a special guest speaker recently at the medical continuing education conference, Emerging Concepts in Orthopedic Surgery in Annapolis, Maryland. He conducted the lecture "Are you optimizing human movement in your practice? The Functional Movement System's approach to movement Screening, Testing and Assessment."
Clark Kimberling publishes research
University of Evansville Professor of Mathematics Clark Kimberling and English engineer Peter J. C. Moses have an article, "Nested Interval Sequences of Positive Real Numbers," in the current issue of the online mathematics Journal INTEGERS.
The article introduces a new kind of infinite series analogous to Engel series, with surprising connections to Egyptian fractions, hypergeometric functions, Bessel numbers, and Chebyshev polynomials.
Contribute to AceNotes
To have content considered for inclusion in AceNotes, please submit a Marketing Request Form. Deadline for submission to AceNotes is 10:00 a.m. on the requested date of publication. Only articles concerning UE related/sponsored activities will be accepted. Articles submitted to AceNotes may be edited for length and clarity. Submitter contact information is at the end of each article.