| | |
| --- | --- |
| AceNotes Today | Monday, October 30, 2017 |
Holiday season hours
The University of Evansville will be closed during the holidays to allow our employees to enjoy this special time with their families.
The following November-December-January holiday schedule will be observed:
Thanksgiving
Wednesday, November 22 – closing at noon
Thursday, November 23 - closed
Friday, November 24 - closed
Christmas/New Year's
Closed starting Monday, December 25 – returning on Tuesday, January 2
Post-Active Shooter Drill survey
Faculty, students, administrators and staff: Please watch your inbox for a link to a Post Active Shooter Drill Survey. We would appreciate your participation in the survey before Monday, October 30. This will give us valuable feedback about the drill held on October 24.
Former Death Row Inmate to Speak at UE Today
Anthony Ray Hinton will speak at the University of Evansville as part of the Honors Program Lecture Series today - Monday, October 30 - at 6:00 p.m. in Eykamp Hall Room 251, Ridgway University Center. This event is free to the public and seating is limited - first come, first served.
Hinton was falsely accused of committing two murders outside of Birmingham, Alabama, in 1985. He was wrongly convicted and spent nearly 30 years on Alabama's death row before he was exonerated and freed in April 2015. A deeply compelling speaker, he has become a community educator and powerful advocate against the death penalty who speaks nationally about the urgent need for criminal justice reform.
Hinton was featured in the book, Just Mercy: A Story of Justice and Redemption, by author and attorney Bryan Stevenson.
Stevenson, who managed Hinton's sentencing appeal, is also the founder of the Equal Justice Initiative, a legal practice dedicated to defending those most desperate and in need: the poor, the wrongly condemned, and women and children trapped in the farthest reaches of our criminal justice system.
You can learn more about the event on the Honors Program webpage.
Pixley presenting exhibit in UE's Melvin Peterson Gallery
"Putting on Airs," an exhibit of prints by artist Lisa Pixley, will be displayed at the University of Evansville's Melvin Peterson Gallery from October 30-December 9.
The exhibit is free and open to the public and is part of the Efroymson Family Fund Emerging Contemporary Artist Lecture Series.
An artist printmaker located in Portland, Maine, Pixley earned her BFA with a concentration in painting from the Maine College of Art. After graduation, she began a commercial and artistic practice focusing on the craft of print. Pixley studied as an apprentice with David Wolfe of Wolfe Editions, where she worked closely with artists such as Charlie Hewitt and Allison Hildreth.
In 2009 Pixley founded Pickwick Independent Press in Portland, a for profit shared access print studio where she worked as director, master printer, and events coordinator, while also maintaining an active art practice in the medium of printmaking.
Pixley is currently developing a new venture: WIP Editions. WIP Editions will function as a storefront studio entity as well as an online presence. Under the imprint of WIP Editions, she will be developing a body of work showcasing suites of prints of her work as well as the work of invited artists.
The Melvin Peterson Gallery is located at 1935 Lincoln Avenue on the corner of Lincoln and Weinbach Avenues in Evansville.
For more information, contact 207-650-6073.
I-House Japan!
Please join us for I-House tonight - Wednesday, November 1 - at 7:00 p.m., upstairs in Ridgway University Center. There will be a presentation about Japan. We hope you can make it!
Submitted by Alexis Whitacre aw339@evansville.edu
This Week in Music: Wind Ensemble and Orchestra kick off Victory Series with Halloween Bash
The University of Evansville will present the first concert of its Victory Series in downtown Evansville tonight - October 31, Halloween night. The Halloween Bash will include performances by two of the department of music's premier ensembles, the University Symphony Orchestra and Wind Ensemble.
The Halloween theme will add a spooky flavor the evening's event. Works to be performed by the Wind Ensemble will include pieces like Eric Whitacre's Ghost Train and Daniel Bukvich's Voodoo. Though its title invokes thoughts of magic or religion, Voodoo was composed with an educational objective – get performers to listen to each other more carefully. It achieves that goal by requiring the piece to be performed from memory, without a conductor, in complete darkness. It is both a theatrical and musical work, including use of flashlights, arm waving, singing, and performing in unusual ways. The piece calls to mind 'sounds of the jungle', and should contribute to the evening's Halloween atmosphere.
The Wind Ensemble is led by UE's director of bands, Kenneth Steinsultz.
Modest Mussorgsky's Night on Bald Mountain will be among the selections performed by the orchestra. The work, which gained prominence in the Disney movie classic Fantasia, is an eerie depiction of the celebration of the witches' Sabbath. The UE Orchestra will also be performing Dvorak's The Noon Witch. Based on a Czech legend, The Noon Witch is a cautionary warning for children who choose not to behave.
Chun-Ming (Jimmy) Chen conducts the UE Orchestra.
In addition to performances by the ensembles, the evening will include an Old Hallows Eve flavor, including students performing in costume and a costume contest for audience members.
Audience members interested in the costume contests should plan to arrive at the Victory by 7:15 p.m. for judging. Winners will be recognized during the concert and receive an award.
And of course, what would October 31 be without some candy for trick-or-treaters.
The concert begins at 7:30 p.m. at the Victory Theatre downtown and is free and open to the public.
For complete program information, please visit the department concert calendar at:
www.evansville.edu/majors/music/eventDetails.cfm?eventId=12722.
Submitted by James Sullivan js820@evansville.edu
Recycling 101 - today
A recycling talk will be presented by the Philosophy 316 Action group in Koch Room 100 in the Koch Center for Engineering and Science at 7:00 p.m. today. The talk will cover the dos and don'ts of recycling and why YOU should recycle.
Submitted by Samantha Morgan sm401@evansville.edu
Today - Study Abroad: A View from the Other Side
In this presentation, Norma Franklin (co-director of the Jezreel Expedition) will talk about the value of student study abroad experiences from her perspective as an Israeli archaeologist. Before co-directing the Jezreel Expedition with UE's Jennie Ebeling, Franklin supervised hundreds of American college students as a senior staff member of the Megiddo (biblical Armageddon) excavations and is thus very familiar with the challenges and rewards of the student study abroad experience. This presentation will be a great resource for students who have studied abroad or who are interested in a study abroad experience.
The presentation will be held today - Monday, November 13 - in Eykamp Hall, Room 253, Ridgway University Center from 4:00-5:00 p.m.
Submitted by Greta Becker gb91@evansville.edu
SIAM Student Chapter Talk Series - Shouhong Wang
Shouhong Wang, professor of mathematics at Indiana University, will give a talk to Society for Industrial and Applied Mathematics (SIAM) chapter today. The lecture will begin at 3:00 p.m. in Room 100, Koch Center for Engineering and Science. The title of Wang's lecture is "Interplay between Mathematics and Physics".
In recent years, Wang has made a serious attempt to derive experimentally verifiable laws of nature based only on a few fundamental principles, aiming to answer challenging questions concerning the dark matter and dark energy phenomena, and the structure of black hole and the Universe. In this talk, Wang will use theories of gravity and black holes (Galileo, Newton, Einstein, as well as recent developments) to describe the symbiotic interplay between mathematics and physics.
Professor Wang received his Ph.D. from Lanzhou University in 1988 and joined Indiana University in 1989. Wang is an elected fellow of American Mathematical Society for his contributions to geophysical fluid mechanics, and his work has been supported by grants from the Office of Naval Research and the National Science Foundation.
Submitted by Pengcheng Xiao px3@evansville.edu
UE to Show Documentary "8 Borders, 8 Days"
The documentary 8 Borders, 8 Days will be shown Tuesday, November 14, at 6:00 p.m. in Room 170 of the Schroeder School of Business Building. The screening will be followed by an interactive discussion with the movie's director Amanda Bailly, UE philosophy professor Derek Jones, and a panel of Syrian and American students. The event is free and open to the public.
The film follows a Syrian family who were not accepted for resettlement to the US and instead traveled with smugglers in a raft to Europe.
"The majority of people in the United States who want to close our doors to refugees have never actually heard the voices of the people affected," said Bailly. "This film tells the story of three of them, and they're three of the strongest, most resilient human beings I've ever met."
8 Borders, 8 Days premiered to sold-out screenings at the Florida Film Festival and Seattle International Film Festival, where it was awarded a $50,000 impact filmmaking grant. It has been called "raw, emotional," and "unblinking."
Donations will be accepted at the event for the Karam Foundation, a non-profit organization on a mission to build a better future for Syria. The foundation develops innovative education programs for Syrian refugee youth, distributes smart aid to Syrian families, and funds sustainable development projects initiated by Syrians for Syrians.
The screening and panel discussion is being co-sponsored by Scholars for Syria and Books Not Bombs, a student-led campaign aimed at creating scholarships for displaced Syrian students. Through donations at the event and online, Scholars for Syria and Books Not Bombs hope to add to the Karam Foundation fund that is empowering Syrian refugees to succeed in school and beyond.
For more information on the event at UE, call 732-239-4139, e-mail gv15@evansville.edu or go to www.facebook.com/events/1987428101542302/?active_tab=about.
If you cannot attend but wish to make a donation, you can do so at give.karamfoundation.org/team/142156.
TONIGHT! Thrills and Chills in Neu!
Neu Chapel is transforming into a haunting place for our truly haunting Thrills and Chills musical experience tonight! At 9:00 p.m., we will have spooks and frights of our own. Come dressed up or not! Bring your pillows, blankets, and sleeping bags! Candy will be provided! All are welcome to attend this spooktacular event!
Submitted by Keith Turner kt160@evansville.edu
Hemminger to discuss morality and distribution of wealth at Andiron Lecture
UE professor emeritus Bill Hemminger will be the speaker for the Andiron Lecture on November 1. The lecture is set for 4:00 p.m. in Eykamp Hall, Room 252, Ridgway University Center. Hemminger will be discussing "Morality and the Distribution of Wealth."
A well-known 1972 essay by Peter Singer makes the extraordinary point that affluent people (and nations) should be morally constrained to provide for the well-being of impoverished people elsewhere. Hemminger's talk offers an update on Singer's thought.
Hemminger served for a number of years as chair of UE's Department of English. He also taught in the Department of Foreign Languages. He was a recipient of the Outstanding Teaching Award, the Dean's Teaching Award, and the Sadelle and Sydney Berger Award for Service.
In addition to writing a number of books, scholarly articles, fiction, and poetry, he is a practicing musician and composer. His book African Son was named Peace Corps Writers' 2013 Best Travel Book.
Hemminger has worked in Madagascar and Cameroon under the auspices of the Fulbright Program. A life-long believer in the importance of public service, Hemminger has been a Peace Corps volunteer, has worked in rural development in El Salvador, and since retirement has been involved in a number of service projects in Evansville. It is this local experience that has most greatly influenced the substance of his lecture.
For further information, call Annette Parks at 812-488-1070 or the William L. Ridgway College of Arts and Sciences at 812-488-2589.
Aces battle, but fall to Drake, 1-0
Despite a flurry of chances late, the University of Evansville men's soccer team was unable to find an equalizer as the Aces fell to Drake, 1-0, on Saturday evening at Arad McCutchan Stadium.
"It's a cruel game, the sport of soccer. They had one shot in the second half and they scored. We had two off the post, three or four saved off the line and missed a penalty kick," said Aces men's soccer head coach Marshall Ray. "It wasn't for a lack of effort or a lack of ability to create chances we just didn't finish the chances we got. We were a bit unlucky and they finished the one chance they had. I have to give them credit and Caden (McCullough) had a great game this evening in goal for them.
Senior midfielders Ian McGrath and Arlick Ntabana led the Aces with three shots each. In goal, senior Matthew Keller made a pair of saves, allowing one goal. For the Bulldogs, Alex Peterson scored the lone goal in the match, while Antonio Sanchez and Leroy Enzugusi each had a pair of shots.
The first half passed without much event as the two sides combined for just five goals in the opening half.
Evansville looked poised to find its breakthrough in the 68th minute as the Aces fired three shots on-goal that were either blocked or saved.
In the 80th minute, Drake scored after a scrum in the box as the ball fell to the feet of Peterson, who finished it into the back of the net. The Aces had a pair of chances to equalize in the final five minutes. After a foul in the box, McGrath stepped to the spot for a penalty kick that was saved by Bulldog goalkeeper Caden McCullough.
With the clock ticking under 10 seconds, freshman Filip Johansson took one final shot from just inside the box that curled towards goal and just glanced off the post and out as the horn sounded.
In the match, Evansville out-shot Drake, 14-6, while the Bulldogs held a 4-2 advantage on corner kicks.
The Aces wrap-up a three-match homestand on Tuesday at 7:00 p.m. against Northern Kentucky as Evansville hosts its Senior Night as well as Trick-or-Treat with the Aces.
Need to salvage the semester? It's not too late...
Need to get organized, stay focused, study more effectively, and lower your stress? Need to raise your grades? You should attend the Salvage the Semester Workshop on Friday, November 3. Sessions begin every 30 minutes from 2:00 -4:30 p.m. The workshop will be in the Writing Center in Clifford Memorial Library.
To make reservations for the workshop, contact Stacey Shanks at ss581@evansville.edu.
• Schedule time with your personal academic coach
• Bring syllabus for each class
• Bring your planner
• Plan out projects and assignments for the rest of the semester
Submitted by Angie Dawson ad5@evansville.edu
Spring housing cancellation deadline
Students, the deadline to cancel your UE housing contract for the spring semester is November 1. Stop by the residence life office to cancel your housing contract without penalty for the spring semester if you will be:
Attending Harlaxton or studying abroad
In an internship, co-op, or clinical outside of the Evansville area
Moving into a fraternity house
Transferring, withdrawing, or graduating
Requests not falling in the above categories are typically not granted. Requests to move off campus to live with friends or move into an apartment are not sufficient reasons to cancel a UE housing contract. Entering into any other housing agreement or lease with a private landlord will have no effect upon the conditions of your contract with the University of Evansville.
For more information, contact the residence life staff or visit our website - www.evansville.edu/residencelife/housingapplyreturn/cancellationsAndRefunds.cfm.
Submitted by Brian Conner bc32@evansville.edu

Participants wanted for whodunit research
Students in NEUR 358 are looking for participants for their whodunit style research. Participation will take approximately 10-15 minutes and will need to be done in person. Those currently enrolled in select psychology courses have the opportunity to receive extra credit for their participation.
Use the following link to provide times available for participation. Please read the instructions carefully:
https://doodle.com/poll/van5zf4vuizktc47.
If you have any questions, please contact us at az41@evansville.edu.
Submitted by Cally Roberts cr186@evansville.edu
Winter Intersession courses
The University of Evansville offers Winter Intersession courses between the fall and spring semester from December 15, 2017 to January 5, 2018. Registration begins October 30. Students may register for one Winter Intersession course.
For more information visit: www.evansville.edu/registrar
These accelerated courses offer students the opportunity to:
•Take a course on-line to earn credits toward graduation
•Lighten your spring course schedule
•Complete missing requirements
Class offerings:
•ART 105: Introduction to the Visual Arts (Professor Larmann)
•COMM 380: Intercultural Communication (Professor Thomlison)
•ES 103: Fundamentals of Environmental Science (Professor Thananatthanachon)
•EXSS 320: Nutrition for Performance and Health (Professor Rodd)
•FIN 280: Introduction to Personal Finance (Professor Alhenawa)
•PH 190 Introduction to Public Health (Professor Patel-Dovlatabadi)
•PSCI 100: World Politics (Professor Kim)
•PSYC 416: Human Sexuality (Professor Becker)
•PSYC 121: Introduction to Psychology (Professor Hennon-Peters)
•PSYC 229: Social Psychology (Professor Stevenson)
•SOC 105: Introduction to Sociology (Professor Plikuhn)
Submitted by Paula Heldt ph28@evansville.edu
Study Sacred Spaces at Harlaxton this summer - ID235
Interested in sacred spaces and what happens inside religious architecture? Do you have a desire to engage with people who spend their time in holy places? Would you like to experience face-to-face conversations with Imams, priests, and rabbis who work together in community? If you are looking for a unique interfaith experience with fieldwork at mosques, cathedrals, and temples, ID235 "Sacred Architecture and Its Liturgy" at Harlaxton this summer is for you!
This satisfies General Education Outcome 5.
For more information about the course contact Tammy Gieselman, tg85@evansville.edu, or click the link below to register.
https://harlaxton.evansville.edu/academics/summer.cfm.
Submitted by Tamara Gieselman tg85@evansville.edu
Don't miss the study abroad deadlines!
If you are interested in studying abroad anywhere in the world other than Harlaxton, please see the deadlines below.
*To study abroad in Fall 2018, apply by December 6, 2017.
*To study abroad in Summer 2018, apply by January 24, 2018.
*To study abroad in Spring 2019, apply by March 2, 2018.
We have locations all over the world for you to explore! Please set up a meeting with the study abroad office to learn how to apply for Summer 2018, Fall 2018, or Spring 2019. You can e-mail as760@evansville.edu to make an appointment.
Submitted by Amara Stuehling as760@evansville.edu
Check your Halloween costume
There is nothing wrong with dressing up as a favorite movie character or a fictional or non-fictional character from your favorite book for Halloween. However, cultural appropriation is the adoption or use of elements of one culture by members of a different culture. Cultural appropriation is when elements of a minority culture are used by members of the cultural majority and seen as wrongfully oppressing the minority culture or stripping it of its group identity and intellectual property rights. Before you go out, please check your Halloween costume.
Ask yourself and your friends …
• Does my costume mock cultural or religious symbols?
• Am I attempting to represent an ethnicity that is not my own?
• Would my costume trivialize historical events of human suffering?
• Does it marginalize a person with a disability?
• Does is over-sexualize a person?
Still unsure if your costume is offensive or not? Don't be SCARED to ask questions!
You can ask:
Center of Student Engagement: ge21@evansville.edu
Disability/Counseling Services: db132@evansville.edu
Office of Diversity Initiatives/Chief Diversity Officer: lw161@evansville.edu
Religious Life/University Chaplain: tg85@evansville.edu
Residence Life: mt28@evansville.edu
Submitted by lw161@evansville.edu
December graduate reminder
For those December graduates that missed Commencement Central last week you can still buy your cap/gown and/or graduation announcements in the UE Bookstore. You should also check with the registrar's office to make sure everything is in order for your graduation. This will ensure that your graduation occurs without any obstacles.
Submitted by Doug Gustwiller dg57@evansville.edu
Calling faculty to lead short-term programs abroad!
The Office of Study Abroad has worked to simplify the process of proposing faculty led programs in the hopes of receiving an increased number of ideas, destinations, and new opportunities for our students. Our new application does not ask you to make any arrangements or budgets, but to tell us your ideas for the program so that we can then assist with these details. We will review all proposals and those that are accepted will receive assistance from the office to make budgets, program materials, marketing, and reservations for the program.
The call is for the 2018 academic year (for any program occurring in fall 2018, spring 2019, or summer 2019.) This includes programming in the summer, spring break, tied to semester courses, or any other possible options for travel. It is imperative that we plan early so our students will get excited, plan their academic schedules, and save money for their study abroad experiences with you!
You can find the application here: www.evansville.edu/studyabroad/downloads/FacultyLedProposal2018.pdf.
The deadline has been extended through November 15.
We hope our new process is straightforward and easy. Please let us know if you have any questions, concerns, or if you would just like to talk through an idea for a program. We appreciate your willingness to think ahead and to get these proposals in at a busy time of the year.
If you have any questions, please contact Amara Stuehling at as760@evansville.edu.
Submitted by Amara Stuehling as760@evansville.edu
Communication 380 (intercultural communication) offered online winter intersession
Interested in taking a course over winter break that you can take no matter where you plan to be? Interested in taking a course that will meet several General Education requirements? COMM 380 meets criteria for General Education Outcome 9 (Understanding of Core Concepts of Society, Human Behavior, and Civic Knowledge) and Overlay Component A (Global Diversity: International Component). For more information contact professor emeritus of communication Dean Thomlison at dt4@evansville.edu.
Submitted by Dean Thomlison dt4@evansville.edu
Evansville Day School offering scholarship opportunity to UE families
Evansville Day School has announced a scholarship opportunity for students whose families are employed full-time by the University of Evansville. Any student admitted to Evansville Day School will automatically receive a 50 percent (25 percent for Junior Pre-K and Pre-K) tuition reduction. Once awarded, the scholarships will be automatically renewed annually.
Evansville Day School is offering this scholarship because it understands that educators have chosen a profession with immeasurable societal impact, but with lower salary benefits than other fields requiring similar degrees and work demands. As the leading college prep school in the region, the Evansville Day School wants to partner with educators by making the school affordable to families who value the school's mission and brand of education.
More information on the scholarship is available in the Office of Human Resources at UE. Also, Evansville Day School invites those interested to Discover Why Day, an admission event scheduled for November 10 at 8:30 a.m. and 12:30 p.m. More information on Discover Why Day can be found on the Day School's event page: https://www.evansvilledayschool.org/discover-why-day.
For additional information on the scholarship, or Evansville Day School's educational experience, contact the Day School's director of enrollment management, Tiki Thompson at tthompson@evansvilledayschool.org.
Cheryl Shafer presented with November 2017 Employee Excellence Award.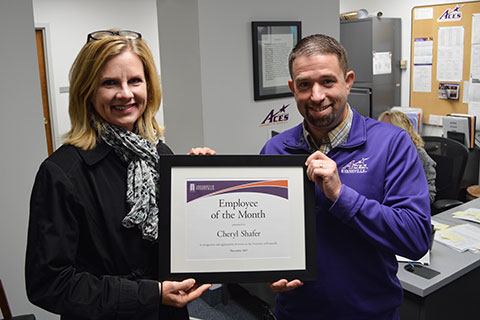 Cheryl Shafer, administrative assistant for the public health programs, was presented with the November 2017 Employee Excellence Award. Cheryl was nominated for her positive attitude and welcoming demeanor. She has let her contagious spirit lift those around her, even while tackling demanding tasks. Cheryl is known to be highly organized and efficient. Those skills have kept the departments of foreign languages, philosophy and religion, and archaeology and art history running smoothly during her service as their administrative assistant. More recently, Cheryl has gone above and beyond to ensure a smooth transition for her replacement in those departments after she transferred to her new role in the public health programs. She is a worthy recipient of the Employee of the Month!
UE Volleyball takes down Southern Illinois, 3-0
Mildrelis Rodriguez led all players with 14 kills to lead the University of Evansville volleyball team to a 3-0 sweep against MVC rival Southern Illinois inside Meeks Family Fieldhouse.
Rodriguez tallied her 14 kills in 37 attempts and also registered 8 digs. Cathy Schreiber also had a great night for UE (10-14, 4-8 MVC) as she totaled 11 kills. Cassie Brooks led the way with 20 digs and Allana McInnis notched 17 assists, eight digs and two service aces. Brooks also notched two aces.
The sweep was the first for the Purple Aces in a conference match since defeating Bradley by a 3-0 final on Oct. 3, 2014 in a home match.
Southern Illinois (5-18, 4-8 MVC) saw Patience Brown and Maggie Nedoma post seven kills apiece.
Adeline Payne had a solo block in the early going as the Purple Aces scored the opening two points of the night. Southern Illinois quickly came back to tie it at 4-4 before taking their first lead at 7-6. SIU widened its lead to 9-6 before an Allana McInnis service ace got UE within one at 10-9. The Salukis had the answer once again and stretched their lead out to 24-19.
That is when things got interesting. Mildrelis Rodriguez took over and notched three kills in a run that saw the Aces tie it up at 24-24. The back-and-forth action continued before UE put the finishing touches on the set. With the score tied at 28-28, Taylor Jones notched a service ace before Cathy Schreiber and Rachel Tam had a block to give UE the win.
Riding the momentum they gained from the exciting opening set win, UE scored the first three points of the game and continued to lead at 6-4 as Rocio Fortuny had three early kills. The Salukis made their way back, taking their first edge of the frame at 8-7. They would hold the lead until UE went up 16-15 as Fortuny posted another kill.
SIU took its turn, reeling off the next four to take a 19-16 lead before it reached four at 21-17. UE rallied as another pivotal McInnis ace tied the score up at 23-23. The run continued with Rodriguez finishing it off with her 12th kill of the evening as UE took a 2-0 match lead with a 25-23 win.
UE had a strong start to game three, taking a 7-2 lead. Later, Rachel Tam ace pushed the lead to six at 11-5. Evansville's lead continued to grow as two more aces, both by Cassie Brooks, made it a 19-11 game. The Aces put the icing on the cake, running away to a 25-13 win to earn their first MVC match sweep in three years.
Evansville returns to the road next weekend for a swing through the state of Iowa. A match at UNI begins the weekend on Friday before the Aces head to Des Moines to take on Drake. Both matches begin at 7:00 p.m.
UE Trumpet Ensemble travels to Iowa State
Jim Bovinett, professor of trumpet, will be hosting the Trumpet Summit on the campus of Iowa State University in Ames Iowa on Saturday November 4. The UE Trumpet Ensemble has been invited to be guest performers and participants at the event. Timothy Zifer, UE professor of music, will direct the trumpet ensemble, serve as a guest clinician, and also perform on the faculty recital.
Kiesel is guest speaker at medical conference
Kyle Kiesel, professor and chair of physical therapy, was a special guest speaker recently at the medical continuing education conference, Emerging Concepts in Orthopedic Surgery in Annapolis, Maryland. He conducted the lecture "Are you optimizing human movement in your practice? The Functional Movement System's approach to movement Screening, Testing and Assessment."
Mechanical engineering alum noted in mechanical engineering magazine
Austin Kraus, a 2017 mechanical engineering alum, had his photo and short biography published in the American Society of Mechanical Engineering (ASME) national publication, Mechanical Engineering magazine, for winning the Arthur L. Williston Medal. The Arthur L. Williston Medal is the top honor given to students that compete in the ASME national writing contest.
Morales/Hillenbrand wedding
Congratulations to our assistant director of financial aid Hilary Morales and her husband, Lucas Hillenbrand, on their marriage earlier this month. Please note that your e-mails from Hilary will now appear from Hilary Hillenbrand.
Submitted by Trisha Hawkes th187@evansville.edu
Clark Kimberling publishes research
University of Evansville Professor of Mathematics Clark Kimberling and English engineer Peter J. C. Moses have an article, "Nested Interval Sequences of Positive Real Numbers," in the current issue of the online mathematics Journal INTEGERS.
The article introduces a new kind of infinite series analogous to Engel series, with surprising connections to Egyptian fractions, hypergeometric functions, Bessel numbers, and Chebyshev polynomials.
Contribute to AceNotes
To have content considered for inclusion in AceNotes, please submit a Marketing Request Form. Deadline for submission to AceNotes is 10:00 a.m. on the requested date of publication. Only articles concerning UE related/sponsored activities will be accepted. Articles submitted to AceNotes may be edited for length and clarity. Submitter contact information is at the end of each article.