| | |
| --- | --- |
| AceNotes Today | Thursday, October 26, 2017 |
Post-Active Shooter Drill survey
Faculty, students, administrators and staff: Please watch your inbox for a link to a Post Active Shooter Drill Survey. We would appreciate your participation in the survey before Monday, October 30. This will give us valuable feedback about the drill held on October 24.
Vehicles must be moved from Lot G by 5:00 p.m. today
All vehicles parked in Lot G (the lot outside Schroeder Residence Hall and the Student Fitness Center) must be moved from the lot by 5:00 p.m. today, Thursday, October 26.
On Friday, October 27, the lot will be cleaned and restriped by members of the campus community who have volunteered to be part of the UE Gives Back on Campus project.
Parking will be available in Lot H, which is located north of the tennis courts; and in Lot O, which is south of the Armory building.
Photographer on Campus October 25-27
The Office of Marketing and Communications will have a photographer on campus for a photo shoot Wednesday, October 25, through Friday, October 27. UE students and faculty have always been very cooperative and accommodating during previous shoots. As a result, many great photos have been taken for the University's website and publications. Kim McDonald will try to notify faculty in advance if photos will be taken in a particular class; however, weather may force the shoot inside, and it is possible that last minute requests will be made. If faculty members know that they will be giving a test or do not wish to have their class photographed any of these days, please inform McDonald at ext. 2683 or km117@evansville.edu and the classroom will be avoided.
UE welcomes Ashoka
Help us welcome the Ashoka site visit team to campus today. The UE community is putting our best foot forward and endeavoring to be named one of only 41 colleges and universities in the U.S.A. who have earned the Ashoka Changemaker Campus designation. If you have a UE Changemaker button and/or lanyard, please wear it today and tomorrow to show your support for changemaking!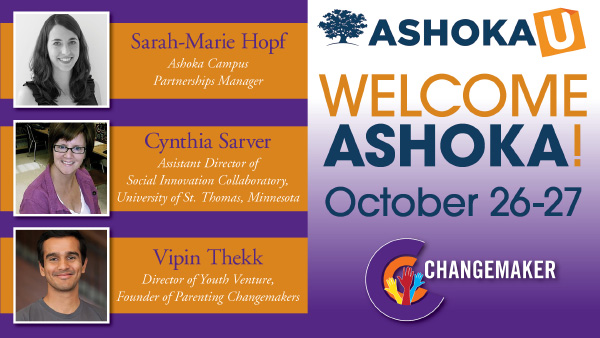 Our Ashoka guests are Sarah-Marie Hopf, Ashoka campus partnerships manager; Cynthia Sarver, assistant director of Social Innovation Collaboratory at the University of St. Thomas in Minnesota; and Vipin Thekk, director of Youth Venture and founder of Parenting Changemakers.
To learn more, visit the Ashoka Changemaker campus page on Ace Link.
Annual Chili Bowl Sale
UE's annual Chili Bowl Sale is today from 11:30 a.m.-1:00 p.m. The event, which is sponsored by the UE Clay Club, will be set up in the area between Hyde and Sampson Halls. Chartwells, the new food service provider at UE, will provide the chili.
For $10, customers can buy a one-of-a-kind ceramic bowl and fill it with chili. Styrofoam containers will be available for those who prefer not to put chili in their newly purchased bowls. Smaller bowls priced at $5 and larger bowls ranging from $15-$50 will also be for sale. There will be a few bowls sold at a Silent Auction as well, ranging in value from $60-$100.
The bowls are being made this year by members of the Clay Club and other UE students, faculty members, alumni, and members of the community.
Part of the proceeds from the sale will be donated to At the Cross Mission in Mount Vernon, Indiana, which is a meal kitchen for the less fortunate. The rest will go to the Clay Club to be used to fund attendance at conferences, visiting artists, and studio/gallery visits.
Purdue pharmacy representative on campus
The director of admissions and recruitment from Purdue University College of Pharmacy will give a presentation about pharmacy graduate programs today - Thursday, October 26 - at 4:00 p.m. in Room 101 in the Koch Center of Engineering and Science. In addition to a PhamD, Purdue also offers PhD and MS degrees in industrial and physical pharmacy, medicinal chemistry and molecular pharmacology and pharmacy practice. Please come to this short presentation to learn more about these graduate opportunities.
Submitted by Francie Renschler fr25@evansville.edu
Emergency Responders Club first meeting
ERC is for everyone! The Emergency Responders Club (ERC) is holding its first ever meeting today. The meeting will be from 5:30-6:30 p.m. in Eykamp Hall, Room 253, Ridgway University Center.
ERC connects UE student to emergency response volunteer opportunities, helps educate the university about health and emergency response topics, and shows appreciation to all emergency responders.
If you would like to join, please be in attendance for this meeting or e-mail rs277@evansville.edu.
Submitted by Ryan Spall rs277@evansville.edu
December grads please attend today's Commencement Central
ALL December graduates should attend Commencement Central TODAY - Thursday, October 26 - between 11:00 a.m.-1:00 p.m. The event will be located in the Ridgway University Center just outside the UE Bookstore. It only takes a few minutes to finalize your graduation plans. You'll meet with the registrar, alumni affairs, and career planning offices. You can also purchase your cap and gown and/or order graduation announcements. There's a FREE gift for everyone that attends. Be sure to mark your calendar and add the event to your phone.
Submitted by Doug Gustwiller dg57@evansville.edu
New dates for chances to win $100 Visa Gift Card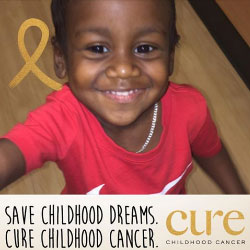 From October 24-27, the National Society of Collegiate Scholars will be selling raffle tickets to raise money for Julius King, a two-year-old battling leukemia for the second time.
Ticket prices are $1 for one raffle ticket and $5 for seven raffle tickets. The grand prize will be a $100 Visa gift card with an NSCS travel mug.
Tickets will be sold in Ridgway University Center from 11:30 a.m.-1:00 p.m. On Thursday, tickets will also be sold from 4:30-7:00 p.m.
Submitted by Brené Williams bw156@evansville.edu
Great Ace Bake Off
Register now for the Great Ace Bake Off! Form teams with your friends and compete by making desserts. (Hint: You get to eat them).
The event is planned for Sunday, October 29 at 2:30 p.m. in Eykamp Hall, Room 252, Ridgway University Center.
You can register for the event at https://goo.gl/forms/2VY8fEkGGAlmf2hk2.
Submitted by Shelby Hoyert sh327@evansville.edu
Former Death Row Inmate to Speak at UE Today
Anthony Ray Hinton will speak at the University of Evansville as part of the Honors Program Lecture Series today - Monday, October 30 - at 6:00 p.m. in Eykamp Hall Room 251, Ridgway University Center. This event is free to the public and seating is limited - first come, first served.
Hinton was falsely accused of committing two murders outside of Birmingham, Alabama, in 1985. He was wrongly convicted and spent nearly 30 years on Alabama's death row before he was exonerated and freed in April 2015. A deeply compelling speaker, he has become a community educator and powerful advocate against the death penalty who speaks nationally about the urgent need for criminal justice reform.
Hinton was featured in the book, Just Mercy: A Story of Justice and Redemption, by author and attorney Bryan Stevenson.
Stevenson, who managed Hinton's sentencing appeal, is also the founder of the Equal Justice Initiative, a legal practice dedicated to defending those most desperate and in need: the poor, the wrongly condemned, and women and children trapped in the farthest reaches of our criminal justice system.
You can learn more about the event on the Honors Program webpage.
SIAM Student Chapter Talk Series - Shouhong Wang
Shouhong Wang, professor of mathematics at Indiana University, will give a talk to Society for Industrial and Applied Mathematics (SIAM) chapter today. The lecture will begin at 3:00 p.m. in Room 100, Koch Center for Engineering and Science. The title of Wang's lecture is "Interplay between Mathematics and Physics".
In recent years, Wang has made a serious attempt to derive experimentally verifiable laws of nature based only on a few fundamental principles, aiming to answer challenging questions concerning the dark matter and dark energy phenomena, and the structure of black hole and the Universe. In this talk, Wang will use theories of gravity and black holes (Galileo, Newton, Einstein, as well as recent developments) to describe the symbiotic interplay between mathematics and physics.
Professor Wang received his Ph.D. from Lanzhou University in 1988 and joined Indiana University in 1989. Wang is an elected fellow of American Mathematical Society for his contributions to geophysical fluid mechanics, and his work has been supported by grants from the Office of Naval Research and the National Science Foundation.
Submitted by Pengcheng Xiao px3@evansville.edu
UE to Show Documentary "8 Borders, 8 Days"
The documentary 8 Borders, 8 Days will be shown Tuesday, November 14, at 6:00 p.m. in Room 170 of the Schroeder School of Business Building. The screening will be followed by an interactive discussion with the movie's director Amanda Bailly, UE philosophy professor Derek Jones, and a panel of Syrian and American students. The event is free and open to the public.
The film follows a Syrian family who were not accepted for resettlement to the US and instead traveled with smugglers in a raft to Europe.
"The majority of people in the United States who want to close our doors to refugees have never actually heard the voices of the people affected," said Bailly. "This film tells the story of three of them, and they're three of the strongest, most resilient human beings I've ever met."
8 Borders, 8 Days premiered to sold-out screenings at the Florida Film Festival and Seattle International Film Festival, where it was awarded a $50,000 impact filmmaking grant. It has been called "raw, emotional," and "unblinking."
Donations will be accepted at the event for the Karam Foundation, a non-profit organization on a mission to build a better future for Syria. The foundation develops innovative education programs for Syrian refugee youth, distributes smart aid to Syrian families, and funds sustainable development projects initiated by Syrians for Syrians.
The screening and panel discussion is being co-sponsored by Scholars for Syria and Books Not Bombs, a student-led campaign aimed at creating scholarships for displaced Syrian students. Through donations at the event and online, Scholars for Syria and Books Not Bombs hope to add to the Karam Foundation fund that is empowering Syrian refugees to succeed in school and beyond.
For more information on the event at UE, call 732-239-4139, e-mail gv15@evansville.edu or go to www.facebook.com/events/1987428101542302/?active_tab=about.
If you cannot attend but wish to make a donation, you can do so at give.karamfoundation.org/team/142156.
Corn maze and pumpkins
The Venturing Crew will travel to Lyles Station this Saturday, October 28 from 6:00-9:30 p.m. where there will be a haunted corn maze, pumpkin patch, bonfire, food, hot apple cider, and more! The cost is $13 and sign-ups will be Tuesday, Wednesday, and Thursday this week on the first floor of Ridgway University Center. Questions? Email Sydney Winstead at sw228@evansville.edu.
Submitted by Sydney Winstead sw228@evansville.edu
Reformation Sunday with a German Lunch in Neu Chapel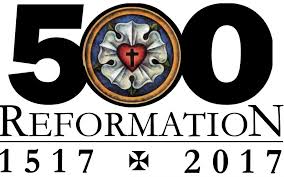 This Sunday, October 29, the Neu Chapel community will commemorate the 500th anniversary of the Protestant Reformation in our university worship service at 11:00 a.m.
We are excited and honored to welcome representation from Newman Catholic Campus Ministry. Together we will sing Martin Luther's Reformation hymn, "A Mighty Fortress Is Our God", and will consider how the people of God are always reforming.
We will celebrate afterward with a German themed lunch in Grabill Lounge, sponsored by Methodist Temple UMC.
All are welcome! Wear red! Bring a friend! You won't want to miss this exciting Sunday in Neu Chapel!
Submitted by Keith Turner kt160@evansville.edu
This Week in Music: Opera
On Friday, October 27 at 7:30 p.m. in Neu Chapel, the Schmidt Opera Series returns with Gian Carlo Menotti's beloved opera, Amahl and the Night Visitors. Presented with orchestra and members of University Choir under the baton of Dennis Malfatti and staged by Alanna Keenan.
This performance is free and open to the public.
Although this opera is often associated with the Christmas season, the opera touches on social themes of abject poverty, hunger, and the desperation of these situations that are still relevant in the events around the world.
Based on Italian folk tales of Christmas, Gian Carlo Menotti's Amahl and the Night Visitors is a retelling of the story of the Magi from the viewpoint of Amahl, a young disabled boy who lives in poverty on the outskirts of Bethlehem. After seeing a bright star in the sky, Amahl and his mother are visited by three kings carrying gifts in search of "the Child." Faced with the desperation of their situation, the Mother attempts to steal a bit of the gold for her child, but is caught in the act. A vivid and accessible tale, Amahl and the Night Visitors is the perfect first opera for people of all ages.
Submitted by James Sullivan js820@evansville.edu
Pixley presenting exhibit in UE's Melvin Peterson Gallery
"Putting on Airs," an exhibit of prints by artist Lisa Pixley, will be displayed at the University of Evansville's Melvin Peterson Gallery from October 30-December 9.
The exhibit is free and open to the public and is part of the Efroymson Family Fund Emerging Contemporary Artist Lecture Series.
An artist printmaker located in Portland, Maine, Pixley earned her BFA with a concentration in painting from the Maine College of Art. After graduation, she began a commercial and artistic practice focusing on the craft of print. Pixley studied as an apprentice with David Wolfe of Wolfe Editions, where she worked closely with artists such as Charlie Hewitt and Allison Hildreth.
In 2009 Pixley founded Pickwick Independent Press in Portland, a for profit shared access print studio where she worked as director, master printer, and events coordinator, while also maintaining an active art practice in the medium of printmaking.
Pixley is currently developing a new venture: WIP Editions. WIP Editions will function as a storefront studio entity as well as an online presence. Under the imprint of WIP Editions, she will be developing a body of work showcasing suites of prints of her work as well as the work of invited artists.
The Melvin Peterson Gallery is located at 1935 Lincoln Avenue on the corner of Lincoln and Weinbach Avenues in Evansville.
For more information, contact 207-650-6073.
Federal loan repayment counseling session for graduating or transferring students
Students who have received federal direct (sub/unsub) Loans and plan to graduate in the fall (or transfer after the fall semester) are required to attend a loan repayment counseling session. The Office of Financial Aid will hold the first session of the semester TODAY - Thursday, October 26 - at 2:00 p.m. in Eykamp Hall, Room 253, Ridgway University Center. The last session will be held on December 7 at 2:00 pm.
Submitted by Amy Sowders as560@evansville.edu
Hemminger to discuss morality and distribution of wealth at Andiron Lecture
UE professor emeritus Bill Hemminger will be the speaker for the Andiron Lecture on November 1. The lecture is set for 4:00 p.m. in Eykamp Hall, Room 252, Ridgway University Center. Hemminger will be discussing "Morality and the Distribution of Wealth."
A well-known 1972 essay by Peter Singer makes the extraordinary point that affluent people (and nations) should be morally constrained to provide for the well-being of impoverished people elsewhere. Hemminger's talk offers an update on Singer's thought.
Hemminger served for a number of years as chair of UE's Department of English. He also taught in the Department of Foreign Languages. He was a recipient of the Outstanding Teaching Award, the Dean's Teaching Award, and the Sadelle and Sydney Berger Award for Service.
In addition to writing a number of books, scholarly articles, fiction, and poetry, he is a practicing musician and composer. His book African Son was named Peace Corps Writers' 2013 Best Travel Book.
Hemminger has worked in Madagascar and Cameroon under the auspices of the Fulbright Program. A life-long believer in the importance of public service, Hemminger has been a Peace Corps volunteer, has worked in rural development in El Salvador, and since retirement has been involved in a number of service projects in Evansville. It is this local experience that has most greatly influenced the substance of his lecture.
For further information, call Annette Parks at 812-488-1070 or the William L. Ridgway College of Arts and Sciences at 812-488-2589.
UE Changemakers – Greenbelt Connectivity
Students in the GAP Greenbelt Connectivity Partnership: The Greenbelt Connectivity studied the interconnectivity of Evansville's trails system and made recommendations to connect bike and jogging paths. These recommendations are being included in some of the city's master plans and led to an official partnership with two city engineers for further work.
UE Changemakers – Transformative Action Now in FYS
The students in the Transformative Action and Strengths Finder FYS class learn how to identify problems in their world and develop the strengths they need to solve them. Several students have already proposed their own GAP projects for Spring 2018 and are working to make real change in the community!
UE Changemakers – Infant Mortality
For the Infant Mortality GAP Project, a student team conducted research on the causes for the high rate of infant mortality in Vanderburgh County and developed a Safe Sleep campaign to be implemented throughout the county. They then met with Indiana state health officials to discuss how the campaign could be developed statewide.
Calling faculty to lead short-term programs abroad!
The Office of Study Abroad has worked to simplify the process of proposing faculty led programs in the hopes of receiving an increased number of ideas, destinations, and new opportunities for our students. Our new application does not ask you to make any arrangements or budgets, but to tell us your ideas for the program so that we can then assist with these details. We will review all proposals and those that are accepted will receive assistance from the office to make budgets, program materials, marketing, and reservations for the program.
The call is for the 2018 academic year (for any program occurring in fall 2018, spring 2019, or summer 2019.) This includes programming in the summer, spring break, tied to semester courses, or any other possible options for travel. It is imperative that we plan early so our students will get excited, plan their academic schedules, and save money for their study abroad experiences with you!
You can find the application here: www.evansville.edu/studyabroad/downloads/FacultyLedProposal2018.pdf.
The deadline has been extended through November 15.
We hope our new process is straightforward and easy. Please let us know if you have any questions, concerns, or if you would just like to talk through an idea for a program. We appreciate your willingness to think ahead and to get these proposals in at a busy time of the year.
If you have any questions, please contact Amara Stuehling at as760@evansville.edu.
Submitted by Amara Stuehling as760@evansville.edu
Communication 380 (intercultural communication) offered online winter intersession
Interested in taking a course over winter break that you can take no matter where you plan to be? Interested in taking a course that will meet several General Education requirements? COMM 380 meets criteria for General Education Outcome 9 (Understanding of Core Concepts of Society, Human Behavior, and Civic Knowledge) and Overlay Component A (Global Diversity: International Component). For more information contact professor emeritus of communication Dean Thomlison at dt4@evansville.edu.
Submitted by Dean Thomlison dt4@evansville.edu
Indiana Teacher of the Year visits School of Education
The School of Education welcomed the Indiana Teacher of the Year, Jitka Nelson, to campus recently. Nelson has taught for 25 years in various grade levels in the Czech Republic, Canada, and the U.S. For the last six years she has taught English as a second language at Logansport Community High. Since earning this prestigious title, Nelson has been traveling across the state departing her wisdom on current teachers and soon to be educators. The School of Education was excited to welcome her to campus to inspire our education majors!
Spring 2018 GAP classes announced!
As we enter advising week, students and advisors should take a look at UE's largest ever offering of GAP classes. Students get class credit for making an impact in the real world, and can register on WebAdvisor by looking for the GAP prefix. Projects include using sunflower fields to help the environment and generate higher profits for farmers, working to solve infant mortality, designing a space for the humanities on campus and much more. Visit GAP offerings Spring 2018 to see the full list.
Submitted by Cindy Kelley ck116@evansville.edu
Mechanical engineering alum noted in mechanical engineering magazine
Austin Kraus, a 2017 mechanical engineering alum, had his photo and short biography published in the American Society of Mechanical Engineering (ASME) national publication, Mechanical Engineering magazine, for winning the Arthur L. Williston Medal. The Arthur L. Williston Medal is the top honor given to students that compete in the ASME national writing contest.
Morales/Hillenbrand wedding
Congratulations to our assistant director of financial aid Hilary Morales and her husband, Lucas Hillenbrand, on their marriage earlier this month. Please note that your e-mails from Hilary will now appear from Hilary Hillenbrand.
Submitted by Trisha Hawkes th187@evansville.edu
Professors attend national physical therapy education conference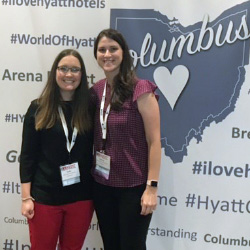 Bethany Huebner, PT professor/director of clinical education and Katie Whetstone, PT professor and assistant director of clinical education, recently attended the Education Leadership conference in Columbus, Ohio.
They attended curriculum and clinical education sessions and networked with leading educators, administrators, and clinicians in physical therapy education.
Taylor named to MVC Preseason All-Conference Second Team
University of Evansville redshirt junior Ryan Taylor was named to the Missouri Valley Conference Preseason All-Conference Second Team prior to the league's basketball tipoff on Tuesday in St. Louis.
Taylor finished last season as the #7 scorer in the league, totaling 14.1 points per game. He is the fourth-leading returner in that category this year. The 6-1 guard played in all 33 games last season and was a 2-time conference Newcomer of the Week.
His top outing came against Norfolk State as he drained 38 points while hitting 13 shots. In a home win over Drake in league play, Taylor had his best MVC effort, recording 25 points.
The annual preseason poll was also released with the Purple Aces being chosen to finish ninth in the conference in 2017-18. UE received 88 points. Evansville went 16-17 a season ago while posting a 6-12 MVC mark, but carried momentum late in the year, going 5-2 in the last seven regular-season contests.
UE Theatre hosts guest artists from Oregon Shakespeare Festival
Selected as the first university participant in the nation, the University of Evansville Theatre hosted guest artists from the Oregon Shakespeare Festival's internationally acclaimed Play on! Project, October20–22. The Play On! Project is a provocative effort to translate William Shakespeare's canon into contemporary English.
Taylor Bailey, a 2009 UE graduate, is assistant director of the project and attended departmental auditions on October 22 to cast Romeo and Juliet. Playwright Hansol Jung and dramaturg Aaron Malkin then worked with 21 student actors and dramaturgs on Saturday and presented a reading of the newest version of the play on Sunday.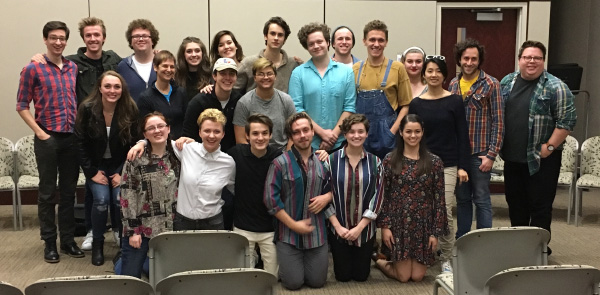 After working with the UET students, the Play On! team then travelled to Minneapolis, Minnesota, where they are workshopping the script with actors from the Guthrie Theatre production of Romeo and Juliet, which happens to feature 2009 UE alumna Kelsey Didion as Mercutio.
Learn more about the Oregon Shakespeare Festival's Play On! Project.
Dion speaks to eighth graders about presidential powers and U.S. Constitution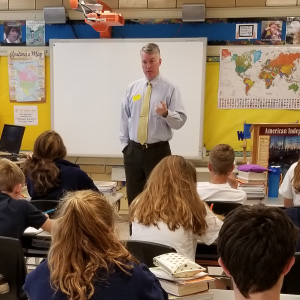 Professor Robert Dion spoke to eighth graders at Christ the King School last week about presidential powers and the U.S. Constitution.
UE President Tom Kazee spoke to the same class last month about the powers of the legislative branch.
The students are preparing to compete in the We The People program, which focuses on teaching young people about how the Constitution works and the importance of being engaged citizens.
Contribute to AceNotes
To have content considered for inclusion in AceNotes, please submit a Marketing Request Form. Deadline for submission to AceNotes is 10:00 a.m. on the requested date of publication. Only articles concerning UE related/sponsored activities will be accepted. Articles submitted to AceNotes may be edited for length and clarity. Submitter contact information is at the end of each article.