| | |
| --- | --- |
| AceNotes Today | Tuesday, October 24, 2017 |
Vehicles must be moved from Lot G by 5:00 p.m. today
All vehicles parked in Lot G (the lot outside Schroeder Residence Hall and the Student Fitness Center) must be moved from the lot by 5:00 p.m. today, Thursday, October 26.
On Friday, October 27, the lot will be cleaned and restriped by members of the campus community who have volunteered to be part of the UE Gives Back on Campus project.
Parking will be available in Lot H, which is located north of the tennis courts; and in Lot O, which is south of the Armory building.
Photographer on Campus October 25-27
The Office of Marketing and Communications will have a photographer on campus for a photo shoot Wednesday, October 25, through Friday, October 27. UE students and faculty have always been very cooperative and accommodating during previous shoots. As a result, many great photos have been taken for the University's website and publications. Kim McDonald will try to notify faculty in advance if photos will be taken in a particular class; however, weather may force the shoot inside, and it is possible that last minute requests will be made. If faculty members know that they will be giving a test or do not wish to have their class photographed any of these days, please inform McDonald at ext. 2683 or km117@evansville.edu and the classroom will be avoided.
Active shooter drill scheduled
In cooperation with the Evansville Police Department, the University of Evansville is planning an Active Shooter Drill. In order to maintain the integrity of the drill exercise, the exact date and time will not be published in advance. Note: the drill is scheduled for some time between 8:00 a.m. on Wednesday, October 11 and 5:00 p.m. on Tuesday, October 31. When the drill begins, all members of the campus community are expected to respond as if reacting to a real emergency situation. Participants are asked not to call 9-1-1 during the drill so that there is no disruption to the delivery of emergency services in the city. Also, please do not move your vehicle during a drill.
Things to know:
The drill will be announced to the campus community via an Ace Alert message. The alert will clearly state "THIS IS A DRILL" and will provide specific information relative to the location of a fictitious shooter. Only the Ace Alert message will activate the drill.
The drill will not involve simulated gunshots or an individual(s) posing as a shooter. The Evansville Police Department will be present to provide constructive input during the drill and will provide direct feedback to those who are in the selected area(s).
Whether or not you are in the direct area of the fictitious emergency, you should respond as you would if this were a real campus emergency.
You should consider the possibility that a second "fictitious shooting event" may be part of the drill.
The drill will conclude approximately 15 minutes after it begins with another Ace Alert message indicating the drill is over.
At the conclusion of the drill, classes and/or activities will resume as normal.
A Post Active Shooter Drill Survey will be emailed to all faculty, administrators, staff, and students on or before November 3. We ask that everyone respond to the survey as soon as possible after the drill.
How to respond during the drill:
Assess the situation! What do I know about the circumstances? What is the best response for me personally to ensure my safety? Then choose…
RUN: If the best way to keep yourself away from the fictitious danger is to flee the building, do so immediately. (For the drill, there is no reason to drive off-campus.)

NOTE: In a real situation, if you hear gunshots on the other side of the building and you are close to an exit, law enforcement recommends running from the building. If you are outside, get as far away from the threat area as possible. In some situations, you might decide that you can safely run away from the campus if the reported gunman is a good distance away from your campus location.
HIDE: If you are in a position to lock a building door and can do so safely, do so. In addition, seek shelter inside of the building (classroom, closet, office, etc.) If there is a lock on an interior door, lock yourself in the space. Go to a location in the room where you cannot be seen and stay in place until you are notified that the threat (drill) is over. Turn ringers and other tones off of cell phones and turn off lights if possible.
FIGHT: Note: There will be no need to FIGHT during this drill. In a real situation - If you are confronted with a gunman, you (and those with you) stand a better chance of surviving if you do something rather than nothing. Look around you. What would you use to help defend yourself?
Remember: All exterior doors to buildings may be locked if the occupants within the building can do so safely. Electronic Card access may also be shut off. Use your best judgment in determining the safest course of action to protect yourself. Seconds count!
Watch the Video – Run, Hide, Fight.
As a reminder, you can find information about "Emergency Situations and Procedures" on the Safety and Security Website (https://www.evansville.edu/safety/emergencyProcedures.cfm) including a video on the Run, Hide, Fight response (https://www.evansville.edu/safety/) and additional information such as sheltering in place, outside and inside threats, and so forth.
This Week in Music: Opera
On Friday, October 27 at 7:30 p.m. in Neu Chapel, the Schmidt Opera Series returns with Gian Carlo Menotti's beloved opera, Amahl and the Night Visitors. Presented with orchestra and members of University Choir under the baton of Dennis Malfatti and staged by Alanna Keenan.
This performance is free and open to the public.
Although this opera is often associated with the Christmas season, the opera touches on social themes of abject poverty, hunger, and the desperation of these situations that are still relevant in the events around the world.
Based on Italian folk tales of Christmas, Gian Carlo Menotti's Amahl and the Night Visitors is a retelling of the story of the Magi from the viewpoint of Amahl, a young disabled boy who lives in poverty on the outskirts of Bethlehem. After seeing a bright star in the sky, Amahl and his mother are visited by three kings carrying gifts in search of "the Child." Faced with the desperation of their situation, the Mother attempts to steal a bit of the gold for her child, but is caught in the act. A vivid and accessible tale, Amahl and the Night Visitors is the perfect first opera for people of all ages.
Submitted by James Sullivan js820@evansville.edu
New dates for chances to win $100 Visa Gift Card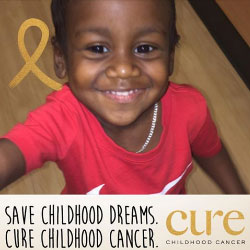 From October 24-27, the National Society of Collegiate Scholars will be selling raffle tickets to raise money for Julius King, a two-year-old battling leukemia for the second time.
Ticket prices are $1 for one raffle ticket and $5 for seven raffle tickets. The grand prize will be a $100 Visa gift card with an NSCS travel mug.
Tickets will be sold in Ridgway University Center from 11:30 a.m.-1:00 p.m. On Thursday, tickets will also be sold from 4:30-7:00 p.m.
Submitted by Brené Williams bw156@evansville.edu
Corn maze and pumpkins
The Venturing Crew will travel to Lyles Station this Saturday, October 28 from 6:00-9:30 p.m. where there will be a haunted corn maze, pumpkin patch, bonfire, food, hot apple cider, and more! The cost is $13 and sign-ups will be Tuesday, Wednesday, and Thursday this week on the first floor of Ridgway University Center. Questions? Email Sydney Winstead at sw228@evansville.edu.
Submitted by Sydney Winstead sw228@evansville.edu
Learn Martin Luther's Reformation Hymn
"A mighty fortress is our God..."
Do you know the rest? Whether you do or not, you are invited to join the Neu Chapel community tonight at 9:00 p.m. to learn together Martin Luther's Reformation hymn, "A Mighty Fortress Is Our God," in preparation for Reformation Sunday. Come join us as we sing together! All are welcome!
Submitted by Keith Turner kt160@evansville.edu
Reformation Sunday with a German Lunch in Neu Chapel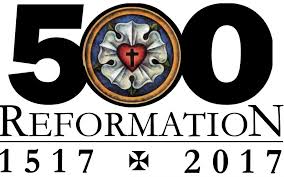 This Sunday, October 29, the Neu Chapel community will commemorate the 500th anniversary of the Protestant Reformation in our university worship service at 11:00 a.m.
We are excited and honored to welcome representation from Newman Catholic Campus Ministry. Together we will sing Martin Luther's Reformation hymn, "A Mighty Fortress Is Our God", and will consider how the people of God are always reforming.
We will celebrate afterward with a German themed lunch in Grabill Lounge, sponsored by Methodist Temple UMC.
All are welcome! Wear red! Bring a friend! You won't want to miss this exciting Sunday in Neu Chapel!
Submitted by Keith Turner kt160@evansville.edu
Fireside Chat Goes to Honey Moon Coffee Co.!
This week's Fireside Chat will be held at Honey Moon Coffee Co., where we will continue our theme "Life's Maze, God's Mission, and Me: What Is God Calling Me to Do?" We will meet as a group in Grabill Lounge (basement of Neu Chapel) at 7:30 p.m. tonight and will walk to Honey Moon as a group. All are welcome to join the conversation!
Submitted by Keith Turner kt160@evansville.edu
College Mentors for Kids Panera Give Back today
Come to Panera today - Wednesday, October 25 - to help support College Mentors for Kids. Just show this flyer at the register and tell them you are there for the give back. College Mentors helps 35 kids from lower income families in the Evansville area and introduces them to the opportunities college can present them. We also help to educate them on cultural understanding, community service and of course higher education.
Submitted by Kaitlin Kitteson kk260@evansville.edu
UE's Annual Chili Bowl Sale planned for October 26
The University of Evansville's annual Chili Bowl Sale is planned for October 26 from 11:30 a.m.-1:00 p.m. The event, which is sponsored by the UE Clay Club, will be set up in the area between Hyde and Sampson Halls on UE's campus. The rain location for the event is Eykamp Hall, Room 253, Ridgway University Center.
Chartwells, the new food service provider at UE, will provide the chili this year.
For $10, customers can buy a one-of-a-kind ceramic bowl and fill it with chili. Styrofoam containers will be available for those who prefer not to put chili in their newly purchased bowls.
Smaller bowls priced at $5 and larger bowls ranging from $15-$50 will also be for sale at the event. There will be a few bowls sold at a Silent Auction as well, ranging in value from $60-$100.
The bowls are being made this year by members of the Clay Club and other UE students, faculty members, alumni, and members of the community.
Part of the proceeds from the sale will be donated to a local food pantry/kitchen. The rest will go to the Clay Club to be used to fund attendance at conferences, visiting artists, and studio/gallery visits.
Pixley presenting exhibit in UE's Melvin Peterson Gallery
"Putting on Airs," an exhibit of prints by artist Lisa Pixley, will be displayed at the University of Evansville's Melvin Peterson Gallery from October 30-December 9.
The exhibit is free and open to the public and is part of the Efroymson Family Fund Emerging Contemporary Artist Lecture Series.
An artist printmaker located in Portland, Maine, Pixley earned her BFA with a concentration in painting from the Maine College of Art. After graduation, she began a commercial and artistic practice focusing on the craft of print. Pixley studied as an apprentice with David Wolfe of Wolfe Editions, where she worked closely with artists such as Charlie Hewitt and Allison Hildreth.
In 2009 Pixley founded Pickwick Independent Press in Portland, a for profit shared access print studio where she worked as director, master printer, and events coordinator, while also maintaining an active art practice in the medium of printmaking.
Pixley is currently developing a new venture: WIP Editions. WIP Editions will function as a storefront studio entity as well as an online presence. Under the imprint of WIP Editions, she will be developing a body of work showcasing suites of prints of her work as well as the work of invited artists.
The Melvin Peterson Gallery is located at 1935 Lincoln Avenue on the corner of Lincoln and Weinbach Avenues in Evansville.
For more information, contact 207-650-6073.
UE Changemakers – Greenbelt Connectivity
Students in the GAP Greenbelt Connectivity Partnership: The Greenbelt Connectivity studied the interconnectivity of Evansville's trails system and made recommendations to connect bike and jogging paths. These recommendations are being included in some of the city's master plans and led to an official partnership with two city engineers for further work.
UE Changemakers – Transformative Action Now in FYS
The students in the Transformative Action and Strengths Finder FYS class learn how to identify problems in their world and develop the strengths they need to solve them. Several students have already proposed their own GAP projects for Spring 2018 and are working to make real change in the community!
UE Changemakers – Infant Mortality
For the Infant Mortality GAP Project, a student team conducted research on the causes for the high rate of infant mortality in Vanderburgh County and developed a Safe Sleep campaign to be implemented throughout the county. They then met with Indiana state health officials to discuss how the campaign could be developed statewide.
Women's Basketball tabbed eighth in MVC Preseason Poll
After a sixth place finish a year ago, the University of Evansville women's basketball team was selected eighth in the 2017-18 Missouri Valley Conference preseason poll, it was announced in a release by the conference on Tuesday.
The poll, which is voted on by league's coaches, sports information directors and local media members, tabbed reigning MVC champion Drake as the favorite to repeat as conference champions. The Bulldogs received 31 first-place votes, while Missouri State was picked second and received seven first-place votes, and UNI received the final two first-place votes and was selected third.

Evansville received 132 points in the poll, just seven off of seventh-place Illinois State. The Aces return a pair of starters this season in senior guard Brooke Dossett and junior guard Kerri Gasper. Head Coach Matt Ruffing's squad will look to replace 66% of its scoring from last season following the graduation of all-time leading scorer Sara Dickey, 2017 MVC Defensive Player of the Year Camary Williams, and the team's second-leading rebounder in Sasha Robinson. Entering the fold for the Aces are six newcomers, including one graduate transfer, three junior college transfers, and a true freshman.

The 2017-18 MVC Preseason All-Conference team features five all-MVC first team selections from last season. Missouri State senior Liza Fruendt was picked as MVC Preseason Player of the Year, while the Drake duo of Becca Hittner and Sammie Bachrodt each earned preseason all-conference honors. UNI junior Ellie Howell and SIU senior Kylie Giebelhausen rounded out the MVC Preseason All-Conference team.

Evansville opens its season on November 12 at 3:00 p.m. at Meeks Family Fieldhouse when the Aces welcome in Murray State.
Fall and Summer 2018 Harlaxton application deadlines are coming up!
The priority deadline for applications is December 6 for fall and January 24 for summer. Course descriptions are currently available on the Harlaxton website, so check those out to see what classes we're offering. Make sure to start filling out your applications now! This is the perfect time to talk to your advisors to see if studying at Harlaxton will work for you.
If you have any questions, contact Georgina Ashley at ga47@evansville.edu or 812-488-3232.
Submitted by Greta Becker gb91@evansville.edu
Spring 2018 GAP classes announced!
As we enter advising week, students and advisors should take a look at UE's largest ever offering of GAP classes. Students get class credit for making an impact in the real world, and can register on WebAdvisor by looking for the GAP prefix. Projects include using sunflower fields to help the environment and generate higher profits for farmers, working to solve infant mortality, designing a space for the humanities on campus and much more. Visit GAP offerings Spring 2018 to see the full list.
Submitted by Cindy Kelley ck116@evansville.edu
Neu Chapel Society donates $2000 to hurricane relief
The Neu Chapel Society recently made a $2000 donation to UMCOR (United Methodist Committee on Relief), which will relieve some of the suffering in Texas, Florida, and Puerto Rico because of the recent hurricanes. Many thanks to the campus community for contributing to the special offering taken the week of August 29. If you would like more information about the work of UMCOR, go to the organization's website at www.umcor.org.
Hughes Hall to Serve as Staging Area During Hyde Hall Renovations
Hughes Residence Hall, UE's oldest residence hall built in 1958, will be taken offline at the end of the fall 2017 semester to become a temporary staging area for faculty offices during the Hyde Hall renovations. Students currently living in Hughes Hall will be relocated to other residence halls at the Hughes Hall rate for the spring 2018 semester. Residence Life will be providing additional information to those students on this transition.
Once the Hyde Hall project is complete, it is anticipated Hughes Hall will be razed to make way for future expansion on the Walnut/Weinbach Avenue corridor. This would be the first step in a new strategic plan for the northeast quadrant of the UE campus.
NY Times available to UE
Have you been keeping up with the news? UE has access to the New York Times for anyone with a UE e-mail address. Go to www.NYTimes.com/Pass and sign up using your UE e-mail address, verify your e-mail address from the NYT e-mail, and keep up with the daily news from the New York Times. Need help? Contact Danielle at dw56@evansville.edu.
Submitted by Danielle Williams dw56@evansville.edu
UE Stories Abroad: Natalie in Costa Rica
What does UE student Natalie Schisler have to say about studying abroad?
"Do it because it's hard to spend time learning in another culture and not leave the experience a little kinder, a little braver, and a little more open-minded. Do it because it's fun. Do it because your new adventures may be some of the best experiences of your entire life."
Natalie spent some time in Costa Rica this summer doing a Spanish immersion program. You can now read about her experiences on the Study Abroad website.
Submitted by Greta Becker gb91@evansville.edu
Dion speaks to eighth graders about presidential powers and U.S. Constitution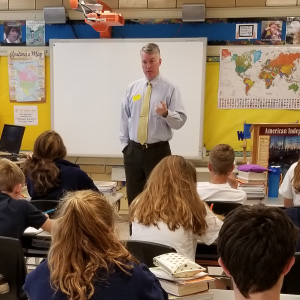 Professor Robert Dion spoke to eighth graders at Christ the King School last week about presidential powers and the U.S. Constitution.
UE President Tom Kazee spoke to the same class last month about the powers of the legislative branch.
The students are preparing to compete in the We The People program, which focuses on teaching young people about how the Constitution works and the importance of being engaged citizens.
Article on UE's Jezreel Expedition appears in Biblical Archaeology Review magazine
An article co-authored by Jennie Ebeling, professor in the Department of Archaeology and Art History, appears in the latest issue of Biblical Archaeology Review magazine. The article is titled "Have We Found Naboth's Vineyard at Jezreel?" and describes a large winery discovered by the Jezreel team that dates to the period of the biblical kings of Israel and may have inspired the story of Naboth's vineyard in 1 Kings 21.
MacLeod gives lecture on impact of WWII on Evansville
UE professor of history James MacLeod recently delivered a lecture to an enthusiastic and receptive crowd at the Evansville reserve officers club on "The Impact of World War Two on Evansville." The lecture dealt with topics covered in MacLeod's recent book, Evansville in World War II. MacLeod serves on the boards of both the Vanderburgh County Historical Society and the Southwestern Indiana Historical Society.
Contribute to AceNotes
To have content considered for inclusion in AceNotes, please submit a Marketing Request Form. Deadline for submission to AceNotes is 10:00 a.m. on the requested date of publication. Only articles concerning UE related/sponsored activities will be accepted. Articles submitted to AceNotes may be edited for length and clarity. Submitter contact information is at the end of each article.