| | |
| --- | --- |
| AceNotes Today | Monday, October 23, 2017 |
Vehicles must be moved from Lot G by 5:00 p.m. today
All vehicles parked in Lot G (the lot outside Schroeder Residence Hall and the Student Fitness Center) must be moved from the lot by 5:00 p.m. today, Thursday, October 26.
On Friday, October 27, the lot will be cleaned and restriped by members of the campus community who have volunteered to be part of the UE Gives Back on Campus project.
Parking will be available in Lot H, which is located north of the tennis courts; and in Lot O, which is south of the Armory building.
Employees: UE Gives Back on Campus 2017
UE Gives Back on Campus will take place on Friday, October 27, and the deadline to sign up is Tuesday, October 24, and spaces are limited – so sign up today!

With the approval of immediate supervisors or as your schedule permits, employees may choose to volunteer on UE's campus – without scheduling a day of vacation.

Volunteers may choose from projects in the following areas:
• Armory
• Community Gardens
• Diversity Resource Center
• Native Plant Garden
• Neu Chapel
• Re-striping Parking Lots
• Theatre Costume Storage
Each volunteer will receive a confirmation e-mail with specifics for the day prior to UE Gives Back on Campus.
Active shooter drill scheduled
In cooperation with the Evansville Police Department, the University of Evansville is planning an Active Shooter Drill. In order to maintain the integrity of the drill exercise, the exact date and time will not be published in advance. Note: the drill is scheduled for some time between 8:00 a.m. on Wednesday, October 11 and 5:00 p.m. on Tuesday, October 31. When the drill begins, all members of the campus community are expected to respond as if reacting to a real emergency situation. Participants are asked not to call 9-1-1 during the drill so that there is no disruption to the delivery of emergency services in the city. Also, please do not move your vehicle during a drill.
Things to know:
The drill will be announced to the campus community via an Ace Alert message. The alert will clearly state "THIS IS A DRILL" and will provide specific information relative to the location of a fictitious shooter. Only the Ace Alert message will activate the drill.
The drill will not involve simulated gunshots or an individual(s) posing as a shooter. The Evansville Police Department will be present to provide constructive input during the drill and will provide direct feedback to those who are in the selected area(s).
Whether or not you are in the direct area of the fictitious emergency, you should respond as you would if this were a real campus emergency.
You should consider the possibility that a second "fictitious shooting event" may be part of the drill.
The drill will conclude approximately 15 minutes after it begins with another Ace Alert message indicating the drill is over.
At the conclusion of the drill, classes and/or activities will resume as normal.
A Post Active Shooter Drill Survey will be emailed to all faculty, administrators, staff, and students on or before November 3. We ask that everyone respond to the survey as soon as possible after the drill.
How to respond during the drill:
Assess the situation! What do I know about the circumstances? What is the best response for me personally to ensure my safety? Then choose…
RUN: If the best way to keep yourself away from the fictitious danger is to flee the building, do so immediately. (For the drill, there is no reason to drive off-campus.)

NOTE: In a real situation, if you hear gunshots on the other side of the building and you are close to an exit, law enforcement recommends running from the building. If you are outside, get as far away from the threat area as possible. In some situations, you might decide that you can safely run away from the campus if the reported gunman is a good distance away from your campus location.
HIDE: If you are in a position to lock a building door and can do so safely, do so. In addition, seek shelter inside of the building (classroom, closet, office, etc.) If there is a lock on an interior door, lock yourself in the space. Go to a location in the room where you cannot be seen and stay in place until you are notified that the threat (drill) is over. Turn ringers and other tones off of cell phones and turn off lights if possible.
FIGHT: Note: There will be no need to FIGHT during this drill. In a real situation - If you are confronted with a gunman, you (and those with you) stand a better chance of surviving if you do something rather than nothing. Look around you. What would you use to help defend yourself?
Remember: All exterior doors to buildings may be locked if the occupants within the building can do so safely. Electronic Card access may also be shut off. Use your best judgment in determining the safest course of action to protect yourself. Seconds count!
Watch the Video – Run, Hide, Fight.
As a reminder, you can find information about "Emergency Situations and Procedures" on the Safety and Security Website (https://www.evansville.edu/safety/emergencyProcedures.cfm) including a video on the Run, Hide, Fight response (https://www.evansville.edu/safety/) and additional information such as sheltering in place, outside and inside threats, and so forth.
UE Theatre May Studio production of
The University of Evansville Department of Theatre proudly presents the Tony Award-nominated In The Next Room (or the Vibrator Play). The play opened October 20 in the May Studio Theatre. The last performance is at 7:30 p.m. tonight.
Playwright Sarah Ruhl's imaginative script was a finalist for the Pulitzer Prize, and she introduces us to the home and office of Dr. and Mrs. Givings, a seemingly ordinary Victorian couple. As the good doctor experiments treating hysteria with his new invention (the vibrator), his wife wrangles their newborn child, a reluctant wet nurse, and vies for attention from her work obsessed husband. This comedic gem of a play deftly examines the awakening of women's sexuality and the one-sided relationship between doctor and patient in the late 19th century.
The play is directed by Kira Vuolo, a senior from Westminster, Colorado, Hilary Rubio, a senior from San Antonio, Texas, serves as the costume designer; John Fujisawa, a junior from Los Alamitos, California, is the scenic designer; Renee Voteau, a senior from St. Louis, Missouri, is the lighting designer; Kenny Impastato, a sophomore from Darien, Illinois, serves as the sound designer; Bailey Brandvold, a junior from Great Falls, Montana, is the dramaturg; Mary Claire Smalley, a senior from Nashville, Tennessee, is the stage manager; and Professor Chuck Meacham is the technical director.
The cast features Briggs Woolley, a senior from Mill Valley, California, as Doctor Givings; Alexi Lewis, a junior from Seattle, Washington, as Mrs. Catherine Givings; Grace Maddux, a freshman from Dubuque, Iowa; Madeline Easley, a junior from Overland Park, Kansas; Justin Pappas, a freshman from Boulder, Colorado; Amanda Cowan, a freshman from Mansfield, Texas; and Beau Wilcox, a freshman from Broomfield, Colorado.
Ticket prices are $11 for adults and $9 for senior adults, students, and UE faculty and staff.
UE students may obtain one free student rush ticket beginning at noon on the day of the performance they wish to attend. Tickets may be purchased by calling 812-488–2031, Monday through Friday, noon-5:00 p.m.
Learn Martin Luther's Reformation Hymn
"A mighty fortress is our God..."
Do you know the rest? Whether you do or not, you are invited to join the Neu Chapel community tonight at 9:00 p.m. to learn together Martin Luther's Reformation hymn, "A Mighty Fortress Is Our God," in preparation for Reformation Sunday. Come join us as we sing together! All are welcome!
Submitted by Keith Turner kt160@evansville.edu
Reformation Sunday with a German Lunch in Neu Chapel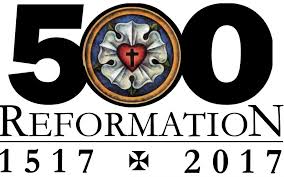 This Sunday, October 29, the Neu Chapel community will commemorate the 500th anniversary of the Protestant Reformation in our university worship service at 11:00 a.m.
We are excited and honored to welcome representation from Newman Catholic Campus Ministry. Together we will sing Martin Luther's Reformation hymn, "A Mighty Fortress Is Our God", and will consider how the people of God are always reforming.
We will celebrate afterward with a German themed lunch in Grabill Lounge, sponsored by Methodist Temple UMC.
All are welcome! Wear red! Bring a friend! You won't want to miss this exciting Sunday in Neu Chapel!
Submitted by Keith Turner kt160@evansville.edu
TONIGHT! Thrills and Chills in Neu!
Neu Chapel is transforming into a haunting place for our truly haunting Thrills and Chills musical experience tonight! At 9:00 p.m., we will have spooks and frights of our own. Come dressed up or not! Bring your pillows, blankets, and sleeping bags! Candy will be provided! All are welcome to attend this spooktacular event!
Submitted by Keith Turner kt160@evansville.edu
Fireside Chat Goes to Honey Moon Coffee Co.!
This week's Fireside Chat will be held at Honey Moon Coffee Co., where we will continue our theme "Life's Maze, God's Mission, and Me: What Is God Calling Me to Do?" We will meet as a group in Grabill Lounge (basement of Neu Chapel) at 7:30 p.m. tonight and will walk to Honey Moon as a group. All are welcome to join the conversation!
Submitted by Keith Turner kt160@evansville.edu
This Week in Music: Opera
On Friday, October 27 at 7:30 p.m. in Neu Chapel, the Schmidt Opera Series returns with Gian Carlo Menotti's beloved opera, Amahl and the Night Visitors. Presented with orchestra and members of University Choir under the baton of Dennis Malfatti and staged by Alanna Keenan.
This performance is free and open to the public.
Although this opera is often associated with the Christmas season, the opera touches on social themes of abject poverty, hunger, and the desperation of these situations that are still relevant in the events around the world.
Based on Italian folk tales of Christmas, Gian Carlo Menotti's Amahl and the Night Visitors is a retelling of the story of the Magi from the viewpoint of Amahl, a young disabled boy who lives in poverty on the outskirts of Bethlehem. After seeing a bright star in the sky, Amahl and his mother are visited by three kings carrying gifts in search of "the Child." Faced with the desperation of their situation, the Mother attempts to steal a bit of the gold for her child, but is caught in the act. A vivid and accessible tale, Amahl and the Night Visitors is the perfect first opera for people of all ages.
Submitted by James Sullivan js820@evansville.edu
Dig Pink game for UE Volleyball set for Oct. 28
The annual "Dig Pink" volleyball game promoting the Breast Cancer Research Foundation will take place on Saturday, October 28 as the University of Evansville volleyball team will take on Southern Illinois inside Meeks Family Fieldhouse.
Starting now and running through the game on the 28th, pink t-shirts promoting the foundation will be on sale. Shirts are just $12 and proceeds benefit the Breast Cancer Research Foundation. You can order yours now by calling 812-488-1024 or purchase at the game.
Pink ribbons and bracelets will be available for you to show your support at the game.
During the match, those battling the disease along with survivors will be recognized.
If you would like to donate to the Breast Cancer Research Foundation, you can do so directly by clicking here: https://give.bcrf.org/purpleacesvolleyball.
December grads please attend today's Commencement Central
ALL December graduates should attend Commencement Central TODAY - Thursday, October 26 - between 11:00 a.m.-1:00 p.m. The event will be located in the Ridgway University Center just outside the UE Bookstore. It only takes a few minutes to finalize your graduation plans. You'll meet with the registrar, alumni affairs, and career planning offices. You can also purchase your cap and gown and/or order graduation announcements. There's a FREE gift for everyone that attends. Be sure to mark your calendar and add the event to your phone.
Submitted by Doug Gustwiller dg57@evansville.edu
College Mentors for Kids Panera Give Back today
Come to Panera today - Wednesday, October 25 - to help support College Mentors for Kids. Just show this flyer at the register and tell them you are there for the give back. College Mentors helps 35 kids from lower income families in the Evansville area and introduces them to the opportunities college can present them. We also help to educate them on cultural understanding, community service and of course higher education.
Submitted by Kaitlin Kitteson kk260@evansville.edu
UE's Annual Chili Bowl Sale planned for October 26
The University of Evansville's annual Chili Bowl Sale is planned for October 26 from 11:30 a.m.-1:00 p.m. The event, which is sponsored by the UE Clay Club, will be set up in the area between Hyde and Sampson Halls on UE's campus. The rain location for the event is Eykamp Hall, Room 253, Ridgway University Center.
Chartwells, the new food service provider at UE, will provide the chili this year.
For $10, customers can buy a one-of-a-kind ceramic bowl and fill it with chili. Styrofoam containers will be available for those who prefer not to put chili in their newly purchased bowls.
Smaller bowls priced at $5 and larger bowls ranging from $15-$50 will also be for sale at the event. There will be a few bowls sold at a Silent Auction as well, ranging in value from $60-$100.
The bowls are being made this year by members of the Clay Club and other UE students, faculty members, alumni, and members of the community.
Part of the proceeds from the sale will be donated to a local food pantry/kitchen. The rest will go to the Clay Club to be used to fund attendance at conferences, visiting artists, and studio/gallery visits.
Fiddick Lecture: Long struggle for racial equality in Indiana
James H. Madison, Thomas and Kathryn Miller Professor Emeritus of History at Indiana University, Bloomington, will be the speaker for this year's University of Evansville Thomas C. Fiddick Memorial Lecture. The event is planned for TODAY - Friday, November 3 - at 7:00 p.m. in Room 170 (Smythe Lecture Hall) in the Schroeder School of Business Building. This is the 16th year for the lecture, which is free and open to the public.
Madison will be delivering an illustrated lecture on "Hoosiers and the Long Struggle for Racial Equality."
For over two centuries the people of Indiana have struggled with challenges of race. There were times when African American Hoosiers could not vote, when the danger of lynching was real, when the Ku Klux Klan seemed right and necessary, when segregationists created schools, restaurants, and basketball tournaments for whites only. Beginning in the1950s, Indiana reformers began a push toward equality that we know as the great civil rights movement. Madison's lecture will focus on several flash points of challenge and change to spark thinking about race and about where we have been, where we are, and where we want to go as citizens in a changing world.

Madison is without doubt one of the most distinguished scholars to work in the field of Indiana history. An award winning teacher for over four decades at IU, he is the author of several books, including Eli Lilly: A Life; A Lynching in the Heartland: Race and Memory in America; and Slinging Doughnuts for the Boys: An American Woman in World War II. He has taught as a Fulbright professor in Japan and England and has served on the boards of Indiana Humanities and the Indiana Historical Society, as well as being a member of the Indiana Bicentennial Commission. Madison's most recent book is the highly acclaimed bicentennial history, Hoosiers: A New History of Indiana; it is the basis for an Emmy-awarded PBS documentary on Indiana's history.
"Professor Jim Madison is an extremely eminent scholar of Indiana History and we are absolutely thrilled to bring him to the University of Evansville to deliver the Fiddick Lecture and interact with students in class," said James MacLeod, UE professor of history and director of the Fiddick Memorial Lecture Series.
"As recent events have catapulted race relations back into the center of public discourse," MacLeod added, "this is a perfect time to educate ourselves about the history of racial equality in our home state. There can be few better-qualified people to tell this story than Professor Madison. It is especially appropriate given Tom Fiddick's lifelong passion for many of the key issues discussed by Jim Madison, especially Civil Rights."
Thomas C. Fiddick, for whom the Fiddick Memorial Lecture is named, served as professor of history at the University of Evansville from 1963 to 2002. In his 39 years at the University, he was a dedicated teacher, a productive scholar, and a tireless fighter in the cause of justice. His untimely death on the day of his retirement in 2002 stunned the UE community, especially his many former students. It was from the former students' efforts in particular, with the support of Fiddick's friends and the University, that the annual Thomas C. Fiddick Memorial Lecture was established.
"The Fiddick Lecture is one of the best events of the year, as we get to celebrate the career of a truly outstanding faculty member here at UE," MacLeod said. "Tom Fiddick was a brilliant scholar and an incredible teacher who made a life-transforming impact on generations of students."
For more information, please contact the UE Department of History at 812-488-2963.
Federal loan repayment counseling session for graduating or transferring students
Students who have received federal direct (sub/unsub) Loans and plan to graduate in the fall (or transfer after the fall semester) are required to attend a loan repayment counseling session. The Office of Financial Aid will hold the first session of the semester TODAY - Thursday, October 26 - at 2:00 p.m. in Eykamp Hall, Room 253, Ridgway University Center. The last session will be held on December 7 at 2:00 pm.
Submitted by Amy Sowders as560@evansville.edu
Senior Reading - April 11
Robert Griffith, chair of the creative writing program at UE, will be the speaker for the Coffee Hour Lecture on Thursday, October 26, 4:00 p.m., in the Vectren Lecture Hall (Room 100), Koch Center for Engineering and Science. These lectures are free and open to the public.
His most recent book is The Devil in the Milk. Griffith's book, The Moon from Every Window, was nominated for the 2013 Poets' Prize, and his book A Matinee in Plato's Cave won the 2009 Best Book of Indiana Award. His work has appeared in PN Review, Poetry, The North American Review, Poems & Plays, The Oxford American, and other publications. He is editor of the journal Measure and director of the University of Evansville Press.
Other lectures in the series include:
Senior Reading
4:00 p.m.
Wednesday, April 11
Eykamp Hall, Room 252, Ridgway University Center
Graduating creative writing majors read their poetry and prose.
For more information, call 812-488-2963.
UE Changemakers - Neuromarketing GAP team's Metronet project
Last semester, the neuromarketing GAP team worked with Metronet, a fiberoptic network service provider headquartered here in Evansville, which provides service to communities throughout Indiana and Illinois. The team tested the web-based self-sign-up process using neuromarketing techniques and made recommendations for improvement. The company implemented these changes right away, and now estimate that the changes nearly doubled the company's conversion rate and will result in an increase of over $1M in additional sales revenue in FY 2017 alone. Metronet wants to do more projects with our students, from neuromarketing to engineering to data analytics.
Evansville Day School offering scholarship opportunity to UE families
Evansville Day School has announced a scholarship opportunity for students whose families are employed full-time by the University of Evansville. Any student admitted to Evansville Day School will automatically receive a 50 percent (25 percent for Junior Pre-K and Pre-K) tuition reduction. Once awarded, the scholarships will be automatically renewed annually.
Evansville Day School is offering this scholarship because it understands that educators have chosen a profession with immeasurable societal impact, but with lower salary benefits than other fields requiring similar degrees and work demands. As the leading college prep school in the region, the Evansville Day School wants to partner with educators by making the school affordable to families who value the school's mission and brand of education.
More information on the scholarship is available in the Office of Human Resources at UE. Also, Evansville Day School invites those interested to Discover Why Day, an admission event scheduled for November 10 at 8:30 a.m. and 12:30 p.m. More information on Discover Why Day can be found on the Day School's event page: https://www.evansvilledayschool.org/discover-why-day.
For additional information on the scholarship, or Evansville Day School's educational experience, contact the Day School's director of enrollment management, Tiki Thompson at tthompson@evansvilledayschool.org.
Neu Chapel Society donates $2000 to hurricane relief
The Neu Chapel Society recently made a $2000 donation to UMCOR (United Methodist Committee on Relief), which will relieve some of the suffering in Texas, Florida, and Puerto Rico because of the recent hurricanes. Many thanks to the campus community for contributing to the special offering taken the week of August 29. If you would like more information about the work of UMCOR, go to the organization's website at www.umcor.org.
Women's Soccer drops Senior Day match to Missouri State, 2-1
A late goal by Missouri State proved to be the difference as the University of Evansville women's soccer team fell to the Bears, 2-1, on Senior Day at Arad McCutchan Stadium in Evansville.
"I think we played pretty hard today," said Aces head coach Krista McKendree. "For us to be able to come back and tie the game up was a testament to us not quitting and trying to figure a way to gut-out a performance. It started earlier this week on Wednesday (against Indiana Sate). We gutted-out and fought for all 90 minutes of that performance. I think we had more fight tonight for sure. We just have to be a little bit cleaner on the ball and try and connect a few more passes, at times, and we have to do a better job of defending in the attacking third."
In the match, senior Montana Portenier led the Aces with their lone goal, while firing a team-best two shots. Between the posts, sophomore Julie Rabe made her second career start, making a pair of saves and allowing two goals in the loss. Kayleigh Putnam and Brooke Prondzinski led Missouri State with a goal each.
Just before kickoff, the Aces honored four seniors who have made contributions to the program. Nicki Baham, Montana Portenier, JBess Ruby, and athletic trainer Mckenzie Manning were all recognized for their efforts.
Neither side could find a goal in the opening half as the teams combined for nine shots with Missouri State holding a 6-3 advantage through the first 45 minutes.
In the 51st minute, Missouri State opened the scoring on a header by Putnam off an assist by Brittney Robinson that gave the Bears a 1-0 lead.
The Aces would answer in the 64th minute as freshman midfielder Taran McMillan played a through-ball to Portenier, who dribbled into the box and side-stepped the goalkeeper and found the back of the net.
With just over 10 minutes left in regulation, the Bears broke the tie with a goal by Prondzinski from 10 yards out. Evansville pushed to knot the match at two in the final moments, but could not find the equalizer as Missouri State captured the 2-1 win.

UE was narrowly out-shot by Missouri State, 10-7, but the Aces held a 4-3 advantage on shots in the second half.
The Aces wrap-up the regular season on Wednesday when they travel to Valparaiso, Ind. to take on Valparaiso at 4:00 p.m.
UE Stories Abroad: Natalie in Costa Rica
What does UE student Natalie Schisler have to say about studying abroad?
"Do it because it's hard to spend time learning in another culture and not leave the experience a little kinder, a little braver, and a little more open-minded. Do it because it's fun. Do it because your new adventures may be some of the best experiences of your entire life."
Natalie spent some time in Costa Rica this summer doing a Spanish immersion program. You can now read about her experiences on the Study Abroad website.
Submitted by Greta Becker gb91@evansville.edu
Honorary Degree Committee invites your suggestions
The University of Evansville Honorary Degree Committee is now soliciting your recommendations for honorary degrees to be conferred at the May 2018 Commencement. According to the UE Faculty and Administrator Manual, the committee is charged with requesting and reviewing honorary degree nominations made on the basis of individual service to the University and individual achievement. An honorary degree may also be awarded to individuals who exemplify the University's mission. Selected persons have excelled in a variety of areas--law, medicine, education, business, literature, politics, and entertainment.
The committee will forward nominations to President Kazee so he can make his recommendations to the faculty. The faculty will vote on the final list of nominees.
Please email the following information to Robert Dion, committee chairperson, at rd35@evansville.edu, by Friday, November 3:
1. Nomination by (include name, phone and email address)
2. Name of person nominated
3. Title and/or profession of nominee
4. Rationale for the nomination (see criteria above)
5. Any biographical or background information on the nominee
6. Address information for contacting the nominee
Submitted by Robert Dion rd35@evansville.edu
October Pcard cycle ending!
The October Pcard cycle - which began on September 22 - ends at midnight on October 23. As of October 25, cardholders may schedule and run the October Cycle report. October transactions may be reconciled in SDG2 until October 30. On October 30, the general ledger Pcard file will be uploaded and cardholders will be locked out of (unable to make changes) posted transactions for the October cycle.
Submitted by Kim Winsett kw83@evansville.edu
McGrath, Keller lead Aces past Drake, 2-1
Senior midfielder Ian McGrath scored the lone goal of the match in the 65th minute and senior goalkeeper Matthew Keller recorded a shutout to help lead the University of Evansville men's soccer team to a 1-0 victory over Drake on the road on Saturday afternoon in Des Moines, Iowa.
"Our entire group contributed to the win today," said Aces head coach Marshall Ray. "With the number of games we have coming up, we had to rotate guys on Wednesday (against Lipscomb) and it helped today. Our guys coming in off the bench today picked up our level and allowed us to battle for the win. Ian came through big for us again and Keller was a wall in goal for us."
McGrath led the way for the Aces with the lone goal, firing a team-best three shots in the win. Between the posts, Keller preserved a clean sheet, making six saves in his fifth win of the season. Drake was led by Leroy Enzugusi and Nic Jaimes who each tallied a pair of shots.
The Aces dominated the first half of action, owning a 7-1 advantage on shots in the opening 45 minutes.
The tables turned in the second half as Drake held the advantage in shots. Despite recording just one shot in the second half, the Aces made it count. In the 65th minute, junior defender Eric McDougal crossed a ball into the box, far post, and found McGrath, who headed it into the back of the net for his ninth goal of the season.
In the final 25 minutes, the Aces faced eight Bulldog shots, but were able to stave off Drake to earn a 1-0 road victory.
In the match, Evansville was out-shot by the Bulldogs, 10-8. Drake also finished the match with a 7-4 advantage on corner kicks.
"It is up to us to compete in every session and match and battle to finish the regular season off on a high note," said Ray.
Evansville returns to Arad McCutchan Stadium for a three-game home-stand, beginning with a matchup with Central Arkansas at 6:00 p.m. on Tuesday night.
Aces volleyball pulls off exciting 3-2 win over Sycamores
Rachel Tam notched a game-high 16 kills to lead the University of Evansville volleyball team to a 3-2 victory over Indiana State on Friday night inside Meeks Family Fieldhouse.
Tam's 16 kills came in 40 attempts as she hit .225 for the Purple Aces (9-13, 3-7 MVC). Cathy Schreiber added 12 kills and had another spectacular hitting game, finishing the night at .417. Mildrelis Rodriguez posted eight kills and 16 digs while Erlicia Griffith registered 7 kills, five block assists and a solo block. Cassie Brooks had a game-high 22 digs and four service aces and Allana McInnis ran the offense efficiently, recording 30 assists.
"Since the beginning of the match, there was a feeling we were going to find a way to win. You could feel it and see it on the girls' faces. It was an up and down match for both sides, but we were always on top of it," UE head coach Manolo Concepcion said. "Multiple players stepped up and contributed. Schreiber and Rodriguez stepped up when it mattered most and closed the game. Having Erlicia have the type of game she had alongside Joselyn made the opponent change their offense. Overall, I can say that as long as we continue to find ways to win, we are going to be fine."
ISU (7-15, 5-5 MVC) was led by Laura Gross, who notched 12 kills. Cassie Kawa and Nikkie White had 1 apiece.
It was all Aces in the opening moments as the squad jumped out to a 5-1 lead before extending the advantage to 8-2 as Rachel Tam notched a pair of early kills. A pair of service aces continued the early success. The first by Cassie Brooks gave UE an 11-5 lead before Mildrelis Rodriguez added one of her own to make it a 16-8 game. The Sycamores cut the deficit to as little as three at 20-17 before the Aces found their groove once again, earning a 1-0 lead with a 25-19 win.
In game two, the Sycamores gained the upper hand. After opening up an early 6-2 advantage, ISU added to the lead from there, hitting double figures for the first time at 20-10 before finishing with a 25-12 decision to tie the match at 1-1. Laura Gross notched three kills in the frame.
Game three looked like it would go Indiana State's way again as they took a 9-3 lead. A Cathy Schreiber kill, coupled with two more kills from Tam got UE back into it. In a rally capped off by Joselyn Coronel and Tam notching a block assist, the Aces got within three at 10-7. After ISU pushed its lead back to six points at 17-11, the Aces closed in once again as a bad set by the Sycamores saw the Aces make it a 17-14 game. Indiana State was able to end the UE rally and counter to finish with a 25-19 decision.
After trailing early in the second and third sets, the Aces got it going early in set four, opening up a 5-1 lead. Erlicia Griffith had a great stretch, posting a kill and solo block as UE extended the edge to 10-3. Later, Adeline Payne notched a kill to give UE a double-digit lead at 21-11 as the Aces forced a 5th set with a 25-14 win.
Mildrelis Rodriguez started game five off with a kill before two Sycamore errors gave the Aces a 3-0 start. Back-to-back service aces from Brooks made it a 6-1 game. The lead reached six tallies at 11-5 before ISU made one final run, getting within three at 12-9. Tam came up big once again, halting their momentum with her 16th kill of the night. At the end, it was Schreiber with the deciding kill in a 15-11 win to finish the match.
Up next for the Aces are home contests against Southern Illinois and Missouri State next weekend at Meeks Family Fieldhouse.
Xiao has paper published in Neurocomputing
Pengcheng Xiao, assistant professor of mathematics, has had a paper published in Neurocomputing.
The title of the paper is "Manifold NMF with L21 norm for clustering", and the paper proposes a robust manifold nonnegative matrix factorization (NMF) algorithm based on L21 norm, and the projected gradient method is utilized to obtain the updating rules.
Article on UE's Jezreel Expedition appears in Biblical Archaeology Review magazine
An article co-authored by Jennie Ebeling, professor in the Department of Archaeology and Art History, appears in the latest issue of Biblical Archaeology Review magazine. The article is titled "Have We Found Naboth's Vineyard at Jezreel?" and describes a large winery discovered by the Jezreel team that dates to the period of the biblical kings of Israel and may have inspired the story of Naboth's vineyard in 1 Kings 21.
Edwards lectures at Colgate University
Dale Edwards, UE professor and chair of biology, was recently invited to give a lecture at Colgate University about his research on the evolutionary ecology of parasitic water mites. Edwards is coauthor of a book about water mites titled "Mites of Freshwater Mollusks."
MacLeod gives lecture on impact of WWII on Evansville
UE professor of history James MacLeod recently delivered a lecture to an enthusiastic and receptive crowd at the Evansville reserve officers club on "The Impact of World War Two on Evansville." The lecture dealt with topics covered in MacLeod's recent book, Evansville in World War II. MacLeod serves on the boards of both the Vanderburgh County Historical Society and the Southwestern Indiana Historical Society.
Contribute to AceNotes
To have content considered for inclusion in AceNotes, please submit a Marketing Request Form. Deadline for submission to AceNotes is 10:00 a.m. on the requested date of publication. Only articles concerning UE related/sponsored activities will be accepted. Articles submitted to AceNotes may be edited for length and clarity. Submitter contact information is at the end of each article.