| | |
| --- | --- |
| AceNotes Today | Wednesday, October 4, 2017 |
H Lot closed for Homecoming Tailgate Oct. 12-14
The North end of H Lot will be closed Thursday, October 12 starting at 5:00 p.m. until Saturday, October 14 after the Homecoming Firework Show for Homecoming Festivities. Please move your car from this portion of H Lot before Thursday, October 12 at 5:00 p.m.
Submitted by Megan King mk225@evansville.edu
UE women's soccer team MS fundraiser
Orders are being taken until October 9, for award-winning smoked pork butt as part of an effort to "Smoke Out MS." The UE women's soccer team is holding this fundraiser to benefit the fight against multiple sclerosis. The pork costs just $35 and will be available for pickup on Saturday, October 14 between 5:00-7:00 p.m.
October 14 will feature a full day of Purple Aces action as the Purple Aces women's soccer team faces Drake at 2:30 p.m. before the men welcome Loyola at 5:00 p.m. A tailgate will take place in the soccer field parking lot that day from 2:00-5:00 p.m.
For more information, please contact head women's soccer coach Krista McKendree at km57@evansville.edu.
Kaplan MCAT review information session today
We are excited to announce a new partnership between University of Evansville and Kaplan Test Prep that will allow you to prepare comprehensively for your MCAT at a deeply discounted rate!
Learn more about this opportunity today - Wednesday, October 4 - when Carl Lamb from Kaplan will be on campus. He will be at a table in the Koch Center for Engineering and Science from 3:00-5:00 p.m., and you can come by and ask any sort of questions. At 5:30 p.m., we will be doing an official callout session in Koch 126, where you will learn about the course, schedule, online resources, etc.
The course will run in the spring starting in January for students that are looking to take the MCAT in April, May, June or later.
If you have any questions regarding the callout session, please reach out to Francie Renschler at fr25@evansville.edu.
Submitted by Lindsay Roberts lr155@evansville.edu
Fireside Chat in Grabill Lounge
One of the most often asked questions in Christianity is "What about those who have never heard of Jesus?" It is a question that has puzzled Christian thinkers for centuries, and it just so happens to be the topic of conversation in this week's Fireside Chat! You will definitely want to make effort to join in the conversation! We will gather at 7:30 p.m. tonight in Grabill Lounge. Snacks will be provided! All are welcome!
Submitted by Keith Turner kt160@evansville.edu
Yazdanparast to speak at Andiron Lecture today
Atefeh Yazdanparast, assistant professor of marketing and Mead Johnson Endowed Chair in Business, will be the speaker for today's Andiron Lecture. The lecture is planned for 4:00 p.m. in Eykamp Hall, Room 252, Ridgway University Center. Her topic will be "Advertising and Pseudo-Culture: An Analysis of Changing Women's Portrayal as Reflected in Magazine Advertisements."
Yazdanparast earned her PhD in marketing with a minor in business anthropology from the University of North Texas. She also holds a master of science in marketing and a Bachelor of Science in food science and engineering. She is the chair of the American Marketing Association's Marketing for Higher Education Special Interest Group. She has been the recipient of the University of Evansville Class of 1961 Faculty Fellowship Award (2017), Global Scholar Award (2015), and Schroeder School of Business Dean's Research Award (2016 and 2014).
Yazdanparast's research is focused on consumer decision making and value co-creation. To date, her research has been published in journals such as the Journal of Consumer Psychology, Psychology & Marketing, Journal of Marketing Management, Journal of Consumer Behavior, Journal of Consumer Marketing, and International Journal of Logistics Management.
The dynamic interplay between marketing systems and political systems has been a substantial macromarketing issue investigated by academic researchers over the past few decades. The present research is inspired by Adorno's theory of pseudo-culture and aims to investigate how political and socio-cultural ideas are extensively manifested and promoted in mass media by political systems in an attempt to force cultural transformation through consumption. Following a content analysis and a semiotic analysis of print advertisements during important historical eras of Iran, the sharp contrast between the orientations of the Pahlavi and Islamic Republic regimes and its resultant impact on the status and role of women in the society are investigated. The research identifies five major themes underlying pseudo-culture formation and discusses the advertising strategies implemented to support these themes. This work also identifies four major tools utilized in pseudo-culture formation and demonstrates how pseudo-cultures may be formed, promoted, and abolished.
For further information, call Annette Parks at 812-488-1070 or the William L. Ridgway College of Arts and Sciences at 812-488-2589
Chick-fil-A Hiring Fair
Come explore employment opportunities working for Chick-fil-A. A hiring fair will take place in In Café Court on the following days:
Wednesday, October 11
Thursday, October 12
The fair will take place from 9:00–11:00 a.m. and 2:00–4:00 p.m. on each of these days.
Now hiring:
Part-time
Full-time
Cooks
Prep
Cashiers
Apply at: altogethergreat.com.
Submitted by Michael Tessier mt28@evansville.edu
For students: UE Gives Back Fall is planned for Oct 21!
UE Gives Back Fall is set for Saturday, October 21. A free T-shirt, coffee, and donuts will start the day! Join hundreds of your peers for the big service event of the semester. Get connected and give back to the Evansville community! This is open to all individuals and student groups.
Visit http://volunteer.evansville.edu to browse and sign-up for projects. More projects will be added in the coming days.
The deadline to register is next Friday, October 13.
Submitted by Jackie Luedtke jl295@evansville.edu
Homecoming Week activities
Lots of activities are planned for Homecoming Week (October 11-14):
Friday, October 13
The Homecoming Pep Rally is at 8:00 p.m. on the East Terrace Lawn with the Cheer Team, Dance Team, and Soccer Team, free T-shirts, and announcement of the finalists for Mr. and Miss UE.
Saturday, October 14
The Homecoming Tailgate is at 2:00-5:00 p.m. in H Lot with organization booths, live music, food trucks, raffle prizes, and more! The women's soccer game is at 2:30 p.m. and the men's soccer game at 5:00 p.m. The crowning of Mr. and Miss UE will take place during halftime of the men's game. There will be a fireworks show after the men's soccer game
Submitted by Megan King mk225@evansville.edu
Free transportation to graduate school fair
Thinking about going to grad school? If you are searching for a nationally recognized professional degree program in business, law, medicine, and pharmacy, or a graduate program in education, fine arts, liberal arts, public affairs, religious studies, and related fields, you will find the perfect school for you at the Midwest Graduate and Professional School Summit. All the details may be found at: https://www.evansville.edu/careercenter/students/GpIntro.cfm.
At a glance information:
The event is Saturday, November 11 at Purdue University
Free accommodations and transportation provided by UE
Registration deadline is October 30 – so ACT NOW!
Submitted by Gene Wells gw5@evansville.edu
Blood Drive Tuesday, Oct. 17 - volunteer or donate
The Newman Club is hosting a blood drive with the Red Cross on Tuesday, October 17 in Eykamp Hall, Ridgway University Center from noon-5:00 p.m.
To donate, email ph89@evansville.edu.
Sign up to be a volunteer here: http://signup.com/go/KBcmmAJ.
Volunteers will be needed to help recruit donors at tables in Ridgway University Center on Wednesday, October 11, Thursday, October 12, and Friday, October 13 for one hour over lunch and dinner hours
On the day of the blood drive, volunteers will help check in donors and pass out refreshments after donation in one hour shifts.
Submitted by Gabrielle VanBuskirk gv19@evansville.edu
UE Softball to hold Aces Elite Showcase on Oct. 27
The University of Evansville softball team will be holding an Aces Elite Showcase camp on Friday, October 27 from 5:00-9:00 p.m.
Cooper Stadium, the home of the Purple Aces squad, will be the site of the camp, which is open for grades 9-12. The first portion will be a college level practice focusing on the fundamentals of hitting, fielding, pitching, and catching. The second portion will be an instructional scrimmage covering all aspects of the game.
Campers must fill out the registration form that is linked above along with the release and waiver of liability form and return it as soon as possible with the fee included. Cost of the camp is $100. Reserve your spot soon as registration is limited to the first 75. Checks can be made out to Mat Mundell. Once your registration has been received you will be sent a confirmation email from the coaching staff. No refunds will be given.
Participants need to bring tennis shoes, cleats, glove, helmet, bat, catchers gear, and a water bottle.
For more information or if you have questions, please contact assistant coach Heather Tarter at ht73@evansville.edu or 812-488-2123.
Federal loan repayment counseling session for graduating or transferring students
Students who have received federal direct (sub/unsub) Loans and plan to graduate in the fall (or transfer after the fall semester) are required to attend a loan repayment counseling session. The Office of Financial Aid will hold the first session of the semester TODAY - Thursday, October 26 - at 2:00 p.m. in Eykamp Hall, Room 253, Ridgway University Center. The last session will be held on December 7 at 2:00 pm.
Submitted by Amy Sowders as560@evansville.edu
GET YOUR TICKETS! Police commissioner during Boston Marathon bombing to speak at Snyder Lecture Oct 12
Former Boston Police commissioner Ed Davis – who was at the forefront of the emergency response to the 2013 Boston Marathon bombing and the arrests that followed – will be the speaker for the upcoming University of Evansville's Patricia Snyder Lecture. The lecture is Thursday, October 12 at 7:00 p.m., in Eykamp Hall, Ridgway University Center. Doors open at 6:30 p.m.
The event is free and open to the public but registration is required. The registration form can be found online at www.evansville.edu/EdDavis.
The topic of Davis's lecture will be "Policing in America: The Changing Landscape of Our Cities & Law Enforcement's Role in Protecting Our Communities."
Davis's experience during the Boston Marathon bombings was depicted in the feature film, Patriots Day, starring John Goodman as Commissioner Davis, which was released in January 2017.
Davis is currently president and CEO of the business strategy and security agency, Edward Davis LLC. He has built a stellar reputation on his experience in interagency collaboration and law enforcement on local, state, national, and international levels. His insight in cyber security and anti-terrorism, as well as his expert knowledge in crisis management and strategic planning translates across industries. Davis's unique approaches to terrorism, cyber security, and policing have been adopted both nationally and internationally in Singapore, London, Northern Ireland, Jordan, and Israel.
The Patricia H. Snyder Concert and Lecture Series was made possible in 1997 through an endowment from the late Patricia H. Snyder, trustee and longtime friend of University, to bring speakers or performers of renown to Evansville at no cost to the public.
If you have any questions, please e-mail snyder@evansville.edu
What exactly is a Changemaker?
Changemakers are people who see opportunities to improve the world around us and are motivated to act. They come from all ages, political orientations, ethnicities, nationalities, walks of life, majors, professions, etc. In fact, anyone can be a Changemaker, and at UE we are intent upon our role of being Changemaker makers! Changemakers at UE have initiated a bike share program in Evansville, offered financial planning to new parents, built houses in Nicaragua, developed composting programs at UE, worked with disillusioned youth in Cuba, offered support to recovering drug addicts in Guatemala, obtained grant funding for solar power in Evansville, developed community gardens, created "green infrastructures" to address environmental concerns in Evansville, offered pro-bono physical therapy services, developed anti-bullying games, tutored at-risk youth, offered countless hours of community service, and much more.
Come to our next Change Team meeting: Tuesday, October 10 in Room 203 (J. Henry Schroeder Boardroom) in the Bower-Suhrheinrich Library.
Submitted by Cindy Kelley ck116@evansville.edu
Nominations for the Employee Excellence Award
The University of Evansville, in pursuit of excellence in service, wishes to recognize a non-faculty employee displaying records of achievement as a leader. Leadership may be demonstrated in any of the following areas: service to the University, service to students, job performance and attitude towards fellow employees. To be eligible, an employee must be a full-time member of administration or staff. Nominations for the November 2017 Employee of the Month are due no later than Friday, October 13. To nominate someone, please go to http://acelink.evansville.edu/tools/employeeaward.
Submitted by Lori LeDuc ll138@evansville.edu
TIAA-CREF counseling appointments
The TIAA-CREF representative will be on the UE campus for individual counseling sessions on Wednesday, October 11, and Thursday, October 12. To schedule an appointment, call TIAA-CREF at 1-800-732-8353.
Please note that the meeting location has been changed to room 208 of the University Libraries.
Submitted by Lori LeDuc ll138@evansville.edu
Aces battle, but fall to top-ranked Indiana, 4-0
Facing the No. 1 ranked team in the nation, the University of Evansville men's soccer team battled, but fell to top-ranked Indiana, 4-0, in a non-conference match on Tuesday night in Bloomington, Indiana.
"We gave up the goal early but came back and caused them some trouble with the numbers we had in the midfield," said Aces' head coach Marshall Ray. "Against the number one team in the nation, they put a lot of pressure on us. They're a good team. I think working hard and battling the whole time is not a problem for us. We can do that and we've shown the ability to do that."
Five Aces fired a shot in the loss with junior forward Zac Blaydes and senior defender Cameron Gilreath each putting one on-frame. In goal, sophomore Frederik Reimer tied his career-high with seven saves, allowing two goals in the loss. Mason Toye led the way for the Hoosiers with a pair of goals on three shots, while Andrew Gutman and Thomas Warr also scored for Indiana.
The Hoosiers struck early as Toye scored the first for Indiana in the sixth minute on a shot from 25 yards out that found the back of the net on a counter attack.
Evansville was not without its own scoring chances in the first half as Blaydes ripped a shot from 15 yards out that Hoosier goalkeeper Trey Muse snagged. Despite the early goal from Indiana, the Aces were able to hold off the Hoosiers for the final 39 minutes of the half, heading into halftime down just a goal.
In the 58th minute, Indiana found its second goal off a set piece that Gutman headed into the net far post. Less than ten minutes later, the Hoosiers fired a shot that sent Reimer out to deflect it. Toye found himself in position following the rebound and scored for his second goal of the evening.
In the final two minutes, Indiana added another goal as Warr made a long run down the pitch following an Aces' turnover and scored one-on-one.
Indiana out-shot the Aces, 23-5, in the match while Evansville and the Hoosiers were even on corner kicks at five apiece.
The Aces return to Missouri Valley Conference action on Saturday night at 7:00 p.m. against Valparaiso on the road in Valparaiso, Indiana.
Intersession and Spring 2018 textbook adoptions are due
Departments are reminded that textbook adoptions for Intersession and Spring 2018 may now be submitted to the UE Bookstore. Please note the original email asked for summer as well but summer adoption does NOT need to be submitted at this time. If you need assistance adopting textbooks for Intersession and Spring 2018, please contact the UE Bookstore. Your administrative assistant also has the forms and information you may need.
Submitted by Doug Gustwiller dg57@evansville.edu
Fitness Center fall break hours
The Fitness Center hours during fall break are:
Friday, October 6 from 6:30 a.m.-7:00 p.m.
Saturday and Sunday, October 7 and 8 - closed
Monday, October 9 from 8:00 a.m.-7:00 p.m.
Tuesday, October 10 from 8:00 a.m.-7:00 p.m.
(No evening Open Swim.)
Submitted by Lori Adams la87@evansville.edu
Last day to nominate Mr. and Miss UE for Homecoming 2017
During Homecoming Weekend we plan to recognize and crown Mr. and Miss UE. To be eligible, students must be full-time students and members of the senior class. Nominations may be made by anyone on campus, either a student organization, group of friends, team, roommates, etc. Please complete the nomination form by 5:00 p.m. TODAY - Wednesday, October 4. Nominations can be made based on the student's preferred gender.
You can find nomination forms for Mr. and Miss UE 2017 at
https://goo.gl/forms/bjNeEOcXIEMz6xit2
Submitted by Megan King mk225@evansville.edu
Internship Showcase for Arts and Sciences
The deadline to submit proposals for the Arts and Sciences Internship Showcase is Wednesday, October 11.
At the annual internship showcase, students will have the opportunity to highlight their recent experience. Students will submit a proposal for review with the directions included on Acelink.
The Center for Career Development will review proposals and choose five students to present internship experiences at the showcase on Wednesday, October 25. Each presenter will be allotted up to 10 minutes to share his or her experience. Prizes will be awarded.
Students submitting proposals, but not selected for the five finalist positions, will have the opportunity to do poster presentations.
Finalists will be notified on Thursday, October 12.
The event takes place Wednesday, October 25, from 3:30 – 5:30 p.m.
You can submit your proposal on AceLink.
Submitted by Alison Morris-McDonald am268@evansville.edu
Do you want to improve your balance?
Do you want to learn more about your balance ability? Do you suffer from frequent falls?
Second-year doctor of physical therapy students are providing a free balance evaluation and training session on October 20 from 8:00-9:30 a.m. The session will take place in Room 104 in Graves Hall. We are seeking participants who are 65 years old or older and are interested in improving their balance. The evaluation involves strength testing combined with several walking and clinical tests. If you are interested, please email tc136@evansville.edu or call and leave a message at 812-488-2408. The deadline to register is October 16.
Your support is crucial to the success of UE physical therapy education. Thank you very much for your consideration!
Submitted by Jennifer Simon js698@evansville.edu
Do you want to volunteer at International Bazaar?
Are you interested in helping out with the biggest event on campus? Do you need to get some volunteer hours before you graduate? Well, the 31st Annual International Bazaar, which is coming up on November 17, is the perfect opportunity to do that!
This event is a fun way to learn about different cultures and raise money for a good cause. This year's proceeds will go to the International Rescue Committee, an organization that offers emergency aid and long-term assistance to refugees affected by war, persecution, or natural disaster.
If you want to be a part of this amazing experience, make sure to sign up on the spreadsheet at the link below by October 16: https://docs.google.com/spreadsheets/d/1yghTb5ZMrw7H9eSu3FVZC5IR4IzHLP74C_8Svm3jkLU/edit?usp=sharing
During the week of October 23, everyone that is listed as a volunteer will receive an email with a link to sign up for specific shifts and duties. Things you could do include helping to decorate booths, serving food, greeting people, and selling tickets! We will also have a MANDATORY meeting with all the volunteers on November 16 at 8:00 p.m. in Room 170 in the Schroeder School of Business Building to confirm assignments and give more detailed instructions.
We are so excited to work with you!
If you have any questions or concerns, feel free to email Emile Moura (em238@evansville.edu) or Ebonique Ellis (ee86@evansville.edu)!
Submitted by Emile Moura Coelho da Silva em238@evansville.edu
Today is last day for UE Bookstore account charges
The last day for students to charge textbooks and supplies to their student account in the UE Bookstore is TODAY - Wednesday, October 4. If you still need something please do so by this date. If you have any questions please contact the UE Bookstore.
Submitted by Doug Gustwiller dg57@evansville.edu
Honorary Degree Committee invites your suggestions
The University of Evansville Honorary Degree Committee is now soliciting your recommendations for honorary degrees to be conferred at the May 2018 Commencement. According to the UE Faculty and Administrator Manual, the committee is charged with requesting and reviewing honorary degree nominations made on the basis of individual service to the University and individual achievement. An honorary degree may also be awarded to individuals who exemplify the University's mission. Selected persons have excelled in a variety of areas--law, medicine, education, business, literature, politics, and entertainment.
The committee will forward nominations to President Kazee so he can make his recommendations to the faculty. The faculty will vote on the final list of nominees.
Please email the following information to Robert Dion, committee chairperson, at rd35@evansville.edu, by Friday, November 3:
1. Nomination by (include name, phone and email address)
2. Name of person nominated
3. Title and/or profession of nominee
4. Rationale for the nomination (see criteria above)
5. Any biographical or background information on the nominee
6. Address information for contacting the nominee
Submitted by Robert Dion rd35@evansville.edu
Flu shots available
For those covered on the Meritain Health Plan: Free Flu Shot Blitz will be offered in the Employee Health Clinic on October 3 from 7:00-11:00 a.m. and October 4 from 2:00-6:00 p.m. Those not insured can still receive the vaccine for $20. Please sign up though AceLink.
Submitted by Ashley Chipps ac375@evansville.edu
Creative writing alumnus publishes poetry chapbook
The creative writing department would like to congratulate alumnus Elisabeth Meyer, who has published her chapbook of formal poetry, The Word B-i-r-d, with No Chair Press. She kindly thanks the UE creative writing faculty and former faculty members Rob Griffith, William Baer, and Mike Carson in the book. Her collection can be found on No Chair Press's website and Amazon.com. Congratulations, Lis!
Tyler Gray defends crown at Butler Fall Invitational - wins by two strokes
For the second year in a row, University of Evansville golfer Tyler Gray was the champion of the Butler Fall Invitational as the Purple Aces men's golf team took second place at the tournament on Tuesday at Highland Country Club.
Gray defeated Graham McAree from the University of Indianapolis by two strokes. Gray's rounds checked in at 67-69-68 as his 2-under on the final day gave him the win with a 204. He finished the tournament at 6-under par. Last year, Gray scored an even 210 in route to the victory.
Also bringing home a top ten finish was Noah Reese. After two rounds of 72 on Monday, Reese carded a 74 on Tuesday to finish with a 218, putting him 7th in the final order. Matthew Ladd tied for 12th place. A solid 3-over 73 in the final round gave him a 221 for the event.
Cameron Weyer tied for 22nd. He lowered his score in each round of play, finishing Tuesday's 18 holes with a 73 to complete the tournament with a 227. Jessie Brumley did not see action on Monday, but finished with a 74 on Tuesday.
UE's individuals were led by freshman Gabe Rohleder. He tied for 26th with a 3-round total of 228. Spencer Wagner tied for 32nd on the strength of a 230 while Robert Waggoner came home in a tie for 40th following a total of 235 shots in the event.
Indianapolis took top team honors with a final tally of 860. They were ten ahead of the Aces' total of 870 while Butler came in third with an 877.
Next week, the final fall event will take place as the men head to the Bill Ross Intercollegiate at Millburn Golf & Country Club in Kansas City, Missouri.
Chaney leads women's golf in final day at Butler
Madison Chaney had the low score of the day as the University of Evansville women's golf team took ninth place in the final day of the Butler Invitational at Highland Country Club.
Chaney carded a 77 on Tuesday as she improved by five strokes from Monday's score to finish the 2-round event with a 159. Her 77 was the lowest round of the weekend for the Purple Aces.
Three behind Chaney was Maria Pickens. She registered identical rounds of 81 to finish with 162. That put her in a tie for 36th on the final leaderboard. Third for the squad was Carly Waggoner. After notching an 87 in the opening round, she lowered her score by three to an 84 on her way to a 171. She tied for 54th.
Sophia Rohleder was next for UE. She made the largest lead on the team, scoring an 82 on Tuesday. That is 12 better than Monday's round of 94. She tied for 59th. Minke Gill did not compete on Tuesday after posting an 80 in round one. Individual Giulia Mallmann notched an 85 in the last round, posting a 169 for the event.
UE took 9th place in the tournament with a 654. They were four behind Fort Wayne. Top team honors went to the University of Indianapolis. They notched a 289 in round two to win the tournament by 20 strokes over Indiana State. Sierra Hargens of ISU was the medalist after four playoff holes.
Next up for UE is the MVC Fall Preview on October 16-17. Sand Creek Station Golf Course in Newton, Kansas, is the host of the event.
Hilary Morales awarded October 2017 Employee of the Month
The October 2017 Employee Excellence Award recipient is Hilary Morales.
Hilary was nominated for this award by her colleagues for being a tireless advocate for our students. As the assistant director of financial aid and veterans education benefit coordinator, she maintains an unflappable calm and a friendly attitude while leading others by the example of her exemplary work ethic.
She navigates the complicated administration of veterans education benefits and the State of Indiana grant programs, including the Twenty-first Century Scholars Award to provide every student with all the financial information they could need for educational success.
Hilary has received several media shout outs for a job well done by the families and students that she has assisted.
We want to congratulate Hilary on the recognition for being such an asset to the University of Evansville!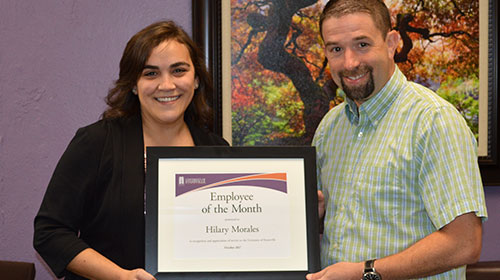 Contribute to AceNotes
To have content considered for inclusion in AceNotes, please submit a Marketing Request Form. Deadline for submission to AceNotes is 10:00 a.m. on the requested date of publication. Only articles concerning UE related/sponsored activities will be accepted. Articles submitted to AceNotes may be edited for length and clarity. Submitter contact information is at the end of each article.