| | |
| --- | --- |
| AceNotes Today | Tuesday, October 3, 2017 |
This Week in Music: Eykamp String Quartet Recital
The Eykamp String Quartet will give a recital this evening, October 3, at 7:30 p.m. in Wheeler Concert Hall. Returning members Robert Anemone (violin) and Kirsten Jerme (cello) welcome new members Nica Malaimare (violin) and Emily Brandenburg (viola) in an exciting program that includes quartets by Mozart and Brahms, as well as Webern's Langsamer Satz. The concert is free and open to the public.
Submitted by James Sullivan js820@evansville.edu
Kaplan MCAT review information session today
We are excited to announce a new partnership between University of Evansville and Kaplan Test Prep that will allow you to prepare comprehensively for your MCAT at a deeply discounted rate!
Learn more about this opportunity today - Wednesday, October 4 - when Carl Lamb from Kaplan will be on campus. He will be at a table in the Koch Center for Engineering and Science from 3:00-5:00 p.m., and you can come by and ask any sort of questions. At 5:30 p.m., we will be doing an official callout session in Koch 126, where you will learn about the course, schedule, online resources, etc.
The course will run in the spring starting in January for students that are looking to take the MCAT in April, May, June or later.
If you have any questions regarding the callout session, please reach out to Francie Renschler at fr25@evansville.edu.
Submitted by Lindsay Roberts lr155@evansville.edu
Fireside Chat in Grabill Lounge
One of the most often asked questions in Christianity is "What about those who have never heard of Jesus?" It is a question that has puzzled Christian thinkers for centuries, and it just so happens to be the topic of conversation in this week's Fireside Chat! You will definitely want to make effort to join in the conversation! We will gather at 7:30 p.m. tonight in Grabill Lounge. Snacks will be provided! All are welcome!
Submitted by Keith Turner kt160@evansville.edu
National Coffee With A Cop Day at UE on October 4
The Evansville Police Department will hold National Coffee With A Cop Day at the University of Evansville on Wednesday October 4, from 7:00-9:00 a.m. The University has opened Ridgway University Center to students, faculty, staff, citizens, and officers alike for the celebration. Rademacher's Lounge, located on the first floor of Ridgway University Center (Walnut Street entrance), is where officers will be to meet and greet you as you enter. Parking for the event will be in Lot H at Walnut St and Frederick Avenue.
Submitted by Kari Hughes kh355@evansville.edu
Blood drive on Oct. 17 - volunteers and donors needed
The Newman Club will host a blood drive with the Red Cross on Tuesday, October 17 in Eykamp Hall, Ridgway University Center, from noon-5:00 pm.
Volunteers will be needed to help recruit donors at tables in Ridgway University Center on Wednesday, October 11; Thursday, October 12; and Friday, October 13 for one hour during the lunch and dinner hours. On the day of the blood drive, volunteers will help check in donors and pass out refreshments after donation in one hour shifts.
To sign up to be a volunteer, go to http://signup.com/go/KBcmmAJ.
To donate, visit the recruitment tables in Ridgway University Center on October 10, 11, and 12 or email ph89@evansville.edu.
Submitted by Paige Hignite ph89@evansville.edu
GET YOUR TICKETS! Police commissioner during Boston Marathon bombing to speak at Snyder Lecture Oct 12
Former Boston Police commissioner Ed Davis – who was at the forefront of the emergency response to the 2013 Boston Marathon bombing and the arrests that followed – will be the speaker for the upcoming University of Evansville's Patricia Snyder Lecture. The lecture is Thursday, October 12 at 7:00 p.m., in Eykamp Hall, Ridgway University Center. Doors open at 6:30 p.m.
The event is free and open to the public but registration is required. The registration form can be found online at www.evansville.edu/EdDavis.
The topic of Davis's lecture will be "Policing in America: The Changing Landscape of Our Cities & Law Enforcement's Role in Protecting Our Communities."
Davis's experience during the Boston Marathon bombings was depicted in the feature film, Patriots Day, starring John Goodman as Commissioner Davis, which was released in January 2017.
Davis is currently president and CEO of the business strategy and security agency, Edward Davis LLC. He has built a stellar reputation on his experience in interagency collaboration and law enforcement on local, state, national, and international levels. His insight in cyber security and anti-terrorism, as well as his expert knowledge in crisis management and strategic planning translates across industries. Davis's unique approaches to terrorism, cyber security, and policing have been adopted both nationally and internationally in Singapore, London, Northern Ireland, Jordan, and Israel.
The Patricia H. Snyder Concert and Lecture Series was made possible in 1997 through an endowment from the late Patricia H. Snyder, trustee and longtime friend of University, to bring speakers or performers of renown to Evansville at no cost to the public.
If you have any questions, please e-mail snyder@evansville.edu
Homecoming 2017 Reunion Weekend set for Oct. 13-15
The University of Evansville Homecoming 2017 Reunion Weekend is October 13-15. Special events are planned for parents and alumni, many of which will be open to the public.
Dr. Guy Banta Distinguished Lecture Series – Speaker Zach Cheviron '00, Environmental and Wildlife Biology
Friday, October 13, 3:00 p.m. Vectren Lecture Hall, Room 100, Koch Center for Engineering and Science.
Reunion Celebrations
Anniversaries to be celebrated at homecoming include the 50th anniversary of the Class of 1967, 65th anniversary of Phi Mu sorority, 60th anniversary of Sigma Alpha Epsilon fraternity, and the 60th anniversary of the Tau Kappa Epsilon fraternity.
Homecoming Tailgate
Saturday, October 14, 2:00-5:00 p.m., H-Lot, South Frederick Street
Food, games, live music, and fun. Open to public.
The Ace Race
Saturday, October 14, 9:00 a.m., UE campus. Open to public.
This 5K run benefits Ace CARE, UE's pro bono physical therapy clinic run by doctor of physical therapy and physical therapy assistant students for the uninsured, underinsured, and homeless. Participation fee for the public is $25 before October 1 or $30 after October 1. Those registering before October 1 will receive a long sleeve T-shirt. To register, go to www.uealumnionline.com/acerace2017.
UE Women's Soccer versus Drake
Saturday, October 14, 2:00 p.m., Arad McCutchan Stadium. Open to public.
UE Men's Soccer versus Loyola (followed by fireworks display)
Saturday, October 14, 5:00 p.m., Arad McCutchan Stadium. Open to public.
For the full schedule of events or more information, visit www.evansville.edu/alumni or contact alumni@evansville.edu or 812-488-2586.
Senior Reading - April 11
Robert Griffith, chair of the creative writing program at UE, will be the speaker for the Coffee Hour Lecture on Thursday, October 26, 4:00 p.m., in the Vectren Lecture Hall (Room 100), Koch Center for Engineering and Science. These lectures are free and open to the public.
His most recent book is The Devil in the Milk. Griffith's book, The Moon from Every Window, was nominated for the 2013 Poets' Prize, and his book A Matinee in Plato's Cave won the 2009 Best Book of Indiana Award. His work has appeared in PN Review, Poetry, The North American Review, Poems & Plays, The Oxford American, and other publications. He is editor of the journal Measure and director of the University of Evansville Press.
Other lectures in the series include:
Senior Reading
4:00 p.m.
Wednesday, April 11
Eykamp Hall, Room 252, Ridgway University Center
Graduating creative writing majors read their poetry and prose.
For more information, call 812-488-2963.
Yazdanparast to speak at Andiron Lecture today
Atefeh Yazdanparast, assistant professor of marketing and Mead Johnson Endowed Chair in Business, will be the speaker for today's Andiron Lecture. The lecture is planned for 4:00 p.m. in Eykamp Hall, Room 252, Ridgway University Center. Her topic will be "Advertising and Pseudo-Culture: An Analysis of Changing Women's Portrayal as Reflected in Magazine Advertisements."
Yazdanparast earned her PhD in marketing with a minor in business anthropology from the University of North Texas. She also holds a master of science in marketing and a Bachelor of Science in food science and engineering. She is the chair of the American Marketing Association's Marketing for Higher Education Special Interest Group. She has been the recipient of the University of Evansville Class of 1961 Faculty Fellowship Award (2017), Global Scholar Award (2015), and Schroeder School of Business Dean's Research Award (2016 and 2014).
Yazdanparast's research is focused on consumer decision making and value co-creation. To date, her research has been published in journals such as the Journal of Consumer Psychology, Psychology & Marketing, Journal of Marketing Management, Journal of Consumer Behavior, Journal of Consumer Marketing, and International Journal of Logistics Management.
The dynamic interplay between marketing systems and political systems has been a substantial macromarketing issue investigated by academic researchers over the past few decades. The present research is inspired by Adorno's theory of pseudo-culture and aims to investigate how political and socio-cultural ideas are extensively manifested and promoted in mass media by political systems in an attempt to force cultural transformation through consumption. Following a content analysis and a semiotic analysis of print advertisements during important historical eras of Iran, the sharp contrast between the orientations of the Pahlavi and Islamic Republic regimes and its resultant impact on the status and role of women in the society are investigated. The research identifies five major themes underlying pseudo-culture formation and discusses the advertising strategies implemented to support these themes. This work also identifies four major tools utilized in pseudo-culture formation and demonstrates how pseudo-cultures may be formed, promoted, and abolished.
For further information, call Annette Parks at 812-488-1070 or the William L. Ridgway College of Arts and Sciences at 812-488-2589
What exactly is a Changemaker?
Changemakers are people who see opportunities to improve the world around us and are motivated to act. They come from all ages, political orientations, ethnicities, nationalities, walks of life, majors, professions, etc. In fact, anyone can be a Changemaker, and at UE we are intent upon our role of being Changemaker makers! Changemakers at UE have initiated a bike share program in Evansville, offered financial planning to new parents, built houses in Nicaragua, developed composting programs at UE, worked with disillusioned youth in Cuba, offered support to recovering drug addicts in Guatemala, obtained grant funding for solar power in Evansville, developed community gardens, created "green infrastructures" to address environmental concerns in Evansville, offered pro-bono physical therapy services, developed anti-bullying games, tutored at-risk youth, offered countless hours of community service, and much more.
Come to our next Change Team meeting: Tuesday, October 10 in Room 203 (J. Henry Schroeder Boardroom) in the Bower-Suhrheinrich Library.
Submitted by Cindy Kelley ck116@evansville.edu
Propose your own GAP project!
GAP is now accepting proposals from both faculty and students interested in proposing their own GAP project. If you have an idea to make a difference in your community, or even the world, we encourage you to apply. Class credit and financial support are available, and your idea can help nonprofits, for-profit businesses, or civic projects.
The deadline to submit faculty ideas or to submit student ideas is no later than Friday, October 6 at 5:00 p.m. (spots are limited, apply early!).
For more information, call 812-488-5002 or visit www.evansville.edu/gap.
Submitted by Cindy Kelley ck116@evansville.edu
Fall break dining hours
Fall break is around the corner. Students staying on campus during fall break should plan ahead to access food during this time. Students can use Ace Bucks to buy pizza from the local Papa John's during fall break.
Here is a schedule of dining hours:
Last meal served before fall break is dinner on Friday, October 6.
Aces Place will be open during special posted hours: Monday, October 9, 7:30 a.m.–2:30 p.m. and Tuesday, October 10, 7:30 a.m.-Midnight
First meal served after fall break will be dinner on Tuesday, October 10.
Submitted by Michael Tessier mt28@evansville.edu

Do you want to volunteer at International Bazaar?
Are you interested in helping out with the biggest event on campus? Do you need to get some volunteer hours before you graduate? Well, the 31st Annual International Bazaar, which is coming up on November 17, is the perfect opportunity to do that!
This event is a fun way to learn about different cultures and raise money for a good cause. This year's proceeds will go to the International Rescue Committee, an organization that offers emergency aid and long-term assistance to refugees affected by war, persecution, or natural disaster.
If you want to be a part of this amazing experience, make sure to sign up on the spreadsheet at the link below by October 16: https://docs.google.com/spreadsheets/d/1yghTb5ZMrw7H9eSu3FVZC5IR4IzHLP74C_8Svm3jkLU/edit?usp=sharing
During the week of October 23, everyone that is listed as a volunteer will receive an email with a link to sign up for specific shifts and duties. Things you could do include helping to decorate booths, serving food, greeting people, and selling tickets! We will also have a MANDATORY meeting with all the volunteers on November 16 at 8:00 p.m. in Room 170 in the Schroeder School of Business Building to confirm assignments and give more detailed instructions.
We are so excited to work with you!
If you have any questions or concerns, feel free to email Emile Moura (em238@evansville.edu) or Ebonique Ellis (ee86@evansville.edu)!
Submitted by Emile Moura Coelho da Silva em238@evansville.edu
Today is last day for UE Bookstore account charges
The last day for students to charge textbooks and supplies to their student account in the UE Bookstore is TODAY - Wednesday, October 4. If you still need something please do so by this date. If you have any questions please contact the UE Bookstore.
Submitted by Doug Gustwiller dg57@evansville.edu
Nominate Mr. and Miss UE for Homecoming 2017
During Homecoming Weekend we plan to recognize and crown Mr. and Miss UE. To be eligible, students must be full time students and members of the senior class. Nominations may be made by anyone on campus, either a student organization, group of friends, team, roommates, etc. Please complete the nomination form by 5:00 p.m. on Wednesday, October 4. Nominations can be made based on the student's preferred gender.
You can find nomination forms for Mr. and Miss UE 2017 at https://goo.gl/forms/bjNeEOcXIEMz6xit2.
Submitted by Megan King mk225@evansville.edu
Flu shots available
For those covered on the Meritain Health Plan: Free Flu Shot Blitz will be offered in the Employee Health Clinic on October 3 from 7:00-11:00 a.m. and October 4 from 2:00-6:00 p.m. Those not insured can still receive the vaccine for $20. Please sign up though AceLink.
Submitted by Ashley Chipps ac375@evansville.edu
UE Webelos Engineering Day Set for October 28
The University of Evansville's College of Engineering and Computer Science 2017 Webelos Engineering Pin Day is planned for Saturday, October 28, in the Koch Center for Engineering and Science. Registration will begin at 7:30 a.m. The event will be from 8:00-11:15 a.m.
Activities include a workshop with activity stations that will provide some of the experience required for a Webelos Scout to qualify for an engineering pin. Participants will be divided into four groups. Each group will have at least one host who will guide them through the station rotation. The participation fee is $6 per Webelos Scout, with registration limited to 200 scouts. Registrations will be taken until the event is full or until October 19, whichever comes first.
For further information, contact Kimberly Higgins, assistant to the dean, UE College of Engineering and Computer Science, at kh209@evansville.edu or 812-488-2651.
Submitted by Kimberly Higgins kh209@evansville.edu
UExplore engineering program
The College of Engineering and Computer Science is offering a UExplore engineering program for high school students. The program is designed to give participants a better understanding of the fields of civil, mechanical, electrical, and computer engineering and computer science through activities, hands-on projects, and tours of local industry.
The sessions in the program are October 16, November 6, November 27, January 22, February 19, March 12, April 2, and April 23. All sessions will be from 6:00-7:00 p.m. in Room 100 in the Koch Center for Engineering and Science on UE's campus.
James Allen, UE associate professor of mechanical and civil engineering, is the advisor for the program. A registered professional engineer in the states of Indiana and Ohio, Allen has extensive work experience in industry. Allen will be assisted with the program by UE engineering students.
The registration fee for the program is $50. Register online at www.evansville.edu/uexploreengineering or contact Kimberly Higgins for more information at 812-488-2661 or kh209@evansville.edu.
Minka Gill leads women's golf at Butler
Minka Gill was the low shooter of the day for the University of Evansville women's golf team as they completed the opening round of the Butler Fall Invitational on Monday at Highland Country Club.
Gill toured the course in 80 strokes over the first 18 holes of play. Her effort put her in a tie for 26th going into today's final round. One behind her was Maria Pickens. Sitting in a tie for 31st after day one, Pickens notched an 81 on Monday.
One behind Pickens was Madison Chaney. Her 82 saw her complete the day in a tie for 36th place. Next up was Carly Waggoner, who carded an 87. Sophia Rohleder posted a 94 in the opening day to wrap up the team scores.
Giulia Mallmann was Evansville's individual entry into the event and scored an 84 on Monday. That has her in a tie for 44th on the leaderboard.
The University of Indianapolis recorded a team score of 290 in day one to lead the team standings by 12 shots over IUPUI and 14 over 3rd-place Indiana State. UIndy has all five of its players in the top 26, led by Kylie Raines. She posted a 67 on Monday and leads the individuals by four.
Evansville posted a 330 in the first 18 holes and is tied with Fort Wayne for seventh place.
The final round of action will take place today in Indianapolis.
Tyler Gray tied for the lead at Butler
University of Evansville senior golfer Tyler Gray is tied for the lead entering the final 18 holes of the Butler Fall Invitational at Highland Country Club.
Gray had a great day on the links, finishing the first two rounds at a 4-under 136. He started the day with a 3-under 67 before carding a 69 in round two. He is tied with Graham McAree of the University of Indianapolis for the individual lead. Nick Bienz of IUPUI is third, two behind the frontrunners.
Cameron Weyer and Noah Reese are tied for 10th place on the leaderboard, each finishing Monday with a 148. Weyer started with a 72 in round one before posting a 76. Reese totaled 76 strokes in his first round before lowering that to a 72 in the second round.
Third for the Purple Aces is Matthew Ladd. After registering a 78 to start the tournament, Ladd saw a nice improvement in round two, finishing with a 2-over 72. His 150 is tied for 19th.
Three individuals took to the course, led by Gabe Rohleder. He notched a 1-over 71 in the opening round before finishing the day with a 74. His total of 145 is tied for 5th place. Spencer Wagner's scores checked in at 76 and 77. His 153 is tied for 27th. Robert Waggoner also had a solid day. He notched an 80 before lowering his round two score by six strokes to a 74. His 154 is tied for 32nd.
Indianapolis has the team lead with a 577. The Aces are just five behind as they enter today's final round. UE is 12 strokes ahead of third place.
The final round of action will take place today in Indianapolis.
Hilary Morales awarded October 2017 Employee of the Month
The October 2017 Employee Excellence Award recipient is Hilary Morales.
Hilary was nominated for this award by her colleagues for being a tireless advocate for our students. As the assistant director of financial aid and veterans education benefit coordinator, she maintains an unflappable calm and a friendly attitude while leading others by the example of her exemplary work ethic.
She navigates the complicated administration of veterans education benefits and the State of Indiana grant programs, including the Twenty-first Century Scholars Award to provide every student with all the financial information they could need for educational success.
Hilary has received several media shout outs for a job well done by the families and students that she has assisted.
We want to congratulate Hilary on the recognition for being such an asset to the University of Evansville!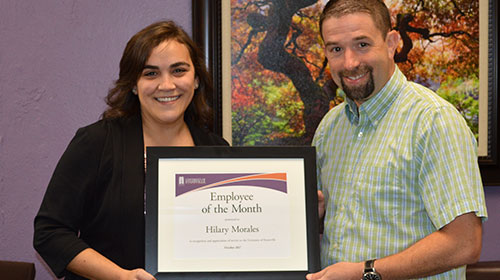 Contribute to AceNotes
To have content considered for inclusion in AceNotes, please submit a Marketing Request Form. Deadline for submission to AceNotes is 10:00 a.m. on the requested date of publication. Only articles concerning UE related/sponsored activities will be accepted. Articles submitted to AceNotes may be edited for length and clarity. Submitter contact information is at the end of each article.