| | |
| --- | --- |
| AceNotes Today | Monday, October 2, 2017 |
Prayer service today for Las Vegas victims in Neu Chapel
There will be a brief, 10 minute prayer service in Neu Chapel at 5:00 p.m. today for the victims of the tragedy in Las Vegas and their families. The campus community is invited to attend and to offer our shared prayers together.
Fireside Chat in Grabill Lounge
One of the most often asked questions in Christianity is "What about those who have never heard of Jesus?" It is a question that has puzzled Christian thinkers for centuries, and it just so happens to be the topic of conversation in this week's Fireside Chat! You will definitely want to make effort to join in the conversation! We will gather at 7:30 p.m. tonight in Grabill Lounge. Snacks will be provided! All are welcome!
Submitted by Keith Turner kt160@evansville.edu
This Week in Music: Eykamp String Quartet Recital
The Eykamp String Quartet will give a recital this evening, October 3, at 7:30 p.m. in Wheeler Concert Hall. Returning members Robert Anemone (violin) and Kirsten Jerme (cello) welcome new members Nica Malaimare (violin) and Emily Brandenburg (viola) in an exciting program that includes quartets by Mozart and Brahms, as well as Webern's Langsamer Satz. The concert is free and open to the public.
Submitted by James Sullivan js820@evansville.edu
National Coffee With A Cop Day at UE on October 4
The Evansville Police Department will hold National Coffee With A Cop Day at the University of Evansville on Wednesday October 4, from 7:00-9:00 a.m. The University has opened Ridgway University Center to students, faculty, staff, citizens, and officers alike for the celebration. Rademacher's Lounge, located on the first floor of Ridgway University Center (Walnut Street entrance), is where officers will be to meet and greet you as you enter. Parking for the event will be in Lot H at Walnut St and Frederick Avenue.
Submitted by Kari Hughes kh355@evansville.edu
UE Softball to hold Aces Elite Showcase on Oct. 27
The University of Evansville softball team will be holding an Aces Elite Showcase camp on Friday, October 27 from 5:00-9:00 p.m.
Cooper Stadium, the home of the Purple Aces squad, will be the site of the camp, which is open for grades 9-12. The first portion will be a college level practice focusing on the fundamentals of hitting, fielding, pitching, and catching. The second portion will be an instructional scrimmage covering all aspects of the game.
Campers must fill out the registration form that is linked above along with the release and waiver of liability form and return it as soon as possible with the fee included. Cost of the camp is $100. Reserve your spot soon as registration is limited to the first 75. Checks can be made out to Mat Mundell. Once your registration has been received you will be sent a confirmation email from the coaching staff. No refunds will be given.
Participants need to bring tennis shoes, cleats, glove, helmet, bat, catchers gear, and a water bottle.
For more information or if you have questions, please contact assistant coach Heather Tarter at ht73@evansville.edu or 812-488-2123.
Federal loan repayment counseling session for graduating or transferring students
Students who have received federal direct (sub/unsub) Loans and plan to graduate in the fall (or transfer after the fall semester) are required to attend a loan repayment counseling session. The Office of Financial Aid will hold the first session of the semester TODAY - Thursday, October 26 - at 2:00 p.m. in Eykamp Hall, Room 253, Ridgway University Center. The last session will be held on December 7 at 2:00 pm.
Submitted by Amy Sowders as560@evansville.edu
GET YOUR TICKETS! Police commissioner during Boston Marathon bombing to speak at Snyder Lecture Oct 12
Former Boston Police commissioner Ed Davis – who was at the forefront of the emergency response to the 2013 Boston Marathon bombing and the arrests that followed – will be the speaker for the upcoming University of Evansville's Patricia Snyder Lecture. The lecture is Thursday, October 12 at 7:00 p.m., in Eykamp Hall, Ridgway University Center. Doors open at 6:30 p.m.
The event is free and open to the public but registration is required. The registration form can be found online at www.evansville.edu/EdDavis.
The topic of Davis's lecture will be "Policing in America: The Changing Landscape of Our Cities & Law Enforcement's Role in Protecting Our Communities."
Davis's experience during the Boston Marathon bombings was depicted in the feature film, Patriots Day, starring John Goodman as Commissioner Davis, which was released in January 2017.
Davis is currently president and CEO of the business strategy and security agency, Edward Davis LLC. He has built a stellar reputation on his experience in interagency collaboration and law enforcement on local, state, national, and international levels. His insight in cyber security and anti-terrorism, as well as his expert knowledge in crisis management and strategic planning translates across industries. Davis's unique approaches to terrorism, cyber security, and policing have been adopted both nationally and internationally in Singapore, London, Northern Ireland, Jordan, and Israel.
The Patricia H. Snyder Concert and Lecture Series was made possible in 1997 through an endowment from the late Patricia H. Snyder, trustee and longtime friend of University, to bring speakers or performers of renown to Evansville at no cost to the public.
If you have any questions, please e-mail snyder@evansville.edu
Stewardship and healthcare lecture
Dr. Jeffrey Balser will be speaking on "Issues of Stewardship and Conscience in Healthcare" at Trinity United Methodist Church on Sunday, October 15, at 2:00 p.m. Balser will be focusing on stewardship of healthcare in the United States from various perspectives, highlighting liturgical, economic, political and clinical elements. The entire UE community is invited to attend this lecture, especially those students pursuing majors in the fields of health care and religion.
Balser, a native of Evansville, earned his M.D. and PhD. From Vanderbilt University, and his Bachelor of Science degree in engineering from Tulane University. He is president and CEO of Vanderbilt University Medical Center and dean of Vanderbilt University School of Medicine.
Trinity United Methodist Church is located at 216 SE Third Street (corner of Walnut and Third Streets) in Evansville. For more information, contact Kathy Bartelt at kb4@evansville.edu or 812-853-6136.
Submitted by Kathy Bartelt kb4@evansville.edu
Yazdanparast to speak at Andiron Lecture today
Atefeh Yazdanparast, assistant professor of marketing and Mead Johnson Endowed Chair in Business, will be the speaker for today's Andiron Lecture. The lecture is planned for 4:00 p.m. in Eykamp Hall, Room 252, Ridgway University Center. Her topic will be "Advertising and Pseudo-Culture: An Analysis of Changing Women's Portrayal as Reflected in Magazine Advertisements."
Yazdanparast earned her PhD in marketing with a minor in business anthropology from the University of North Texas. She also holds a master of science in marketing and a Bachelor of Science in food science and engineering. She is the chair of the American Marketing Association's Marketing for Higher Education Special Interest Group. She has been the recipient of the University of Evansville Class of 1961 Faculty Fellowship Award (2017), Global Scholar Award (2015), and Schroeder School of Business Dean's Research Award (2016 and 2014).
Yazdanparast's research is focused on consumer decision making and value co-creation. To date, her research has been published in journals such as the Journal of Consumer Psychology, Psychology & Marketing, Journal of Marketing Management, Journal of Consumer Behavior, Journal of Consumer Marketing, and International Journal of Logistics Management.
The dynamic interplay between marketing systems and political systems has been a substantial macromarketing issue investigated by academic researchers over the past few decades. The present research is inspired by Adorno's theory of pseudo-culture and aims to investigate how political and socio-cultural ideas are extensively manifested and promoted in mass media by political systems in an attempt to force cultural transformation through consumption. Following a content analysis and a semiotic analysis of print advertisements during important historical eras of Iran, the sharp contrast between the orientations of the Pahlavi and Islamic Republic regimes and its resultant impact on the status and role of women in the society are investigated. The research identifies five major themes underlying pseudo-culture formation and discusses the advertising strategies implemented to support these themes. This work also identifies four major tools utilized in pseudo-culture formation and demonstrates how pseudo-cultures may be formed, promoted, and abolished.
For further information, call Annette Parks at 812-488-1070 or the William L. Ridgway College of Arts and Sciences at 812-488-2589
Fall break dining hours
Fall break is around the corner. Students staying on campus during fall break should plan ahead to access food during this time. Students can use Ace Bucks to buy pizza from the local Papa John's during fall break.
Here is a schedule of dining hours:
Last meal served before fall break is dinner on Friday, October 6.
Aces Place will be open during special posted hours: Monday, October 9, 7:30 a.m.–2:30 p.m. and Tuesday, October 10, 7:30 a.m.-Midnight
First meal served after fall break will be dinner on Tuesday, October 10.
Submitted by Michael Tessier mt28@evansville.edu

Late flurry pushes Panthers past Aces
After holding the Panthers scoreless in the first half, the University of Evansville women's soccer team fell to Northern Iowa, 3-1, on a late flurry of goals on Saturday afternoon in Cedar Falls, Iowa.
Four Aces (4-8, 0-2 MVC) recorded a shot in the match with senior midfielder JBess Ruby scoring the lone goal for Evansville. In goal, freshman goalkeeper Michaela Till made a pair of saves, allowing three goals, in the loss. The Panthers (9-1-1, 2-0 MVC) were led by Brynell Yount, who scored twice on four shots for UNI.
For the ninth time this season, the Aces held their opponent scoreless in the opening half despite UNI having a 3-1 advantage on shots and a 7-0 lead on corner kicks in the first 45 minutes.
The Panthers got on the board first just 44 seconds into the second half as Yount scored off an assist by Sarah Brandt to give UNI a 1-0 lead.
15 minutes later, Evansville responded with a goal by Ruby. The Birmingham, Michigan native launched a strike from the top of the 18-yard box which sailed past the keeper to level the match at a goal apiece.
Northern Iowa went back in front in the 73rd minute on a goal by Kelsey Yarrow. In the 76th minute, the Panthers added their third goal on Yount's second tally of the match as Northern Iowa captured the 3-1 win.
UE was out-shot by the Panthers, 12-4, in the match. UNI also won the corner kick battle, 11-0.
The Aces wrap-up a two-match road swing at 7:00 p.m. on Saturday, October 7 as Evansville takes on Illinois State in Normal, Illinois.
Crews, Hood lead Aces at Greater Louisville Classic
Competing in one of the strongest fields in the nation, freshman Dawson Hood and junior Sienna Crews led the University of Evansville's men's and women's cross country teams at the Greater Louisville Classic at Tom Sawyer State Park in Louisville, Kentucky.
Both men's and women's teams competed in the blue race at the classic with the men running an 8k and the women running a 5k.
Coming off a week in which she was named Missouri Valley Conference Female Cross Country Athlete of the Week, Crews captured a 28th-place finish in the 58 NCAA Division One runner field in a time of 19:23.93.

Following Crews was freshman Anna Lowry who finished in 34th with a time of 19:33.38. Junior Ashton Bosler (20:03.02) and freshman Izzy Dawson (20:34.61) followed Crews and Landry in 47th and 53rd, respectively.
Freshman Dawson Hood led the way for the Aces men's team for the first time in his collegiate career with a 48th-place finish in a PR time of 27:21.16. Hood's time bested his previous 8k PR by 48 seconds.
Fellow freshman Ethan Price finished just five spots behind Hood in 53rd in 27:30.77, also a 48 second improvement on his previous PR. Sophomore Stanley Chepchieng crossed the finish line in 56th in a time of 27:39.48, just five seconds off his PR. Freshman Tyler Frields-Reifsteck finished seven seconds behind Chepchieng in 60th place in a time of 27:46.34, a PR for the Evansville native.
Rounding out the Aces' runners were sophomore Ricky Hendrix (28:01.76) in 65th, freshman Kalen Ochs with a PR of 28:28.52 in 70th, sophomore Tucker Dawson finished in 74th, besting his PR by nearly a minute with a time of 29:40.79, and freshman Timmy Miller with a PR of 30:48.51 in 78th.
In all, seven Aces men set PRs in the classic. Evansville finished 11th among the 11 team NCAA Division One field.
A week hiatus awaits the Aces as Evansville hosts the UE Invitational at Angel Mounds on Saturday, October 14.
Do you want to improve your balance?
Do you want to learn more about your balance ability? Do you suffer from frequent falls?
Second-year doctor of physical therapy students are providing a free balance evaluation and training session on October 20 from 8:00-9:30 a.m. The session will take place in Room 104 in Graves Hall. We are seeking participants who are 65 years old or older and are interested in improving their balance. The evaluation involves strength testing combined with several walking and clinical tests. If you are interested, please email tc136@evansville.edu or call and leave a message at 812-488-2408. The deadline to register is October 16.
Your support is crucial to the success of UE physical therapy education. Thank you very much for your consideration!
Submitted by Jennifer Simon js698@evansville.edu
Today is last day for UE Bookstore account charges
The last day for students to charge textbooks and supplies to their student account in the UE Bookstore is TODAY - Wednesday, October 4. If you still need something please do so by this date. If you have any questions please contact the UE Bookstore.
Submitted by Doug Gustwiller dg57@evansville.edu
Honorary Degree Committee invites your suggestions
The University of Evansville Honorary Degree Committee is now soliciting your recommendations for honorary degrees to be conferred at the May 2018 Commencement. According to the UE Faculty and Administrator Manual, the committee is charged with requesting and reviewing honorary degree nominations made on the basis of individual service to the University and individual achievement. An honorary degree may also be awarded to individuals who exemplify the University's mission. Selected persons have excelled in a variety of areas--law, medicine, education, business, literature, politics, and entertainment.
The committee will forward nominations to President Kazee so he can make his recommendations to the faculty. The faculty will vote on the final list of nominees.
Please email the following information to Robert Dion, committee chairperson, at rd35@evansville.edu, by Friday, November 3:
1. Nomination by (include name, phone and email address)
2. Name of person nominated
3. Title and/or profession of nominee
4. Rationale for the nomination (see criteria above)
5. Any biographical or background information on the nominee
6. Address information for contacting the nominee
Submitted by Robert Dion rd35@evansville.edu
UE Volleyball to assist in Hurricane Maria relief
Head coach Manolo Concepcion, graduate assistant Melissa Rabell, and student-athletes Joselyn Coronel and Mildrelis Rodriguez all have ties to Puerto Rico, which was severely impacted last week by Hurricane Maria.
The hurricane struck the island with winds in excess of 150 miles per hour and has had a devastating effect on the island. Necessities such as food and supplies are in dire need in the island. As a way of helping those who are so close to them, the Purple Aces volleyball team is holding a supply drive to assist those in need in Puerto Rico.
Collection boxes will be placed in the hallway of the Carson Center with supplies also being collected at the Aces' matches next week. Everything collected will be sent to the affected areas of the island.
Next week, the Aces are home to face Drake on October 6 and UNI on the 7th. The Panthers are 22nd in the latest NCAA national rankings. Fans who bring a donation to the match will receive $2 off of their ticket.
Items in need include: cans of food, water, batteries, battery-operated items (i.e. fans and radios), solar lamps, hand sanitizers, and sanitizing wipes.
Those who are unable to donate directly to the Aces efforts can also do so through the Red Cross, which has a Puerto Rico Hurricane Relief Fund.
Nominate Mr. and Miss UE for Homecoming 2017
During Homecoming Weekend we plan to recognize and crown Mr. and Miss UE. To be eligible, students must be full time students and members of the senior class. Nominations may be made by anyone on campus, either a student organization, group of friends, team, roommates, etc. Please complete the nomination form by 5:00 p.m. on Wednesday, October 4. Nominations can be made based on the student's preferred gender.
You can find nomination forms for Mr. and Miss UE 2017 at https://goo.gl/forms/bjNeEOcXIEMz6xit2.
Submitted by Megan King mk225@evansville.edu
Flu shots available
For those covered on the Meritain Health Plan: Free Flu Shot Blitz will be offered in the Employee Health Clinic on October 3 from 7:00-11:00 a.m. and October 4 from 2:00-6:00 p.m. Those not insured can still receive the vaccine for $20. Please sign up though AceLink.
Submitted by Ashley Chipps ac375@evansville.edu
Hilary Morales awarded October 2017 Employee of the Month
The October 2017 Employee Excellence Award recipient is Hilary Morales.
Hilary was nominated for this award by her colleagues for being a tireless advocate for our students. As the assistant director of financial aid and veterans education benefit coordinator, she maintains an unflappable calm and a friendly attitude while leading others by the example of her exemplary work ethic.
She navigates the complicated administration of veterans education benefits and the State of Indiana grant programs, including the Twenty-first Century Scholars Award to provide every student with all the financial information they could need for educational success.
Hilary has received several media shout outs for a job well done by the families and students that she has assisted.
We want to congratulate Hilary on the recognition for being such an asset to the University of Evansville!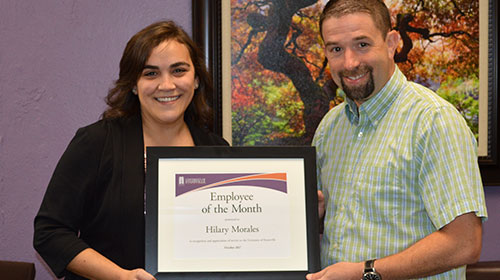 Contribute to AceNotes
To have content considered for inclusion in AceNotes, please submit a Marketing Request Form. Deadline for submission to AceNotes is 10:00 a.m. on the requested date of publication. Only articles concerning UE related/sponsored activities will be accepted. Articles submitted to AceNotes may be edited for length and clarity. Submitter contact information is at the end of each article.