| | |
| --- | --- |
| AceNotes Today | Friday, September 29, 2017 |
Do you know what to do in an active shooter situation?
What does it mean if there is a shelter-in-place order?
Shelter-in-place is a term used to encourage individuals to seek shelter during certain types of emergencies/catastrophic events that may pose a threat to the safety of a small part of the campus or the overall safety of the entire campus community. Because of the nature of university and college campuses (open atmosphere, multiple buildings, pathways, shared thoroughfares with the city, etc.), the ability of campus authorities to "shelter-in-place" an entire campus and restrict the movement of people is difficult, if not impossible.
To maximize safety during a shelter-in-place order, the following recommendations should be considered by each individual:
Run, Hide, Fight
Run: Flee the building if you can do so safely based on what you know is taking place within the building. (i.e., if you hear gunshots on the other side of the building and you are close to an exit, law enforcement recommends running from the building)
Hide: Consider the above recommendations; additionally, turn ringers and other tones off on cellphones and turn off lights.
Fight: You (and those with you) stand a better chance of surviving if you do something rather than nothing. Look around you. What can you use as a weapon? If you are with a group of people, what can you do collectively to fight the offender?
Remember: All exterior doors to buildings may be locked as a result of the shelter-in-place order. Card access will be shut off on electronic doors in the event of a shelter-in-place order. Use your best judgment in determining the safest course of action to protect yourself.
You can view the "run, hide, fight" video at the following link: www.youtube.com/embed/5mzI_5aj4Vs.
Volleyball heads to SIU and Missouri State tonight
This weekend, the University of Evansville volleyball team continues it Missouri Valley Conference schedule as the Purple Aces head to Southern Illinois and Missouri State.
UE takes on the Salukis this evening at 7:00 p.m. on The Valley on ESPN3 before traveling to Springfield, Missouri. on Saturday for another 7:00 p.m. contest.
Conference play began last weekend for the Purple Aces as they fell to Indiana State on the road in five sets on Friday before dropping a 3-0 decision to Illinois State on Monday at Meeks Family Fieldhouse.
In the match-up at Indiana State last week, freshman Allana McInnis set her career mark with 54 assists at Indiana State. It was the most for a Purple Aces player since Jelena Merseli registered 62 against Bradley last year. The effort surpassed her previous high of 48 set against Chicago State in the season opener. McInnis ranks seventh in the MVC with 8.04 assists per set.
Freshmen Cassie Brooks and Allana McInnis have made a huge difference this season for the Purple Aces. Brooks ranks in the top 10 in the league with 4.13 digs per set while McInnis is seventh in the conference in assists. Brooks has helped Evansville improve its dig total from 12.73/set last season to 15.82 in 2017. McInnis has done the same in the assist category. In 2016, the Aces posted 9.09 per set with this year's total checking in at 10.52.
Cathy Schreiber has been the definition of efficiency this season, hitting .279. That tally puts her 10th in the MVC. Her season total of .290 is the highest for an Evansville player since 2013 when Rachel TenHoor hit .321 over the course of 29 matches. Schreiber is coming off of a great effort at Indiana State as she hit .429 with 19 kills in 35 tries with just four errors. Schreiber is second on the team with 2.41 kills per set. Her total of 19 at ISU was the most in her career.
Weekend play opens this evening at Southern Illinois. The Salukis stand at 3-11 overall, but picked up a pair of conference wins last weekend over Bradley and Valparaiso with a loss coming against Illinois State. Andrea Estrada and Maggie Nedoma lead SIU with 2.37 and 2.33 kills per game, respectively.
Saturday's match will feature a trip to Springfield, Missouri, to take on Missouri State. The Bears are currently 11-5 overall and got off to a perfect 3-0 start in league action last weekend, defeating Illinois State, Bradley, and Loyola. Lily Johnson paces the Bear offense with an average of 4.17 kills. MSU is also the top hitting team in the league, entering the weekend at a league-best .241.
Only three performances remain for UE Theatre's musical production of Fun Home
Don't miss UE Theatre's moving, heartwarming, and provoking production of the 2015 Tony Award-winning Best Musical Fun Home this weekend. Remaining performances are at 7:30 p.m., today and Saturday, and at 2:00 p.m. on Sunday. Tickets are $20 adult, $18 senior adult, student, and UE faculty/staff. UE students can pick up FREE tickets after 12 p.m. from the Shanklin Theatre ticket office each day of the show. The Shanklin Theatre Ticket Office can be reached by calling 812-488-2031.
Submitted by Sharla Cowden sc75@evansville.edu
Shelby to speak to UE's Student Christian Fellowship
Rob Shelby, assistant professor of sociology, will present a talk titled, "Christians Facing Fear in Socially Uncertain Times" at UE's Student Christian Fellowship FOCUS meeting today - Friday, September 29 - at 5:30 p.m. The presentation and discussion will take place in Room 126 in Hyde Hall.
Blood Drive Tuesday, Oct. 17 - volunteer or donate
The Newman Club is hosting a blood drive with the Red Cross on Tuesday, October 17 in Eykamp Hall, Ridgway University Center from noon-5:00 p.m.
To donate, email ph89@evansville.edu.
Sign up to be a volunteer here: http://signup.com/go/KBcmmAJ.
Volunteers will be needed to help recruit donors at tables in Ridgway University Center on Wednesday, October 11, Thursday, October 12, and Friday, October 13 for one hour over lunch and dinner hours
On the day of the blood drive, volunteers will help check in donors and pass out refreshments after donation in one hour shifts.
Submitted by Gabrielle VanBuskirk gv19@evansville.edu
UE Softball to hold Aces Elite Showcase on Oct. 27
The University of Evansville softball team will be holding an Aces Elite Showcase camp on Friday, October 27 from 5:00-9:00 p.m.
Cooper Stadium, the home of the Purple Aces squad, will be the site of the camp, which is open for grades 9-12. The first portion will be a college level practice focusing on the fundamentals of hitting, fielding, pitching, and catching. The second portion will be an instructional scrimmage covering all aspects of the game.
Campers must fill out the registration form that is linked above along with the release and waiver of liability form and return it as soon as possible with the fee included. Cost of the camp is $100. Reserve your spot soon as registration is limited to the first 75. Checks can be made out to Mat Mundell. Once your registration has been received you will be sent a confirmation email from the coaching staff. No refunds will be given.
Participants need to bring tennis shoes, cleats, glove, helmet, bat, catchers gear, and a water bottle.
For more information or if you have questions, please contact assistant coach Heather Tarter at ht73@evansville.edu or 812-488-2123.
University Worship in Neu Chapel
The campus community is invited to University Worship this Sunday in Neu Chapel. We will consider together the question, "Thirsty?" not only as it relates to physical thirst but spiritual thirst also. As always, your physical hunger and thirst can be satisfied with coffee and donuts before and after the service. All are welcome!
Submitted Keith Turner kt160@evansville.edu
Boston Marathon bombing police commissioner to speak at Snyder Lecture
Former Boston Police commissioner Ed Davis – who was at the forefront of the emergency response to the 2013 Boston Marathon bombing and the arrests that followed – will be the speaker for the upcoming University of Evansville's Patricia Snyder Lecture. The lecture is Thursday, October 12 at 7:00 p.m., in Eykamp Hall, Ridgway University Center. Doors open at 6:30 p.m.
The event is free and open to the public but registration is required. The registration form can be found online at www.evansville.edu/EdDavis.
The topic of Davis's lecture will be "Policing in America: The Changing Landscape of Our Cities & Law Enforcement's Role in Protecting Our Communities."
Davis's experience during the Boston Marathon bombings was depicted in the feature film, Patriots Day, starring John Goodman as Commissioner Davis, which was released in January 2017.
Davis is currently president and CEO of the business strategy and security agency, Edward Davis LLC. He has built a stellar reputation on his experience in interagency collaboration and law enforcement on local, state, national, and international levels. His insight in cyber security and anti-terrorism, as well as his expert knowledge in crisis management and strategic planning translates across industries. Davis's unique approaches to terrorism, cyber security, and policing have been adopted both nationally and internationally in Singapore, London, Northern Ireland, Jordan, and Israel.
The Patricia H. Snyder Concert and Lecture Series was made possible in 1997 through an endowment from the late Patricia H. Snyder, trustee and longtime friend of University, to bring speakers or performers of renown to Evansville at no cost to the public.
If you have any questions, please e-mail snyder@evansville.edu
Stewardship and healthcare lecture
Dr. Jeffrey Balser will be speaking on "Issues of Stewardship and Conscience in Healthcare" at Trinity United Methodist Church on Sunday, October 15, at 2:00 p.m. Balser will be focusing on stewardship of healthcare in the United States from various perspectives, highlighting liturgical, economic, political and clinical elements. The entire UE community is invited to attend this lecture, especially those students pursuing majors in the fields of health care and religion.
Balser, a native of Evansville, earned his M.D. and PhD. From Vanderbilt University, and his Bachelor of Science degree in engineering from Tulane University. He is president and CEO of Vanderbilt University Medical Center and dean of Vanderbilt University School of Medicine.
Trinity United Methodist Church is located at 216 SE Third Street (corner of Walnut and Third Streets) in Evansville. For more information, contact Kathy Bartelt at kb4@evansville.edu or 812-853-6136.
Submitted by Kathy Bartelt kb4@evansville.edu
Lincolnshire Front Porch Festival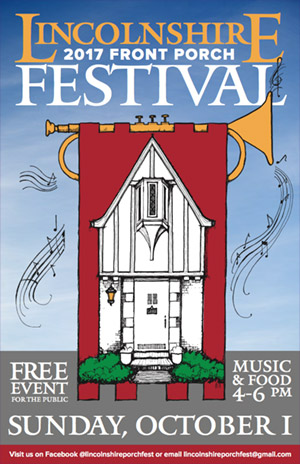 Come out to hear UE music faculty and students perform at the 2017 Lincolnshire Front Porch Festival on Sunday, October 1, from 4:00-6:00 p.m. The event is free and open to the public.
The neighborhood is located between Lincoln and Chandler Avenues featuring homes on College Highway and South Willow Road. Many UE alumni and faculty live in this neighborhood.
Stroll through this historic neighborhood and listen to some fantastic music. Flying Pig Barbecue and St. Ben's will be offering food for purchase.
Contact professor of music Timothy Zifer (tz3@evansville.edu) for questions or more information.
Homecoming 2017 Reunion Weekend set for Oct. 13-15
The University of Evansville Homecoming 2017 Reunion Weekend is October 13-15. Special events are planned for parents and alumni, many of which will be open to the public.
Dr. Guy Banta Distinguished Lecture Series – Speaker Zach Cheviron '00, Environmental and Wildlife Biology
Friday, October 13, 3:00 p.m. Vectren Lecture Hall, Room 100, Koch Center for Engineering and Science.
Reunion Celebrations
Anniversaries to be celebrated at homecoming include the 50th anniversary of the Class of 1967, 65th anniversary of Phi Mu sorority, 60th anniversary of Sigma Alpha Epsilon fraternity, and the 60th anniversary of the Tau Kappa Epsilon fraternity.
Homecoming Tailgate
Saturday, October 14, 2:00-5:00 p.m., H-Lot, South Frederick Street
Food, games, live music, and fun. Open to public.
The Ace Race
Saturday, October 14, 9:00 a.m., UE campus. Open to public.
This 5K run benefits Ace CARE, UE's pro bono physical therapy clinic run by doctor of physical therapy and physical therapy assistant students for the uninsured, underinsured, and homeless. Participation fee for the public is $25 before October 1 or $30 after October 1. Those registering before October 1 will receive a long sleeve T-shirt. To register, go to www.uealumnionline.com/acerace2017.
UE Women's Soccer versus Drake
Saturday, October 14, 2:00 p.m., Arad McCutchan Stadium. Open to public.
UE Men's Soccer versus Loyola (followed by fireworks display)
Saturday, October 14, 5:00 p.m., Arad McCutchan Stadium. Open to public.
For the full schedule of events or more information, visit www.evansville.edu/alumni or contact alumni@evansville.edu or 812-488-2586.
Register now to participate in Homecoming's Ace Race
The Ace Race, a 5K run benefiting Ace CARE, UE's pro bono physical therapy clinic, is planned for Saturday, October 14, 9:00 a.m., on campus. This event is part of UE's Homecoming. The participation fee for students is $15. The fee for the general public is $25 before October 1 or $30 after October 1. Those registering before October 1 will receive a long sleeve T-shirt. To register, go to www.uealumnionline.com/acerace2017.
For more information, contact Michaela Bortle at mb315@evansville.edu.
Attention students: The United Way Coin Wars has begun!
Students will have noticed the Coin Wars buckets in their residence halls and a strategically located table in Ridgway University Center. Take part in this friendly competition between residence halls.
The competition began on September 25 and ends on September 29. Get your change ready!
How to Play
Put coins in your hall's bucket:
• Pennies = +1 point (Put these in your hall's bucket)
• Silver coins = -1 point (Put these in other halls' buckets)
The residence hall with the most points on September 29 is the winner!
Prizes
• Pizza party with President Kazee.
• Eternal glory all across campus.
All proceeds will be donated to the United Way of Southwestern Indiana as part of UE's United Way Campaign. United Way serves the community by funding programs focusing on education, income, and health.
Senior Reading - April 11
Robert Griffith, chair of the creative writing program at UE, will be the speaker for the Coffee Hour Lecture on Thursday, October 26, 4:00 p.m., in the Vectren Lecture Hall (Room 100), Koch Center for Engineering and Science. These lectures are free and open to the public.
His most recent book is The Devil in the Milk. Griffith's book, The Moon from Every Window, was nominated for the 2013 Poets' Prize, and his book A Matinee in Plato's Cave won the 2009 Best Book of Indiana Award. His work has appeared in PN Review, Poetry, The North American Review, Poems & Plays, The Oxford American, and other publications. He is editor of the journal Measure and director of the University of Evansville Press.
Other lectures in the series include:
Senior Reading
4:00 p.m.
Wednesday, April 11
Eykamp Hall, Room 252, Ridgway University Center
Graduating creative writing majors read their poetry and prose.
For more information, call 812-488-2963.
Yazdanparast to speak at Andiron Lecture today
Atefeh Yazdanparast, assistant professor of marketing and Mead Johnson Endowed Chair in Business, will be the speaker for today's Andiron Lecture. The lecture is planned for 4:00 p.m. in Eykamp Hall, Room 252, Ridgway University Center. Her topic will be "Advertising and Pseudo-Culture: An Analysis of Changing Women's Portrayal as Reflected in Magazine Advertisements."
Yazdanparast earned her PhD in marketing with a minor in business anthropology from the University of North Texas. She also holds a master of science in marketing and a Bachelor of Science in food science and engineering. She is the chair of the American Marketing Association's Marketing for Higher Education Special Interest Group. She has been the recipient of the University of Evansville Class of 1961 Faculty Fellowship Award (2017), Global Scholar Award (2015), and Schroeder School of Business Dean's Research Award (2016 and 2014).
Yazdanparast's research is focused on consumer decision making and value co-creation. To date, her research has been published in journals such as the Journal of Consumer Psychology, Psychology & Marketing, Journal of Marketing Management, Journal of Consumer Behavior, Journal of Consumer Marketing, and International Journal of Logistics Management.
The dynamic interplay between marketing systems and political systems has been a substantial macromarketing issue investigated by academic researchers over the past few decades. The present research is inspired by Adorno's theory of pseudo-culture and aims to investigate how political and socio-cultural ideas are extensively manifested and promoted in mass media by political systems in an attempt to force cultural transformation through consumption. Following a content analysis and a semiotic analysis of print advertisements during important historical eras of Iran, the sharp contrast between the orientations of the Pahlavi and Islamic Republic regimes and its resultant impact on the status and role of women in the society are investigated. The research identifies five major themes underlying pseudo-culture formation and discusses the advertising strategies implemented to support these themes. This work also identifies four major tools utilized in pseudo-culture formation and demonstrates how pseudo-cultures may be formed, promoted, and abolished.
For further information, call Annette Parks at 812-488-1070 or the William L. Ridgway College of Arts and Sciences at 812-488-2589
What exactly is a Changemaker?
Changemakers are people who see opportunities to improve the world around us and are motivated to act. They come from all ages, political orientations, ethnicities, nationalities, walks of life, majors, professions, etc. In fact, anyone can be a Changemaker, and at UE we are intent upon our role of being Changemaker makers! Changemakers at UE have initiated a bike share program in Evansville, offered financial planning to new parents, built houses in Nicaragua, developed composting programs at UE, worked with disillusioned youth in Cuba, offered support to recovering drug addicts in Guatemala, obtained grant funding for solar power in Evansville, developed community gardens, created "green infrastructures" to address environmental concerns in Evansville, offered pro-bono physical therapy services, developed anti-bullying games, tutored at-risk youth, offered countless hours of community service, and much more.
Come to our next Change Team meeting: Tuesday, October 10 in Room 203 (J. Henry Schroeder Boardroom) in the Bower-Suhrheinrich Library.
Submitted by Cindy Kelley ck116@evansville.edu
Energy efficiency
Did you know that in 2015, UE students in the Alternative Energy Class taught by professor Angela Reisetter were awarded a grant worth over $90,000 from the Indiana Office of Energy Development to assist the Carver Community Organization? The grant was used to fund LED lighting and 90 solar panels on the roof of the Carver Center, reducing their energy use and costs.
Submitted by Geoff Edwards ge21@evansville.edu
Do you want to improve your balance?
Do you want to learn more about your balance ability? Do you suffer from frequent falls?
Second-year doctor of physical therapy students are providing a free balance evaluation and training session on October 20 from 8:00-9:30 a.m. The session will take place in Room 104 in Graves Hall. We are seeking participants who are 65 years old or older and are interested in improving their balance. The evaluation involves strength testing combined with several walking and clinical tests. If you are interested, please email tc136@evansville.edu or call and leave a message at 812-488-2408. The deadline to register is October 16.
Your support is crucial to the success of UE physical therapy education. Thank you very much for your consideration!
Submitted by Jennifer Simon js698@evansville.edu
Today is last day for UE Bookstore account charges
The last day for students to charge textbooks and supplies to their student account in the UE Bookstore is TODAY - Wednesday, October 4. If you still need something please do so by this date. If you have any questions please contact the UE Bookstore.
Submitted by Doug Gustwiller dg57@evansville.edu
Honorary Degree Committee invites your suggestions
The University of Evansville Honorary Degree Committee is now soliciting your recommendations for honorary degrees to be conferred at the May 2018 Commencement. According to the UE Faculty and Administrator Manual, the committee is charged with requesting and reviewing honorary degree nominations made on the basis of individual service to the University and individual achievement. An honorary degree may also be awarded to individuals who exemplify the University's mission. Selected persons have excelled in a variety of areas--law, medicine, education, business, literature, politics, and entertainment.
The committee will forward nominations to President Kazee so he can make his recommendations to the faculty. The faculty will vote on the final list of nominees.
Please email the following information to Robert Dion, committee chairperson, at rd35@evansville.edu, by Friday, November 3:
1. Nomination by (include name, phone and email address)
2. Name of person nominated
3. Title and/or profession of nominee
4. Rationale for the nomination (see criteria above)
5. Any biographical or background information on the nominee
6. Address information for contacting the nominee
Submitted by Robert Dion rd35@evansville.edu
UE Volleyball to assist in Hurricane Maria relief
Head coach Manolo Concepcion, graduate assistant Melissa Rabell, and student-athletes Joselyn Coronel and Mildrelis Rodriguez all have ties to Puerto Rico, which was severely impacted last week by Hurricane Maria.
The hurricane struck the island with winds in excess of 150 miles per hour and has had a devastating effect on the island. Necessities such as food and supplies are in dire need in the island. As a way of helping those who are so close to them, the Purple Aces volleyball team is holding a supply drive to assist those in need in Puerto Rico.
Collection boxes will be placed in the hallway of the Carson Center with supplies also being collected at the Aces' matches next week. Everything collected will be sent to the affected areas of the island.
Next week, the Aces are home to face Drake on October 6 and UNI on the 7th. The Panthers are 22nd in the latest NCAA national rankings. Fans who bring a donation to the match will receive $2 off of their ticket.
Items in need include: cans of food, water, batteries, battery-operated items (i.e. fans and radios), solar lamps, hand sanitizers, and sanitizing wipes.
Those who are unable to donate directly to the Aces efforts can also do so through the Red Cross, which has a Puerto Rico Hurricane Relief Fund.
Nominate Mr. and Miss UE for Homecoming 2017
During Homecoming Weekend we plan to recognize and crown Mr. and Miss UE. To be eligible, students must be full time students and members of the senior class. Nominations may be made by anyone on campus, either a student organization, group of friends, team, roommates, etc. Please complete the nomination form by 5:00 p.m. on Wednesday, October 4. Nominations can be made based on the student's preferred gender.
You can find nomination forms for Mr. and Miss UE 2017 at https://goo.gl/forms/bjNeEOcXIEMz6xit2.
Submitted by Megan King mk225@evansville.edu
UE teams join forces to help support Aces' great Mick Lyon
The University of Evansville men's and women's soccer teams are teaming up to raise awareness and to help an Evansville great.

Prior to this year's Homecoming matches, the UE Men's and Women's Soccer teams will be hosting a fundraiser to benefit UE Athletics Hall of Fame member Mick Lyon with expenses associated with his fight against multiple sclerosis. This fundraiser will coincide with the Aces' Multiple Sclerosis Awareness Night during homecoming on October 14.
"We have the opportunity to step up and help support the man that started our program," said UE women's soccer head coach Krista McKendree. "I encourage and hope all Aces (past, present, and future) will do what they can to show Mick the values he was taught and helped teach here at UE are still going strong. As an athlete and coach he never gave up and I know the out pouring of support is helping him continue to fight MS. Thank you to everyone for your support of positive messages."

Lyon was inducted in the UE Athletics Hall of Fame in 2002 and the Missouri Valley Conference Hall of Fame in 2015, following highly-decorated careers as both a player and coach for the Purple Aces. As a member of the men's soccer team, he was a three-time team MVP and was named a Second Team All-American by the NSCAA in 1987, before becoming an assistant coach for the men's program in 1991 and being named the first head coach of the UE women's program in 1993. In his nine seasons as head coach, Lyon guided the Aces to five regular-season conference championships, five conference tournament titles and three NCAA Tournament appearances.

To show your support for Mick and to contribute to this fundraiser, you can purchase a t-shirt for $12 through an online order form prior to October 5. T-shirts may be purchased at the game on October 14 for $15. To preorder your shirt, simply fill out the online order form and join the Aces in the fight against MS.
Flu shots available
For those covered on the Meritain Health Plan: Free Flu Shot Blitz will be offered in the Employee Health Clinic on October 3 from 7:00-11:00 a.m. and October 4 from 2:00-6:00 p.m. Those not insured can still receive the vaccine for $20. Please sign up though AceLink.
Submitted by Ashley Chipps ac375@evansville.edu
UExplore engineering program
The College of Engineering and Computer Science is offering a UExplore engineering program for high school students. The program is designed to give participants a better understanding of the fields of civil, mechanical, electrical, and computer engineering and computer science through activities, hands-on projects, and tours of local industry.
The sessions in the program are October 16, November 6, November 27, January 22, February 19, March 12, April 2, and April 23. All sessions will be from 6:00-7:00 p.m. in Room 100 in the Koch Center for Engineering and Science on UE's campus.
James Allen, UE associate professor of mechanical and civil engineering, is the advisor for the program. A registered professional engineer in the states of Indiana and Ohio, Allen has extensive work experience in industry. Allen will be assisted with the program by UE engineering students.
The registration fee for the program is $50. Register online at www.evansville.edu/uexploreengineering or contact Kimberly Higgins for more information at 812-488-2661 or kh209@evansville.edu.
Crews named MVC Female Cross Country Athlete of the Week
Following a sixth-place finish at the Austin Peay Cross-Country Festival on Saturday, University of Evansville junior Sienna Crews was named the Missouri Valley Conference Female Cross Country Athlete of the Week on Tuesday.

Crews, who has battled her way back from an injury, helped lead the Aces to a second-place team finish with her time of 18:52.8.

The honor is the second of Crews' collegiate career and first since the Lincoln City, Ind. native earned the honor on September 29, 2015.

Crews and the Aces are back in action this weekend as they travel to compete in the Greater Louisville Classic at Tom Sawyer State Park on Saturday in Louisville, Kentucky.
UE Recognized for Affordability and Student Benefits on Several Top College Lists
The University of Evansville has been named to several top college lists, including rankings by Princeton Review, Forbes and Money. These commendations are in addition to those from U.S. News & World Report and Washington Monthly earlier this month.
Forbes magazine named UE to its Top College list again this year and named the University to its Grateful Grads list. The Forbes Top Colleges ranking focuses on direct benefits a college provides students. Student experience is an important criteria and is based on freshman-to-sophomore retention rate and data from Niche, a comprehensive ranking site.
Niche uses survey information from approximately 93,000 current students and recent alumni reviewing over 1,300 colleges to rate schools and give them a letter grade. Overall, Niche named UE a Top Private University, a Best College in America, and a Best College in Indiana. UE was also rated by Niche as a College with Best Academics, Best Professors, and Best Value in America, and as a Most Diverse College and a College with the Best Student Life in America.
This year the Princeton Review listed UE as a Best Midwestern school in its Best Colleges: Region by Region category. Only 158 colleges were on this list of premier colleges. Schools chosen are considered "academically outstanding and well worth consideration." Rankings are based on what students attending the reviewed colleges say about their experiences at their institutions.
UE has been named a 2017/18-Best Colleges by Money. Money used research and advice from the nation's top experts on education quality, financing, and value to create a new and practical analysis of the nation's best-performing colleges. Schools were ranked in quality of education, affordability, and outcomes - including graduate earnings.
College Factual recently listed UE in eight awards categories, including: Best Nationwide Colleges, Best Indiana Colleges, and Best Nationwide Colleges for Your Money, ranking in the top ten percent of more than 1300 colleges and universities. College Factual compares the quality of education at a given college, compared to all others on the list. Factors include student body caliber, educational resources, degree completion, and post-graduation earnings.
Earlier this month, U.S. News and World Report named UE a Best Midwest Value in its annual Best Colleges rankings and as one of the Best Regional Universities: Midwest. Washington Monthly also ranked UE number 7 in the nation among Baccalaureate Colleges and a "Best Bang for the Buck" school.
UE President Thomas A. Kazee said the University was extremely pleased with the accolades from these ranking organizations.
"At UE we are committed to providing students with a high quality education that is affordable. These rankings make one thing crystal clear: UE is a terrific value."
Contribute to AceNotes
To have content considered for inclusion in AceNotes, please submit a Marketing Request Form. Deadline for submission to AceNotes is 10:00 a.m. on the requested date of publication. Only articles concerning UE related/sponsored activities will be accepted. Articles submitted to AceNotes may be edited for length and clarity. Submitter contact information is at the end of each article.