| | |
| --- | --- |
| AceNotes Today | Wednesday, September 27, 2017 |
Fall 2017 Open Forums
President Kazee has been hosting open forums to update the campus community on Fall 2017 enrollment, the current fiscal situation, and strategies under consideration to address this year's budget deficit. Open forums will be moderated by President Kazee with members of the President's Cabinet in attendance to present and/or answer questions specific to their areas. The sessions have been scheduled to provide an opportunity for all faculty, staff, and administrators to attend.
The next session is planned for Wednesday, September 27: 3:00-4:00 pm, Eykamp Hall, Room 251, Ridgway University Center.
Tonight's Fireside Chat: Stand or Kneel? What would Jesus do?
Tonight's Fireside Chat will be held at 7:30 p.m. in Grabill Lounge in Neu Chapel. Together, we will discuss what a Christian response might look like to the current discussion around standing versus kneeling for the National Anthem. We will consider what the scriptures might say to the issue at hand, consider examples from the Christian tradition, and evaluate them from our own thinking and experience. Join us for what is sure to be an exciting time of conversation and reflection. Refreshments will be served! All are welcome!
Submitted by Keith Turner kt160@evansville.edu
Attention students: The United Way Coin Wars has begun!
Students will have noticed the Coin Wars buckets in their residence halls and a strategically located table in Ridgway University Center. Take part in this friendly competition between residence halls.
The competition began on September 25 and ends on September 29. Get your change ready!
How to Play
Put coins in your hall's bucket:
• Pennies = +1 point (Put these in your hall's bucket)
• Silver coins = -1 point (Put these in other halls' buckets)
The residence hall with the most points on September 29 is the winner!
Prizes
• Pizza party with President Kazee.
• Eternal glory all across campus.
All proceeds will be donated to the United Way of Southwestern Indiana as part of UE's United Way Campaign. United Way serves the community by funding programs focusing on education, income, and health.
BUY ONE TICKET, GET ONE FREE for tonight's performance of Fun Home
Buy one ticket and get one free for tonight's performance of Fun Home. Visit or call the Shanklin Theatre Ticket Office at 812-488-2031 to take advantage of this discount offer for tonight's 7:30 p.m. production of Fun Home, music by Jeanine Tesoro, book and lyrics by Lisa Kron, and based on the graphic novel by Alison Bechdel. Don't miss UE Theatre's production of this 2015 Tony Award-winning musical.
Additional performances are at 7:30 p.m., Friday and Saturday, and at 2:00 p.m. on Sunday. Tickets are $20 adult, $18 senior adult, student, and UE faculty/staff. UE students can pick up FREE tickets after 12 p.m. from the Shanklin Theatre ticket office each day of the show.
Submitted by Sharla Cowden sc75@evansville.edu
Interest meeting today concerning spring break Cuba trip
Want to learn more about traveling to Cuba over Spring Break? Join our interest meeting today - Thursday, September 28 - at 4:00 p.m. in Graves Hall 302.
Spend your spring break in Cuba working with Cuba Skate, a non-profit organization engaging in skate diplomacy and fostering a constructive environment for Cuban youth. Projects may entail work in art, sports, social media, business, education, and more. This is a unique opportunity to learn about a fascinating and beautiful country that few Americans have been able to visit. See the sights, meet families, taste the cuisine, learn to dance the salsa, and most importantly make a difference for youth in Cuba.
You will enroll in GAP 320 in the spring semester and travel to Cuba during spring break with the class. For more information and cost of the program, contact Amara Stuehling at as760@evansville.edu or 812-488-1085.
You can apply for the program on the study abroad page: https://www.evansville.edu/studyabroad/facultyLed.cfm.
Amara Stuehling as760@evansville.edu
Great Smokey Mountains trip!
The Venturing Crew will travel to the Great Smokey Mountains National Park over Fall Break. We will leave Friday afternoon and return Tuesday. We will do fun activities such as explore Gatlinburg, zip-lining, alpine slide, hiking, and backpacking! This is your chance to explore nature like never before. The cost is $110 and that includes transportation, food, housing, gear, and all activities. Questions? Please email us at ventring@evansville.edu.
Submitted by Sydney Winstead sw228@evansville.edu
Ethics and social change session and cookies - today
Do you want to make a positive difference in the world and want to learn how to do that? Interested in hearing more about all the exciting opportunities available through majoring or minoring in ethics and social change? Do you want to hear about the ways in which it is a perfect double major? Are you just curious and want to learn more? If so, please come join us at noon in Room 100 in the Koch Center for Engineering and Science today. Delicious cookies from Chartwells will be served!
Submitted by Lisa Kretz lk102@evansville.edu
Boston Marathon bombing police commissioner to speak at Snyder Lecture
Former Boston Police commissioner Ed Davis – who was at the forefront of the emergency response to the 2013 Boston Marathon bombing and the arrests that followed – will be the speaker for the upcoming University of Evansville's Patricia Snyder Lecture. The lecture is Thursday, October 12 at 7:00 p.m., in Eykamp Hall, Ridgway University Center. Doors open at 6:30 p.m.
The event is free and open to the public but registration is required. The registration form can be found online at www.evansville.edu/EdDavis.
The topic of Davis's lecture will be "Policing in America: The Changing Landscape of Our Cities & Law Enforcement's Role in Protecting Our Communities."
Davis's experience during the Boston Marathon bombings was depicted in the feature film, Patriots Day, starring John Goodman as Commissioner Davis, which was released in January 2017.
Davis is currently president and CEO of the business strategy and security agency, Edward Davis LLC. He has built a stellar reputation on his experience in interagency collaboration and law enforcement on local, state, national, and international levels. His insight in cyber security and anti-terrorism, as well as his expert knowledge in crisis management and strategic planning translates across industries. Davis's unique approaches to terrorism, cyber security, and policing have been adopted both nationally and internationally in Singapore, London, Northern Ireland, Jordan, and Israel.
The Patricia H. Snyder Concert and Lecture Series was made possible in 1997 through an endowment from the late Patricia H. Snyder, trustee and longtime friend of University, to bring speakers or performers of renown to Evansville at no cost to the public.
If you have any questions, please e-mail snyder@evansville.edu
Faculty regalia sale at the UE Bookstore
The UE Bookstore is having a faculty regalia sale today from 10:00 a.m.-1:00 p.m. All custom orders placed on this day will receive 20 percent OFF the original price. The Oak Hall rep will be on hand to take all required measurements so that your attire fits perfectly. The rep will be able to answer all your questions and give you pricing on various garment options. Stop by and get information if you're not sure. There's no obligation to purchase, but this will be the best opportunity to purchase.
Submitted by Doug Gustwiller dg57@evansville.edu
Lincolnshire Front Porch Festival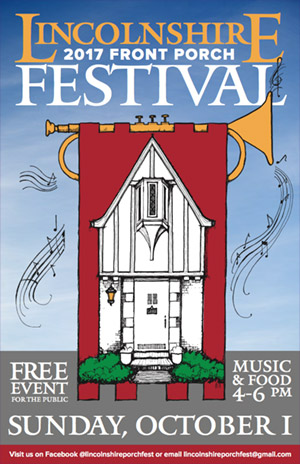 Come out to hear UE music faculty and students perform at the 2017 Lincolnshire Front Porch Festival on Sunday, October 1, from 4:00-6:00 p.m. The event is free and open to the public.
The neighborhood is located between Lincoln and Chandler Avenues featuring homes on College Highway and South Willow Road. Many UE alumni and faculty live in this neighborhood.
Stroll through this historic neighborhood and listen to some fantastic music. Flying Pig Barbecue and St. Ben's will be offering food for purchase.
Contact professor of music Timothy Zifer (tz3@evansville.edu) for questions or more information.
Homecoming 2017 Reunion Weekend set for Oct. 13-15
The University of Evansville Homecoming 2017 Reunion Weekend is October 13-15. Special events are planned for parents and alumni, many of which will be open to the public.
Dr. Guy Banta Distinguished Lecture Series – Speaker Zach Cheviron '00, Environmental and Wildlife Biology
Friday, October 13, 3:00 p.m. Vectren Lecture Hall, Room 100, Koch Center for Engineering and Science.
Reunion Celebrations
Anniversaries to be celebrated at homecoming include the 50th anniversary of the Class of 1967, 65th anniversary of Phi Mu sorority, 60th anniversary of Sigma Alpha Epsilon fraternity, and the 60th anniversary of the Tau Kappa Epsilon fraternity.
Homecoming Tailgate
Saturday, October 14, 2:00-5:00 p.m., H-Lot, South Frederick Street
Food, games, live music, and fun. Open to public.
The Ace Race
Saturday, October 14, 9:00 a.m., UE campus. Open to public.
This 5K run benefits Ace CARE, UE's pro bono physical therapy clinic run by doctor of physical therapy and physical therapy assistant students for the uninsured, underinsured, and homeless. Participation fee for the public is $25 before October 1 or $30 after October 1. Those registering before October 1 will receive a long sleeve T-shirt. To register, go to www.uealumnionline.com/acerace2017.
UE Women's Soccer versus Drake
Saturday, October 14, 2:00 p.m., Arad McCutchan Stadium. Open to public.
UE Men's Soccer versus Loyola (followed by fireworks display)
Saturday, October 14, 5:00 p.m., Arad McCutchan Stadium. Open to public.
For the full schedule of events or more information, visit www.evansville.edu/alumni or contact alumni@evansville.edu or 812-488-2586.
Senior Reading - April 11
Robert Griffith, chair of the creative writing program at UE, will be the speaker for the Coffee Hour Lecture on Thursday, October 26, 4:00 p.m., in the Vectren Lecture Hall (Room 100), Koch Center for Engineering and Science. These lectures are free and open to the public.
His most recent book is The Devil in the Milk. Griffith's book, The Moon from Every Window, was nominated for the 2013 Poets' Prize, and his book A Matinee in Plato's Cave won the 2009 Best Book of Indiana Award. His work has appeared in PN Review, Poetry, The North American Review, Poems & Plays, The Oxford American, and other publications. He is editor of the journal Measure and director of the University of Evansville Press.
Other lectures in the series include:
Senior Reading
4:00 p.m.
Wednesday, April 11
Eykamp Hall, Room 252, Ridgway University Center
Graduating creative writing majors read their poetry and prose.
For more information, call 812-488-2963.
What exactly is a Changemaker?
Changemakers are people who see opportunities to improve the world around us and are motivated to act. They come from all ages, political orientations, ethnicities, nationalities, walks of life, majors, professions, etc. In fact, anyone can be a Changemaker, and at UE we are intent upon our role of being Changemaker makers! Changemakers at UE have initiated a bike share program in Evansville, offered financial planning to new parents, built houses in Nicaragua, developed composting programs at UE, worked with disillusioned youth in Cuba, offered support to recovering drug addicts in Guatemala, obtained grant funding for solar power in Evansville, developed community gardens, created "green infrastructures" to address environmental concerns in Evansville, offered pro-bono physical therapy services, developed anti-bullying games, tutored at-risk youth, offered countless hours of community service, and much more.
Come to our next Change Team meeting: Tuesday, October 10 in Room 203 (J. Henry Schroeder Boardroom) in the Bower-Suhrheinrich Library.
Submitted by Cindy Kelley ck116@evansville.edu
Energy efficiency
Did you know that in 2015, UE students in the Alternative Energy Class taught by professor Angela Reisetter were awarded a grant worth over $90,000 from the Indiana Office of Energy Development to assist the Carver Community Organization? The grant was used to fund LED lighting and 90 solar panels on the roof of the Carver Center, reducing their energy use and costs.
Submitted by Geoff Edwards ge21@evansville.edu
Change...It's what we do
Did you know that UE organizes and participates in five days of service annually?
The Freshman Service Project, Make a Difference Day (now also called UE Gives Back), and UE Gives Back are three days for students to participate in various projects throughout Evansville and neighboring communities.
United Day of Caring and UE Gives Back ON CAMPUS are days coordinated for our faculty and staff to contribute time and energy to helping local organizations and beautifying the UE campus.
Overall, UE students report contributing over 20,000 hours of community service.
Submitted by Geoff Edwards ge21@evansville.edu
Nominate Mr. and Miss UE for Homecoming 2017
During Homecoming Weekend we plan to recognize and crown Mr. and Miss UE. To be eligible, students must be full time students and members of the senior class. Nominations may be made by anyone on campus, either a student organization, group of friends, team, roommates, etc. Please complete the nomination form by 5:00 p.m. on Wednesday, October 4. Nominations can be made based on the student's preferred gender.
You can find nomination forms for Mr. and Miss UE 2017 at https://goo.gl/forms/bjNeEOcXIEMz6xit2.
Submitted by Megan King mk225@evansville.edu
Emergency Responders Club
A new club is in the process of forming. An informational table will be set up today - Wednesday, September 27 - in the Ridgway University Center lobby next to the information desk. The Emergency Responders Club will connect students to volunteer opportunities and join students who have an appreciation for first responders. Please stop by between noon-2:00 p.m. or 4:00-6:30 p.m. for more information.
Submitted by Ryan Spall rs277@evansville.edu
GLACURH application deadline extended to September 29!
If you are interested in attending the Great Lakes Affiliate of College and University Residence Halls (GLACURH) leadership conference planned for November 17-19, you have until September 29 to apply! Applications can be found on the organization's website at https://goo.gl/forms/9nBviy2yqINJglea2.
GLACURH is a regional leadership conference where selected delegates have the opportunity to network, present campus programs, and learn about initiatives other universities have in practice that could benefit the University of Evansville.
For more information please email Josh Baty at jb621@evansville.edu.
Submitted by Josh Baty jb621@evansville.edu
UE teams join forces to help support Aces' great Mick Lyon
The University of Evansville men's and women's soccer teams are teaming up to raise awareness and to help an Evansville great.

Prior to this year's Homecoming matches, the UE Men's and Women's Soccer teams will be hosting a fundraiser to benefit UE Athletics Hall of Fame member Mick Lyon with expenses associated with his fight against multiple sclerosis. This fundraiser will coincide with the Aces' Multiple Sclerosis Awareness Night during homecoming on October 14.
"We have the opportunity to step up and help support the man that started our program," said UE women's soccer head coach Krista McKendree. "I encourage and hope all Aces (past, present, and future) will do what they can to show Mick the values he was taught and helped teach here at UE are still going strong. As an athlete and coach he never gave up and I know the out pouring of support is helping him continue to fight MS. Thank you to everyone for your support of positive messages."

Lyon was inducted in the UE Athletics Hall of Fame in 2002 and the Missouri Valley Conference Hall of Fame in 2015, following highly-decorated careers as both a player and coach for the Purple Aces. As a member of the men's soccer team, he was a three-time team MVP and was named a Second Team All-American by the NSCAA in 1987, before becoming an assistant coach for the men's program in 1991 and being named the first head coach of the UE women's program in 1993. In his nine seasons as head coach, Lyon guided the Aces to five regular-season conference championships, five conference tournament titles and three NCAA Tournament appearances.

To show your support for Mick and to contribute to this fundraiser, you can purchase a t-shirt for $12 through an online order form prior to October 5. T-shirts may be purchased at the game on October 14 for $15. To preorder your shirt, simply fill out the online order form and join the Aces in the fight against MS.
Flu shots available
For those covered on the Meritain Health Plan: Free Flu Shot Blitz will be offered in the Employee Health Clinic on October 3 from 7:00-11:00 a.m. and October 4 from 2:00-6:00 p.m. Those not insured can still receive the vaccine for $20. Please sign up though AceLink.
Submitted by Ashley Chipps ac375@evansville.edu
Rent to purchase option available at UE Bookstore
Those students who rented books in the UE Bookstore for the fall term still have the option to purchase them if so desired. If you'd to purchase your rental book the UE Bookstore will apply your rental fee to the purchase price of the textbook. This must be done by September 30. If you have any questions please contact the UE Bookstore.
Submitted by Doug Gustwiller dg57@evansville.edu
Crews named MVC Female Cross Country Athlete of the Week
Following a sixth-place finish at the Austin Peay Cross-Country Festival on Saturday, University of Evansville junior Sienna Crews was named the Missouri Valley Conference Female Cross Country Athlete of the Week on Tuesday.

Crews, who has battled her way back from an injury, helped lead the Aces to a second-place team finish with her time of 18:52.8.

The honor is the second of Crews' collegiate career and first since the Lincoln City, Ind. native earned the honor on September 29, 2015.

Crews and the Aces are back in action this weekend as they travel to compete in the Greater Louisville Classic at Tom Sawyer State Park on Saturday in Louisville, Kentucky.
UE Recognized for Affordability and Student Benefits on Several Top College Lists
The University of Evansville has been named to several top college lists, including rankings by Princeton Review, Forbes and Money. These commendations are in addition to those from U.S. News & World Report and Washington Monthly earlier this month.
Forbes magazine named UE to its Top College list again this year and named the University to its Grateful Grads list. The Forbes Top Colleges ranking focuses on direct benefits a college provides students. Student experience is an important criteria and is based on freshman-to-sophomore retention rate and data from Niche, a comprehensive ranking site.
Niche uses survey information from approximately 93,000 current students and recent alumni reviewing over 1,300 colleges to rate schools and give them a letter grade. Overall, Niche named UE a Top Private University, a Best College in America, and a Best College in Indiana. UE was also rated by Niche as a College with Best Academics, Best Professors, and Best Value in America, and as a Most Diverse College and a College with the Best Student Life in America.
This year the Princeton Review listed UE as a Best Midwestern school in its Best Colleges: Region by Region category. Only 158 colleges were on this list of premier colleges. Schools chosen are considered "academically outstanding and well worth consideration." Rankings are based on what students attending the reviewed colleges say about their experiences at their institutions.
UE has been named a 2017/18-Best Colleges by Money. Money used research and advice from the nation's top experts on education quality, financing, and value to create a new and practical analysis of the nation's best-performing colleges. Schools were ranked in quality of education, affordability, and outcomes - including graduate earnings.
College Factual recently listed UE in eight awards categories, including: Best Nationwide Colleges, Best Indiana Colleges, and Best Nationwide Colleges for Your Money, ranking in the top ten percent of more than 1300 colleges and universities. College Factual compares the quality of education at a given college, compared to all others on the list. Factors include student body caliber, educational resources, degree completion, and post-graduation earnings.
Earlier this month, U.S. News and World Report named UE a Best Midwest Value in its annual Best Colleges rankings and as one of the Best Regional Universities: Midwest. Washington Monthly also ranked UE number 7 in the nation among Baccalaureate Colleges and a "Best Bang for the Buck" school.
UE President Thomas A. Kazee said the University was extremely pleased with the accolades from these ranking organizations.
"At UE we are committed to providing students with a high quality education that is affordable. These rankings make one thing crystal clear: UE is a terrific value."
UE Named Number 7 Baccalaureate College in the Nation and a "Best Bang for the Buck" school by Washington Monthly
The University of Evansville is ranked number 7 in the nation among Baccalaureate Colleges on the 2017 Washington Monthly College Rankings. UE was also named a "Best Bang for the Buck" school by the publication.
Social mobility and research are considered in these rankings, along with the university's commitment to service. Also examined were federal data on student outcomes, such as salary earned by graduates, and how quickly graduates are able to pay down the principal on their student loans.
Washington Monthly describes the Best Bang for the Buck list as their "exclusive list of schools that help non-wealthy students attain marketable degrees at affordable prices."
According to UE president Thomas Kazee, the Washington Monthly ranking is particularly meaningful as its criteria directly reflect the mission of the University, especially as it relates to the quality and value of a UE education
"At the University of Evansville, our core purpose is to provide students with an academic experience that is not only of remarkably high quality, but is affordable. This "Best Bank for the Buck" ranking – combined with our recent ranking as the third Best Value in the Midwest by U.S. News and World Report – is a powerful indication of the value of a UE education.
Washington Monthly is a bimonthly magazine based in Washington, D.C., that covers politics, government, culture, and the media. The complete 2017 College Rankings and methodology are available on the organization's website.
Contribute to AceNotes
To have content considered for inclusion in AceNotes, please submit a Marketing Request Form. Deadline for submission to AceNotes is 10:00 a.m. on the requested date of publication. Only articles concerning UE related/sponsored activities will be accepted. Articles submitted to AceNotes may be edited for length and clarity. Submitter contact information is at the end of each article.