| | |
| --- | --- |
| AceNotes Today | Friday, September 15, 2017 |
Professor Valenzuela to officially attempt to break world record for highest stack of tortillas at today's Changefest
The University of Evansville will hold its first ever "ChangeFest" today to support programs that are bringing positive change to the world—Mission Guatemala, Cuba Skate, the upcoming Habitat for Humanity build in Guatemala, and more.
Several events will happen simultaneously on UE's East Terrace Lawn (listed below). The main attraction will be an official attempt to break the Guinness world record for the highest stack of tortillas. All 430+ tortillas used in the attempt were donated by Abraham Brown, owner of the popular and local La Campirana. Professor Mark Valenzuela will use a homemade smokeless stove (similar to the ones UE students will build and install in Guatemalan homes later this year) to fry tortillas before adding them to the stack. The final purple tortilla will be delivered by UE President Tom Kazee in an "epic" fashion. It is estimated to take approximately 30 minutes and 300 tortillas to break the record.
A full list of UE ChangeFest Interactive Stations are as follows:
World-Recording Breaking Tortilla Stacking: Begins at approximately 4:30, see description above
All following events begin at 4:00 p.m.
Make Your Own an Adobe Brick: Create an adobe brick like the ones that will be used to build smokeless stoves for families in Guatamala later this year
Paper Making: Make your own paper from scratch
Race to Hammer a Nail: Who can hammer a nail into a board the fastest in preparation for the Habitat for Humanity build in Guatemala?
Skateboard Making Demonstration: A representative from Killer Skate Park will demonstrate skateboard making as a preview to the project that will happen in Cuba later this year.
Disc Golf—with tortillas! Throw tortillas into disc golf goals and see who can score the most!
Salsa Dancing: Learn salsa dancing from UE's Erin Lewis, owner of Evansville Dancesport Academy.
Making Good Go Viral: This activity will be run by Scott Sherman, an expert on environmental regeneration and the most effective ways to create social progress and innovation. Scott will also be the featured speaker at Saturday's session, Unleashing Creative Potential. This session is FREE AND OPEN TO THE PUBLIC, but seating is limited, so RSVP to creativity@evansville.edu to guarantee your seat! More info here: https://www.evansville.edu/globalenterprise/creativity.cfm.
Changemaker Photo Booth: Students will submit stories about the positive changes they've made on campus and/or in the world as well as the changes they'd like to see happen.
Constitution Day program this afternoon
Professor Karen Hall of Ohio Northern University will be the featured speaker at this year's Constitution Day program. Her talk, "The Constitution and the Rule of Law in America," will take place TODAY at 4:00 p.m. in Smythe Lecture Hall (Schroeder 170). The event is free and open to the public.
Hall is the director of the program for Democratic Governance and the Rule of Law at Pettit College of Law at Ohio Northern University. She has a remarkable resume that includes spending 10 years working for the U.S. State Department, including several years living in the U.S. Embassy in Kabul, Afghanistan, where she managed State Department assistance to the Afghan criminal justice system.
She holds a law degree from Harvard Law, a master's in security studies from Georgetown, and a bachelor's degree in Russian from Brigham Young.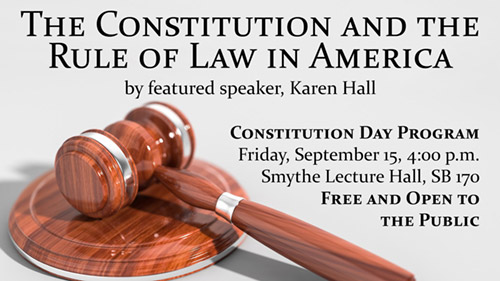 Aces primed for final non-conference weekend
Entering the final weekend of non-conference play, the University of Evansville Women's Soccer team hosts Saint Louis today at 7:00 p.m. before traveling to Murfreesboro, Tennessee, to face Middle Tennessee at 5:00 p.m. on Sunday.
Tonight, the Aces will be supporting a cause close to the program. The Aces are partnering once again with Field of Dreams Uganda, a Missouri-based non-profit organization that uses soccer as an outlet to provide hope and education to the orphaned or otherwise vulnerable children of Uganda. Evansville has joined together with Field of Dreams Uganda over the past few years to help raise awareness and support Field of Dreams Uganda. The Aces took the ultimate step last spring, taking a trip to Uganda to work closely with children, helping with a local school while also leading empowerment workshops and soccer activities.
The Aces are coming off back-to-back non-conference victories for the first time since 2014 as Evansville defeated Miami (Ohio), 1-0, followed by a 2-1 win over Morehead State.
Entering the weekend undefeated, the Billikens are 6-0-1 and received a vote in this week's United Soccer Coaches National Poll following a 1-1 draw with 19th-ranked Kansas. Friday's meeting will be the 13th meeting in series history with the Billikens holding a 6-5-1 edge.
Middle Tennessee hosts the Aces as part of a five-match homestand for the Blue Raiders. Heading into the weekend, MT holds a 1-4 record and is coming off its first win of the year, a 2-0 win over UIC. The Aces and Blue Raiders have met on four previous occasions with MT holding a 3-1 advantage in the series.
Women's Tennis opens season today in Cincinnati
A stellar returning class looks to build upon last year's success as the University of Evansville Women's Tennis team will play at the Greater Cincinnati Invitational in Mason, Ohio. Lindner Family Tennis Center will be the host of the tournament, which will take place today and Saturday.
Leading the returners for the Purple Aces is reigning Missouri Valley Conference Freshman of the Year Diana Tkachenko. In her first season with the Aces, Tkachenko won 33 singles matches, going 33-8 overall with 23 dual wins. She finished her first collegiate season ranked 20th in the Ohio Valley Region.
Tkachenko's record also included a 6-1 mark in MVC play. Twenty-two of her wins came in the second flight.
Andrea Pascual-Larrinaga also had a strong freshman campaign at UE, registering 21 singles triumphs. She won eight singles matches in the fifth flight.
Playing in the top spot last season for Evansville was Chieko Yamada. The native of Japan registered 19 singles triumphs with 14 coming in dual play. All of her wins were at flight 1.
PEACE meeting set for today
There will be a PEACE meeting today - Friday, September 15 - from 4:30-5:30 p.m. in Room 162 (Harkness Hall), Schroeder School of Business Building. Come hear about developments and propose initiatives for PEACE (People Engaged in Action for Compassion for Everyone.)
Submitted by Lisa Kretz lk102@evansville.edu
Security Awareness Week: September 11-15
Security Awareness Week is September 11-15. Activities planned include:
Today - Friday September 15
10:00 a.m.-2:00 p.m. – Ridgway University Center
Equipment and services provided by the Office of Safety and Security
Students can register for FREE prizes*
Student drawing for free prizes is set for today - Friday, September 15 - at 2:00 p.m.
UE coffee mug
UE LED flashlight folding umbrella
UE ball cap
UE tumbler
FREE SkyZone outing planned for today
All UE students are invited to SkyZone today - September 15 - from 7:00-9:00 p.m. Transportation will be provided by the Newman Club and CSE and all costs are free. To sign up, complete the waiver in WebAdvisor. The waiver can be found under Student Activities/Waivers for Student Activities.
For more information, contact Olivia at ov4@evansville.edu.
Submitted by Gabrielle VanBuskirk gv19@evansville.edu
Cardinal Classic on tap for women's golf
Fall play continues for the University of Evansville Women's Golf team as they head to The Players Club in Yorktown, Indiana, for the Cardinal Classic.
Set for Monday and Tuesday, the will feature 36 holes on day one with the final 18 set for day two. Action on Monday starts with an 8:30 a.m. (ET) shotgun while the final round begins at 9:00 a.m. (ET) on Tuesday. Par is set for 72 while the yardage comes in at 6,204.
A crowded field of 19 squads includes: Ball State, Akron, Austin Peay, Bowling Green, Bradley, Central Michigan, Cleveland State, Dayton, Drake, Evansville, Fort Wayne, Indiana State, Indianapolis, Northern Illinois, Northern Kentucky, Southern Illinois, Toledo, Western Illinois, and Western Michigan.
The Purple Aces opened their season two weeks ago in Youngstown, Ohio, at the Roseann Schwartz Invitational. Freshman Sophia Rohleder carded a 77 in the final round finish in 19th place at Mill Creek Park Golf Course.
After an opening-round tally of 82, the Evansville product improved by five strokes to finish with a 159 for the event, taking 19th place.
Fellow newcomer Minka Gill saw her score jump by eight strokes on Tuesday. Gill notched an 86 in the first round of action, but fired off a 78 in the final round to tie for 34th with a 164. Giulia Mallmann matched that total with identical rounds of 82.
Next up was Maria Pickens. She also saw an improvement in day two. Pickens followed up Monday's 86 with a score of 82. Her total of 168 tied her for 43rd. Lexie Sollman was next up with a 171.
Madison Chaney came home in a tie for 43rd as an individual with her rounds finishing at 83 and 85. Carly Waggoner was tied with Sollman for 49th with a 171. Waggoner shot an 84 on Tuesday.
University Worship in Neu Chapel
The campus community is invited to University Worship in Neu Chapel this Sunday at 11:00 a.m. We will hear the story of God parting the Red Sea for the Israelite people after they left Egypt. Come and here this amazing story and share together with others God's provision in our lives today! All are welcome! Hope to see you there!
Submitted by Keith Turner kt160@evansville.edu
Employees - UE Gives Back On Campus
UE Gives Back on Campus will take place Friday, October 27 (rain date: Monday, October 30).
Please consider volunteering to help make our beautiful campus even better. Last year's successful event, volunteers helped paint parking lots, did work in UE's community gardens, and helped clean up in the Native Plant Garden. Stay tuned for more information about this great event! This event is intended for employees only.
STEM Career Day
Employers are seeking you for careers in STEM (science, technology, engineering, and math) fields! A STEM Career Day is planned for Tuesday, September 19 from 11:00 a.m.-2:00 p.m. in Eykamp Hall, Ridgway University Center. View registered employers and valuable information using our new app, Career Fair Plus. Just search for Career Fair Plus in the App Store or Google Play Store.
Submitted by Alison Morris-McDonald am268@evansville.edu
LCMS U now at UE!
LCMS U is now at UE! LCMS U is the national campus outreach of the Lutheran Church-Missouri Synod. Join other students for our first Bible study TODAY - Monday, September 18 - from 7:00-8:00 p.m. in Room 173, in the Schroeder School of Business Building.
Submitted by Emma Simonson es182@evansville.edu
Stewardship and healthcare lecture
Dr. Jeffrey Balser will be speaking on "Issues of Stewardship and Conscience in Healthcare" at Trinity United Methodist Church on Sunday, October 15, at 2:00 p.m. Balser will be focusing on stewardship of healthcare in the United States from various perspectives, highlighting liturgical, economic, political and clinical elements. The entire UE community is invited to attend this lecture, especially those students pursuing majors in the fields of health care and religion.
Balser, a native of Evansville, earned his M.D. and PhD. From Vanderbilt University, and his Bachelor of Science degree in engineering from Tulane University. He is president and CEO of Vanderbilt University Medical Center and dean of Vanderbilt University School of Medicine.
Trinity United Methodist Church is located at 216 SE Third Street (corner of Walnut and Third Streets) in Evansville. For more information, contact Kathy Bartelt at kb4@evansville.edu or 812-853-6136.
Submitted by Kathy Bartelt kb4@evansville.edu
Sign up for Brain Olympics now!
AXONs will present Brain Olympics - a fun way to test your skills – on September 22! Sign up in teams of two to five-people. Families, friends, and organizations are all encouraged to participate. If you don't have a team, one may be assigned to you. Sign up to participate in the Koch Center for Engineering and Science from noon-2:00 p.m. and in Ridgway University Center from 5:00-7:00 p.m. today
Submitted by Maegen Kincanon mk266@evansville.edu
Homecoming 2017 Reunion Weekend set for Oct. 13-15
The University of Evansville Homecoming 2017 Reunion Weekend is October 13-15. Special events are planned for parents and alumni, many of which will be open to the public.
Dr. Guy Banta Distinguished Lecture Series – Speaker Zach Cheviron '00, Environmental and Wildlife Biology
Friday, October 13, 3:00 p.m. Vectren Lecture Hall, Room 100, Koch Center for Engineering and Science.
Reunion Celebrations
Anniversaries to be celebrated at homecoming include the 50th anniversary of the Class of 1967, 65th anniversary of Phi Mu sorority, 60th anniversary of Sigma Alpha Epsilon fraternity, and the 60th anniversary of the Tau Kappa Epsilon fraternity.
Homecoming Tailgate
Saturday, October 14, 2:00-5:00 p.m., H-Lot, South Frederick Street
Food, games, live music, and fun. Open to public.
The Ace Race
Saturday, October 14, 9:00 a.m., UE campus. Open to public.
This 5K run benefits Ace CARE, UE's pro bono physical therapy clinic run by doctor of physical therapy and physical therapy assistant students for the uninsured, underinsured, and homeless. Participation fee for the public is $25 before October 1 or $30 after October 1. Those registering before October 1 will receive a long sleeve T-shirt. To register, go to www.uealumnionline.com/acerace2017.
UE Women's Soccer versus Drake
Saturday, October 14, 2:00 p.m., Arad McCutchan Stadium. Open to public.
UE Men's Soccer versus Loyola (followed by fireworks display)
Saturday, October 14, 5:00 p.m., Arad McCutchan Stadium. Open to public.
For the full schedule of events or more information, visit www.evansville.edu/alumni or contact alumni@evansville.edu or 812-488-2586.
Register now to participate in Homecoming's Ace Race
The Ace Race, a 5K run benefiting Ace CARE, UE's pro bono physical therapy clinic, is planned for Saturday, October 14, 9:00 a.m., on campus. This event is part of UE's Homecoming. The participation fee for students is $15. The fee for the general public is $25 before October 1 or $30 after October 1. Those registering before October 1 will receive a long sleeve T-shirt. To register, go to www.uealumnionline.com/acerace2017.
For more information, contact Michaela Bortle at mb315@evansville.edu.
Volunteer Fair is September 21!
Join us for the Volunteer Fair on Thursday, September 21, from 10:00 a.m.-1:00 p.m., in Eykamp Hall, Ridgway University Center. Make connections with nonprofits and agencies from across the Evansville community and find out where you can make an impact. This is a perfect opportunity to make connections for any required hours or on behalf of your student organization. All students, faculty, and staff are welcome to attend.
Submitted by Jackie Luedtke jl295@evansville.edu
Join us for UE's first ever ChangeFest!
Come on out to support two of our Changemaker and GAP Programs - Mission Guatemala and Cuba Skate - and the upcoming Habitat for Humanity build in Guatemala. Stop by to see how you can get involved with one of these programs, or just come to have a good time. Join us for games and activities, salsa dance lessons, and an official attempt by Professor Mark Valenzuela to break the world record for the largest ever stack of tortillas!
ChangeFest will be happening on Friday, September 15 from 4:00-6:00 p.m. outside of Ridgway University Center. We hope to see you there!
Submitted by Greta Becker gb91@evansville.edu
Creativity Workshop on Saturday, September 16
Scott Sherman, co-founder of the Transformative Action Institute and internationally-renowned speaker on creativity and social innovation, returns to UE to present a FREE creativity workshop on Saturday, September 16. The morning session, Unleashing Your Creativity (10:00 a.m.-noon), is open to everyone on and off campus and will feature fun and interactive exercises that will teach you how to get your creative juices flowing. The afternoon session, Incorporating Creativity into the Classroom (1:30-5:00 p.m.), is targeted toward teachers, faculty, staff, and administrators at all levels of education. This session will center on the nuts and bolts of what you can do to increase creativity in the classroom. Seating is limited. E-mail Erin Lewis by September 11 at creativity@evansville.edu to reserve your spot today for the morning session, afternoon session, or both.
Submitted by Cindy Kelley ck116@evansville.edu
UE Webelos Engineering Day Set for October 28
The University of Evansville's College of Engineering and Computer Science 2017 Webelos Engineering Pin Day is planned for Saturday, October 28, in the Koch Center for Engineering and Science. Registration will begin at 7:30 a.m. The event will be from 8:00-11:15 a.m.
Activities include a workshop with activity stations that will provide some of the experience required for a Webelos Scout to qualify for an engineering pin. Participants will be divided into four groups. Each group will have at least one host who will guide them through the station rotation. The participation fee is $6 per Webelos Scout, with registration limited to 200 scouts. Registrations will be taken until the event is full or until October 19, whichever comes first.
For further information, contact Kimberly Higgins, assistant to the dean, UE College of Engineering and Computer Science, at kh209@evansville.edu or 812-488-2651.
Submitted by Kimberly Higgins kh209@evansville.edu
UExplore engineering program
The University of Evansville College of Engineering and Computer Science is offering a UExplore engineering program for high school students. The program is designed to give participants a better understanding of the fields of civil, mechanical, electrical, and computer engineering and computer science through activities, hands-on projects, and tours of local industry.
The sessions in the program are October 16, November 6, November 27, January 22, February 19, March 12, April 2, and April 23. All sessions will be from 6:00-7:00 p.m. in Room 100 in the Koch Center for Engineering and Science on UE's campus.
James Allen, UE associate professor of mechanical and civil engineering, is the advisor for the program. A registered professional engineer in the states of Indiana and Ohio, Allen has extensive work experience in industry. Allen will be assisted with the program by UE engineering students.
The registration fee for the program is $50. Register online at www.evansville.edu/uexploreengineering or contact Kimberly Higgins for more information at 812-488-2661 or kh209@evansville.edu.
Submitted by Kimberly Higgins kh209@evansville.edu
Rent to purchase option available at UE Bookstore
Those students who rented books in the UE Bookstore for the fall term still have the option to purchase them if so desired. If you'd to purchase your rental book the UE Bookstore will apply your rental fee to the purchase price of the textbook. This must be done by September 30. If you have any questions please contact the UE Bookstore.
Submitted by Doug Gustwiller dg57@evansville.edu
Lambda Chi Alpha's Watermelon Bust is Friday
The date of the Lambda Chi Alpha's Annual Watermelon Bust Philanthropy is being moved from this Friday, September 15 to Friday, September 22. They apologize for this inconvenience and hope to see everyone next Friday. Sign-ups will continue all next week, so please come by their table in Ridgway University Center.
Submitted by Samuel Wells sw247@evansville.edu
Now recruiting: Harlaxton Ambassadors
Are you a recent Harlaxton alumni who loves to share your experience with others? Or do you know a student who fits that description? The study abroad office is currently taking applications on its website for students who want to volunteer as Harlaxton Ambassadors to recruit, inform, and encourage Harlaxton applicants from partner schools.
As official representatives of Harlaxton, ambassadors will gain skills in recruitment, marketing, international education, and cross-cultural communication as well as the chance to share their experience and receive exclusive Harlaxton apparel. The time commitment is only around one to two hours per week, but the service you will provide Harlaxton and these new applicants will be invaluable.
To see more of the position description and apply, go here: https://studyabroad.evansville.edu/index.cfm?FuseAction=Programs.ViewProgram&Program_ID=11522.
Contact Kaylynn Carver at 812-488-2039 or kc205@evansville.edu with any questions.
Submitted by Kaylynn Carver kc205@evansville.edu
UE swim team offering swim lessons
The UE swim team is offering swim lessons two times a week for four weeks. One session is four weeks long and each session is $85
Session 1: Week of September 11-week of October 7
Session 2: Week of October 16-week of November 6
Please contact Emma Forbes-Milne at ef112@evansville.edu or ext. 1028 for more information.
Submitted by Emma Forbes-Milne ef112@evansville.edu
Environmental Sustainability Task Force asks for revisions
Dear UE Community,
The UE Environmental Sustainability Task Force would like to share the draft of the Executive Summary Task Force Report, as well as relevant appendices, for campus feedback.
The documents may be viewed on AceLink here and all comments are welcome.
Please either give a verbal description in an e-mail with page numbers included as a reference, or download the document(s), highlight the changes you suggest, and send them to lk102@evansville.edu. Please use "Suggested Revisions to Task Force Recommendations" as the title in your e-mail.
Recommendations will be accepted at this address until Tuesday, September 19 at 5:00 p.m.
We very much look forward to your important input.
Warmest Regards,
The Environmental Sustainability Task Force
Interested in traveling to Mexico this summer?
Are you interested in traveling to Mexico this summer? Join our interest meeting on September 21 at 4:00 p.m. in Graves Hall 302 (or come to the Study Abroad Fair to learn more)!
Spend 10 days in Mexico learning about that country's school systems by visiting local schools and visiting the University of the Yucatan in Mérida, Mexico. Furthermore, have the opportunity to step out of the classroom and put your Spanish speaking skills to the test by immersing yourself in the rich Mayan and colonial Mexican heritage in the vibrant capital of the Mexican state Yucatán, Mérida. Also, see firsthand the beauty that the vast history of the Yucatecan Peninsula has to offer by visiting local museums, swimming in the crystal clear waters of the Gulf of Mexico, hiking through ancient Mayan ruins, or exploring some of the world's most pristine cave systems!
Apply here: https://www.evansville.edu/studyabroad/facultyLed.cfm.
Interested? Contact George Iber about the exciting itinerary he is planning!
Questions? Contact Amara Stuehling at as760@evansville.edu about how to apply.
Submitted by Amara Stuehling as760@evansville.edu
Free HIV screening
Matthew 25 AIDS service will be on site at the Health Center on Tuesday, September 19 from 9:00 a.m.-noon, to provide free HIV screenings. The testing is completely confidential with results in 20 minutes. Matthew 25 will be on site the third Tuesday of each month including September 19, October 17, November 21 and December 19. Call the Health Center at 812-488-2033 to schedule your confidential appointment today.
Submitted by Ashley Craig ac408@evansville.edu
Updates regarding dining on campus - FAQ
How many Ace Bucks do I have?
You can now check your balance on-line! Login and registration can be found at: https://evansville.campuscardcenter.com/ch/login.html
You will see a number of accounts:
If you have a meal plan, that will display first along with the remaining Ace Bucks for that plan. Ace Bucks purchases will be taken from this account first.
Additional accounts will also be displayed:
Guest meal balances
Carry out records
Student Ace Bucks (i.e. $50 from the Student Services Fee)
Bonus Ace Bucks (i.e. promotional Ace Bucks for selecting certain plans / packages)
To set up a new account or get help accessing an existing account you will be sent to a new screen.
The flex dollars number is your UE ID Number.
Ace Bucks are referred to as Flex Dollars.
I'm looking for that extra $50 in Ace Bucks for paying the Student Services Fee – where is that?
These are called Student Ace Bucks and can be viewed online as described above.
Ace Bucks purchases are deducted from the meal plan allocation first.
Your balance at the register only reflects your meal plan allocation of Ace Bucks until this is used up.
Once your meal plan allocation is spent, the Student Ace Bucks allocation will kick in and you will see an additional $50 on your balance at the register.
So what about the bonus Ace Bucks for purchasing the Prime, Purple, or Ace Buck Packages?
Bonus Ace Bucks for Prime, Purple, or Ace Buck Packages should be reflected on your account.
Chartwells had to wait until after the meal change period was over to award these Bonus Ace Bucks.
Bonuses for Prime and Purple were added the morning of September 7.
Bonus Bucks from Ace Bucks purchases are added at time of purchase.
You can view your Bonus Ace Bucks balance online as described above.
I heard there was going to be a microwave available in Ridgway University Center – where is that?
There is now a microwave near the left service entrance of Rademacher's Café.
Please feel free to heat your items there.
Where can I find items that are gluten free?
There is a new Avoiding Gluten Area featuring Items that have been prepared without gluten containing ingredients. Check out this area for avoiding gluten waffles, breads, cereals, and a toaster reserved for avoiding gluten items. There are also other avoiding offerings throughout Café Court, but this area will always feature these items!
Important info on labeling of avoiding gluten items from Chartwells:
To identify menu items that have been prepared without gluten containing ingredients, look for item labels or ask to speak with the chef or manager. Please note that our menu items are not gluten free because we prepare and handle products containing gluten in our kitchens.
We make every effort to label menu options that were prepared without gluten ingredients. However, due to our open kitchens that handle gluten for the preparation of other menu items, we cannot guarantee that items made without gluten ingredients are "gluten-free," as defined by FDA. While we make every effort to avoid gluten cross-contact, there is always the potential for cross-contact with other gluten containing food items, particularly in our self-serve areas. We encourage guests to speak to the chef or manager regarding any questions about the ingredients contained in the food being considered.
Submitted by Michael Tessier mt28@evansville.edu
Register for GLACURH regional leadership conference
GLACURH (Great Lakes Affiliate of College and University Residence Halls) 2017 is November 17-19 at the University of Wisconsin La Crosse. GLACURH is a leadership conference with over 50 member schools from Indiana, Illinois, Michigan, Wisconsin, and Ontario. Delegates selected to attend will have the opportunity to present and attend seminars, network with peers, and learn about themselves and others FOR FREE.
The application can be found at: https://goo.gl/forms/9nBviy2yqINJglea2
For more information, contact Josh Baty at jb621@evansville.edu.
Submitted by Josh Baty jb621@evansville.edu
Sign up your country for the International Bazaar!
The International Bazaar is November 17, but it's already time to figure out who will lead booths and cooking and start getting organized! If you missed our call-out meeting, check out our slideshow for more information. Come to the international office on the second floor of Ridgway University Center to sign up as a booth leader, food leader, entertainment/performance, or volunteer!
Submitted by Megan Sicard ms331@evansville.edu
UE receives $113,000 grant for teacher recruitment & retention
The University of Evansville has received a $113,551 grant from the Indiana Commission for Higher Education to support programs that recruit teachers in high-need subjects and schools.
"These grants are enhancing our efforts to prepare the next generation of Hoosiers for the jobs of tomorrow," said Indiana Commissioner for Higher Education Teresa Lubbers. "Rewarding and scaling effective programs throughout the state will help attract and retain STEM teachers who will make a difference in high-need areas."
The University of Evansville School of Education has identified recruitment and retention of teachers as a priority and has already implemented new initiatives addressing these areas through the Teaching Aces Program. This STEM grant will allow the School of Education to expand the Teaching Aces program and license additional teachers in the math and science fields for public schools in Indiana. This grant will also offset the costs of teacher preparation for Transition to Teaching students through full tuition scholarships.
Additionally, the grant will enable UE to train current, licensed elementary education teachers and undergraduate elementary education majors at the University of Evansville and enhance their knowledge of STEM education areas leading to more effective instruction in the elementary school classroom.
Finally, this grant will provide funds to develop a formal orientation program for new Transition to Teaching students in the math and science fields as well as a mentoring program for math and science Transition to Teaching students and recent graduates.
"These funds will allow us to positively impact our entire region," said Sharon Gieselmann, associate professor and chair of UE's School of Education. "By increasing the quantity and preparedness of our teachers, we're able to directly impact the quality of education offered in our schools."
Adeline Payne has career night at Aces face Ball State
Freshman Adeline Payne set her career-high with eight kills as the University of Evansville Volleyball team opened the weekend with a 3-0 loss at Ball State on Thursday evening.
Payne notched her eight kills in 26 attempts. After notching just four kills in her first seven collegiate matches, Payne has hit her stride, finishing with a total of 13 in the last two matches. Rachel Tam matched Payne's team-high in kills with eight. Allana McInnis posted a team-best 19 kills while Cassie Brooks checked in with 11 digs for the Purple Aces (6-4). Meg Starling paced the Cardinals (7-4) with nine kills.
"Ball State came in ready to take command of the match early on and we were not able to get into a rhythm," UE head coach Manolo Concepcion said. "I give them a lot of credit for dominating the serve and pass battle. We already knew about the high quality of the opponents this weekend, but we need to be more systematic tomorrow."
Ball State had the early advantage as they opened the night with a 25-15 win. The Cardinals started the opening frame by taking a 4-1 lead before the Aces stormed back to tie it up at 7-7 as kills by Rachel Tam and Cathy Schreiber got UE back on track. BSU regained control, scoring four in a row on their way to the set victory.
Another early spurt saw Ball State take a 6-2 advantage in game two. Just as they did in the opening set, Evansville rallied back, this time tying the score at 10-10. An Allana McInnis service ace, coupled with a Tam kill, tied the score. UE's defense then took over, forcing consecutive BSU errors to take its first lead of the night at 13-12.
BSU had the answer once again. Up 16-15, the Cardinals reeled off four in a row and were able to extend their lead to 25-18 to open up a 2-0 lead.
It was the Aces who had the upper hand to begin the third game as they scored six of the first seven points to go up 6-1. Rocio Fortuny had a kill and also teamed up with Joselyn Coronel for the block. The Cardinals responded with an 11-2 rally as they took a 12-8 edge before finishing the match with a 25-14 victory.
The Aces remain in Muncie today where they will face Butler at 5:00 p.m. ET.
Lisa Kretz and Matt Knoester have article published
UE assistant professor of philosophy Lisa Kretz and former UE professor Matt Knoester recently published "Why do young adults vote at low rates? Implications for education" in the journal Social Studies Research and Practice.
Ebeling presents at conference in Mainz
Associate professor of archaeology Jennie Ebeling is in Mainz, Germany, for the second Association for Ground Stone Tools Research. She will be presenting a paper on rotary querns in the Levant based in part on her research while a Global Scholar in 2010. In addition, Ebeling is chairing an academic session and is a member of the association's international scientific committee.
Ed Lacy named Jazz Musician of the Year
UE professor emeritus Ed Lacy has been chosen as the Kenny Kent Lexus Jazz Musician of the Year! He will be presented with an award onstage on Saturday, September 16 at Lexus Jazz & Wine Festival in downtown Evansville! Plan on attending to show your support for Ed Lacy, one of UE's own, at the 10th Annual Jazz Music Fest.
If you have any questions, contact James Sullivan at js820@evansville.edu
Contribute to AceNotes
To have content considered for inclusion in AceNotes, please submit a Marketing Request Form. Deadline for submission to AceNotes is 10:00 a.m. on the requested date of publication. Only articles concerning UE related/sponsored activities will be accepted. Articles submitted to AceNotes may be edited for length and clarity. Submitter contact information is at the end of each article.