| | |
| --- | --- |
| AceNotes Today | Thursday, September 14, 2017 |
Admission Purple Visit Day- Friday
The Office of Admission is excited to welcome approximately 65 families this Friday, September 15, for the UE Purple Visit Day. While on campus, the visitors will have the opportunity to explore their area of interest, sit in on a class, take a tour of the University, meet with many other campus representatives, and enjoy lunch on campus.
Please note, the visiting families will be eating in Café Court from noon-1:00 p.m., so there will be increased traffic in the café during this time period.
Please offer our visitors a warm UE welcome!
Free coffee with career development today
Come for free coffee and an informal career chat with alumni and friends of the University. Learn about their journey to their current job and the skills needed for career success. This week's focus - careers in non-profits. The informal gathering is planned for today - Thursday, September 14 - 4:00-5:00 p.m. in the Phillips Study Alcove (opposite of WUEV in Ridgway University Center)
Submitted by Alison Morris-McDonald am268@evansville.edu
Security Awareness Week: September 11-15
Security Awareness Week is September 11-15. Activities planned include:
Today - Friday September 15
10:00 a.m.-2:00 p.m. – Ridgway University Center
Equipment and services provided by the Office of Safety and Security
Students can register for FREE prizes*
Student drawing for free prizes is set for today - Friday, September 15 - at 2:00 p.m.
UE coffee mug
UE LED flashlight folding umbrella
UE ball cap
UE tumbler
Art exhibit to feature work of fiber artists
The work of six fiber artists will be featured in an exhibit at the University of Evansville in September and October. The exhibit titled "Fibervisions" will be on display in UE's Melvin Peterson Gallery from September 11-October 22. There will be a reception for the artists on Thursday, September 14 at 6:30 p.m. Both the exhibit and reception are free and open to the public.
The artists whose work will be on display are Martha Aguilera, Erin Bowen, Teresa Greer, Karen Hampton, Dawn Murtaugh, and Laura Foster Nicholson.
The exhibit is supported in part by the UE Friends of Art.
For more information, please call the UE Department of Art at 812-488-2043.
Boston Marathon bombing police commissioner to speak at Snyder Lecture
Former Boston Police commissioner Ed Davis – who was at the forefront of the emergency response to the 2013 Boston Marathon bombing and the arrests that followed – will be the speaker for the upcoming University of Evansville's Patricia Snyder Lecture. The lecture is Thursday, October 12 at 7:00 p.m., in Eykamp Hall, Ridgway University Center. Doors open at 6:30 p.m.
The event is free and open to the public but registration is required. The registration form can be found online at www.evansville.edu/EdDavis.
The topic of Davis's lecture will be "Policing in America: The Changing Landscape of Our Cities & Law Enforcement's Role in Protecting Our Communities."
Davis's experience during the Boston Marathon bombings was depicted in the feature film, Patriots Day, starring John Goodman as Commissioner Davis, which was released in January 2017.
Davis is currently president and CEO of the business strategy and security agency, Edward Davis LLC. He has built a stellar reputation on his experience in interagency collaboration and law enforcement on local, state, national, and international levels. His insight in cyber security and anti-terrorism, as well as his expert knowledge in crisis management and strategic planning translates across industries. Davis's unique approaches to terrorism, cyber security, and policing have been adopted both nationally and internationally in Singapore, London, Northern Ireland, Jordan, and Israel.
The Patricia H. Snyder Concert and Lecture Series was made possible in 1997 through an endowment from the late Patricia H. Snyder, trustee and longtime friend of University, to bring speakers or performers of renown to Evansville at no cost to the public.
If you have any questions, please e-mail snyder@evansville.edu
Constitution Day program this afternoon
Professor Karen Hall of Ohio Northern University will be the featured speaker at this year's Constitution Day program. Her talk, "The Constitution and the Rule of Law in America," will take place TODAY at 4:00 p.m. in Smythe Lecture Hall (Schroeder 170). The event is free and open to the public.
Hall is the director of the program for Democratic Governance and the Rule of Law at Pettit College of Law at Ohio Northern University. She has a remarkable resume that includes spending 10 years working for the U.S. State Department, including several years living in the U.S. Embassy in Kabul, Afghanistan, where she managed State Department assistance to the Afghan criminal justice system.
She holds a law degree from Harvard Law, a master's in security studies from Georgetown, and a bachelor's degree in Russian from Brigham Young.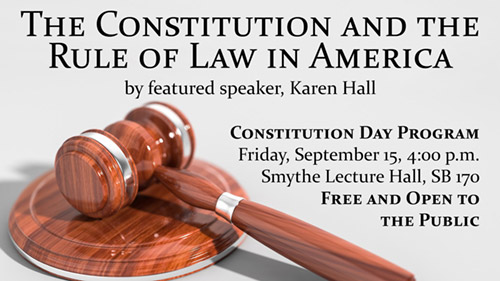 Employees - UE Gives Back On Campus
UE Gives Back on Campus will take place Friday, October 27 (rain date: Monday, October 30).
Please consider volunteering to help make our beautiful campus even better. Last year's successful event, volunteers helped paint parking lots, did work in UE's community gardens, and helped clean up in the Native Plant Garden. Stay tuned for more information about this great event! This event is intended for employees only.
Professor Valenzuela to officially attempt to break world record for highest stack of tortillas at today's Changefest
The University of Evansville will hold its first ever "ChangeFest" today to support programs that are bringing positive change to the world—Mission Guatemala, Cuba Skate, the upcoming Habitat for Humanity build in Guatemala, and more.
Several events will happen simultaneously on UE's East Terrace Lawn (listed below). The main attraction will be an official attempt to break the Guinness world record for the highest stack of tortillas. All 430+ tortillas used in the attempt were donated by Abraham Brown, owner of the popular and local La Campirana. Professor Mark Valenzuela will use a homemade smokeless stove (similar to the ones UE students will build and install in Guatemalan homes later this year) to fry tortillas before adding them to the stack. The final purple tortilla will be delivered by UE President Tom Kazee in an "epic" fashion. It is estimated to take approximately 30 minutes and 300 tortillas to break the record.
A full list of UE ChangeFest Interactive Stations are as follows:
World-Recording Breaking Tortilla Stacking: Begins at approximately 4:30, see description above
All following events begin at 4:00 p.m.
Make Your Own an Adobe Brick: Create an adobe brick like the ones that will be used to build smokeless stoves for families in Guatamala later this year
Paper Making: Make your own paper from scratch
Race to Hammer a Nail: Who can hammer a nail into a board the fastest in preparation for the Habitat for Humanity build in Guatemala?
Skateboard Making Demonstration: A representative from Killer Skate Park will demonstrate skateboard making as a preview to the project that will happen in Cuba later this year.
Disc Golf—with tortillas! Throw tortillas into disc golf goals and see who can score the most!
Salsa Dancing: Learn salsa dancing from UE's Erin Lewis, owner of Evansville Dancesport Academy.
Making Good Go Viral: This activity will be run by Scott Sherman, an expert on environmental regeneration and the most effective ways to create social progress and innovation. Scott will also be the featured speaker at Saturday's session, Unleashing Creative Potential. This session is FREE AND OPEN TO THE PUBLIC, but seating is limited, so RSVP to creativity@evansville.edu to guarantee your seat! More info here: https://www.evansville.edu/globalenterprise/creativity.cfm.
Changemaker Photo Booth: Students will submit stories about the positive changes they've made on campus and/or in the world as well as the changes they'd like to see happen.
Volleyball ready for final non-conference weekend
Non-conference play comes to a close this weekend as the University of Evansville Volleyball team is set to take on Ball State, Butler, and Duquesne over the next three days. UE faces the Cardinals on Thursday in Muncie before squaring off against the Bulldogs Friday. Evansville takes on Duquesne Saturday in Indianapolis.
As the Purple Aces opened up their home schedule over the weekend, Allana McInnis continued her strong contributions as the setter for UE. In three matches, she posted a total of 89 assists, 7.42 per set. She also contributed a total of 16 digs, seven kills and four block assists. She started off with 20 assists versus Indiana University before tallying 47 helpers and four kills versus UAB. That assist total was one short of her career high. In the weekend finale, she had 22 assists against UT Martin. She was named to the All-Tournament Team for the Dunn Hospitality Invitational. She is sixth in the MVC with 8.33 assists per set.
Rachel Tam has evolved as an offensive force for the Purple Aces and had one of the best weekends of her sophomore career at the Dunn Hospitality Invitational. She started off with 10 kills and eight digs against a strong Hoosier team. Against UAB, she had the best match of her career, setting career marks with 22 kills and 54 attempts. In the weekend finale, she recorded 10 kills and 11 digs. Averaging 3.30 kills per set, Tam ranks seventh in the conference.
Cathy Schreiber is second on the squad with 2.51 kills/set. She has finished with at least eight kills in eight of the nine matches this season. She upped her average to 2.92 per game in the Dunn Hospitality Invitational. In the season-opening tournament at Western Illinois, Schreiber was the MVP.
Ball State enters the weekend with a 6-4 mark as they have played a tough schedule thus far. Despite being 1-3 in their last four matches, the Cardinals have played tough competition, forcing four sets against #25 Colorado State and #16 Michigan. They also have wins against two MVC programs in Indiana State and Bradley. Brooklyn Goodsel leads BSU with 3.06 kills.
Friday's match will see the Aces face Butler in Muncie. The Bulldogs enter the weekend with a 7-2 record with wins coming last week against Kent State and the College of Charleston. Whitney Beck is an offensive force for Butler, checking in with a total of 134 kills on the season, an average of 4.06 per game.
The final match of the weekend will see Evansville take on Duquesne on Butler's campus. The Dukes stand at 4-7 on the year and took part in the Nike Classic in Eugene, Oregon last week, facing Wichita State, Cal Poly and Oregon. Their top offensive force is Maria Mosbacher with 3.62 kills/frame.
STEM Career Day
Employers are seeking you for careers in STEM (science, technology, engineering, and math) fields! A STEM Career Day is planned for Tuesday, September 19 from 11:00 a.m.-2:00 p.m. in Eykamp Hall, Ridgway University Center. View registered employers and valuable information using our new app, Career Fair Plus. Just search for Career Fair Plus in the App Store or Google Play Store.
Submitted by Alison Morris-McDonald am268@evansville.edu
LCMS U now at UE!
LCMS U is now at UE! LCMS U is the national campus outreach of the Lutheran Church-Missouri Synod. Join other students for our first Bible study TODAY - Monday, September 18 - from 7:00-8:00 p.m. in Room 173, in the Schroeder School of Business Building.
Submitted by Emma Simonson es182@evansville.edu
PEACE meeting set for today
There will be a PEACE meeting today - Friday, September 15 - from 4:30-5:30 p.m. in Room 162 (Harkness Hall), Schroeder School of Business Building. Come hear about developments and propose initiatives for PEACE (People Engaged in Action for Compassion for Everyone.)
Submitted by Lisa Kretz lk102@evansville.edu
Venturing Crew canoe trip
The Venturing Crew is going on a canoe trip to the Bluegrass Fish and Wildlife area on Sunday, September 17. The event is free with games, food, canoes, and kayaks. You must be a member to come on this trip. Sign-up tables will be set up this week in Ridgway University Center on Wednesday (September 13) and Thursday (September 14) from 11:00 a.m.-1:00 p.m. and 5:00-7:00 p.m.
Submitted by Sydney Winstead sw228@evansville.edu
Former death row inmate Anthony Hinton to speak Oct. 30 – all welcome

The 2017 University of Evansville Honors Program incoming class has read the book Just Mercy: A Story of Justice and Redemption, written by attorney Bryan Stevenson. The social justice themes brought forth in the book will be examined throughout the year and will include a presentation by community educator Anthony Ray Hinton, set for Monday evening (time TBD), October 30 in Eykamp Hall, Ridgway University Center. The campus community and public are welcome to this free event.
Hinton was falsely accused of committing two murders outside of Birmingham, Alabama, in 1985. He was wrongly convicted and spent nearly 30 years on Alabama's death row before he was exonerated and freed in April 2015. A deeply compelling speaker, he has become a powerful advocate against the death penalty and speaks nationally about the urgent need for criminal justice reform.
Several copies of the book, Just Mercy, are on reserve in the UE library and all are welcome to read it in preparation for Hinton's visit.
Just Mercy is a powerful true story about the potential for mercy to redeem us, and a clarion call to fix our broken system of justice—from one of the most brilliant and influential lawyers of our time.
Stevenson was a young lawyer when he founded the Equal Justice Initiative, a legal practice dedicated to defending those most desperate and in need: the poor, the wrongly condemned, and women and children trapped in the farthest reaches of our criminal justice system. One of his first cases was that of Walter McMillian, a young man who was sentenced to die for a notorious murder he insisted he didn't commit. The case drew Stevenson into a tangle of conspiracy, political machinations, and legal brinksmanship—and transformed his understanding of mercy and justice forever.
Just Mercy is at once an unforgettable account of an idealistic, gifted young lawyer's coming of age, a moving window into the lives of those he has defended, and an inspiring argument for compassion in the pursuit of justice.
Please read Just Mercy and plan to join us on Monday, October 30.
Submitted by Cherie Leonhardt CL29@evansville.edu
Sign up for Brain Olympics now!
AXONs will present Brain Olympics - a fun way to test your skills – on September 22! Sign up in teams of two to five-people. Families, friends, and organizations are all encouraged to participate. If you don't have a team, one may be assigned to you. Sign up to participate in the Koch Center for Engineering and Science from noon-2:00 p.m. and in Ridgway University Center from 5:00-7:00 p.m. today
Submitted by Maegen Kincanon mk266@evansville.edu
Join us for UE's first ever ChangeFest!
Come on out to support two of our Changemaker and GAP Programs - Mission Guatemala and Cuba Skate - and the upcoming Habitat for Humanity build in Guatemala. Stop by to see how you can get involved with one of these programs, or just come to have a good time. Join us for games and activities, salsa dance lessons, and an official attempt by Professor Mark Valenzuela to break the world record for the largest ever stack of tortillas!
ChangeFest will be happening on Friday, September 15 from 4:00-6:00 p.m. outside of Ridgway University Center. We hope to see you there!
Submitted by Greta Becker gb91@evansville.edu
Lambda Chi Alpha's Watermelon Bust is Friday
The date of the Lambda Chi Alpha's Annual Watermelon Bust Philanthropy is being moved from this Friday, September 15 to Friday, September 22. They apologize for this inconvenience and hope to see everyone next Friday. Sign-ups will continue all next week, so please come by their table in Ridgway University Center.
Submitted by Samuel Wells sw247@evansville.edu
Rent to purchase option available at UE Bookstore
Those students who rented books in the UE Bookstore for the fall term still have the option to purchase them if so desired. If you'd to purchase your rental book the UE Bookstore will apply your rental fee to the purchase price of the textbook. This must be done by September 30. If you have any questions please contact the UE Bookstore.
Submitted by Doug Gustwiller dg57@evansville.edu
Now recruiting: Harlaxton Ambassadors
Are you a recent Harlaxton alumni who loves to share your experience with others? Or do you know a student who fits that description? The study abroad office is currently taking applications on its website for students who want to volunteer as Harlaxton Ambassadors to recruit, inform, and encourage Harlaxton applicants from partner schools.
As official representatives of Harlaxton, ambassadors will gain skills in recruitment, marketing, international education, and cross-cultural communication as well as the chance to share their experience and receive exclusive Harlaxton apparel. The time commitment is only around one to two hours per week, but the service you will provide Harlaxton and these new applicants will be invaluable.
To see more of the position description and apply, go here: https://studyabroad.evansville.edu/index.cfm?FuseAction=Programs.ViewProgram&Program_ID=11522.
Contact Kaylynn Carver at 812-488-2039 or kc205@evansville.edu with any questions.
Submitted by Kaylynn Carver kc205@evansville.edu
UE swim team offering swim lessons
The UE swim team is offering swim lessons two times a week for four weeks. One session is four weeks long and each session is $85
Session 1: Week of September 11-week of October 7
Session 2: Week of October 16-week of November 6
Please contact Emma Forbes-Milne at ef112@evansville.edu or ext. 1028 for more information.
Submitted by Emma Forbes-Milne ef112@evansville.edu
Environmental Sustainability Task Force asks for revisions
Dear UE Community,
The UE Environmental Sustainability Task Force would like to share the draft of the Executive Summary Task Force Report, as well as relevant appendices, for campus feedback.
The documents may be viewed on AceLink here and all comments are welcome.
Please either give a verbal description in an e-mail with page numbers included as a reference, or download the document(s), highlight the changes you suggest, and send them to lk102@evansville.edu. Please use "Suggested Revisions to Task Force Recommendations" as the title in your e-mail.
Recommendations will be accepted at this address until Tuesday, September 19 at 5:00 p.m.
We very much look forward to your important input.
Warmest Regards,
The Environmental Sustainability Task Force
Interested in traveling to Mexico this summer?
Are you interested in traveling to Mexico this summer? Join our interest meeting on September 21 at 4:00 p.m. in Graves Hall 302 (or come to the Study Abroad Fair to learn more)!
Spend 10 days in Mexico learning about that country's school systems by visiting local schools and visiting the University of the Yucatan in Mérida, Mexico. Furthermore, have the opportunity to step out of the classroom and put your Spanish speaking skills to the test by immersing yourself in the rich Mayan and colonial Mexican heritage in the vibrant capital of the Mexican state Yucatán, Mérida. Also, see firsthand the beauty that the vast history of the Yucatecan Peninsula has to offer by visiting local museums, swimming in the crystal clear waters of the Gulf of Mexico, hiking through ancient Mayan ruins, or exploring some of the world's most pristine cave systems!
Apply here: https://www.evansville.edu/studyabroad/facultyLed.cfm.
Interested? Contact George Iber about the exciting itinerary he is planning!
Questions? Contact Amara Stuehling at as760@evansville.edu about how to apply.
Submitted by Amara Stuehling as760@evansville.edu
Free HIV screening
Matthew 25 AIDS service will be on site at the Health Center on Tuesday, September 19 from 9:00 a.m.-noon, to provide free HIV screenings. The testing is completely confidential with results in 20 minutes. Matthew 25 will be on site the third Tuesday of each month including September 19, October 17, November 21 and December 19. Call the Health Center at 812-488-2033 to schedule your confidential appointment today.
Submitted by Ashley Craig ac408@evansville.edu
Library after-hours have started
Library after-hours started on Sunday, September 10. The first floor will be open until 4:00 a.m. on most mornings, with limited library services. The upper floors will close at midnight and will not be accessible after that. The current after hours schedule is Monday-Thursday from 12:00-4:00 a.m. and Friday from 12:00-2:00 a.m. Access to the libraries after 11:50 p.m. on Sunday-Thursday is through the Ridgway door only.
This service is dependent on student staffing. Interruptions to the after-hours schedule will be posted to the UE app.
For more information, contact Meg Atwater-Singer at ma35@evansville.edu or ext. 2487.
Submitted by Meg Atwater-Singer ma35@evansville.edu
Yazdanparast has paper accepted by "European Journal of Marketing"
Atefeh Yazdanparast, assistant professor of marketing, has had a paper accepted by the European Journal of Marketing, an A* ranked journal by the Australian Business Deans Council. Following an experimental design and drawing on objective self-awareness theory and self-affirmation theory, the research establishes a link between self-awareness, emotions, and motivations by empirically testing the consequences of self-standard discrepancies. The results indicate that pride inducing exercises could act as self-affirming factors to intervene the undesirable outcomes of body image dissatisfaction.
Contribute to AceNotes
To have content considered for inclusion in AceNotes, please submit a Marketing Request Form. Deadline for submission to AceNotes is 10:00 a.m. on the requested date of publication. Only articles concerning UE related/sponsored activities will be accepted. Articles submitted to AceNotes may be edited for length and clarity. Submitter contact information is at the end of each article.