| | |
| --- | --- |
| AceNotes Today | Tuesday, September 12, 2017 |
Test of University Rave Ace Alert System set for Sept. 13
On Wednesday, September 13, the Office of Safety and Security will conduct a test of the University Rave Ace Alert System. A test message will be sent out at 11:00 a.m. It will include all aspects of the system: e-mail, text messages, Facebook, Twitter, Alertus (University computers), and University televisions. If you fail to receive an e-mail or text message notification by noon, please notify the Office of Safety and Security at 812-488-2051 or e-mail security@evansville.edu. Officers will also be available to add or change e-mail or cell phone information at the Security Awareness Week table on the first floor of the Ridgway University Center.
Submitted by Doug Cook dc2@evansville.edu
Weinbach Ave. Water Main Replacement Project Open House
An informational open house for the Weinbach Avenue Water Main Replacement Project, Pollack Avenue to Lloyd Expressway, will take place in Eykamp Hall, Room 251, Ridgway University Center, tonight, 4:00-7:00 p.m. The public is welcome to attend this session to address questions regarding this improvement project.
Submitted by Kari Hughes kh355@evansville.edu
Men's soccer heads north tonight for in-state rivalry
The University of Evansville Men's Soccer team travels north to battle an in-state rival with a matchup with Butler tonight at 6:00 p.m. (CST) in Indianapolis, Indiana.
The Purple Aces are 4-1 on the season and are coming off their first loss of the season, a 1-0 loss on the road at Grand Canyon last Thursday.

UE opened the season with four-straight victories, its best start since opening 5-0 in 2008. The Aces will look to return to their winning ways with a road matchup with the Butler Bulldogs.
Entering the weekend, the Bulldogs hold a 3-2 record and are coming off a 3-2 loss to Western Michigan on Friday. Much like the Aces, Butler was ranked (18th) in last week's TopDrawerSoccer.com Top 25 poll before falling out of the poll this week. The meeting is the 18th in series history between Evansville and Butler with the Aces holding a 14-13 advantage in the series.
This Week in Music: Faculty Book Lecture
Faculty Book Lecture: Garnet Ungar
September 14, 11:00-11:45 a.m., Wheeler Concert Hall
University of Evansville music professor Garnet Ungar has recently co-written the autobiography of his mentor, Abbey Simon. Now 97, Simon is one of America's most revered pianists, with a long legacy of recordings and performances with the great orchestras of the world. The autobiography, titled Inner Voices, chronicles Simon's beginnings as a student at the Curtis Institute of Music, his many tours of the United States, Europe, Asia, South America, and Australia, and his illustrious teaching career at Juilliard, Indiana University, and the University of Houston. The book also contains several appendices of historical significance.
The first stop on the book tour will be Wheeler Concert Hall on September 14, 2017 from 11:00-11:45 a.m., and this will be the first opportunity anywhere to purchase a copy of the book. Abbey Simon will be in attendance to speak about his life and career, as well as sign copies from 11:45 a.m.-12:30 p.m. The cost of the book is $16.99, with a special student price of $12.99.
Admission to the event is free.
Tonight - Wesley Student Fellowship call out meeting
Students from United Methodist and other Wesleyan backgrounds - and those who are just curious - are invited to attend a call out meeting for the Wesley Student Fellowship. The meeting will be tonight at 8:30 p.m. in Neu Chapel. We will discuss what fellowship meetings will entail and our goals as a group. Join us for this exciting time of organizing the Wesley Student Fellowship and celebrating our Methodist/Wesleyan heritage!
Submitted by Keith Turner kt160@evansville.edu
Security Awareness Week: September 11-15
Security Awareness Week is September 11-15. Activities planned include:
Today - Friday September 15
10:00 a.m.-2:00 p.m. – Ridgway University Center
Equipment and services provided by the Office of Safety and Security
Students can register for FREE prizes*
Student drawing for free prizes is set for today - Friday, September 15 - at 2:00 p.m.
UE coffee mug
UE LED flashlight folding umbrella
UE ball cap
UE tumbler
Sigma Alpha Iota fall recruitment!
Are you a lady with a love for music? Do you want to spend time with other people that share that love while impacting the lives of others in the community? Do you have at least one music credit at UE? If you answered yes to any of those questions, you should join us in Krannert Hall of Fine Arts on September 13 at 8:30 p.m. for Sigma Alpha Iota's fall recruitment! Feel free to contact Annie Cloud (ac307@evansville.edu) or Samantha Waddell (sw232@evansville.edu) for more information. We hope to see you there!
Submitted by Annie Cloud ac307@evansville.edu
Boston Marathon bombing police commissioner to speak at Snyder Lecture
Former Boston Police commissioner Ed Davis – who was at the forefront of the emergency response to the 2013 Boston Marathon bombing and the arrests that followed – will be the speaker for the upcoming University of Evansville's Patricia Snyder Lecture. The lecture is Thursday, October 12 at 7:00 p.m., in Eykamp Hall, Ridgway University Center. Doors open at 6:30 p.m.
The event is free and open to the public but registration is required. The registration form can be found online at www.evansville.edu/EdDavis.
The topic of Davis's lecture will be "Policing in America: The Changing Landscape of Our Cities & Law Enforcement's Role in Protecting Our Communities."
Davis's experience during the Boston Marathon bombings was depicted in the feature film, Patriots Day, starring John Goodman as Commissioner Davis, which was released in January 2017.
Davis is currently president and CEO of the business strategy and security agency, Edward Davis LLC. He has built a stellar reputation on his experience in interagency collaboration and law enforcement on local, state, national, and international levels. His insight in cyber security and anti-terrorism, as well as his expert knowledge in crisis management and strategic planning translates across industries. Davis's unique approaches to terrorism, cyber security, and policing have been adopted both nationally and internationally in Singapore, London, Northern Ireland, Jordan, and Israel.
The Patricia H. Snyder Concert and Lecture Series was made possible in 1997 through an endowment from the late Patricia H. Snyder, trustee and longtime friend of University, to bring speakers or performers of renown to Evansville at no cost to the public.
If you have any questions, please e-mail snyder@evansville.edu
Constitution Day program this afternoon
Professor Karen Hall of Ohio Northern University will be the featured speaker at this year's Constitution Day program. Her talk, "The Constitution and the Rule of Law in America," will take place TODAY at 4:00 p.m. in Smythe Lecture Hall (Schroeder 170). The event is free and open to the public.
Hall is the director of the program for Democratic Governance and the Rule of Law at Pettit College of Law at Ohio Northern University. She has a remarkable resume that includes spending 10 years working for the U.S. State Department, including several years living in the U.S. Embassy in Kabul, Afghanistan, where she managed State Department assistance to the Afghan criminal justice system.
She holds a law degree from Harvard Law, a master's in security studies from Georgetown, and a bachelor's degree in Russian from Brigham Young.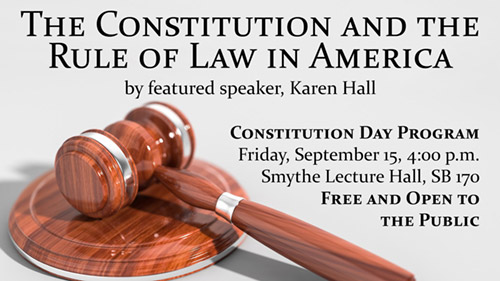 Former death row inmate Anthony Hinton to speak Oct. 30 – all welcome

The 2017 University of Evansville Honors Program incoming class has read the book Just Mercy: A Story of Justice and Redemption, written by attorney Bryan Stevenson. The social justice themes brought forth in the book will be examined throughout the year and will include a presentation by community educator Anthony Ray Hinton, set for Monday evening (time TBD), October 30 in Eykamp Hall, Ridgway University Center. The campus community and public are welcome to this free event.
Hinton was falsely accused of committing two murders outside of Birmingham, Alabama, in 1985. He was wrongly convicted and spent nearly 30 years on Alabama's death row before he was exonerated and freed in April 2015. A deeply compelling speaker, he has become a powerful advocate against the death penalty and speaks nationally about the urgent need for criminal justice reform.
Several copies of the book, Just Mercy, are on reserve in the UE library and all are welcome to read it in preparation for Hinton's visit.
Just Mercy is a powerful true story about the potential for mercy to redeem us, and a clarion call to fix our broken system of justice—from one of the most brilliant and influential lawyers of our time.
Stevenson was a young lawyer when he founded the Equal Justice Initiative, a legal practice dedicated to defending those most desperate and in need: the poor, the wrongly condemned, and women and children trapped in the farthest reaches of our criminal justice system. One of his first cases was that of Walter McMillian, a young man who was sentenced to die for a notorious murder he insisted he didn't commit. The case drew Stevenson into a tangle of conspiracy, political machinations, and legal brinksmanship—and transformed his understanding of mercy and justice forever.
Just Mercy is at once an unforgettable account of an idealistic, gifted young lawyer's coming of age, a moving window into the lives of those he has defended, and an inspiring argument for compassion in the pursuit of justice.
Please read Just Mercy and plan to join us on Monday, October 30.
Submitted by Cherie Leonhardt CL29@evansville.edu
Free coffee with career development today
Come for free coffee and an informal career chat with alumni and friends of the University. Learn about their journey to their current job and the skills needed for career success. This week's focus - careers in non-profits. The informal gathering is planned for today - Thursday, September 14 - 4:00-5:00 p.m. in the Phillips Study Alcove (opposite of WUEV in Ridgway University Center)
Submitted by Alison Morris-McDonald am268@evansville.edu
Stewardship and healthcare lecture
Dr. Jeffrey Balser will be speaking on "Issues of Stewardship and Conscience in Healthcare" at Trinity United Methodist Church on Sunday, October 15, at 2:00 p.m. Balser will be focusing on stewardship of healthcare in the United States from various perspectives, highlighting liturgical, economic, political and clinical elements. The entire UE community is invited to attend this lecture, especially those students pursuing majors in the fields of health care and religion.
Balser, a native of Evansville, earned his M.D. and PhD. From Vanderbilt University, and his Bachelor of Science degree in engineering from Tulane University. He is president and CEO of Vanderbilt University Medical Center and dean of Vanderbilt University School of Medicine.
Trinity United Methodist Church is located at 216 SE Third Street (corner of Walnut and Third Streets) in Evansville. For more information, contact Kathy Bartelt at kb4@evansville.edu or 812-853-6136.
Submitted by Kathy Bartelt kb4@evansville.edu
Fireside Chat in Grabill Lounge
The campus community is invited to attend this week's Fireside Chat in Grabill Lounge this evening at 7:30 p.m. We will be discussing the topic, "What Happens When Christians Disagree?" Hear the exciting story of one of the earliest disagreements in Church history, how it was resolved, and its implications for our lives today! Snacks are provided! All are welcome!
Submitted by Keith Turner kt160@evansville.edu
Best Buddies call out meeting tonight
If you are interested in building friendships and making an impact in someone's life, please come to the first Best Buddies meeting tonight at 8:00 p.m. in Room 272, Schroeder School of Business Building. Our members are paired for a mutually beneficial friendship between students with and without intellectual developmental disabilities. Our chapter has one meeting and one planned event a month. If you cannot make it to the meeting but are still interested in applying, visit bestbuddiesonline.org to fill out an application (due September 18).
Submitted by Aimee Savoie as725@evansville.edu
I-House Bolivia
Please join us for I-House tonight at 7:00 p.m., upstairs in Ridgway University Center! We will have a presentation on Bolivia. We hope to see you there!
Submitted by Alexis Whitacre aw339@evansville.edu
Interfaith Student Alliance call out on Sept. 14, 4:00 p.m.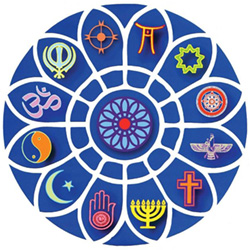 Students interested in interfaith dialogue, engagement, and travel should plan to attend the Student Interfaith Alliance meeting next week. The meeting is planned for Thursday, September 14, 4:00 p.m. in Grabill Lounge (lower level of Neu Chapel).
If you cannot attend, but are still interested in participating in an interfaith student alliance, please e-mail tg85@evansville.edu.
Submitted by Tammy Gieselman tg85@evansville.edu
Fall study abroad fair and Harlaxton welcome back event
Join us today for our fall study abroad fair!
Stop by Eykamp Hall, Room 251, Ridgway University Center, between 11:00 a.m.-1:00 p.m. to find out about all of the different study abroad options available to students. Whether you're interested in a semester, summer, or even a 10-day program, we can help you find the best program for your interests. Both Harlaxton and non-Harlaxton programs will be represented.
Recent Harlaxton returnees can stop by to pick up a small gift and fill out a postcard full of tips and tricks for our outgoing Harlaxton students. This is a great way to impart your best advice! It's also a great opportunity to see how you can go abroad again.
And don't forget to enter our T-shirt raffle! Twenty-five random students will be selected to receive our brand new UE study abroad T-shirts.
If you have any questions, you can e-mail Greta Becker at gb91@evansville.edu
Submitted by Greta Becker gb91@evansville.edu
FREE SkyZone outing planned for today
All UE students are invited to SkyZone today - September 15 - from 7:00-9:00 p.m. Transportation will be provided by the Newman Club and CSE and all costs are free. To sign up, complete the waiver in WebAdvisor. The waiver can be found under Student Activities/Waivers for Student Activities.
For more information, contact Olivia at ov4@evansville.edu.
Submitted by Gabrielle VanBuskirk gv19@evansville.edu
Environmental Sustainability Task Force asks for revisions
Dear UE Community,
The UE Environmental Sustainability Task Force would like to share the draft of the Executive Summary Task Force Report, as well as relevant appendices, for campus feedback.
The documents may be viewed on AceLink here and all comments are welcome.
Please either give a verbal description in an e-mail with page numbers included as a reference, or download the document(s), highlight the changes you suggest, and send them to lk102@evansville.edu. Please use "Suggested Revisions to Task Force Recommendations" as the title in your e-mail.
Recommendations will be accepted at this address until Tuesday, September 19 at 5:00 p.m.
We very much look forward to your important input.
Warmest Regards,
The Environmental Sustainability Task Force
Interested in traveling to Mexico this summer?
Are you interested in traveling to Mexico this summer? Join our interest meeting on September 21 at 4:00 p.m. in Graves Hall 302 (or come to the Study Abroad Fair to learn more)!
Spend 10 days in Mexico learning about that country's school systems by visiting local schools and visiting the University of the Yucatan in Mérida, Mexico. Furthermore, have the opportunity to step out of the classroom and put your Spanish speaking skills to the test by immersing yourself in the rich Mayan and colonial Mexican heritage in the vibrant capital of the Mexican state Yucatán, Mérida. Also, see firsthand the beauty that the vast history of the Yucatecan Peninsula has to offer by visiting local museums, swimming in the crystal clear waters of the Gulf of Mexico, hiking through ancient Mayan ruins, or exploring some of the world's most pristine cave systems!
Apply here: https://www.evansville.edu/studyabroad/facultyLed.cfm.
Interested? Contact George Iber about the exciting itinerary he is planning!
Questions? Contact Amara Stuehling at as760@evansville.edu about how to apply.
Submitted by Amara Stuehling as760@evansville.edu
Updates regarding dining on campus - FAQ
How many Ace Bucks do I have?
You can now check your balance on-line! Login and registration can be found at: https://evansville.campuscardcenter.com/ch/login.html
You will see a number of accounts:
If you have a meal plan, that will display first along with the remaining Ace Bucks for that plan. Ace Bucks purchases will be taken from this account first.
Additional accounts will also be displayed:
Guest meal balances
Carry out records
Student Ace Bucks (i.e. $50 from the Student Services Fee)
Bonus Ace Bucks (i.e. promotional Ace Bucks for selecting certain plans / packages)
To set up a new account or get help accessing an existing account you will be sent to a new screen.
The flex dollars number is your UE ID Number.
Ace Bucks are referred to as Flex Dollars.
I'm looking for that extra $50 in Ace Bucks for paying the Student Services Fee – where is that?
These are called Student Ace Bucks and can be viewed online as described above.
Ace Bucks purchases are deducted from the meal plan allocation first.
Your balance at the register only reflects your meal plan allocation of Ace Bucks until this is used up.
Once your meal plan allocation is spent, the Student Ace Bucks allocation will kick in and you will see an additional $50 on your balance at the register.
So what about the bonus Ace Bucks for purchasing the Prime, Purple, or Ace Buck Packages?
Bonus Ace Bucks for Prime, Purple, or Ace Buck Packages should be reflected on your account.
Chartwells had to wait until after the meal change period was over to award these Bonus Ace Bucks.
Bonuses for Prime and Purple were added the morning of September 7.
Bonus Bucks from Ace Bucks purchases are added at time of purchase.
You can view your Bonus Ace Bucks balance online as described above.
I heard there was going to be a microwave available in Ridgway University Center – where is that?
There is now a microwave near the left service entrance of Rademacher's Café.
Please feel free to heat your items there.
Where can I find items that are gluten free?
There is a new Avoiding Gluten Area featuring Items that have been prepared without gluten containing ingredients. Check out this area for avoiding gluten waffles, breads, cereals, and a toaster reserved for avoiding gluten items. There are also other avoiding offerings throughout Café Court, but this area will always feature these items!
Important info on labeling of avoiding gluten items from Chartwells:
To identify menu items that have been prepared without gluten containing ingredients, look for item labels or ask to speak with the chef or manager. Please note that our menu items are not gluten free because we prepare and handle products containing gluten in our kitchens.
We make every effort to label menu options that were prepared without gluten ingredients. However, due to our open kitchens that handle gluten for the preparation of other menu items, we cannot guarantee that items made without gluten ingredients are "gluten-free," as defined by FDA. While we make every effort to avoid gluten cross-contact, there is always the potential for cross-contact with other gluten containing food items, particularly in our self-serve areas. We encourage guests to speak to the chef or manager regarding any questions about the ingredients contained in the food being considered.
Submitted by Michael Tessier mt28@evansville.edu
Library after-hours have started
Library after-hours started on Sunday, September 10. The first floor will be open until 4:00 a.m. on most mornings, with limited library services. The upper floors will close at midnight and will not be accessible after that. The current after hours schedule is Monday-Thursday from 12:00-4:00 a.m. and Friday from 12:00-2:00 a.m. Access to the libraries after 11:50 p.m. on Sunday-Thursday is through the Ridgway door only.
This service is dependent on student staffing. Interruptions to the after-hours schedule will be posted to the UE app.
For more information, contact Meg Atwater-Singer at ma35@evansville.edu or ext. 2487.
Submitted by Meg Atwater-Singer ma35@evansville.edu
Register for GLACURH regional leadership conference
GLACURH (Great Lakes Affiliate of College and University Residence Halls) 2017 is November 17-19 at the University of Wisconsin La Crosse. GLACURH is a leadership conference with over 50 member schools from Indiana, Illinois, Michigan, Wisconsin, and Ontario. Delegates selected to attend will have the opportunity to present and attend seminars, network with peers, and learn about themselves and others FOR FREE.
The application can be found at: https://goo.gl/forms/9nBviy2yqINJglea2
For more information, contact Josh Baty at jb621@evansville.edu.
Submitted by Josh Baty jb621@evansville.edu
Sign up your country for the International Bazaar!
The International Bazaar is November 17, but it's already time to figure out who will lead booths and cooking and start getting organized! If you missed our call-out meeting, check out our slideshow for more information. Come to the international office on the second floor of Ridgway University Center to sign up as a booth leader, food leader, entertainment/performance, or volunteer!
Submitted by Megan Sicard ms331@evansville.edu
Student Rewards app!

All users who have experienced log in issues should be clear to register! Do not miss the opportunity to start earning points!
September 8: UE vs. Indiana volleyball (x2 points)
(Arrive early as this is expected to be a sellout)
September 8: UE vs. Miami WSOC
September 9: UE vs. UAB volleyball
September 10: UE vs. UT Martin volleyball
September 11: UE vs. Morehead State WSOC
Submitted by Jake K Hill jh690@evansville.edu
Xiao organizes special session for AMS Fall Central Sectional Meeting
Pengcheng Xiao, assistant professor of mathematics, organized a special session titled "Special Session on Differential Equation Modeling and Analysis for Complex Bio-systems" for the recent AMS Fall Central Sectional Meeting at University of North Texas.
Fourteen researchers presented their research work in the special session. Jonathan Rubin, professor and chair of mathematics at University of Pittsburgh and a world class researcher in computational neuroscience, delivered the 45 minutes survey talk in this special session.
Tyler Gray in top five at Murray State
Tyler Gray fired off a 6-under 65 in the opening round of the Murray State Invitational and ranks in a tie for third place with the first two rounds of play in the books at Miller Memorial Golf Course.
Gray's score in the opening round put him on top of the leaderboard. He finished the second round at 2-over par with a 73 and is tied for third place with a score of 138.
Matthew Ladd also had an impressive day at the links. Ladd started the day with an even 71 before finishing with the low score on the squad in the second round, recording a 72. He is tied for 15th with a 143.
Seven behind Ladd is the duo of Noah Reese and Jessie Brumley. Reese posted two rounds of 75 while Brumley checked in with scores of 76 and 74. Cameron Weyer completed the UE contingent with a 155 on the day. His low round came in the first 18 as he carded a 76.
Playing as an individual, Game Rohleder finished the day in a tie for 28th. He totaled an even 71 in the first round before notching a 75 to stand at a 145. Robert Waggoner tied Weyer's efforts with a 155. His scored checked in at 77 and 78.
Murray State has the team lead with four of their top five ranking in the top 28. Their day one score of 565 is three ahead of second-place UT Martin. Western Illinois is third with a 571. Hunter Richardson of the Skyhawks had the low round of the day – a 7-under 64 in round two – and leads the individuals with a 132.
Evansville is tied for eighth in the team standings with a 581. The Purple Aces are knotted up with Tennessee Tech. They are one behind 7th-place John A. Logan College and four in back of Austin Peay.
Today, the teams will play one more round.
Yazdanparast has paper accepted by "European Journal of Marketing"
Atefeh Yazdanparast, assistant professor of marketing, has had a paper accepted by the European Journal of Marketing, an A* ranked journal by the Australian Business Deans Council. Following an experimental design and drawing on objective self-awareness theory and self-affirmation theory, the research establishes a link between self-awareness, emotions, and motivations by empirically testing the consequences of self-standard discrepancies. The results indicate that pride inducing exercises could act as self-affirming factors to intervene the undesirable outcomes of body image dissatisfaction.
Sharon Kazee receives UE Theatre Society Honor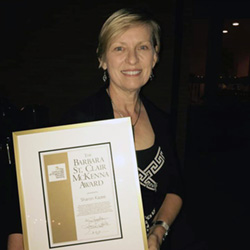 Dr. Sharon Kazee was awarded the Barbara St. Clair Mckenna Award at the annual UE Theatre Society Board and Faculty Dinner on Wednesday, September 6. This award is the highest honor given by the Theatre Society and recognizes someone who has contributed greatly to the organization through their arts advocacy efforts.
Over 60 people attended the event, including former McKenna Award-winners: Judy Steenberg, John W. Streetman III, Tay Ruthenburg, Susan Worthington, Marjorie Blalock, Steve Worthington, Greg Meyer, Susan Daniel, Larry Steenberg, and Lisa Jones. Other board members in attendance included: Allyson Claybourn, Amy Scharf, Beau Dial, Greg Kahre, Justin McCullough-Haddix, Kelly Gates, Kristen Tucker, Scott Wylie, secretary Anne Geissinger, vice-president Jenni Juhl, and president Lori Smith.
The UE Theatre Society is celebrating their 50th anniversary this year and will hold a gala on Friday, April 6. For more information about how to become involved with the Theatre Society, please call 812-488-2747.
Ed Lacy named Jazz Musician of the Year
UE professor emeritus Ed Lacy has been chosen as the Kenny Kent Lexus Jazz Musician of the Year! He will be presented with an award onstage on Saturday, September 16 at Lexus Jazz & Wine Festival in downtown Evansville! Plan on attending to show your support for Ed Lacy, one of UE's own, at the 10th Annual Jazz Music Fest.
If you have any questions, contact James Sullivan at js820@evansville.edu
Bone awarded residency
Creative writing professor Paul Bone has been awarded a writer-in-residence stay at Rivendell Writers' Colony, located in Sewanee, Tennessee, on property adjacent to the University of the South on the Cumberland Plateau. Rivendell was established to give writers space and time to focus on writing free from distractions, as well as augment the literary tradition at the University of the South. During the month of May 2018, Bone will continue work on a book of poems in progress.
Contribute to AceNotes
To have content considered for inclusion in AceNotes, please submit a Marketing Request Form. Deadline for submission to AceNotes is 10:00 a.m. on the requested date of publication. Only articles concerning UE related/sponsored activities will be accepted. Articles submitted to AceNotes may be edited for length and clarity. Submitter contact information is at the end of each article.