| | |
| --- | --- |
| AceNotes Today | Monday, September 11, 2017 |
Olmsted bells silenced to commemorate 9/11 anniversary
"As the 16th anniversary of September 11 approaches, our thoughts are once again with all those who lost loved ones on that tragic morning. We remember the names, faces, and lives of the men, women, and children who were killed, and look for ways to ensure that each and every one of them is not forgotten." - Inscription on the National September 11 Memorial and Museum at the World Trade Center Foundation, Inc.
To commemorate the 16th anniversary of 9/11, the University of Evansville's Olmsted Tower bells are silenced today as we remember all those who lost their lives on September 11, 2001. Flags are also flying at half-staff to observe the occasion and honor those who perished.
Exercise Science Club first meeting today!
The first EXSS Club meeting will be today at 8:00 p.m. in the Koch Center for Engineering and Science. We will be discussing upcoming events, volunteer ideas, and future meeting dates. There will be pizza for those who pay their dues ($5 per semester).
Submitted by Aimee Savoie as725@evansville.edu
Blessing of the Athletes this evening in Neu Chapel
The annual Blessing of the Athletes ritual is scheduled for this evening, 6:00 p.m., in Neu Chapel. Student-athletes, coaches, and athletic staff are all invited! Come early for picture taking. University faculty, administrators, staff, and campus community are invited to attend and may sit in the Neu Chapel gallery (upstairs loft).
Submitted by Tammy Gieselman tg85@evansville.edu
Men's golf to open season at Murray State
Another Purple Aces sport will get under way as the University of Evansville men's golf team will take part in the Murray State Invitational today and tomorrow.
Thirty-six holes comprise today's action with an 8:30 a.m. shotgun start. Tomorrow, the final 18 holes start at 9:00 a.m. at Miller Memorial Golf Course in Murray, Kentucky. Par will be 71 with the yardage coming in at 6,601.
A large field in the event will include: Bethel (TN), Chicago State, Evansville, Green Bay, John A. Logan, Missouri Baptist, Morehead State, Southern Indiana, Tennessee Tech, Tennessee State, UT Martin, and Western Illinois.
Tyler Gray is the top returning player for the men, finishing last year with an average of 72.20 strokes per round. He took top honors in the Butler Fall Invitational in 2016 and came home second in the TSU Intercollegiate in the spring.
Matthew Ladd and Noah Reese also averaged under 77 strokes per round last year. Ladd finished at 76.25 with his top finish being a tie for eighth in the Bulldog Florida Invitational. Reese checked in with a 76.93 average, bringing home a pair of 15th-place outings.
Three newcomers join the squad as Jessie Brumley, Gabe Rohleder, and Spencer Wagner have joined the team.
Security Awareness Week: September 11-15
Security Awareness Week is September 11-15. Activities planned include:
Today - Friday September 15
10:00 a.m.-2:00 p.m. – Ridgway University Center
Equipment and services provided by the Office of Safety and Security
Students can register for FREE prizes*
Student drawing for free prizes is set for today - Friday, September 15 - at 2:00 p.m.
UE coffee mug
UE LED flashlight folding umbrella
UE ball cap
UE tumbler
Nikolidakis to give MFA application talk
As part of the Fall Professionalization Talks, assistant professor of creative writing Lisa Nikolidakis will give a presentation on applying to MFA programs for creative writing. Her presentation is planned for 4:00 p.m. today - Monday, September 11 - in Room 173 in the Schroeder School of Business Building.
Topics covered will include how to research and narrow down programs, the application process, writing an effective personal statement, etiquette for requesting recommendations, and what to expect from graduate school.
After the 45-minute talk, there will be 30 minutes for Q&A. All majors considering graduate school should plan to attend.
Submitted by Lisa Nikolidakis ln43@evansville.edu
UELA call-out meeting today
The University of Evansville Leadership Academy is having an informational call-out meeting today - September 11 - at 7:00 p.m. in Room 173 in the Schroeder School of Business Building. If you are interested in joining UELA or want to know more information, please be in attendance.
Submitted by Rebecca Humphrey rh190@evansville.edu
Sigma Alpha Iota fall recruitment!
Are you a lady with a love for music? Do you want to spend time with other people that share that love while impacting the lives of others in the community? Do you have at least one music credit at UE? If you answered yes to any of those questions, you should join us in Krannert Hall of Fine Arts on September 13 at 8:30 p.m. for Sigma Alpha Iota's fall recruitment! Feel free to contact Annie Cloud (ac307@evansville.edu) or Samantha Waddell (sw232@evansville.edu) for more information. We hope to see you there!
Submitted by Annie Cloud ac307@evansville.edu
Best Buddies call out meeting tonight
If you are interested in building friendships and making an impact in someone's life, please come to the first Best Buddies meeting tonight at 8:00 p.m. in Room 272, Schroeder School of Business Building. Our members are paired for a mutually beneficial friendship between students with and without intellectual developmental disabilities. Our chapter has one meeting and one planned event a month. If you cannot make it to the meeting but are still interested in applying, visit bestbuddiesonline.org to fill out an application (due September 18).
Submitted by Aimee Savoie as725@evansville.edu
I-House Bolivia
Please join us for I-House tonight at 7:00 p.m., upstairs in Ridgway University Center! We will have a presentation on Bolivia. We hope to see you there!
Submitted by Alexis Whitacre aw339@evansville.edu
Interfaith Student Alliance call out on Sept. 14, 4:00 p.m.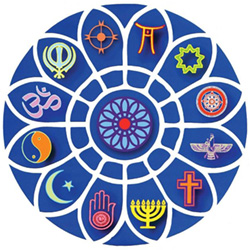 Students interested in interfaith dialogue, engagement, and travel should plan to attend the Student Interfaith Alliance meeting next week. The meeting is planned for Thursday, September 14, 4:00 p.m. in Grabill Lounge (lower level of Neu Chapel).
If you cannot attend, but are still interested in participating in an interfaith student alliance, please e-mail tg85@evansville.edu.
Submitted by Tammy Gieselman tg85@evansville.edu
This Week in Music: Faculty Book Lecture
Faculty Book Lecture: Garnet Ungar
September 14, 11:00-11:45 a.m., Wheeler Concert Hall
University of Evansville music professor Garnet Ungar has recently co-written the autobiography of his mentor, Abbey Simon. Now 97, Simon is one of America's most revered pianists, with a long legacy of recordings and performances with the great orchestras of the world. The autobiography, titled Inner Voices, chronicles Simon's beginnings as a student at the Curtis Institute of Music, his many tours of the United States, Europe, Asia, South America, and Australia, and his illustrious teaching career at Juilliard, Indiana University, and the University of Houston. The book also contains several appendices of historical significance.
The first stop on the book tour will be Wheeler Concert Hall on September 14, 2017 from 11:00-11:45 a.m., and this will be the first opportunity anywhere to purchase a copy of the book. Abbey Simon will be in attendance to speak about his life and career, as well as sign copies from 11:45 a.m.-12:30 p.m. The cost of the book is $16.99, with a special student price of $12.99.
Admission to the event is free.
Fall study abroad fair and Harlaxton welcome back event
Join us today for our fall study abroad fair!
Stop by Eykamp Hall, Room 251, Ridgway University Center, between 11:00 a.m.-1:00 p.m. to find out about all of the different study abroad options available to students. Whether you're interested in a semester, summer, or even a 10-day program, we can help you find the best program for your interests. Both Harlaxton and non-Harlaxton programs will be represented.
Recent Harlaxton returnees can stop by to pick up a small gift and fill out a postcard full of tips and tricks for our outgoing Harlaxton students. This is a great way to impart your best advice! It's also a great opportunity to see how you can go abroad again.
And don't forget to enter our T-shirt raffle! Twenty-five random students will be selected to receive our brand new UE study abroad T-shirts.
If you have any questions, you can e-mail Greta Becker at gb91@evansville.edu
Submitted by Greta Becker gb91@evansville.edu
Tonight - Wesley Student Fellowship call out meeting
Students from United Methodist and other Wesleyan backgrounds - and those who are just curious - are invited to attend a call out meeting for the Wesley Student Fellowship. The meeting will be tonight at 8:30 p.m. in Neu Chapel. We will discuss what fellowship meetings will entail and our goals as a group. Join us for this exciting time of organizing the Wesley Student Fellowship and celebrating our Methodist/Wesleyan heritage!
Submitted by Keith Turner kt160@evansville.edu
FREE SkyZone outing planned for today
All UE students are invited to SkyZone today - September 15 - from 7:00-9:00 p.m. Transportation will be provided by the Newman Club and CSE and all costs are free. To sign up, complete the waiver in WebAdvisor. The waiver can be found under Student Activities/Waivers for Student Activities.
For more information, contact Olivia at ov4@evansville.edu.
Submitted by Gabrielle VanBuskirk gv19@evansville.edu
Homecoming 2017 Reunion Weekend set for Oct. 13-15
The University of Evansville Homecoming 2017 Reunion Weekend is October 13-15. Special events are planned for parents and alumni, many of which will be open to the public.
Dr. Guy Banta Distinguished Lecture Series – Speaker Zach Cheviron '00, Environmental and Wildlife Biology
Friday, October 13, 3:00 p.m. Vectren Lecture Hall, Room 100, Koch Center for Engineering and Science.
Reunion Celebrations
Anniversaries to be celebrated at homecoming include the 50th anniversary of the Class of 1967, 65th anniversary of Phi Mu sorority, 60th anniversary of Sigma Alpha Epsilon fraternity, and the 60th anniversary of the Tau Kappa Epsilon fraternity.
Homecoming Tailgate
Saturday, October 14, 2:00-5:00 p.m., H-Lot, South Frederick Street
Food, games, live music, and fun. Open to public.
The Ace Race
Saturday, October 14, 9:00 a.m., UE campus. Open to public.
This 5K run benefits Ace CARE, UE's pro bono physical therapy clinic run by doctor of physical therapy and physical therapy assistant students for the uninsured, underinsured, and homeless. Participation fee for the public is $25 before October 1 or $30 after October 1. Those registering before October 1 will receive a long sleeve T-shirt. To register, go to www.uealumnionline.com/acerace2017.
UE Women's Soccer versus Drake
Saturday, October 14, 2:00 p.m., Arad McCutchan Stadium. Open to public.
UE Men's Soccer versus Loyola (followed by fireworks display)
Saturday, October 14, 5:00 p.m., Arad McCutchan Stadium. Open to public.
For the full schedule of events or more information, visit www.evansville.edu/alumni or contact alumni@evansville.edu or 812-488-2586.
Register now to participate in Homecoming's Ace Race
The Ace Race, a 5K run benefiting Ace CARE, UE's pro bono physical therapy clinic, is planned for Saturday, October 14, 9:00 a.m., on campus. This event is part of UE's Homecoming. The participation fee for students is $15. The fee for the general public is $25 before October 1 or $30 after October 1. Those registering before October 1 will receive a long sleeve T-shirt. To register, go to www.uealumnionline.com/acerace2017.
For more information, contact Michaela Bortle at mb315@evansville.edu.
Volunteer Fair is September 21!
Join us for the Volunteer Fair on Thursday, September 21, from 10:00 a.m.-1:00 p.m., in Eykamp Hall, Ridgway University Center. Make connections with nonprofits and agencies from across the Evansville community and find out where you can make an impact. This is a perfect opportunity to make connections for any required hours or on behalf of your student organization. All students, faculty, and staff are welcome to attend.
Submitted by Jackie Luedtke jl295@evansville.edu
Art exhibit to feature work of fiber artists
The work of six fiber artists will be featured in an exhibit at the University of Evansville in September and October. The exhibit titled "Fibervisions" will be on display in UE's Melvin Peterson Gallery from September 11-October 22. There will be a reception for the artists on Thursday, September 14 at 6:30 p.m. Both the exhibit and reception are free and open to the public.
The artists whose work will be on display are Martha Aguilera, Erin Bowen, Teresa Greer, Karen Hampton, Dawn Murtaugh, and Laura Foster Nicholson.
The exhibit is supported in part by the UE Friends of Art.
For more information, please call the UE Department of Art at 812-488-2043.
Join us for UE's first ever ChangeFest!
Come on out to support two of our Changemaker and GAP Programs - Mission Guatemala and Cuba Skate - and the upcoming Habitat for Humanity build in Guatemala. Stop by to see how you can get involved with one of these programs, or just come to have a good time. Join us for games and activities, salsa dance lessons, and an official attempt by Professor Mark Valenzuela to break the world record for the largest ever stack of tortillas!
ChangeFest will be happening on Friday, September 15 from 4:00-6:00 p.m. outside of Ridgway University Center. We hope to see you there!
Submitted by Greta Becker gb91@evansville.edu
Creativity Workshop on Saturday, September 16
Scott Sherman, co-founder of the Transformative Action Institute and internationally-renowned speaker on creativity and social innovation, returns to UE to present a FREE creativity workshop on Saturday, September 16. The morning session, Unleashing Your Creativity (10:00 a.m.-noon), is open to everyone on and off campus and will feature fun and interactive exercises that will teach you how to get your creative juices flowing. The afternoon session, Incorporating Creativity into the Classroom (1:30-5:00 p.m.), is targeted toward teachers, faculty, staff, and administrators at all levels of education. This session will center on the nuts and bolts of what you can do to increase creativity in the classroom. Seating is limited. E-mail Erin Lewis by September 11 at creativity@evansville.edu to reserve your spot today for the morning session, afternoon session, or both.
Submitted by Cindy Kelley ck116@evansville.edu
Aces Engineering project
Did you know ... in August 2014, Evansville's city engineer, Brent Schmidt, reached out to Aces Engineering, a team of six senior civil engineering students at the University of Evansville, for assistance in completing a re-design of the one mile section of East Virginia Street from Green River Road to Burkhardt Road. The city requested a "complete road" design - one that has accessibility for all types of users.
Aces Engineering developed three design alternatives to increase roadway capacity while maintaining accessibility and safety for all corridor residents and users. The final design, chosen by the city engineer, incorporates a 3-lane roadway with a continuous center left turn lane running the entire project length. The central feature of the design is a 10-foot wide, multi-purpose path running east/west along the north side of East Virginia Street. Other design elements include pavement design, intersection design, traffic control plans, and the hydraulic design of two drainage structures. The final design meets all applicable state and federal design criteria, most notably INDOT standards, while attempting to use practical design in order to obtain federal funding and decrease overall cost.
Submitted by Geoff Edwards ge21@evansville.edu
Sign up your country for the International Bazaar!
The International Bazaar is November 17, but it's already time to figure out who will lead booths and cooking and start getting organized! If you missed our call-out meeting, check out our slideshow for more information. Come to the international office on the second floor of Ridgway University Center to sign up as a booth leader, food leader, entertainment/performance, or volunteer!
Submitted by Megan Sicard ms331@evansville.edu
UE defeats UAB, falls to UT Martin
In the second and final day of action at the Dunn Hospitality Invitational, the University of Evansville Volleyball team opened the day with a 3-2 win over UAB before falling to UT Martin by a 3-1 final in the nightcap at Meeks Family Fieldhouse.
Following the tournament, Allana McInnis was named the Purple Aces representative on the All-Tournament Team.
"It was a good tournament performance overall. We are continuing to get the opportunity to rotate people and see them compete and contribute on pressure situations. We like the fact that no matter of who is in, the system stays consistent, and we are able to play at a high level," Evansville head coach Manolo Concepcion said. "We know that our offense will continue to improve, especially because our ball control has demonstrated that it can keep in the game against anyone."
"I am extremely impressed with Allana McInnis' constant progress, and how she is achieving it," he continued. "This award is attributed to the hours that she has spent analyzing and studying her craft in order to get better. The good problem that we have now is that we know that there is still a lot of room to improve, and that we are far from our potential. Now, we go back and watch film these next days, train with mindfulness, and prepare for what will be another high level tournament next weekend."
Rachel Tam set a career mark with 22 kills in the opening match of the day versus UAB. She also added 16 digs and two block assists. Cathy Schreiber notched 13 kills while Mildrelis Rodriguez and Rocio Fortuny registered nine apiece. Allana McInnis notched 47 helpers while Rodriguez led the squad with 18 digs.
UAB start the match off with two quick points before the Aces rallied back with five in a row. Rachel Tam had a kill and Cathy Schreiber was credited with an ace in that stretch. After UAB retook the lead at 9-7, Evansville punched back once again, taking a 15-11 advantage. Schreiber kept it going, adding another of her seven kills in the set before Rocio Fortuny closed out a 25-21 win with her second kill.
The Aces kept it rolling in a hard-fought second set. The Blazers held a late 21-19 lead, but a pair of Tam tallies helped UE tie it up at 22-22. UAB retook a 24-23 lead on a Gabby Deshotel kill, but Evansville was able to fight back for a 26-24 win. Mildrelis Rodriguez had two kills in the final three points.
After the Blazers regained the momentum with a 25-23 win in the third and 25-20 victory in the fourth, a fifth and deciding set ensued. UE scored the first three tallies, but UAB came back to make it an 8-8 contest. Schreiber gave UE the lead for good with a service ace and Tam added two more kills as UE took the match with a 15-12 win.
Schreiber was the leader for UE in the second match, notching 13 kills while Tam finished with 10.
Rodriguez led the way in the first game of the UT Martin matchup as Evansville rallied for a 27-25 win. The Skyhawks had the early edge as they took an 11-5 lead on back-to-back Hayley Gray kills. UE made its way back, tying it up at 17-17, but UTM had the answer, retaking a 23-20 lead. Following a time out, the Aces roared back in a big way, taking the win thanks to a 7-2 run.
UT Martin had its way in the second set, erasing a 9-7 deficit to take a 25-18 win. The Skyhawks earned the win thanks to a 10-6 run. They took control in the third game with a 25-14 win before setting the tone early in the 4th, jumping out to a 5-0 lead before extending it to 13-6. Evansville never gave up as an Adeline Payne kill helped UE cut the deficit to 18-16 before two Schreiber kills helped tie it up at 19 all.
Rachel Tam had another pivotal play as her kill gave UE a 21-20 edge. The Skyhawks once again had the answer. Three in a row was the difference as they took a 25-22 triumph to clinch the match.
Following an exciting opening weekend, UE heads to the Ball State/Butler Tournament next weekend, taking on Ball State, Butler, and Duquesne.
Aces led by Chepchieng at John McNichols Invitational
The University of Evansville Men's And Women's Cross Country teams traveled north to compete in the John McNichols Invitational at the LaVern Gibson Championship Cross Country Course in Terre Haute, Indiana.
As a team, the women took fifth place out of five NCAA Division I teams, while the men finished fifth in the five-team DI field.

Sophomore Stanley Chepchieng led the way for the men's team with a 24th-place finish. The Kabarnet, Kenya, native completed the eight kilometer course in a time of 27:35.6, smashing his PR by 35 seconds. Chepchieng ran amongst the top 10 of the 39-runner field for much of the first two miles of the race before slipping back in the pack.
"That's what (Stanley) has to do. Where he is going to learn is up there with the big dogs and he did an excellent job today," said Aces head coach Don Walters.

Just a spot behind Chepchieng was sophomore Ricky Hendrix, who finished 25th and also set a PR in a time of 27:40.4.

A trio of freshman finished 28th, 29th, and 30th as Tyler Freids-Reifsteck, Dawson Hood, and Ethan Price followed each other across the line.
Rounding out the Aces' men's team, freshman Kalen Ochs (28:44.4) finished 35th, sophomore Aaron Cochran (30:08.4) finished 37th, sophomore Tucker Dawson (30:39.8) came across in 38th, and freshman Timmy Miller (31:20.1) finished in 39th.
"Everyone that we had out there were either freshmen or sophomores and all of them across the board, for that course and this race today, all did an outstanding job," said Walters.

For the Aces women's squad, freshman Anna Lowry paced the Aces' contingent for the second-straight race. Lowry crossed the finish line in 47th in a time of 20:09.6.

Following Lowry was junior Ashton Bosler in 56th in a time of 20:37.6, freshman Izzy Dawson in 59th with a time of 20:56.2, and freshman Lauren Meyer in 60th in a time of 21:37.7.

Rounding out the Aces' runners were freshman Lexi Sutherland (22:08.0) in 62nd and junior Hayley Elliot (23:52.4) in 63rd.
"We had two juniors and the rest were all freshman, for what we did today on this course, I'm happy all around," said Walters on the performance by the women's team.

A two-week hiatus awaits the Aces as both men's and women's teams will next compete on September 23 at the Austin Peay Invite in Clarksville, Tennessee.
Student Rewards app!

All users who have experienced log in issues should be clear to register! Do not miss the opportunity to start earning points!
September 8: UE vs. Indiana volleyball (x2 points)
(Arrive early as this is expected to be a sellout)
September 8: UE vs. Miami WSOC
September 9: UE vs. UAB volleyball
September 10: UE vs. UT Martin volleyball
September 11: UE vs. Morehead State WSOC
Submitted by Jake K Hill jh690@evansville.edu
Aces outlast Morehead State, 2-1
The University of Evansville Women's Soccer team scored early and held on late for a 2-1 victory over Morehead State on Sunday afternoon at Arad McCutchan Stadium.
"We started out awesome with energy, intensity, and had a great finish early on to give us some confidence and that helped put them on their back foot," said Aces' head coach Krista McKendree. "We're getting better and that's what we've been talking about for them."
It all started quickly for the Aces, as junior midfielder Molly Lear scored just 29 seconds into the match on a shot from 15 yards out. The goal was the first of the season for Lear and is the fastest goal for the Aces since Abby Springer scored 17 seconds in a 3-0 win over Belmont on September 13, 2013.
"It's a great start. There's nothing more you can ask for," said Lear on her early score. "But then it's about thinking the fact that you have 89 minutes left after that."
Evansville added another goal in the 31st minute as senior forward Montana Portenier received the ball after a header by freshman Jayme-Lee Hunter and finished it at point blank range past the keeper.
Entering halftime, the Aces held an 8-2 advantage in shots and a 2-1 edge in corner kicks.
In the second half, the Eagles trimmed the Aces' advantage in half with a goal by Marisa Lavatori in the 51st minute.
The Eagles fired seven more shots in the second half, but Morehead State could not find the equalizer as the Aces captured a 2-1 victory.
For the Aces, freshman forward Katie Scroeder led the way with five shots, while Portenier took four shots with a goal. Freshman goalkeeper Michaela Till earned her fourth win of the season in goal, allowing a goal and making two saves.
In the match, the Aces dominated Morehead State in shots, 19-10, and earned five corner kicks to jus tone for the Eagles.
The Aces return to action on Friday as Evansville hosts Saint Louis at 7:00 p.m. at Arad McCutchan Stadium.
Sharon Kazee receives UE Theatre Society Honor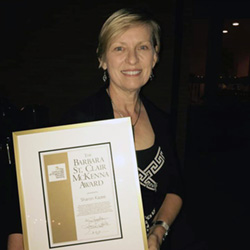 Dr. Sharon Kazee was awarded the Barbara St. Clair Mckenna Award at the annual UE Theatre Society Board and Faculty Dinner on Wednesday, September 6. This award is the highest honor given by the Theatre Society and recognizes someone who has contributed greatly to the organization through their arts advocacy efforts.
Over 60 people attended the event, including former McKenna Award-winners: Judy Steenberg, John W. Streetman III, Tay Ruthenburg, Susan Worthington, Marjorie Blalock, Steve Worthington, Greg Meyer, Susan Daniel, Larry Steenberg, and Lisa Jones. Other board members in attendance included: Allyson Claybourn, Amy Scharf, Beau Dial, Greg Kahre, Justin McCullough-Haddix, Kelly Gates, Kristen Tucker, Scott Wylie, secretary Anne Geissinger, vice-president Jenni Juhl, and president Lori Smith.
The UE Theatre Society is celebrating their 50th anniversary this year and will hold a gala on Friday, April 6. For more information about how to become involved with the Theatre Society, please call 812-488-2747.
Ed Lacy named Jazz Musician of the Year
UE professor emeritus Ed Lacy has been chosen as the Kenny Kent Lexus Jazz Musician of the Year! He will be presented with an award onstage on Saturday, September 16 at Lexus Jazz & Wine Festival in downtown Evansville! Plan on attending to show your support for Ed Lacy, one of UE's own, at the 10th Annual Jazz Music Fest.
If you have any questions, contact James Sullivan at js820@evansville.edu
Bone awarded residency
Creative writing professor Paul Bone has been awarded a writer-in-residence stay at Rivendell Writers' Colony, located in Sewanee, Tennessee, on property adjacent to the University of the South on the Cumberland Plateau. Rivendell was established to give writers space and time to focus on writing free from distractions, as well as augment the literary tradition at the University of the South. During the month of May 2018, Bone will continue work on a book of poems in progress.
Nicola Boyle awarded early career researcher bursary
Nicola Boyle, teaching fellow at Harlaxton College, has just been awarded an early career researcher bursary from the Society for Renaissance Studies. This weekend she will be attending the 'The First Playhouse in Drury Lane: a Symposium on the Cockpit-Phoenix' at the London Metropolitan Archives. Joining her will be Jan Stirm from the University of Wisconsin-Eau Clare, who is on the Harlaxton visiting faculty this semester.
Contribute to AceNotes
To have content considered for inclusion in AceNotes, please submit a Marketing Request Form. Deadline for submission to AceNotes is 10:00 a.m. on the requested date of publication. Only articles concerning UE related/sponsored activities will be accepted. Articles submitted to AceNotes may be edited for length and clarity. Submitter contact information is at the end of each article.