| | |
| --- | --- |
| AceNotes Today | Friday, September 8, 2017 |
Memorial service and lunch in honor of Devin Cyr tomorrow
Sigma Phi Epsilon will be hosting a memorial service in honor of UE student Devin Cyr, who passed away over the summer. The formal memorial service will take place TOMORROW at 6:00 p.m. on September 9 in Eykamp Hall, Ridgway University Center. A BBQ pulled pork lunch will be held TOMOROW AFTERNOON at 1:00 p.m. on the SigEp house patio. Donations will be accepted and will go to the Devin Cyr Memorial Scholarship fund. The public is invited to both events.
Submitted by Jacob Lutz jl265@evansville.edu
Meeks Family Fieldhouse opener
The doors officially open to Meeks Family Fieldhouse this weekend as the University of Evansville volleyball team will host the Dunn Hospitality Invitational.
Tonight will mark the opener as the Purple Aces welcome Indiana University. Later in the weekend, UE also hosts UAB and UT Martin. The Valley on ESPN3 will have coverage of the game against the Hoosiers while live stats will be available for all six matches over the weekend. In between sets 2 and 3 of Friday's match, a naming ceremony will take place recognizing the Meeks Family and Lois D. Patton.
To guarantee your tickets for Friday's match, please click here: http://www.uealumnionline.com/s/1096/index.aspx?sid=1096&pgid=1877&gid=1&cid=3372&ecid=3372&post_id=0
A solid start to the year continued for the Purple Aces as they went 2-1 in the Redhawks Invitational hosted by Southeast Missouri State. Evansville topped Arkansas-Pine Bluff (3-0) and Morgan State (3-2) before coming up just short in five frames against SEMO.
2017 marks the seventh Dunn Hospitality Invitational. It has been held annually since 2010 with the exception of 2012. Last year, UE went 1-2 as it finished off the weekend with an impressive victory over Kent State. Overall, the Aces are 12-6 in the event and went a perfect 3-0 in the inaugural tournament in 2010.
Erlicia Griffith and Rachel Tam earned All-Tournament accolades over the weekend in Cape Girardeau. Another nice offensive weekend saw Tam average 3.00 kills per set, recording a total of 39 for the weekend. She started the weekend with 8 against UAPB before upping that to 14 versus Morgan State. Against SEMO, she had an efficient effort, hitting .371 with 17 kills. She also had two block assists on the weekend to go along with 17 digs. For the season, she is averaging 3.20 kills per game, which ranks eighth in the MVC. She has notched eight+ kills in each match in 2017.
A great blocker in her first season of work for the Purple Aces continued that into this year as Erlicia Griffith was named to the All-Tournament Team at the Redhawks Invitational. She posted three solo blocks and 10 block assists in the tournament, notching 1.00 per set. Her average of 1.04 ranks fourth in the MVC. Her top performance was against Morgan State where she had eight block assists.
Meeks Family Fieldhouse officially opens on Friday night against Indiana University. The Hoosiers are off to a 6-0 start on the season, including wins over George Washington, Hofstra and LIU-Brooklyn last weekend in Washington D.C. Kendall Beerman is off to a strong start for IU, notching 3.76 kills per set in just 17 frames of work. Alexis Parker is just behind with 3.22. Last year, the Aces faced off against the Hoosiers in Bloomington with IU taking a 3-0 win.
Saturday's opener will pit the Aces against UAB. The Blazers, who play in Conference USA, are 3-4 on the season, but went 3-1 in last weekend's tournament in Birmingham. They earned wins over Georgia State, Charleston Southern and Western Illinois while falling to Austin Peay in four sets. Their top offensive weapon is Erika Zembyla, who has recorded 3.38 kills/set.
UT Martin is the final opponent of the weekend for the Aces. The Skyhawks come to town with a 2-5 mark, earning wins earlier this year over Delaware and Louisiana Tech. Jermima Idemudia and Megan Fair enter the week with team-highs of 69 kills apiece. The last meeting between UE and UTM came in 2013 as the Skyhawks earned a 3-2 victory in Martin, Tennessee.
UE Bookstore event sale
The UE Bookstore will have a special sale today - Friday, September 8 - from 4:00-7:00 p.m. before the volleyball match versus Indiana. This also the unveiling of the new Meeks Family Fieldhouse and dedication of the Lois D. Patton Court. All clothing and gifts will be 20 percent off the original price. There will also be a drawing for a $50 and $25 UE Bookstore gift certificate with winners to be announced during the volleyball match. Winner must be present at the match. Mark your calendars and save on UE gear.
Submitted by Doug Gustwiller dg57@evansville.edu
Hurricanes Harvey and Irma Response Meeting
We had a great turnout for our first Hurricane Harvey Meeting, but want to meet again to start discussing timelines and specifics in how UE can respond, not only to Hurricane Harvey but also to Hurricane Irma. Please join us from noon-1:00 p.m. TODAY - Friday, September 8 - in Grabill Lounge (basement of Neu Chapel).
All are welcome to attend, regardless if you could make it last week!
Submitted by Jackie Luedtke jl295@evansville.edu
Fall study abroad fair and Harlaxton welcome back event
Join us today for our fall study abroad fair!
Stop by Eykamp Hall, Room 251, Ridgway University Center, between 11:00 a.m.-1:00 p.m. to find out about all of the different study abroad options available to students. Whether you're interested in a semester, summer, or even a 10-day program, we can help you find the best program for your interests. Both Harlaxton and non-Harlaxton programs will be represented.
Recent Harlaxton returnees can stop by to pick up a small gift and fill out a postcard full of tips and tricks for our outgoing Harlaxton students. This is a great way to impart your best advice! It's also a great opportunity to see how you can go abroad again.
And don't forget to enter our T-shirt raffle! Twenty-five random students will be selected to receive our brand new UE study abroad T-shirts.
If you have any questions, you can e-mail Greta Becker at gb91@evansville.edu
Submitted by Greta Becker gb91@evansville.edu
Tonight - Wesley Student Fellowship call out meeting
Students from United Methodist and other Wesleyan backgrounds - and those who are just curious - are invited to attend a call out meeting for the Wesley Student Fellowship. The meeting will be tonight at 8:30 p.m. in Neu Chapel. We will discuss what fellowship meetings will entail and our goals as a group. Join us for this exciting time of organizing the Wesley Student Fellowship and celebrating our Methodist/Wesleyan heritage!
Submitted by Keith Turner kt160@evansville.edu
University Worship in Neu Chapel
The campus community is invited to join us this Sunday at 11:00 a.m. in Neu Chapel for University Worship. Together, we will recall the story of the Passover, when God delivered Israel from oppression in Egypt. We will then consider how God is calling us to set the oppressed and captive free. All are welcome! Hope to see you there! As always, Donut Bank donut balls and coffee will be served before and after the service.
Submitted by Keith Turner kt160@evansville.edu
Security Awareness Week: September 11-15
Security Awareness Week is September 11-15. Activities planned include:
Today - Friday September 15
10:00 a.m.-2:00 p.m. – Ridgway University Center
Equipment and services provided by the Office of Safety and Security
Students can register for FREE prizes*
Student drawing for free prizes is set for today - Friday, September 15 - at 2:00 p.m.
UE coffee mug
UE LED flashlight folding umbrella
UE ball cap
UE tumbler
Nikolidakis to give MFA application talk
As part of the Fall Professionalization Talks, assistant professor of creative writing Lisa Nikolidakis will give a presentation on applying to MFA programs for creative writing. Her presentation is planned for 4:00 p.m. today - Monday, September 11 - in Room 173 in the Schroeder School of Business Building.
Topics covered will include how to research and narrow down programs, the application process, writing an effective personal statement, etiquette for requesting recommendations, and what to expect from graduate school.
After the 45-minute talk, there will be 30 minutes for Q&A. All majors considering graduate school should plan to attend.
Submitted by Lisa Nikolidakis ln43@evansville.edu
FREE SkyZone outing planned for today
All UE students are invited to SkyZone today - September 15 - from 7:00-9:00 p.m. Transportation will be provided by the Newman Club and CSE and all costs are free. To sign up, complete the waiver in WebAdvisor. The waiver can be found under Student Activities/Waivers for Student Activities.
For more information, contact Olivia at ov4@evansville.edu.
Submitted by Gabrielle VanBuskirk gv19@evansville.edu
UELA call-out meeting today
The University of Evansville Leadership Academy is having an informational call-out meeting today - September 11 - at 7:00 p.m. in Room 173 in the Schroeder School of Business Building. If you are interested in joining UELA or want to know more information, please be in attendance.
Submitted by Rebecca Humphrey rh190@evansville.edu
Register now to participate in Homecoming's Ace Race
The Ace Race, a 5K run benefiting Ace CARE, UE's pro bono physical therapy clinic, is planned for Saturday, October 14, 9:00 a.m., on campus. This event is part of UE's Homecoming. The participation fee for students is $15. The fee for the general public is $25 before October 1 or $30 after October 1. Those registering before October 1 will receive a long sleeve T-shirt. To register, go to www.uealumnionline.com/acerace2017.
For more information, contact Michaela Bortle at mb315@evansville.edu.
Run for Refugees
Refugee camps without access to education become fertile breeding ground for disaffection and extremism, and half of Syria's refugees are impressionable children. If you can run or walk on a lovely, late-summer Indiana morning, going the distance will make a difference in the life of these children.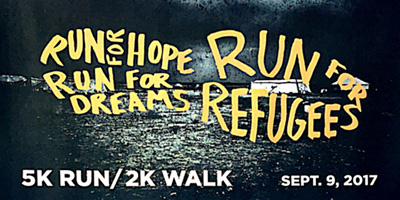 Join Scholars for Syria on Saturday, September 9 at 8:00 a.m. at the University of Southern Indiana to help raise money to support Road to Mafraq, a nonprofit dedicated to providing education for Syrian refugee children living in Jordan. This will be the second annual 5k run-2k run/walk.
You can sign up to participate in the event at the Run for Refugees website.
This year, Road To Mafraq is partnering with Collateral Repair Project, working to bring much-needed assistance to refugees and other victims of war and conflict. A project called Dreams for Teams will help teens affected by war learn and develop leadership skills they can use when they are able to return to their homes. At the end of the leadership training program, the teens will develop and implement athletic camps for younger children in the area.
Money raised from Saturday's event will go toward paying for program costs, teacher salaries, and sports equipment used for this program and others in the future.
Want to donate to our cause but can't make it to the race? See the donations button on the website.
This event is sponsored by USI's KESHO student organization.
The packet pickup location is the Rec Center Quiet Room at 8600 University Boulevard in Evansville. The race day packet pickup time is 7:00 a.m.
Submitted by Gail Vignola gv15@evansville.edu
Aces Engineering project
Did you know ... in August 2014, Evansville's city engineer, Brent Schmidt, reached out to Aces Engineering, a team of six senior civil engineering students at the University of Evansville, for assistance in completing a re-design of the one mile section of East Virginia Street from Green River Road to Burkhardt Road. The city requested a "complete road" design - one that has accessibility for all types of users.
Aces Engineering developed three design alternatives to increase roadway capacity while maintaining accessibility and safety for all corridor residents and users. The final design, chosen by the city engineer, incorporates a 3-lane roadway with a continuous center left turn lane running the entire project length. The central feature of the design is a 10-foot wide, multi-purpose path running east/west along the north side of East Virginia Street. Other design elements include pavement design, intersection design, traffic control plans, and the hydraulic design of two drainage structures. The final design meets all applicable state and federal design criteria, most notably INDOT standards, while attempting to use practical design in order to obtain federal funding and decrease overall cost.
Submitted by Geoff Edwards ge21@evansville.edu
Student Rewards app!

All users who have experienced log in issues should be clear to register! Do not miss the opportunity to start earning points!
September 8: UE vs. Indiana volleyball (x2 points)
(Arrive early as this is expected to be a sellout)
September 8: UE vs. Miami WSOC
September 9: UE vs. UAB volleyball
September 10: UE vs. UT Martin volleyball
September 11: UE vs. Morehead State WSOC
Submitted by Jake K Hill jh690@evansville.edu
Be Ace Purple!
The UE athletic staff is looking for students that are interested in becoming the driving force behind the excitement at Aces events! This is a per event paid position. Please contact Jake Hill via e-mail: jh690@evansville.edu for more information!

Submitted by Jake Hill jh690@evansville.edu
Part-time job opportunity to work with Aces Softball!
We are looking for individuals who are interested in a part-time job within our athletic department working directly with our softball program. We have multiple positions available that will assist the program with field maintenance, video for games, laundry services, and/or possibly on the field duties working directly with the team assisting with practice. If you are interested please contact Coach Heather Tarter for more information at ht77@evansville.edu.
Submitted by Heather Tarter ht77@evansville.edu
Title IX training link sent via Workplace Answers
On Tuesday, August 29, an e-mail from Workplace Answers was sent to the campus community. The email contained a link to a Title IX module training. The REQUIRED training is an educational opportunity to learn more about Title IX and how to report instances of sexual misconduct, harassment, and discrimination. Per the form letter located inside the module, Dr. Kazee delegated the training to all employees and students.
Please note: active shooter was added to the subject line by mistake.
The link will be available for the next 30 days. If you haven't taken the training within two weeks, Workplace Answers will e-mail a reminder to you.
On average, the training takes 30-45 minutes. You can stop and start at your convenience. If you experience technical difficulty, please let Tracey Folden, assistant vice president of academic affairs, know via e-mail at tf91@evansville.edu. She appreciates your cooperation and commitment to making UE a safe campus environment.
For questions contact Folden at 812-488-2509 or tf91@evansville.edu.
Submitted by Tracey Folden tf91@evansville.edu
Sharon Kazee receives UE Theatre Society Honor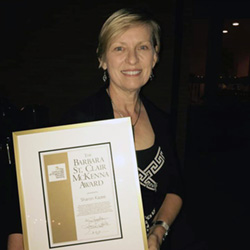 Dr. Sharon Kazee was awarded the Barbara St. Clair Mckenna Award at the annual UE Theatre Society Board and Faculty Dinner on Wednesday, September 6. This award is the highest honor given by the Theatre Society and recognizes someone who has contributed greatly to the organization through their arts advocacy efforts.
Over 60 people attended the event, including former McKenna Award-winners: Judy Steenberg, John W. Streetman III, Tay Ruthenburg, Susan Worthington, Marjorie Blalock, Steve Worthington, Greg Meyer, Susan Daniel, Larry Steenberg, and Lisa Jones. Other board members in attendance included: Allyson Claybourn, Amy Scharf, Beau Dial, Greg Kahre, Justin McCullough-Haddix, Kelly Gates, Kristen Tucker, Scott Wylie, secretary Anne Geissinger, vice-president Jenni Juhl, and president Lori Smith.
The UE Theatre Society is celebrating their 50th anniversary this year and will hold a gala on Friday, April 6. For more information about how to become involved with the Theatre Society, please call 812-488-2747.
Bone awarded residency
Creative writing professor Paul Bone has been awarded a writer-in-residence stay at Rivendell Writers' Colony, located in Sewanee, Tennessee, on property adjacent to the University of the South on the Cumberland Plateau. Rivendell was established to give writers space and time to focus on writing free from distractions, as well as augment the literary tradition at the University of the South. During the month of May 2018, Bone will continue work on a book of poems in progress.
Nicola Boyle awarded early career researcher bursary
Nicola Boyle, teaching fellow at Harlaxton College, has just been awarded an early career researcher bursary from the Society for Renaissance Studies. This weekend she will be attending the 'The First Playhouse in Drury Lane: a Symposium on the Cockpit-Phoenix' at the London Metropolitan Archives. Joining her will be Jan Stirm from the University of Wisconsin-Eau Clare, who is on the Harlaxton visiting faculty this semester.
Peter Schmidt has research paper accepted for publication
University of Evansville associate professor of mechanical engineering Peter Schmidt has had - along with his research group - an original research article accepted to the International Journal of Advanced Manufacturing Technology. The work, entitled "Noncontact measurements of acoustic emissions from the single-point turning process," is an investigation of the ultrasonic emission characteristics of metals undergoing a common manufacturing process. This work was conducted in support of non-proliferation efforts at DOE Y-12 National Security Complex.
Biology students present research at conference
Biology students Josh Baty and Liz Daugherty presented the results of their summer research at the KUH Summer Undergraduate Research Conference held August 2-4 in Bethesda, Maryland. The titles of their research presentations were Rho Kinase Inhibitor, Y-27632 Plays a Role in L-Type Calcium Channel Signaling, and G Protein Estrogen Receptor Facilitates Renal Protection in Females Through Eliciting a More Enhanced Natriuretic Response, respectively. The research was conducted at the University of Alabama-Birmingham during the summer of 2017 and was supported by NIH grants awarded to David and Jennifer Pollock ('78).
Contribute to AceNotes
To have content considered for inclusion in AceNotes, please submit a Marketing Request Form. Deadline for submission to AceNotes is 10:00 a.m. on the requested date of publication. Only articles concerning UE related/sponsored activities will be accepted. Articles submitted to AceNotes may be edited for length and clarity. Submitter contact information is at the end of each article.