| | |
| --- | --- |
| AceNotes Today | Thursday, September 7, 2017 |
Reduction in campus air conditioning - repairs underway
Due to a broken water line with the chilled water production equipment, the ability to provide air conditioning to most campus buildings may be significantly reduced today. Repairs are underway and service will be returned to normal as soon as possible.
Time correction - study-skills and time-management workshop
Note - the time of today's study skills and time management workshop was incorrect in the information submitted for publication. The time of the event is actually 4:00 p.m., not 4:30 p.m. The time has been corrected in the article below.
Want to earn higher grades with lower stress? Attend this workshop where you will learn strategies to help you better manage your time; study more effectively; and improve reading, note-taking, and in-class listening skills. (Student athletes: you will be assigned to separate workshops.)
The workshop is planned for today - Thursday, September 7 - at 4:00 p.m. in the Writing Center (Clifford Memorial Library)
Submitted by Angie Dawson ad5@evansville.edu
Tonight - Wesley Student Fellowship call out meeting
Students from United Methodist and other Wesleyan backgrounds - and those who are just curious - are invited to attend a call out meeting for the Wesley Student Fellowship. The meeting will be tonight at 8:30 p.m. in Neu Chapel. We will discuss what fellowship meetings will entail and our goals as a group. Join us for this exciting time of organizing the Wesley Student Fellowship and celebrating our Methodist/Wesleyan heritage!
Submitted by Keith Turner kt160@evansville.edu
University Worship in Neu Chapel
The campus community is invited to join us this Sunday at 11:00 a.m. in Neu Chapel for University Worship. Together, we will recall the story of the Passover, when God delivered Israel from oppression in Egypt. We will then consider how God is calling us to set the oppressed and captive free. All are welcome! Hope to see you there! As always, Donut Bank donut balls and coffee will be served before and after the service.
Submitted by Keith Turner kt160@evansville.edu
Security Awareness Week: September 11-15
Security Awareness Week is September 11-15. Activities planned include:
Today - Friday September 15
10:00 a.m.-2:00 p.m. – Ridgway University Center
Equipment and services provided by the Office of Safety and Security
Students can register for FREE prizes*
Student drawing for free prizes is set for today - Friday, September 15 - at 2:00 p.m.
UE coffee mug
UE LED flashlight folding umbrella
UE ball cap
UE tumbler
Nikolidakis to give MFA application talk
As part of the Fall Professionalization Talks, assistant professor of creative writing Lisa Nikolidakis will give a presentation on applying to MFA programs for creative writing. Her presentation is planned for 4:00 p.m. today - Monday, September 11 - in Room 173 in the Schroeder School of Business Building.
Topics covered will include how to research and narrow down programs, the application process, writing an effective personal statement, etiquette for requesting recommendations, and what to expect from graduate school.
After the 45-minute talk, there will be 30 minutes for Q&A. All majors considering graduate school should plan to attend.
Submitted by Lisa Nikolidakis ln43@evansville.edu
FREE SkyZone outing planned for today
All UE students are invited to SkyZone today - September 15 - from 7:00-9:00 p.m. Transportation will be provided by the Newman Club and CSE and all costs are free. To sign up, complete the waiver in WebAdvisor. The waiver can be found under Student Activities/Waivers for Student Activities.
For more information, contact Olivia at ov4@evansville.edu.
Submitted by Gabrielle VanBuskirk gv19@evansville.edu
UELA call-out meeting today
The University of Evansville Leadership Academy is having an informational call-out meeting today - September 11 - at 7:00 p.m. in Room 173 in the Schroeder School of Business Building. If you are interested in joining UELA or want to know more information, please be in attendance.
Submitted by Rebecca Humphrey rh190@evansville.edu
UE Bookstore event sale
The UE Bookstore will have a special sale today - Friday, September 8 - from 4:00-7:00 p.m. before the volleyball match versus Indiana. This also the unveiling of the new Meeks Family Fieldhouse and dedication of the Lois D. Patton Court. All clothing and gifts will be 20 percent off the original price. There will also be a drawing for a $50 and $25 UE Bookstore gift certificate with winners to be announced during the volleyball match. Winner must be present at the match. Mark your calendars and save on UE gear.
Submitted by Doug Gustwiller dg57@evansville.edu
Hurricanes Harvey and Irma Response Meeting
We had a great turnout for our first Hurricane Harvey Meeting, but want to meet again to start discussing timelines and specifics in how UE can respond, not only to Hurricane Harvey but also to Hurricane Irma. Please join us from noon-1:00 p.m. TODAY - Friday, September 8 - in Grabill Lounge (basement of Neu Chapel).
All are welcome to attend, regardless if you could make it last week!
Submitted by Jackie Luedtke jl295@evansville.edu
Register now to participate in Homecoming's Ace Race
The Ace Race, a 5K run benefiting Ace CARE, UE's pro bono physical therapy clinic, is planned for Saturday, October 14, 9:00 a.m., on campus. This event is part of UE's Homecoming. The participation fee for students is $15. The fee for the general public is $25 before October 1 or $30 after October 1. Those registering before October 1 will receive a long sleeve T-shirt. To register, go to www.uealumnionline.com/acerace2017.
For more information, contact Michaela Bortle at mb315@evansville.edu.
Run for Refugees
Refugee camps without access to education become fertile breeding ground for disaffection and extremism, and half of Syria's refugees are impressionable children. If you can run or walk on a lovely, late-summer Indiana morning, going the distance will make a difference in the life of these children.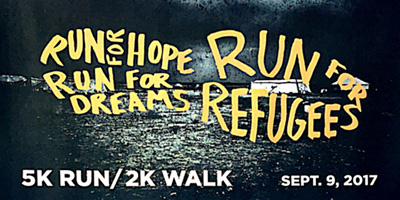 Join Scholars for Syria on Saturday, September 9 at 8:00 a.m. at the University of Southern Indiana to help raise money to support Road to Mafraq, a nonprofit dedicated to providing education for Syrian refugee children living in Jordan. This will be the second annual 5k run-2k run/walk.
You can sign up to participate in the event at the Run for Refugees website.
This year, Road To Mafraq is partnering with Collateral Repair Project, working to bring much-needed assistance to refugees and other victims of war and conflict. A project called Dreams for Teams will help teens affected by war learn and develop leadership skills they can use when they are able to return to their homes. At the end of the leadership training program, the teens will develop and implement athletic camps for younger children in the area.
Money raised from Saturday's event will go toward paying for program costs, teacher salaries, and sports equipment used for this program and others in the future.
Want to donate to our cause but can't make it to the race? See the donations button on the website.
This event is sponsored by USI's KESHO student organization.
The packet pickup location is the Rec Center Quiet Room at 8600 University Boulevard in Evansville. The race day packet pickup time is 7:00 a.m.
Submitted by Gail Vignola gv15@evansville.edu
Volunteer Fair is September 21!
Join us for the Volunteer Fair on Thursday, September 21, from 10:00 a.m.-1:00 p.m., in Eykamp Hall, Ridgway University Center. Make connections with nonprofits and agencies from across the Evansville community and find out where you can make an impact. This is a perfect opportunity to make connections for any required hours or on behalf of your student organization. All students, faculty, and staff are welcome to attend.
Submitted by Jackie Luedtke jl295@evansville.edu
Aces Engineering project
Did you know ... in August 2014, Evansville's city engineer, Brent Schmidt, reached out to Aces Engineering, a team of six senior civil engineering students at the University of Evansville, for assistance in completing a re-design of the one mile section of East Virginia Street from Green River Road to Burkhardt Road. The city requested a "complete road" design - one that has accessibility for all types of users.
Aces Engineering developed three design alternatives to increase roadway capacity while maintaining accessibility and safety for all corridor residents and users. The final design, chosen by the city engineer, incorporates a 3-lane roadway with a continuous center left turn lane running the entire project length. The central feature of the design is a 10-foot wide, multi-purpose path running east/west along the north side of East Virginia Street. Other design elements include pavement design, intersection design, traffic control plans, and the hydraulic design of two drainage structures. The final design meets all applicable state and federal design criteria, most notably INDOT standards, while attempting to use practical design in order to obtain federal funding and decrease overall cost.
Submitted by Geoff Edwards ge21@evansville.edu
Building a Dam
Did you know … in 2013, a team of University of Evansville engineering students set out to design a new dam and reservoir in Fairfield, Illinois, to address a major flooding issue in Lakeside Park that affected thousands of city residents. The team of 10 civil engineering students from the University of Evansville, four faculty members, and one professional engineer teamed with the city of Fairfield to assess the situation and create design plans for the new reservoir and dam. The design was in keeping with the park board's desire to create both a functional and an aesthetically appealing park that would positively impact the quality of life for the community.
This collaboration has positively impacted the public safety, health, and welfare of over 5,000 city residents. The new earth dam will revitalize Lakeside Park and resurrect the Fairfield Reservoir. It will protect public safety by providing flood protection for downstream residents. Children walking to school and the park had to use an unsafe log bridge to cross Johnson Creek, but the new design eliminates that dangerous crossing with the new asphalt path on the dam crest. Additionally, a maintenance and operation plan as well as an emergency action plan were developed to ensure the long-term operation of the dam.
Submitted by Geoff Edwards ge21@evansville.edu
Be Ace Purple!
The UE athletic staff is looking for students that are interested in becoming the driving force behind the excitement at Aces events! This is a per event paid position. Please contact Jake Hill via e-mail: jh690@evansville.edu for more information!

Submitted by Jake Hill jh690@evansville.edu
Get your FREE yearbook tonight
Sophomores, juniors, and seniors can pick up their yearbooks tonight at the SAB showing of "Wonder Woman," starting at 8:00 p.m. outside Ridgway University Center. They're FREE!
Submitted by Tracy Maurer tm2@evansville.edu
Part-time job opportunity to work with Aces Softball!
We are looking for individuals who are interested in a part-time job within our athletic department working directly with our softball program. We have multiple positions available that will assist the program with field maintenance, video for games, laundry services, and/or possibly on the field duties working directly with the team assisting with practice. If you are interested please contact Coach Heather Tarter for more information at ht77@evansville.edu.
Submitted by Heather Tarter ht77@evansville.edu
Friendship families needed for international students
UE faculty, staff, and friends - are you interested in exposing your family to new cultures while offering a new UE international student support and friendship in Evansville? Consider joining the Office of Cultural Engagement and International Services' UE Global Friends and Families program! We make short and long-term matches for UE undergraduates and exchange students who want to learn about American culture with the help of a local family. Participating is easy - your international student match can join your family at youth sporting events, cookouts, family events, or even just come over for a home cooked meal and family game night. If this interests you, complete our family interest form or contact Megan Sicard at ms331@evansville.edu or ext. 2280 for more information!
Submitted by Megan Sicard ms331@evansville.edu
Nominate individuals for the Employee Excellence Award
The University of Evansville, in pursuit of excellence in service, wishes to recognize monthly a non-faculty employee displaying records of achievement as a leader. Leadership may be demonstrated in any of the following categories:
• Service to the University community
• Service to students
• Job performance and attitude to fellow employees
One award is presented each month. To be eligible, an employee must be a full-time member of the administration or staff. Nominations are due before the 15th of each month.
To nominate someone, or to find out more information about the Employee Excellence Award, go to http://acelink.evansville.edu/Tools/Employee Award/
Submitted by Lori LeDuc ll138@evansville.edu
TIAA-CREF counseling appointments
The TIAA-CREF representative will be on the UE campus for individual counseling sessions on Tuesday, September 12. To schedule an appointment, call TIAA-CREF at 1-800-732-8353. The meeting location will be in room 208 of the University Libraries.
Submitted by Lori LeDuc ll138@evansville.edu
Title IX training link sent via Workplace Answers
On Tuesday, August 29, an e-mail from Workplace Answers was sent to the campus community. The email contained a link to a Title IX module training. The REQUIRED training is an educational opportunity to learn more about Title IX and how to report instances of sexual misconduct, harassment, and discrimination. Per the form letter located inside the module, Dr. Kazee delegated the training to all employees and students.
Please note: active shooter was added to the subject line by mistake.
The link will be available for the next 30 days. If you haven't taken the training within two weeks, Workplace Answers will e-mail a reminder to you.
On average, the training takes 30-45 minutes. You can stop and start at your convenience. If you experience technical difficulty, please let Tracey Folden, assistant vice president of academic affairs, know via e-mail at tf91@evansville.edu. She appreciates your cooperation and commitment to making UE a safe campus environment.
For questions contact Folden at 812-488-2509 or tf91@evansville.edu.
Submitted by Tracey Folden tf91@evansville.edu
Nicola Boyle awarded early career researcher bursary
Nicola Boyle, teaching fellow at Harlaxton College, has just been awarded an early career researcher bursary from the Society for Renaissance Studies. This weekend she will be attending the 'The First Playhouse in Drury Lane: a Symposium on the Cockpit-Phoenix' at the London Metropolitan Archives. Joining her will be Jan Stirm from the University of Wisconsin-Eau Clare, who is on the Harlaxton visiting faculty this semester.
Peter Schmidt has research paper accepted for publication
University of Evansville associate professor of mechanical engineering Peter Schmidt has had - along with his research group - an original research article accepted to the International Journal of Advanced Manufacturing Technology. The work, entitled "Noncontact measurements of acoustic emissions from the single-point turning process," is an investigation of the ultrasonic emission characteristics of metals undergoing a common manufacturing process. This work was conducted in support of non-proliferation efforts at DOE Y-12 National Security Complex.
Biology students present research at conference
Biology students Josh Baty and Liz Daugherty presented the results of their summer research at the KUH Summer Undergraduate Research Conference held August 2-4 in Bethesda, Maryland. The titles of their research presentations were Rho Kinase Inhibitor, Y-27632 Plays a Role in L-Type Calcium Channel Signaling, and G Protein Estrogen Receptor Facilitates Renal Protection in Females Through Eliciting a More Enhanced Natriuretic Response, respectively. The research was conducted at the University of Alabama-Birmingham during the summer of 2017 and was supported by NIH grants awarded to David and Jennifer Pollock ('78).
Beavers joins philosophy and AI program committee
Anthony Beavers, professor of philosophy, has been invited to join the program committee for the 2017 Philosophy and Theory of Artificial Intelligence Conference which will be held this November at the University of Leeds.
Maass presents research to American Political Science Association
Richard Maass, assistant professor of political science, presented research to the annual conference of the American Political Science Association on Thursday, August 31, in San Francisco. His paper, titled "The Norm Against Conquest: Origins, Expectations, and U.S. Foreign Policy," investigated why the United States bound itself to refrain from conquest (unlike many areas of international law where U.S. leaders have refused to bind their country).
Contribute to AceNotes
To have content considered for inclusion in AceNotes, please submit a Marketing Request Form. Deadline for submission to AceNotes is 10:00 a.m. on the requested date of publication. Only articles concerning UE related/sponsored activities will be accepted. Articles submitted to AceNotes may be edited for length and clarity. Submitter contact information is at the end of each article.