| | |
| --- | --- |
| AceNotes Today | Wednesday, September 6, 2017 |
Campus Community Invited to Diversity Resource Center Dedication: TODAY at NOON
The University of Evansville will hold a dedication ceremony for the newly finished Diversity Resource Center today at noon. The dedication will take place in the back yard of the Diversity Resource Center, located at 436 Weinbach Avenue. UE students will give tours of the house following the ceremony and refreshments will also be provided.
The University of Evansville is committed to inclusion and the broadened commitment to promoting a more integral understanding of differences. The Diversity Resource Center is a physical reminder that UE stands behind this commitment. It is a safe space for students to gather and is equipped with technology and materials to facilitate collaboration and inclusion. There are both work spaces and game spaces as well as a fully functioning kitchen for social gatherings and more.
Those speaking at the ceremony will include: Thomas Kazee, UE's president; Bob Jones, CEO of Old National Bank and member of the UE board of trustees diversity committee; Jacob Lutz, UE's Student Government Association president; Tammy Gieselman, UE Chaplain; and more.
I-House Bangladesh today
Purba Yusuf will be presenting on Bangladesh at I-House today at 7:00 p.m., upstairs in Ridgway University Center. Come support your fellow students and learn about another country!
Submitted by Alexis Whitacre aw339@evansville.edu
Dinner and Discussion today with Fr. Christian Raab
Come join us today at 5:00 p.m. at the Newman Center for a home cooked meal as Fr. Christian Raab, a monk and priest of St. Meinrad Archabbey, joins us to speak about prayer! Fr. Christian will offer a reflection on ways of different forms of prayer and offer suggestions for how to incorporate them into the busy life of a college student.
Submitted by Gabrielle VanBuskirk gv19@evansville.edu
Candlelight worship in Neu Chapel tonight
There will be a brief, 30-minute candlelight worship service in Neu Chapel tonight at 8:15 p.m. This quiet, reflective service is sure to be a meaningful way to end a busy day. The campus community is invited to attend! Hope to see you there!
Submitted by Keith Turner kt160@evansville.edu
Fireside Chat with Candlelight Worship
Our weekly Fireside Chat will be held in Grabill Lounge in Neu Chapel this evening at 7:30 p.m. We will be continuing the theme "Life's Maze, God's Mission, and Me: What is God calling me to do?" This week, we will focus on the importance and value of cultural differences and uniqueness in our own spiritual formation. Snacks will be provided! All are welcome to attend!
Submitted by Keith Turner kt160@evansville.edu
Fall 2017 study-skills and time-management workshop
Want to earn higher grades with lower stress? Attend one of our workshops where you will learn strategies to help you better manage your time; study more effectively; and improve reading, note-taking, and in-class listening skills. (Student athletes: you will be assigned to separate workshops.)
The workshops are planned for:
Today - Wednesday, September 6 - at 4:00 p.m. at the Writing Center (Clifford Memorial Library)
Thursday, September 7 at 4:00 p.m. at the Writing Center (Clifford Memorial Library)
Submitted by Angie Dawson ad5@evansville.edu
Sorority formal recruitment
Panhellenic Sorority Recruitment is planned starting today - Wednesday, September 6 - through Saturday, September 9 at the Panhellenic Suites. Bid Day celebrations will be Sunday, September 10 at 2:00 p.m. on the East Terrace Lawn. On September 5, there will be an information session for everyone who has registered for formal recruitment. Remember to register by Monday, September 4! Payment options include: credit/debit card, cash or check. Please be sure to have all money turned in to Cait East-Hutson by September 5 by 12:00 p.m. Recruitment counselors will be in Ridgway University Center until Friday, September 1 at 1:00 p.m. to answer any questions and help with the registration process.
Submitted by Tara Yager ty24@evansville.edu
Part-time job fair today
Come by Ridgway University Center today – Wednesday, September 6 - to meet with area employers at the Part-Time Job Fair! The event is from 11:00 a.m.-1:00 p.m., on the first floor of Ridgway University Center. Business casual attire is recommended.
Submitted by Alison Morris-McDonald am268@evansville.edu
FREE SkyZone outing planned for today
All UE students are invited to SkyZone today - September 15 - from 7:00-9:00 p.m. Transportation will be provided by the Newman Club and CSE and all costs are free. To sign up, complete the waiver in WebAdvisor. The waiver can be found under Student Activities/Waivers for Student Activities.
For more information, contact Olivia at ov4@evansville.edu.
Submitted by Gabrielle VanBuskirk gv19@evansville.edu
UELA call-out meeting today
The University of Evansville Leadership Academy is having an informational call-out meeting today - September 11 - at 7:00 p.m. in Room 173 in the Schroeder School of Business Building. If you are interested in joining UELA or want to know more information, please be in attendance.
Submitted by Rebecca Humphrey rh190@evansville.edu
UE Bookstore event sale
The UE Bookstore will have a special sale today - Friday, September 8 - from 4:00-7:00 p.m. before the volleyball match versus Indiana. This also the unveiling of the new Meeks Family Fieldhouse and dedication of the Lois D. Patton Court. All clothing and gifts will be 20 percent off the original price. There will also be a drawing for a $50 and $25 UE Bookstore gift certificate with winners to be announced during the volleyball match. Winner must be present at the match. Mark your calendars and save on UE gear.
Submitted by Doug Gustwiller dg57@evansville.edu
Hurricanes Harvey and Irma Response Meeting
We had a great turnout for our first Hurricane Harvey Meeting, but want to meet again to start discussing timelines and specifics in how UE can respond, not only to Hurricane Harvey but also to Hurricane Irma. Please join us from noon-1:00 p.m. TODAY - Friday, September 8 - in Grabill Lounge (basement of Neu Chapel).
All are welcome to attend, regardless if you could make it last week!
Submitted by Jackie Luedtke jl295@evansville.edu
Men's Basketball 2017-18 schedule unveiled
The full schedule for the 2017-18 University of Evansville Men's Basketball team has been released as the Purple Aces amp up for a busy campaign starting in November.
"We are very excited about the upcoming season. I think our non-conference schedule gives our team the opportunity to play against some strong competition to get them ready for Valley play," UE head coach Marty Simmons said. "Our conference will also be very competitive this year. It should be an exciting season."
Friday, November 10, will mark the season opener for the team as they welcome Arkansas State to the Ford Center. The annual Fan Fest will take place outside of the arena that day. ASU is coming off of a 20-12 campaign last season. A special match-up will be on Monday, November 13 as North Carolina Central comes to town for an 11:00 a.m. game. It will be the annual EVSC game with students from around the area coming to cheer on the Aces. The Eagles are the defending MEAC champions, going 25-9 on their way to the NCAA Tournament.
A 4-game homestand to begin the season continues on November 16 with Southeast Missouri State. The Redhawks had a nice turnaround last year. After going 5-24 in 2015-16, SEMO improved by 10 wins in 2016-17, going 15-18. Next up is the first-ever game for the program against Binghamton. This contest, along with SEMO, are home games that are part of the Cancun Challenge.
Fresno State marks the first game in Cancun, Mexico, as UE meets the Bulldogs for the third time in four years. Evansville took both previous matchups in the 2014 Gulf Coast Showcase and the 2015 MVC/Mountain West Challenge. The Bulldogs had a nice year, going 20-13 on their way to the 2017 NIT where they dropped an opening-round game on the road at TCU. Game two in Cancun will be against either George Mason or Louisiana Tech. The Patriots played in the 2017 CBI after going 20-14 while Louisiana Tech won 23 games. These games will be played on November 21 and 22.
The trek continues for UE on November 29 as they head to Albuquerque, to take on New Mexico. The Lobos are the latest game in the MVC/Mountain West Challenge for UE. Evansville has defeated Fresno State and Boise State in the last two games of the series. This is the first meeting between the schools.
Home play resumes on December 2 against Oakland City before the Aces travel to Bowling Green, Ohio, to take on BGSU three days later. Last year, UE topped the Falcons by a 69-66 final at the Ford Center. Three more home non-conference tilts follow, beginning on Saturday, December 9 versus Canisius. The squads met in the 2013 CIT in Buffalo, New York, as the Aces advanced to the semifinals with a hard-fought 84-83 win. That was also the day when Colt Ryan broke the program scoring record of Larry Humes.
December 16 will see local rival Austin Peay come to town. In the 2016 meeting in Clarksville, Tennessee, the Aces were able to grind out a 77-69 win. The next day, UE plays host to Midway of the NAIA for a 3:00 p.m. contest.
On December 20, Evansville plays in one of the most competitive atmospheres in the sport as it makes its first-ever trip to Cameron Indoor Stadium to face off against Duke. The Blue Devils went 28-9 last year and lost to eventual Final Four participant South Carolina in the second round of the NCAA Tournament. They are just two years removed from their last NCAA National Championship.
This season, Missouri Valley Conference play will begin before Christmas as the Aces host Illinois State. It will mark the annual West Side Night game as the program will team up with Logan's Promise and businesses from the west side. League road play commences at Loyola on December 30 with a trip to Southern Illinois on tap January 3.
Other highlights include the first game against Valparaiso as conference foes on Wednesday, January 24 and a trek to Illinois State for a February 3 contest. Home play wraps up with Senior Day on February 24 versus Southern Illinois in a 1:00 p.m. game.
Women's Basketball releases full 2017-18 schedule
The University of Evansville Women's Basketball team has released its full schedule for the 2017-18 campaign that opens in November for the Purple Aces.

"We're very excited to open the season at home in the newly renovated Meeks Family Fieldhouse," said Aces head coach Matt Ruffing. "I'm excited to see the environment we can create and get a feel for our new home."

"We're going to get to play in some tough road environments," said Ruffing. "We will face teams with new coaches and different styles of play. All will help prepare us and have our players ready to face the challenges of Missouri Valley play"

The Aces open the regular season on Sunday, November 10 as they host Murray State in Meeks Family Fieldhouse. The Racers finished last season with a 15-14 record including an 82-77 loss to UE in Murray, Kentucky. For the first time in the 2017-18 campaign, Evansville hits the road when the Aces travel to Normal, Alabama for a matchup with Alabama A&M on Wednesday, November 15. The contest marks a return trip for the Aces after defeating the Bulldogs 63-54 in Evansville last season.

A two-game road trip concludes on Saturday, November 18 when the Aces challenge Eastern Illinois in Charleston, Illinois. EIU heads into 2017-18 after amassing a 9-19 record last year. In their final game before the Thanksgiving holiday, the Aces return back home to face off with Westminster on November 21.

Awaiting Evansville after the break is a three-game road swing that opens November 30 at Western Kentucky. The Hilltoppers won the C-USA Tournament championship and advanced to the NCAA Tournament in 2016-17, finishing the year with a 27-7 overall mark. On December 2, the Aces continue their tour with a matchup with Austin Peay, who compiled a 14-16 record last season.

The road swing concludes for UE when the Aces hit the road for a clash with Kentucky on December 5. The matchup with UK marks the first for Evansville since 2001 and follows a season in which the Wildcats recorded a 22-11 overall mark and advanced to the second round of the NCAA Tournament.

UE returns back to Meeks Family Fieldhouse on Sunday, December 10 to face Morehead State.

Over a six-day span in mid-December, the Aces will play three games, opening December 14 at home against Oakland City. Following the matchup with the Mighty Oaks, Evansville takes to the road to challenge Illinois-Chicago on December 16 before heading to Cape Girardeau, Missouri to take on Southeast Missouri State on December 19.

The Aces open Missouri Valley Conference play at Meeks Family Fieldhouse on December 29 against Southern Illinois before wrapping-up the weekend on December 31 with a home matchup with Missouri State.

Road play in the MVC begins January 7 with a trip to Terre Haute to face Indiana State. Other highlights of the conference slate include a home matchup with the 2016-17 MVC regular season and tournament champions Drake on January 14. The Aces home finale will take place on February 25 against MVC newcomer Valparaiso, while the regular season finale is March 3 at Southern Illinois.
Register now to participate in Homecoming's Ace Race
The Ace Race, a 5K run benefiting Ace CARE, UE's pro bono physical therapy clinic, is planned for Saturday, October 14, 9:00 a.m., on campus. This event is part of UE's Homecoming. The participation fee for students is $15. The fee for the general public is $25 before October 1 or $30 after October 1. Those registering before October 1 will receive a long sleeve T-shirt. To register, go to www.uealumnionline.com/acerace2017.
For more information, contact Michaela Bortle at mb315@evansville.edu.
Run for Refugees
Refugee camps without access to education become fertile breeding ground for disaffection and extremism, and half of Syria's refugees are impressionable children. If you can run or walk on a lovely, late-summer Indiana morning, going the distance will make a difference in the life of these children.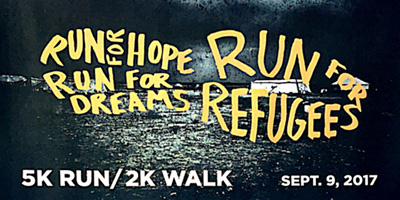 Join Scholars for Syria on Saturday, September 9 at 8:00 a.m. at the University of Southern Indiana to help raise money to support Road to Mafraq, a nonprofit dedicated to providing education for Syrian refugee children living in Jordan. This will be the second annual 5k run-2k run/walk.
You can sign up to participate in the event at the Run for Refugees website.
This year, Road To Mafraq is partnering with Collateral Repair Project, working to bring much-needed assistance to refugees and other victims of war and conflict. A project called Dreams for Teams will help teens affected by war learn and develop leadership skills they can use when they are able to return to their homes. At the end of the leadership training program, the teens will develop and implement athletic camps for younger children in the area.
Money raised from Saturday's event will go toward paying for program costs, teacher salaries, and sports equipment used for this program and others in the future.
Want to donate to our cause but can't make it to the race? See the donations button on the website.
This event is sponsored by USI's KESHO student organization.
The packet pickup location is the Rec Center Quiet Room at 8600 University Boulevard in Evansville. The race day packet pickup time is 7:00 a.m.
Submitted by Gail Vignola gv15@evansville.edu
Students: The United Way Coin War begins soon!
Students will have noticed the Coin Wars buckets in their residence halls and a strategically located table in Ridgway University Center. Take part in this friendly competition between residence halls.
The competition begins on September 25 and ends on September 29. Get your change ready!
How to Play
Put coins in your hall's bucket:
• Pennies = +1 point (Put these in your hall's bucket)
• Silver coins = -1 point (Put these in other halls' buckets)
The residence hall with the most points on September 29 is the winner!
Prizes
• Pizza party with President Kazee.
• Eternal glory all across campus.
All proceeds will be donated to the United Way of Southwestern Indiana as part of UE's United Way Campaign. United Way serves the community by funding programs focusing on education, income, and health.
UE Andiron Lecture Series Begins October 4
The University of Evansville's 2017-18 Andiron Lectures in Liberal Arts and Sciences series begins Wednesday, October 4. Atefeh Yazdanparast, UE assistant professor of marketing and Mead Johnson Endowed Chair in Business, will be discussing "Advertising and Pseudo-Culture: An Analysis of Changing Women's Portrayal as Reflected in Magazine Advertisements."
Andiron lectures are free and open to the public and begin at 4:00 p.m. in Eykamp Hall, Room 252, Ridgway University Center.
Yazdanparast earned a PhD in marketing from the University of North Texas, and has a Master of Science degree in marketing and a Bachelor of Science degree in food science and engineering. She is chair of the American Marketing Association's Marketing for Higher Education Special Interest Group. She has received the University of Evansville Class of 1961 Faculty Fellowship Award and the Global Scholar Award. Yazdanparast has also received the Schroeder School of Business Dean's Research Award twice.
Her research is focused on consumer decision making and value co-creation, and has been published in journals such as the Journal of Consumer Psychology, Psychology & Marketing, Journal of Consumer Behavior, and the Journal of Consumer Marketing.
Other lectures in this year's Andiron series include:
Wednesday, November 1, 2017: Bill Hemminger, UE professor emeritus in the Department of English at UE, will discuss "Morality and the Distribution of Wealth."
Wednesday, December 6, 2017: Mohammad K. Azarian, UE professor of mathematics, will discuss "Star Power: Medieval Muslim Polymath Jamshid Kashani.
Wednesday, February 7, 2018: Kristalyn Marie Shefveland, associate professor of history at the University of Southern Indiana, will discuss "Settler Memory of Indigenous Florida."
Wednesday, March 14, 2018: Kristina L. Hochwender, UE associate professor of English, will discuss "Child's Play: Amusement and Reform in Annie Fellows Johnston's Two Little Knights of Kentucky."
Wednesday, April 4, 2018: Robert Shelby, UE assistant professor of sociology, will discuss "Modern American Megachurches – Kaiju Religion?"
For more information, call Annette Parks at 812-488-1070 or the William L. Ridgway College of Arts and Sciences at 812-488-2589.
Art exhibit to feature work of fiber artists
The work of six fiber artists will be featured in an exhibit at the University of Evansville in September and October. The exhibit titled "Fibervisions" will be on display in UE's Melvin Peterson Gallery from September 11-October 22. There will be a reception for the artists on Thursday, September 14 at 6:30 p.m. Both the exhibit and reception are free and open to the public.
The artists whose work will be on display are Martha Aguilera, Erin Bowen, Teresa Greer, Karen Hampton, Dawn Murtaugh, and Laura Foster Nicholson.
The exhibit is supported in part by the UE Friends of Art.
For more information, please call the UE Department of Art at 812-488-2043.
New UE Latin dance performance team forming
A new UE Latin dance performance team is being formed. This team will learn Latin and ballroom formations, coached by Erin Lewis at the Institute for Global Enterprise and outside Dancesport experts. The team will perform at local festivals and venues, but will also teach their routines to local elementary students and perform with them. In addition, the team will visit senior centers and work with dementia patients on basic choreography to improve motor function. No experience necessary. If interested in joining, contact Erin at EL131@evansville.edu.
Submitted by Cindy Kelley ck116@evansville.edu
Creativity Workshop on Saturday, September 16
Scott Sherman, co-founder of the Transformative Action Institute and internationally-renowned speaker on creativity and social innovation, returns to UE to present a FREE creativity workshop on Saturday, September 16. The morning session, Unleashing Your Creativity (10:00 a.m.-noon), is open to everyone on and off campus and will feature fun and interactive exercises that will teach you how to get your creative juices flowing. The afternoon session, Incorporating Creativity into the Classroom (1:30-5:00 p.m.), is targeted toward teachers, faculty, staff, and administrators at all levels of education. This session will center on the nuts and bolts of what you can do to increase creativity in the classroom. Seating is limited. E-mail Erin Lewis by September 11 at creativity@evansville.edu to reserve your spot today for the morning session, afternoon session, or both.
Submitted by Cindy Kelley ck116@evansville.edu
ACErcise
Did you know ... in January of 2015, students in the University of Evansville's Doctor of Physical Therapy (DPT) program started ACErcise, a pro bono group exercise program for individuals who have sustained a neurological injury. During the 2014-15 school year, ACErcise's 63 student workers saw a group of eight patients weekly for 10 weeks each semester.
Students spent approximately 482 hours working to serve and rehabilitate members of the community during this project.
This service project facilitates community collaboration and provides a substantial learning opportunity for UE students while creating awareness of the need for pro bono work.
The Ace CARE clinic receives 100% of its patient referrals from ECHO Community Healthcare of Evansville, a local organization providing general care to the same target audiences. Additionally, there are often up to 40 people on the waiting list for the Ace CARE clinic.
Submitted by Geoff Edwards ge21@evansville.edu
Building a Dam
Did you know … in 2013, a team of University of Evansville engineering students set out to design a new dam and reservoir in Fairfield, Illinois, to address a major flooding issue in Lakeside Park that affected thousands of city residents. The team of 10 civil engineering students from the University of Evansville, four faculty members, and one professional engineer teamed with the city of Fairfield to assess the situation and create design plans for the new reservoir and dam. The design was in keeping with the park board's desire to create both a functional and an aesthetically appealing park that would positively impact the quality of life for the community.
This collaboration has positively impacted the public safety, health, and welfare of over 5,000 city residents. The new earth dam will revitalize Lakeside Park and resurrect the Fairfield Reservoir. It will protect public safety by providing flood protection for downstream residents. Children walking to school and the park had to use an unsafe log bridge to cross Johnson Creek, but the new design eliminates that dangerous crossing with the new asphalt path on the dam crest. Additionally, a maintenance and operation plan as well as an emergency action plan were developed to ensure the long-term operation of the dam.
Submitted by Geoff Edwards ge21@evansville.edu
Rohleder paces women's golf in opener
Freshman Sophia Rohleder carded a 77 in the final round of the Roseann Schwartz Invitational to finish in 19th place at Mill Creek Park Golf Course.
After an opening-round tally of 82, the Evansville product improved by five strokes to finish with a 159 for the event, taking 19th place.
Fellow newcomer Minka Gill saw her score jump by eight strokes on Tuesday. Gill notched an 86 in the first round of action, but fired off a 78 in the final round to tie for 34th with a 164. Giulia Mallmann matched that total with identical rounds of 82.
Next up was Maria Pickens. She also saw an improvement in day two. Pickens followed up Monday's 86 with a score of 82. Her total of 168 tied her for 43rd. Lexie Sollman was next up with a 171.
Madison Chaney came home in a tie for 43rd as an individual with her rounds finishing at 83 and 85. Carly Waggoner was tied with Sollman for 49th with a 171. Waggoner shot an 84 on Tuesday.
Marshall University extended its lead to take the team championship. The Thundering Herd notched a 608 after totaling a team score of 298 in the last round. They finished 12 ahead of Akron. The Purple Aces remained in the eighth spot, finishing with a 655.
Cleveland State's Madison Butler was the medalist. Her 149 came in two strokes ahead of her nearest competition.
The next action for the Aces will be on September 18-19 at the Ball State Cardinal Classic in Yorktown, Indiana.
Part-time job opportunity to work with Aces Softball!
We are looking for individuals who are interested in a part-time job within our athletic department working directly with our softball program. We have multiple positions available that will assist the program with field maintenance, video for games, laundry services, and/or possibly on the field duties working directly with the team assisting with practice. If you are interested please contact Coach Heather Tarter for more information at ht77@evansville.edu.
Submitted by Heather Tarter ht77@evansville.edu
Friendship families needed for international students
UE faculty, staff, and friends - are you interested in exposing your family to new cultures while offering a new UE international student support and friendship in Evansville? Consider joining the Office of Cultural Engagement and International Services' UE Global Friends and Families program! We make short and long-term matches for UE undergraduates and exchange students who want to learn about American culture with the help of a local family. Participating is easy - your international student match can join your family at youth sporting events, cookouts, family events, or even just come over for a home cooked meal and family game night. If this interests you, complete our family interest form or contact Megan Sicard at ms331@evansville.edu or ext. 2280 for more information!
Submitted by Megan Sicard ms331@evansville.edu
Nominate individuals for the Employee Excellence Award
The University of Evansville, in pursuit of excellence in service, wishes to recognize monthly a non-faculty employee displaying records of achievement as a leader. Leadership may be demonstrated in any of the following categories:
• Service to the University community
• Service to students
• Job performance and attitude to fellow employees
One award is presented each month. To be eligible, an employee must be a full-time member of the administration or staff. Nominations are due before the 15th of each month.
To nominate someone, or to find out more information about the Employee Excellence Award, go to http://acelink.evansville.edu/Tools/Employee Award/
Submitted by Lori LeDuc ll138@evansville.edu
TIAA-CREF counseling appointments
The TIAA-CREF representative will be on the UE campus for individual counseling sessions on Tuesday, September 12. To schedule an appointment, call TIAA-CREF at 1-800-732-8353. The meeting location will be in room 208 of the University Libraries.
Submitted by Lori LeDuc ll138@evansville.edu
New library research system unveiled
At the culmination of a three-month project, UE Libraries has begun the slow rollout of an updated library system and catalog. This is the first major change to the library system since 2001. It is called QUEST.
You can find out more about QUEST on its online site. The opening page explains what the new system offers campus researchers. We invite all library users to review the introductory information and to try out the new QUEST service.
Submitted by Robb M Waltner rw3@evansville.edu
Student package notification reminder
Students anticipating package deliveries should monitor their e-mails and text messages from UE distribution services/mail services (DS/MS) before coming to pick up packages at DS/MS (which is located in the General Services Building.) DS/MS sends notifications to students for every package received. Students may receive premature delivery notifications from vendors before their packages are received in DS/MS. Students are encouraged to wait until they receive an e-mail and/or text package notification from DS/MS (to ensure the package has been delivered) before coming to DS/MS for package pickup.
For package related questions, contact Kim Winsett at kw83@evansville.edu or ext. 2940.
Submitted by Kim Winsett kw83@evansville.edu
Now recruiting: Harlaxton Ambassadors
Are you a recent Harlaxton alumni who loves to share your experience with others? Or do you know a student who fits that description? The study abroad office is currently taking applications on its website for students who want to volunteer as Harlaxton Ambassadors to recruit, inform, and encourage Harlaxton applicants from partner schools.
As official representatives of Harlaxton, ambassadors will gain skills in recruitment, marketing, international education, and cross-cultural communication as well as the chance to share their experience and receive exclusive Harlaxton apparel. The time commitment is only around 1-2 hours per week, but the service you will provide Harlaxton and these new applicants will be invaluable.
To see more of the position description and apply, contact Kaylynn Carver at 812-488-2039 or kc205@evansville.edu.
Submitted by Kaylynn Carver kc205@evansville.edu
Men's soccer, McGrath earn national recognition
Currently holding a 4-0 record, the University of Evansville Men's Soccer team has started to garner some national attention and so has senior midfielder Ian McGrath.
The Aces are ranked No. 22 in this week's TopDrawerSoccer.com Top 25 poll after completing a weekend sweep and capturing the 2017 ProRehab Aces Soccer Classic title. UE also received recognition in the United Soccer Coaches Poll as the Aces received four votes and are ranked seventh in the west region. The ranking is the first for the Aces since being ranked No. 30 in the College Soccer News poll in 2010.
After opening the season with five goals in four matches, including three game-winners, McGrath was selected to College Soccer News' National Team of the Week. McGrath currently leads the nation in total goals (5), total points (12), and game-winning goals (3).
Evansville returns to action on Thursday when the Aces take on Grand Canyon at 9:00 p.m. in Phoenix, Arizona.
Peter Schmidt has research paper accepted for publication
University of Evansville associate professor of mechanical engineering Peter Schmidt has had - along with his research group - an original research article accepted to the International Journal of Advanced Manufacturing Technology. The work, entitled "Noncontact measurements of acoustic emissions from the single-point turning process," is an investigation of the ultrasonic emission characteristics of metals undergoing a common manufacturing process. This work was conducted in support of non-proliferation efforts at DOE Y-12 National Security Complex.
Biology students present research at conference
Biology students Josh Baty and Liz Daugherty presented the results of their summer research at the KUH Summer Undergraduate Research Conference held August 2-4 in Bethesda, Maryland. The titles of their research presentations were Rho Kinase Inhibitor, Y-27632 Plays a Role in L-Type Calcium Channel Signaling, and G Protein Estrogen Receptor Facilitates Renal Protection in Females Through Eliciting a More Enhanced Natriuretic Response, respectively. The research was conducted at the University of Alabama-Birmingham during the summer of 2017 and was supported by NIH grants awarded to David and Jennifer Pollock ('78).
Beavers joins philosophy and AI program committee
Anthony Beavers, professor of philosophy, has been invited to join the program committee for the 2017 Philosophy and Theory of Artificial Intelligence Conference which will be held this November at the University of Leeds.
Maass presents research to American Political Science Association
Richard Maass, assistant professor of political science, presented research to the annual conference of the American Political Science Association on Thursday, August 31, in San Francisco. His paper, titled "The Norm Against Conquest: Origins, Expectations, and U.S. Foreign Policy," investigated why the United States bound itself to refrain from conquest (unlike many areas of international law where U.S. leaders have refused to bind their country).
Contribute to AceNotes
To have content considered for inclusion in AceNotes, please submit a Marketing Request Form. Deadline for submission to AceNotes is 10:00 a.m. on the requested date of publication. Only articles concerning UE related/sponsored activities will be accepted. Articles submitted to AceNotes may be edited for length and clarity. Submitter contact information is at the end of each article.