| | |
| --- | --- |
| AceNotes Today | Tuesday, August 8, 2017 |
Fall Conference 2017
The University of Evansville Fall Conference is today, Tuesday, August 15. A dessert reception will welcome everyone back to campus in the Bernhardt Atrium in the Schroeder School of Business Building at 12:30 p.m. The Fall Conference begins 1:30 p.m. in Shanklin Theatre.
Submitted by Tracey Folden tf91@evansville.edu
Instructional technology open office hours
Teaching an online course or interested in flipping a class? Visit the Center for Adult Education during instructional technology open office hours for support in using lecture capturing tools or online learning strategies and best practices. Office hours are Tuesdays, 9:00-11:00 a.m. and Thursdays, 10:00-11:00 a.m. For more information, contact Leslie Barton at lb261@evansville.edu.
Submitted by Leslie Barton lb261@evansville.edu
UE Stories Abroad: Shaun in Italy
Shaun Sizemore, who is majoring in physical therapy, recently studied abroad in Italy.
He said that "the best part about the Italian culture was the pride they have for not only their work, but for their towns and their countries. They were truly amazing hosts and were always trying to make us feel welcome by inviting us to their houses or exchanging gifts for every occasion."
You can now visit the UE study abroad website to read all about Shaun's experiences during his time in Italy!
Submitted by Greta Becker gb91@evansville.edu
Textbooks are ready - are you?
Textbooks are ready in the UE Bookstore for either purchase in the store or online at the UE Bookstore website www.evansville.bkstr.com. Get them early to avoid the rush. We have new, used, rental, and eBook options available for most books. And keep in mind if you're short on cash you can charge your textbooks to your student account up to $1,000 per semester. There's no reason to wait!
Submitted by Doug Gustwiller dg57@evansville.edu
Summer hours end
Summer hours have ended! We return to regular hours today, Tuesday, August 8.
Convocation regalia rental
Faculty members and administrators who need regalia rented for August Convocation should contact the UE Bookstore promptly so that rental garments can be ordered and received in time for the event. If you need a rental please contact the UE Bookstore at your earliest convenience and at least two weeks before the event.
Submitted by Doug Gustwiller dg57@evansville.edu
Faculty and staff photo exhibit - submissions wanted
All active and retired UE faculty and staff are invited to submit work for a photography exhibition that will be on display from September 15-October 15 in the Krannert Gallery.
Please bring the work to Hanns Pieper, emeritus professor of sociology and gerontology, in the Department of Law, Politics, and Society located in Room 60 in the Schroeder School of Business Building. Work will be accepted from August 14-25.
Photographs should be matted, framed, and suitable for hanging in the Krannert Gallery. Items will be returned in the form that they were submitted.
If you have further questions, please e-mail Pieper at dp5@evansville.edu.
Submitted by Carol McCraney cm177@evansville.edu
Make your annual gift through payroll deduction
It is not too late to set up payroll deduction to make your annual gift to UE! Last fiscal year there was an amazing number of our co-workers who supported UE in a variety of ways. Payroll deduction is an easy way to continue you support, plus it can be set up as a recurring deduction so you do not have to remember or be asked every year to renew your support. For more information, please contact Jennifer Jacobs at jj130@evansville.edu or ext. 2021.
You're invited to join the President's Club
President's Club members share a special connection and help to continue a rich tradition of annual support of the University of Evansville. This giving ensures that current and future UE students will benefit from quality education, facilities, and programs. You also can be a part of this amazing group of donors with an annual gift of $1,000 or more. PC membership includes an all-access campus parking pass as well as special events and invitations through the year. It's not too late to set up payroll deduction to join PC. If you are interested in joining the President's Club, please contact Jennifer Jacobs at jj130@evansville.edu or ext. 2021.
2017-18 President's Club for graduating seniors
Giving back to UE often begins with a senior gift. As an introduction to the President's Club, seniors can become a member of this premier leadership giving society with a gift of $100 which includes one all-access campus parking pass (normal qualifications for PC membership is an annual donation of $1,000 or more). If you are interested in joining the President's Club as a graduating senior, please contact Jennifer Jacobs at jj130@evansville.edu or ext. 2021.
Fall 2017 Pcard cardholder training schedule
The Fall 2017 Pcard cardholder training session calendar is now available on the AceLink Pcard website under Training Materials/Dates to Remember. For questions or to reserve a training spot, contact the Office of Administrative Services at ext. 2941.
Submitted by Kim Winsett kw83@evansville.edu
Catering Service Information for Chartwells
As you know, the University has signed an agreement with Chartwells, a new food service provider. In addition to general dining options beginning this fall, Chartwells is also the catering services provider to the campus community.
Please direct all catering requests to the new catering e-mail address at UEcatering@evansville.edu. Sodexo's service to the University ended on Thursday, June 22. Any requests sent to the previous catering@evansville.edu address will automatically be forwarded to the new address.
Chartwells Catering Contact Information
UECatering@evansville.edu
Kellie Short
Director of Dining Services
765-641-4262
Read more about Chartwells' services, including menu favorites from Starbucks and Chick-fil-A, on our website here.
Students to present at Society of Neuroscience meeting
University of Evansville neuroscience students Sarah DuFresne and Brianna Nichols have been selected to present at the Society for Neuroscience meeting in Washington, DC, this November. The two will be presenting the results of their study comparing neuromarketing methodologies.
DuFresne, the lead on the project, was awarded a travel grant by the Faculty for Undergraduate Research. The national competition for grant is very challenging. There are over 200 applicants for 25 grants, and in order to be accepted, students need to show excellence in both quality of science and devotion to their project.
Equipment for the study was purchased with funds from a UE Innovation and Reinvestment grant and a Ball Brothers Venture grant.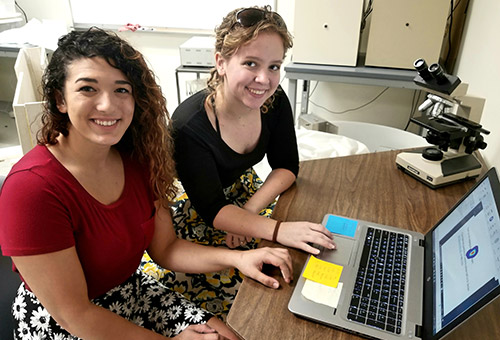 As part of their study, DuFresne and Nichols used an eye tracker that reads pupil diameter and a devise that reads galvanic skin response (electrical changes in skin conductance) caused by the sympathetic nervous system responding to alarming or alerting stimuli. The students compared responses to the same stimuli and ran a mathematical analysis that allows them to graph one physiological measure against the other.
"This analysis allows researchers to compare results across the measurement technique," explained Lora Becker, UE neuroscience program director and associate professor of psychology. "Our results are like a comparison of GRE to MCAT scores."
Cirino publishes article in Huffington Post
Associate professor of English and the Melvin M. Peterson Endowed Chair in English Mark Cirino co-wrote an article that was published in the Huffington Post. Cirino's article discusses a newly published Hemingway vignette called Torcello Piece.
This Hemingway sketch is in Cirino's new book, Hemingway and Italy: 21st-Century Perspectives, published last month by the University Press of Florida. Torcello is a small village north of Venice where Hemingway stayed in the late 1940s, and Torcello Piece is the writer's ode to the place he loved.
You can read Cirino's article on the Huffington Post website.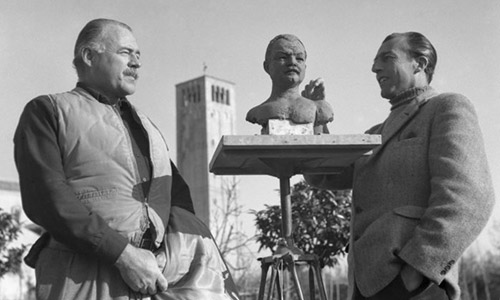 Heidi Strobel participated in seminar at Yale University
Heidi Strobel, associate professor of art history, participated in a seminar at Yale University on teaching 19th-century European and American landscape art from July 23-28. The seminar was led by Tim Barringer, the Paul Mellon Professor and chair of the Department of the History of Art at Yale. The seminar was sponsored by the Council of Independent Colleges.
Amber Pouliot publishes essay in new book
Amber Pouliot, teaching fellow in British studies at Harlaxton College, has published an essay entitled "Reading the Revenant in Charlotte Bronte's Literary Afterlives: Charting the Path from the 'Silent Country' to the Séance." The essay appeared in Manchester University Press's new book, Charlotte Bronte: Legacies and Afterlives.
Pahud named Srixon/Cleveland Golf All-America Scholar
Srixon/Cleveland Golf All-America Scholars for Divisions I, II, and the NAIA have been announced by the GCAA. A new record number of student-athletes earned All-America Scholar status including 260 in Division I, 108 in Division II, and 20 in NAIA. Among those honored was Purple Ace Wil Pahud.
Pahud excelled in the classroom at UE, earning a Bachelor of Science degree in Finance with a GPA of 3.384. On the course, he was one of the top ten golfers in the Missouri Valley Conference. His 73.67 average last season was 10th in the league. He excelled against some of the top competition in the country as he tied for third place at the Hoosier Invitational in April.
"Wilson provided outstanding senior leadership for our team this year. He was one of the top golfers in the conference, but also excelled in the classroom," Aces head golf coach Jim Hamilton said. "I am very proud of him for receiving this prestigious honor. He worked very hard in school and on the course to earn this."
To be eligible for Srixon/Cleveland Golf All-America Scholar status an individual must be a junior or senior academically, compete in at least three full years at the collegiate level, participate in 50-percent of his team's competitive rounds, have a stroke-average under 76.0 in Division I, 78.0 in Division II, 78.0 in NAIA and 79.0 in Division III, and maintain a minimum cumulative career grade-point average of 3.2.
A recipient must also be of high moral character and be in good standing at his college or university.
Katterhenry takes second at Indiana PGA Women's Open
Former University of Evansville women's golfer and current graduate assistant coach Kayla Katterhenry took second place at the Indiana PGA Women's Open on Wednesday.
The reigning Missouri Valley Conference champion carded a 5-under 139 for the tournament. In Tuesday's opening round, the Newburgh, Indiana, native posted a 1-under 71, standing in fourth place.
Katterhenry excelled in the final round, notching a 4-under 68 to finish with a 139, just three strokes off of the winner – Anna Appert Lund.
The Indiana PGA Women's Open is a tournament that features professionals and amateurs from the state and is run by the Indiana Women's Golf Association (IWGA).
Also taking part in the event was current Aces golfer Lexie Sollman. The Haubstadt product tied for 47th place out of 79 golfers with a final tally of 166. After carding an 88 in the opening round, Sollman improved by ten strokes on Wednesday to finish with a 78.
Mike Zimmer has journal article published
Mike Zimmer, Professor Emeritus of Economics, has had an article published in the current issue of Cogent Economics and Finance 5(1): 1348327. The paper, entitled "Marriage Dissolution Among American Men, 2003-2010: The Roles of Measured Earnings and Latent Selection," is coauthored with Professor Robert Nakosteen of the University of Massachusetts.
Professor Lisa Kretz interviewed
Professor Lisa Kretz was interviewed by Susan Hawthorne for the website Engaged Philosophy: Civic Engagement in Philosophy Classes, along with a number of other philosophers such as Peter Singer and Michael Burroughs. In her interview, Kretz discusses UE's new ethics and social change major, Scholars for Syria, and much more. You can read her interview on the Engaged Philosophy website.
Contribute to AceNotes
To have content considered for inclusion in AceNotes, please submit a Marketing Request Form. Deadline for submission to AceNotes is 10:00 a.m. on the requested date of publication. Only articles concerning UE related/sponsored activities will be accepted. Articles submitted to AceNotes may be edited for length and clarity. Submitter contact information is at the end of each article.