| | |
| --- | --- |
| AceNotes Today | Thursday, August 3, 2017 |
Help pick a Changemaker theme - you could win $50 gift card!
Representatives from UE recently met with Evansville mayor Lloyd Winnecke and other city leaders to identify possible themes to emphasize for the 2017-18 academic year. The theme(s) could be used for the Changemaker Challenge, class projects, service projects, research, and more. This way we can increase the collective impact of our work in the community. Please provide input by taking this Changemaker survey and help us to select the theme(s) of greatest interest to you.
All submissions received by Friday, August 4, at 4:30 p.m. will be eligible for a random drawing for a $50 Amazon gift card.
Submitted by Cindy Kelley ck116@evansville.edu
Summer hours end
Summer hours have ended! We return to regular hours today, Tuesday, August 8.
Women's Soccer back on campus as season approaches
As the calendar turns to August, the University of Evansville Women's Soccer team is on campus and beginning preparations for the 2017 campaign.
Picture day served as the first event for the Purple Aces and Joe Downs chatted with head coach Krista McKendree and a few student-athletes about the day and the upcoming season.
Check out the newest installment of Aces Insider and previous videos on YouTube!
Convocation regalia rental
Faculty members and administrators who need regalia rented for August Convocation should contact the UE Bookstore promptly so that rental garments can be ordered and received in time for the event. If you need a rental please contact the UE Bookstore at your earliest convenience and at least two weeks before the event.
Submitted by Doug Gustwiller dg57@evansville.edu
Fire alarm system testing
Vanguard is now conducting the annual fire alarm sensitivity testing. As each building is tested the alarm will intermittently go off. Physical Plant and Security will know on a daily basis which buildings Vanguard is working in. The testing will be done between 7:00 a.m.-5:00 p.m. Testing should be completed by Friday, August 4. Any concerns or schedule conflicts please contact the Physical Plant at 812-488-2775.
Submitted by Jayne Schnacke js607@evansville.edu
Help needed at UE Bookstore during August book rush
The UE Bookstore is looking for temporary help for the book rush in August. Duties include but are not limited to running a cash register, helping in the textbook area, and checking in merchandise. This would be 40 hours per week for at least two weeks. If you know of someone looking for a little extra cash please refer them. Interested persons should contact the UE Bookstore for more details or for consideration.
Submitted by Doug Gustwiller dg57@evansville.edu
Catering Service Information for Chartwells
As you know, the University has signed an agreement with Chartwells, a new food service provider. In addition to general dining options beginning this fall, Chartwells is also the catering services provider to the campus community.
Please direct all catering requests to the new catering e-mail address at UEcatering@evansville.edu. Sodexo's service to the University ended on Thursday, June 22. Any requests sent to the previous catering@evansville.edu address will automatically be forwarded to the new address.
Chartwells Catering Contact Information
UECatering@evansville.edu
Kellie Short
Director of Dining Services
765-641-4262
Read more about Chartwells' services, including menu favorites from Starbucks and Chick-fil-A, on our website here.
Cirino publishes article in Huffington Post
Associate professor of English and the Melvin M. Peterson Endowed Chair in English Mark Cirino co-wrote an article that was published in the Huffington Post. Cirino's article discusses a newly published Hemingway vignette called Torcello Piece.
This Hemingway sketch is in Cirino's new book, Hemingway and Italy: 21st-Century Perspectives, published last month by the University Press of Florida. Torcello is a small village north of Venice where Hemingway stayed in the late 1940s, and Torcello Piece is the writer's ode to the place he loved.
You can read Cirino's article on the Huffington Post website.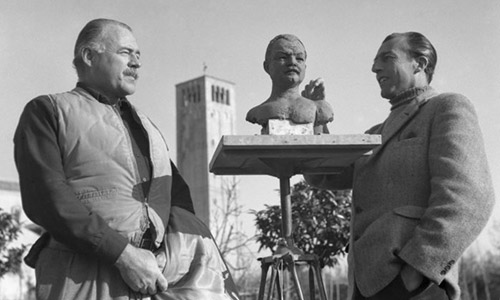 Heidi Strobel participated in seminar at Yale University
Heidi Strobel, associate professor of art history, participated in a seminar at Yale University on teaching 19th-century European and American landscape art from July 23-28. The seminar was led by Tim Barringer, the Paul Mellon Professor and chair of the Department of the History of Art at Yale. The seminar was sponsored by the Council of Independent Colleges.
Amber Pouliot publishes essay in new book
Amber Pouliot, teaching fellow in British studies at Harlaxton College, has published an essay entitled "Reading the Revenant in Charlotte Bronte's Literary Afterlives: Charting the Path from the 'Silent Country' to the Séance." The essay appeared in Manchester University Press's new book, Charlotte Bronte: Legacies and Afterlives.
Pahud named Srixon/Cleveland Golf All-America Scholar
Srixon/Cleveland Golf All-America Scholars for Divisions I, II, and the NAIA have been announced by the GCAA. A new record number of student-athletes earned All-America Scholar status including 260 in Division I, 108 in Division II, and 20 in NAIA. Among those honored was Purple Ace Wil Pahud.
Pahud excelled in the classroom at UE, earning a Bachelor of Science degree in Finance with a GPA of 3.384. On the course, he was one of the top ten golfers in the Missouri Valley Conference. His 73.67 average last season was 10th in the league. He excelled against some of the top competition in the country as he tied for third place at the Hoosier Invitational in April.
"Wilson provided outstanding senior leadership for our team this year. He was one of the top golfers in the conference, but also excelled in the classroom," Aces head golf coach Jim Hamilton said. "I am very proud of him for receiving this prestigious honor. He worked very hard in school and on the course to earn this."
To be eligible for Srixon/Cleveland Golf All-America Scholar status an individual must be a junior or senior academically, compete in at least three full years at the collegiate level, participate in 50-percent of his team's competitive rounds, have a stroke-average under 76.0 in Division I, 78.0 in Division II, 78.0 in NAIA and 79.0 in Division III, and maintain a minimum cumulative career grade-point average of 3.2.
A recipient must also be of high moral character and be in good standing at his college or university.
Katterhenry takes second at Indiana PGA Women's Open
Former University of Evansville women's golfer and current graduate assistant coach Kayla Katterhenry took second place at the Indiana PGA Women's Open on Wednesday.
The reigning Missouri Valley Conference champion carded a 5-under 139 for the tournament. In Tuesday's opening round, the Newburgh, Indiana, native posted a 1-under 71, standing in fourth place.
Katterhenry excelled in the final round, notching a 4-under 68 to finish with a 139, just three strokes off of the winner – Anna Appert Lund.
The Indiana PGA Women's Open is a tournament that features professionals and amateurs from the state and is run by the Indiana Women's Golf Association (IWGA).
Also taking part in the event was current Aces golfer Lexie Sollman. The Haubstadt product tied for 47th place out of 79 golfers with a final tally of 166. After carding an 88 in the opening round, Sollman improved by ten strokes on Wednesday to finish with a 78.
Mike Zimmer has journal article published
Mike Zimmer, Professor Emeritus of Economics, has had an article published in the current issue of Cogent Economics and Finance 5(1): 1348327. The paper, entitled "Marriage Dissolution Among American Men, 2003-2010: The Roles of Measured Earnings and Latent Selection," is coauthored with Professor Robert Nakosteen of the University of Massachusetts.
Professor Lisa Kretz interviewed
Professor Lisa Kretz was interviewed by Susan Hawthorne for the website Engaged Philosophy: Civic Engagement in Philosophy Classes, along with a number of other philosophers such as Peter Singer and Michael Burroughs. In her interview, Kretz discusses UE's new ethics and social change major, Scholars for Syria, and much more. You can read her interview on the Engaged Philosophy website.
Dion was featured speaker at Indiana We The People Summer Institute
Robert Dion, chair of the Department of Law, Politics, and Society, was a featured speaker at the Indiana We The People Summer Institute held at Indiana University in Bloomington from July 9-13. The event, sponsored by the Indiana Bar Foundation with funding from the Indiana General Assembly, brought together high school and middle school government teachers from Indiana and neighboring states for intensive training on the U.S. Constitution and how it affects modern politics.
Professor Dion gave a three hour presentation examining how and why presidential powers have expanded since the American Founding, along with a critical look at how the system of checks and balances has responded to this expansion.
Other speakers included John Kaminski, director of the Center for the Study of the American Constitution at the University of Wisconsin, David Adler, president of the Alturas Institute, and Robert Leming, national director of the We The People program of the Center for Civic Education.
Contribute to AceNotes
To have content considered for inclusion in AceNotes, please submit a Marketing Request Form. Deadline for submission to AceNotes is 10:00 a.m. on the requested date of publication. Only articles concerning UE related/sponsored activities will be accepted. Articles submitted to AceNotes may be edited for length and clarity. Submitter contact information is at the end of each article.