| | |
| --- | --- |
| AceNotes Today | Tuesday, August 1, 2017 |
Re-Thinking Diversity Series continues today at noon
Join the Office of Diversity Initiatives for the Re-Thinking Diversity Through Advocacy and Dialogue in Room 273 in the Schroeder Family School of Business Building at noon today. A representative from the Tri-State Hindu Temple and Cultural Center will be the guest speaker.
Karuna Pandit from the Hindu temple will discuss "Celebrating and Exploring the Hindu Temple and Culture." She will enlighten the campus community on the newly formed temple and its new renovations. The non-profit entity serves the religious needs of a community of approximately 250 families of Indian origin, residing in a 50-mile radius of Evansville, Indiana, including the states of Indiana, Kentucky, and Illinois.
The Re-Thinking Diversity Series is sponsored by the Office of Diversity Initiatives and the Schroeder Family School of Business.
For more information contact: LaNeeca R. Williams, UE chief diversity officer, at 812-488-2413 or lw161@evansville.edu.
Submitted by LaNeeca Williams lw161@evansville.edu
Late-season vegetables and honey from UE bees
UE Gardeners will offer late-season vegetables for sale (cheap) in Ridgway University Center on Wednesday, August 2, from 8:00-10:00 a.m. We now have winter squash in addition to tomatoes, peppers, eggplant, and greens. Honey made from UE bees will also be available.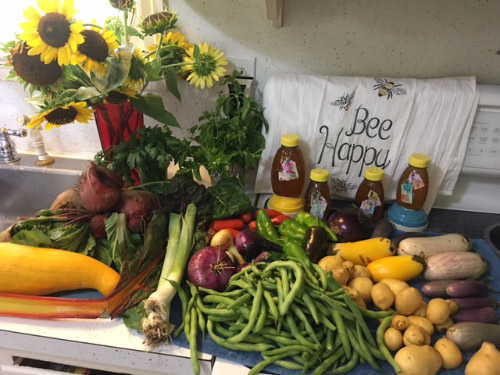 Convocation regalia rental
Faculty members and administrators who need regalia rented for August Convocation should contact the UE Bookstore promptly so that rental garments can be ordered and received in time for the event. If you need a rental please contact the UE Bookstore at your earliest convenience and at least two weeks before the event.
Submitted by Doug Gustwiller dg57@evansville.edu
Fire alarm system testing
Vanguard is now conducting the annual fire alarm sensitivity testing. As each building is tested the alarm will intermittently go off. Physical Plant and Security will know on a daily basis which buildings Vanguard is working in. The testing will be done between 7:00 a.m.-5:00 p.m. Testing should be completed by Friday, August 4. Any concerns or schedule conflicts please contact the Physical Plant at 812-488-2775.
Submitted by Jayne Schnacke js607@evansville.edu
Faculty and staff photo exhibit - submissions wanted
All active and retired UE faculty and staff are invited to submit work for a photography exhibition that will be on display from September 15-October 15 in the Krannert Gallery.
Please bring the work to Hanns Pieper, emeritus professor of sociology and gerontology, in the Department of Law, Politics, and Society located in Room 60 in the Schroeder School of Business Building. Work will be accepted from August 14-25.
Photographs should be matted, framed, and suitable for hanging in the Krannert Gallery. Items will be returned in the form that they were submitted.
If you have further questions, please e-mail Pieper at dp5@evansville.edu.
Submitted by Carol McCraney cm177@evansville.edu
Make your annual gift through payroll deduction
It is not too late to set up payroll deduction to make your annual gift to UE! Last fiscal year there was an amazing number of our co-workers who supported UE in a variety of ways. Payroll deduction is an easy way to continue you support, plus it can be set up as a recurring deduction so you do not have to remember or be asked every year to renew your support. For more information, please contact Jennifer Jacobs at jj130@evansville.edu or ext. 2021.
You're invited to join the President's Club
President's Club members share a special connection and help to continue a rich tradition of annual support of the University of Evansville. This giving ensures that current and future UE students will benefit from quality education, facilities, and programs. You also can be a part of this amazing group of donors with an annual gift of $1,000 or more. PC membership includes an all-access campus parking pass as well as special events and invitations through the year. It's not too late to set up payroll deduction to join PC. If you are interested in joining the President's Club, please contact Jennifer Jacobs at jj130@evansville.edu or ext. 2021.
2017-18 President's Club for graduating seniors
Giving back to UE often begins with a senior gift. As an introduction to the President's Club, seniors can become a member of this premier leadership giving society with a gift of $100 which includes one all-access campus parking pass (normal qualifications for PC membership is an annual donation of $1,000 or more). If you are interested in joining the President's Club as a graduating senior, please contact Jennifer Jacobs at jj130@evansville.edu or ext. 2021.
UE's Affiliation with United Methodist Church Reaffirmed
The United Methodist Church University Senate has reaffirmed without qualification the affiliation of the University of Evansville with the United Methodist Church. UE has maintained a strong relationship with the church for over a century and a half, since the founding of the University.
This reaffirmation of affiliation was preceded by an independent, in-depth review of UE and a campus visit by a team from the University Senate. The church reviews the University every 10 years, within a year of the school's reaffirmation of accreditation by the Higher Learning Commission (HLC). The United Methodist Senate team examined documentation for UE's HLC reaffirmation, which was granted in early 2016, as part of its own review.
"We are very gratified that both the HLC and the United Methodist Church University Senate reports produced excellent outcomes," said UE president Thomas A. Kazee. "It's an affirmation of UE's commitment and success in achieving its mission. It's always good to have our quality and commitment affirmed by an external accrediting body."
Criteria for the United Methodist Church's evaluation include: Institutional integrity, program quality, sound management and financial health, and church relatedness.
The Senate team reported that UE effectively represents the historic Methodist tradition of making high-quality education broadly available.
"UE values its historic identity as a Methodist-related university," said Tamara Gieselman, UE chaplain. "Although the University is independent in its governance, its relationship with the United Methodist Church is one of sacred significance."
The University Senate's review praised the school's strong academic programs and dedicated faculty, the robust study abroad experience that it offers its students, and the University's emphasis on service learning.
In addition, it noted the University's UE Guarantee, which assures: four-year graduation, or fifth year is paid for by UE, mentorship by faculty committed to student success, scholarships to 100 percent of all full-time freshmen, access for every student to at least one internship and the opportunity for more, and the opportunity for every student to study abroad. (Some restrictions apply, and more information about the UE Guarantee can be found online at www.evansville.edu/guarantee.)
Community outreach at Vectren Conservation Park
On Saturday, July 22, professor of biology Cris Hochwender took a group of naturalists from the Southwest Indiana Native Plant and Wildflower Society (SWINPAWS) to Vectren Conservation Park, to explore issues in restoration ecology. The group discussed the ongoing efforts to restore the flood plain habitat at VCP, a 1,100 acre property of bottomland along the Wabash River. In 2007, Vectren gave the University of Evansville a long-term lease on VCP.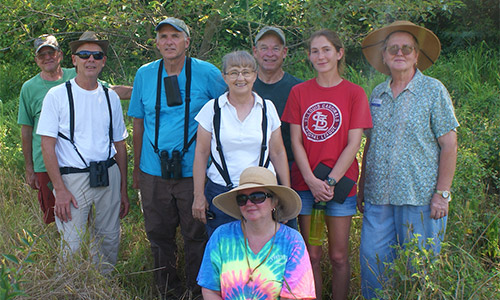 VCP had been used for agriculture, but is now in a permanent conservation easement and is enrolled in the US Natural Resource Conservation Service's Wetlands Reserve program. Before leasing the property to UE, Vectren planted more than 100,000 native trees and shrubs on the property.
Conservation efforts at the site include trying to restore riparian forests, floodplain forests, as well as meadows and aquatic habitats. This site not only provides opportunities for environmental studies majors to explore a diverse set of Indiana communities, but also acts as a research lab to explore environmental questions, carry out ecological research, and evaluate soil and water chemistry.
Religious Life welcomes John Wesley minister and assistant chaplain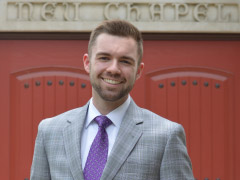 The Office of Religious Life would like to welcome Keith Turner to the University of Evansville as the John Wesley minister and assistant chaplain and the assistant program director for the Lilly funded summer youth theology institute, Open Table.
Turner brings to the Office of Religious Life a breadth and depth of experience in preaching and ministry. As a student, he has served churches in the Lutheran, Presbyterian, and Episcopal traditions, and is currently working toward ordination in the Holston Conference of the United Methodist Church. Turner brings with him a wealth of experience as a pianist, organist, and church musician.
He earned his Bachelor of Arts in Bible and Theology from Asbury University and has completed all the necessary requirements for his Master of Divinity degree from Asbury Theological Seminary. He is also finishing a second master's degree in Christian Education. While at Asbury Theological Seminary, Turner was inducted into the International Society of Theta Phi, an academic honors society for exemplary scholarship and academic achievement. He is also a member of the Wesleyan Theological Society.
Turner officially began at UE on Wednesday, July 5.
Help needed at UE Bookstore during August book rush
The UE Bookstore is looking for temporary help for the book rush in August. Duties include but are not limited to running a cash register, helping in the textbook area, and checking in merchandise. This would be 40 hours per week for at least two weeks. If you know of someone looking for a little extra cash please refer them. Interested persons should contact the UE Bookstore for more details or for consideration.
Submitted by Doug Gustwiller dg57@evansville.edu
UE Stories Abroad: Habitat for Humanity in Nicaragua
Civil engineering students Shannon Gates and Manuel Jara Pérez and associate professor of civil engineering Mark Valenzuela recently worked with Habitat for Humanity in Nicaragua. You can read about their experiences on the UE Stories Abroad page. They discuss what it was like to push themselves to the limit, how important it was to work as a team, and how rewarding the experience was in the end.
Submitted by Greta Becker gb91@evansville.edu
Catering Service Information for Chartwells
As you know, the University has signed an agreement with Chartwells, a new food service provider. In addition to general dining options beginning this fall, Chartwells is also the catering services provider to the campus community.
Please direct all catering requests to the new catering e-mail address at UEcatering@evansville.edu. Sodexo's service to the University ended on Thursday, June 22. Any requests sent to the previous catering@evansville.edu address will automatically be forwarded to the new address.
Chartwells Catering Contact Information
UECatering@evansville.edu
Kellie Short
Director of Dining Services
765-641-4262
Read more about Chartwells' services, including menu favorites from Starbucks and Chick-fil-A, on our website here.
Heidi Strobel participated in seminar at Yale University
Heidi Strobel, associate professor of art history, participated in a seminar at Yale University on teaching 19th-century European and American landscape art from July 23-28. The seminar was led by Tim Barringer, the Paul Mellon Professor and chair of the Department of the History of Art at Yale. The seminar was sponsored by the Council of Independent Colleges.
Amber Pouliot publishes essay in new book
Amber Pouliot, teaching fellow in British studies at Harlaxton College, has published an essay entitled "Reading the Revenant in Charlotte Bronte's Literary Afterlives: Charting the Path from the 'Silent Country' to the Séance." The essay appeared in Manchester University Press's new book, Charlotte Bronte: Legacies and Afterlives.
Pahud named Srixon/Cleveland Golf All-America Scholar
Srixon/Cleveland Golf All-America Scholars for Divisions I, II, and the NAIA have been announced by the GCAA. A new record number of student-athletes earned All-America Scholar status including 260 in Division I, 108 in Division II, and 20 in NAIA. Among those honored was Purple Ace Wil Pahud.
Pahud excelled in the classroom at UE, earning a Bachelor of Science degree in Finance with a GPA of 3.384. On the course, he was one of the top ten golfers in the Missouri Valley Conference. His 73.67 average last season was 10th in the league. He excelled against some of the top competition in the country as he tied for third place at the Hoosier Invitational in April.
"Wilson provided outstanding senior leadership for our team this year. He was one of the top golfers in the conference, but also excelled in the classroom," Aces head golf coach Jim Hamilton said. "I am very proud of him for receiving this prestigious honor. He worked very hard in school and on the course to earn this."
To be eligible for Srixon/Cleveland Golf All-America Scholar status an individual must be a junior or senior academically, compete in at least three full years at the collegiate level, participate in 50-percent of his team's competitive rounds, have a stroke-average under 76.0 in Division I, 78.0 in Division II, 78.0 in NAIA and 79.0 in Division III, and maintain a minimum cumulative career grade-point average of 3.2.
A recipient must also be of high moral character and be in good standing at his college or university.
Katterhenry takes second at Indiana PGA Women's Open
Former University of Evansville women's golfer and current graduate assistant coach Kayla Katterhenry took second place at the Indiana PGA Women's Open on Wednesday.
The reigning Missouri Valley Conference champion carded a 5-under 139 for the tournament. In Tuesday's opening round, the Newburgh, Indiana, native posted a 1-under 71, standing in fourth place.
Katterhenry excelled in the final round, notching a 4-under 68 to finish with a 139, just three strokes off of the winner – Anna Appert Lund.
The Indiana PGA Women's Open is a tournament that features professionals and amateurs from the state and is run by the Indiana Women's Golf Association (IWGA).
Also taking part in the event was current Aces golfer Lexie Sollman. The Haubstadt product tied for 47th place out of 79 golfers with a final tally of 166. After carding an 88 in the opening round, Sollman improved by ten strokes on Wednesday to finish with a 78.
Mike Zimmer has journal article published
Mike Zimmer, Professor Emeritus of Economics, has had an article published in the current issue of Cogent Economics and Finance 5(1): 1348327. The paper, entitled "Marriage Dissolution Among American Men, 2003-2010: The Roles of Measured Earnings and Latent Selection," is coauthored with Professor Robert Nakosteen of the University of Massachusetts.
Professor Lisa Kretz interviewed
Professor Lisa Kretz was interviewed by Susan Hawthorne for the website Engaged Philosophy: Civic Engagement in Philosophy Classes, along with a number of other philosophers such as Peter Singer and Michael Burroughs. In her interview, Kretz discusses UE's new ethics and social change major, Scholars for Syria, and much more. You can read her interview on the Engaged Philosophy website.
Kyle Lloyd to make MLB debut against Mets
Former Purple Ace Kyle Lloyd has been called-up to the San Diego Padres active roster and will make his Major League Baseball debut on Tuesday night as announced in a transaction by the team Tuesday evening.
In his debut, Lloyd will face the New York Mets at 9:10 p.m. (CDT) in Petco Park in San Diego, California.
The right-handed pitcher amassed a 7-5 record with a 3.71 ERA in 89.2 innings this season for the Padres' Double-A affiliate, the San Antonio Missions, while making five starts with Triple-A El Paso in three separate stints with the Chihuahuas.

Following a stellar career with the Purple Aces, Lloyd was drafted in the 29th round of the 2013 MLB Draft by the Padres. With the call-up, Lloyd becomes just the sixth-ever UE player to be elevated to an active MLB roster and the first since current Rockies pitcher Kyle Freeland made his MLB debut on April 7.

"What was great about (Kyle) was his work ethic," said UE Baseball head coach Wes Carroll. "He was a guy who worked extremely hard both on the field and off the field and he was a great teammate. He represents what the University of Evansville baseball program is all about and we couldn't be more proud of Kyle Lloyd."

Lloyd spent the first three seasons of his professional career in short-season A, full-season A, and advanced-A baseball before finding his stride in 2016. The California native spent the entirety of the 2016 season with Double-A San Antonio, where Lloyd finished with a 3.71 ERA and a 7-7 record with 99 strikeouts in 130.1 innings pitched.

With Lloyd being called-up, UE is the only university from the Missouri Valley Conference to have two pitchers on active MLB rosters.
Aces Volleyball garners AVCA Team Academic Award
The University of Evansville was one of eight Missouri Valley Conference volleyball teams honored by the American Volleyball Coaches Association as recipients of the AVCA Team Academic Award for the 2016-17 season, part of a record-breaking 822 programs to earn this distinction.
As a team, the Purple Aces completed the 2016-17 academic year with a 3.337 GPA.
"Congratulations to the players, staff and academic support people that work behind the scenes to help our student-athletes achieve their academic goals and exceed expectations," UE head coach Manolo Concepcion said.
"It is great to see that our team culture of embracing diversity and inclusion translates to excellence not just in the athletic side, but to the classroom as well," Concepcion added. "It demonstrates that regardless of race, language, country of origin, students are able to succeed at Evansville if all-in effort is put day in and day out."
The award, which was initiated in the 1992-93 academic year, honors collegiate and high school volleyball teams that displayed excellence in the classroom during the school year by maintaining at least a 3.30 cumulative team grade-point average on a 4.0 scale or a 4.10 cumulative team GPA on a 5.0 scale.
The AVCA Team Academic Award, celebrating its 25th year, is the single largest award offered by quantity of schools, players and coaches honored. Since the 2000-2001 season, the number of recipients have increased every single year but two, while amassing a 532 team increase over the span of the last decade. Since the award's inception in 1993, the amount of award winners has increased from 62 to its current number of 822.
Dion was featured speaker at Indiana We The People Summer Institute
Robert Dion, chair of the Department of Law, Politics, and Society, was a featured speaker at the Indiana We The People Summer Institute held at Indiana University in Bloomington from July 9-13. The event, sponsored by the Indiana Bar Foundation with funding from the Indiana General Assembly, brought together high school and middle school government teachers from Indiana and neighboring states for intensive training on the U.S. Constitution and how it affects modern politics.
Professor Dion gave a three hour presentation examining how and why presidential powers have expanded since the American Founding, along with a critical look at how the system of checks and balances has responded to this expansion.
Other speakers included John Kaminski, director of the Center for the Study of the American Constitution at the University of Wisconsin, David Adler, president of the Alturas Institute, and Robert Leming, national director of the We The People program of the Center for Civic Education.
Azarian publishes review of math research paper
Mohammad K. Azarian, professor of mathematics, has published a review of a research paper in the American Mathematical Society's Mathematical Reviews (MathSciNet), the most respected data base for research in mathematical sciences.
The paper reviewed appeared in Math. Slovaca 66 (2016) and is titled, "On Some Combinations of Terms of a Recurrence Sequence," and was authored by Lyes Ait-Amrane, Hacène Belbachir, and Kamel Betina. The authors present some identities satisfied by classical Morgan-Voyce sequence, and they study the periods of this sequence modulo an integer greater than 1. Also, they seek to determine which features of the Morgan-Voyce sequence remain true when it is generalized to elliptic curves defined over a finite field.
Contribute to AceNotes
To have content considered for inclusion in AceNotes, please submit a Marketing Request Form. Deadline for submission to AceNotes is 10:00 a.m. on the requested date of publication. Only articles concerning UE related/sponsored activities will be accepted. Articles submitted to AceNotes may be edited for length and clarity. Submitter contact information is at the end of each article.