| | |
| --- | --- |
| AceNotes Today | Tuesday, July 25, 2017 |
Re-Thinking Diversity Series continues today at noon
Join the Office of Diversity Initiatives for the Re-Thinking Diversity Through Advocacy and Dialogue in Room 273 in the Schroeder Family School of Business Building today at noon to hear from Jennifer Briggs, UE registrar.
Briggs will discuss "Women in the Workplace: How can we make it better?" She has been a part of two important organizations in the community that advocate for women's issues and equality, and will enlighten the campus community on how to become better aware of issues women face daily in a workplace environment and possible solutions.
The Re-Thinking Diversity Series is sponsored by the Office of Diversity Initiatives and the Schroeder Family School of Business.
For more information contact: LaNeeca R. Williams, Chief Diversity Officer at 812-488-2413 or lw161@evansville.edu.
Submitted by LaNeeca Williams lw161@evansville.edu
Farmers' Market in Ridgway University Center
UE gardeners will bring produce to Ridgway University Center at 8:00 a.m. on Wednesday, July 26. They will have tomatoes, peppers (mostly not hot), eggplant, onions, leeks, as well as herbs and greens. Hope to see you there!
Aces plan third annual Fall Sports Kick-off event
The University of Evansville athletics department will hold its annual Fall Sports Kick-off on August 13, at 4:30 p.m., at Bar Louie, located at 7700 Eagle Crest Boulevard. This is the third year for the event.

The event will feature interviews with head coaches and student-athletes from both the Purple Aces Men's And Women's Soccer teams, as well as the Evansville Volleyball team. As part of the program, the Men's Soccer team will unveil its new uniforms for the upcoming season.

The program, which is free and open to the public, will feature giveaways, which include ticket packages, Purple Aces gear, and more.

During the event, fans will be able to purchase FLEX wristbands and season tickets, and will also be able to pick up schedule cards and posters.
Submitted by Joseph Downs jd305@evansville.edu
Bailey George Memorial 5K Run/Walk set for August 5
University of Evansville head cross country coach Don Walters announced that the Bailey George Memorial 5K Run/Walk will be held on Saturday, August 5, to honor the memory of former Purple Aces runner Bailey George, who passed away from cancer in 2016.
Registration for the event is just $20 with all proceeds going directly into the Bailey George Scholarship Fund at the University of Evansville.
All participants will have the opportunity to run on the Angel Mounds Cross Country Course. The 100 percent grass cross country course at Angel Mounds provides excellent footing for the competitors, and clear sightlines for spectators. The host location for the 2016 U-18 National Championship (with over 2500 competitors), the 2015 MVC Championships, and University of Evansville home meets, the course will also be the location of the 2017 NCAA Division II Championships.
The race begins at 9:00 a.m. and is an untimed event. There will be a clock at the finish line. A 400-meter children's race will also take place.
"This event is a great way to celebrate Bailey and what was important to her. Being outside, physical fitness, and cross country were important things to her, and I'm glad that we are able to celebrate her, and what was important to her, at her home cross country course," says Coach Don Walters.
In 2016, 300 runners and walkers took part in the inaugural memorial run and walk.
Pre-registration is encouraged at www.uealumnionline.com/BaileyGeorgeRun17. Day-of registration will also be accepted. If you cannot attend this event but would like to contribute to the Bailey George Memorial Scholarship Fund, please visit www.evansville.edu/give.
For more information, please contact UE head cross country coach Don Walters at 812-457-4103.
Community outreach at Vectren Conservation Park
On Saturday, July 22, professor of biology Cris Hochwender took a group of naturalists from the Southwest Indiana Native Plant and Wildflower Society (SWINPAWS) to Vectren Conservation Park, to explore issues in restoration ecology. The group discussed the ongoing efforts to restore the flood plain habitat at VCP, a 1,100 acre property of bottomland along the Wabash River. In 2007, Vectren gave the University of Evansville a long-term lease on VCP.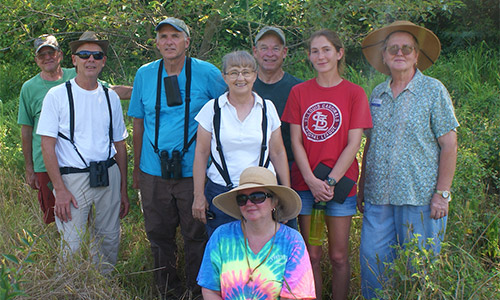 VCP had been used for agriculture, but is now in a permanent conservation easement and is enrolled in the US Natural Resource Conservation Service's Wetlands Reserve program. Before leasing the property to UE, Vectren planted more than 100,000 native trees and shrubs on the property.
Conservation efforts at the site include trying to restore riparian forests, floodplain forests, as well as meadows and aquatic habitats. This site not only provides opportunities for environmental studies majors to explore a diverse set of Indiana communities, but also acts as a research lab to explore environmental questions, carry out ecological research, and evaluate soil and water chemistry.
Religious Life welcomes John Wesley minister and assistant chaplain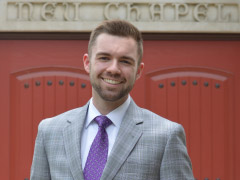 The Office of Religious Life would like to welcome Keith Turner to the University of Evansville as the John Wesley minister and assistant chaplain and the assistant program director for the Lilly funded summer youth theology institute, Open Table.
Turner brings to the Office of Religious Life a breadth and depth of experience in preaching and ministry. As a student, he has served churches in the Lutheran, Presbyterian, and Episcopal traditions, and is currently working toward ordination in the Holston Conference of the United Methodist Church. Turner brings with him a wealth of experience as a pianist, organist, and church musician.
He earned his Bachelor of Arts in Bible and Theology from Asbury University and has completed all the necessary requirements for his Master of Divinity degree from Asbury Theological Seminary. He is also finishing a second master's degree in Christian Education. While at Asbury Theological Seminary, Turner was inducted into the International Society of Theta Phi, an academic honors society for exemplary scholarship and academic achievement. He is also a member of the Wesleyan Theological Society.
Turner officially began at UE on Wednesday, July 5.
Help needed at UE Bookstore during August book rush
The UE Bookstore is looking for temporary help for the book rush in August. Duties include but are not limited to running a cash register, helping in the textbook area, and checking in merchandise. This would be 40 hours per week for at least two weeks. If you know of someone looking for a little extra cash please refer them. Interested persons should contact the UE Bookstore for more details or for consideration.
Submitted by Doug Gustwiller dg57@evansville.edu
UE Stories Abroad: Habitat for Humanity in Nicaragua
Civil engineering students Shannon Gates and Manuel Jara Pérez and associate professor of civil engineering Mark Valenzuela recently worked with Habitat for Humanity in Nicaragua. You can read about their experiences on the UE Stories Abroad page. They discuss what it was like to push themselves to the limit, how important it was to work as a team, and how rewarding the experience was in the end.
Submitted by Greta Becker gb91@evansville.edu
Sneak Peek: UE group toured construction site for med school

On July 18, a group of University of Evansville officials got a sneak peek at the multi-institutional medical campus currently under construction in downtown Evansville. UE has dedicated space for its physician assistant and physical therapy programs on the first, third and fourth floors.
The second floor is dedicated to collaboration. Students from all disciplines and institutions will study gross anatomy together in the all-inclusive suite. The advanced simulation center—equipped just like a real hospital and complete with live patient actors—will record patient-caregiver interactions and provide real-time feedback for advanced training. This unique environment will allow our students to study alongside those from other institutions and disciplines and learn from professionals working in four different area hospitals.
The facility is set to open in the Fall of 2018 and moving plans are in the works for UE programs.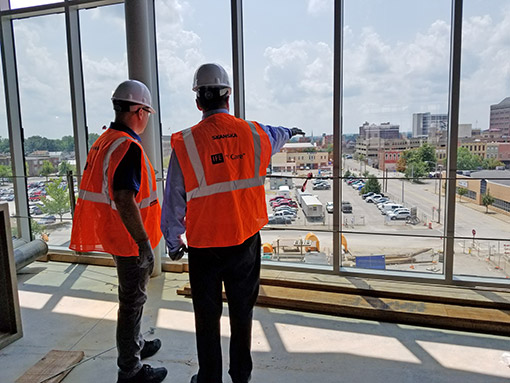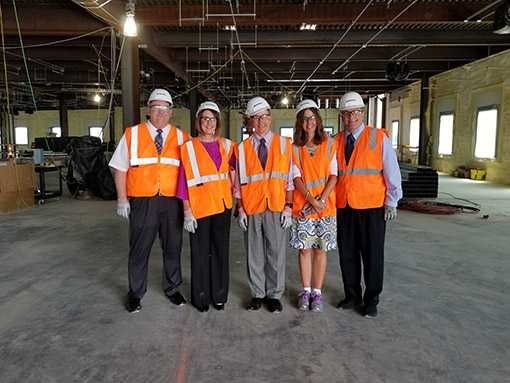 Department of Music receives accreditation renewal from NASM
The Department of Music at the University of Evansville was recently granted renewed accreditation by the National Association of Schools of Music (NASM). UE's music department has been accredited since 1948.
Founded in 1924, NASM is an organization of schools, conservatories, colleges, and universities with approximately 650 accredited institutional members. It establishes national standards for undergraduate and graduate degrees and other credentials for music and music-related disciplines. It provides assistance to institutions and individuals engaged in artistic, scholarly, educational, and other music-related endeavors.
Accreditation by NASM is the result of a comprehensive review process. The institution must meet specific standards in a variety of areas, including degree programs offered, general operations, and facilities. An intense self-study by UE's music department was submitted to NASM in January 2015. UE then hosted a site visit with NASM in March of that year.
"Accreditation by NASM is a significant achievement for our department," said Thomas Josenhans, UE music department chair. "It is a testament to the excellence of the programs and level of professional experiences and development that we provide for our students."
Josenhans noted that UE has five degrees that are accredited by NASM - Bachelor of Science in Music, Bachelor of Science in Music with an emphasis in Music Management, Bachelor of Music in Music Therapy, and Bachelor of Music in Performance.
"NASM's renewal of the University's membership is an external validation of the quality of the faculty, students, and programs provided by our Department of Music," UE president Thomas A. Kazee said. "It shows their continuing success in creating life-transforming experiences for our students."
Catering Service Information for Chartwells
As you know, the University has signed an agreement with Chartwells, a new food service provider. In addition to general dining options beginning this fall, Chartwells is also the catering services provider to the campus community.
Please direct all catering requests to the new catering e-mail address at UEcatering@evansville.edu. Sodexo's service to the University ended on Thursday, June 22. Any requests sent to the previous catering@evansville.edu address will automatically be forwarded to the new address.
Chartwells Catering Contact Information
UECatering@evansville.edu
Kellie Short
Director of Dining Services
765-641-4262
Read more about Chartwells' services, including menu favorites from Starbucks and Chick-fil-A, on our website here.
Thursday afternoon golf outings
The employees of the University of Evansville are again invited to play golf with other UE employees on Thursday afternoons during the summer months. The UE golf outings will be on Thursday afternoons at 3:00 p.m. at Fendrich golf course. You can reserve your tee time by contacting Debbie Kassenbrock in the Center for Academic Advising at dk26@evansville.edu or 488-2605 by 4:30 p.m. on the Wednesday prior to the outing.
Submitted by Deborah Kassenbrock dk26@evansville.edu
July Pcard cycle ending!
The July Pcard cycle which began June 22 ends on July 21. As of July 23, cardholders may schedule and run the July cycle report. July transactions may be reconciled in SDG2 until July 28. On July 28, the general ledger Pcard file will be uploaded and cardholders will be locked out of (unable to make changes) posted transactions for the July cycle.
Submitted by Kim Winsett kw83@evansville.edu
Men's golf garners GCAA academic recognition
The Golf Coaches Association of America (GCAA) has announced its Team Academic recognition for the 2016-17 school year. Earning the award once again was the University of Evansville Men's Golf team, who finished last season with a 3.185 GPA.
Pacing the Purple Aces was Robert Waggoner. In his freshman campaign at UE, the Vincennes native posted a GPA of 3.928. Behind him was Jon Pick, who checked in with a 3.543.
To be eligible for GCAA All-Academic Team honors a college or university must submit the GPAs for each player on its official squad list for the academic year.
Jaylon Brown ready for professional career
In his four years with the University of Evansville Men's Basketball, Jaylon Brown improved each and every season. He became the first player in Missouri Valley Conference history to be named to the league's Most Improved Team on two occasions and the excellence that he displayed while at UE will be taken to the next level as Brown has signed a professional contract with KK Karpos Sokoli in Skopje, Macedonia.
"It is exciting to take my game to the next level," Brown said. "I am excited to visit a new country and have the chance to play in the top league in Macedonia."
His team plays in the Macedonian First League and advanced to the championship series for the first time in 2017, losing to 6-time defending champion MZT Skopje Aerodrom by a 3-2 margin in the 5-game series. His team was established in 1996 and made a large stride last season by being promoted to the ABA League (Adriatic League) last year.
"It means a lot to play professionally and shows that hard work will pay off," Brown said. "It is a good opportunity to play pro and take on the best players in Europe."
Brown will leave the United States in the middle of August to start preseason preparations for his new squad before starting the season in late September. Play can run into May depending on how the playoffs shape up for his squad. He is hoping to return to the USA over the Christmas break.
Throughout his basketball career, Brown has enjoyed great support from his father and family. They made the trip to the majority of Brown's games through his college career and they look to continue their support.
"My dad is definitely going to fly out a few times and stay for as long as he can. Others in my family will also be traveling to Europe when they have a chance."
Since wrapping up his career with the Purple Aces in March, Brown has been hard at work finishing up his academics at UE on his way to graduation while also staying in shape with a trainer near his home in the Indianapolis area.
As he prepares for the next step in his career, JB reflected on the challenges and opportunities that lie ahead.
"Not being in the same state or country as my family will definitely be a challenge, but that is what college is for. It gets you used to being away from your family; it will not be too big of an adjustment, but will definitely be different not being able to drive home," Brown explained.
"On the other side, I am looking forward to being in a new surrounding and understanding a new culture. The time difference there may throw me off a little bit, but I will get used to it. I am good at adapting!"
Azarian publishes review of math research paper
Mohammad K. Azarian, professor of mathematics, has published a review of a research paper in the American Mathematical Society's Mathematical Reviews (MathSciNet), the most respected data base for research in mathematical sciences.
The paper reviewed appeared in Math. Slovaca 66 (2016) and is titled, "On Some Combinations of Terms of a Recurrence Sequence," and was authored by Lyes Ait-Amrane, Hacène Belbachir, and Kamel Betina. The authors present some identities satisfied by classical Morgan-Voyce sequence, and they study the periods of this sequence modulo an integer greater than 1. Also, they seek to determine which features of the Morgan-Voyce sequence remain true when it is generalized to elliptic curves defined over a finite field.
UE students Stubblefield and Chen present at NATA
DPT student Gabby Stubblefield, who has a Master of Science degree in athletic training, and rising junior Stacey Chen, who is majoring in athletic training, recently presented at the National Athletic Trainers' Association Clinical Symposia in Houston, Texas.
Gabby presented on her research as a part of her master's thesis project titled "Examining the Differences in Ligament Laxity through the Use of an Instrumented Ankle Arthrometer."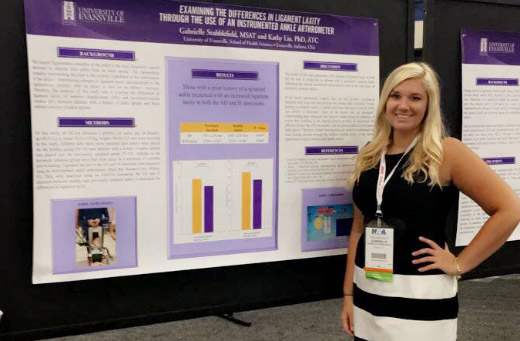 Stacey presented on a research project she worked on with UE DPT student Everett Plocek, titled "The Effects of Heat on Ligament Laxity of the Ankle in Healthy Individuals."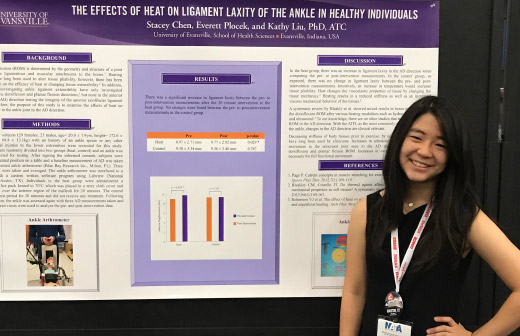 Both projects were led by Kathy Liu, assistant professor in the School of Health Sciences.
Contribute to AceNotes
To have content considered for inclusion in AceNotes, please submit a Marketing Request Form. Deadline for submission to AceNotes is 10:00 a.m. on the requested date of publication. Only articles concerning UE related/sponsored activities will be accepted. Articles submitted to AceNotes may be edited for length and clarity. Submitter contact information is at the end of each article.