| | |
| --- | --- |
| AceNotes Today | Thursday, July 20, 2017 |
Aces plan third annual Fall Sports Kick-off event
The University of Evansville athletics department will hold its annual Fall Sports Kick-off on August 13, at 4:30 p.m., at Bar Louie, located at 7700 Eagle Crest Boulevard. This is the third year for the event.

The event will feature interviews with head coaches and student-athletes from both the Purple Aces Men's And Women's Soccer teams, as well as the Evansville Volleyball team. As part of the program, the Men's Soccer team will unveil its new uniforms for the upcoming season.

The program, which is free and open to the public, will feature giveaways, which include ticket packages, Purple Aces gear, and more.

During the event, fans will be able to purchase FLEX wristbands and season tickets, and will also be able to pick up schedule cards and posters.
Submitted by Joseph Downs jd305@evansville.edu
College Day at Ellis Park racetrack on Sunday, July 23
Full-time college students are eligible to win a Dell Inspiron laptop or $1,000 scholarship on Sunday, July 23 at Ellis Park. One laptop and one $1,000 scholarship will be given away to separate students via a drawing after each of nine races, courtesy of the Kentucky HBPA horsemen's association and Henderson County businesses. Even if you don't win, you can have a fun time at Ellis Park, where admission and parking are free every day.
Sneak Peek: UE group toured construction site for med school

On July 18, a group of University of Evansville officials got a sneak peek at the multi-institutional medical campus currently under construction in downtown Evansville. UE has dedicated space for its physician assistant and physical therapy programs on the first, third and fourth floors.
The second floor is dedicated to collaboration. Students from all disciplines and institutions will study gross anatomy together in the all-inclusive suite. The advanced simulation center—equipped just like a real hospital and complete with live patient actors—will record patient-caregiver interactions and provide real-time feedback for advanced training. This unique environment will allow our students to study alongside those from other institutions and disciplines and learn from professionals working in four different area hospitals.
The facility is set to open in the Fall of 2018 and moving plans are in the works for UE programs.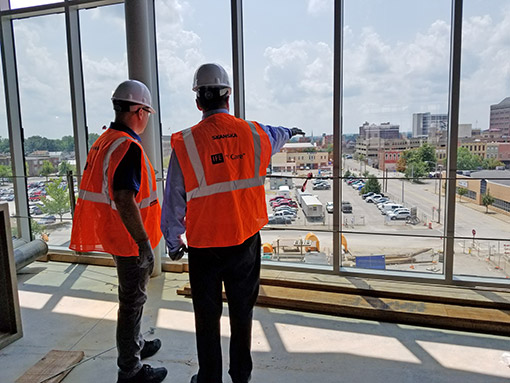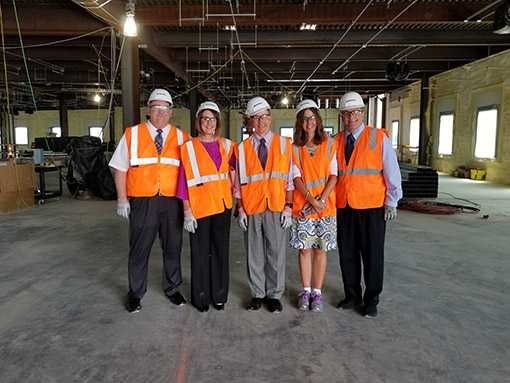 Department of Music receives accreditation renewal from NASM
The Department of Music at the University of Evansville was recently granted renewed accreditation by the National Association of Schools of Music (NASM). UE's music department has been accredited since 1948.
Founded in 1924, NASM is an organization of schools, conservatories, colleges, and universities with approximately 650 accredited institutional members. It establishes national standards for undergraduate and graduate degrees and other credentials for music and music-related disciplines. It provides assistance to institutions and individuals engaged in artistic, scholarly, educational, and other music-related endeavors.
Accreditation by NASM is the result of a comprehensive review process. The institution must meet specific standards in a variety of areas, including degree programs offered, general operations, and facilities. An intense self-study by UE's music department was submitted to NASM in January 2015. UE then hosted a site visit with NASM in March of that year.
"Accreditation by NASM is a significant achievement for our department," said Thomas Josenhans, UE music department chair. "It is a testament to the excellence of the programs and level of professional experiences and development that we provide for our students."
Josenhans noted that UE has five degrees that are accredited by NASM - Bachelor of Science in Music, Bachelor of Science in Music with an emphasis in Music Management, Bachelor of Music in Music Therapy, and Bachelor of Music in Performance.
"NASM's renewal of the University's membership is an external validation of the quality of the faculty, students, and programs provided by our Department of Music," UE president Thomas A. Kazee said. "It shows their continuing success in creating life-transforming experiences for our students."
"Internshipesque" work study positions available
The Office of Community Service Initiatives is looking for federal work-study eligible students who are interested in working at local nonprofit organizations. As long as you are currently a federal work study eligible student, you can qualify for this great work experience that serves more as a paid internship than as a work-study position.
Students may work in after school programs, community-building organizations, homeless organizations, or other service locations.
Students must have their own transportation.
For more information, contact Geoff Edwards at ge21@evansville.edu or at 812-488-1102.
Evansville Downtown Quarterback Club Picnic on campus today
The Evansville Downtown Quarterback Club will host its featured speaker, Tom Allen, Indiana University's 29th head football coach, in Eykamp Hall, Rooms 251-252, Ridgway University Center today - Thursday, July 20 - from 6:00-9:00 p.m., for a speaking engagement and dinner. Please contact Kari Hughes, kh355@evansville.edu, with questions.
UE Theatre announces auditions for child actors
The University of Evansville Department of Theatre is holding auditions for child actors to play major roles in the upcoming musical, Fun Home, on Tuesday, July 25, at 7:00 p.m., in Shanklin Theatre.
The roles being cast require two boys (8 to 14 years old) and one girl (10–14 years old). Child actors must be available evenings from August 5-October 1, although they will not be called for rehearsal every evening. Performance dates are September 22 -24 and September 28-October 1.
Interested young actors should prepare one musical selection from a Broadway musical. Please bring sheet music to the audition, as a piano accompanist will be provided. Additional vocal selections and reading from the script will also be expected.
Alison Bechdel's graphic novel provided the basis for this 2015 Tony Award-winning musical, with music by Jeanine Tesori and book and lyrics by Lisa Kron. In his review in The New York Times, Ben Brantley wrote "Fun Home isn't just a coming out story or a coming-of-age story. Its universality comes from its awareness of how we never fully know even those closest to us, and of the undercurrent of grown-up secrets, intuited by children, that exists to some degree in every family. Fun Home finds a shining clarity that lights up the night."
Questions about auditions should be directed to R. Scott Lank at SL29@evansville.edu. Lank is slated to direct and Gregory B. Rike will serve as the musical director.
Catering Service Information for Chartwells
As you know, the University has signed an agreement with Chartwells, a new food service provider. In addition to general dining options beginning this fall, Chartwells is also the catering services provider to the campus community.
Please direct all catering requests to the new catering e-mail address at UEcatering@evansville.edu. Sodexo's service to the University ended on Thursday, June 22. Any requests sent to the previous catering@evansville.edu address will automatically be forwarded to the new address.
Chartwells Catering Contact Information
UECatering@evansville.edu
Kellie Short
Director of Dining Services
765-641-4262
Read more about Chartwells' services, including menu favorites from Starbucks and Chick-fil-A, on our website here.
Thursday afternoon golf outings
The employees of the University of Evansville are again invited to play golf with other UE employees on Thursday afternoons during the summer months. The UE golf outings will be on Thursday afternoons at 3:00 p.m. at Fendrich golf course. You can reserve your tee time by contacting Debbie Kassenbrock in the Center for Academic Advising at dk26@evansville.edu or 488-2605 by 4:30 p.m. on the Wednesday prior to the outing.
Submitted by Deborah Kassenbrock dk26@evansville.edu
July Pcard cycle ending!
The July Pcard cycle which began June 22 ends on July 21. As of July 23, cardholders may schedule and run the July cycle report. July transactions may be reconciled in SDG2 until July 28. On July 28, the general ledger Pcard file will be uploaded and cardholders will be locked out of (unable to make changes) posted transactions for the July cycle.
Submitted by Kim Winsett kw83@evansville.edu
UE students Stubblefield and Chen present at NATA
DPT student Gabby Stubblefield, who has a Master of Science degree in athletic training, and rising junior Stacey Chen, who is majoring in athletic training, recently presented at the National Athletic Trainers' Association Clinical Symposia in Houston, Texas.
Gabby presented on her research as a part of her master's thesis project titled "Examining the Differences in Ligament Laxity through the Use of an Instrumented Ankle Arthrometer."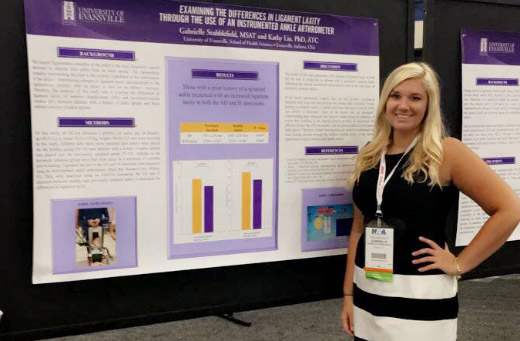 Stacey presented on a research project she worked on with UE DPT student Everett Plocek, titled "The Effects of Heat on Ligament Laxity of the Ankle in Healthy Individuals."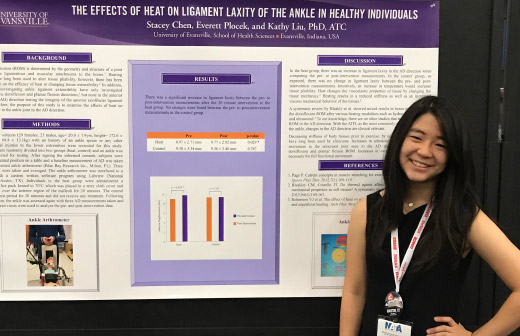 Both projects were led by Kathy Liu, assistant professor in the School of Health Sciences.
Birth Announcement - Lily Tsintsadze Maass
Congratulations to Richard Maass, assistant professor of political science, and his wife Etuna, on the birth of their new daughter, Lily. The baby was born July 12. Her big sister Ani welcomes her home.
Students create digital marketing plan for Direct Care for Me
University of Evansville marketing students have developed a digital marketing plan for Direct Care For Me (DCM), a Nashville, Tennessee, company cofounded by UE alumnus Matthew Taber. DCM helps primary care physicians convert to direct primary care, a low cost, no insurance necessary, payment model. The company's goal is to provide patients with access to low cost health care and to simplify the way physicians practice medicine.
Five student teams researched the DCM business model and industry characteristics, analyzed various aspects of the company's marketing activities, and developed digital marketing strategies and tactics. The project involved multiple visits and interactions between the students and Taber to assure validity and relevance.
At the University of Evansville, digital marketing is an upper level marketing course that focuses on digital technology and modern marketing techniques to help businesses reach their potential by connecting with their target audiences in a more effectively and efficiently. Timely courses and projects such as digital marketing are integral in helping businesses prosper and presenting students with knowledge and skills required to succeed in today's highly competitive environment.
"Such experiential projects as these challenge students to be critical observers and creative planners at levels beyond the regular course content," explained UE assistant professor of marketing Atefeh Yazdanparast. "Students are provided with the opportunity to make a difference in the business community, thereby gaining confidence in their abilities as future business leaders."
Taber said his collaboration with the UE student teams was very professional and yielded high quality results.
"The feedback and recommendations provided by the students were extremely valuable. The depth of their analysis will help us to take our business to new places that we did not think were even within our reach. The suggestions by students have greatly helped us communicate better with prospects."
"As a UE alumnus," Taber added, "I am grateful for having had the opportunity to work with the University on this project. Connecting with students helped me change my perspective about marketing a company in the era of digital technology."
Contribute to AceNotes
To have content considered for inclusion in AceNotes, please submit a Marketing Request Form. Deadline for submission to AceNotes is 10:00 a.m. on the requested date of publication. Only articles concerning UE related/sponsored activities will be accepted. Articles submitted to AceNotes may be edited for length and clarity. Submitter contact information is at the end of each article.