| | |
| --- | --- |
| AceNotes Today | Tuesday, July 11, 2017 |
Re-Thinking Diversity Through Advocacy and Dialogue today at noon
The Re-Thinking Diversity Series continues today at noon with speaker Gary May, retired professor of social work and president of Veterans for Peace. His topic will be "More than accommodations: Understanding the needs of people with different abilities." The session will be in Room 273 of the Schroeder School of Business Building. All are welcome to attend.
The series is sponsored by the Office of Diversity Initiatives and the Schroeder Family School of Business.
For more information contact LaNeeca Williams, chief diversity officer, at lw161@evansville.edu or 812-488-2413.
Men's Soccer unveils 2017 schedule
In just his second season at the helm, University of Evansville head men's soccer coach Marshall Ray engineered the second-largest turnaround in program history, leading the Purple Aces to 10 wins in 2016. Heading into this season, Ray and his squad are anxious to get back to work as the 2017 schedule has been released.
"It is important we stay focused on who we are and what the tradition of our program demands of us. Our players and staff must approach every day with the same attitude and effort that has allowed us to make great strides on and off the field in the last two and a half years," UE head coach Marshall Ray said. "We are excited for the start of training camp in August and look forward to the opportunity to continue to improve. We have made strides, but still have a tremendous amount of work to do to emulate the success of past Aces teams."
"Our 2017 non-conference schedule is going to prepare us for the rigors of the Missouri Valley Conference," Ray added. "There is no question that we play in one of the most competitive leagues in the country, and with the addition of Valparaiso our league has gotten better from top to bottom. You can look through our schedule and see multiple 10 win teams and conference champions from 2016. This schedule will challenge us and allow us the opportunity to continue to grow as a program."
Preseason play takes place on Sunday, August 20 as UE welcomes IUPUI to Arad McCutchan Stadium. The regular season quickly commences five days later with a home contest against Oakland City. Evansville welcomes the Mighty Oaks at 7:30 p.m. on August 25. The Aces finish their opening weekend against a familiar squad – Marshall University. Last season, the Aces grabbed a 2-1 home win over the Thundering Herd and look for another victory on the 27th in Huntington, West Virginia.

Next up is the annual ProRehab Aces Soccer Classic. One of the most prestigious yearly traditions for the Aces soccer program will see three stout teams making their way to Evansville – Milwaukee, Northern Illinois, and Bradley. UE starts the weekend with a 7:00 p.m. match against Milwaukee on September 1. The Panthers went 8-8-3 last year and were 5-3-1 in Horizon League action. Two days later, Evansville faces off against NIU at 2:30 p.m. Other matches over the weekend feature Bradley taking on Milwaukee and NIU.
An exciting non-conference trip will take place on September 7 as UE heads to Phoenix, Arizona, to take on upstart Grand Canyon University. The Antelopes participate in the Western Athletic Conference (WAC). Evansville remains in the road for another big match-up on September 12 when they make the trek to Indianapolis to face Butler. The defending Big East Champions went 13-5-2 last year and 9-1-1 at home on their way to a final ranking of #18.
A home match versus Eastern Illinois is the final tune-up on the 17th before the Aces commence Missouri Valley Conference play six days later at Missouri State. The Bears posted a 9-8-3 mark in 2016 and split the season series with UE as both road teams picked up the win. Valley play continues on Wednesday, September 27 with a home match versus Bradley. UE defeated the Braves by a 2-0 final last year.
It is back to non-conference action to start the month of October as the Purple Aces head north on Interstate 69 to Bloomington to face Indiana University. The Hoosiers finished last year ranked ninth in the nation after going 12-2-7 while playing in the second round of the NCAA Tournament. IU was 3-0-5 last year in Big Ten play.
MVC play resumes on October 7 as the Aces head to Valparaiso for their first meeting as conference foes. The Crusaders notched a 10-5-4 record last year in their final season as members of the Horizon League. Two home matches are on tap following that trip. The Aces welcome Belmont to McCutchan Stadium on October 10. UE defeated the Bruins by a 2-0 final last season.
On October 14, the Aces play host to Loyola. The Ramblers were the top MVC squad in the 2016 regular season, going 14-4-1 overall and 6-1-1 in the Valley while finishing the season ranked 21st in the country. Evansville played the Ramblers tough last year, with the match finishing in a 1-1 tie. Loyola defeated UIC in the opening round of the 2016 NCAA Tournament before falling to Notre Dame in the second round.
UE takes to the road on October 18 to play at Lipscomb. The Bisons went 10-6-2 last year. Three days later, it is back to MVC play with a trip to Des Moines, Iowa to face Drake. In 2016, the Aces went 2-0 against the Bulldogs. They earned a 4-3 win in Des Moines before opening up the conference championship with a 2-1 triumph.
A 3-match homestand will mark the end of the 2017 home slate. That stretch starts with Central Arkansas on October 24, before finishing up the season series against Drake on Saturday, October 28. The final home match is set for Halloween when UE hosts Northern Kentucky, a team they defeated on the road last season by a 2-0 final.
Regular-season play wraps up on Saturday, November 4, in a match that may have postseason implication as the Aces head to Chicago to take on Loyola to wrap up their in-season home-and-home league series. The MVC Championship begins on November 7.
Bailey George Memorial 5K Run/Walk set for August 5
University of Evansville head cross country coach Don Walters announced that the Bailey George Memorial 5K Run/Walk will be held on Saturday, August 5, to honor the memory of former Purple Aces runner Bailey George, who passed away from cancer in 2016.
Registration for the event is just $20 with all proceeds going directly into the Bailey George Scholarship Fund at the University of Evansville.
All participants will have the opportunity to run on the Angel Mounds Cross Country Course. The 100 percent grass cross country course at Angel Mounds provides excellent footing for the competitors, and clear sightlines for spectators. The host location for the 2016 U-18 National Championship (with over 2500 competitors), the 2015 MVC Championships, and University of Evansville home meets, the course will also be the location of the 2017 NCAA Division II Championships.
The race begins at 9:00 a.m. and is an untimed event. There will be a clock at the finish line. A 400-meter children's race will also take place.
"This event is a great way to celebrate Bailey and what was important to her. Being outside, physical fitness, and cross country were important things to her, and I'm glad that we are able to celebrate her, and what was important to her, at her home cross country course," says Coach Don Walters.
In 2016, 300 runners and walkers took part in the inaugural memorial run and walk.
Pre-registration is encouraged at www.uealumnionline.com/BaileyGeorgeRun17. Day-of registration will also be accepted. If you cannot attend this event but would like to contribute to the Bailey George Memorial Scholarship Fund, please visit www.evansville.edu/give.
For more information, please contact UE head cross country coach Don Walters at 812-457-4103.
UE Athletics announces staff additions
Several new staff members have joined the University of Evansville Athletics Department this summer.
The department welcomes the following new staff members and coaches to the Purple Aces:
Erik Brown – Assistant Athletic Trainer
Erik Brown has been hired to replace Troy Coppus as an assistant athletic trainer and instructor in the athletic training education program. (Coppus left to become clinical education coordinator for the UE athletic training education program.) Brown is no stranger to Southern Indiana. He attended Heritage Hills High School. He attended DePauw University for his undergraduate schooling. He completed a master's degree from Indiana University and a second master's degree from California University Pennsylvania. Most recently he served as the athletic training education clinical coordinator for Wheeling Jesuit University. He has experience in a variety of sports including: Baltimore Orioles minor league baseball, NBA top 100 Prospects Camp, and the Maccabia USA team participating in the 2017 Maccabia Games.
Joe Downs – Director of Media Relations
Joe Downs makes his way to the UE athletic department after spending the last five years as the sports director at WFIE in Evansville. Downs came to the Tri-State area with nearly two decades of broadcasting experience and has worked his way from behind the camera to in front of it, starting out as a videographer in his hometown of Portland, Maine. Since then, he has been a sportscaster in Colorado, Pittsburgh, Virginia, and Ohio. He came to WFIE after a stint as the sports director at WFIE's sister station in Lake Charles, Louisiana. In his career, Downs has covered everything from NFL and NHL playoff games, the BCS Title Game, the FCS Title Game, Major League Baseball, and some of the best high school football in the nation. He is a lifelong Pittsburgh sports fan, but also roots for the Celtics and the Yankees. In fact, he grew up idolizing Evansville native Don Mattingly. He is married with two daughters and looks forward to making "the Pocket City" his home for years to come.
Carson Harris – Assistant Men's Basketball Coach
Carson Harris returns to the University of Evansville as an assistant men's basketball coach. Harris was an assistant under head coach Marty Simmons from 2010-15 when he took the position of head coach at Marian University. He spent two seasons pacing the Knights. He joined the UE staff in 2009 as director of basketball operations. A three-time all-North Central Conference guard at Lafayette Jeff High School and a three-time all-Heartland Collegiate Athletic Conference selection at Manchester (Indiana) College, Harris stayed on at Manchester as an assistant coach for two years following his graduation in 2001. He then coached three years at Earlham College and three years at DePauw University before making the move to the Division I level in the summer of 2009. He and his wife Ali have two children.
Jake Hill – External Affairs Intern
Jake Hill began his time at UE in June. He will be serving the Purple Aces as an external affairs intern. Hill comes to UE after graduating with his master's degree in sports management from Western Illinois University. During his time at WIU, Hill served as a marketing and promotions intern, focusing strongly on graphic design as well as game-day operations and development. During his undergraduate studies he also assisted with the university's ESPN 3 athletic productions. He is originally from Machesney Park, Illinois.
Kayla Katterhenry – Golf Graduate Assistant
One of the top golfers in UE and Missouri Valley Conference history joins the coaching staff as a graduate assistant. Kayla Katterhenry will continue working with the Purple Aces while obtaining her master's degree at UE. Katterhenry won the 2017 Missouri Valley Conference Championship and, in doing so, set the all-time league mark with 11 individual victories. Her efforts resulted in her being named the 2017 MVC Women's Golfer of the Year. Over her 4-year career, Katterhenry set the program mark with a 75.86 stroke average while being a 4-time All-Conference First Team golfer. She is originally from Newburgh, Indiana, and graduated from Castle High School. Katterhenry earned her degree in management from UE in 2017.
John Metelko – Assistant Cross Country and Track and Field Coach
John Metelko returns to the University of Evansville to serve as assistant coach for the cross country and track and field teams. A 2005 Evansville graduate, Metelko returns to UE after serving as head coach at Viterbo University for cross country for the past nine years, and track and field for the past six. Since 2008, Metelko built the Viterbo cross country program from one which had been discontinued twice due to a lack of interest, into a solid program with over 28 student-athletes in the program, each of the last seven years. Additionally, Metelko grew the track and field team to over 80 student-athletes. Before being a head coach, Metelko served as a volunteer assistant cross country coach at UE in 2005. Prior to his coaching experience at Evansville, Metelko found success as a student-athlete under Coach Don Walters. During his time as a student- athlete, he was chosen as recipient of the Most Improved Runner Award and the team's 110% Effort Award. He also helped the men's UE cross country team to their best finishes to date at the Indiana Intercollegiate, MVC, and NCAA Great Lakes Region Championships. Metelko graduated from the University of Evansville with a bachelor's degree in psychology. Metelko and his wife Beth will reside in Evansville with their three daughters.
Kayli Miller – External Affairs Intern
Kayli Miller joined the University of Evansville Athletics Department in June as an external affairs intern. She received her B.S. in Marketing from Illinois State University in May. While attending ISU, Kayli interned with Redbird Athletics, both in the marketing and ticket sales departments. She also interned with the Peoria Chiefs, a Minor League affiliate of the St. Louis Cardinals, during the 2016 season. Miller is originally from Minier, Illinois.
Melissa Rabell – Volleyball Graduate Assistant
Melissa Rabell joins the Aces volleyball staff as a graduate assistant. She was a student-athlete at North Carolina Central where she played volleyball from 2011-15. Rabell graduated magna cum laude and made the Dean's List on six occasions. She also garnered the NCCU Athletics True Grit Award in 2013 and 2014. Rabell spent time in San Juan, Puerto Rico, as an accounting auditor at BDO Puerto Rico, P.S.C. She now looks to continue her volleyball career on the coaching side where she has Level I FPV National Coaching Certification. Rabell is also a Gold Medal Squared Volleyball Clinic attendee.
Michael Robertson – Assistant Director of Media Relations
Michael Robertson joined the University of Evansville as assistant director of media relations in July. He has been involved in college sports information and athletics media relations since 2010. He comes to UE after serving as the assistant director of athletics communications at the University of Mount Olive in North Carolina. At Mount Olive, Robertson was the primary contact for men's and women's basketball, men's and women's volleyball, softball, women's lacrosse, and men's and women's tennis. Robertson managed statistical operations for his sport responsibilities while also producing webcasts, writing releases, and managing the Trojans' social media accounts. Robertson graduated from the University of Southern Indiana, earning a bachelor's degree in radio/TV broadcasting. While at USI, Robertson served as a sports information student intern for two years. He also worked as a play-by-play announcer for The Edge Radio from 2010-14. While there he was named a part of the Best Sportscast by Intercollegiate Broadcast Systems in 2012, Best Sportscast Finalist in 2013 by College Broadcasting Inc., and Best Play-By-Play Finalist in 2014. Following the completion of his bachelor's degree, Robertson continued at Southern Indiana as a graduate assistant for two years. Robertson resides in Evansville with his wife, Katie.
Jauwan Scaife – Assistant Women's Basketball Coach
Jauwan Scaife joins the UE women's basketball program after spending the last two years on the staff at Southeast Missouri State in the same capacity. While at SEMO, he served as the team's facilities, social media and video/technology coordinator in addition to assisting with recruiting, camps, scouting, player development and other tasks as assigned. In his first season with the Redhawks, Scaife helped guide Southeast to a fifth-place finish in the OVC with an 8-8 record. SEMO finished the season with an even 15-15 overall record. Scaife worked closely with the guards including Bri Mitchell, Southeast's first All-OVC performer since 2008-09. Mitchell's 13.5 points per game led the Redhawks as well as ranked 10th in the league. Scaife put up a team-best 20 double-digit point performances in the 27 games he played in. Prior to Southeast, he spent the last two years as a graduate assistant/video coordinator with the Ball State men's basketball team. Scaife played four years as a guard at Ball State from 2009-13. He was named Second-Team All-Mid-American Conference in 2012-13 and earned MAC All-Freshman Team honors in 2009-10. Scaife finished his career ranked 14th in program history with 1,326 points, becoming the 26th 1,000-point scorer for the Cardinals. He broke BSU's career records in three-pointers made (203) and attempted (579), as well. Scaife graduated in three years at Ball State with a degree in sport administration. He remained at BSU to get his master's in physical education/coaching.
Heather Tarter – Assistant Softball Coach
Heather Tarter joined the Purple Aces softball program in June. She spent the 2017 campaign as the interim head coach at IUPUI. After joining the team early in 2016 as an assistant coach, Tarter took the reins of the program and enjoyed great success. She led the Jaguars to an 11-6 mark in Summit League play on her way to conference coach of the year honors. Her Jaguars were the top seed in the Summit League Tournament and advanced to the championship game for the second year in a row. The team was also received its first-ever postseason bid, playing in the inaugural National Invitational Softball Championship (NISC). Prior to IUPUI, Tarter was head coach at Purdue Calumet for three seasons where she led the Peregrines to a 28-8 mark in the program's inaugural season. The 2014 PUC squad ranked in the top 25 in NAIA Division II in five offensive categories and earned a 2-1 win over Division I Purdue in the fall season. Originally from Fairbury, Illinois, Tarter spent her first two collegiate seasons playing at Kankakee Community College. She was a standout catcher for the Cobras where she led the team to a pair of NJCAA Regional titles on her way to being an All-Region player. She finished her career in the Missouri Valley Conference, playing at UNI in her final two years.
Andrea Wallace – Director of Business Operations
Andrea Wallace, a 2006 graduate of the University of Evansville, returns to her alma mater as the director of business operations. She began her career in the sports industry as assistant box office manager at The Center, now Old National Events Plaza. She quickly transitioned to ticket office manager at Roberts Stadium, Victory Theatre, and Mesker Amphitheatre. In June of 2011, shortly after marrying her husband, Nick Wallace, she became part of the inaugural Ford Center staff. In this position she gained a lot of industry knowledge as she built a ticket office and ticketing system, literally from the ground up. In the summer of 2014 she took on the responsibilities of premium services manager and was able to build relationships with many business people within the Tri-State. She joined the Evansville Otters front office staff for their 2016 championship season before transitioning to UE this past winter. Andrea and Nick have two daughters, Emmalyn and Clara. She is a member of Methodist Temple and is an active member of the local Phi Mu Alumnae Chapter.
Rachel Weigel – Athletic Training Intern
Rachel Weigel will come to the University of Evansville this fall to serve as an athletic training intern. Her primary responsibilities will be with the volleyball and softball teams. She comes to UE from Kent State University where she received a wide variety of experiences with athletic teams and worked as a summer intern with the Philadelphia 76ers. Weigel was on the Dean's List for four years while at Kent State.
UE Theatre announces auditions for child actors
The University of Evansville Department of Theatre is holding auditions for child actors to play major roles in the upcoming musical, Fun Home, on Tuesday, July 25, at 7:00 p.m., in Shanklin Theatre.
The roles being cast require two boys (8 to 14 years old) and one girl (10–14 years old). Child actors must be available evenings from August 5-October 1, although they will not be called for rehearsal every evening. Performance dates are September 22 -24 and September 28-October 1.
Interested young actors should prepare one musical selection from a Broadway musical. Please bring sheet music to the audition, as a piano accompanist will be provided. Additional vocal selections and reading from the script will also be expected.
Alison Bechdel's graphic novel provided the basis for this 2015 Tony Award-winning musical, with music by Jeanine Tesori and book and lyrics by Lisa Kron. In his review in The New York Times, Ben Brantley wrote "Fun Home isn't just a coming out story or a coming-of-age story. Its universality comes from its awareness of how we never fully know even those closest to us, and of the undercurrent of grown-up secrets, intuited by children, that exists to some degree in every family. Fun Home finds a shining clarity that lights up the night."
Questions about auditions should be directed to R. Scott Lank at SL29@evansville.edu. Lank is slated to direct and Gregory B. Rike will serve as the musical director.
Campus visitor parking improvements
Dear Campus Community,
As you know, the office of admission continues to enhance the visit experience for our prospective students in order to make them feel welcome and at home on our campus. Added communication prior to events, updated event schedules and tour routes, a new hotel partnership, and personalized visit experiences are all things we've recently done to make a lasting impression on our visitors.
The latest enhancement is the addition of special parking signs in front of Olmsted Administration Hall that will be personalized to welcome each arriving guest by name. These signs will be installed during the week of July 10. You'll also notice that additional purple parking spaces have been added to the parking area in front of Olmsted. In order to ensure that each visiting guest has a place to park, we're asking for your help to keep the purple spaces open at all times (including the summer months). Please help us communicate this change to your various constituency groups including student workers, outside guests, and others so that we may make a positive first impression on our visitors.
Thank you for continuing to be an important part of the campus visit experience. We truly appreciate the enthusiasm and cooperation from the entire campus community in making the experience special for each of our visitors.
Sincerely,
Dr. Shane Davidson
Vice President for Enrollment and Marketing
Dining construction update
We recently announced a partnership with Chartwells, a new food service provider who will begin serving the campus community throughout the fall 2017 semester. Chartwells will offer menu items from Chick-fil-A and Starbucks as well as several other new dining options and construction will begin soon. The proposed construction timeline is as follows:
July 10-17: Construction begins in café court
August 21: Construction begins on Chick-fil-A
August 23: First day of school and opening of:
• Rademacher's Coffee Shop featuring We Proudly Serve Starbucks
• Student Choice Station where students determine what will be served each semester
• Anytime dining providing all-you-can-eat access from 7:00 a.m. to 7:00 p.m.
• 24-hour access to a satellite Smart Market Express stocked with fresh food daily in Koch Center
Late October: Expected Chick-fil-a Grand Opening
Updates will be provided periodically. Just think about how good those warm waffle fries will taste on a brisk October day…
UE President Thomas A. Kazee Announces Departure
The University of Evansville's 23rd president, Thomas A. Kazee, will step down on May 31, 2018, after an eight-year tenure at the institution. Since his inauguration in June 2010, Kazee has led UE as it has developed new programs, enhanced and expanded its physical facilities, and extended its reach as an international institution.
"Dr. Kazee has provided outstanding leadership to this great University," said Linda White, Chairman of University of Evansville's Board of Trustees. "During his eight years as president, we have witnessed the development of innovative new programs spearheaded by an outstanding faculty and staff."
Under his leadership, UE has implemented a facilities master plan that includes new student townhouses as well as renovations and additions of key academic buildings, such as the Bower-Suhrheinrich Library. Hyde Hall, the most heavily used classroom building on campus, will undergo a major renovation in May 2018 following the recent completion of the first $5 million fundraising milestone for the project. The largest gift in UE history was secured during Kazee's presidency after donor and longtime friend to the University, William L. Ridgway, left UE $39 million from his estate.
UE has also added important new academic programs, including a Physician Assistant Masters program, which will be located in the new Academic and Health Science Research campus in downtown Evansville when it opens in the 2018-19 academic year. Other new programs added during Kazee's tenure include Statistics and Data Science, Masters in Public Health, and a learning-in-retirement program. Moreover, UE's unique Fellows program, which recruits students from high schools around the state, has made the campus a more diverse and inclusive place.
"I'm proud to reflect on my career at the University of Evansville, and I know the successes accomplished during my time here could not have been done alone," said Kazee. "The UE family is made up of an outstanding group of individuals with a passion for the success of this University and the students who pass through its doors."
During Kazee's tenure, the University has been a leader in career preparation through its pioneering Center for Career Development, which is dedicated to support students' career exploration from before they enroll through post-graduate life. In addition, the University now offers its innovative "UE Guarantee," a commitment to students that ensures substantial financial aid, internships, study abroad, and four-year graduation.
Other key advancements under Kazee's leadership include the addition of the McCarthy Greenhouse, substantial land acquisition around Harlaxton College—UE's renowned living-learning center in Grantham, England—and the restoration and move of the historic Peters-Margedant House through the city of Evansville to its new home on the UE campus.
"It's impossible to thank each person I've been fortunate to work with during my time at UE," said Kazee. "I hope each and every one of them—students, faculty, staff, and administrators—know how truly grateful I am to have worked alongside such a passionate and talented group of people."
UE's prominence regionally and nationally has also benefitted from Kazee's leadership roles on the Council of Independent Colleges, the National Association of Independent Colleges and Universities, the New American Colleges and Universities consortium, and the Independent Colleges of Indiana.
Kazee's wife, Sharon, has been deeply involved in the Evansville community as an advocate for arts and education. She has served on many boards, including those for the Signature School, the Evansville Philharmonic Orchestra, St. Vincent-Evansville Hospital, and the Evansville Museum. She was also instrumental in founding the DaVinci Institute, a network of Evansville community leaders facilitating creative educational opportunities for K-12 learners and those who support them.
A political scientist, Kazee served for 18 years on the faculty at Davidson College and four years as Dean of the College at the University of the South (Sewanee). Prior to coming to UE, he served as Provost and Executive Vice President at Furman University. He received a B.A. in political science from Baldwin-Wallace College in Berea, Ohio, in 1974, and a Ph.D. in political science from Ohio State University in 1978.
"I've had a long and fulfilling career," Kazee said. "I'm ready to make the shift from full-time academic administration to do many things that I've postponed for too long. It will be fun to read a book that doesn't deal directly with higher education!"
At the conclusion of the 2017-2018 academic year, the Kazees intend to relocate to Pawley's Island, South Carolina. Their plans include travel and visits to children and grandchildren. Son, Geoff, is a turf management specialist who will soon be moving to Phoenix, Arizona. Daughter, Nicole, is the Vice President for Strategy and Business Development at the Erie Family Health Center in Chicago, Illinois. Nicole lives with her husband Andy and three-year-old twins, Cora and Milo, in Chicago.
"The Board of Trustees wish Dr. Kazee and his wife, Sharon, the very best as they venture forward," said White.
UE Stories Abroad: Jennifer in Spain
There's a new UE stories abroad submission available on the study abroad website! Spanish education major Jennifer Riedford has written all about her semester in Spain, including her experiences trying to master the Spanish language, adjusting to the Spanish lifestyle, and a trip with friends that almost ended in disaster!
You can read all about her story by visiting the study abroad stories webpage.
Submitted by Greta Becker gb91@evansville.edu
Fall 2017 Pcard cardholder training schedule
The Fall 2017 Pcard cardholder training session calendar is now available on the AceLink Pcard website under Training Materials/Dates to Remember. For questions or to reserve a training spot, contact the Office of Administrative Services at ext. 2941.
Submitted by Kim Winsett kw83@evansville.edu
Catering Service Information for Chartwells
As you know, the University has signed an agreement with Chartwells, a new food service provider. In addition to general dining options beginning this fall, Chartwells is also the catering services provider to the campus community.
Please direct all catering requests to the new catering e-mail address at UEcatering@evansville.edu. Sodexo's service to the University ended on Thursday, June 22. Any requests sent to the previous catering@evansville.edu address will automatically be forwarded to the new address.
Chartwells Catering Contact Information
UECatering@evansville.edu
Kellie Short
Director of Dining Services
765-641-4262
Read more about Chartwells' services, including menu favorites from Starbucks and Chick-fil-A, on our website here.
Time to renew pre-approval authorization for distribution services
It is time to renew "PAADS" (pre-approval authorization for distribution services) forms for the new Fiscal Year 2017-18 (June 1, 2017 through May 31, 2018). An approved PAADS pre-authorizes a requestor based on specified account numbers and dollar amounts to make requests for copy services and in-house office supplies without obtaining approving signatures for every distribution services request form.
The renewal process is simple. Print, complete, obtain authorized signature from your budget approver and submit the form via campus mail to administrative services/general services. The PAADS form is located on both the copy services website and central receiving website on AceLink Areas under Forms & Instructions.
Note - employee status changes (requestors and approvers) during a fiscal year will void a PAADS and a new approved PAADS will be necessary.
For questions, please contact Terry Voges at ext. 2941 or tv35@evansville.edu or Kim Winsett at ext. 2940 or kw83@evansville.edu.
Bandi presents at Slate Conference in Chicago
Bhargavi Bandi, enrollment technology specialist, recently presented at the 5th annual Slate Conference in Chicago, Illinois, on June 29-30.
Her presentation was titled 'Using Slate in Years 2+,'
Bandi's presentation was formed from her expertise of the Slate platform as a way to share best practices with other institutions.
Over 600 colleges and universities were represented at this year's Slate Conference.
Sholander presents research poster at national conference
University of Evansville DPT '17 graduate Kristen Sholander recently presented research at the American Physical Therapy Association (APTA) Next Conference in Boston, Massachusetts.
The poster is titled "The Effect of a Group Exercise Rehabilitation Program on Psychosocial Outcomes for Individuals who have Experienced a Stroke."
Under the direction of assistant professor of physical therapy Tzurei Chen, Sholander led the data collection, analysis, interpretation, and dissemination of the project.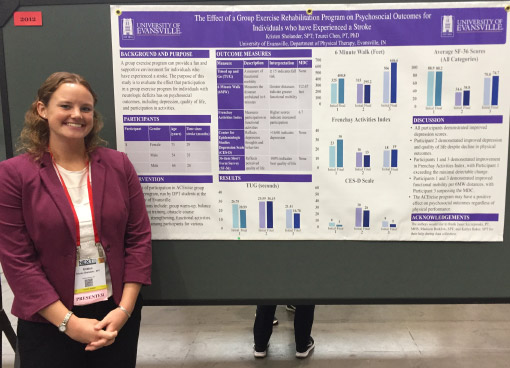 The research study analyzed psychosocial outcomes in individuals who have experienced a stroke, after participating in eight weeks of the Acercise pro bono group exercise program. The study specifically looked at changes in depression, quality of life, and participation in activities.
"Most participants had improvements in all areas after only 8 weeks, which indicates that Acercise does more than just help people physically. The group atmosphere truly contributes to improved mental, emotional, and social well-being," Sholander said.
Sholander has accepted a physical therapy position in acute care at Lovelace Medical Center in Albuquerque, New Mexico.
Professor Pengcheng Xiao has article published
Pengcheng Xiao, assistant professor of mathematics, has had an article published in Science China Technological Sciences. The article is entitled "Seizures dynamics in a neural field model of cortical-thalamic circuitry." The article is part of his ongoing collaboration with Professor Honghui Zhang in China. You can read the article online.
Aces well-represented on MVC 2016-17 Academic Honor Roll
Seventy-four student-athletes highlight more than 1,500 who earned selection to the 2016-17 Missouri Valley Conference Honor Roll, as announced by the league office. Those 74 student-athletes earned the league's highest academic achievement by capturing the Missouri Valley Conference President's Council Academic Excellence Award.
The President's Council Academic Excellence Award requires a minimum 3.8 cumulative grade point average (through Spring 2017 semester), participation in athletics a minimum of two years, and the student-athlete must be within 18 hours of graduation. Also, hundreds of student-athletes received the league's Commissioner's Academic Excellence Award, which requires a minimum grade point average of 3.5 for the previous two semesters, a minimum 3.2 cumulative grade point average, and participation in athletics.
In addition, the Missouri Valley Conference has announced its 2016-17 Honor Roll, which recognizes academic achievement of student-athletes. To qualify for the Valley Honor Roll, a student-athlete must have recorded a minimum 3.2 grade point average for a specified term (Fall 2016/Spring 2017), must have been a member of an athletics team, and must have a minimum of 12 hours of enrollment during the fall or spring semesters.
Below are the honorees for each award from the University of Evansville.
Presidents Council Academic Award Recipients
Blake Simmons - Men's Basketball
Everett Plocek - Mens' Swimming
Whitney Biggs - Women's Soccer
Bronwyn Boswell - Women's Soccer
Colleen Dierkes - Women's Soccer
Commissioner's Academic Excellence Award Recipients
Blake Simmons - Men's Basketball
Benjamin Woolems - Men's Cross Country
Zachary Blaydes - Men's Soccer
Cameron Gilreath - Men's Soccer
Brian Hughes - Men's Soccer
Matthew Keller - Men's Soccer
Andrew Cotton - Men's Swimming & Diving
Brendan Ninneman - Men's Swimming & Diving
Everett Plocek - Men's Swimming & Diving
Peyton Langston - Women's Basketball
Camary Williams - Women's Basketball
Ashton Bosler - Women's Cross Country
Kayla Katterhenry - Women's Golf
Carly Waggoner - Women's Golf
Bailee Bostic - Softball
Olivia Cheatham - Softball
Mickaela Fleming - Softball
Samantha Fleming - Softball
Tess Hupe - Softball
Ashlee Kawall - Softball
Kristin Koepke - Softball
Morgan Lambert - Softball
Michal Luckett - Softball
Susan Norris - Softball
Bailee Porter - Softball
Whitney Biggs - Women's Soccer
Bronwyn Boswell - Women's Soccer
Colleen Dierkes - Women's Soccer
Montana Portenier - Women's Soccer
Taylor Davidson - Women's Swimming & Diving
Kaylee Gubricky - Women's Swimming & Diving
Jessica Hildebrand - Women's Swimming & Diving
Michaela Kent - Women's Swimming & Diving
Sylvia McFadden - Women's Swimming & Diving
Kasey Rein - Women's Swimming & Diving
Andjela Brguljan - Women's Tennis
Rocio Fortuny - Women's Volleyball
Olivia Goldstein - Women's Volleyball
Montana Schafer - Women's Volleyball
Hin Ching Rachel Tam - Women's Volleyball
Honor Roll List
Baseball
Kenton Crews
Nicholas Eggemeyer
Trey Hair
Dalton Horstmeier
Matthew Jones
Adam Lukas
Stewart Nelson
Nathan Reeder
Jake Sperry
Connor Strain
Blake Swanger
Andrew Tanous
Travis Tokarek
James Ward
Men's Basketball
Silas Adheke
Jaylon Brown
Soloman Hainna
David Howard
Blake Simmons
Dru Smith
Dalen Traore
Men's Cross Country
Jordan Carpenter
Stanley Chepchieng
Philip Dzienciol
Ross Frondorf
Enrique Hendrix
Paul Schwartz
Benjamin Woolems
Men's Golf
Tyler Gray
Matthew Ladd
Wilson Pahud
Jon Pick
Robert Waggoner
Cameron Weyer
Men's Soccer
Zachary Blaydes
Kyle Brown
Cameron Cool
Hunter DeWeese
Ian Gammon
Cameron Gilreath
Cesar Guitunga Jr.
Brian Hughes
Matthew Keller
Nicky Kodua
Ryan Koenig
Eric McDougal
Ian McGrath
Gregory Niven
Arlick Ntabana
Christopher Shuck
Thomas Skupien
Jesse Stafford-Lacey
Simon Weaver
Caleb Williams
Men's Swimming & Diving
Jacob Buagh
Matthew Childress
Andrew Cotton
Paul Cozzens
Isaac Devaney
Matthew Duke
William Glasscock
Luke Hoffman
Keystone Marcy
Prescott Marcy
Brendan Ninneman
Daniel O'Brien
Everett Plocek
Zachary Sagan
Jacob Sampson
Andrew Schroder
David Stottard
Robert Sutphin
Women's Basketball
Kaylan Coffman
Sara Dickey
Brooke Dossett
Peyton Langston
Marley Miller
Sasha Robinson
Camary Williams
Women's Cross Country
Katherine Beaber
Ashton Bosler
Sienna Crews
Hayley Elliott
Kylie Hasenour
Michelle Karp
Anna Loef
Ashley Torres
Hannah Welsh
Women's Golf
Guilia Chaves Mallmann
Kayla Katterhenry
Maria Pickens
Lexie Sollman
Carly Waggoner
Women's Soccer
Nicole Baham
Whitney Biggs
Bronwyn Boswell
Jordin Campbell
Colleen Dierkes
Emily Griebel
Mikayla Harvey
Molly Lear
Margaret Leazer
Tess Lombard
Laura Minor
Jessica O'Shaughnessy
Sara Osinski
Sierra Selene Pagan
Montana Portenier
Julie Rabe
Emily Richardson
Emily Rickett
JBess Ruby
Kasey Stefan
Softball
Bailee Bostic
Amanda Blakenship
Danielle Cassidy
Olivia Cheatham
Mickaela Fleming
Samantha Fleming
Morgan Florey
Tess Hupe
McKenzie Johnson
Ashlee Kawall
Kori Keyes
Kristin Koepke
Morgan Lambert
Courtney Land
Alexandra Latoria
Emily Lockhart
Michal Luckett
Susan Norris
Chandra Parr
Bailee Porter
Hayli Scott
Deja Shelton
Women's Swimming & Diving
Ashton Adams
Kayla Aitken
Courtney Coverdale
Taylor Davidson
Danielle Freeman
Adrianne Gamester
Samantha Gowdy
Kaylee Gubricky
Emma Hennessy
Jessica Hildebrand
Michaela Kent
Sylvia McFadden
Kristen Myers
Kasey Rein
Aine Scholand
Amy Smith
Alaina Sylvester
Alyssa Vonder Harr
Shaina Weisberg
Women's Tennis
Nicoli Attili Pereira
Andjela Brguljan
Leah Helpingstine
Andrea Pascual Larrinaga
Daria Pentsova
Theodora Soldatou
Chieko Yamada
Volleyball
Deja Clark
Rocio Fortuny
Olivia Goldstein
Jelena Merseli
Mildrelis Rodriguez Cintron
Montana Schafer
Catherine Schreiber
Rachel Tam
Tkachenko finishes freshman season ranked 20th in region
The University of Evansville's own Diana Tkachenko - the 2017 Missouri Valley Conference Freshman of the Year – finished the 2017 season in the final ITA Regional Tennis Rankings.
Tkachenko completed her inaugural collegiate season ranked 20th in singles in the Ohio Valley Region.
"This past season had so many positives; it has really been such a positive affirmation that others have taken notice," Purple Aces head coach Jayson Wiseman said. "For Chieko to have made the MVC All Select team and Diana to be named Freshman of the Year were great accomplishments for the program."
"To have Diana recognized as one of the top 20 players in our region is really something for her and our team to build on," Wiseman added. "Looking at the players ranked ahead of her, she has beaten several of them in the past and a number of those players were seniors this year. After talking with Diana once the rankings came out, she is very motivated to improve on that ranking and really help push our whole team forward. She and I are both excited to get back to work this fall!"
During the 2016-17 season, Tkachenko went 31-8 overall and 6-1 in MVC action. She began the year with an impressive showing in the fall, highlighted by a second place finish at second-flight singles in the MVC Individual Tournament, which was hosted by UE at Wesselman Park.
Yazdanparast has paper accepted for publication
Atefeh Yazdanparast, assistant professor of marketing, has had a paper accepted for publication in the Journal of Marketing Management. The paper, titled "The Dark Side of Consumer Life in the Age of Virtual and Mobile Technology," explores the nature of consumer-technology relationship, specifically virtual and mobile technology, at the level of lived experience. The findings reflect eight important facets of technology-related dark-side consumer behavior that, in one way or another, cause harm to the individual user, other consumers, or society at large.
Robert Dion receives 2017 Making Democracy Work Award
Robert Dion, chair of the Department of Law, Politics, and Society, was the recipient of the 2017 "Making Democracy Work" Award at the annual meeting of the League of Women Voters of Southwestern Indiana last weekend.
"As both an educator and an advocate, Dr. Dion has advanced the ideas of democracy, good governance and civil rights in our community," the League stated. "He helps make democracy work by sharing his expertise and insights, prompting us to think, and helping us understand and respond to the complex, confusing, challenging and - currently - often frustrating political system that is the United States democracy."
The League of Women Voters is a non-partisan organization that works to empower voters and encourage participation in the democratic process, and the Making Democracy Work award is their signature program for recognizing community leaders who advance these aims. Previous recipients include Chief Justice Loretta Rush of the Indiana Supreme Court, State Senator Vaneta Becker, and Representative Gail Riecken.
Creative writing professor publishes poems
Paul Bone, associate professor of creative writing, recently published a poem titled "Poem" in the American Journal of Poetry. You can read Bone's poem on the American Journal of Poetry's website. Bone's poem is an homage to American poet Brigit Pegeen Kelly, who died in 2016, and a direct response to her poem, "Song." You can read her poem "song" on the Poets.org website.
Riley Horlock wins student manager scholarship
Riley Horlock, a 20l7 UE graduate from St. Charles, Illinois, recently won a $500 student manager scholarship from the Athletic Equipment Managers Association. The award was announced at the AEMA national convention in Atlanta in early June. Riley was a 4-year student manager for Women's Soccer. She is the 34th University of Evansville winner of an AEMA student manager scholarship. UE has had more winners than any other university.
Contribute to AceNotes
To have content considered for inclusion in AceNotes, please submit a Marketing Request Form. Deadline for submission to AceNotes is 10:00 a.m. on the requested date of publication. Only articles concerning UE related/sponsored activities will be accepted. Articles submitted to AceNotes may be edited for length and clarity. Submitter contact information is at the end of each article.