| | |
| --- | --- |
| AceNotes Today | Tuesday, June 20, 2017 |
Catering information: Chartwells service begins June 23
As you know, the University has signed an agreement with Chartwells, a new food service provider. In addition to general dining options beginning this fall, Chartwells will also be the catering services provider to the campus community beginning Friday, June 23.
On this date, please direct all catering requests to the new catering e-mail address at UEcatering@evansville.edu. Sodexo's service to the University ends on Thursday, June 22. After this date, any requests sent to the existing catering@evansville.edu address will automatically be forwarded to the new address.
Chartwells Catering Contact Information
UECatering@evansville.edu
Kellie Short
Director of Dining Services
765-641-4262
Read more about Chartwells' services, including menu favorites from Starbucks and Chick-fil-A, on our website here.
UE Volleyball to open 2017 home schedule against IU
An exciting home opener against Indiana University highlights the 2017 University of Evansville Volleyball schedule.
The home opener versus the Hoosiers is set to take place on Friday, September 8 at 7:00 p.m. as part of the Dunn Hospitality Invitational. It will be the first game at the newly-remodeled Meeks Family Fieldhouse while also marking the naming ceremony for Lois D. Patton Court.
"I am excited for this year's schedule, as it offers a good balance and preparation for our 2017 fall roster," Purple Aces head coach Manolo Concepcion explained. "The majority of teams that we are facing in pre-season simulate the type of opponents that we will face in the MVC, so it allows us to get tested right away and opens the door for the six new players we have to transition effectively into what is considered to be the best mid major conference in the nation."
"It is also great to continue the tradition of bringing a big time school to visit us each year." Concepcion added. "This time, it creates what could be the most interesting rival for our community yet - Indiana University (who is coming for the first time in the history of our volleyball program). They will represent our first home match of the year. A game people would not want to miss; especially because of the event itself, where we will be inaugurating our brand new Taraflex Floor, making us the first program in the MVC to play in this type of international level material. A night that would also give us the opportunity to honor one of the most transcendental people that have ever worked in our department – Lois Patton - with a special dedication ceremony."
On August 25, the season officially begins with a trip to the Western Illinois Tournament. UE will take on Chicago State, Manhattan, and Western Illinois over the 2-day event. The second non-conference tournament will take place on September 1 and 2 as the Aces make their way to Cape Girardeau, Missouri, for the Redhawks Invitational. In that tournament, the Aces will play Arkansas-Pine Bluff, Morgan State, and Southeast Missouri State.
Home play commences on September 8 with the dedication of Lois D. Patton Court as UE welcomes the Indiana Hoosiers for a 7:00 p.m. match. A pair of contests are on tap on September 9 as Evansville takes on UAB and UT Martin. A trip to Muncie, Indiana, wraps up the non-conference slate as the squad will take part in the Ball State/Butler Tournament. Ball State, Butler, and Duquesne are the opponents.
Missouri Valley Conference play starts with a trip to Terre Haute to take on Indiana State on September 22. Three days later, the first home league game is on tap as the Aces welcome Illinois State to Meeks Family Fieldhouse.
A pivotal home stretch in early October will see the Aces play three home MVC matches in four days. They take on Drake and UNI in a regular weekend schedule before hosting Bradley on October 9. Another important MVC weekend will take place on October 27-28 when Missouri State and Southern Illinois come to town. The Bears are coming off of an NCAA Tournament berth last season.
November 9 and 10 will mark the final home matches of the season when new league member Valpo along with Loyola make the trip to Lois D. Patton Court.
Men's basketball to play at Duke on December 20
On December 20, the University of Evansville Men's Basketball team will play in one of the top atmospheres in college basketball, making the trip to Durham, North Carolina, to take on Duke University at Cameron Indoor Stadium.
"This is such a great opportunity for our program to play on this stage," Purple Aces head coach Marty Simmons said. "Duke is one of the top programs in the country and it is going to be a great experience for our team to play at Cameron Indoor Stadium."
Duke has won five NCAA Championships while making 11 championship games and 16 Final Fours. The Blue Devils also have the top NCAA Tournament winning percentage at 75.5%.
"We have a ton of respect for Mike Krzyzewski and their program. This is another great contest to add to our schedule for 2017-18," Simmons added.
December's game will be the first-ever meeting between the two schools.
The program will be offering its fans the unique chance to join the team for the game. For information on how you can make the trip with the Aces, click here: www.uealumnionline.com/MBBDuke.
In-house office supply form has been revised!
Effective immediately - central receiving is now accepting the newest version of the in-house office supply order form (dated 6/2017) which includes updated pricing. The revised in-house office supply order form is available on the central receiving and purchasing websites in AceLink. Please note that previous versions of the in-house form will no longer be accepted as of July 2. Please e-mail your questions to centralreceiving@evansville.edu or call ext. 2197.
Submitted by Kim Winsett kw83@evansville.edu
Fall 2017 Pcard cardholder training schedule
The Fall 2017 Pcard cardholder training session calendar is now available on the AceLink Pcard website under Training Materials/Dates to Remember. For questions or to reserve a training spot, contact the Office of Administrative Services at ext. 2941.
Submitted by Kim Winsett kw83@evansville.edu
USPS closed - Independence Day
The United States Postal Service will be closed in observance of Independence Day, Tuesday, July 4. For mailing questions, contact UE distribution services/mail services at ext. 2197.
Whetstone named assistant professor of physical therapy and assistant director of clinical education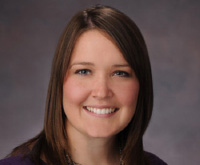 UE welcomes Katie Whetstone, PT, DPT, SCS, as assistant professor of physical therapy and assistant director of clinical education.
Whetstone is a 2012 graduate of UE's doctor of physical therapy program and a 2013 graduate of the University of Evansville/ProRehab Sports Residency Program. She holds a Bachelor of Science degree in exercise science and is a board certified specialist in sports physical therapy through the American Board of Physical Therapy Specialties.
She continues to be involved in the sports residency program as a clinical mentor and assists with curriculum development. Whetstone also continues to serve in the clinic as a physical therapist specializing in the treatment of both traditional and recreational athletes at all levels.
Her special interests include the application of injury prevention programs, the female athlete, and the clinical development of sports clinical experts.
UE Athletics to honor Lois D. Patton with court naming
When the University of Evansville Volleyball team takes to the floor for their home-opening contest on September 8, they will be playing on Lois D. Patton Court inside the Meeks Family Fieldhouse on a brand new Taraflex floor.
The department announced the naming updates on Thursday. Formerly Meeks Family Court, the fieldhouse will house the Purple Aces Volleyball and Women's Basketball teams.
New amenities of the facility include:
- New bleachers on the west side of the facility
- Chairback seating
- Taraflex floor for volleyball (First facility in the MVC to do so)
- Resurfaced women's basketball floor
- New baskets
- Upgraded sound system
- New main videoboard, score/stat board, LED scoreboard on each sideline and two video sideline boards
- Updated volleyball netting equipment
UE is also excited to honor women's sports pioneer Lois D. Patton by naming the volleyball and women's basketball floors in her honor. Patton will be on hand for two naming ceremonies in the regular-season openers for the volleyball and women's basketball squads. The first ceremony will be on September 8 when the UE volleyball team opens up the facility against Indiana University. A second will take place on November 12 for the women's basketball home opener versus Murray State.
Patton, who was the 2016 recipient of the John Sanders Spirit of the Valley Award, began her career at UE in 1966 with one goal in mind – to give females the opportunity to compete at the highest level of collegiate athletics. It is appropriate that the first regular-season contest on the court bearing her name will see the women playing at the highest level, welcoming the Indiana Hoosiers.
The naming also comes as the Missouri Valley Conference celebrates its 25th year of women's athletics in 2017-18.
"This is a very unique honor," Patton said. "It was quite a surprise, I never expected anything like that. It would be nice to put all of the student-athletes and coaches names on there that have been there who have been working towards this since the beginning."
"When I started, we did play IU in basketball in the mid-1970s. We were competitive with their B team in the 70's but now we are competitive with their A team," Patton added.
She continues to be an active supporter of Purple Aces athletics to this day and the present administration knows just how important her contributions have been.
"Lois Patton has been such an integral part of women's sports history at UE," UE director of athletics Mark Spencer said. "This is the perfect way to recognize her for all of her work and dedication to UE athletics as a whole. She has been a great representative of the University of Evansville and we are very proud to recognize her in this way."
Senior associate athletic director for internal operations and senior women's administrator Sarah Solinsky echoed those sentiments.
"We are excited to recognize Lois Patton, a true pioneer in women's athletics, by naming and dedicating the volleyball and basketball courts to honor her contributions to UE," Solinsky said. "This will be a special year for women's sports with the facility renovation, court celebrations for Lois and celebrating the 25th anniversary of women's sports in the MVC."
Instructional technology open office hours
Teaching an online course or interested in flipping a class? Visit the Center for Adult Education during instructional technology open office hours for support in using lecture capturing tools or online learning strategies and best practices. Office hours are Tuesdays, 9:00-11:00 a.m. and Thursdays, 10:00-11:00 a.m. For more information, contact Leslie Barton at lb261@evansville.edu.
Submitted by Leslie Barton lb261@evansville.edu
Join the UE Orchestras!
University Symphony Orchestra/String Chamber Ensembles are calling for musicians! Students, staff, faculty, and administrators are invited to play in the University Symphony Orchestra and String Chamber Ensemble. The University Symphony Orchestra meets on Monday at 5:30 p.m. and Wednesday at 4:00 p.m. The String Chamber Ensemble meets on Thursday at 4:00 p.m. in the Krannert Hall of Fine Arts. Come join us!
E-mail Chun-Ming Chen, director of orchestral activities, at cc319@evansville.edu for more information.
Submitted by Chun-Ming Chen cc319@evansville.edu
Thursday afternoon golf outing
The employees of the University of Evansville are again invited to play golf with other UE employees on Thursday afternoons during the summer months. The UE golf outings will be on Thursday afternoons at 3:00 p.m. at Fendrich golf course.
You can reserve your tee time by contacting Debbie Kassenbrock in the Center for Academic Advising at dk26@evansville.edu or 488-2605 by 4:30 p.m. on the Wednesday prior to the outing.
Time to renew pre-approval authorization for distribution services
It is time to renew "PAADS" (pre-approval authorization for distribution services) forms for the new Fiscal Year 2017-18 (June 1, 2017 through May 31, 2018). An approved PAADS pre-authorizes a requestor based on specified account numbers and dollar amounts to make requests for copy services and in-house office supplies without obtaining approving signatures for every distribution services request form.
The renewal process is simple. Print, complete, obtain authorized signature from your budget approver and submit the form via campus mail to administrative services/general services. The PAADS form is located on both the copy services website and central receiving website on AceLink Areas under Forms & Instructions.
Note - employee status changes (requestors and approvers) during a fiscal year will void a PAADS and a new approved PAADS will be necessary.
For questions, please contact Terry Voges at ext. 2941 or tv35@evansville.edu or Kim Winsett at ext. 2940 or kw83@evansville.edu.
June Pcard cycle ending!
The June Pcard cycle which began on May 23 ends on June 21. As of June 23, cardholders may schedule and run the June cycle report. June transactions may be reconciled in SDG2 until June 28. On June 28, the general ledger Pcard file will be uploaded and cardholders will be locked out of (unable to make changes) posted transactions for the June cycle.
Submitted by Kim Winsett kw83@evansville.edu
Trey Hair drafted by Tampa Bay Rays in MLB Draft
The second member of the 2017 University of Evansville Baseball team has been taken in the Major League Baseball Draft as Trey Hair was taken by the Tampa Bay Rays in the 34th round on Wednesday.
"Great to see Trey Hair get picked up in the 34th round by the Rays," Purple Aces head coach Wes Carroll said. "He is an elite hitter that is ready for the next level. We are very proud of him and know that Trey will represent our program very well."
A native of Firth, Nebraska, Hair was a 2-time All-Missouri Valley Conference Second Team selection in his two seasons with the Aces. As a senior in 2017, Hair batted .297 while leading the team in runs (37), RBI (43), walks (37) and doubles (21). His 21 doubles ranked third in the MVC.
Hair burst onto the scene in his first season at UE in 2016. He led the teams in several categories as a junior including hits, runs, doubles, home runs, total bases, and RBI.
He is the second player to be drafted from UE in the 2017 draft joining Connor Strain, who was picked up by the Los Angeles Dodgers in the ninth round on Tuesday.
UE senior Connor Strain drafted by Los Angeles Dodgers
University of Evansville senior right-handed pitcher Connor Strain was drafted by the Los Angeles Dodgers in the ninth round of the 2017 Major League Baseball Draft on Tuesday afternoon.
Strain was the 280th overall pick in the draft. The fifth-year senior recorded a 2-5 record in 2017, but put up stellar numbers. He posted an impressive 2.62 ERA in 14 starts. Strain fanned 68 batters in just over 68 innings of work.
"We are thrilled as a program to see Connor get drafted in the 9th round by the Dodgers," UE head baseball coach Wes Carroll said. "He has had a great career in an Aces uniform and he is ready for the next step."
The 2.62 ERA accumulated by Strain in 2017 was second-best in the Missouri Valley Conference and tops among all full-time starting pitchers. He was recognized for his efforts with a berth on the All-Conference First Team. Over the course of his senior campaign, the Shelburn, Indiana, product had a scoreless streak of 15 innings while allowing just two runs over five starts in the month of April.
"It is great to see another developed player out of our program get the chance to play at the next level," Carroll added. "We hope to see him up with Kyle Freeland very soon."
UE professors among nation's top professors at conference
UE professors recently attended the Teaching Professor Conference in St. Louis, Missouri. The conference focused on the latest research of teaching in higher education, and was a collaboration of the nation's top professors. Among the topics covered were course creation, student engagement, outcome improvement, classroom technology, improving outcomes, and closing the skills gap.
UE professors who attended were Kyle Matsel, Bethany Huebner, Manahari Adhikari, Pengcheng Xiao, Yolanda Obaze, Kristina Hochwender, Lisa Kretz, Cris Hochwender, Annette Parks, and Wendy Thomas.
Submitted by Jennifer Simon js698@evansville.edu
Biol 119 and Biol 299 research presented at HHMI symposium
UE students Humza Khan and Lauren Roberts attended the Howard Hughes Medical Institute's ninth annual SEA-PHAGES symposium at the HHMI Janelia Research Campus, where they presented a poster titled "Craff-ting our phage: isolation and annotation of Craff."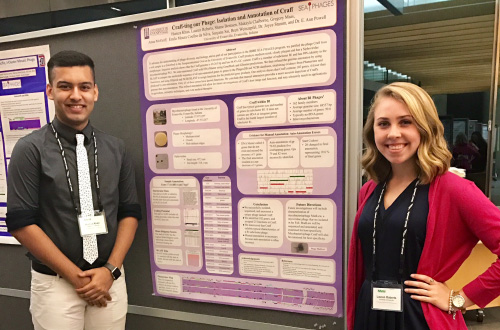 This poster summarized research performed by the students in Biol 119H and Biol 299 during the 2016-17 school year.
Students in Biol 119H isolated, purified, and characterized bacteriophages that infect soil bacteria, and students in Biol 299 examined and annotated the genome sequence of one of these bacteriophages.
In addition to Humza and Lauren, the poster was also co-authored by Shane Bentsen, Makayla Claiborne, Skip Maas, Anna McGriff, Émile Moura Coelho da Silva, Sanjana Sai, and Brett Weinzapfel. This course-based research project was led by associate professors of biology Ann Powell and Joyce Stamm.
Plants from UE's Native Plant garden used at WWNP
UE's own Native Plant Garden in Koch Courtyard was used as a plant source for species used in Wesselman Woods' new Pollinator Garden, one of that nature preserve's newest educational outreach efforts. UE's Native Plant Garden contains over 100 plant species that are native to Southwest Indiana. Come visit the native plant garden throughout the summer, while it undergoes a facelift. Contact Cris Hochwender (ch81@evansville.edu) if you have any questions about the native plant garden or restoration efforts at UE.
Biology and ES students publish in PIAS
Research by Andrew Nunn, Michelle Sonnenberger, and Matt Roberts – under the direction of professor of biology Cris Hochwender - was published in the most recent volume of the Proceedings of the Indiana Academy of Science. Nunn and Sonnenberger are graduating senior biology majors and Roberts graduated from UE with a degree in environmental science in 2016.
Their study suggests that deer may prevent tree species from transitioning above browse-level and into the mid-story strata. Given time, these changes could lead to a loss of diversity in the canopy, as replacement will consist of only those few species which escape deer browse. In addition, their research suggests that pawpaws may limit access of many tree species into the overstory. The loss of diversity in the forest community could cause wide-ranging alterations in the forest community. The study has helped to launch a long-term, manipulative experiment examining the importance of both deer browsing and pawpaw on forest regeneration at WWNP.
Maass talks Russian hacking with WNIN
Richard W. Maass, assistant professor of political science, was recently interviewed by 88.3 WNIN FM about reports that Russian hackers targeted US election systems. Check out the interview on WNIN's website.
Contribute to AceNotes
To have content considered for inclusion in AceNotes, please submit a Marketing Request Form. Deadline for submission to AceNotes is 10:00 a.m. on the requested date of publication. Only articles concerning UE related/sponsored activities will be accepted. Articles submitted to AceNotes may be edited for length and clarity. Submitter contact information is at the end of each article.