| | |
| --- | --- |
| AceNotes Today | Thursday, June 1, 2017 |
UE Men's Basketball Shooting Skills Camp begins Friday
The University of Evansville Men's Basketball program will host a Shooting Skills Camp on Friday and Saturday, June 2-3. It will be held at the Fifth Third Basketball Practice Facility on the UE campus.
The camp is for kids entering grades 1-12 and runs from 9:00 a.m.-4:00 p.m. on both days.
The Shooting Skills Camp will focus on fundamentals and technique of becoming a better shooter. Campers will receive a t-shirt, basketball and will be provided with lunch.
Registration on Friday begins at 8:00 a.m. For more information, please contact Kavon Lacey at 812-488-2757 or kl82@evansville.edu.
Women's Soccer Golf Classic to take place on June 19
On Monday, June 19, the University of Evansville Women's Soccer team will host a golf classic at Cambridge Golf Course on the north side of Evansville.
Teams of four can sign up for the event and your entry fee includes drinks, lunch, and prizes for the winning team. Hole sponsorship opportunities are also available.
Registration and lunch on the 19th go from 11:00 a.m. until noon, with the action commencing with a shotgun start at noon. At approximately 5:00 p.m., the awards will be handed out when all golfers are finished.
For more information or to sign up, contact head women's soccer coach Krista McKendree at 812-760-5023 or via e-mail at km57@evansville.edu.
Re-Think Diversity Through Advocacy and Dialogue
The Office of Diversity is offering re-thinking diversity sessions again this summer to help campus members with discussion and dialogue around diversity and inclusion. The theme will be "Re-Think Diversity Through Advocacy and Dialogue." They will be on Tuesdays beginning June 6 through August 1 (excluding July 4) from noon-1:00 p.m., in Room 273 in the Schroeder School of Business Building.
Mark your calendars and plan to attend!
Each session allows participants to think and dialogue about how to re-think everything they ever knew about diversity topics by providing solution-oriented steps and strategies. There will be resources for participants on how to engage in diversity opportunities for encouraged inclusion on campus.
Sessions are intended for any campus member (faculty, staff, administrators, or students workers).
Please note that anyone attending at least six sessions will be given a certificate of completion from the Office of Diversity Initiatives at UE at the end of the summer.
Information on the sessions is below:
June 6
"What you need to know about Evansville's LGBTQ community and how to offer support," presented by Wally Paynter, Tri-State Alliance
June 13
"Evansville's Black History and the mission of the Evansville African American Museum," presented by Lu Porter, executive director, Evansville African American Museum
June 20
"Why affinity groups are important and the steps to increase retention within a diverse workforce," presented by Danyelle Granger, vice president, diversity and inclusion director at Old National Bank
June 27
"What is the Evansville Chamber of Commerce doing to increase diversity?" presented by Megan Alvarez, inclusion coordinator, Chamber of Commerce
July 11
"More than accommodations: Understanding the needs of people with different abilities," presented by Gary May, retired professor of social work, president of Veterans for Peace
July 18
"True inclusivity: Building and strengthening important diversity community initiatives," presented by Alex Burton, banker, Old National Bank
July 25
"Women in the workforce: How can we make it better?" presented by Jennifer Briggs, university registrar, University of Evansville
August 1
"Celebrating and exploring the Hindu temple and culture," presented by Tri-State Hindu Temple and Cultural Center
For more information contact LaNeeca Williams at lw161@evansville.edu or by phone at ext. 2413.
Medical Spanish at UE starting Fall 2017
If you are a student in nursing, public health, health services administration, exercise science, education, nutrition, biology, chemistry, the physicians assistant program, or the pre-professional health sciences (such as medicine, optometry, dentistry, pharmacy, physical therapy, occupational therapy, clinical psychology) consider adding a medical Spanish minor or a Spanish major with a specialization in medical Spanish. The Department of Foreign Languages and Cultures will be offering both programs beginning Fall 2017.
The requirements for the medical Spanish minor are 18 credit hours, which include the following specific courses: Spanish 211,212, 311, 316, 325, and 350. The Spanish major with a specialization in medical Spanish requires the same SPAN courses previously mentioned in addition to FL 420 (an internship abroad), and one of the following courses: COMM 410, EDUC 385, HSA 405, PH 190, PH 195, SOC 337. Please note that FL 420 may be substituted by one of the aforementioned courses.
Both the medical Spanish minor and the Spanish major with a specialization in medical Spanish cover medical sciences terminology and concepts, cultural content of Hispanics in the U.S. and of Spanish speaking countries, as well as an introduction to interpreting. Consequently, students are better prepared for careers in medical fields in the US and abroad.
Submitted by Cheryl Shafer cs315@evansville.edu
Thursday afternoon golf outing
The employees of the University of Evansville are again invited to play golf with other UE employees on Thursday afternoons during the summer months. The UE golf outings will be on Thursday afternoons at 3:00 p.m. at Fendrich golf course.
You can reserve your tee time by contacting Debbie Kassenbrock in the Center for Academic Advising at dk26@evansville.edu or 488-2605 by 4:30 p.m. on the Wednesday prior to the outing.
Call for papers for Andiron Lecture Series 2017-18
UE faculty and administrators - as well as members of the Evansville community - are invited to submit an abstract for papers on any aspect of their research or expertise for the 2017-18 Andiron Lectures in the Liberal Arts and Sciences. All disciplines and fields of study are welcome to submit proposals.
Please send the following by e-mail:
A 50-word abstract with name, academic affiliation/occupation, paper title, and contact information to Annette Parks at ap3@evansville.edu with a Cc to Cheryl Emmons at ce36@evansville.edu.
Emmons will forward these to the Andiron Lecture Committee for consideration.
Please note that if you have already agreed to present an Andiron Lecture for the 2017-18 series, Parks (ap3@evansville.edu) will need a title and a paragraph of biography for the series flyer with a Cc to Emmons (ce36@evanville.edu) when it is convenient for you to provide them.
Nominations for off-campus speakers can be sent by e-mail to Parks at ap3@evansville.edu with a Cc to Emmons at ce36@evansville.edu. Emmons will forward them to the Andiron Lecture Committee for consideration.
Submitted by Cheryl Emmons ce36@evansville.edu
Concepcion set to continue work with USA Volleyball
University of Evansville head volleyball coach Manolo Concepcion will continue his work with USA Volleyball this summer after assisting the program earlier in 2017.
Concepcion has been invited to be part of the coaching staff that will be training the USA Youth National A2 Team Invitational Program this summer. The camp will take place from July 26 through August 1 in Colorado Springs. Earlier this year, Concepcion was involved with USA Volleyball as an evaluator and court coach at four of its tryouts. July's camp will see him assisting in the training of the roster of players selected to represent the United States.
"I am honored to be invited for the National Team program," Concepcion said. "Growing the game and long-term development with motor learning principles are two aspects that we feel strongly passionate about, so this will be a great opportunity to continue to learn and absorb from some of the best coaches in the nation, while training some of the best athletes as well.:
The USA National A2 Invitational Team Program is designed to give more of the country's top athletes the opportunity to work with top High Performance coaches at a competitive event. Players who participate in the program train for four days as a group, training in all skills and focusing on position-specific areas each day.
On the fifth day, players are split into 16 tiered 8-player teams, in which they train for a full day under international rules and learn opponent scouting. The final two days of the program feature an international-style tournament culminating in a tournament championship on the final day. Besides the high performance pipeline coaches who are also college coaches working the A2 Program, coaches from across the country are invited to watch the competition portion of the event this summer.
UE and USI men's soccer help local YMCA
In an effort to help the local community, the men's soccer teams from the University of Evansville and the University of Southern Indiana teamed up to donate over $2,000 to the YMCA of Southwestern Indiana. The Mayor's Cup match, which featured the Purple Aces and Screaming Eagles taking to the field at Arad McCutchan Stadium on April 18, saw all proceeds directly benefit the YMCA. ProRehab and Tri-State Orthopaedics also assisted in the event.
"Our program is very proud to work with Coach Santoro and USI men's soccer to help support the YMCA and their outreach programs," Aces head men's soccer coach Marshall Ray said. "A special thanks go out to Mayor Winnecke for attending the match and all of his and his staff's efforts to help promote the event. We look forward to the continued growth of the Mayor's cup and hope our community with join us again next April."
Ray, along with USI head coach Mat Santoro, presented a check for $2,163 to the YMCA earlier this week. The money will help in after school soccer programs throughout the city of Evansville.
Both teams are representing their city in impressive fashion. UE is coming off of the second-largest turnaround in program history in the fall of 2016 while USI went 13-4-4 and played in the NCAA Division II Tournament.
DPT student presents research poster at national conference
Second year DPT student Janae Wagler and assistant professor of physical therapy Tzurei Chen are presenting at the Gait & Clinical Movement Analysis Society Annual Conference this week in Salt Lake City, Utah.
The poster is titled " Effects of Student-led Balance Training on a Community-Dwelling Older Adult with Recurrent Falls: A Case Study."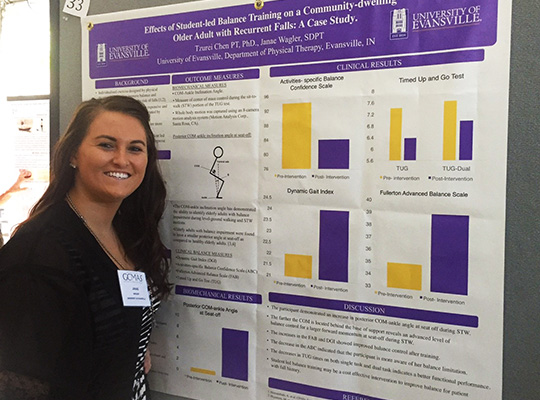 Janae has been working on this study for the past two years. She participated in data collection, analysis, interpretation, and dissemination of the project. Chen is the primary faculty investigator on this project.
This balance study examined the effectiveness of the balance training assignment for the course, PT523-Patient Management III-Multiple Systems, taught by Chen. The student trainers involved in this study were in the Class of 2016.
Lonnberg receives SIAM recognition
UE math student Adam Lonnberg has received a 2017 Society for Industrial and Applied Mathematics (SIAM) Student Chapter Certificate of Recognition. The certificate was signed by the SIAM executive director and the SIAM president.
Students who receive these certificates have their names announced in SIAM News and posted on the SIAM web site.
The certificate is given in recognition of a student's hard work. It also instills loyalty to SIAM, encourages students to join and work with SIAM, and gives direct exposure of SIAM leadership to students.
Congratulations, Adam!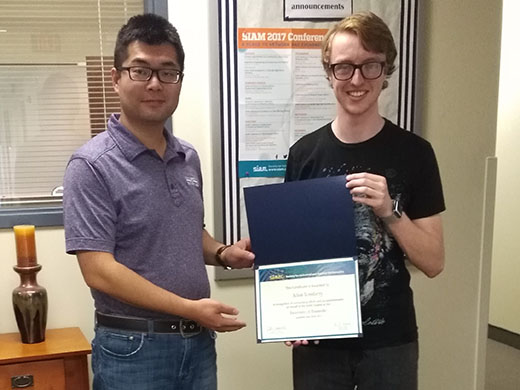 Amber Pouliot presents papers at conference in Florence
Amber Pouliot, a teaching fellow in British studies at Harlaxton College, recently presented two papers at the 2017 North American Victorian Studies Association supernumerary conference in Florence. The topics of the papers were Bronte relics and technology's threat to Brontean ecologies.
Family and friends of JoAnn Sayre (Couglin) Alexander
JoAnn Sayre (Coughlin) Alexander passed away on May 26, at St. Vincent in Evansville, Indiana. She was a professor of nursing at the University of Evansville from 1975-1995.
She is survived by her beloved husband, James Alexander; son, James Alexander II, of Evansville; daughters, Mary Alexander and Jan Morris (Rick), both of Evansville, Laurie Goldbach(Cris), of Chandler, IN; grandchildren, Daniel, Katie Goldbach, Molly Burnett(Matt) and Olivia Morris.
JoAnn was born Christmas Eve, 1934, in Evansville, the daughter of the late Joseph and Evelyn (Schmitt) Coughlin, and was a 1952 graduate of Memorial High School. She received her bachelor's degree in nursing from St. Louis University, and her Master's Degree in Nursing and gerontology certificate from UE.
She worked in various positions in nursing throughout her career, her longest tenure being at UE where she retired as an associate professor. JoAnn was a charter member of Sigma Theta Tau Sorority, a nursing honors society, and was listed in the Who's Who in the Midwest and American Nursing Field. She was also published in several nursing journals, and co-authored chapters in two nursing management textbooks.
Memorial contributions may be made to Good Shepherd Catholic Church or UE School of Nursing. Condolences may be made to the family online at boonefuneralhome.net.
Contribute to AceNotes
To have content considered for inclusion in AceNotes, please submit a Marketing Request Form. Deadline for submission to AceNotes is 10:00 a.m. on the requested date of publication. Only articles concerning UE related/sponsored activities will be accepted. Articles submitted to AceNotes may be edited for length and clarity. Submitter contact information is at the end of each article.